Find yourself with a strained back and neck after an intense gaming session? That's because you're not treating your back with the care it deserves. Instead of suffering in silence, why not invest in the best gaming chairs in Singapore! Equipped with refined ergonomics and comfortable add-ons, the best gaming chairs allow for long hours of gaming in utmost comfort. Need recommendations? Here's how the best gaming chairs have carved a niche for themselves and differentiated themselves from their office chair counterparts.
How are gaming chairs different from office chairs?
Aesthetics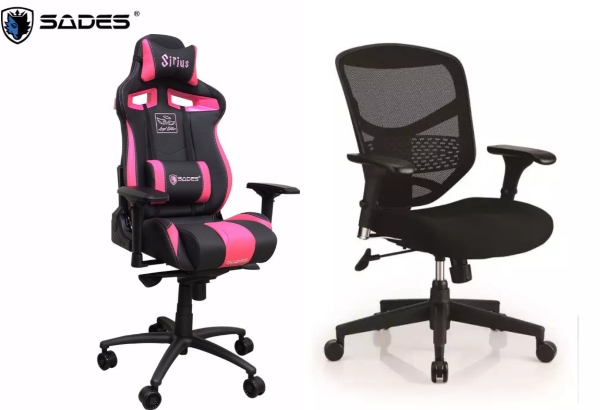 While office chairs are built to blend into their environments with subdued hues and discrete form, gaming chair designs are the complete opposite. From first impressions, gaming chairs are immediately recognisable thanks to their aggressive curves and eye-catching colours! Built to stand out, the best gaming chairs draw inspiration from race car seats and are designed with winged shoulder supports and tall backrests.
Comfort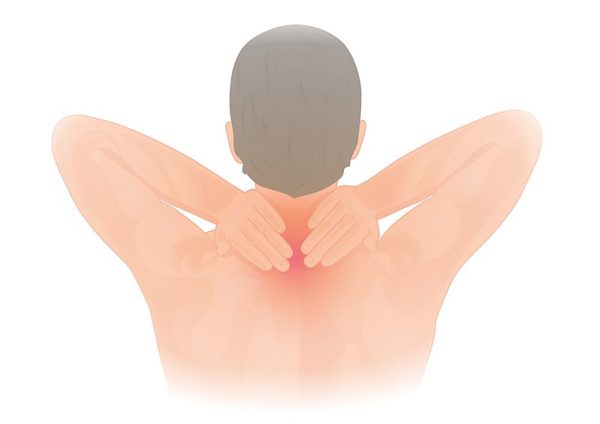 Although both gaming and office chairs provide excellent lumbar and back support, the best gaming chairs go one step further by focusing on the upper back and neck region. Thanks to tall backrests and adjustable neck pillows, gaming chairs edge out in the comfort aspect. The end result is a significantly better posture and less neck and shoulder fatigue, which makes them the best chairs for long hours of gaming.
Bonus features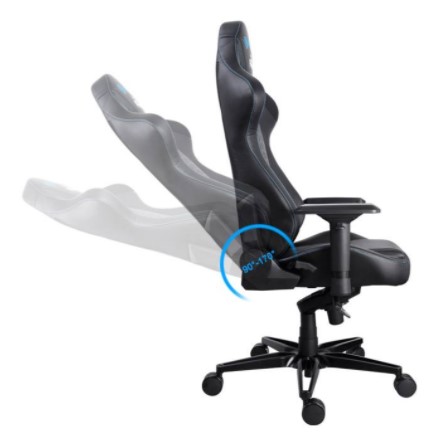 The best gaming chairs come with their fair share of surprises too! Have you ever scrunched your shoulders because your chair's armrests are too high? With multi-directional armrests, you can freely tweak them to a comfortable height. If you're feeling tired from sitting for long hours, look out for the best chairs with reclining backrests that let you kick back and relax.
Now that you know the difference between gaming and office chairs, here are some of our favourite premium and cheap gaming chairs in Singapore you certainly won't want to miss out on!
Best gaming chairs in Singapore for maximum comfort
1. OSIM uThrone Gaming Massage Chair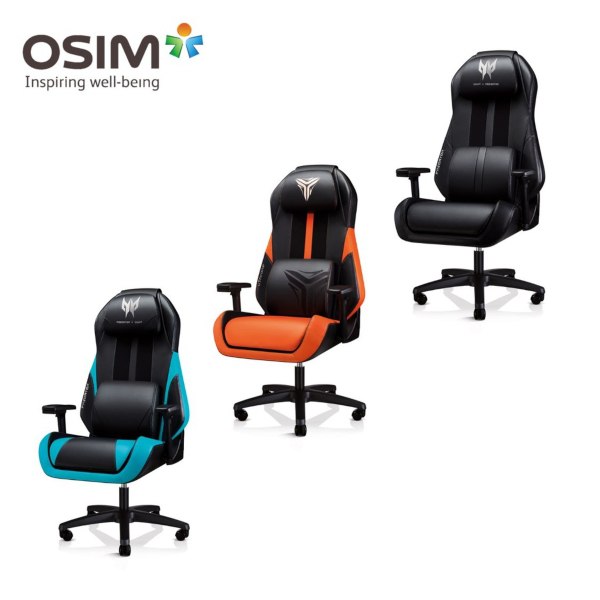 The OSIM uThrone Gaming Massage Chair (available on OSIM Singapore Official Store) is the brainchild of Acer and OSIM and is one of the best gaming chairs for long hours of sitting due to its staggering number of features. The uThrone gaming chair features an adjustable headrest and removable lumbar cushion for the best posture support. Its built-in speakers will also lend a booming surround sound experience to go in cadence with your games. If these pro-comfort features weren't enough, then the V-Hand massage features will definitely win you over! By using dynamic features found in the best massage chairs, you can relieve your stiff and tired shoulders and joints from the comfort of the Predator gaming chair. From loosening your shoulders to decompressing your lumbar, select from press-grip, tapping and rolling massage options with the click of a button!
Best gaming chair in Singapore for long-lasting durability
2. Sades Unicorn Gaming Chair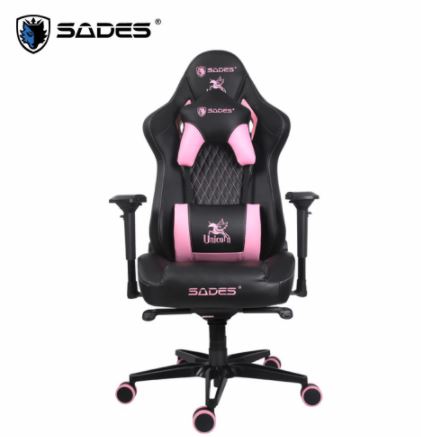 Sades' professional gaming chairs are designed to stand the test of time! By using TÜV certified faux leather, you'll never need to fret about peeling or durability issues again. On the comfort aspect, the Sades Unicorn (available on SADES Singapore Official Store) checks all the boxes for being the best gaming chair in Singapore for long hours of sitting. It includes 4D armrests, lumbar cushion, headrest and the ability to recline to near-horizontal levels — providing you with utmost comfort!
Best gaming chair in Singapore for minimalist homes
3. AKRacing Opal
If you're on the lookout for the best gaming chairs with a minimalist aesthetic, look no further than the AKRacing Opal gaming chair (available on MatrixCyberStore)! While some of the best gaming chairs focus on flamboyant colour schemes and extravagant features, AKRacing keeps their Opal gaming chair simple and classy. This is immediately noticeable from its plain black winged backrest and castor wheels that don't feature the usual coloured trims. Besides looking great, AKRacing's Opal gaming chair also feels amazing thanks to its cold-moulded foam full 180-degree reclining tilt! This makes it convenient for taking breaks in between long hours of gaming, which is why it is one of the best chairs in Singapore!
Best gaming chair in Singapore for budget setups
4. JIJI.SG EpicPro Gaming Chair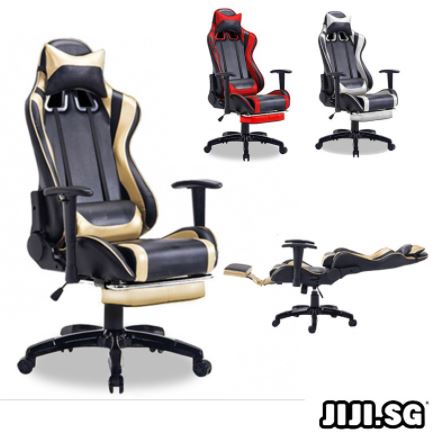 It's certainly rare to discover cheap gaming chairs in Singapore that don't compromise on essential features! Fortunately, the EpicPro gaming chair (available on JIJI.SG Official Store) accomplishes this with a combination of smart design choices. Right off the bat, you'll notice that the Pegasi gaming chair lacks multi-directional armrests and embroidered logos! For gamers looking to really kick back and relax, take advantage of its 135-degree reclining system! They've even included an additional leg rest that allows you to prop your feet up for a well-deserved break after long hours of intense gaming, which makes it one of the best gaming chairs in Singapore.
Best gaming chair in Singapore for gamers who sweat easily
5. VHIVE Winner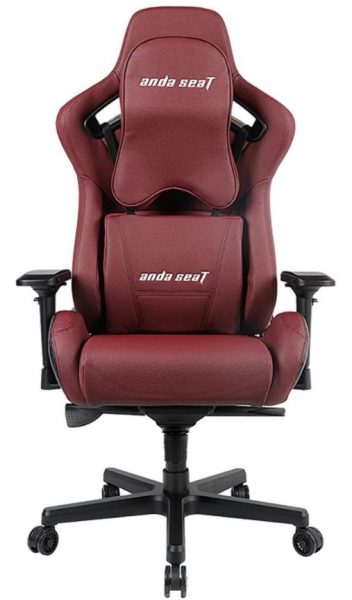 As one of the few gaming chairs in Singapore to not use PU leather, the AndaSeat Kaiser 2 (available on Aim Resources (S) Pte Ltd) beats the competition thanks to its highly durable body material. As PVC leather uses extra layers compared to PU leather, the Kaiser 2 is more resistant to sweat and humidity! This ultimately allows it to outlast a typical gaming chair as PVC leather refrains from peeling and cracking over time. Regularly have meals at your gaming computer table? You'll appreciate how the Kaiser 2 makes post-meal cleanups a breeze thanks to it being resistant to stains and spillage!
Best gaming chair in Singapore for marathon gaming sessions
6. Razer Iskur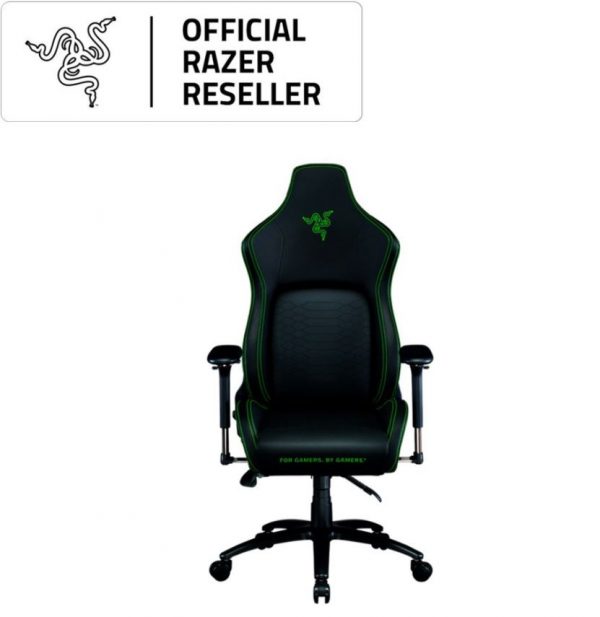 Find yourself subconsciously slouching while gaming? If you typically game for long hours, you'll want the best gaming chairs in Singapore that offer unparalleled firmness so your back and spine are supported! The Razer Iskur (available on Razer Flagship Store) achieves this by including high density foam and an ergonomic lumbar support system so you'll achieve the optimal neutral spine position. Whether you're leaning forward or reclining, the Iskur accommodates this with its custom design that'll fit your contours. Additionally, if you're a hardcore Razer fan, there's no harm in adding the Iskur to your black-and-green gaming setup.
Best gaming chair in Singapore for cold-cure foam fans
7. Armaggeddon Starship IV
Fear that your best gaming chair in Singapore will lose its shape over time? Give the Armaggeddon Starship IV (available on Armaggeddon Official Store) a shot as it takes advantage of its secret weapon — cold-cure foam. Don't let its reputation of being an affordable gaming chair in Singapore fool you. The Starship IV pulls no punches when it comes to exceeding your expectations for comfort and ergonomics. Unlike regular foam, cold-cure foam is moulded to a specific shape and has twice as much density! By including this in the Starship IV's backrest and seat cushion, you'll enjoy added support and compressive strength while you're gaming.
Proper posture and cooling with these best gaming chairs 
From premium massage gaming chairs to affordable yet quality gaming chairs in Singapore, we have you covered with the best chairs for every budget! These chairs will definitely tide you through long hours of DOTA or League of Legends. Didn't find your favourite gaming chair brand here? Check back with us for the latest gaming chairs during our Shopee Home Furniture Sale and snag awesome deals! Additionally, complete your overall setup with the best gaming desks and best gaming monitors. Prefer the flexibility of a mobile gaming station? Here are some of the best gaming laptops if you regularly game on-the-go.