Have you always found lingerie intriguing but just don't know where to start when shopping for one? Lingerie is a collective term for those alluring pieces of undergarments that women wear to celebrate their curves or turn up the heat in the bedroom. From lace bras to sexy bustiers and flirty negligee, we decode the different types of lingerie you need to start your own lingerie collection!
| | |
| --- | --- |
| Type of lingerie | When to wear it |
| Bikini top and bottom | To wear on a daily basis or for your partner in the bedroom. Turn the heat up with a matching bra and panty set!       |
| Bustier / Corset / Bodysuit | For those who want to shape and accentuate your curves. Suitable for wear in the bedroom or for a night out. |
| Negligee | For a casual night in |
| Slip  | Suitable to wear under see-through clothing or in the bedroom |
| Bralette | When you're looking for wire-free alternative bras |
| Shapewear | To cinch your waist in before slipping on fancy wear |
Guide to different types of lingerie 
1. Bikini top and bottom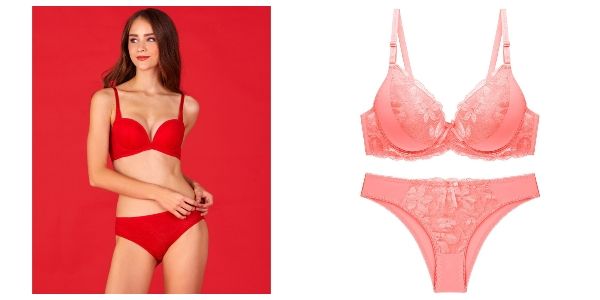 One of the first things that comes to mind when people talk about lingerie is bra and panties — better yet if they are matching. This Pierre Cardin Lover Bra Set (available on Pierre Cardin Official Store) is a fiery-red lingerie set — perfect to turn the heat up in the bedroom. It's a demi push up bra made with smooth microfibre and abstract lace. It also comes with the usual hook and eye closure mechanism and adjustable straps for an optimal fit. On the other hand, ladies with larger busts will love this Parifairy Women Fashion Plus size Bra Set (available on Parifairy official SG store) — available in cup size C up to DD. Made of nylon and spandex, you can expect this lace bra and panty set to have excellent shape retention even when not in use. The soft baby pink colour is also ideal for everyday wear under darker coloured clothing.
2. Bustier 
Looking to lift your girls and create a smaller waistline while at it? Bustiers are a popular type of lingerie that can do that with. Bustier bras are padded to lift and show off your breast. Bones are also usually included in the seams around your torso so as to cinch it in and define your waistline. 
This Lace Padded Bustier Crop Top (available on HITPOP) can be worn as a top on its own and is available in a sexy black or pretty lacey white. Pair this longline lace bra with a blazer and denim jeans to achieve an hourglass figure. Alternatively, this She'sModa Mesh Push Up Corset Bustier (available on exquisite light.) is flattering to wear for your next ladies' night date too. Made of acrylic — it's lightweight, warm and soft to the touch.
3. Corset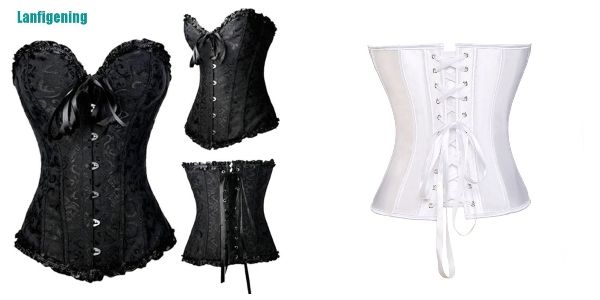 Corsets are slightly longer than a bustier and reach to just above the waistline. However, they are designed to achieve the same effect as a bustier — to cinch in your torso and create a slim silhouette. Corsets were worn in the past under large gowns and pulled in tightly — fans of the Netflix series Bridgerton will surely remember maids helping Daphne into her numerous ball gowns! Although not so much a common practice today, corsets are still a popular type of lingerie and can be worn in the bedroom or for a night out in town!
This Sexy Gothic Satin Brocade Corset (available on lanfigening.sg) is made of a brocade and comes with a playful front bow ribbon which will surely up the ante in the bedroom. Having trouble fitting into the new dress you got? This Corset Bustier Body Shaper (available on Corset Shaper Shapewear) is made of polyester and spandex and includes 12 bones in the seams to nip in your torso. It might just be the lingerie piece you need!
4. Negligee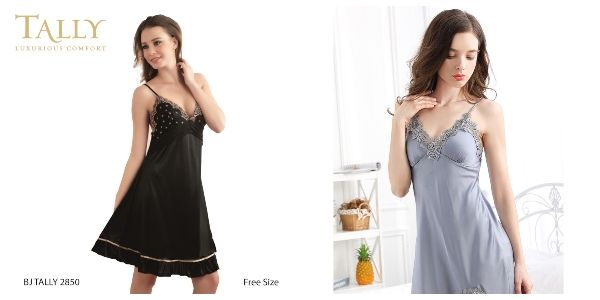 Go for negligee if you're looking for a more conservative type of lingerie. They're usually made of lighter material like silk or lace and can be worn over your lingerie set. Negligee are available in various lengths including shorter ones that show off your legs!
This Lace Brocade Nightgown (available on tally.underwear.sg) is mostly made of lace and includes brocade fabric around the bust area. The material won't itch or irritate your skin so you can be guaranteed a restful night. If this design is not your cup of tea then you might like other lace lingerie like this UNLIMON High Quality Silk Nightgown (available on UNLIMON™ OFFICIAL STORE)! Available in shades like wine red, blue and coral, this will hug your curves in all the right areas. But of course, if you do want to show some skin, go for this Backless Summer Satin Sexy Night Dress (available on Bed Secret-Women Fashion Land) which comes with flirty lace fabrics and in six different shades. Lounge in your favourite negligee on a Friday night in with or withou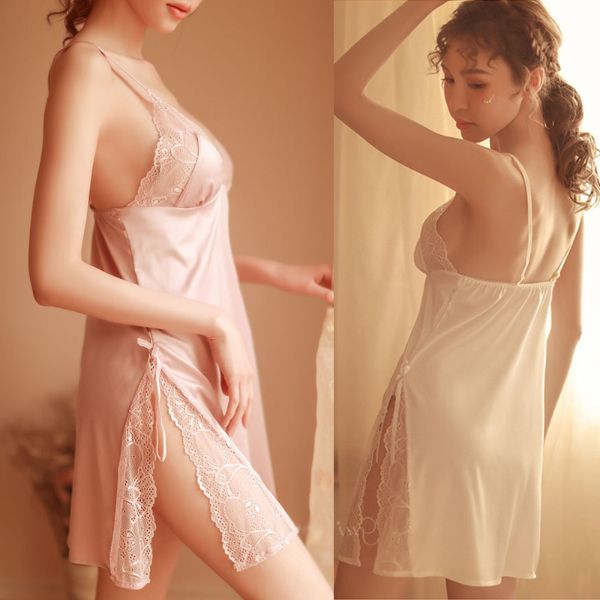 t your man!
5. Slip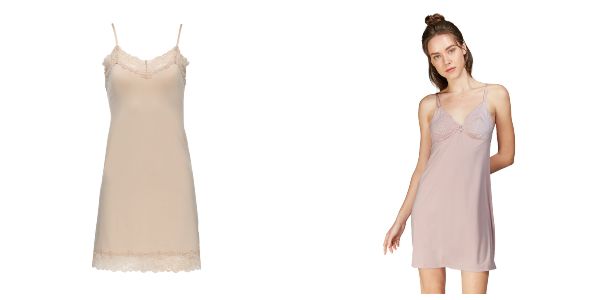 Though similar to negligee, slip dresses are a type of lingerie that can be worn under formal clothes to prevent chafing or under see-through clothing. They can come in various lengths and are usually available wearable shades like nude or black.

This XIXILI Inner Lace Trimmed Slip (available on XIXILI Official Store) has a breathable microfibre feel and can be easily slipped under your outerwear for a night out! On the other hand, this 6IXTY8IGHT ASHLEY, Cami Slip Dress (available on 6ixty8ight.sg Official Store) is versatile enough to be worn under formal clothes or even in the bedroom. It's also available in a cool blue shade if you're not planning on wearing it out.
6. Bodysuit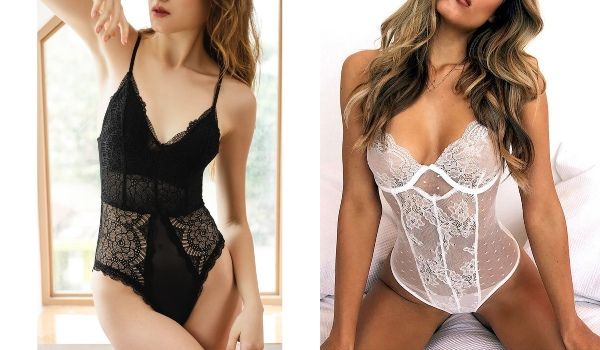 Celebrating an anniversary or monthversary? Choose something sleek and sexy like bodysuit lingerie. As its name suggests, one-piece bodysuits are designed to hug your body and show off your curves. Designed just like a swimming costume, these types of lingerie come with fastenings on the shoulder straps or at the crotch area when you need to remove or pull them on.
We love this Nikita Bodysuit in Black (available on Reverie Official Store) that boasts a pretty V-neck scallop lace trim and lined bodice. It also comes with a handy removable padding. Want While this Sexy Lace Up Bodysuit (available on fashionofficelady) will make for a more stand-out and irresistible piece to wear on a special night in.
7.Bralette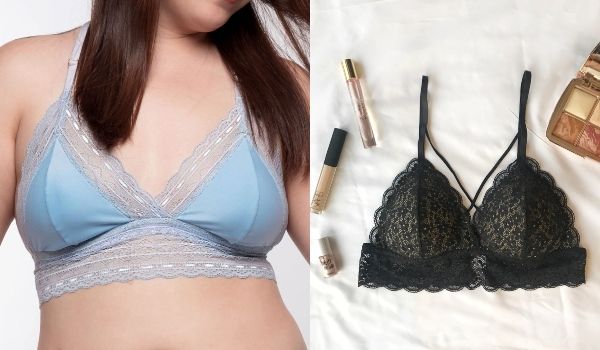 We couldn't leave bralettes out from this round up! Bralettes have become immensely popular over recent years because they are designed without an underwire, thus 'freeing' your girls. Not only that but they are also lightweight, comfortable and yet sexy all at the same time! Go for this type of lingerie if you're not looking to exactly shape or lift your girls but just want something flirty and sexy to celebrate yourself in!
Not sure where to start? The Good Intentions Bralette (available on Our Bralette Club Official Store) is made of breathable cotton and a gorgeous racerback and lace panelling. This detail will peek out from a regular T-shirt, jazzing it up. Otherwise, if you've looking for a more luxe bralette, this Elive Lace Bralette (available on thebraletteshop) makes the cut. This lace bra comes with removable padding, rose gold hardwares and lined with luxurious, soft mesh.
8. Shapewear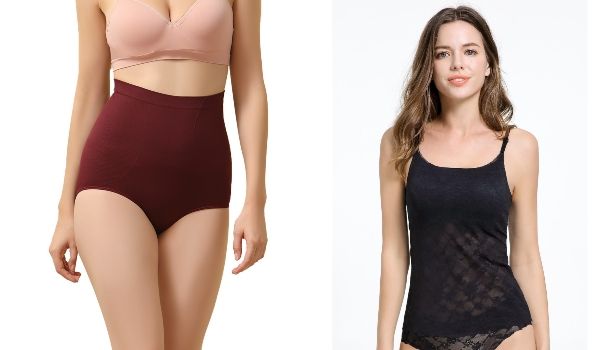 Some types of lingerie, like shapewear, are designed to be worn under your clothes before a night out. Girdles and fitted camisoles are just two examples of shapewear lingerie. Girdles are similar to a high-rise panty and used to gently push the tummy area in. While camisole shapewear is more figure-hugging and cinches your torso in before you slip over your party dress.
This Felancy High Waist Seamless Girdle (available on Felancy Singapore) may not have the quintessential lace designs of other lingerie but is very effective in controlling tummy bulges. Its seamless design also means this won't show through your dress. On the other hand, the Sorella Lacy Air Camisole Shapewear (available on Sorella Official Store) is made of microfibre and spandex to give you a fitted silhouette before wearing your outerwear.
9. Mix and match!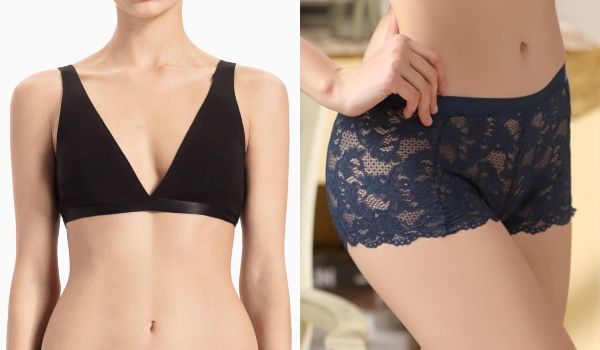 You do you when it comes to wearing lingerie you feel comfortable in. If lace bras are not your idea of sexy then go for bras that are unpadded or lightly lined. This CK Black Structure Cotton Unlined Triangle Bra (available on Calvin Klein Official Store) allows you to show off the natural shape of your breasts without wires getting in the way. As for panties, try unique styles like these Felancy Lace Boxshorts Panty (available on Felancy Singapore). These boyshorts panties perk up your bum and give them a nice sculpted shape.
Embrace your curves in your favourite types of lingerie
Inspired to add on that sexy lace bra you spotted to your lingerie collection? Now that you're aware of the different types of lingerie, check out the best lingerie brands to turn to. Be sure to also pay attention to the type of sports bras you wear when working out. Explore the best high impact sports bras — some are even designed with high tech fabrics to boost performance!