You can never have too many snacks in your stash. Seeing the home pantry filled with your favourite snacks can bring about loads of joy and satisfaction. However, avid snackers may find that they get tired of their snack variety after a while. If this sounds like a situation you're in, why not switch things up and go for imported snacks from China instead? From mala crabsticks to spicy river snail noodles and the oh-so-famous Xiang Piao Piao milk tea, find out what are some other popular Chinese snacks in our guide below! 
Best savoury Chinese snacks to buy in Singapore
1. Wei Long Konjac Snack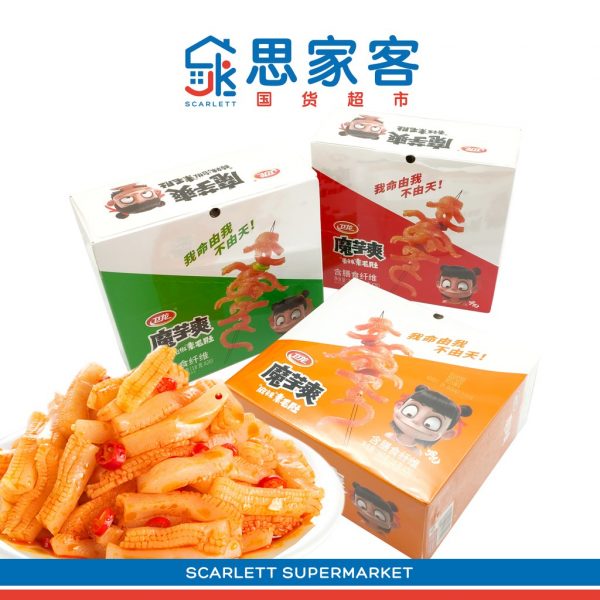 Looking for a low-calorie snack to tide you till your next meal? The Wei Long Konjac Snack (available on Scarlett Supermarket 思家客国货超市) is your best bet! These seasoned konjac snacks have a similar chewy texture to konjac jellies consumed for dieting. While they may not be a calorie-free Chinese snack, they contain the same amount of calories as half an apple or one-third of a banana. They come in mala or sour and spicy flavours that are sure to pack a punch!
2. SMH Seasoned Chicken Feet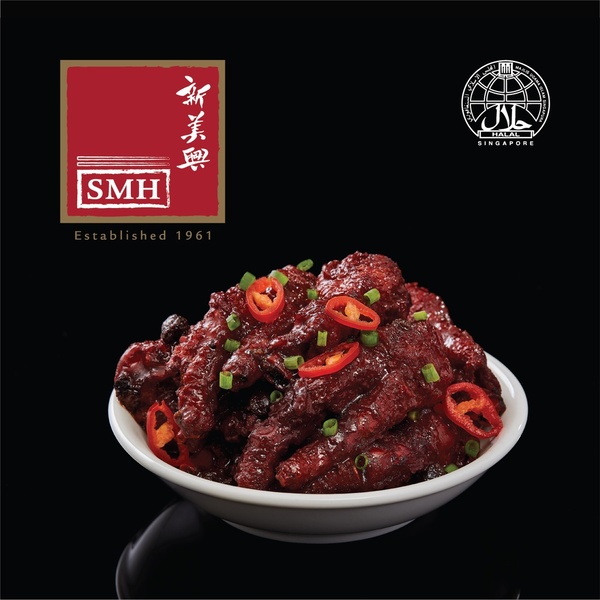 Another place to add to your list of where to buy China snacks in Singapore is SMH Food Group! While they sell a wide variety of dim sum, their Seasoned Chicken Feet (available on SMH Food Group Official Store) clearly steals the show with a spicy rich blend that makes it finger-licking good. In addition to its tastiness, chicken feet are considered one of the best Chinese snacks for their health benefits. The skin around the feet is said to be high in collagen, which improves your skin's elasticity! Definitely sounds like a guilty-free snack for you to enjoy daily! 
3. Snow Treasures Ngoh Hiang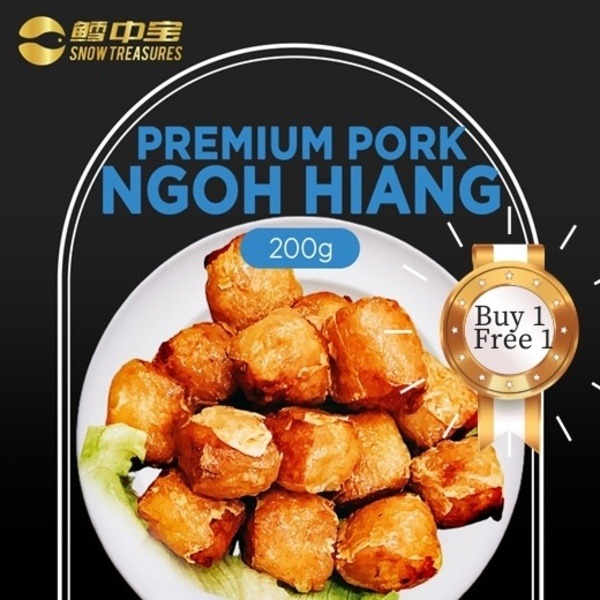 Still wondering where to buy China snacks in Singapore? Look no further than Snow Treasures! Aside from fresh seafood delivered to your doorstep, one of the best Chinese snacks you can enjoy is their Ngoh Hiang (available at Snow Treasures Official Store). Ngoh Hiang is a popular local delicacy containing five-spice pork rolls wrapped with beancurd skin, some might even say it's somewhat similar to pork sausage! It is a favourite china snack for both children and the elderly because it is crispy on the outside and soft on the inside, making it an excellent appetizer for family gatherings!
4. Hock Wong Signature Bacon Bak Kwa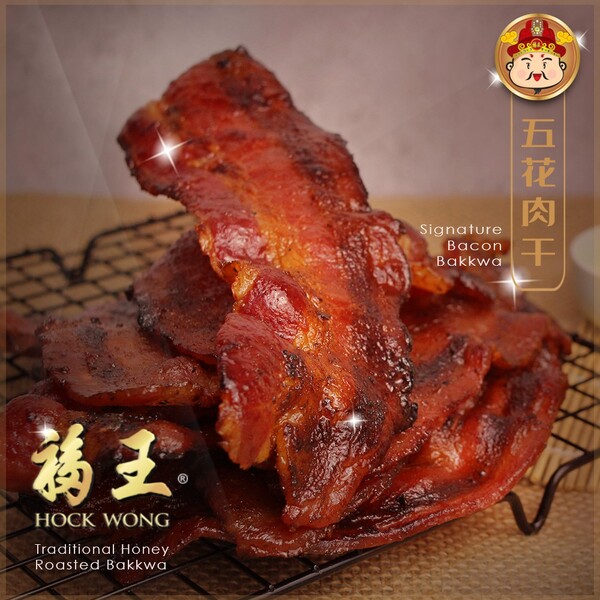 Bak Kwa fans should try Hock Wong's one-of-a-kind sweet-savoury bacon Bak Kwa. The juicy honey-roasted Hock Wong Bacon Bakkwa (available on Hock Wong Singapore 福王) is made from the finest pork belly and contains no preservatives. It has a distinct charred fragrance, a delicious honey flavour that oozes from every bite, and a crispy texture that is unforgettable! Individually vacuum-sealed to preserve freshness, the convenient individual packaging reduces any oily fuss and mess! Find out the best Bak Kwas in Singapore here and add the places to your list of where to buy China snacks in Singapore today!
5. ChaCheer Potato Chips Crispy
Fans of vegetable or cheese crackers will fall in love with the ChaCheer Potato Chips Crispy (available on Scarlett Supermarket 思家客国货超市) which have a similar taste. We especially love the bite-sized shape of these chips. The entire piece slides effortlessly into your mouth so you can munch without worrying about dropping crumbs everywhere! In addition, each packet comes with a generous amount of chips baked to golden perfection so you can snack to your heart's content! SAnd since the chips are baked and not deep-fried, they are not greasy at all. Pick from popular flavours such as Korean kimchi, mala, and BBQ!
6. Jin Zai Little Dried Fish Anchovies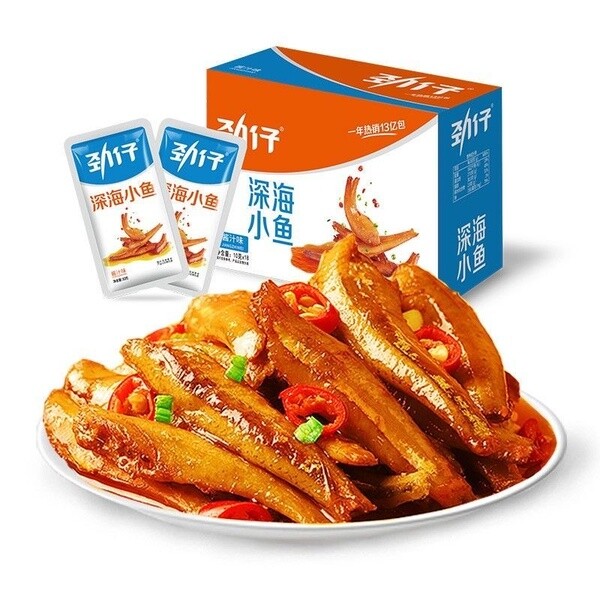 (Credit: FanchonTech)
It's common to snack on peanuts or nacho chips when you're having beer night with your pals. But have you considered snacking on anchovies instead? The Jin Zai Little Dried Fish Anchovies (available on FanchonTech) make for a great beer-snack pairing. These marinated anchovies have a rather tough and chewy texture that's extremely addictive! With a myriad of flavours including braised sauce, spicy as well as sweet and sour, you're bound to find one that compliments your alcoholic beverage perfectly. Psst, this best Chinese snack is unbelievably appetizing and goes well with plain rice too! 
7. Jin Mo Fang Spicy Sausage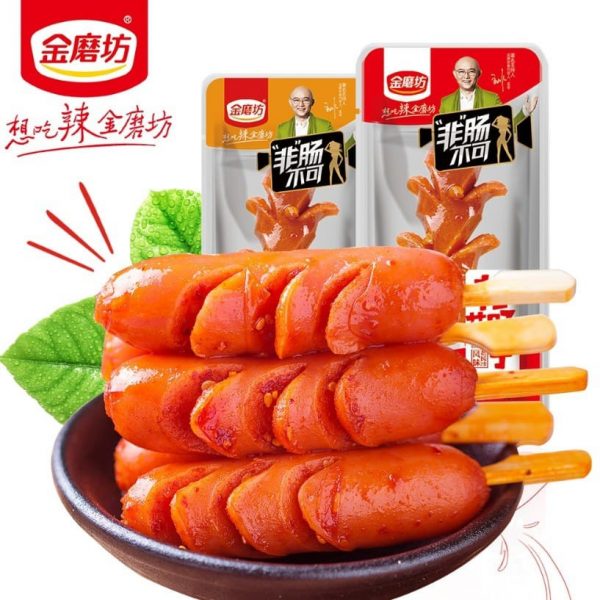 Looking for a spicy midday munch that will perk you up? Then the Jin Mo Fang Spicy Sausage (available on ZESKSingapore) should be right up your alley. If you don't wanna get your hands dirty, you'll be pleased to know that these sausages are individually packed like a mini skewer, which makes for the perfect convenient snack. Whether you choose the spicy flavor or BBQ flavour, this all-time favourite Chinese snack from China promises to be rich in taste with every bite!
8. Jin Mo Fang Mala Spicy Fish Tofu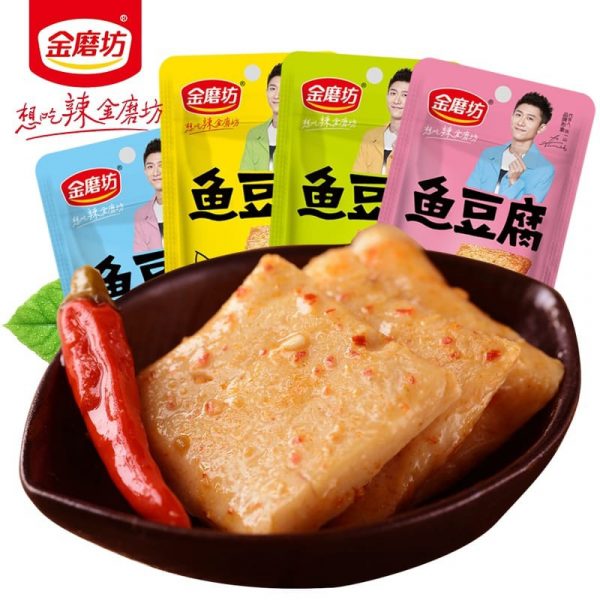 Far from being your average tofu, Jin Mo Fang Mala Spicy Fish Tofu (available on ZESKSingapore) is one of the best Chinese snacks around because of its unique mala spicy flavour. The tofu is prepared with the best freshwater fish and has premium quality soybeans that elevate its overall texture. Whether you're snacking on it early in the morning or late in the night, this treat from China is so dangerously addictive that it will leave you wanting more. Additionally, the tofu also bodes well with a glass of wine, perfect after a long day of work!
9. Yohosiyo Mala Crabstick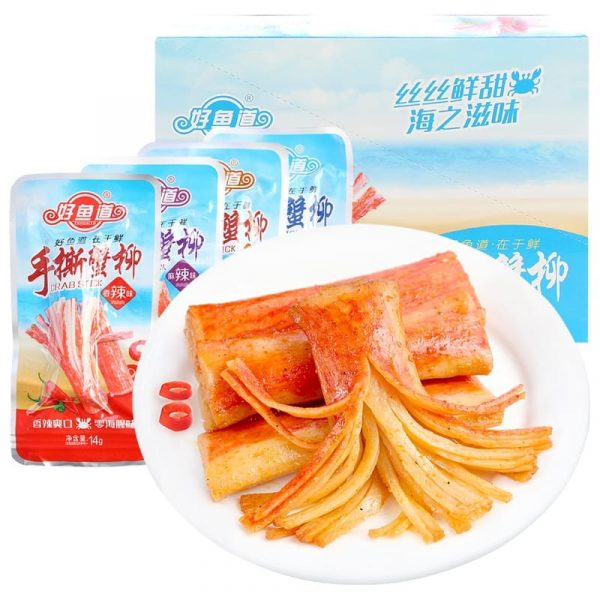 We thought that the mala-flavoured food might just be a passing trend but it seems like Singaporeans can never get enough mala! The Yohosiyo Mala Crabstick (available on ZESKSingapore) is a must-try best Chinese snack for mala lovers and crabstick lovers alike. It is available in four different flavours — BBQ, mala, spicy, and seafood, so you are definitely spoilt for choice! Additionally, these pork-free crabsticks also serve as a good addition to late-night suppers as they are best eaten with instant noodles.
10. Hai Chi Jia Hot Spicy River Snail Noodles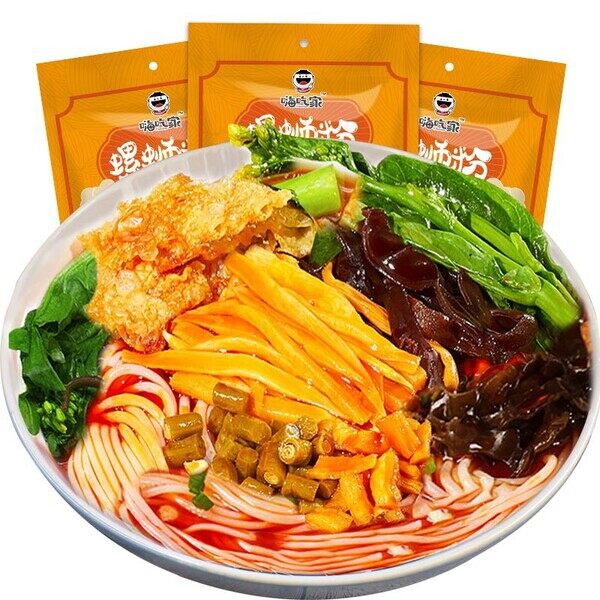 Here's a Chinese snack that's not for the faint-hearted — Hai Chi Jia Hot Spicy River Snail Noodles (available on The Smart Store). While you won't find snails in this snack, the broth of the noodles is made from boiling fried river snails for hours. This gives the soup a strong fishy smell that may not be everyone's cup of tea. However, this is one of the hottest snacks in China as many find the strong sweet and sour flavour to be incredibly yummy. Give the river snail noodles a try and expect an explosion of umami flavour in your mouth!
11. Wei Long Fried Pungent Beancurd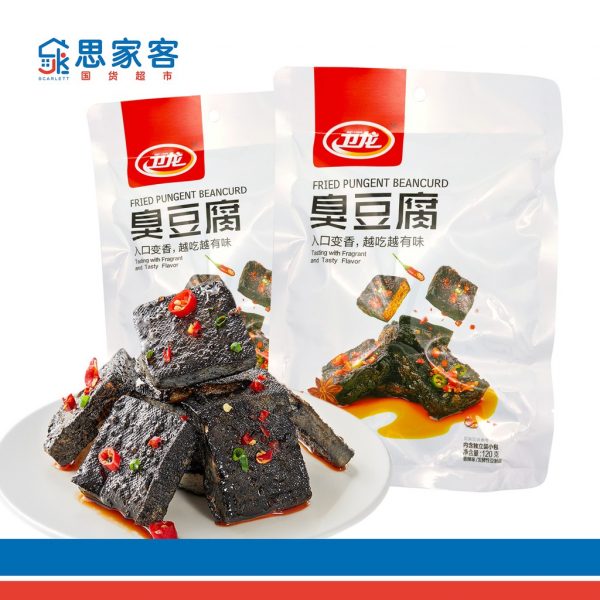 You can always count on Chinese snacks to offer adventurous flavours — case in point, the infamous stinky tofu! While this delicacy is hard to find in Singapore, you can put your nose to the test with the Wei Long Fried Pungent Beancurd (available on Scarlett Supermarket 思家客国货超市). We admit that this snack doesn't look the most appetising, but it is surprisingly delicious with a mix of salty and spicy flavours. Be warned, the spicy level of this China snack is off the charts! However, that makes it a good snack for when you're nodding off at work. Sink your teeth into the crispy outer layer and slurp up the spicy juices hidden in the plush inner layers for a quick perk me up. 
12. Bestore Scallops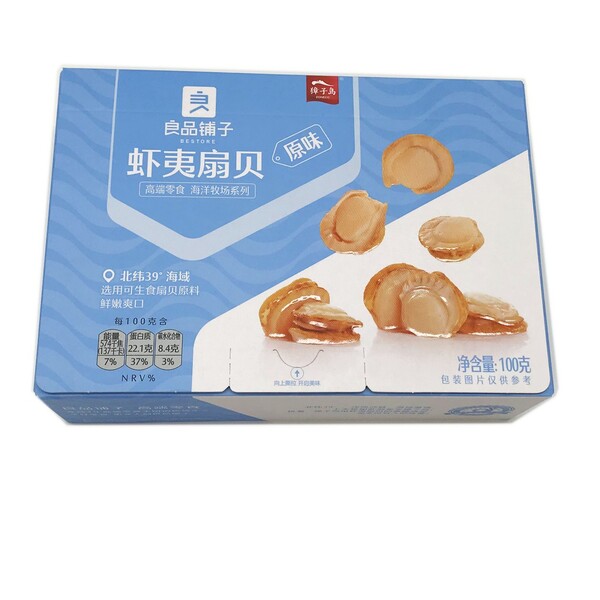 Level up your snack game with Bestore Scallops (available on Shopee Supermarket), one of the hottest snacks in China! Unlike dried scallops, Bestore Scallops are marinated and packed fresh individually into vacuum sachets. This is why the scallops still remain juicy and have a springy texture even after you keep them for long. There are original, hot and spicy as well as garlic flavours to cater to different palates!
13. Lay's Potato Chips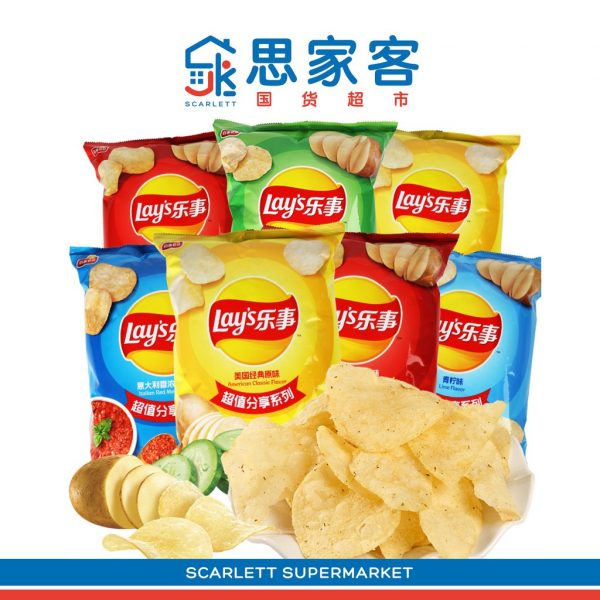 Potato chips brand Lay's is no stranger to Singaporeans, with the fan-favourite snack being a go-to when watching movies or burning the midnight oil. While it might have originated from America, it is China's Lay's Potato Chips (available on Scarlett Supermarket 思家客国货超市) that has captured the hearts and stomachs of many. If you're adventurous enough, you can try the Cucumber flavoured chips, which are lightly salted with a hint of sweetness and sourness. You can also pick from other addictive flavours like Spicy Crayfish and Lime. 
Best sweet Chinese snacks to buy in Singapore
14. Bestore Crispy Winter Jujube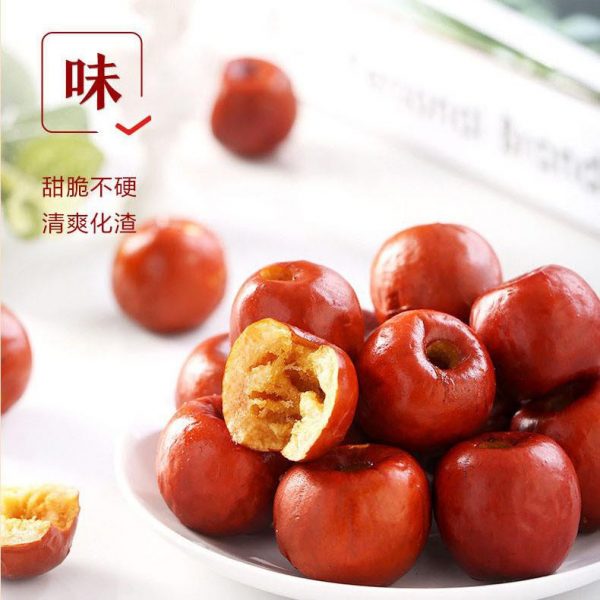 We've mentioned the best spicy and savoury Chinese snacks above, and now, it's finally time for a snack that sweet tooth foodies will love! The Bestore Crispy Winter Jujube (available on MixCart) has a natural fruity sweetness with absolutely no artificial sweetening added. Every jujube is deseeded so you pop it into your mouth without hesitation. And unlike dried jujube that may appear wrinkly and taste mushy, these jujubes have a satisfying crunch to them that makes them a popular snack you've got to try!
15. Bestore Everyday Nuts Fruits Oatmeal Cereal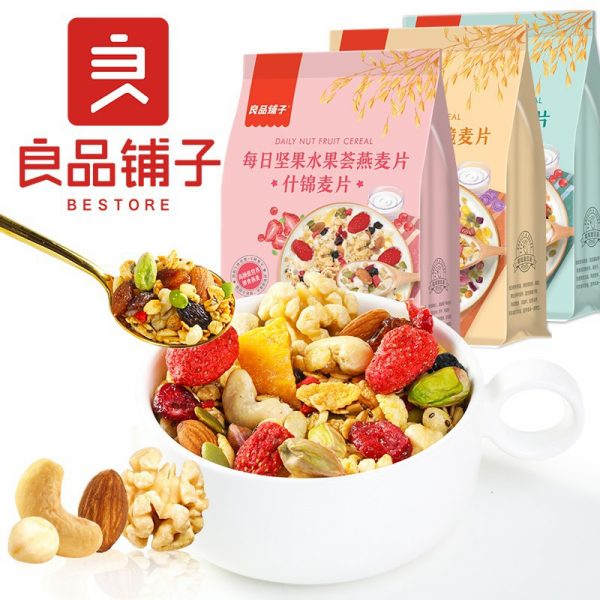 Another healthy China snack option is the Bestore Everyday Nuts Fruits Oatmeal Cereal (available on MixCart). Jam-packed with cashew nuts, walnuts, almonds, pistachios, and hazelnuts, this is your go-to snack for plant-based protein and other essential nutrients! To add a hint of sweetness to the mix, the cereal also contains raisins, dried cranberries, and blueberries, freeze-dried strawberries as well as coconut. We're certain you'd be impressed with the generous variety included in this bag of cereal!
16. Uncle Pop Sachima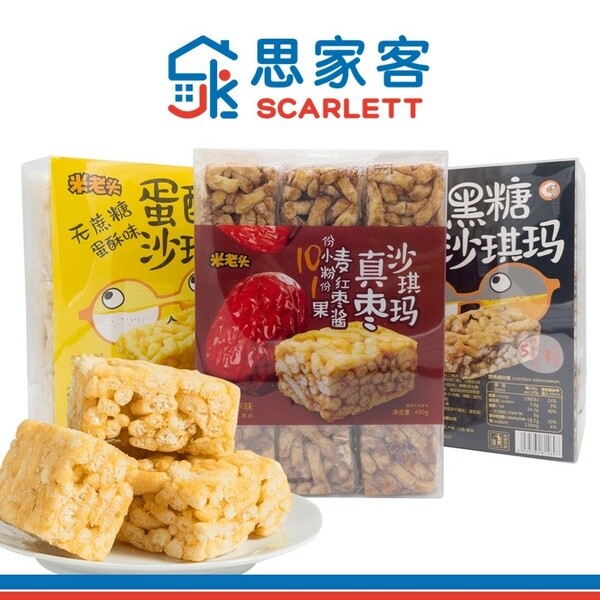 Love Rice Krispie treats? Then you've got to check out the Uncle Pop Sachima (available on Scarlett Supermarket 思家客国货超市). Sachima is a Chinese sweet snack made of deep-fried flour batter tossed in egg and coated in brown sugar syrup. Although not made of rice puffs, sachima has the same sticky yet crunchy texture that Rice Krispie treats have. As this snack is on the sweeter side, it's best enjoyed with a warm cup of Chinese tea.
17. Bestore Mochi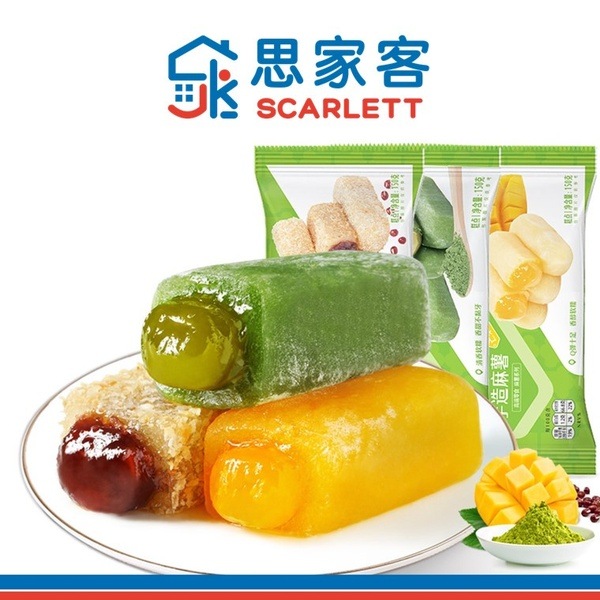 When stocking up on some of the best Chinese snacks, mochis are a must-have and nothing quite beats Bestore Mochi (available on Scarlett Supermarket 思家客国货超市). Available in matcha, mango, and red bean, these handmade mochis are the perfect balance of soft and tasty. The extra coconut shavings on the outer coating also add a special touch to the mochi, making the overall taste mildly sweet with a hint of crunchiness. If you're not that much of a sweet tooth, you can always pair the mochi with something more savoury such as a piping hot bowl of miso soup or udon noodles.
18. HONlife Chia Seed Cereal Granola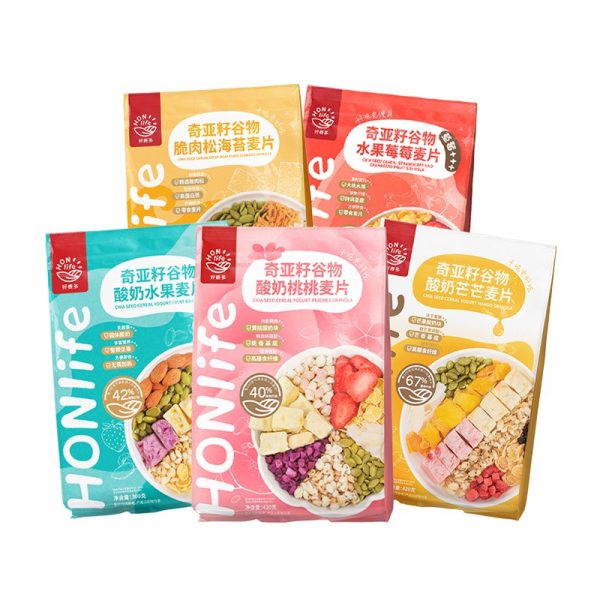 China snacks can be pretty sinful at times so it definitely helps that there are healthier options like the HONlife Chia Seed Cereal Granola (available on GD Living hall) around. These highly sought-after chia seed cereals are available in fresh fruits flavours such as mangoes, peaches and cranberries. Additionally, they are made of high fiber protein which allows for better digestion. You'll also appreciate how these cereal yogurts are a good choice for a substitute meal when you're feeling lazy to cook. Alternatively, they can be eaten as a snack or mixed with warm milk, yogurt, or ice cream. 
19. QiaQia Sunflower Seeds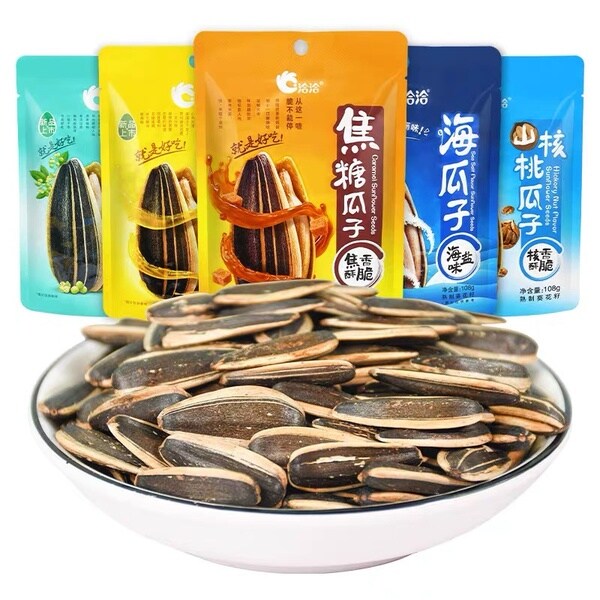 Sunflower seeds are nothing new to many of us — after all, they are a common Chinese New Year snack. However, have you seen flavoured sunflower seeds before? Presenting the QiaQia Sunflower Seeds (available on NEWSTAR Electronics) which comes in a unique range of flavours! Think cheese honey butter flavoured sunflower seeds. Not only is it addictive and easy to digest, but these best Chinese snacks are also high in protein and rich in healthy fats may help lower the risk of heart disease and high blood pressure. 
20. Gan Yuan Sunflower Seeds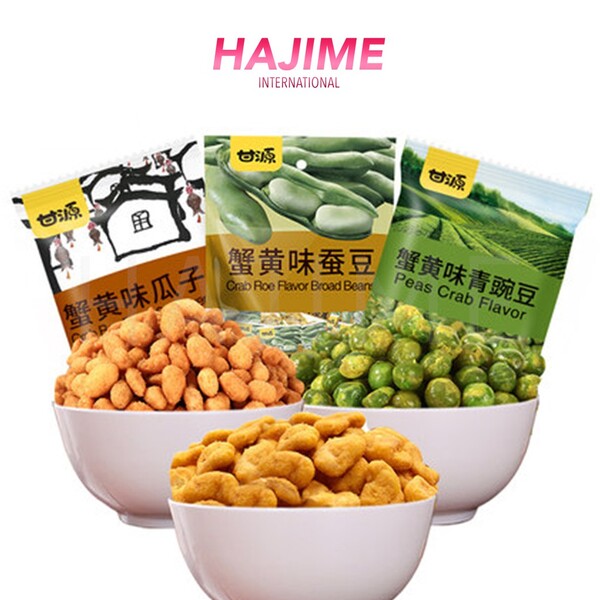 Too lazy to shell sunflower seeds? Perhaps the Gan Yuan Sunflower Seeds (available on Hajime International Singapore) will be a better alternative for you. These sunflower seeds come unshelled to save you the hassle and mess! With savoury flavours such as pork floss, beef sauce, and crab roe, these seeds are definitely not your ordinary Chinese snacks from China.
Best beverages to buy from Chinese supermarkets
21.

 Xiang Piao Piao Classic Milk Tea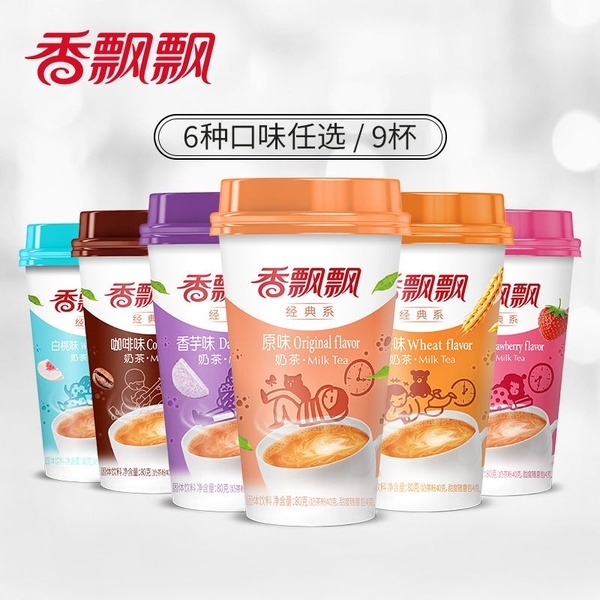 Not being able to travel overseas doesn't mean you have no access to good milk tea from China. With the Xiang Piao Piao Classic Milk Tea (available on tteynliu2cc.sg), you can enjoy a hot cuppa anytime, anywhere! The milk tea kit comes with everything you need — tea, sugar, nata de coco, and even a straw. This Chinese snack is best suited for tea lovers as it has a light roasted flavour that goes well with the sweet nata de coco bits. Other flavours to try include the dasheen (yam), white peach, and coffee! A must-add to your list of where to buy China snacks in Singapore!
22. RIO Light Cocktail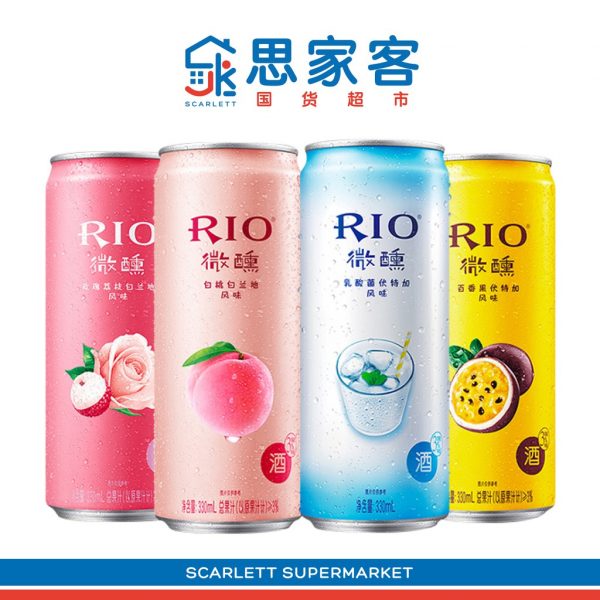 Who says that you can't drink alcohol during the day? Given the hot and humid weather in Singapore, the RIO Light Cocktail (available on Scarlett Supermarket 思家客国货超市) makes the perfect choice for a quick tipple. Its refreshing flavours serve as good perk-me-ups especially if you're in the middle of a hectic day — no need to wait for happy hour. In fact, with addictive flavours such as Yogurt Vodka, Rose Lychee, and Peach Brandy, you may be reaching for another can before you know it!
23. Milky White Rabbit Milk Tea
When it comes to the most creative Chinese snacks, China never disappoints! Our childhood favourite candy is now made into a tasty drink with the Milky White Rabbit Milk Tea (available on Evalue Mart). With a milky sweetness and a mix of fun flavours like sea salt cheese, this is one of the best Chinese snacks to have when you're feeling down or tired. It also comes with chewy nata de coco and other toppings like red bean — one cup is never enough! Time to add this to your list of where to buy China snacks in Singapore!
24. Genki Forest Soda Sparkling Water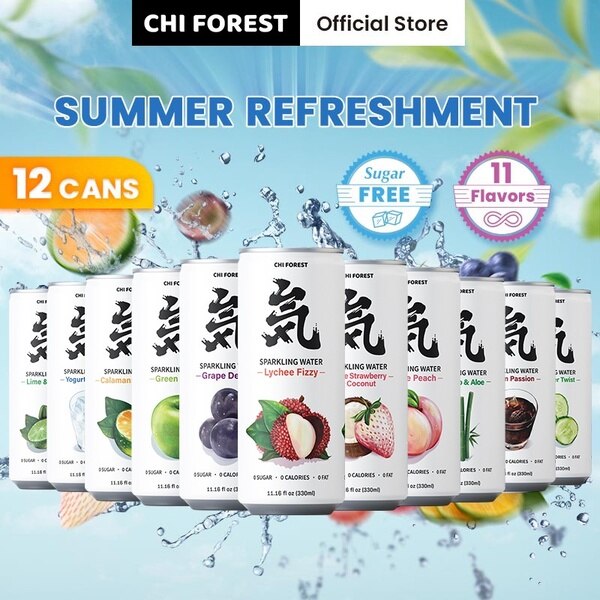 Don't be fooled by the plain-looking packaging of the Genki Forest Soda Sparkling Water (available on Chi Forest Official Shop) — they are anything but plain. In fact, these drinks from China are some of the best quality (and healthy!) ones around, with no sugar and artificial flavourings included. With different fruit flavours such as Calamansi, Sour Plum, and Black available, this Genki Forest drink also promises to be nutritious, perfect for those who want a cheat drink while still maintaining their calorie count.
25. Nongfu Spring Fruit Tea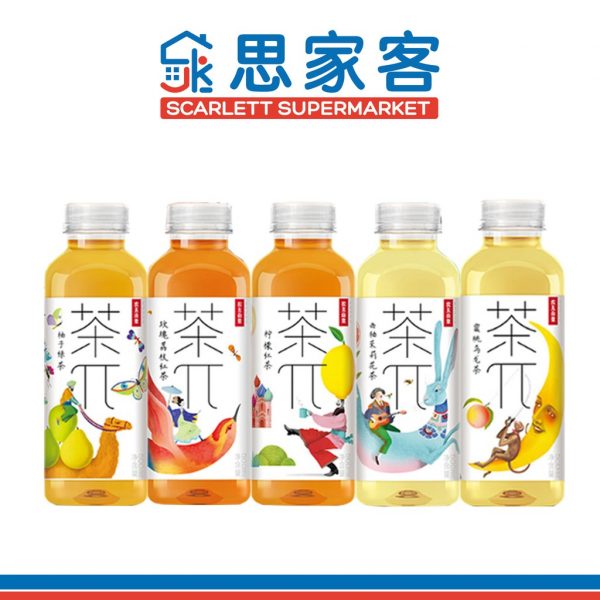 Calling all tea lovers! As a frontrunner in the China snack scene, the Nongfu Spring Fruit Tea (available on Scarlett Supermarket 思家客国货超市) is definitely a fan favourite. Cute packaging aside, Nongfu stands out for its perfect balance of floral and fruity fragrance of its teas. A highlight would be the Peach Oolong Tea which is definitely a refreshing quench on a hot day. Other tea flavours include Grapefruit Green Tea and Rose & Lychee Black Tea. 
Free up your kitchen for these fancy Chinese snacks
From pungent bean curds to cucumber-flavoured potato chips, you can always count on Chinese snacks from China to deliver the best and most unexpected flavours! Hope our list of China snacks has helped answer your question about where to buy China snacks in Singapore! Didn't find your favourite brand on this list? Check out our China snacks review to discover more yummy bites!
Need more snack inspiration? Check out these Korean snacks that your favourite K-pop idols love, Indian snacks for this Deepavali as well as some healthy snacks that will keep you awake if you're working from home. Alternatively, head on over to our Don Don Donki shopping guide to stock up on your Japanese grocery essentials! Don't miss out on amazing promos and deals during our 10.10 Brands Festival!
This article was updated on 4 November 2022. Additional research done by Jamantha Lim.
New to Shopee? Get $7 (min. Spend $15) with code*: 25BESTCHINESESNACKS
*TNC applies. Valid for new users from 8 Nov to 15 Nov 2022 only.