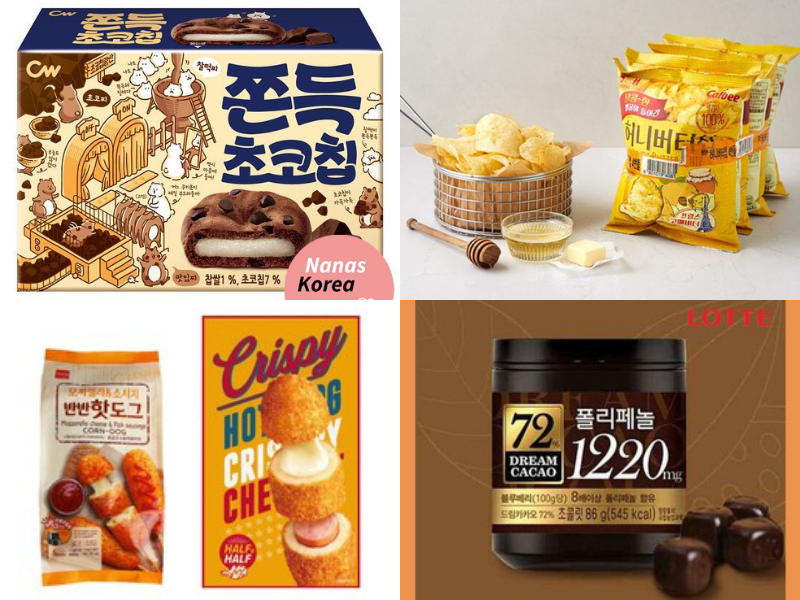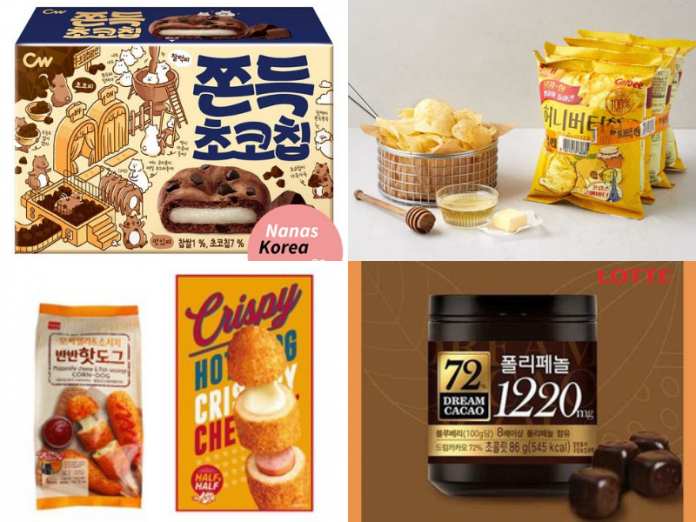 Korean snacks are a huge hit amongst Singaporeans, made popular by Korean dramas and of course, Kpop idols! With a myriad of flavours available to suit different palates, there is something for everyone. Whether you're missing out on the snacks you get when traveling in Korea or perhaps you're just curious about the hype around Korean snacks, we thought it was high time we did a guide on some of the most insanely delicious Korean snacks every Singaporean needs to try at least once!
The best Korean snacks every Singaporean needs to try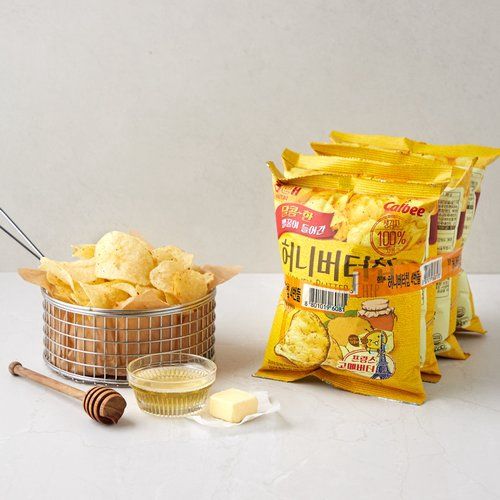 Have never tried Korean snacks? Then the HaiTai Honey Butter Chips (available on SSG.COM, Korean #1 Online Shop) is a great place to start! These honey butter chips were super popular a few years back and are still loved by many today! These sweet and buttery potato chips tickle the taste buds in the most delightful ways! Of course, they're also very addictive.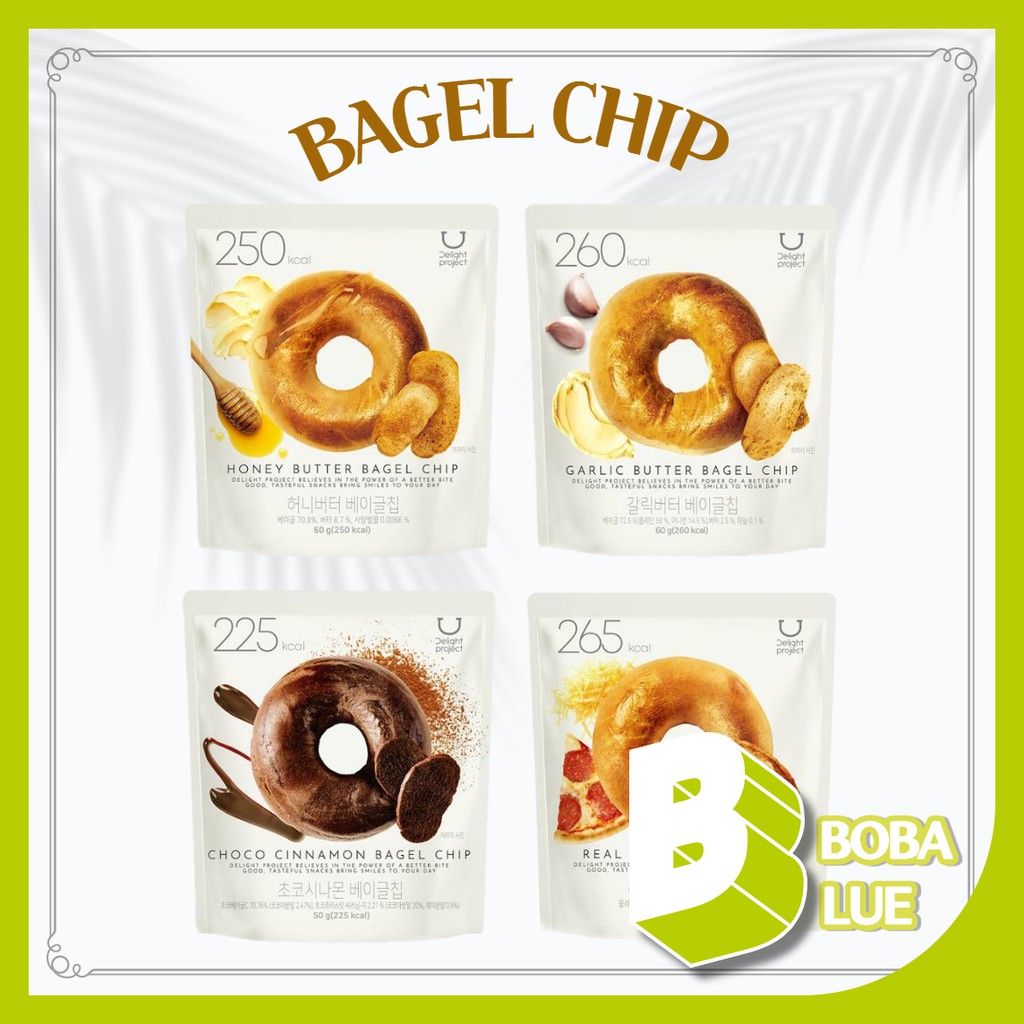 While we're on the topic of chips, how do you feel about bagel chips? These bagel chips (Available on BORAKIM (BBOBA BLUE)) come in unique flavours such as honey butter, chocolate cinnamon, garlic butter, and even pizza! We think this might just be your new go-to snack.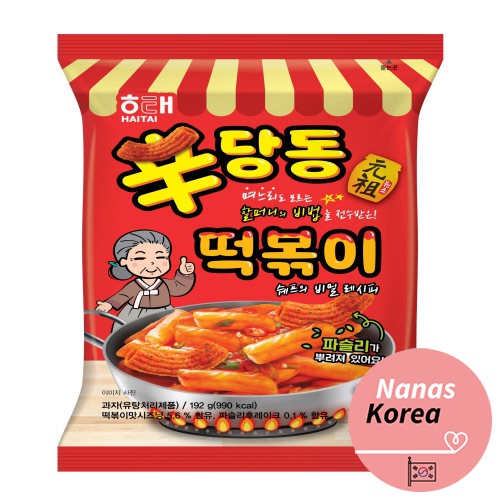 We all know that Koreans love their spicy food, think Kimchi and Korean instant noodles. Another beloved spicy Korean snack is Tteokbokki or spicy Korean rice cakes. This snack is a crunchier version of the savoury and starchier original rice cake but still oh-so-good! In need of a savoury snack during Nintendo Switch game nights? Then bring along a few packets of these — we particularly like HaiTai's Spicy Rice Cake (available on Nanas Korea)!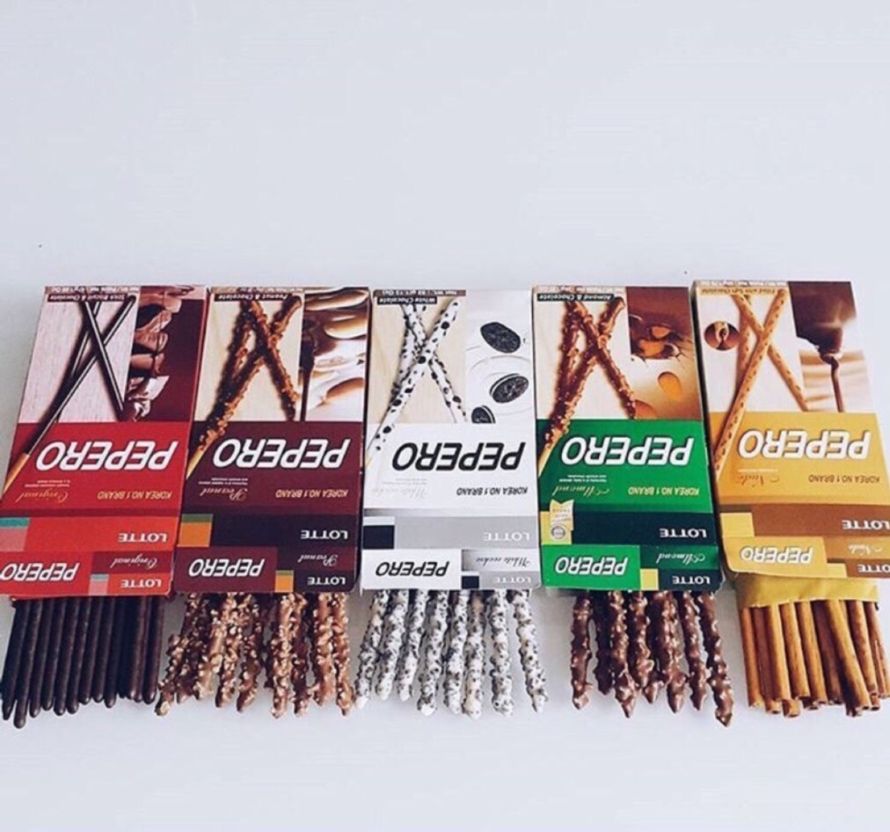 Similar to the Japanese snack counterpart, Pocky, the South Korean Pepero (available on thestylography) variant brings to the table other flavours like Almond Chocolate, White Cookie, and Nude — crunchy biscuits with chocolate filling.
Fun fact – Koreans believe that because of the long and thin shape of a Pepero stick, one can grow taller. Interestingly, Pepero Day (or Korea's V-Day part two) was inspired by this Korean snack. Maybe try the cheeky Pepero stick challenge with a special someone. Each player has to put one end of the Pepero stick into their mouth and bite away. You might just get an 'accidental' kiss!
5. Oreo O's (From $12.90)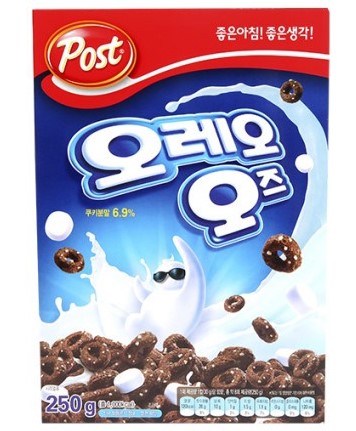 Hands up if you love having cereals as a snack! Korea's Oreo O's cereal (available on MUKBANG.SG) consist of oreo flavoured cereal and taste just as good as their cream-filled cookie relatives! A packet of Oreo O's includes chocolate rings, sprinkled with cream and marshmallow bits! We bet you can already imagine the explosion of flavours in your mouth! Simply pour milk over a bowl of Oreo O's or have it without milk — as you please. Either way, don't miss out on one of our favourite Korean snacks on the list!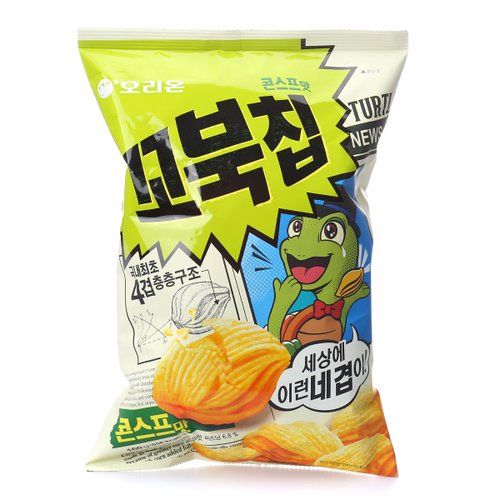 Do not worry, these Korean snacks aren't made of turtle parts but rather they're just shaped like turtle shells. The ORION Turtle Chip Corn Soup Flavor (available on SSG.COM, Korean #1 Online Shop) reminds us of creamy corn soup. Its four-layered chip will leave you munching through them in satisfaction. Turtle chips are also available in Injeolmi, Choco Churros, and Sweet Cinnamon flavour. Be sure to try these highly popular Korean snacks the next time you're craving something fun and yummy!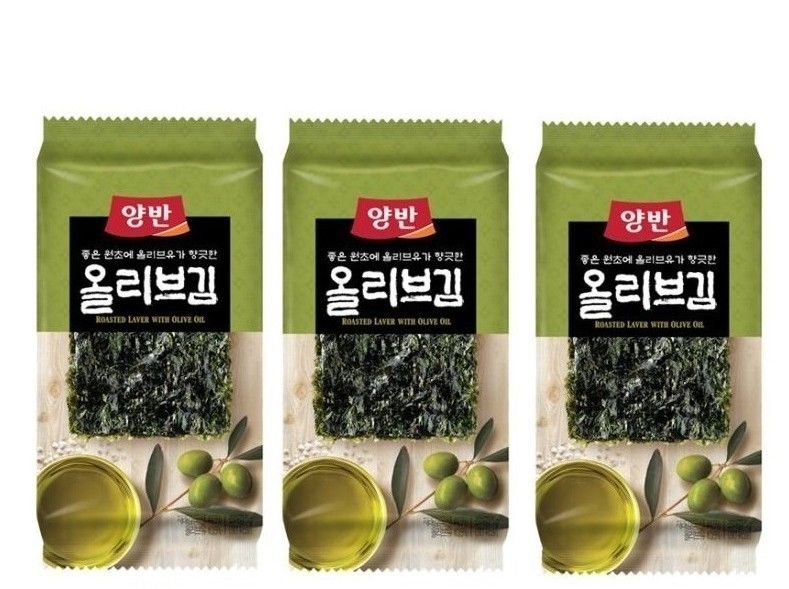 We don't care what anyone says, we believe that seaweed is one of the best snacks out there.
Dongwon YangBan's Seaweed Laver with Olive Oil (available on Hi Trading Supplies Singapore) is a popular Korean seaweed snack that is rich in nutrients, low in calories, and does not contain MSG. This delicious snack promises to tide you through hair-pulling pulling homework assignments or sappy moments of your favourite Netflix dramas — we need them, every.step.of.the.way. And if you're craving for something more filling, we hear Dongwon YangBan's rice porridges are also widely popular!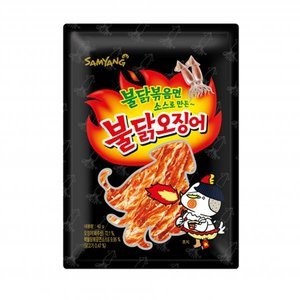 Following along the theme of dried snacks, dried squid is the perfect accompaniment to beer or soju drinking sessions in Korea. This Korean snack is known as ojingoechae and is made by drying the squid, seasoning it, and cutting it into thin strips before packaging it.
The Samyang Buldak Dried Squid (available on MUKBANG.SG) is a fiery hot chicken flavoured snack that's perfect for anyone in the mood for some spicy food! If you love this snack, don't miss out on Samyang Ramen — another must-try from this food production company!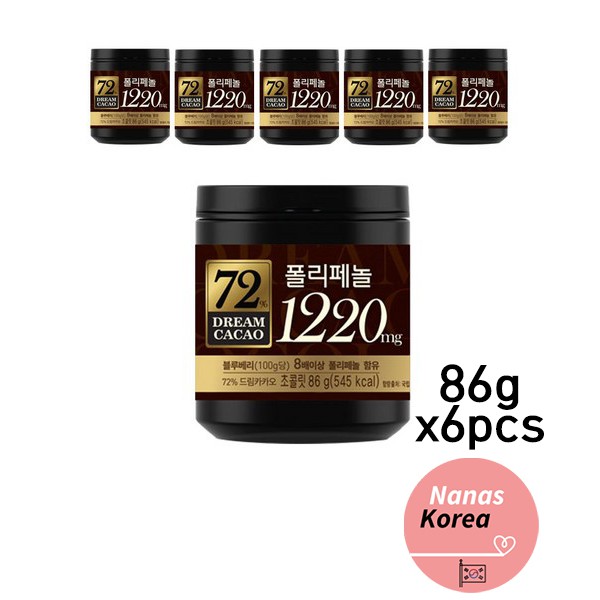 To all our Korean drama fans out there, we know this ain't a foreign snack to you! Featured in the popular Korean drama Hospital Playlist, the Lotte's Dream Cacao Chocolate (available on liviart.sg) has a full-bodied chocolate taste and is packed with antioxidants, helping to reduce the risk of heart-related diseases. Additionally, Cocoa from the cacao trees boosts energy and endorphin levels — keeping you in a happier mood for longer! Not to mention, Lotte Confectionery is one of the best known Korean food producer brands. Do we need to give any more reasons for you to grab a packet today? We think not!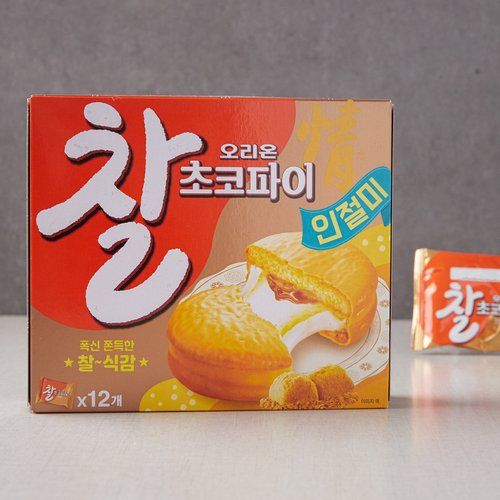 When we talk about chocolate, we must bring up Choco Pie! This is one of the most iconic Korean snacks ever with some even considering it as Korea's national snack. The Choco Pie is most easily characterised by the two-sponge cakes with marshmallow filling topped with an exterior luscious chocolate coating.
Over time, Orion has released many different flavours including this Sticky Choco Pie Injeolmi (available on SSG.COM, Korean #1 Online Shop) — a delicious treat for Korean rice cake and bingsoo lovers! Although Orion's choco pies can be easily confused with Lotte's choco pies, many prefer Orion's chocolate pies, as it's reportedly more moist than their Lotte counterparts.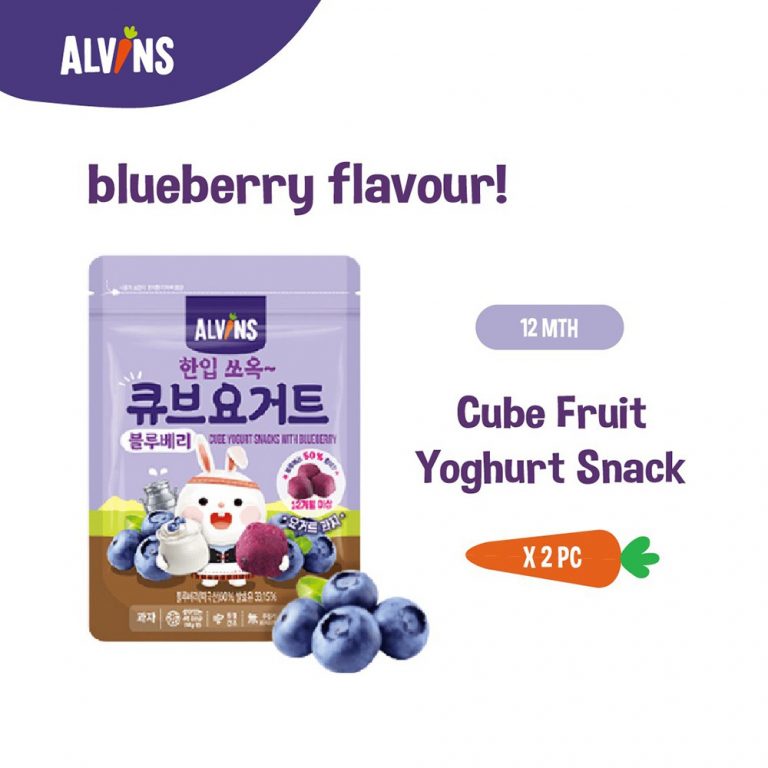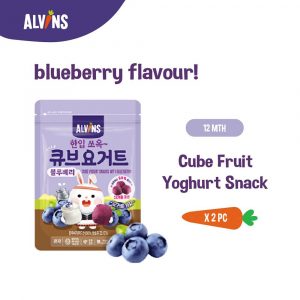 Get your little ones on the bandwagon of Korean snacks! Alvins is a baby food brand that specially manufactures snacks for the youngest members of your families! Their rice snacks contain fresh ingredients like brown rice and seaweed calcium which are beneficial for the growth and development of your little bub!
ALVINS yogurt fruit snack (available on Alvins Singapore) comes in four flavours, featuring strawberry, blueberry, apple, and mango! These snacks are fun to eat and taste great, making the perfect snack for the little ones at home.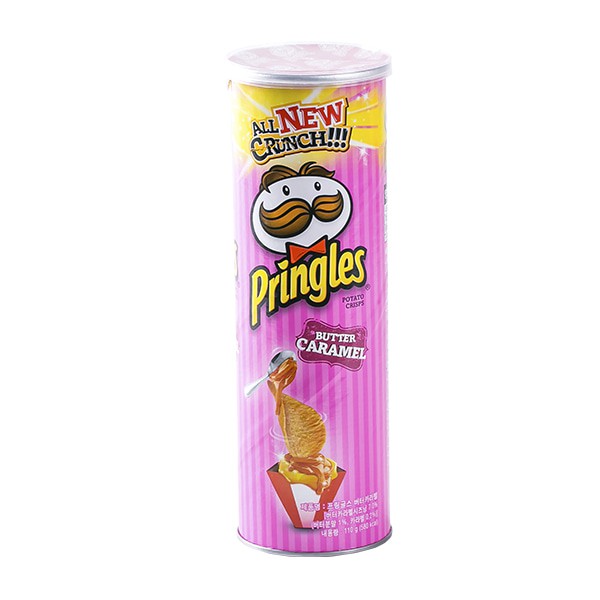 Pringles need no introduction. Butter Caramel Pringles (available on koreafarm.kr) was designed especially for the Korean market and was in fact inspired by HaiTai's best-selling Honey Butter Chips. These Pringles not only come in a pretty pink can but we hear have a lovely mix of saltiness, sweetness and you guessed it — buttery goodness.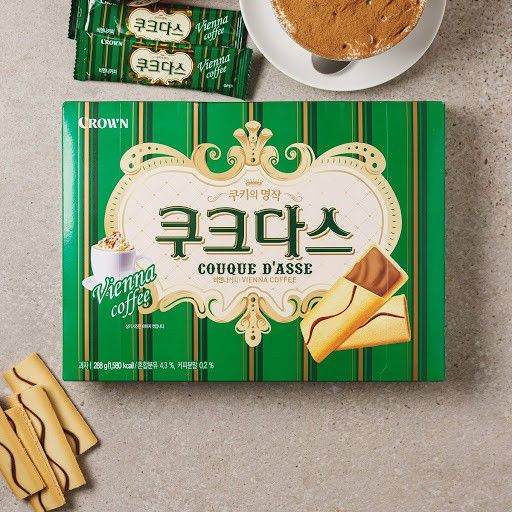 The Crown Couque D'asse Vienna Coffee (available on Koryo Mart & K-Market) wafer biscuit is the perfect accompaniment with coffee or tea. 'Couque Dasse' means 'cookies from the Asse region' in Belgium and is filled with silky coffee cream that will melt in your mouth. If you're a fan of the Japanese D'asses biscuits, you'll love their Korean snack equivalent.
Tom's Farm almonds are one of the most popular Korean almond snack brands today. From fun flavours like Honey Butter and Tteokbokki to Black Sugar Milk Tea, we're just spoilt for choices. Tiramisu fans will love Tom's Farm Tiramisu Almond (available on Lomi.sg) snacks. These small Korean almond snacks have a nice crunch effect that'll leave you reaching for more!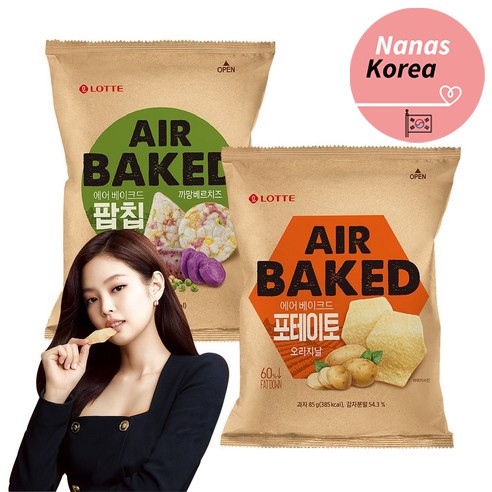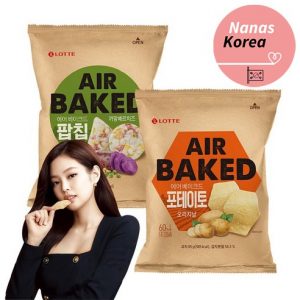 Potato chips taste great but they can be a little sinful at times. Air-baked chips are a  healthier alternative to regular potato chips, and this Lotte air-baked potato chips is currently available on nanaskorea.sg!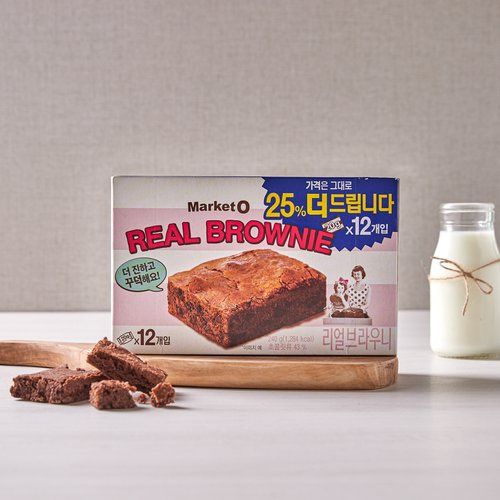 These brownies in a packet will be the perfect snack on days you need to get through piles of work. The Orion Market O Brownies (available on SSG.COM, Korean #1 Online Shop) are made from chocolate, Korean eggs, minimum wheat, and butter, for a chewy consistency. If you love brownies but are not in the mood to bake one from scratch then this is one Korean snack you must have on hand.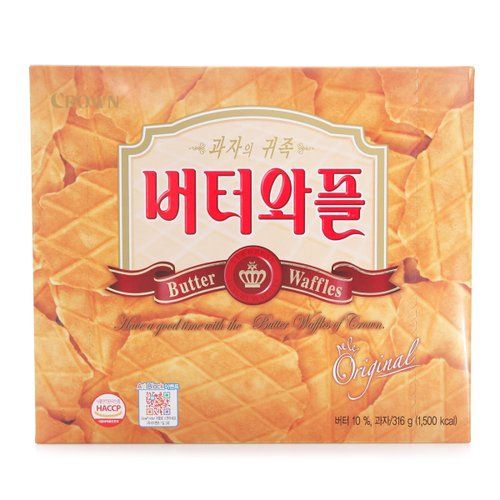 Korean snacks can be overwhelming at times so here's a snack that is classic and simple. The Crown Butter Waffle (available on SSG.COM, Korean #1 Online Shop) is a mildly sweet waffle biscuit that comes individually wrapped so you don't have to worry about them getting stale!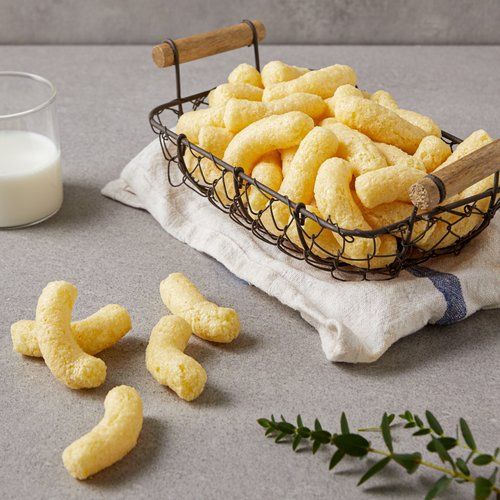 Korean banana milk is a must-have when visiting South Korea. If you're a fan of it, then you must try the snack equivalent, Nongshim Banana Kick (available on SSG.COM, Korean #1 Online Shop). However, this is a hit-or-miss Korean snack for many as it is made from corn flour with banana powder and is on the sweeter side. Some wouldn't mind the sweetness but if you prefer savoury snacks, then this might not be for you.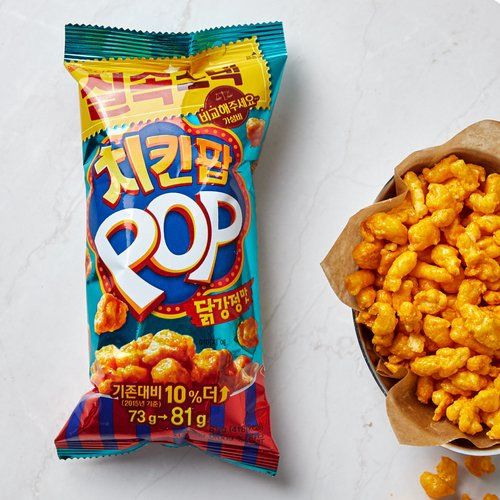 This sweet and sour Orion Chicken Pop (available on SSG.COM, Korean #1 Online Shop) will be a winner for many. It's packed with flavour and comes in convenient bite-sized pieces. You'll also appreciate the small packets as you won't feel guilty about finishing it all at once. If you're already a fan of this Korean snack then you've got to try the other flavour — the Orion Chicken Pop with Cheese (available on linanshop_korea.sg) for a twist on the original flavour!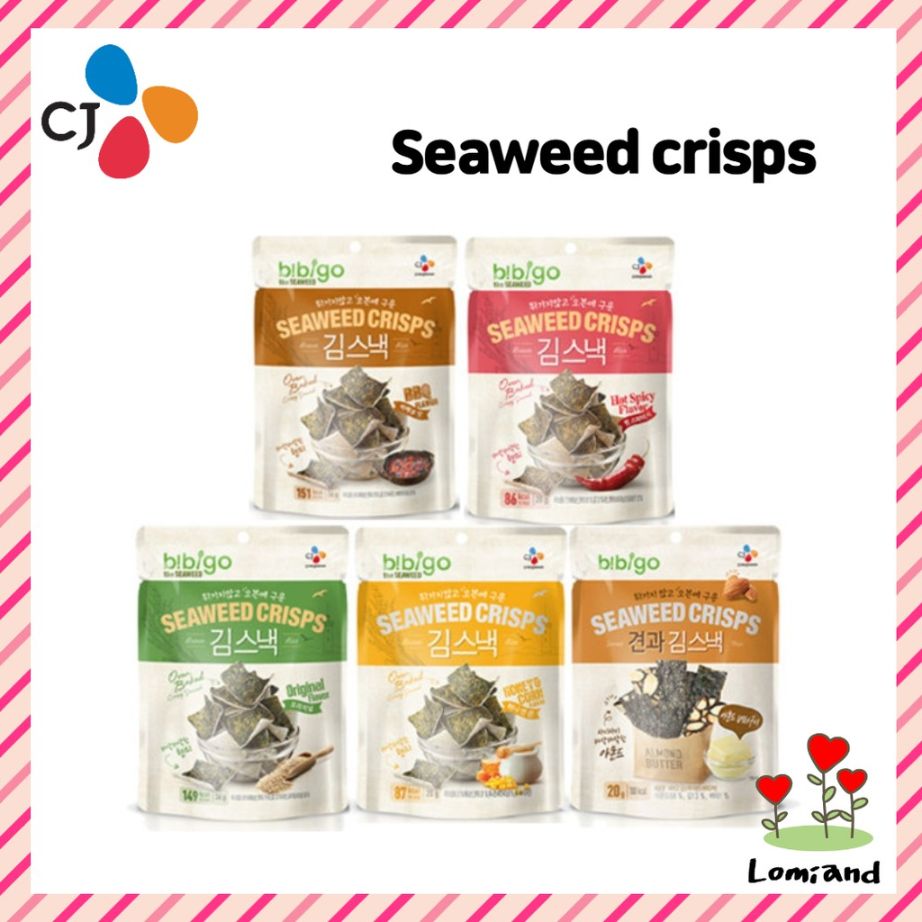 If you love spicy snacks, these Bibigo Seaweed Crisps (available on Lomiand.sg) will not disappoint. The Hot and Spicy flavour combines both the taste of seaweed and chili for a satisfying crunch that'll have you coming back for more! These seaweed crisps are also oven-baked and not fried — great for health-conscious snackers.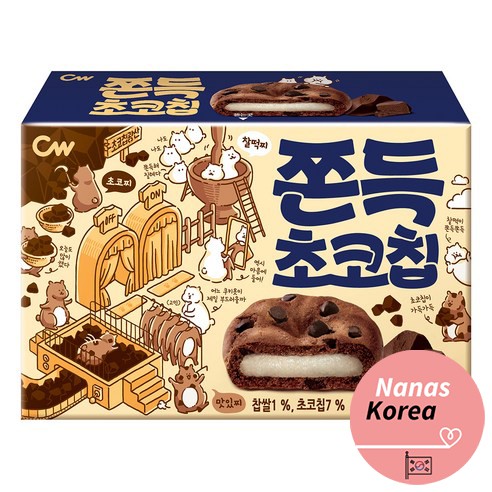 We don't know about you but we can't pass up a chewy cookie. The CW Chewy Chocolate Chip Cookie (available on Nanas Korea) is the perfect Korean snack to chase away any Monday blues. This cookie will not only boost your mood but also has an addictive mochi-like texture that'll melt in your mouth from the moment of your first bite. Since we love mochi anything, this one is definitely going high up on our list.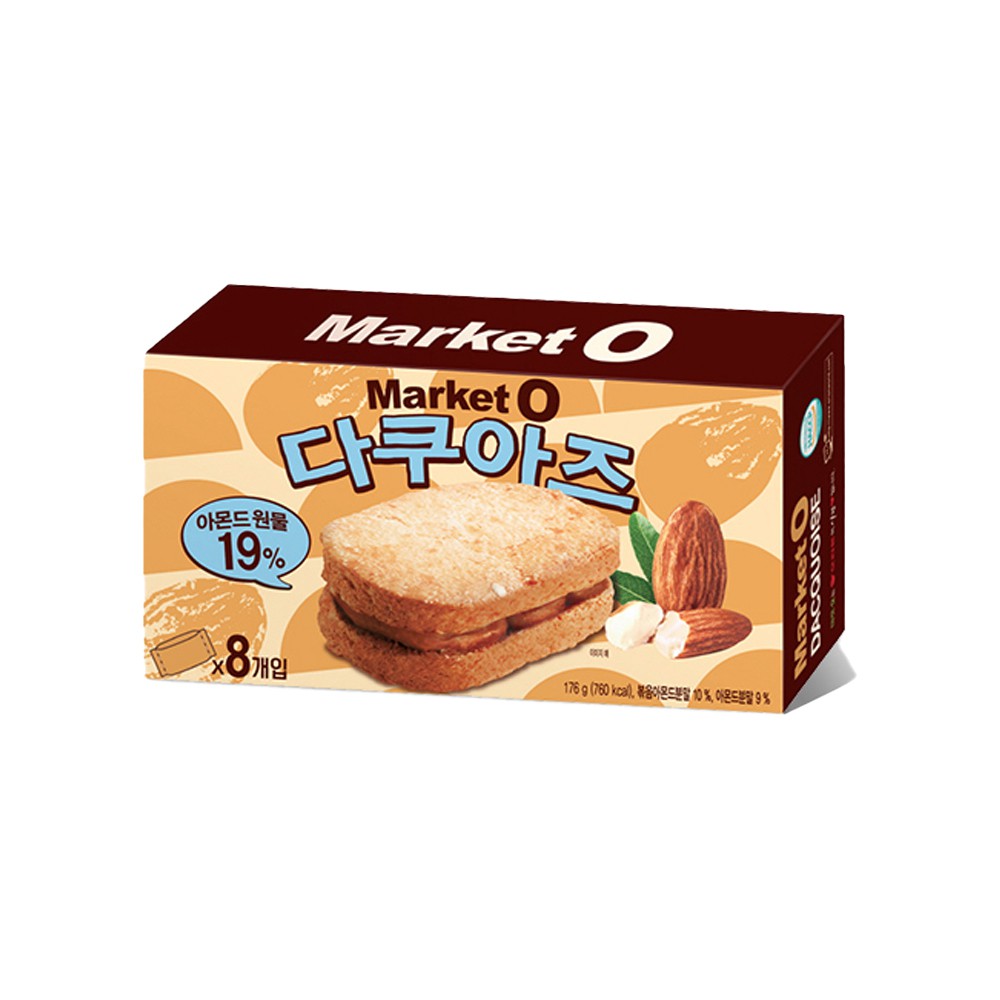 The list is getting long but we've still got more to share! The Market O Dacquoise (available on Luluroom.sg) is a traditional french dessert. Made with a soft and silky cream in between two sponge layers, the almond flavors and fluffy texture is delicious and great to eat!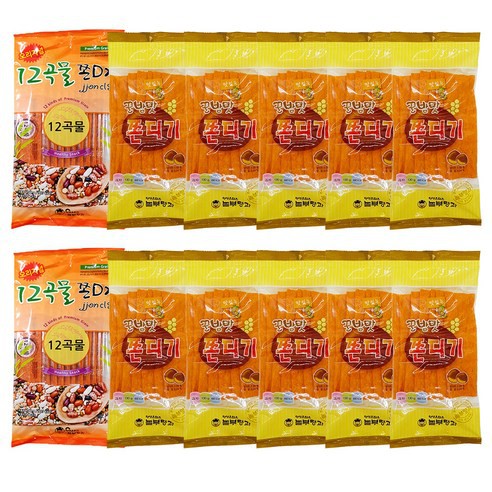 This traditional Korean snack is making waves! Jjondeugi Korean Traditional Chewy Snack (available on hiko.sg) is a chewy diet snack that's made of pumpkin and sweet potato. Jjondeugi snack also contains konjac that's a starchy root that helps to keep you fuller for longer. You can eat the snack as it is or do it like the Koreans by sprinkling some ramen seasoning followed by grilling them to bring out its full flavours.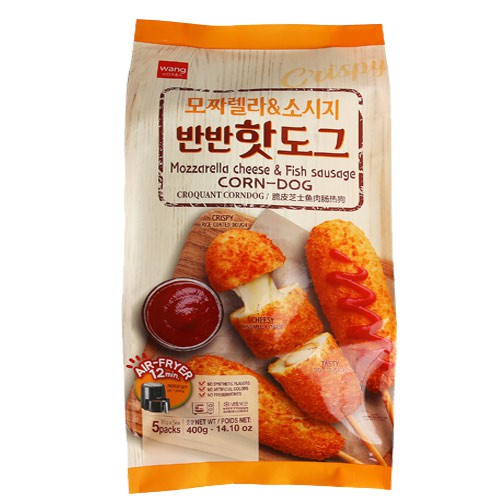 Featured in popular K-drama Start-Up, where the grandma in the series opened a corn dog truck at Yeouido Hangang park, this is one Korean snack that has become wildly popular. The Korean Crispy Mozzarella Cheese Breaded Corn Dog (available on Sing Sing Mart) has a crispy outer layer and an inner layer with a chewy sausage and buttery, tangy mozzarella cheese that stretches with every bite! 
These corn dogs can be prepared easily by heating them up in the microwave oven. Perfect for those of us who want a quick munch to fill our tummies!
The best Korean snacks for the Seoul
Want to snack on everything but worried about breaking out? Check out our K-beauty skincare guide for tips on how Koreans maintain their clear skin. We've also got a list of Korean drama for you to binge-watch while enjoying these snacks! After you're done with the K world, head over and check our collection of local snacks and take the quiz to find out which local snack you are! Happy feasting!
This article was updated on 10 August 2021. Additional research done by Jiaxian Lee.
---
New to Shopee? Get $7 off (min. spend $15) with code*: KSNACKS7OFF
* TNC Applies. Valid for new users from 12 to 19 August 2021 only.