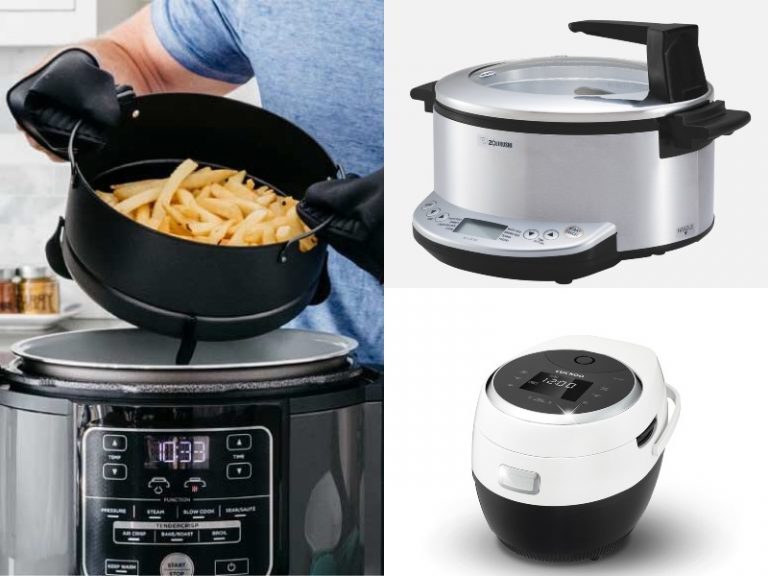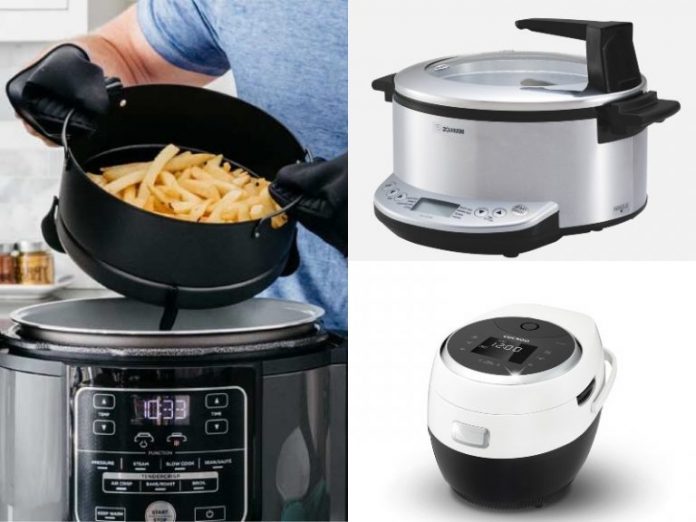 Hands up if you're a busy working individual who's tired from the day and still finds yourself spending too much time whipping up dinner! Whether you're a new homeowner or want to start cooking at home without the hassle of using too many appliances, multi cookers will become your new best friend. As their name suggests, multi cookers can prepare a variety of dishes in just one pot. From the popular Instant Pots and trusty Tefal multi cookers to powerhouse Ninja cookers with air fryer function, discover some of the best multi cookers in Singapore with us!
Multi cooker vs pressure cooker vs slow cooker
Multi cookers, pressure cookers and slow cookers — what's the difference between these three kitchen appliances? These cookers have one similarity in that they use less energy than ovens or kitchen stoves. However, they do have some big differences too. Here's a quick snapshot of how their functions differ:
Type of cooker
How it works
Type of dishes
Pros
Multi Cooker

Cooks according to pre-installed programmes without much supervision needed

Rice, soup, poultry, grains, yoghurt, cakes and even fried chicken wings

Replaces kitchen appliances like: rice cooker, pressure cooker, slow cooker, yoghurt maker and steamer

Has several pre-programmed cooking settings

Depending on the model, you can remove the lid to stir the dish or add ingredients

Pressure Cooker

Liquid in the cooker will turn to steam and create high pressure and temperatures that will be ideal for cooking

Tender meat, vegetables, legumes and even cakes 

Pros: 

Cooks food in a sealed pot with liquid and steam

Cooks food in a shorter amount of time

Slow Cooker

The longer you leave it cooking, the better. Slow cookers depend on the steam collected in the cooker to moisten the food further

Almost anything from stews, soups to spaghetti and curry. Avoid using dairy products in a slow cooker as those can curdle

Pros:

Retains flavour by cooking food for a longer time at a lower temperature

You can remove the lid to stir the dish or add ingredients
Realised the genius of multi cookers? Multi cookers help you whip up whatever you want in a lesser amount of time while combining the prowess of pressure cookers and slow cookers. We give you a rundown on the best multi cookers to get in Singapore so you'll be one step closer to becoming your family's MasterChef!
Best multi cookers in Singapore to place your trust in
1. Tefal Express Induction Multi Cooker 5L – CY638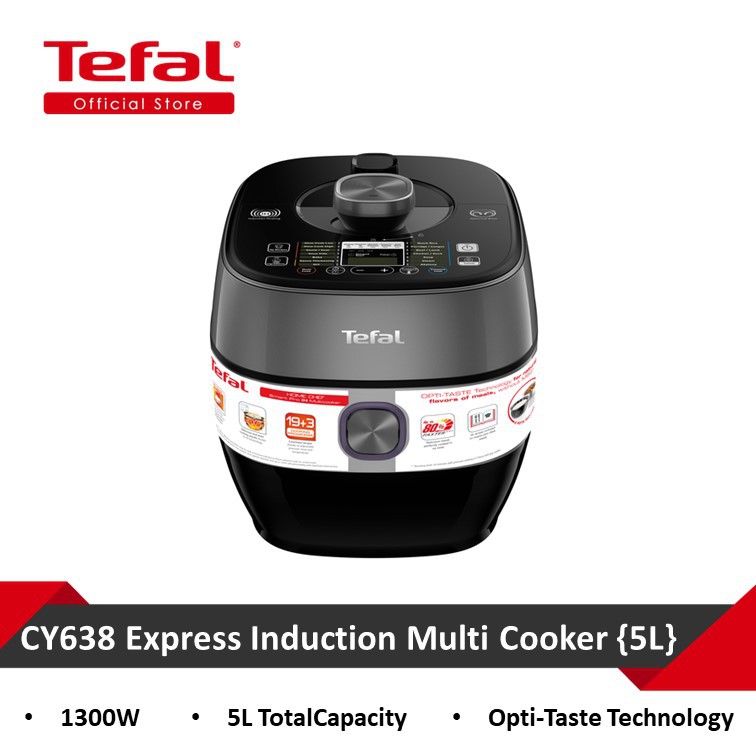 This multi function cooker has a whopping 19 pre-set programs and safety features, making it one of the best overall multi cookers in Singapore! The Tefal Express Induction Multi Cooker 5L – CY638 (available on Tefal Official Store) has programs with and without pressure so you can cook whatever you want based on the amount of time you have on hand. Some of the programs utilising pressure include: porridge, chicken, lamb, soup and abalone. While sauteing/searing, sous vide, baking do not include the use of pressure. There is also a DIY function through which you can adjust the cooking time and temperature so that you can customise the cooking process if you don't want to follow the preset programmes.
This Tefal multi cooker also boasts a 24-hour keep-warm and pre-set timer functions, a family-friendly 5L capacity and easy to clean design with removable parts so you can be in and out of the kitchen in a jiffy!
Best for big families

2. Philips HD 2137/62 Viva Collection All-In-One Multi Cooker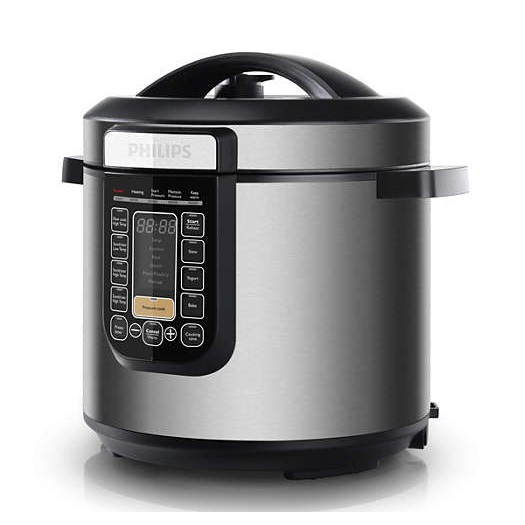 Full-time housewives can't always be doing it all! The Philips HD 2137/62 Viva Collection All-In-One Multicooker (available on VIPL Online) will make for the perfect kitchen 'helper'. This Philips cooker can reduce cooking time with minimal watching needed so you can continue with other chores. From stewing meat to brewing soups, making claypot rice and even yoghurt, this cooker can do it all! The saute function is also very useful for quickly whipping something up without having to use a separate saucepan. With its six-litre capacity, it's also one of the best multi cookers in Singapore for a larger group or for your own meal preps!
3. Zojirushi Multi Cooker EL-CAQ60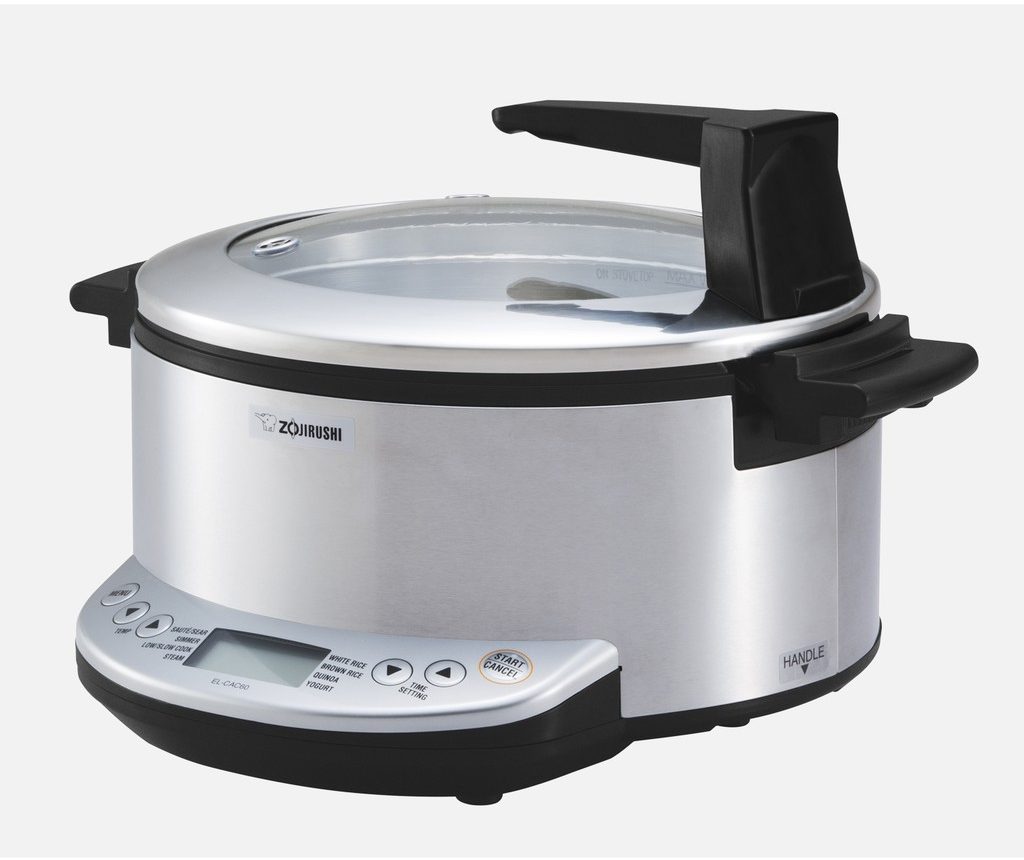 Zojirushi may be famous for their rice cookers but did you know that the brand also manufactures some pretty decent specialty cookers? The Zojirushi Multi Cooker EL-CAQ60 (available on Zojirushi Official Store) is one such cooker. It boasts nine menu settings including saute, slow cook, steam, quinoa and sear — at up to 210-degree Celsius. Its 10-inch large cooking pot and a six-litre capacity also means you'll have no problem preparing meals for family and friends in this cooker.
With its accessible low height, this Zojirushi multi cooker will also make it easier to keep a closer eye on your cooking. The tempered glass with a self-standing lid is another thoughtful feature we like about this cooker. Watch the video and check out its other features:
Best with pressure

4. Instant Pot Duo 7-in-1 Multi-Use Programmable Pressure Cooker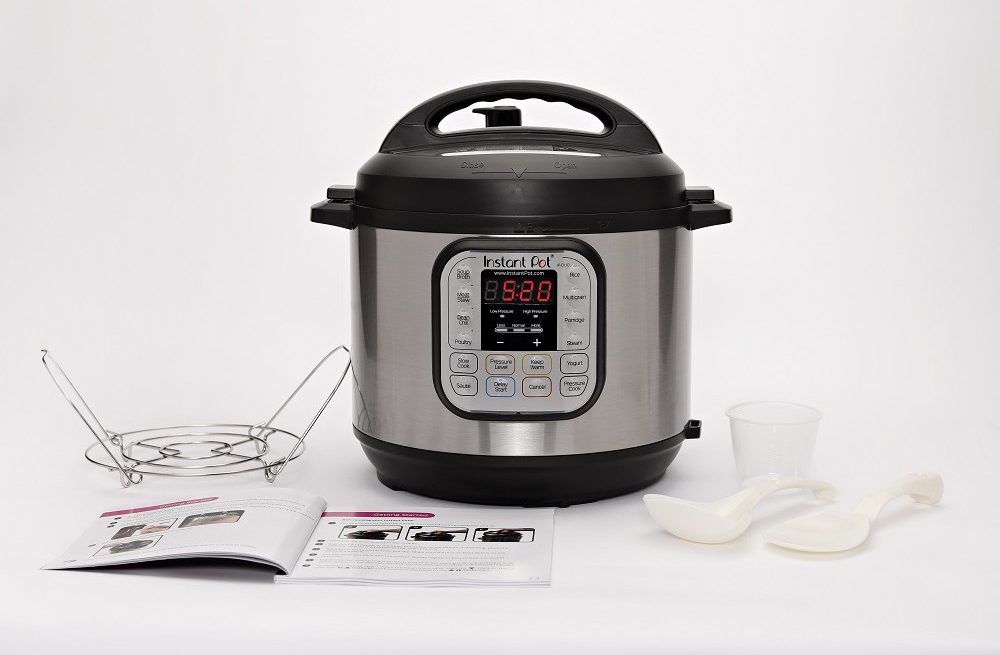 You would have come across pressure cookers that can do much more than pressure cooking, which makes them a multi cooker variant too. This Instant Pot Duo 7-in-1 Multi-Use Programmable Pressure Cooker (available on Instant Pot) can pressure cook but it can also saute, steam, slow cook, heat food and make yoghurt! It boasts 13 standard Smart Programs with recipes for soup/broth, meat/stew, beans/chili, porridge and more.
The Instant multi function cooker is as robust as it looks. The cooking chamber is sealed so that it gives off no noise and smell when cooking. Its inner pot is also coated with 3-ply stainless steel to eliminate the health concerns which non-stick pans may pose. Coupled with an advanced microprocessor that automatically adjusts heating intensity and duration, this is one of the best multi cookers in Singapore to own!
Best mini multi cooker

5. CUCKOO White 1010 Multi Cooker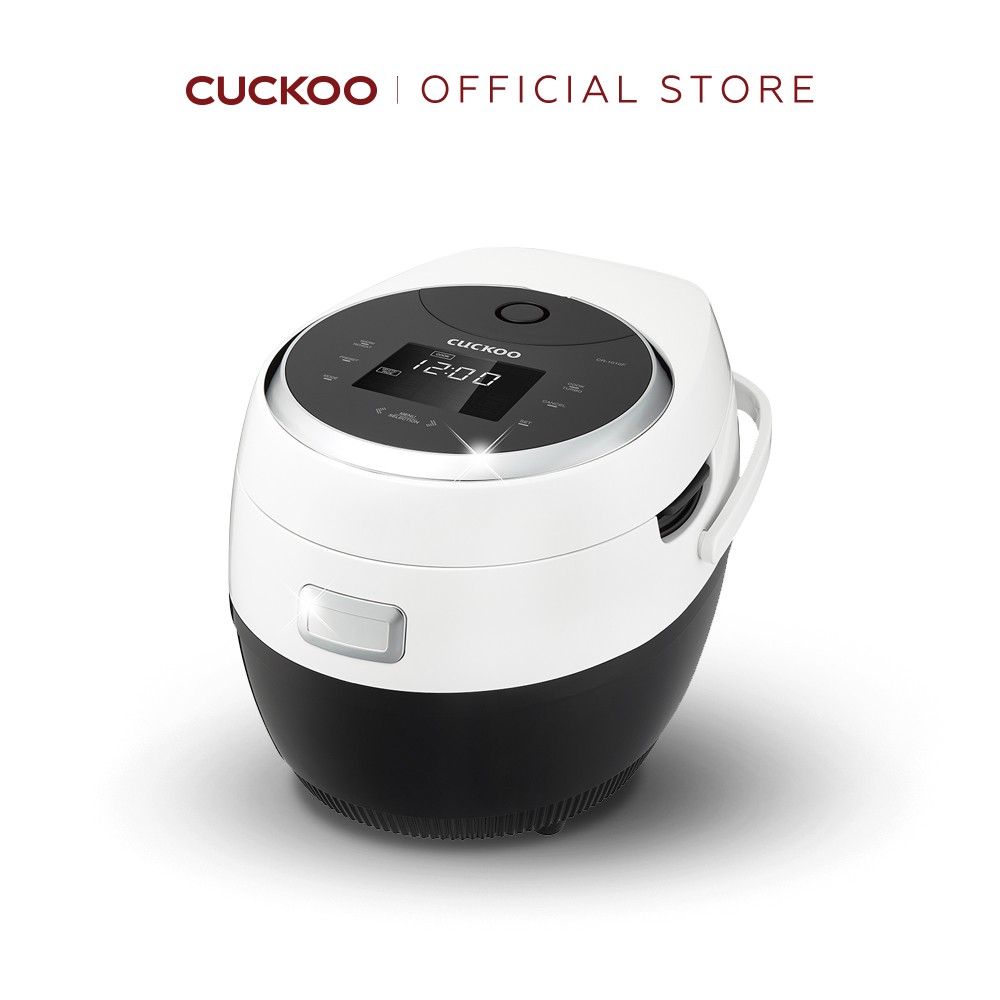 With several functions rolled into one, multi function cookers can be understandably a little bigger and bulkier. If space saving is one of your top priorities or if you're concerned about kitchen aesthetics, then this sleek and compact 4.5kg CUCKOO White 1010 Multi Cooker (available on CUCKOO SINGAPORE) is the best multi cooker in Singapore to own.
This mini multi cooker has 13 cooking modes including for Korean recipes like Nurunji, baby food or even GABA rice (or germinated brown rice). You can also customise the rice texture by choosing the soft or sticky setting. This Cuckoo multi cooker has a very useful auto-clean function that activates a steam cleaning function so you need not worry about deep cleaning it after every use. Check out the video below to see how you can make baby food recipes in this cooker:
Best with air fryer feature

6. Ninja Foodi Ninja Multi Cooker and Ninja Air Fryer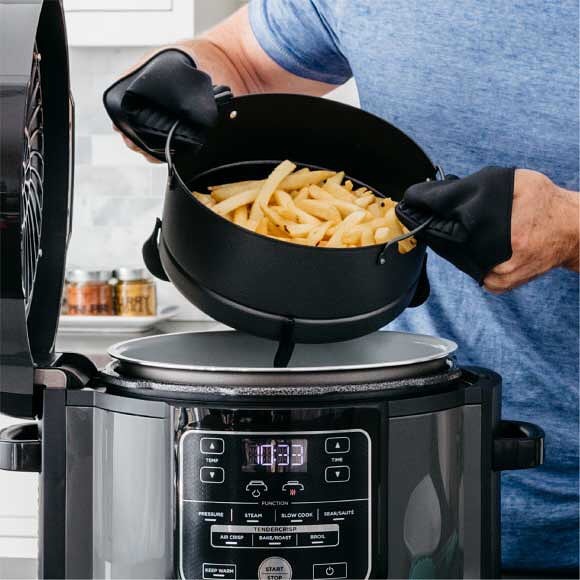 If you thought multi cookers couldn't get more awesome, this Ninja Foodi Multi Cooker and Ninja Airfryer (available on Ninja Kitchen Official Store) will prove otherwise! This is the multi function cooker to get for all your cooking needs and we literally mean all. From steaming, sauteing and slow cooking to tendercrisp modes like broil, bake/roast and air crisp or air fry, this is the best multi cooker to get in Singapore for yourselves or as a housewarming gift (if you're feeling generous).
This Ninja multi cooker comes with two separate lids — a crisping lid that is already attached onto the cooker and a twist-and-turn pressure cooking lid. How to use this multi cooker for cooking chicken wings? Place the frozen chicken wings (no thawing is required) into the cook and crisp basket and press the pressure cooking mode on the cooker. Once the timer is up, remove the pressure lid and close the air fryer lid. Select the air crisp mode, set the temperature and let it air fry. Your chicken wings will come out tender and crispy in no time at all!
At 9.5kg and a not-so-affordable price point, it might not seem attractive at first but for its very useful air fryer feature on top of the usual cooking modes, you'd be hard pressed to find another cooker that can compete with this.
Best budget multi cooker

7. Aerogaz Multi Cooker (AZ-508MC)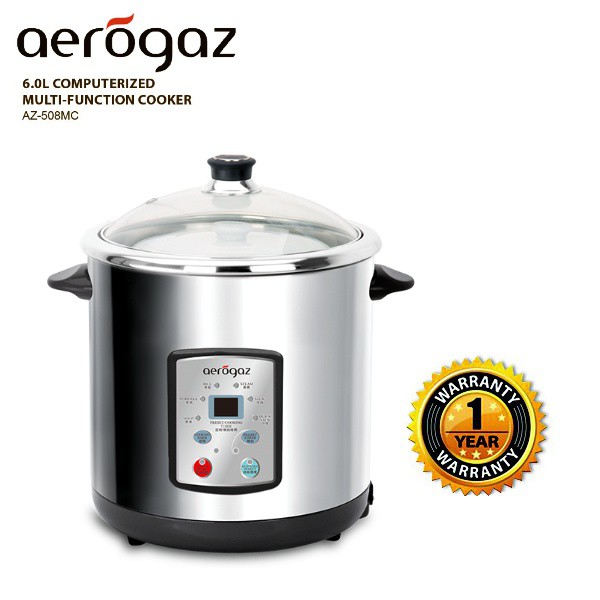 If you want a multi cooker without too many frills then the Aerogaz Multi Cooker (AZ – 508MC) (available on aerogaz Official Store) might just be the one for you. It's also affordably priced at less than $100, so you won't have to bust your budget to own a multi cooker too. Functions include cooking rice, stewing, braising, steaming, boiling congee and soup among other basic cooking modes. Its removable inner pot also makes this Aerogaz multi cooker easy to clean and maintain. Its five-litre capacity, overheating function and energy saving feature makes this a decent entry-level option into the world of multi cookers.
Change the way you think about cooking with the best multi cookers in Singapore
Save time and learn to enjoy the process of cooking without tiring yourself out! Already own a multi cooker? Check out other speciality cookers like the best bread makers to electric lunch boxes and easy electric lunch box recipes for a nutritious lunch at the office. Bon appetit!