What a cosy way to beat the winter chill by curling up beside the fire with a hot chocolate! While there's no winter weather in sunny Singapore, that does not stop us from indulging in some of the best instant hot chocolates to get ourselves into the Christmas-y mood. Read on to discover which best instant hot chocolates in Singapore are must-tries that will drive you cocoa-nuts!
Is instant hot chocolate better with milk or water?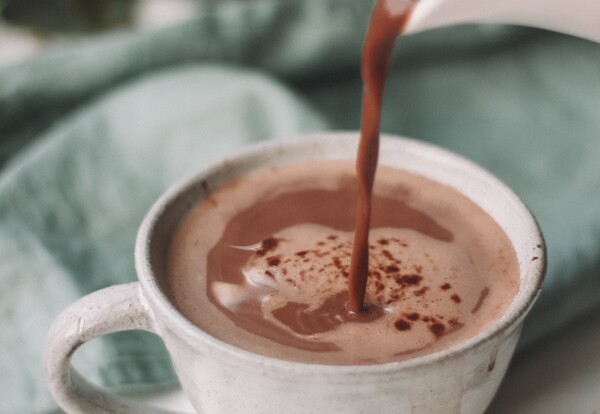 Everything comes down to personal preference! The best hot chocolate powders in Singapore require only a small amount of hot water to be mixed with, and you've got yourself a warm cup of comfort. However, if you prefer a creamier flavour to your beverage, it's strongly advised that you replace the water with milk (or, even better, with some heavy cream!).
Is instant hot chocolate healthy?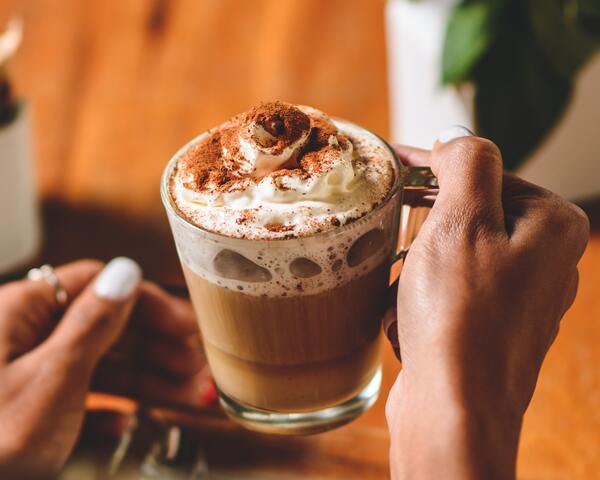 What if we told you that drinking hot chocolate can be rather healthy? You heard right; chocolate isn't always harmful to your health. The mystical properties of the cocoa bean are what give hot chocolate its amazing array of health advantages. It has been discovered that cocoa is so rich in antioxidants and hence, may help lower cholesterol, blood pressure, and even inflammation (hello, great skin!). However, like all snacks and beverages, instant hot chocolates should be drunk in moderation to limit your sugar intake! 
How do you make instant hot chocolate taste better?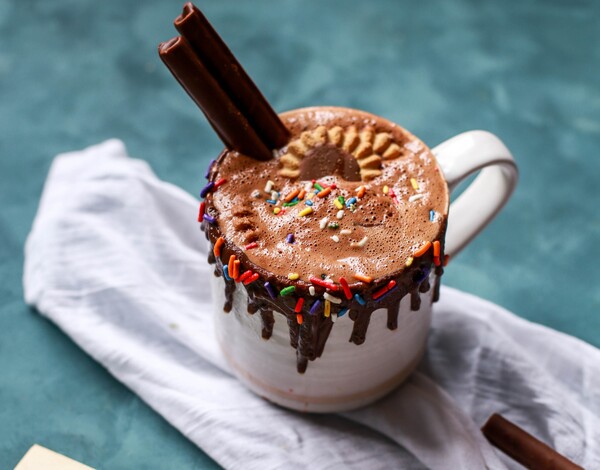 An easy way to add extra flavour to the best instant hot chocolates in Singapore is to add a touch of your favourite spices. A sprinkle of cinnamon, chai, nutmeg or even cayenne can help to add a spicy kick! Or, if you have a sweet tooth, you could make it fancy with extra whipped cream and chocolate sprinkles!
Best instant hot chocolate recipe in Singapore: Hot chocolate bomb 
Hot chocolate bombs are always popular at this time of year, and for good reasons. When the chocolate spheres are dropped into warm milk, they crack open in the most mesmerising way, releasing a flurry of hot chocolate mix and marshmallows to create the best instant cup of hot chocolate in Singapore. 
Prep time: 30 mins
Cook time: 5 mins
Servings: 4
Ingredients: 
1 cup semi-sweet chocolate

6 tbsp of hot chocolate powder

⅓ cup mini marshmallows 

1 silicone chocolate bomb mould
How to make hot chocolate bombs:
Chop the

chocolate

and melt it in a double boiler or in 30-second intervals in the

microwave

, stirring in between

Add a spoonful of melted chocolate to your

hemispherical mould

(available on

cuteiu.sg

) and smooth an even layer of chocolate all the way up to the edge with a

spoon

or

food brush

. Freeze for approximately 10 minutes.

Warm a

pan

for about 30 seconds over medium heat, then remove from heat and carefully remove the now-set chocolate from the mould. Gently melt the edge of the pan and hold it in place with

cupcake paper

or a round

cookie cutter

.

Add two tablespoons of hot chocolate powder to the base then finish off with some marshmallows. 

Melt the rims of another shell and place it on top of the first. To seal the two halves, gently press down and pipe a very thin line of melted chocolate around the joint. Using your finger or a small

knife

, smooth the surface.

Decorate with a drizzle or

white chocolate

and sprinkles as desired. And

voila

, you've created a tasty project with the best hot chocolate powders in Singapore! 
Best instant hot chocolate powders in Singapore 
While it's easy to get a cup of hot chocolate at any IG-worthy café, nothing beats the convenience of being able to tear open a packet of hot chocolate, saving time and money! Fancy trying out our hot chocolate bomb recipe? Then see our picks for the best instant hot chocolate powders in Singapore below.
1. Cadbury Hot Chocolate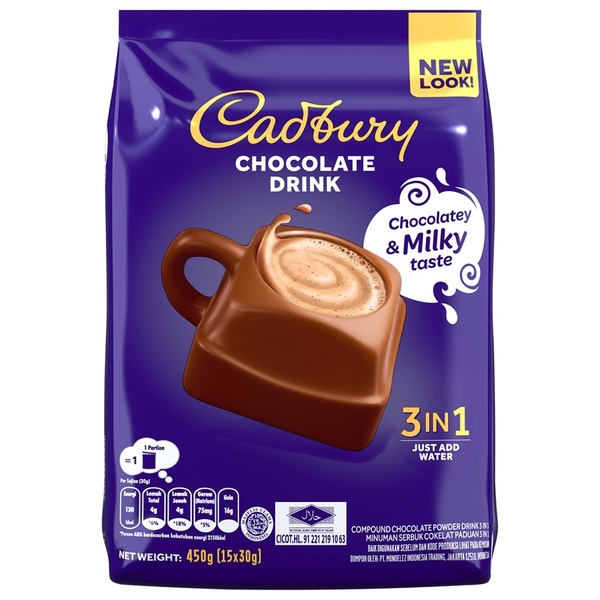 You can't talk about the best instant hot chocolates in Singapore without mentioning Cadbury! The Cadbury Hot Chocolate Drink (available on Shopee Supermarket) is a nostalgic treat. Its intense bittersweet milk chocolate flavour has that familiar Cadbury's taste we grew up with, and it's super simple to make with milk, sugar, and creamer already included. Guaranteed chocolatey goodness anytime, anywhere with the best hot chocolate powder in Singapore!
2. Lesco Hot Chocolate 3-in-1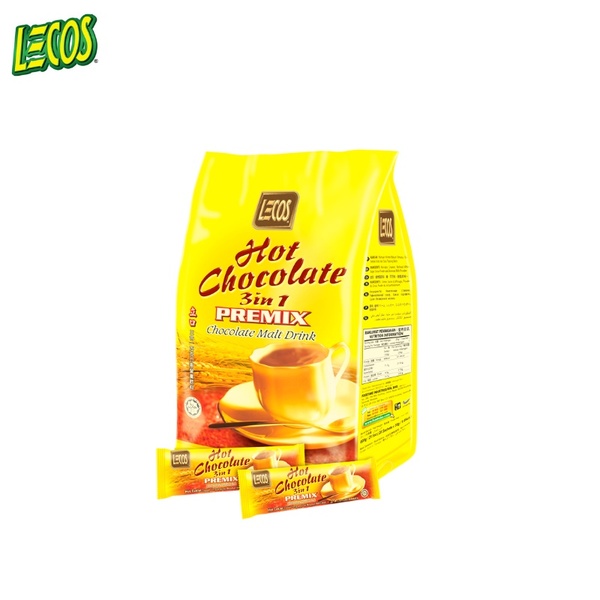 When it comes to chocolate malt beverages, LECOS is one of Malaysia's top brands and a local favourite. The LECOS 3-in-1 Premix Hot Chocolate (available on Shopee Supermarket) is made with the best cocoa from Sarawak, and as a result, it has a rich aroma that enhances its mouthwatering, creamy smooth flavour. Be it steaming hot or an ice cold slushie, experience one of the best instant hot chocolates that are also highly nutritious with minerals, in the comfort of your home in Singapore!
3. DaVinci Gourmet Hot Chocolate Mixes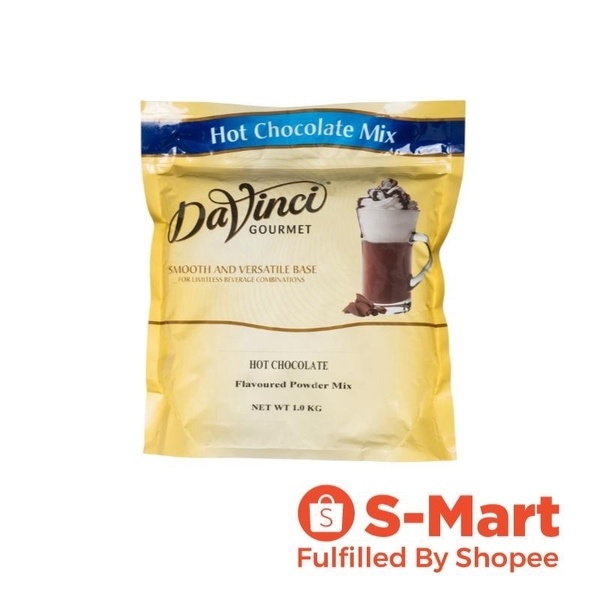 Sip on a cup of DaVinci Gourmet Hot Chocolate (available on Shopee Supermarket) for the ultimate chocolate experience. You can expect the most sensory taste for it is made with artisanal Belgian chocolate – smooth crema on top and a well-balanced chocolatey flavour. For extra pleasure, bake a chocolate lava cake with the best chocolate powder in Singapore and serve it with some vanilla ice cream. Mmm, sounds like sweet heaven awaits – be sure to enjoy your cuppa with the best Singlit books for a sweet lazy afternoon!
4. HERSHEY'S Hot Choco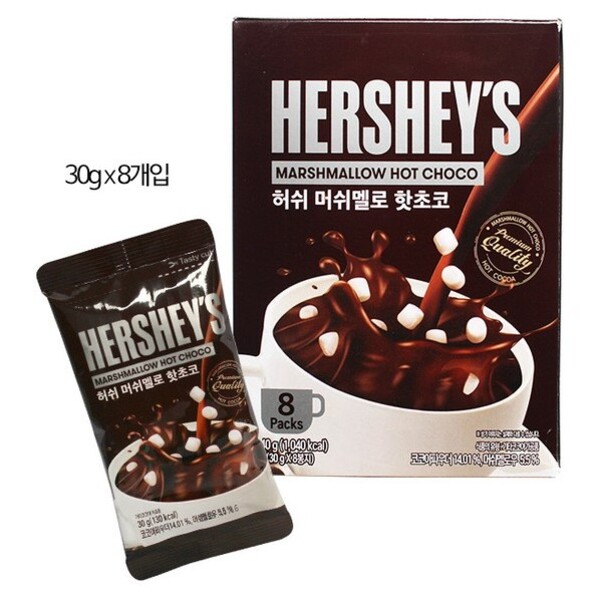 Those who have travelled to Korea will recognise Hershey's Hot Choco (available on Shopee Supermarket) as one of the holy grails of instant hot chocolate mixes. Hershey's Hot Choco is available in three flavours: Original, Marshmallow and Mint. The Marshmallow flavour is said to be one of Singapore's best instant hot chocolates as it's thicc and creamy with small puffs of marshmallow for texture. If you like your drink with a hint of spice, opt for the Hershey's Mint Hot Choco instead. Psst.. some say that drinking Hershey's Hot Choco will feel like a toasty, warm hug from inside out. 
5. Mitte Hot Choco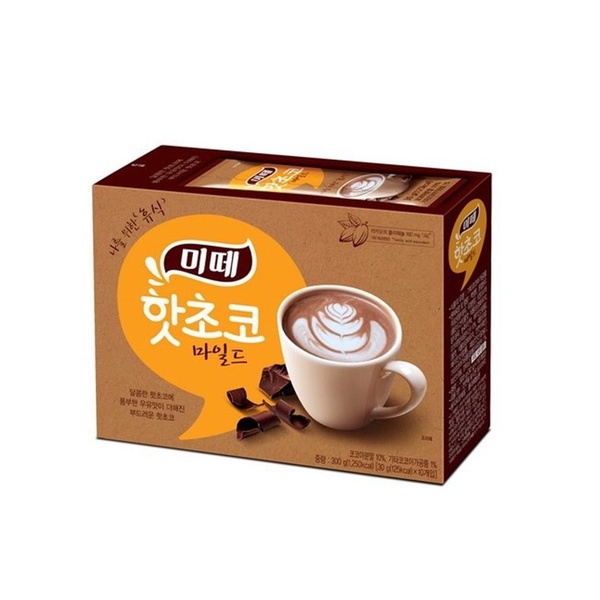 Yet another popular Korean hot chocolate brand, Mitte Hot Chocolate (available on Shopee Supermarket) is a delectable blend of sweet chocolate and milk, topped with a layer of fluffy foam. Because of its higher cocoa powder content of 13%, you'd think you're drinking an atas cup of hot chocolate from a boutique café – it's that rich, velvety, and decadent. But of course, the best way to enjoy Mitte's instant hot chocolate powder in Singapore is to curl up on your couch and binge-watch your favourite Chinese dramas!
6. Damtuh Hot Choco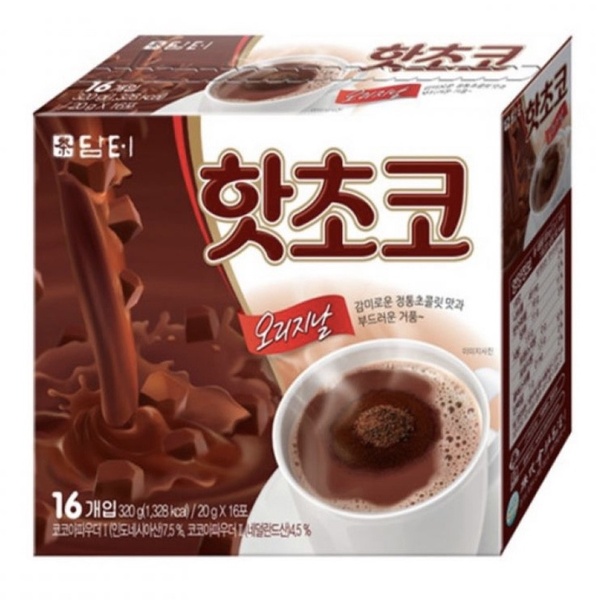 One of the best instant hot chocolates in Singapore, Damtuh's Hot Choco (available on Shopee Supermarket) is elegant and has a robust chocolate flavour. But what really won us over is its silky, not overly thick texture, which makes us want a second cup right away. On a rainy day, devour a Nutella tart or some cookies together with your cup to chase away your blues! Or, since it's naturally caffeine-free, you can indulge in one of the best instant hot chocolates in Singapore to help you sleep like a baby.
7. Bonus: Starbucks Signature Chocolate – Salted Caramel Limited Edition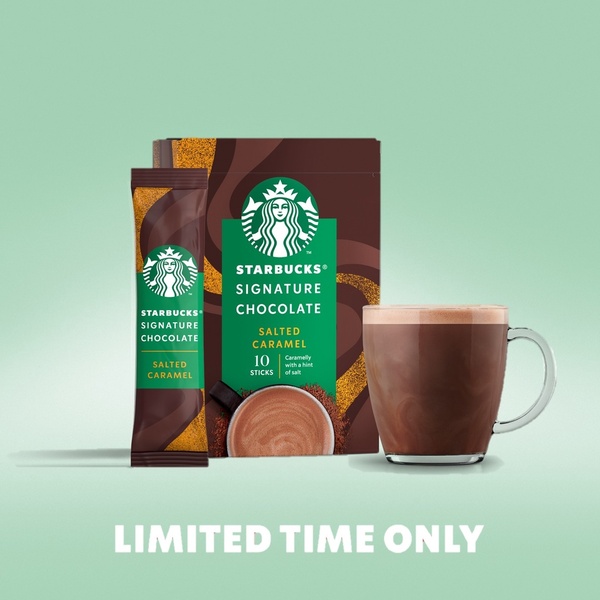 Starbucks Salted Caramel Hot Chocolate (available on Shopee Supermarket) is a tasty twist on your standard hot chocolate from the Starbucks store, and the added salted caramel flavour definitely kicks it up a notch. The salted caramel flavour combined with the rich mocha sauce tastes very similar to a Snickers chocolate bar and is incredibly delicious. It's more sweet than salty, and the two flavours are well-balanced throughout the drink. The Starbucks hot chocolate powder is best mixed with skimmed milk to make all the luscious cocoa goodness you could want in Singapore today!
Make your own cup of warmth with the best instant hot chocolate in Singapore
Whether you like it hot or cold, a cup of chocolate can always lift your spirits. Its tasty, sweet, and rich flavour is so comforting that you'll find yourself craving it again and again. And we hope that our list of the best instant hot chocolate powders in Singapore can help you satisfy your sweet tooth! Treat yourself to some of these instant hot chocolates from Shopee Supermarket where you can have them delivered conveniently to your home. If you're looking to host a party this Christmas, spruce up your home with the best Christmas decor ideas and greet your guests with some unique Christmas cocktail recipes today!