Is your wardrobe bursting and you simply need more space for your new clothes? Read on for 9 ways you can clear your wardrobe and earn extra cash in Singapore.
1. REFASH
If you're like REFASH founder, Aloysius Sng, and you've noticed a growing percentage of your closet space is taken up by clothes that you barely wore, then this is a website you might want to visit! Basically, REFASH is an online community dedicated to serving ladies with similar fashion styles to buy and sell their pre-loved clothes. If you're not a fan of online shopping, you're in luck because REFASH also offers offline services.
If you're looking to use their offline service, you will have to request for a "Top Up" via your REFASH offline seller account. You can then drop off your items at the Refash POMO Store or request for a courier pick-up.

*Ppst, do note that REFASH.sg will charge a 19% handling fee per sale!

2. StyleTribute
If you find yourself nodding your head in agreement to StyleTribute's unique perspective – sell what you own and buy what you want – this is for you! Similar to REFASH, StyleTribute is an online website for ladies to cash out their wardrobe to fund their next CNY lookbook (or just the next shopping spree). At StyleTribute, you can choose from two methods of selling – DIY Upload (where you can earn up to 80% of the sale price of your item) or the hassle-free service, White Glove (where you can earn 75% of the sale price of your item prices at S$1,000 and higher or 70% for items under S$1,000).

3. Reebonz
Catering more to the luxury brands, Reebonz is your go-to place if you're looking to sell off your luxury bag, accessory, watches, jewellery or shoes. There are two main methods of selling at Reebonz too – White Glove (The premium end-to-end service for luxury items) and Closets (The do-it-yourself selling platform).

*Ppst, do note that Reebonz has a tiered commission rate!

4. Flea Markets
The flea culture in Singapore is definitely not dying down even with the rise of online and mobile shopping. If anything, flea markets are again, becoming the next big thing. It is also becoming the "cool people" place with rad venues like Marina Bay, Singapore Art Museum and the usual, *SCAPE (yes, it is still around). And booking a venue at these flea markets is much easier than before. Simply book a venue here, bring all your barang barang and start selling!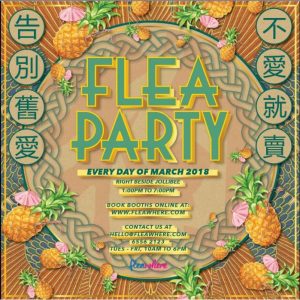 5. Karang Guni
Of course, if all else fails, you can always head over to our trusty ol' Karung Guni Man *honk honk honk*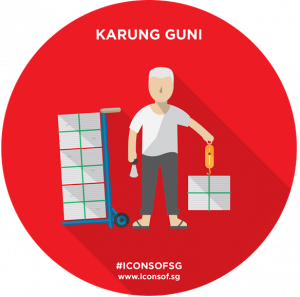 6. H&M Singapore Garment Collection Initiative
Well, you might not be able to earn extra cash from selling your clothes to H&M, but you can earn brownie points by contributing to environmental efforts and get a special discount off your next order with them! And the best thing is, you can donate clothes from any brand. Yes, they will even your old camp t-shirt from 2001. Simply head down to any of the H&M outlets in Singapore and drop your old clothes in the green boxes located near the counters.


#7 to #9 may not let you earn anything. But, hey! It is always good to contribute back to society y'know 😉
7. The Salvation Army, Singapore
Everybody knows about The Salvation Army. Especially during Christmas, when their volunteers are scattered all around Singapore asking for donations in the classic red buckets and bells. But, did you know that you can also clear your wardrobe by donating your clothes to The Salvation Army? The social enterprise arm of The Salvation Army, Red Shield Industries, then processes the donated items and retails them at the Family Thrift Stores in Singapore. Simply drop off your items at any of their Donation In Kind booths listed here and do a good deed today!

8. New2U Thrift Shop
Set up by the Singapore Council of Women's Organisations (SCWO), New2U Thrift Shop accepts donations of clothing, accessories, household items, ornaments, books and more. Proceed from the sales go towards Star Shelter and various SCWO Initiatives. To donate, simply drop off your items at SCWO Centre on any day of the week, between 9am to 8pm.

*Ppst, due to space constraints, the shop is temporarily unable to accept donations until further notice.

9. MINDS Shop
An initiative by the Movement For Intellectually Disabled of Singapore (MINDS), MINDS Shop was set up to primarily help their beneficiaries to learn how to interact with customers and also allow people to understand the problems faced by the intellectually disabled. You can contribute to this effort by donating your clothes at any of their shops located in Singapore.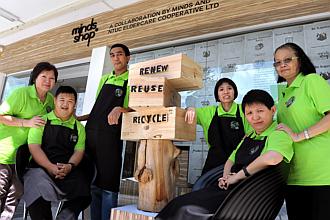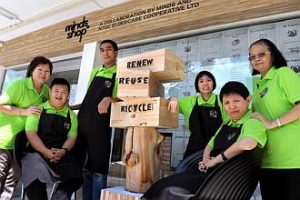 –
Besides donating clothes to these beneficiaries, you can also consider giving back to society by donating your Shopee Coins.
In the spirit of Giving Week 2019, we're partnering with Children's Wishing Well, Food from the Heart and Habitat for Humanity. You can participate in #ShopeeGivesBack by either donating your coins or by purchasing selected food items.
---
New to Shopee? Get $7 off (min. spend $15) with code*: CLEVERCLEAR
* TNC Applies. Valid for new users from 6 to 13 Dec only.