Smartphones nowadays have become extremely powerful. Many are jam-packed with high camera resolution that's nearly as capable as a DSLR. However, no matter how skillful you are, you won't be able to achieve the Insta-worthy effects you're aiming for without some basic post-processing! Utilise your smartphone to the fullest with these best photo editing apps and become the next Jack Morris — you can thank us later!
1. Snapseed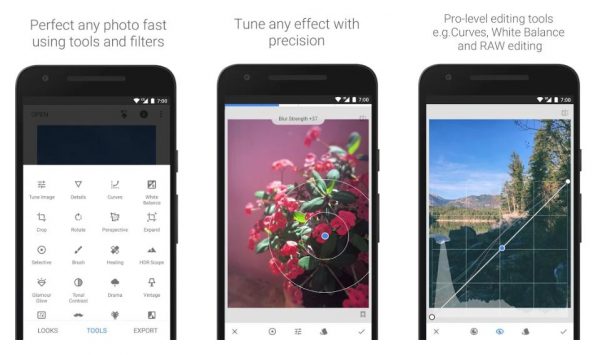 You know you're in for a treat when Google develops a free and professional photo editing app for smartphones! Loaded with image manipulation tools and presets, this app packs a punch all while providing an easy-to-master interface. Aside from basic fine-tuning capabilities such as brightness and saturation, you can also find more advanced tools such as curves and mask. 
Additionally, the app contains a wide range of presets for quick edits. But you can also play around with the settings and create your own presets that suit your photography style. It's no doubt that this is the best free photo editing app for amateur photographers who want to achieve the effects of Adobe Photoshop at less cost and in a shorter time!
Price: Free
Available on iOS and Android
2. Adobe Lightroom Photo Editor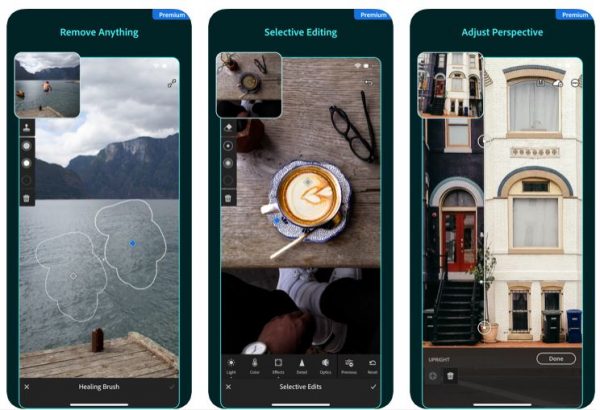 Are you  a huge Adobe fan? Then you'll be glad to find the Adobe Lightroom Photo Editor on mobile! Although the free edition is sufficient for basic post-processing, it is with the paid subscription that the Adobe Lightroom Photo Editor truly shines.

This is the best photo editing app to process RAW files via non-destructive editing. Unlike other editing apps which tend to reduce image resolution during post-processing, the Lightroom mobile retains your photo's original resolution and also allows you to undo every single edit made on it. Furthermore, it supports selective adjustment which works great with stylus phones such as the Samsung Galaxy Note10+ (available on samsung.officialstore). You can even upload these Top 50 Lightroom Presets (available on SOFTWARE INSTALLER) onto the app to achieve professional imagery in no time!
Price: Free with in-app purchases
Available on iOS and Android
3. Ulike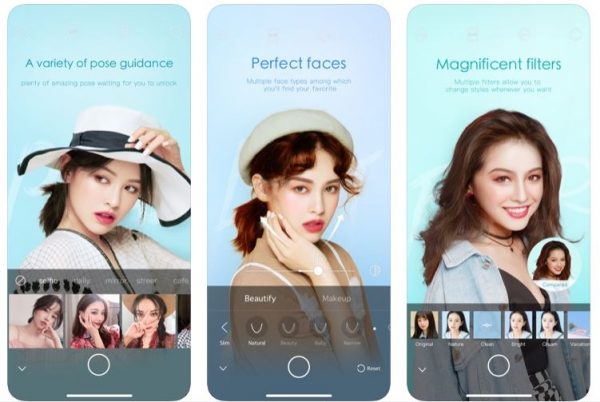 No makeup? No problem! Ulike is the best photo editing app for girls who would like to try out new makeup styles with actually having to apply anything!  While the app has a decent range of photo filters to enhance your image's hues, what stands out the most is its ability to naturally enhance your features with digital makeup! Pick from a range of looks including soft daily makeup and sexy smokey makeup. 
This photo editing app is also great for amateur photographers who don't really know how to direct your models. You can browse the app's selection of suggested poses, including popular #OOTD poses and replicate them in your shots! With Ulike, you never have to worry about boring Instagram photos again!
Price: Free with in-app purchases
Available on iOS and Android
4. VSCO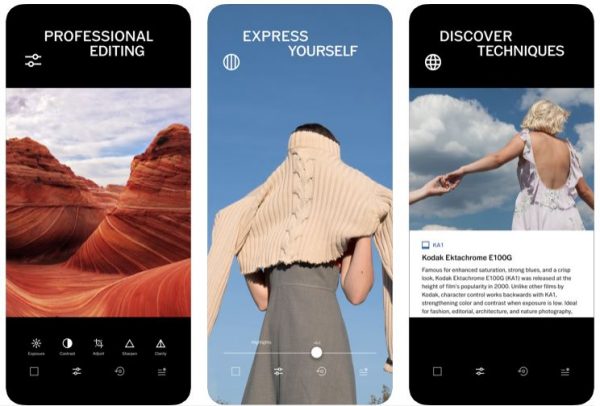 If you're just starting out with smartphone photography and find Snapseed's learning curve to be a little too steep, you may prefer using VSCO instead. VSCO contains an insane number of filters to make your image stand out among the rest. While some are free, the more unique Fujifilm and Kodak-inspired film filters are only accessible to premium VSCO X members. With over hundreds of presets in store, having VSCO X is equivalent to having several film cameras rolled into one. VSCO X members also have access to in-app photography and post-processing guides to improve their skills on-the-go. 
Even if you prefer not  to pay for the photo editing app, you'll still be able to use the basic editing tools provided. On top of that, you can also explore the wide array of masterpieces uploaded by other users in the VSCO community for some inspiration. 
Price: Free with in-app purchases
Available on iOS and Android
5. Afterlight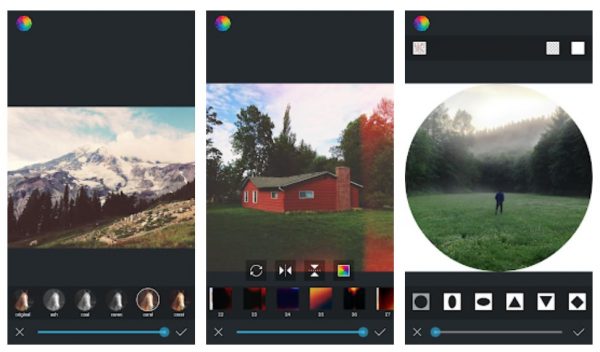 Afterlight is the best photo editing app targeted at hobbyist photographers who prefer a clean and minimalistic app interface with no frills. Focusing on its core adjustment tools such as contrast and RBG shadow tones, Afterlight is all you need for minor photo tweaks. Furthermore, the app is second to none when it comes to textured filters. The natural light leak filters and dust textures add extra dimensions to your image and work especially well for scenic photography. 
If you want your Instagram photos to stand out from the rest, you've got to bend the rules and ditch the square frames! Experiment with Afterlight's interesting frames and borders that come in various shapes and switch up the look of your feed. We also encourage you to play around with the double exposure function which allows you to blend photos together to create one-of-a-kind imagery!
Price: Free with in-app purchases
Available on iOS and Android
6. B612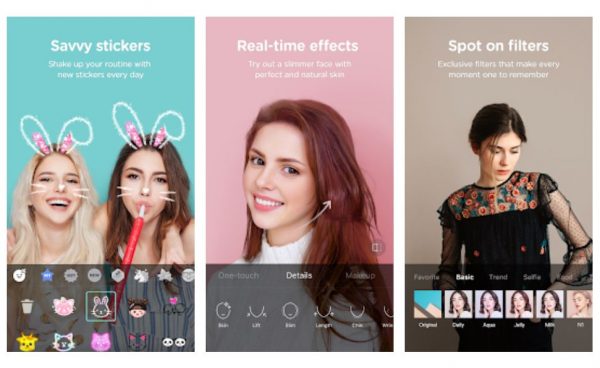 Want to curate a series of fun and playful photos for Instagram? You won't go wrong with B612, the best free photo editing apps for selfies and more! The app contains more than 80 amazing filters for you to choose from. If you can't make up your mind, allow the random filter function to determine the best filter for your image. 
But that's not all, this app is also famous for its extensive range of stickers. Choose from facial recognition stickers that transform your face into cute characters or simply amp up the style of your photos with sparkly decoration stickers — your creativity is the limit! Built for selfie-lovers in mind, this app has several beauty settings for you to perfect your shot. Erase blemishes and enhance your appearance with simple functions such as lift, slim and smoothen. 
Price: Free
Available on iOS and Android
7. Enlight Pixaloop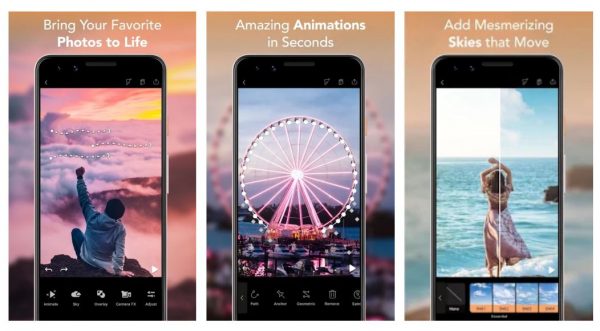 When everyone else is uploading still images, set yourself apart by bringing your photos to life with Enlight Pixaloop! This is the best photo editing apps for motion photography — shots that captures an object in action. Whether it's a burst frame of someone skiing or an image of a cascading waterfall, you can recreate realistic movements with just a few taps!
While Enlight Pixaloop might look complicated for beginners, it actually boasts a very intuitive interface that allows for easy image manipulation. Simply draw arrows on the image to direct the flow of motion and experiment with different speeds and anchoring angles for the best results. Did we also mention that this app can replace boring skies with vibrant sunsets and glistering northern lights? Yes, you heard us right! You no longer have to worry about bad weather when you're out shooting! 
Price: Free with in-app purchases
Available on both iOS and Android
8. TouchRetouch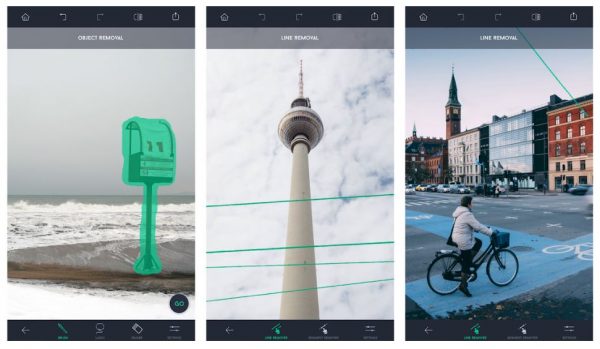 Now, nothing bugs a photographer more than having unwanted objects in a perfect shot. Even though certain free photo editing apps have healing tools, they are usually only effective at removing smaller details. But when it comes to larger contents such as trash cans and crowds, the TouchRetouch is the best photo editing app to rely on! 
This revolutionary app works like Photoshop, only easier. All you have to do is to mark the unwanted details with the object removal tool and the app will replace the spot by duplicating the pixels nearby. In most cases, this is sufficient to create a nearly flawless image. However, if the app fails to render the right replacement, you can fall back on the clone stamp tool to duplicate objects on your own. 
Price: $2.98 (Apple App Store) and $2.49 (Google Play Store)
Available on both iOS and Android
9. Meitu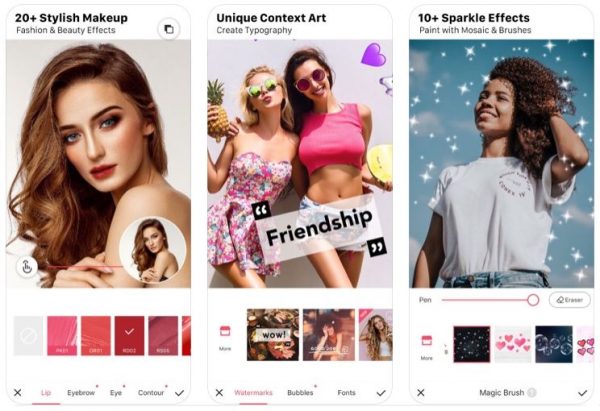 Wondering what's the photo editing app that your favourite influencer or celebrity is using? There's a high chance it's Meitu, the best photo editing app for creative pictures. While Meitu may appear like any other beauty enhancement photo app, it's actually a powerful tool for text customisation and still image animation. Insert beautiful quotes onto your image with the different font styles and text layouts! Or use the animation tool and transform your still photos into GIFs! 
Miss the good ol' days where neoprint machines were still popular? Now you can recreate similar photo styles using the magic brush tool! Cover-up anything with the mosaic brush or doodle over your pictures with adorable heart-shaped and bubble patterned brushes. In addition, the app contains facial and body retouch capabilities so you look beautiful from any angle. 
Price: Free with in-app purchases
Available on iOS and Android
Looking for more ways to improve your photography skills?
Needless to say, having the right equipment plays a huge part in how your images will turn out. If you're determined to explore smartphone photography, you've got to check out these best camera phones for high resolution images. If your goal is to achieve buttery bokeh effects or to experiment with different camera lens, we suggest starting your photography journey with our guide to the best cameras for beginners!