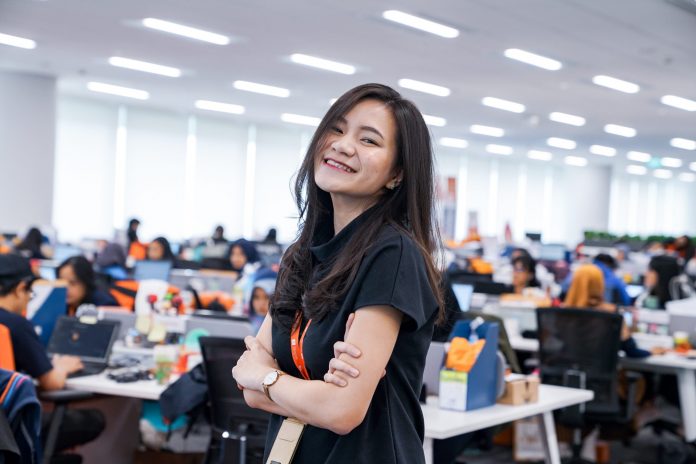 Shopee has no lack of exciting roles. To help you get a better idea of what it's like working in Shopee, here's A Day In The Life Of series. Your career with us is yours to create!
---
You might be wondering what a recruiter does all day long -especially when there is a point in time where you have submitted your CV and may not get any return call from them. Fortunately, I approached a recruiter from Shopee Indonesia, Monica Riany, and she took time out of her busy schedule to give me a snapshot into how her typical day looks like. Read on to sate your curiosity!
06.30: Beep-beep-beep! The niggling shrieks of her alarm clock ring out. It was an ear-piercing wail that jolts her from a pleasant dream where she was enjoying a plate of mouthwatering patbingsoo in the street of Hongdae, South Korea. She hits the nudge button and burrows back under her dreamily plush duvets trying to recapture what remains of her last dream. But alas, she can't; it had all been a dream. Back to reality!
06.45: The moment her eyelids peel apart, after being curled up in deep slumber for 7 hours, she stumbles into the kitchen and drinks a giant glass of water. The warm, yellow-hued rays of the sun gush into the room and soak into her skin as soon as the curtains are drawn. "It's a brand new day!" she mumbles while doing a few light dynamic warm-up and yoga poses.
07.15: There ain't no excuses for stepping out of the door before grabbing something to nosh on. Ria ponders what to concoct for her first meal of the day and decides to make a simple, quick, and well-rounded breakfast; scrambled egg toast with avocado.
08.00: Hoping to be more refreshed, she jumps into the shower while listening to a series of podcasts from TED Talks Daily!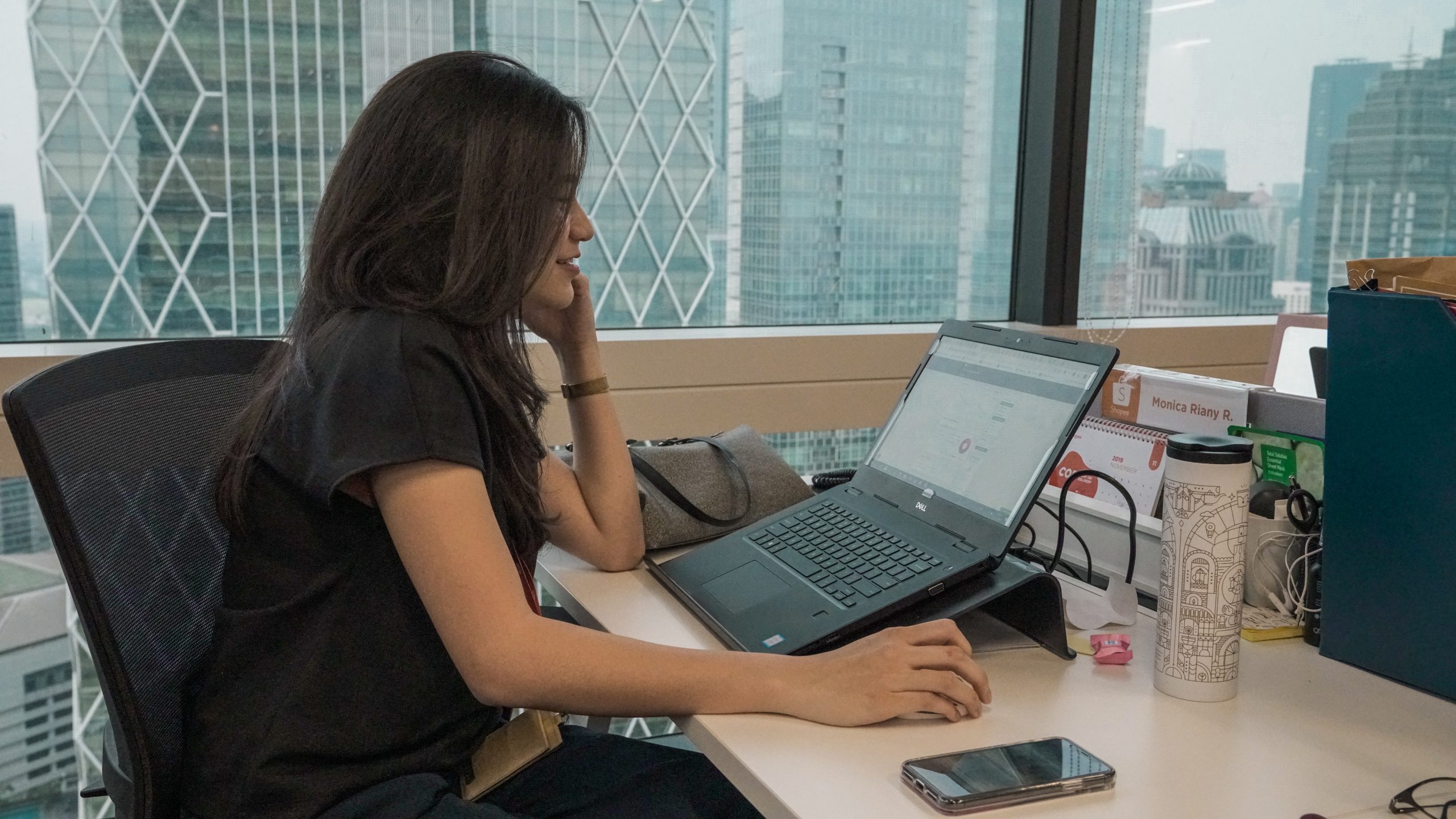 09.30: Upon her arrival at the office, Ria sifts through emails to sort her tasks priority and to check any qualified resumes she might have received from the employee referral program email in which the Internal Communications Team has already sent.
10.30: She opens hiring tracker and Greenhouse, Shopee's recruitment applicant tracking system that stores applicants' data and hiring status, to know the current headcounts and candidates' recruitment stages.
11.00: Time to hit up Shopee recruitment pipelines (Shopee Careers, Linkedin, Kalibrr, and Referral). She hears back from candidates that she reached out to on Linkedin a week ago for multiple positions in Business Development Project Manager. They are open to discuss more and explore the role of the position so she coordinates the time and place for the meeting.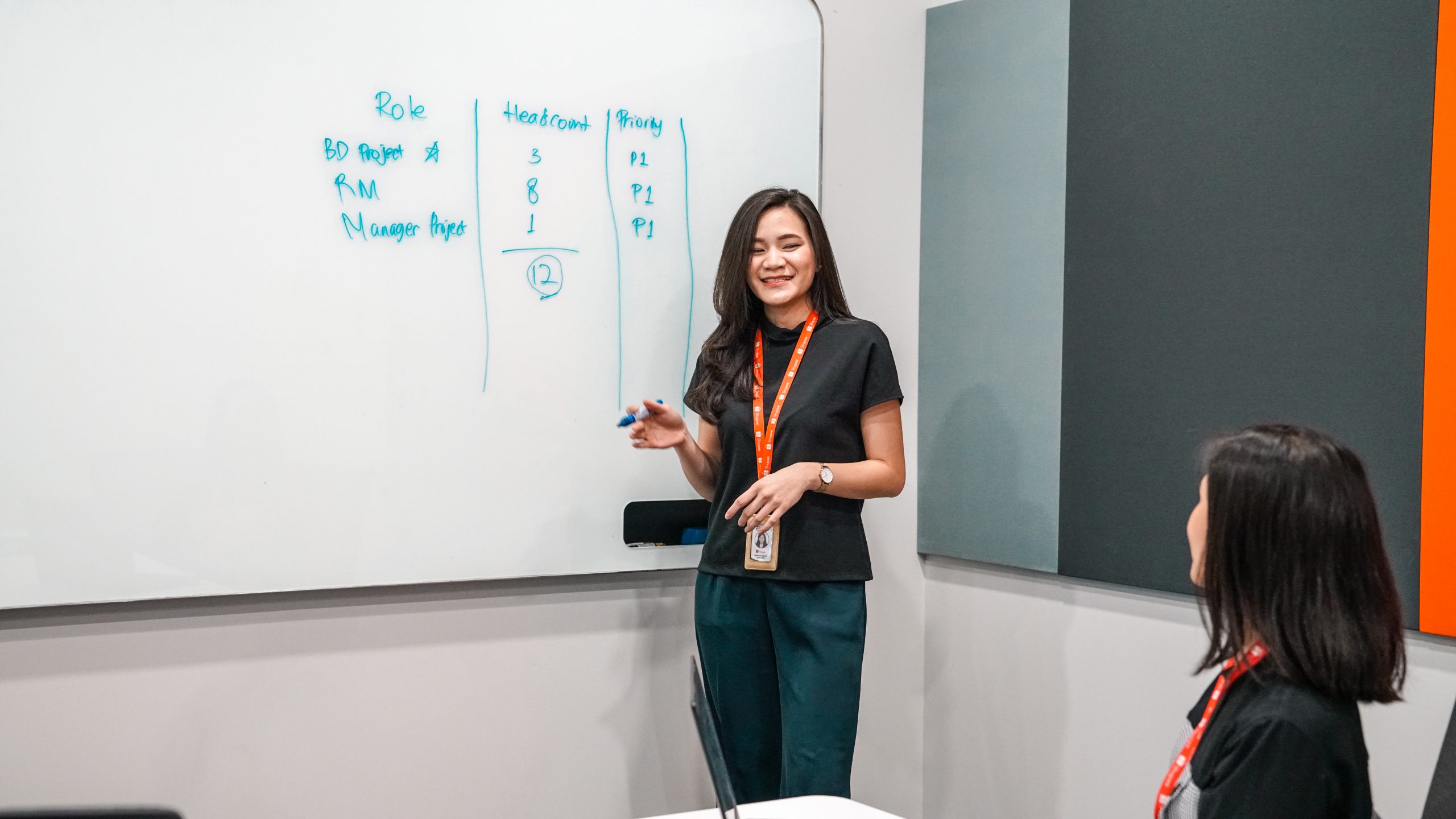 11.45: After spending around two hours hunting for ideal candidates, she quickly goes for her next appointment, which is a quick meeting with one of the hiring managers. This is where she needs to give updates on the talent search and share the challenges faced during the selection process.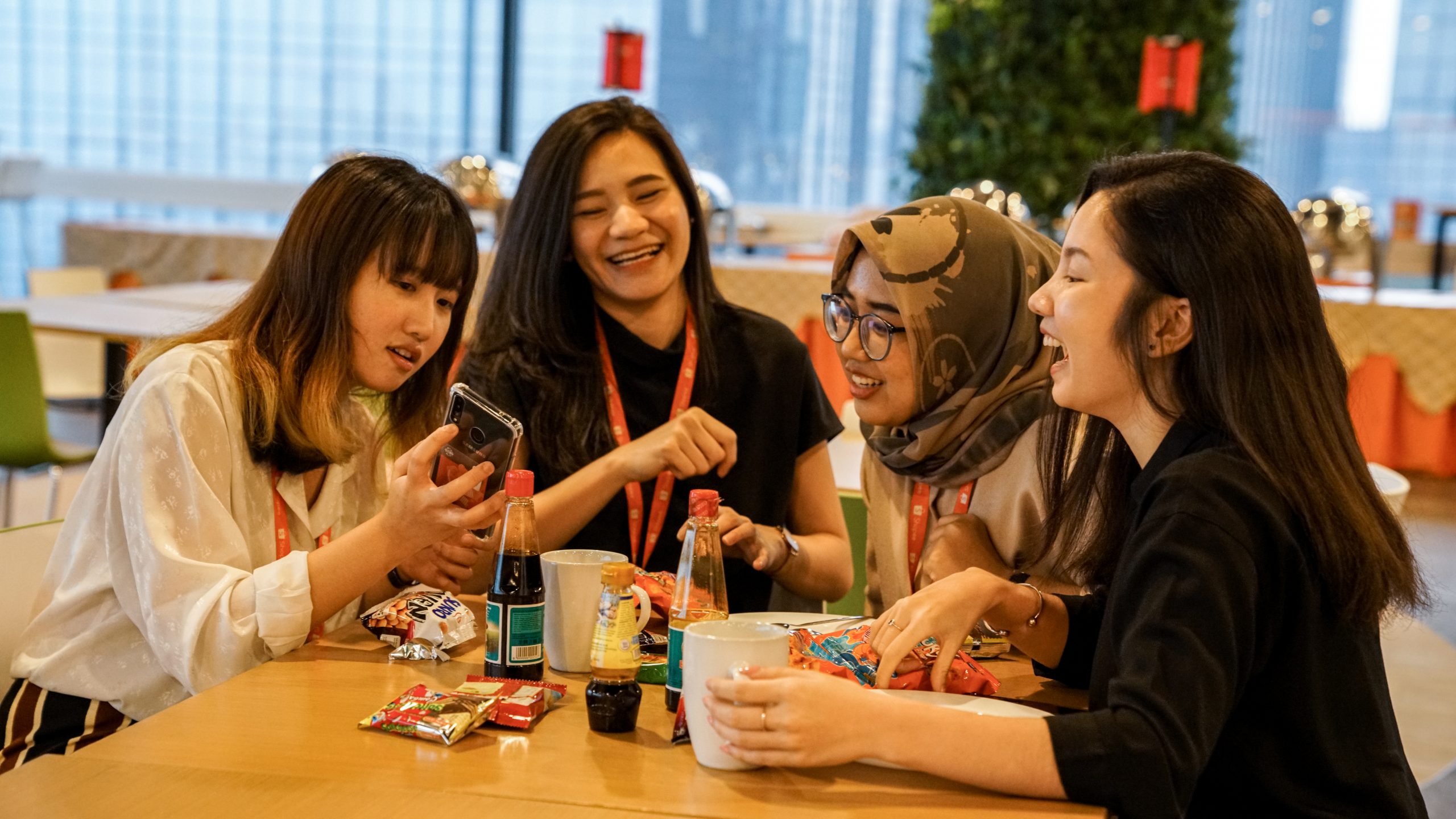 12.15: Feeling a bit peckish, Ria heads towards the pantry and huddles together with her team. Lunch today is ayam geprek. While her team is on the edge of their seats spazzing over G-Dragon's military discharge, she gets lost and a wee bit confused during the convo as she's still a rookie in Korean pop culture, but still intrigued anyways! ㅋㅋㅋㅋㅋ *laughing in Korean*.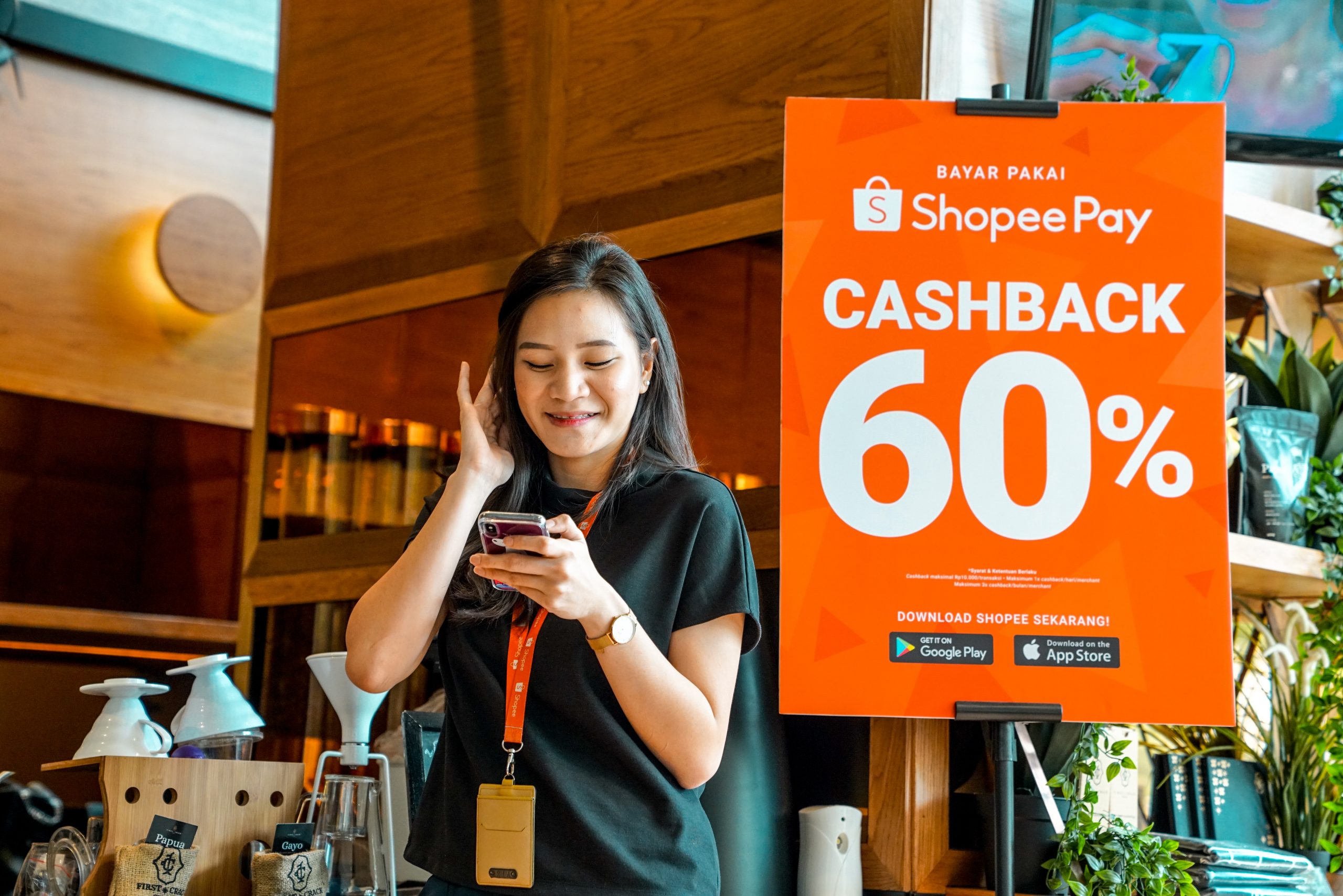 13.15: Giving herself a little boost to avoid mid-afternoon lethargy, she chugs a cup of long macchiato from a cafe nearby. Her mainstay? ShopeePay, ofc! Shopee Indonesia just expanded its payment feature from online to offline. Surely icing on the cake!
13.30: There is a report on her desk from her team members that details potential Linkedin profile candidates. She starts approaching them through Linkedin inMail. Fingers crossed, hope her iPhone will blow out with responses!
14.00: A weekly team meeting comes to order. Everyone is ready with their laptop open to deliver reports on the candidate's hiring status, recruitment strategies, and industry and talent mapping.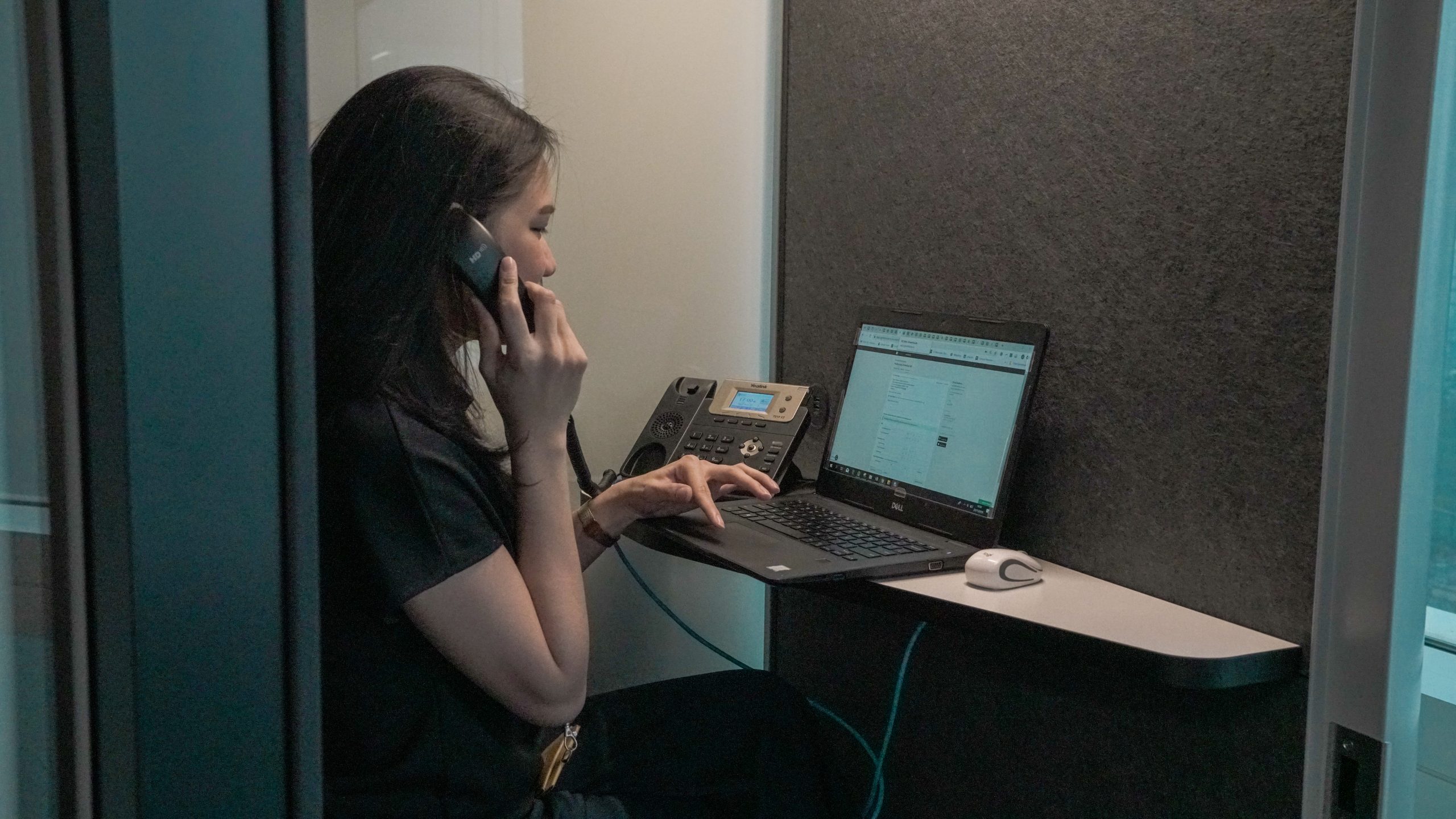 14.30: After her quick meeting with the team she heads towards a phone booth in the corner of the room, she dials into a call with two candidates for the position of Business Development Project Management, who wants to dig more on the roles and projects that he will be working on.
15.05: While making headway to squeeze into an elevator, Ria bumps into a colleague who is also her teammate in the basketball club, asking whether she is ready for the basketball competition next month. Am I ready? Do I practice enough? Can I, and my team, win the competition? She's pondering.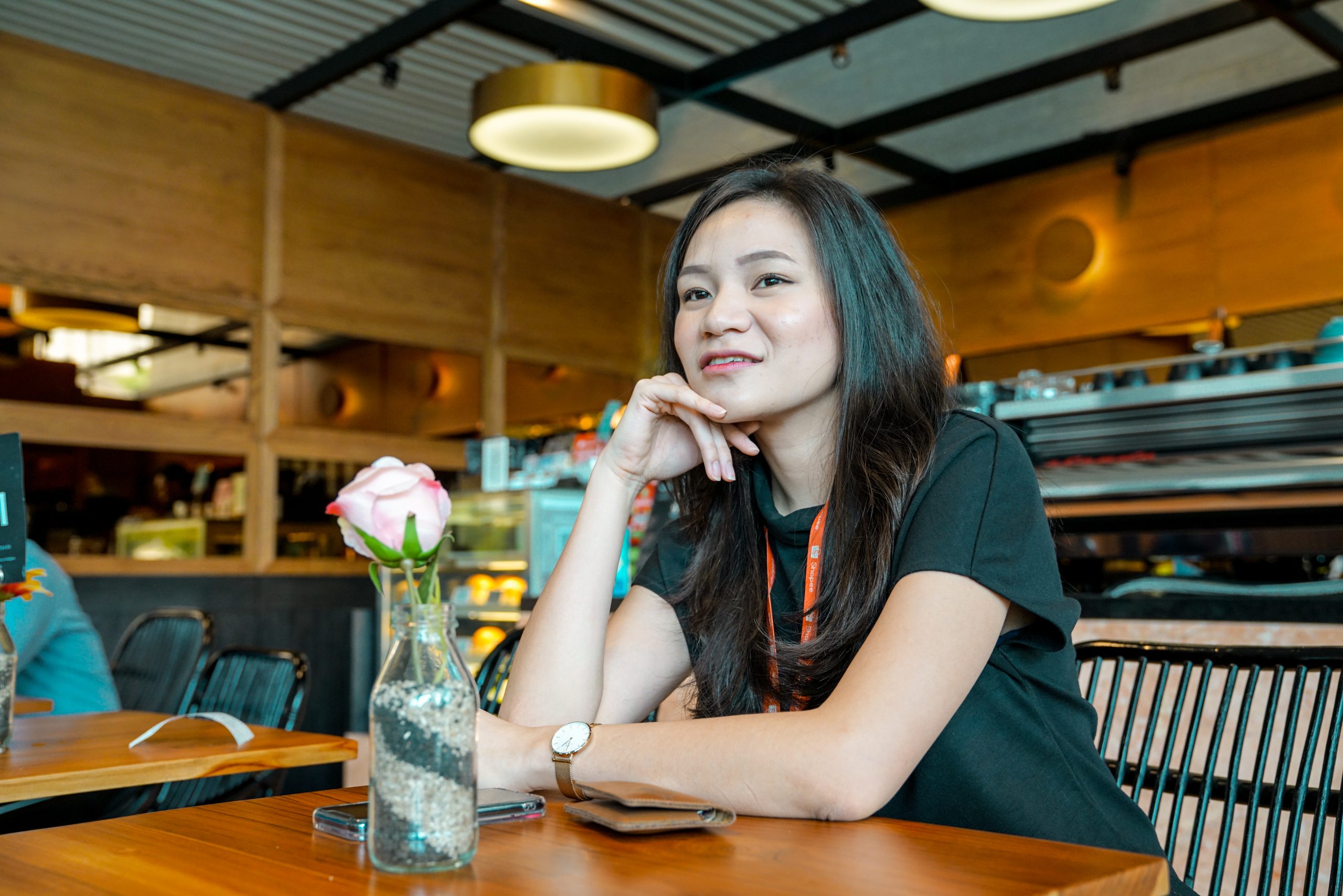 15.20: She sits in the cosy wrought iron table on the edge of the cafe, looking at every single customer that pulls open the sliding door as she waits for a certain face to show up. Right on the dot, the person pops through the door, draped in a skinny trouser and slim-fitting white shirt, walking towards her. After 40 minutes of talk, she considers him as a good fit for the position. It's an 'aku sih yes' from her, and she'll proceed him to the hiring manager.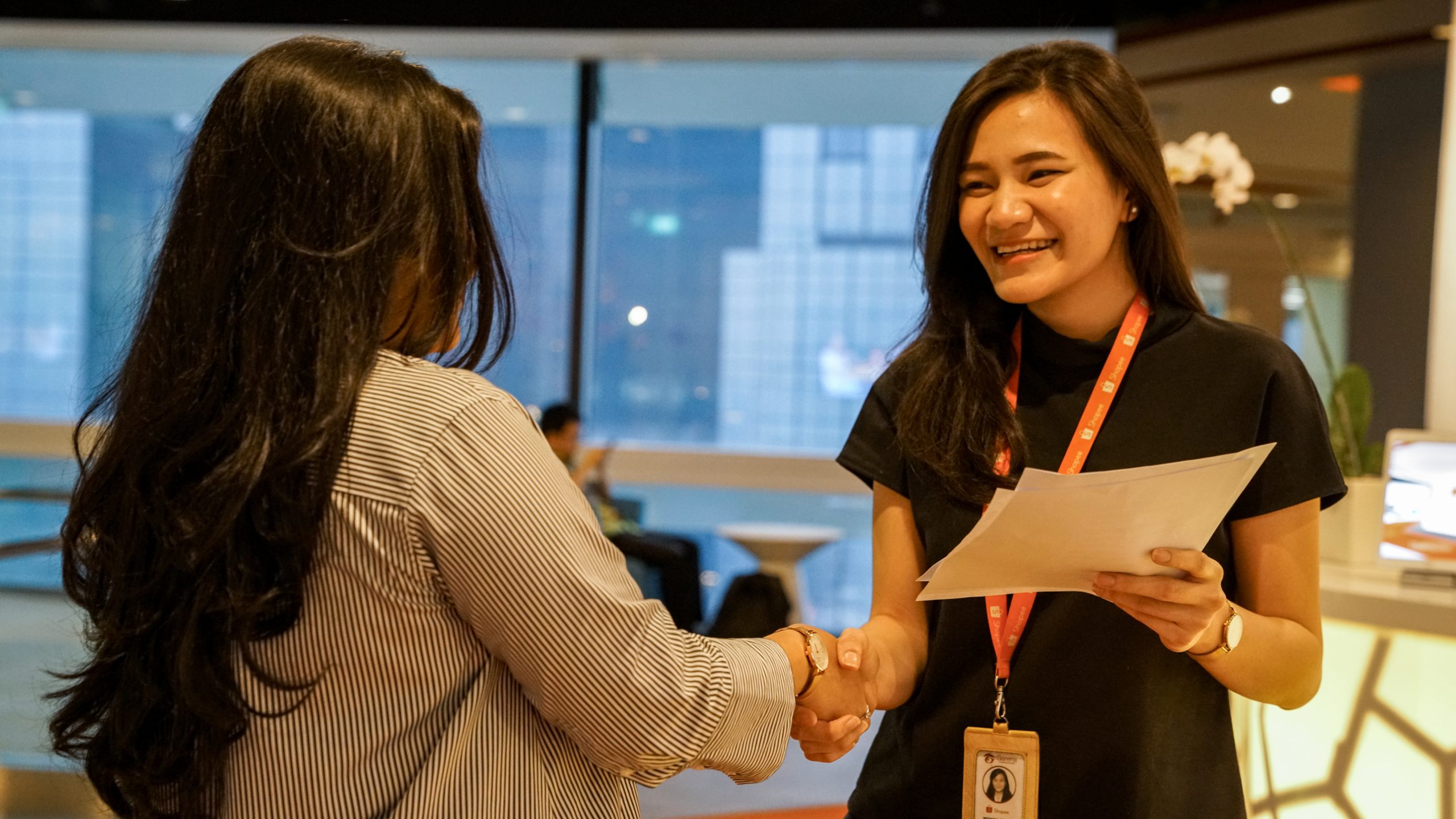 16.20: Getting back in the office, turns out, there are two candidates for the position of Seller Management Marketplace to be interviewed this afternoon. Meet, greet, and Interview. Her search for candidates continues.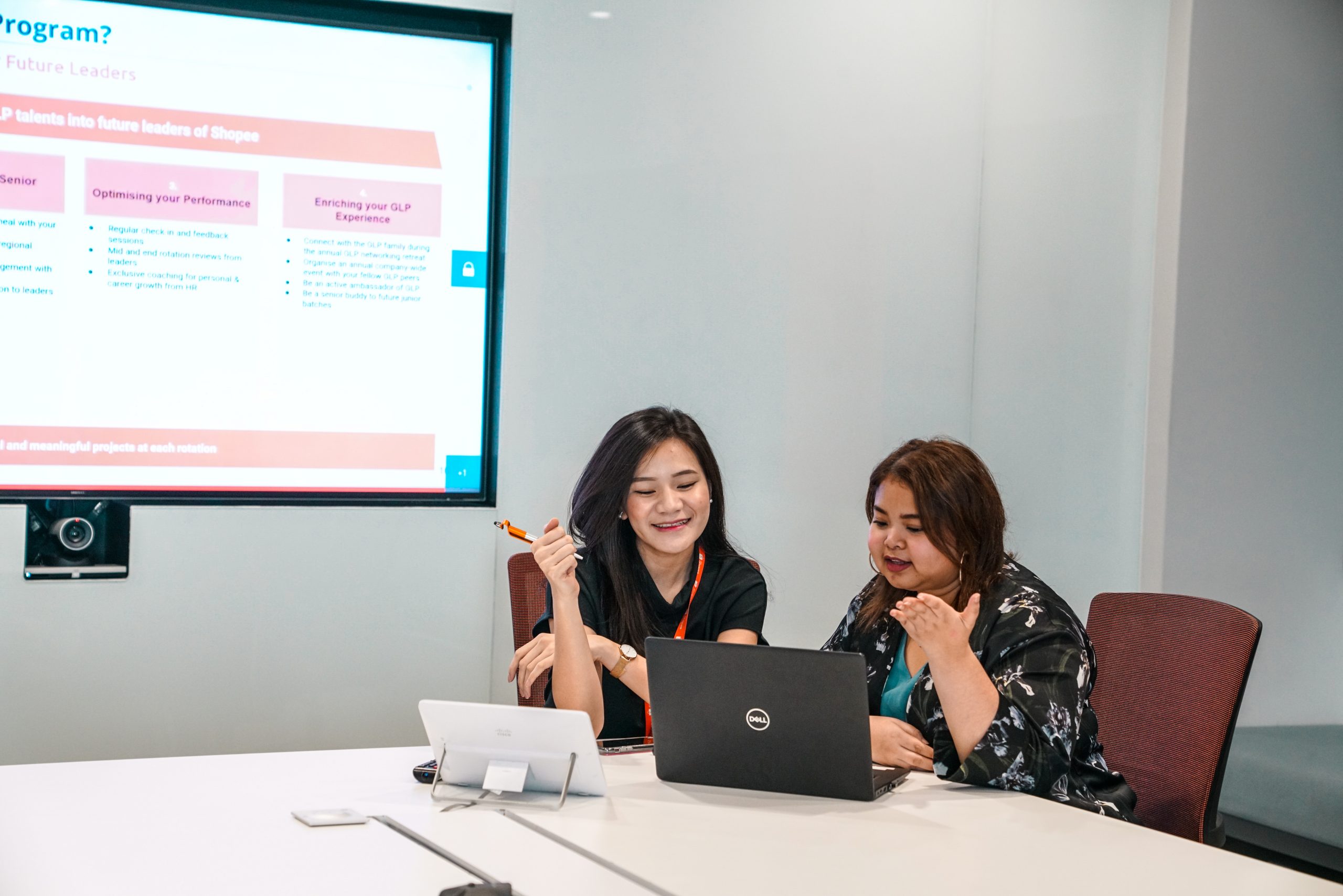 17.10: She prepares a job offer email and also a contract for a candidate that will come to the office on Monday morning while completing administrations and responding to candidates' email. Ria proceeds to discuss with one of the colleagues on the Global Leaders Program (GLP) selection process.
17.50: As she handles multiple Hiring Managers, turns out she has one last catchup with another Hiring Manager to update him on the good news and how to strategize for the next week. She treats the Hiring Manager as a Business Partner, a stakeholder to brainstorm on what talents they need, pending decision discussion, and also headcount review to strategize business process.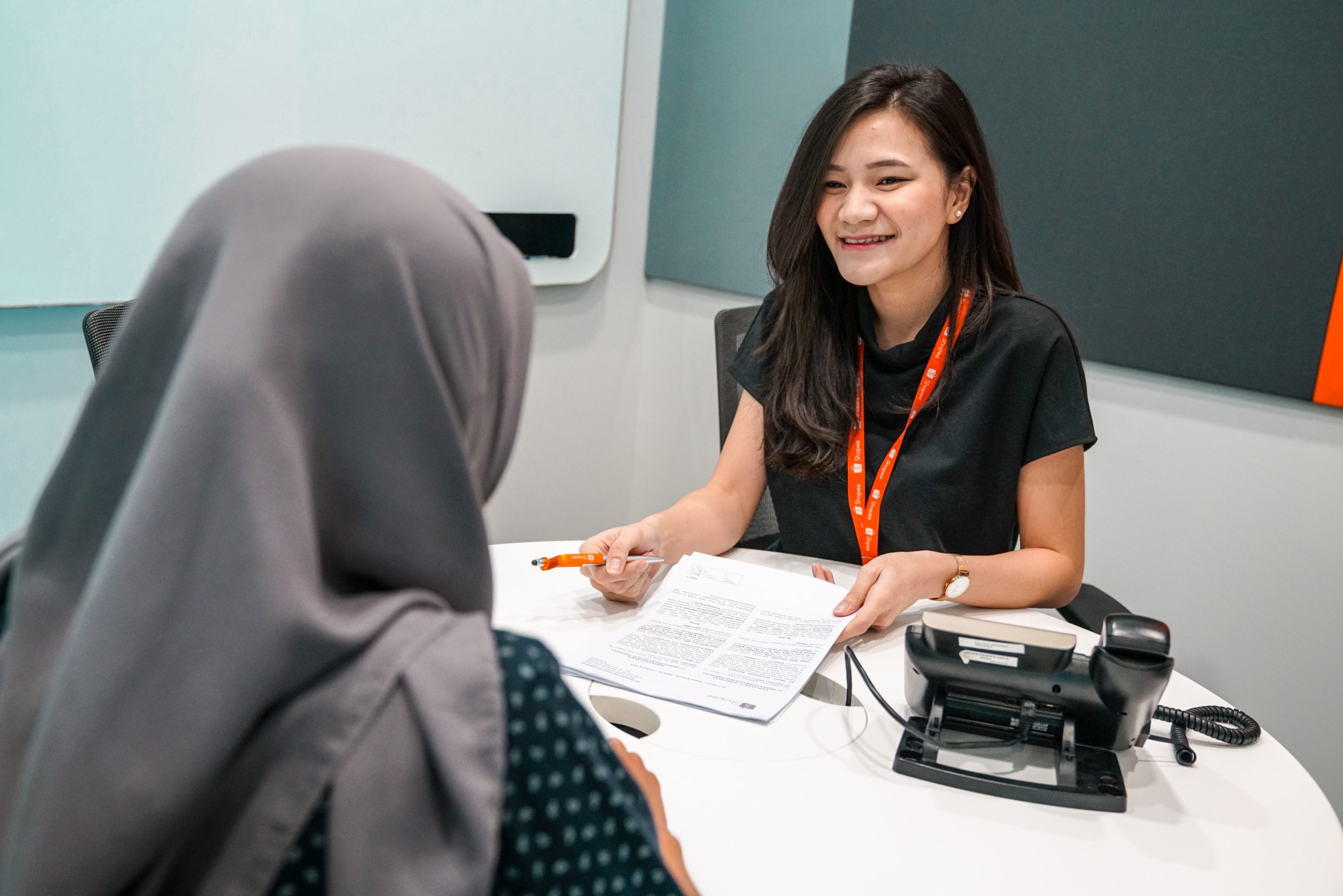 18.30: Time for rolling out the offer letter to the candidate!
19.00: To tie up some loose ends of today's work, she fills in a weekly report update to all Leads and Managers across BD Team. In the midst of wrapping up her work, a message pops up on her phone. She receives a response from a candidate sourced today saying that she is available to have a call after work at 8 pm today.
19.20: Time to go home! She gets a wiggle on grabbing a cab so that she can reach home before 8 pm.
20.30: With a grin on her face, she hangs up the phone satisfied with the interview she had with the candidate. Now it's time to wind down. With a form-fitting black dress donned and a nude metal clutch carried in her hand, out the door, she goes!
21.10: It's a long day. But hey, it's T.G.I.F time and nothing's better than lounging in a bar and sipping a glass of cabernet sauvignon. She's now ready to unwind from a long work week, chilling over a drink with her wine snob friends. Cheerio!
Thank you, Ria, for letting us know your daily activities as a Recruiter.
---
Follow the #ShopeeInsider and #lifeatshopee hashtags on LinkedIn for more features like this. If you'd like to be part of Shopee's Recruiter Team, find out more here!