Did you know? Paranormal Day falls on 3 May every year. We're sure you've heard a fair share of paranormal activities in Singapore that have left your hair standing. We know we have. *Shudders*
Here are the top 15 haunted places in Singapore we will never want to visit at night:
1) Old Changi Hospital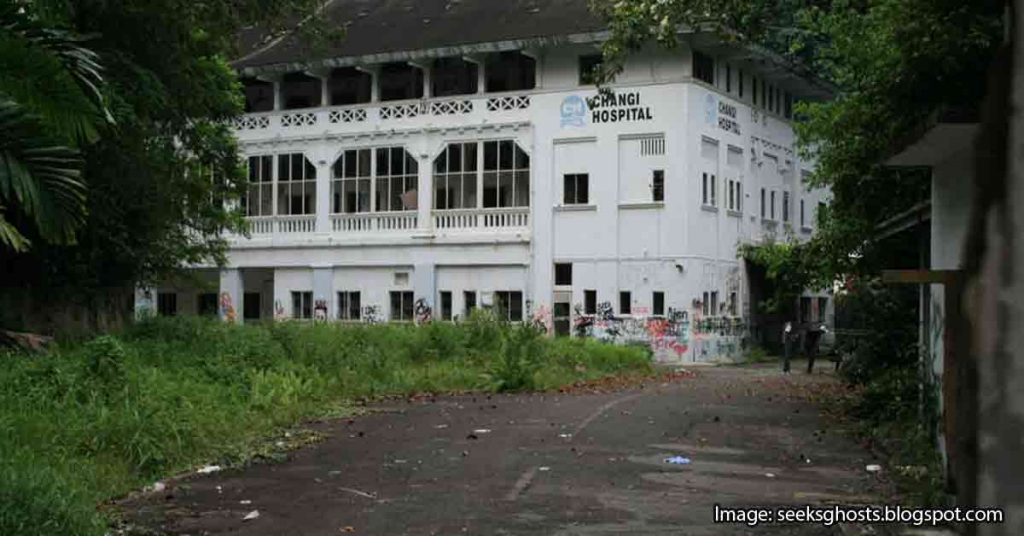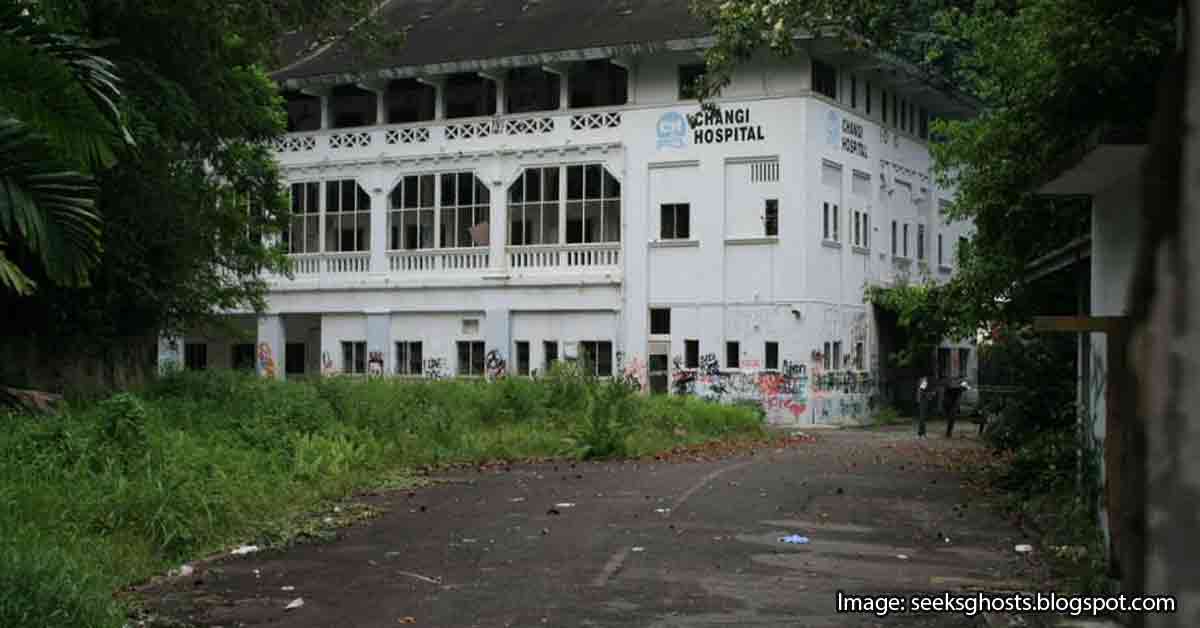 Voted as one of the eeriest places in Singapore, Old Changi Hospital used to be a hospital that was converted to a prison camp during the WWII. Housing more than 50,000 prisoners, there were rumours that the Japanese used this facility to torture the POWs. Of course, being a wartime hospital, there were countless of deaths too. Rumour has it that many developers tried to demolish it or turn it into something new. But, their efforts were always futile because people would mysteriously fall sick or injure themselves, putting all developmental plans to a halt.
Visit this place and you might hear or see: Souls of the POWs that were either tortured to death or executed by the Japanese during POW. There are rumoured sightings of a security guard who used to work there too.
Spook level: High
2) View Road Hospital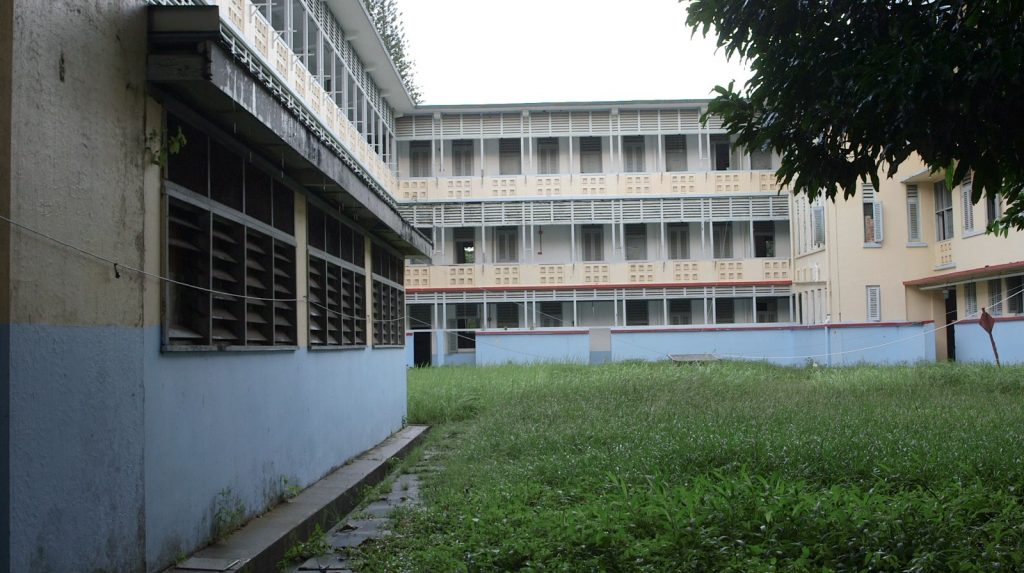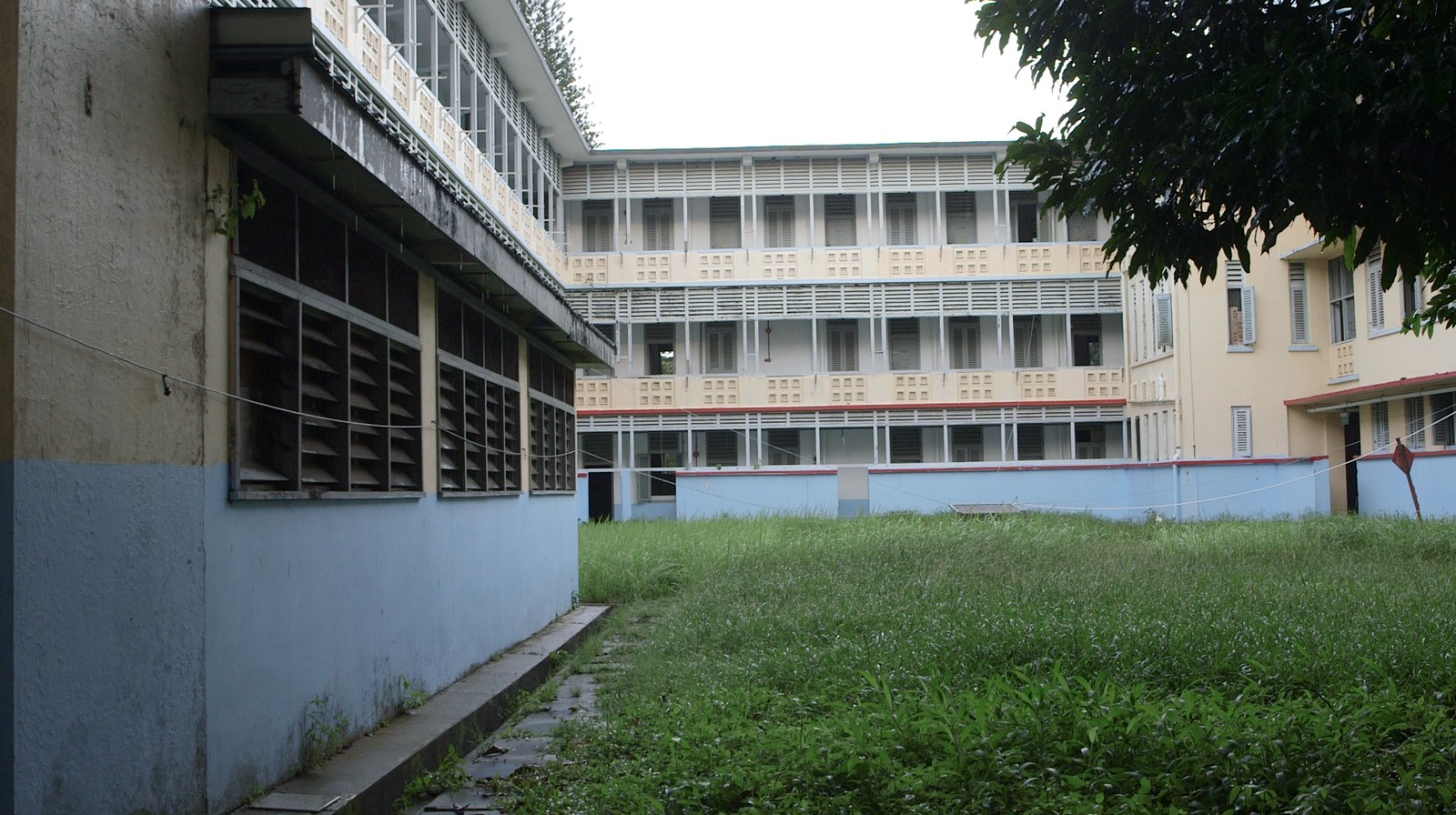 View Road Hospital operated as a former mental institution between 1975 and 2001, serving as a secondary institution due to the overcrowding situation at Woodbridge Hospital. Like all other mental institutions or hospitals, there were rumours of torture and deaths during the institution's heyday. There were many talks about patients being trapped in the hospital when they were alive. Likewise, now that they're dead, they're still trapped in the hospital, unable to get out. Now, this is where it gets really creepy. According to some sources, ghost hunters have visited this place in the hopes of seeing something unusual. One particular story recounts how they spoke to a watchman that was guarding this place. This might seem ordinary to you but, why would anyone employ a guard to watch a deserted place?
Visit this place and you might hear or see: Said supernatural watchman patrolling the grounds of View Road Hospital, watering the grass and speaking in a foreign language.
Spook level: High
3) Tekong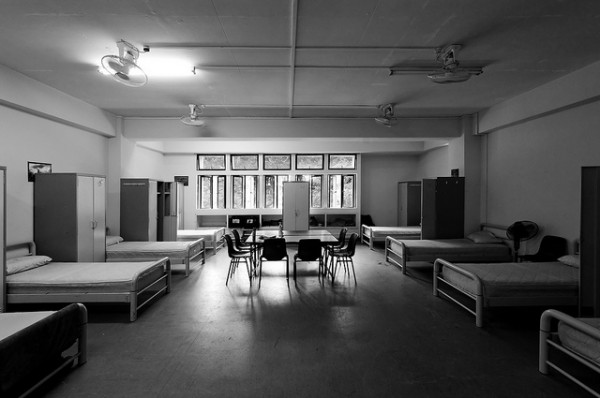 Even if you have never stepped foot into Tekong, we're pretty sure you've heard of horror stories from this place, passed down from your grandfather's friend's brother's grandson's friend. There are many stories but the most famous one has to be about Charlie Company's ghost. We're not going into the details in this blog post (maybe we will leave it for another time), but the army no longer conducts Thursday Night training because rumour has it that the last time they had one, a recruit went missing and when they found him, his body was hung limply from a tree, with all his internal organs torn out and arranged beside the tree, in a "stand-by-bed" manner. Besides this, there are other stories about recruits hearing and seeing a grandmother and a little girl and boy playing along the corridors. *Screams internally*
Visit this place and you might hear or see: Occasional bed and cupboard rattling, ominous feeling of someone watching you while you sleep, a grandmother and their grandchildren taking a midnight stroll, and a lady dressed in a white dress wearing bright red lipstick.
Spook level: High
4) The Yellow Tower At East Coast Park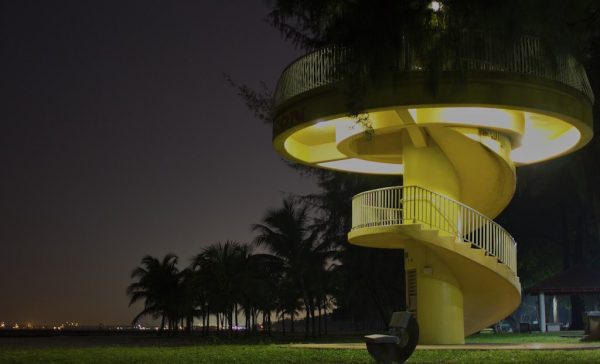 After reading this, you might want to think twice before going for a night run or cycling at East Coast Park, especially if your route brings you close to the Yellow Tower or Amber Beacon Tower near Carpark C. Numerous paranormal investigators and ghostbusters have claimed to see a female ghost crying out for help on some nights. This haunted spot comes with a tragic story though – Back in 1992, a lady was raped and brutally stabbed by two unknown assailants while her boyfriend was knocked unconscious. The murderers were never apprehended. From then on, there have been claims of sightings of a female figure near the tower and occasional screams for help.
Visit this place and you might hear or see: The restless lingering spirit of the young lady who was supposedly raped and murdered here.
Spook level: Low
5) Changi Old Beach Houses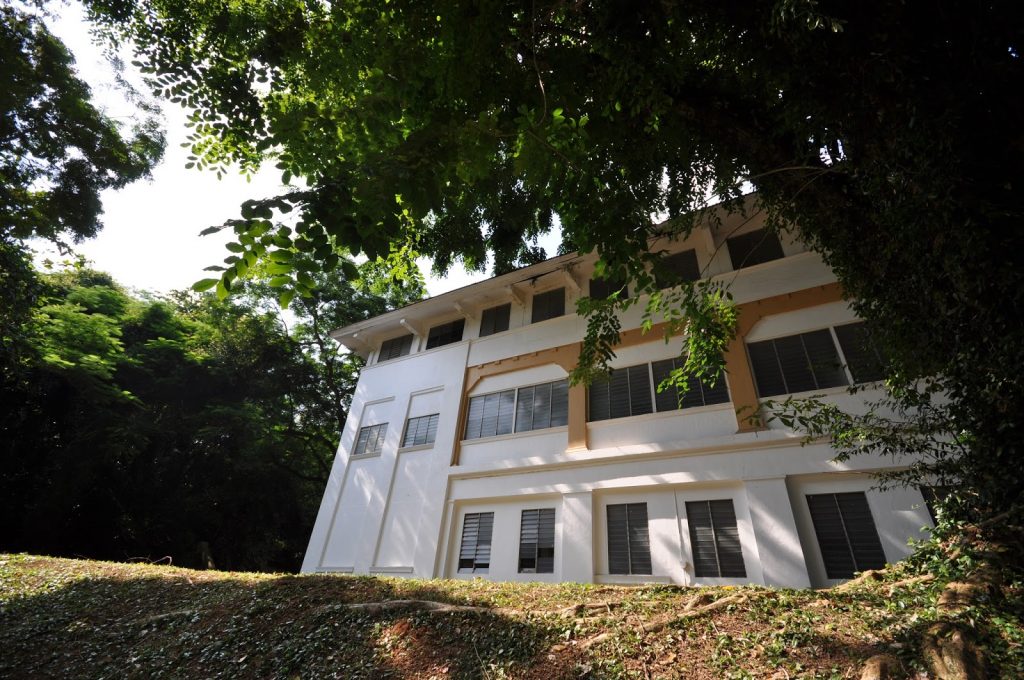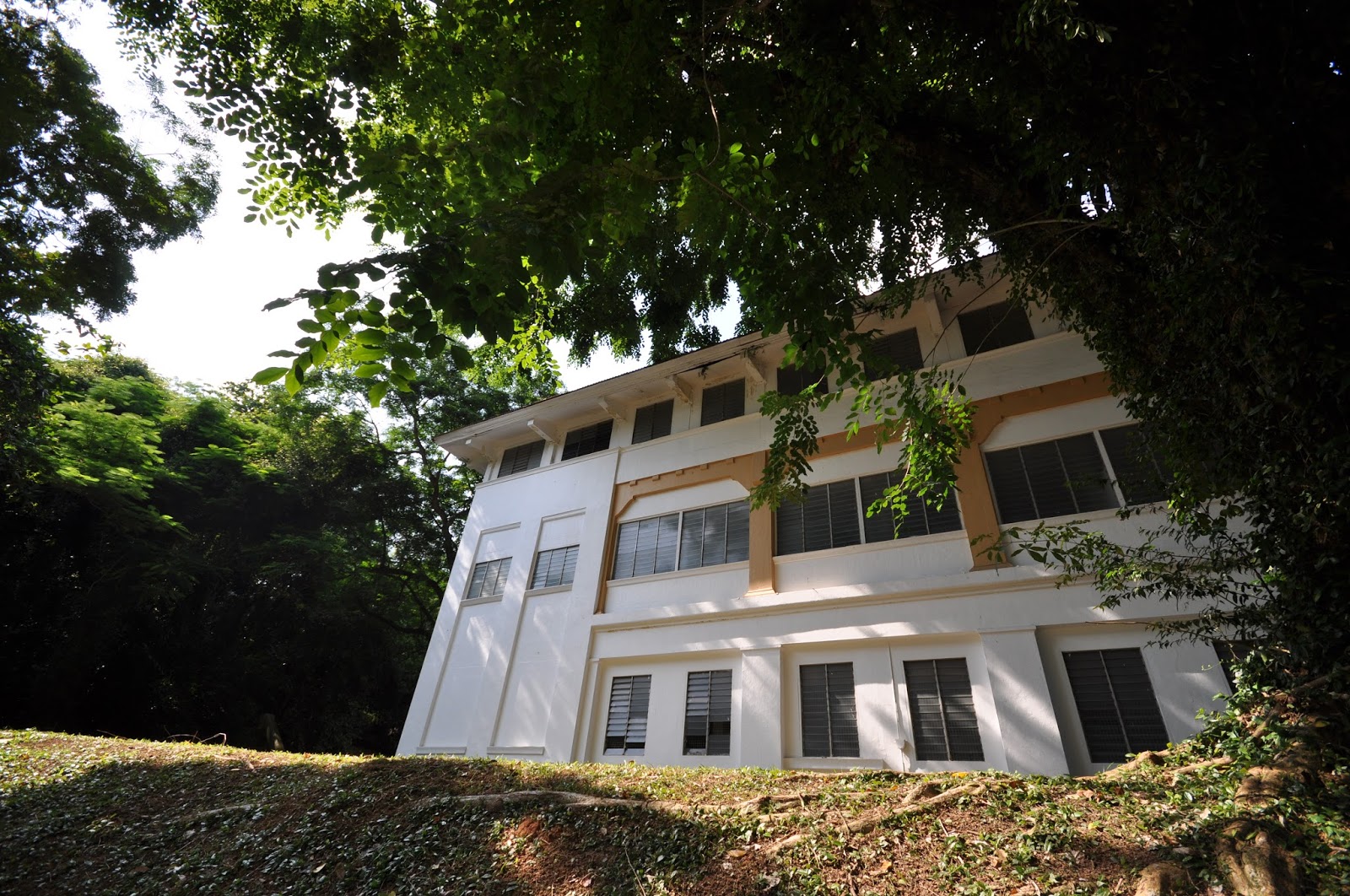 Back in the days, before staycations and Airbnb were a thing, many of us rented chalets by the beach to enjoy a perfect weekend getaway. Chalets were also popular among Secondary School kids born in the 90s because they were #1 cheap and #2 cheap. But these huge bungalows held something a little more sinister. A stone's throw away from Changi Beach (the beach that is infamous for the Sook Ching massacre, where many innocent people were brutally slaughtered by the Japanese soldiers), the Changi Old Beach Houses were rumoured to be haunted by souls lost during the WWII. There are stories of people returning home with mysterious scars on their body and claims that eerie weeping noises can be heard from the beach at night. We wouldn't recommend renting this unless you're looking for extra, unwelcomed company at night.
Visit this place and you might hear or see: Doors creaking open and slamming shut for no reason, wailing noises at night and a creepy sensation of being watched when you're in the beach houses.
Spook level: High
6) Old Tanglin Camps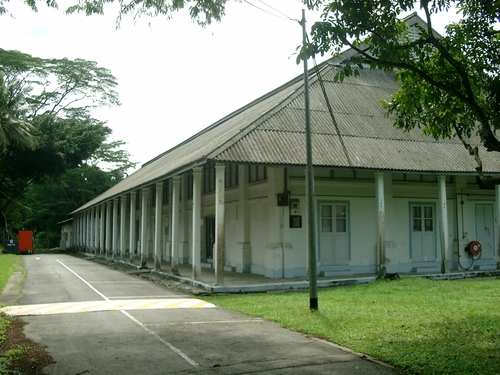 Previously home to Singapore military troops, the Old Tanglin Camps were converted to house captured Australian POWs during WWII. The camp had various blocks including a hospital, psychiatric brand and a supposed "Dead House" which was used to keep the bodies of deceased soldiers before they were dispatched for burial. As with all other places that existed during the WWII period, the Old Tanglin Camps were haunted by the spirits of these old soldiers from the past. There are various claims of noises from unknown sources – movement of feet and metal-studded footwear and creaking wooden floorboards. Some even claim to hear cries from empty buildings. Creepy.
Visit this place and you might hear or see: Cries and wailing from tortured and trapped souls, creaking wooden floorboards and movement of feet and metal-studded footwear at night.
Spook level: Medium
7) Tanglin Hill Brunei Hostel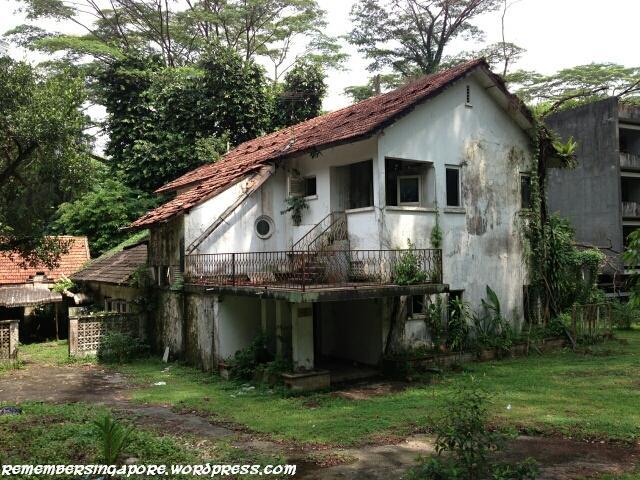 At the end of Tanglin Hill and right opposite, a grand private properly (guarded by Cisco security) lies the remains of Tanglin Hill Brunei Hostel. This hostel was built in the early fifties to house some of their students that were sent to Singapore by the Brunei government for educational purposes, and even government officials. By the eighties, Brunei had established their own education system, making the need for such a hostel obsolete. Gradually, the Brunei government shut the hostel down in 1983 leaving the place abandoned. There have been some sightings of paranormal beings within the premises and the occasional crying sounds along some corridors. But, overall, according to some sources, these beings residing at the hostel seem less violent or sinister, as compared to locations. But, still, practice caution and let's not take any chances!
Visit this place and you might hear or see: Sightings of souls lingering along the halls, occasional crying sounds and weird tingling feelings.
Spook level: Low
8) Neo Tiew Estate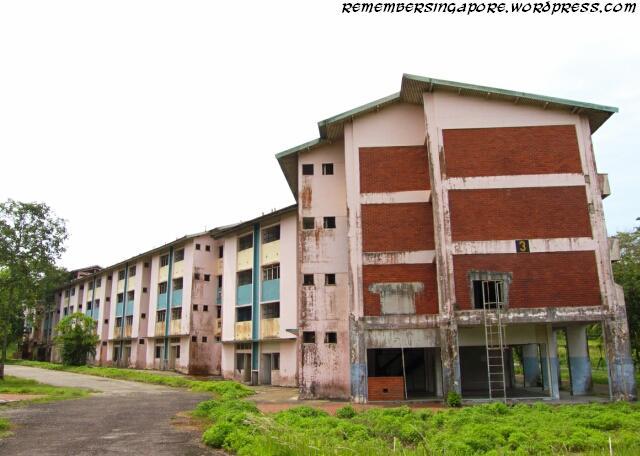 The Neo Tiew Estate is an abandoned HDB estate nestled deep within the Lim Chu Kang area. After undergoing en bloc in 2002, the area is now being used for urban warfare training by the Singapore Armed Forces. But once night falls, this estate becomes creepy AF. Rumour has it that the king of banana trees was planted here in the past, and someone, looking to strike the lottery prayed to the banana tree and even threatened the king by sticking seven needles in the tree. According to the legend, it worked and the guy struck it rich. BUT, he forgot to take the pins out, and thus the spirit of the king lingers on in the estate till this day. Many residents also claim to have witnessed Pontianak (aka female banana tree spirits) appearing outside their windows, hunting for innocent victims.
Other than these hair-standing sightings, there have been stories of taxi drivers picking up ladies dressed in white or red around this area, and receiving payment in the form of hell notes. Yikes.
Visit this place and you might hear or see: Potianaks or maybe the lingering spirit of the Banana Tree King.
Spook level: Low
9 ) St. John's Island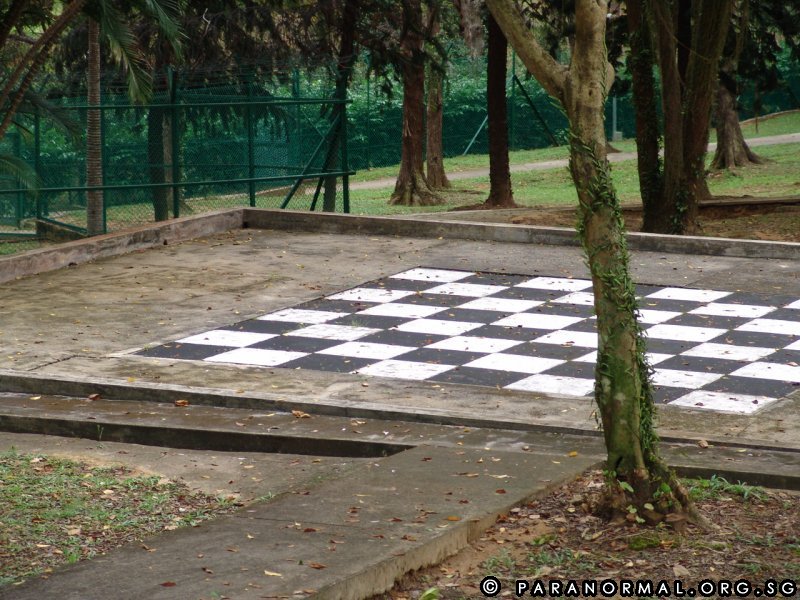 A popular place for many fishing enthusiasts, St. John's Island seems like the perfect getaway place for many. With blue and almost crystal clear waters, you'll think that this was a place in the Maldives. But, this island holds more history than you can imagine. In the late 19th century, the island was used to house a quarantine station for cholera cases, victims of Beriberi and people with leprosy. If you've visited the island, you would have seen a giant chessboard in the middle of nowhere. Legend also has it that back during the WWII period (yes, the dark days), the Japanese soldiers played on the chessboard using real human pieces. Every captured human will be beheaded on the spot. Seems a little like the Hunger Games, don't you think?
Visit this place and you might hear or see: Screaming and crying at night, the sound of the marching boots and spectral sightings of men in military wear.
Spook level: High
10) Bedok Reservoir Area
In recent years, the Bedok Reservoir has had its fair share of suicide cases, making it one of the creepiest places in Singapore. Like Tekong, there are countless of ghost stories of mothers, children or even an entire family committing suicide. Their spirits linger on around the estate and one of the most infamous and scary story is about the mother and son duo that jumped down the building at Block 99, not before leaving a message on the wall for the husband "It's not over darling…" Up till this day, there are still claims of laughter from unknown sources at night and cupboard doors banging for no particular reason at night. What's more, the adulterous husband moved into the same apartment with his mistress and his son started complaining about his "older brother" bullying him. Talk about revenge.
Visit this place and you might hear or see: Mysterious laughter of a mother and son, flickering lights, ghostly wailing at night and sometimes, an invisible force pulling you toward the reservoir.
Spook level: High
11) Bukit Brown Cemetery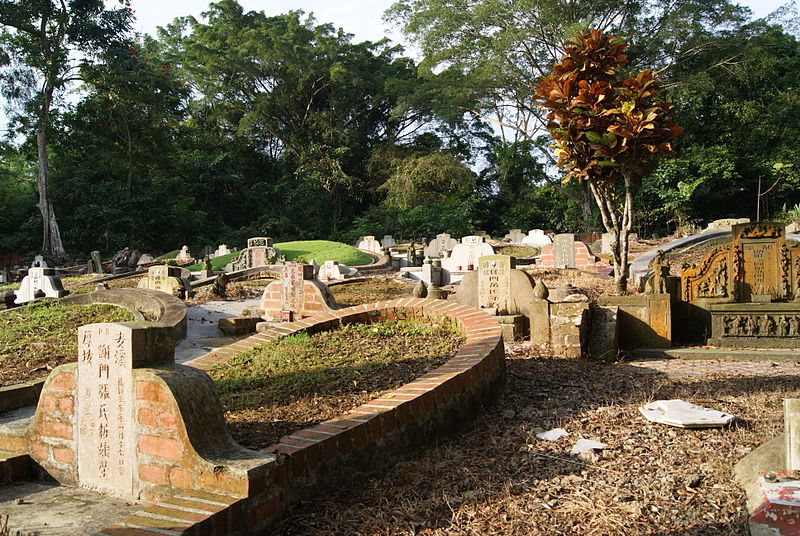 Also known as Kopi Sua (it was named like that because this plot of land was used to grow coffee in the 19th century), Bukit Brown Cemetery has been used by Hokkien Clans as a burial ground, with over 100,000 tombs. As with all other cemeteries, this is one place we will never want to visit especially at night. The Singapore Paranormal Investigators set up camp in the vicinity once to seek out any paranormal activity, only to have all the battery in their equipment drained out without any possible explanation. There are also reports of evil laughter from the cemetery at night. Seems like this cemetery holds something more sinister than resting bodies from the past.
Visit this place and you might hear or see: Potianks and evil laughter from the cemetery.
Spook level: High
12) Sentosa Island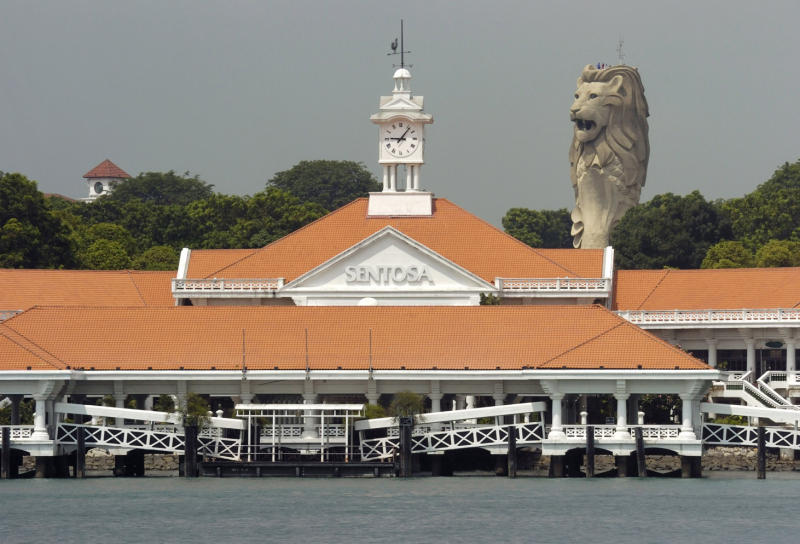 A popular destination for most tourists, Sentosa island is well-known for their many atas hotels, overpriced estates, man-made beaches and a fully integrated resort. But, did you know that it was previously called Pulau Belakang Mati (trans: Back Island of Death)? Well, we don't know about you but anything that involves the word "Death" gives us the chills. To top it off, there are reports that bad things did happen on the island during WWII, making this holiday island more ominous than it lets on. We did some digging around and it seems like there have been some claims of ghost sightings near the quieter areas of the island and also the popular Universal Studios Singapore. Seems like this island is both an attraction for the living and the dead.
Visit this place and you might hear or see: Ghostly soldiers at the old Fort Siloso and Universal Studios Singapore (Jurassic Park) areas.
Spook level: Medium
13) Caldecott Hill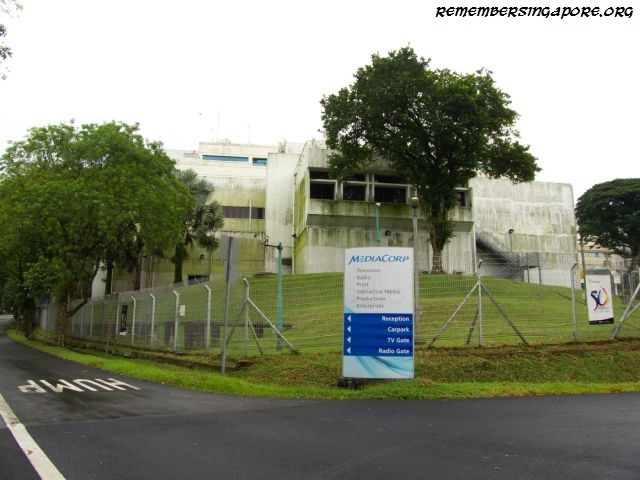 Before shifting to One North, this was where the old Mediacorp used to be. There have been numerous rumours that the studios are haunted, and of course, it doesn't help that they were located right behind Bukit Brown Cemetery (yep, the haunted cemetery with evil laughter). There are claims that the auditorium and the basement studio of the radio building is one of the hot places for these lingering souls. It's no wonder that they decided to vacate this place and move to the new studio at Mediapolis!
Visit this place and you might hear or see: Mysterious voices calling your name, ghostly figures
Spook level: Medium
14) Haw Par Villa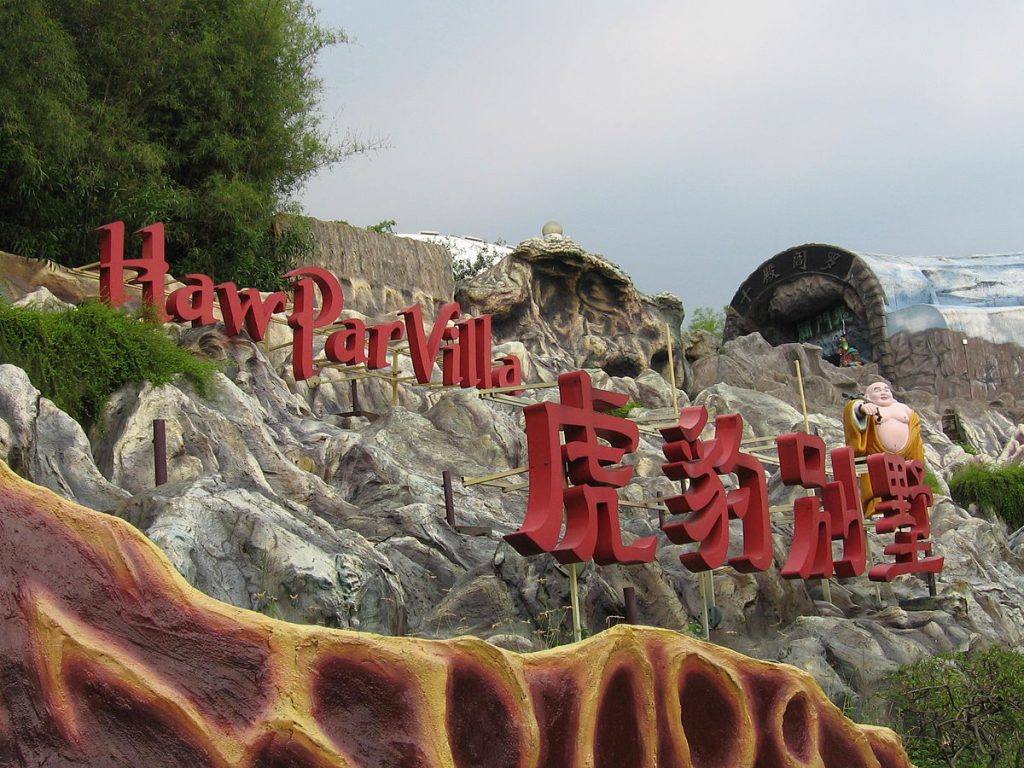 One look at Haw Par Villa and we're spooked despite the colourful statues littered all around the park. A "theme park" depicting Chinese folklore, it is most famous for their representation of the gruesome Chinese 10 courts of hell. If the physical representation of these statues aren't enough to scare you, there are rumours that these exhibits will come to life at night (Night in the Museum anyone?) and the tortured statues will fill the place with their anguished screams. There are also talks that the statues in Haw Par Villa are made from real human bodies, just covered and preserved well in wax. Yikes. This is one museum or themed park that we will not want to visit if we had a choice!
Visit this place and you might hear or see: Exhibits coming to life, tortured screams and laughters.
Spook level: Low
15) MRT Stations – Bishan, Novena and Woodleigh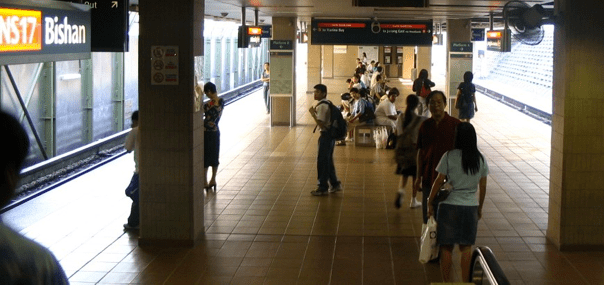 We're actually thankful that our MRT services do not run 24/7, especially during the wee hours of the night. Because if we had a choice, we would not want to commute in these haunted MRT stations that used to be cemeteries in the past. Did you know that the plot of land that Novena MRT is occupying now used to be a Jewish cemetery? And Woodleigh MRT station was where the Bidadari Cemetery used to be? Bishan MRT may be one of the more crowded MRT stations during the day, but it's also rumoured to be well-populated by the dead at night. There are many stories of SMRT workers seeing ghostly figures roaming along the tracks. Which makes us wonder, why did Woodleigh station officially open in 2011 even though works were completed in 2003?
Visit this place and you might hear or see: Ghostly figures roaming along the tracks and platform, footsteps walking atop the train, phantom passengers, and headless figures.
Spook level: Medium
Spooked out yet? Well, stand a chance to win 500 Shopee Coins (worth $5!)! Simply tell us your scariest encounter on our Facebook Post by 10 May and we'll award the reader with the scariest, eeriest and creepiest story.
–
If you're new to Shopee, get $7 off (min. spend $15) with code*: PARANORMAL
*TNC Applies. Valid from 3 to 10 May only.