Attack On Titan Season 4 might be the end of the legendary anime but that doesn't mean you need to bid farewell to Eren, Levi and the rest of the Survey Corps! Given its complex characters and stellar narrative, Hajime Isayama's epic work is so popular among fans that Attack On Titan merchandise have been flying off the shelves. But fret not, you can still get your hands on these anime merch online. From figurines to T-shirts, suit up for the upcoming anime finale with these Attack On Titan merchandise!
Must-own Attack On Titan merchandise in Singapore 
1.

Official Banpresto Figures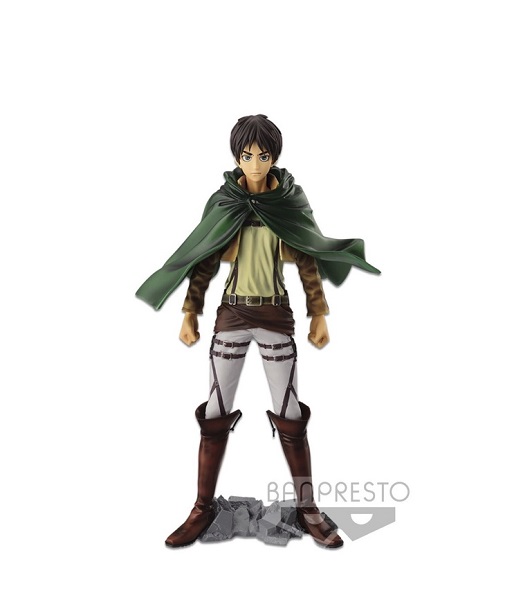 As the episodes to the final season are being released while we speak, we're all wondering how Eren is going to fare? Will the Yeagerists prevail? Or is there something Eren is keeping from everyone else? Whatever happens, if you're team Eren then his Banpresto Figure (available on Gifts Greetings Official Store) is a mandatory addition to your collection. This Attack On Titan figurine shows Eren in his Survey Corp uniform – something that we haven't really seen in the last season. Standing at about 15cm in height, this Attack On Titan merchandise is a bittersweet memory of Eren's character in the early seasons. 
Remember what happened to Levi in episode 74 (highlight for spoiler: Zeke detonated a deadly Thunder Spear during the fight with Levi and now our favourite Ackerman's life is hanging in the air)? We are still waiting for the big reveal on what happens next, but in the meantime, his Attack on Titan figurine (available on Gifts Greetings Official Store) will keep you occupied! 
2. Funko Pops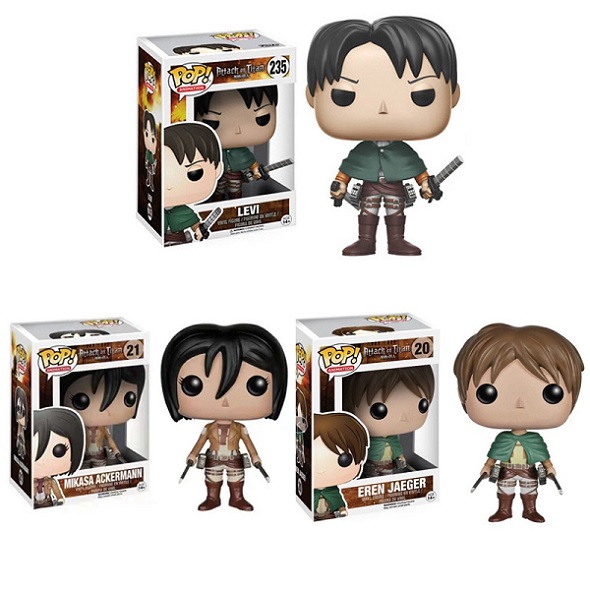 You can never have enough Attack On Titan figurines in your collection! If you've already collected those realistic-looking Attack On Titan figurines, then these Funko Pops (available on TOMMO.sg) are a great addition to have some contrast in your display! Not only do these Attack On Titan merchandise look cuter, each character's omni-directional mobility gear are so well-detailed that you can't pass on these anime merch! We love these Funko Pops because you can keep your figurines well-protected and preserve their appearances while leaving them in their original boxes! 
Did you know that Funko Pop designs keyrings too? Hook this Levi Funko Pop Keyring (available on TOMMO.sg) on your bag so that mini Levi can tag around wherever you go! Just imagine this Attack On Titan merchandise swishing around as you walk, mimicking how Levi swings around in the forest with his omni-directional mobility gear – how adorable!
3. Official ARTFX J Figures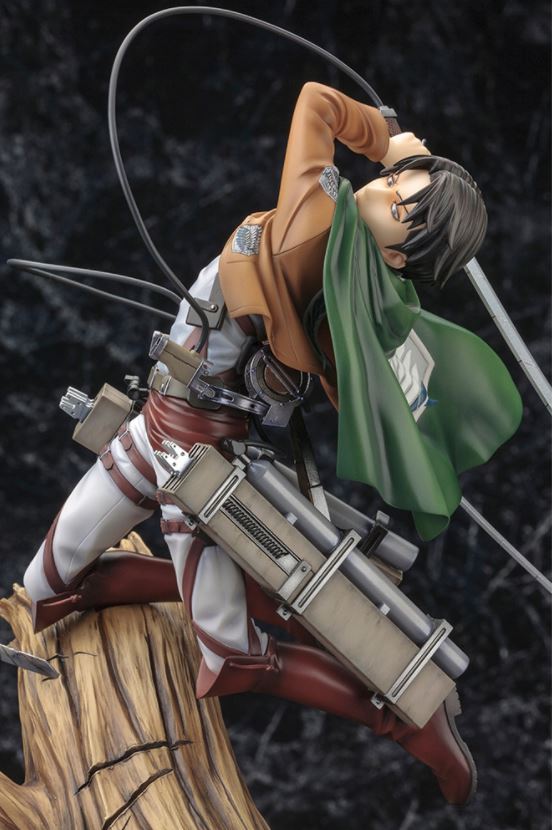 Can't get enough of seeing fan-favourite character Levi Ackerman in action? If you're willing to splash the cash, then his ARTFX J Attack On Titan figure (available on Hakken! Online Official Store) will stand out on your desk. At 28cm tall, this official Attack On Titan merchandise is specially imported from Japan and crafted by veteran model kit manufacturer Kotobukiya. As such, Levi's figure is detailed with intricacies like the unique way he wields his blades and his signature white scarf. We also adored how this Attack On Titan figurine comes to life as Levi acrobatically maneuvers over the tree and prepares to decimate his enemies!
Psst, if you're an Eren or Mikasa fan, we have you covered with these equally detailed ARTFX J Mikasa and ARTFX J Eren figures (both available on Hakken! Online Official Store) that'll be nice additions to your Attack On Titan merchandise collection.
4. Titan Form Figures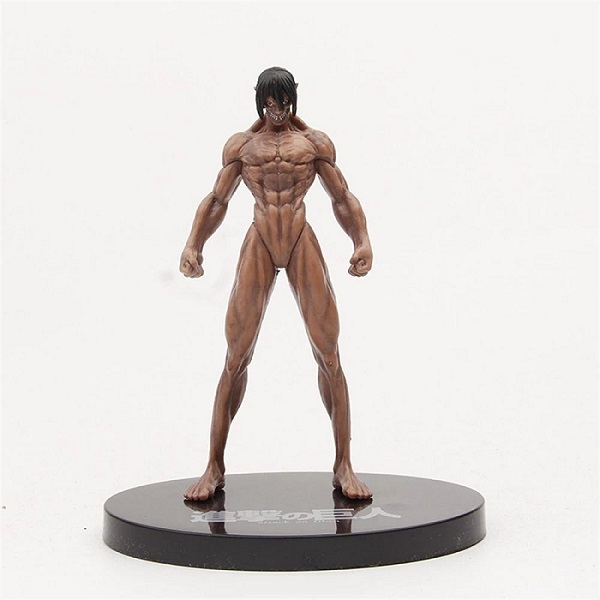 Is your collection really complete if you don't have Eren in Titan form? You need to showcase this Attack Titan (available on elegant8.sg) that has amassed the other Titans' powers! This Attack On Titan figurine is so intricately detailed that you can somehow feel the immense prowess of Eren. 
We haven't forgotten about the other characters that you can add to your collection of Attack On Titan merchandise! Now that Eren has consumed the War Hammer Titan and obtained its powers, this War Hammer Figurine (available on rebuy.sg) is a great addition to remember what the original character looked like in their fight. Don't forget about Armin Arleltt and his Colossal Titan (available on elegant8.sg)! Your Attack On Titan figurine collection will finally be complete with these characters in their Titan forms. 
5. Nendoroid Figures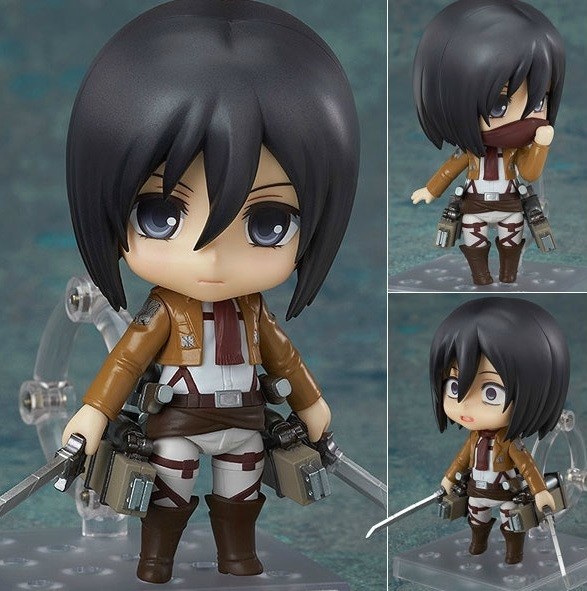 Mikasa might be an Ackerman but that doesn't discount how devoted she is to Eren. Her desire to protect him is admirable and her Nendoroid Figurine (available on AKKO FIGURES.sg) is worthy of a place in your collection! These Attack On Titan merchandise are so well loved because you can always switch out certain parts for a different look. You can change out the face to display a different expression or switch out the limbs to showcase another stance. 
Looking for the other Ackerman? There's also the Levi Nendoroid Figurine (available on rebuy1.sg) of him cleaning. Did you know that Levi is such a clean freak because of the poor living conditions he experienced as a child? Instead of his Survey Corp uniform, Levi now has a bandana on his head and this Attack On Titan figurine is holding a broom too. What a breath of fresh air from his usual look!
Jaw-dropping Attack On Titan apparels in Singapore
6. Scouts Logo Graphic T-Shirt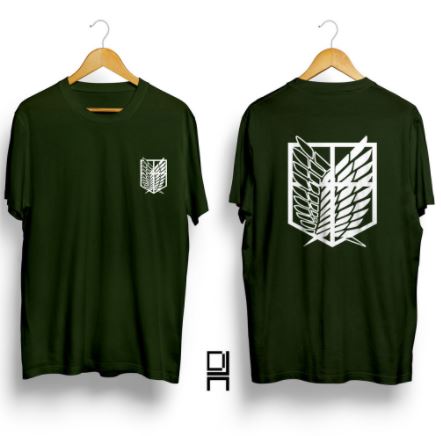 There's no simpler way to showcase your AOT love than with this Scouts Logo Graphic T-Shirt (available on DJA Cloth). This Attack On Titan merchandise proudly features the Survey Corps logo and is made of a comfortable cotton material so you won't work up a sweat. Not bad for a graphic tee that's available at such an affordable price! More of a pullover kind of fan? Check out AOT anime merch like this Attack On Titan Fleece Hoodies (available on DJA Cloth) and get cozy as you catch the finale!
7. Military Jacket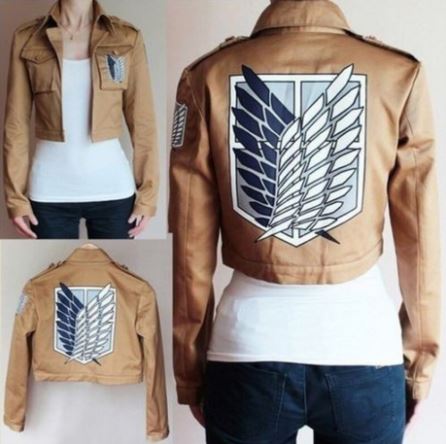 If you're thinking of cosplaying as your favourite soldiers with Attack On Titan merchandise, you can easily amp up the style with these signature Attack On Titan Military Jackets (available on Wallmart88.sg) that look identical to the ones worn by the cast! With this comfortable polyester jacket, you too can feel like a scout exploring outside the walls.
Other Attack On Titan merchandise in Singapore worth collecting
8. Eren's Basement Key Necklace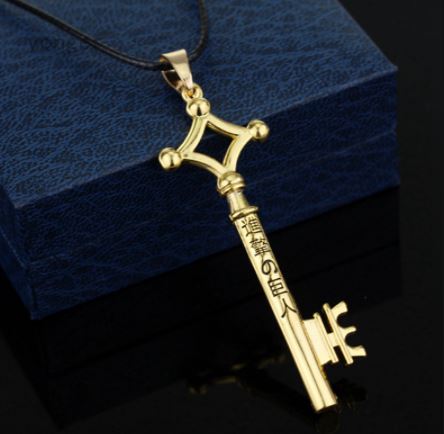 While there are plenty of Attack On Titan necklaces available, our favourite is Eren's Basement Key (available on yonger). Out of all the happenings in Attack On Titan, none was more iconic than the basement scene that flipped the script and answered viewers' questions about the broader universe! While you might not be revealing any truths with this necklace, it's certainly an anime merchandise piece worth owning to commemorate the iconic moment.
9. Character Keychains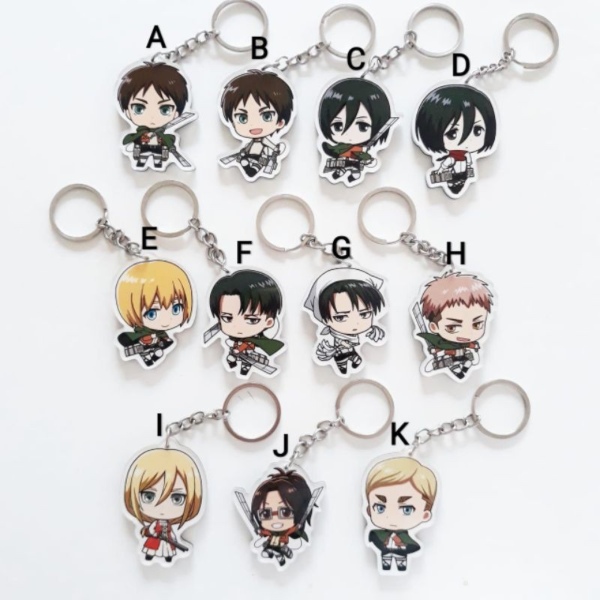 On the lookout for Attack On Titan merchandise that showcases the more light-hearted side of the series? Take a break from the doom and titan slaying with these adorable Attack On Titan Character Keychains (available on allsticker.sg). From Mikasa to Erwin, you'll find all your favourite characters here in miniature, chibi form!
10. Corps Emblem Enamel Pin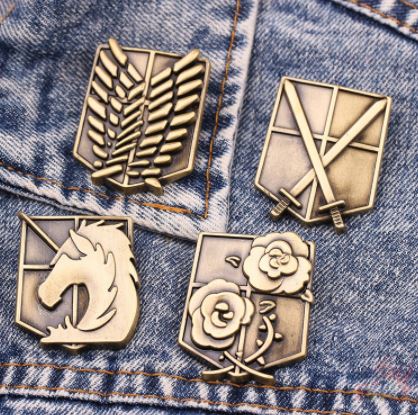 Keep a little piece of Attack On Titan merchandise with you at all times with these Corps Emblem Enamel Pins (available on fasion_accessories001.sg)! It's not all about the Survey Corps as these 4cm wide zinc alloy pins let you represent the Military Police, Garrison and Trainee Squads too. While they might not be the most flashy of anime merch, they're certainly a minimalist way for fans to show some love for the manga series.
11. AirPods Case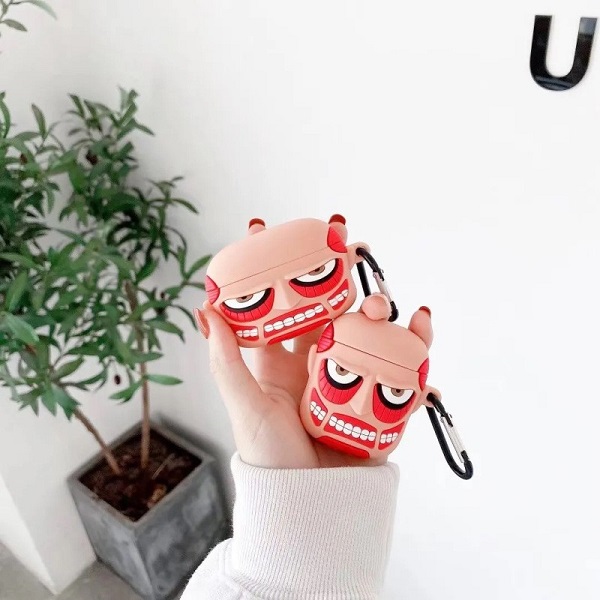 Accessorise your AirPods with the Attack On Titan AirPods Case (available on IPhone Accessories Store)! This Attack On Titan merchandise featuring the Colossal Titan makes it seem like you've shrunk the gigantic character into a pocket-friendly size that you can bring around everywhere – how ironic! If you're a fan of Armin Arleltt, then this is the perfect Attack On Titan merchandise for you!
12. Blanket Shawl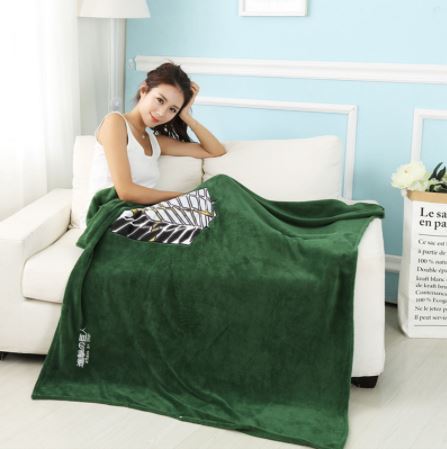 Thinking of rewatching the earlier episodes? Get yourself comfy with this green Attack On Titan Blanket Shawl (available on fudexins1.sg) that features the series' famous scouts logo. With lengths reaching up to 1.2m, you'll certainly be able to find one to bundle up in during your binge sessions! The blanket also has a built-in hood and button so you can easily convert it to a wearable cape. Pair this blanket shawl with the Attack On Titan Pillow (available on kukudi.sg) so you can snuggle up and get cozy as you finish up the finale!
13. Table Lamp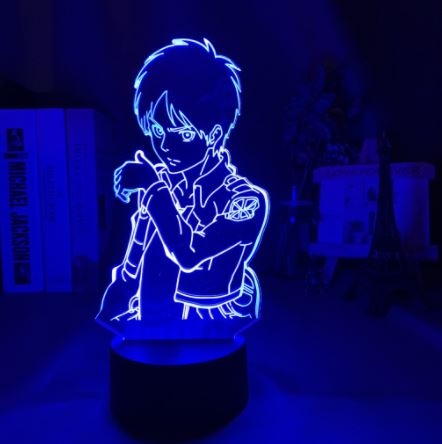 Give your room that extra bit of mood lighting with this array of Attack On Titan Acrylic Table Lamps (available on Eve Love Life Store)! With multiple unique designs, you'll definitely be spoilt for choice. Unlike your regular table lamps, these Attack On Titan merchandise lamps consume low power and utilise soft LED lighting! This ultimately makes them perfect as night lights, giving your room a different glow as you binge on the finale!
14. Cosmetic brushes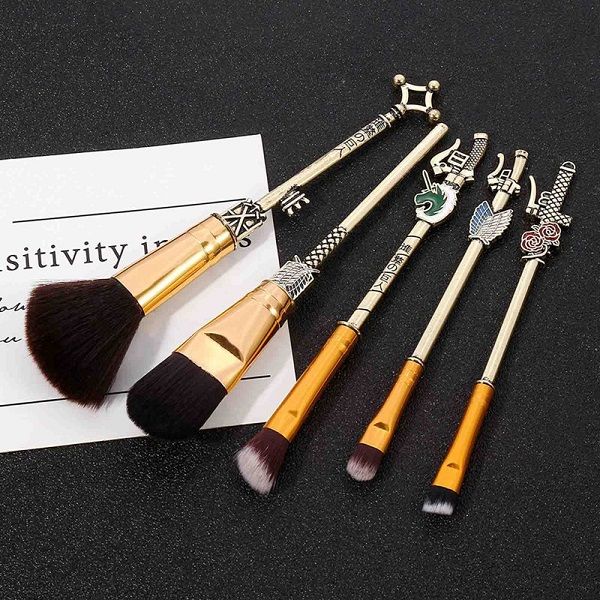 There's no better way to start your day than doing your makeup with these AOT Cosmetic Brushes (available on FancyQube)! This Attack On Titan merchandise features the different emblems of the military divisions and that basement key. The brush handles are shaped like the Ultrahard Steel swords used by the characters. Every time you use these brushes, it'll feel as if you're fighting your own Titans!
15. Notebook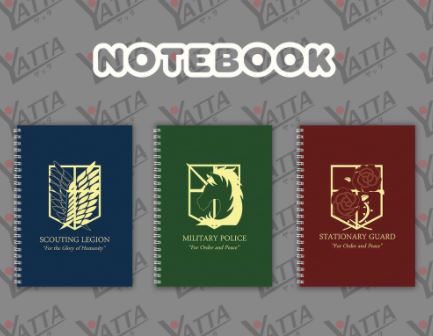 Prefer more practical anime merch? Whether you're attending classes or studying for an upcoming exam, you can still support the various military branches with these Attack On Titan Notebooks (available on chikaryzmalia.sg)! Available in A5, A6 and B5 sizes, these vibrantly coloured paperback notebooks feature their respective logos and slogans along with 50 sheets of paper for you to write on.
Dedicating your heart with these Attack On Titan merchandise
From detailed figurines to minimalist enamel pins, we have you covered with the best Attack On Titan merchandise in Singapore. Keen on exploring other kinds of listings related to anime and manga? Browse through our collection of anime and manga figures so you're caught up with the latest for your favourite series. Taking a break from anime and manga? Check out the best anime series you should catch!
This article was updated on 18 January 2022. Additional research done by Caryn Tan.