Chaga chaga choo choo! There's so mushroom, so hop on the chaga train! Chaga mushroom has become such a hype lately, especially during this trying time when everyone is trying to boost their immunity and stay healthy. Packed with tons of antioxidants, chaga mushroom is known to benefit the body by protecting against diseases. Read on to find out how this fungi is so awesome that you'll want to invite him (fungi – fun guy, get it?) to your party! 
What is chaga mushroom?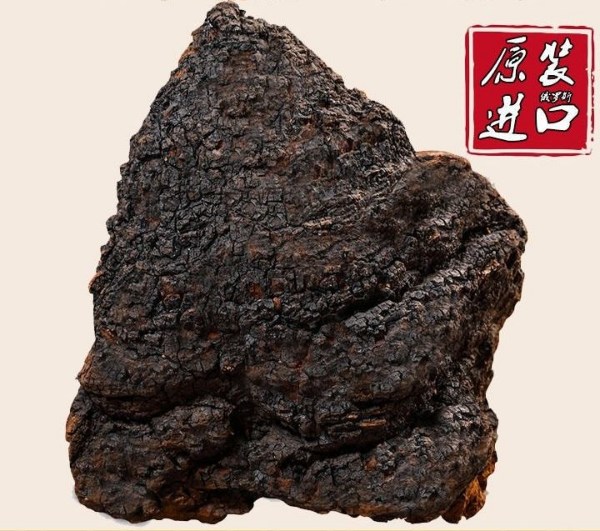 In order to know what a chaga mushroom is, you first have to know what it looks like. This fungi resembles a dark lump of coal on the outside. On the inside, it's orange and has a soft texture. These mushrooms are usually found on the bark of birch trees in cold climates like Korea, Canada, Alaska, and more. Chaga mushroom may look underwhelming but it can actually benefit your health greatly!
Here's an interesting fun fact about chaga mushrooms — they are actually parasitic on birch trees. Once you find chaga on these trees, it's sayonara for the host as the tree slowly dies from the inside. Not to worry though! While chaga mushrooms kill their host trees, they're actually the opposite for humans, providing tons of health benefits to us! 
When it comes to taste and smell, chaga mushroom powder has an earthy flavour with a tinge of bitterness. Some people say that it tastes a little like coffee, but you've got to give it a try to be sure! 
What is chaga mushroom good for?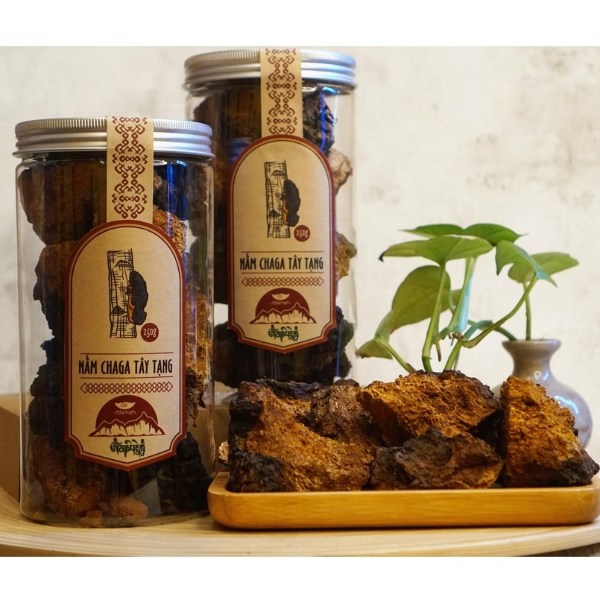 Chaga mushrooms have been used for centuries in some Asian countries because many believe they can improve immune systems and therefore, general health. In the past, people would grind up chaga mushrooms into powder to make herbal teas. These days, the powdered versions are presented as capsule supplements for consumption. 
Chaga mushroom tea is filled with antioxidants that have been known to help to lower the risk of diseases. People also consume chaga mushroom tea because research from the Pharmaceutical Chemistry Journal has shown that it may help with certain diseases like diabetes.
This fungi has other names too. Apart from being known as the life of the party (wink), chaga is also called black mass, cinder conk and clinker polypore. This fibrous mushroom is low in calories, so those sticking to a strict low calorie diet can consider incorporating some chaga mushrooms into their routine. 
How to use chaga mushroom?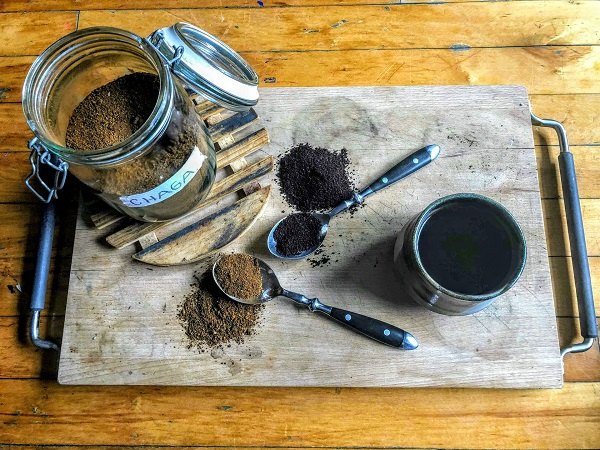 Chaga contains so much antioxidants, it's no wonder people are rushing to get this mushroom to brew tea. Chaga mushrooms are adaptogenic, which means they can help your body regulate its immune system by reducing inflammation and strengthening defence against free radicals. In addition, chaga tea does not have caffeine, making it perfect for any time of the day! Have it in the morning and it'll give you that boost of energy. Drink it at night and it'll help calm you as you get ready for a good night's sleep.
Don't worry about the taste. Chaga has vanillin, which is also found in vanilla beans. Your chaga tea will have an earthy yet slightly sweet flavour. Ready to make your own chaga tea? We have listed out the steps below. But if the whole process sounds too much of a hassle, here's an easier way to enjoy your cup of tea. Those who own a Nespresso machine (available on Nespresso Singapore Official Store) can simply pop in the TEALLENT capsule (available on teallent.sg) and voila, a nourishing cuppa to rejuvenate your body and mind!
You'll need:
Metal teapot or saucepan and stove

Water

Chaga mushroom powder

Tea bags
Step 1: Get your brewing equipment ready! It takes a while to brew chaga, so it's best to do this over the stove or in a metal teapot (available on Poo Lee Trading Official Store) if you don't want to stain your porcelain ware! 
Step 2: Heat your water to a temperature between 60 and 70 degrees Celsius. That pot of water shouldn't be bubbling when you're ready to pour it over your chaga mushroom! Be patient and let the water cool. Boiling hot water could break down the antioxidants in the chaga mushrooms – you don't want that! 
Step 3: If you're using chaga mushroom chunks (available on 14izxfj5nr) , then you'll need to break them into smaller cubes that are about 2-3cm in size. Put in some elbow grease and don't be afraid to get a hammer to break the mushrooms apart. Wrap these chunks in a cloth and start hitting them. You need these chunks to be smaller so you can get the full flavour and nutrients!
Step 4: The quickest way to make this nutritious drink is to get them in powder form (available on Bc Herbology) and place them in tea bags. All you have to do is steep them in hot water for about four to six minutes. For the chunks, you'll have to steep them for at least an hour to extract all the nutrients. 
Pro Tip: Simmer the chunks in water over low heat for about four hours if you want a richer and bitter flavour to your drink. Don't throw out the chunks after! You can still brew them two more times. After this, the chunks can be burned as incense or grinded into powder for consumption.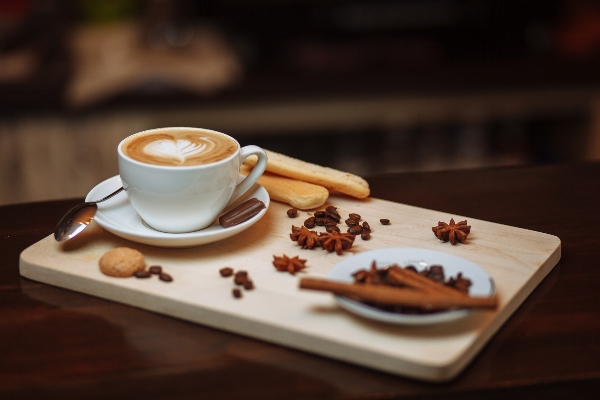 Chagaccinos are a healthier alternative to your regular morning java. Adding chaga mushroom powder gives a healthy edge to this drink. Chagaccinos usually contain some cocoa powder, cinnamon and sugar to help take away that earthy, slightly bitter taste from the chaga. If you're still not used to the flavour, add some milk. But if you're a matcha lover then this should be all right for you! 
You'll need:
Saucepan and stove

Water

Chaga mushroom coffee mix

Almond milk

Cinnamon stick

Coffee mug

Cocoa powder
Step 1: Prepare 200ml of water in a saucepan and heat it on a stove. Remember not to add boiling water to your chaga coffee mix or you'll lose out on those antioxidants!
Step 2: Add one packet of Mushroom Coffee With Chaga and Cordyceps (available on The Good Market) to the pot once the water reaches about 60 degrees Celsius. Heat your pot over medium flame and stir the mixture. 
Step 3: Get 50ml of Unsweetened Almond Milk and a McCormick Cinnamon Stick (both available on Shopee Supermarket), then add them to the saucepan. Whisk the mixture while it's still on the stove.
Step 4: Once your drink is frothy enough, remove the saucepan (available on ToTT Official Store) from the stove and pour it into your favourite coffee mug. Sprinkle a dash of cocoa powder (available on Shopee Supermarket) and you're all set! 
Pro Tip: Need an extra boost of caffeine? Add a shot of espresso to your mug first, then pour the chaga cappuccino over! You can also make a decaffeinated version by using just chaga powder instead of a chaga coffee blend! 
Best chaga mushroom health supplements
Not that keen on adding chaga to your drinks or desserts? Get some of the best chaga mushroom health supplements so you can still benefit from them! Taking chaga supplements helps you to track the amount you've consumed. If convenience is a priority, it's easier to have chaga capsule supplements so you can just pop one and kickstart your day!
1. honeyB+ Chaga Mushroom Honey Stick Gift Set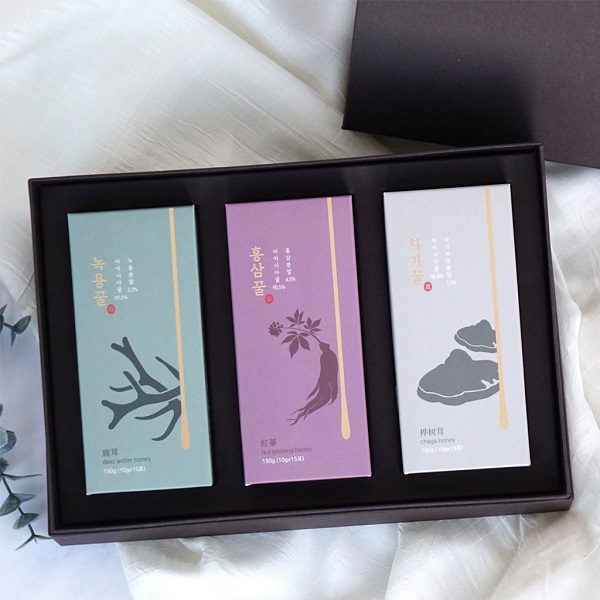 Here's some sweetness you can add to your day! The honeyB+ Chaga Mushroom Honey Stick Gift Set (available on honeyBplus Official Store) is a tasty supplement that can benefit your diet. If you're worried about the bitter taste of chaga mushroom, then this is a great alternative. This gift set includes Deer Antler Honey and Red Ginseng Honey too, so you'll get to try out different flavours of honey and pick your favourite! 
How to use this chaga mushroom supplement: Add a stick of chaga honey to your chaga mushroom coffee or tea for some sweetness without compromising on the strength of chaga in your beverage!
2. Biofinest Chaga Mushroom Extract Powder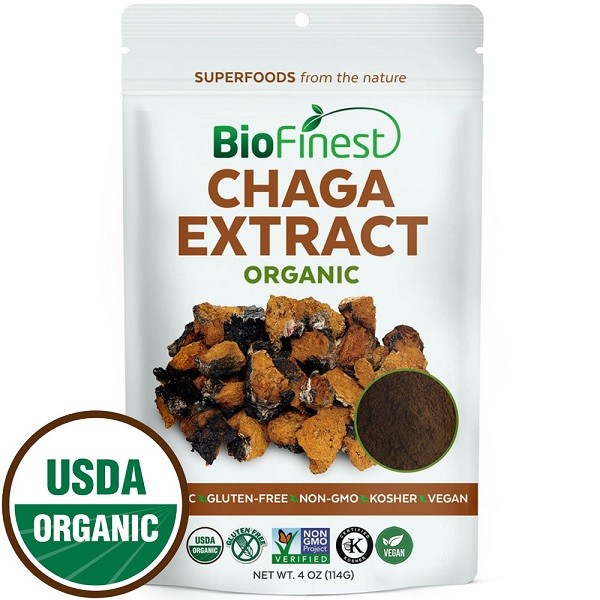 Want to make a chaga smoothie? The BioFinest Chaga Mushroom Extract Powder (available on BioFinest Official Store) is perfect for that! This best chaga mushroom powder has all the yummy benefits that will improve your immune system. We also love how the chaga mushrooms are freeze-dried so this means that the nutrients are still retained even though the shelf life is a lot longer! 
How to use this chaga mushroom supplement: Scoop one to three teaspoons of the chaga mushroom powder, add it to your preferred milk and blend away to make the best smoothie you've ever tasted! You can also add this chaga mushroom powder to yogurt for a healthy snack. 
3. LOOV Organic Chaga Tincture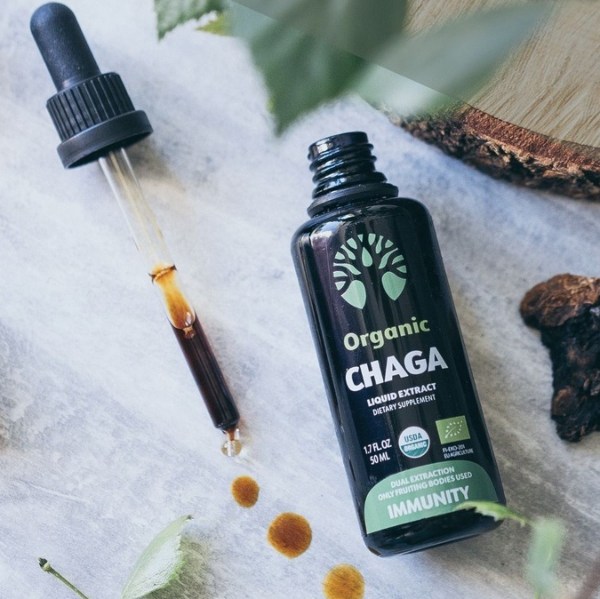 The LOOV Organic Chaga Tincture (available on LOOV Organic Official Store) is one of the most direct yet best way to consume chaga mushroom as a supplement. This concentrated liquid chaga mushroom extract contains a chock full of benefits because of the dual extraction process that draws out tons of nutrients from the fungi. We can't deny that this may taste a bit earthy but hey, no "pain" no gain! 
How to use this chaga mushroom supplement: Fill up the dropper and leave it under your tongue before releasing the tincture. This is the most effective way as the tincture is absorbed into your system without having to go through your digestive system. Alternatively, you can drop this into your beverage. 
4. Swanson Full Spectrum Chaga Mushroom Capsules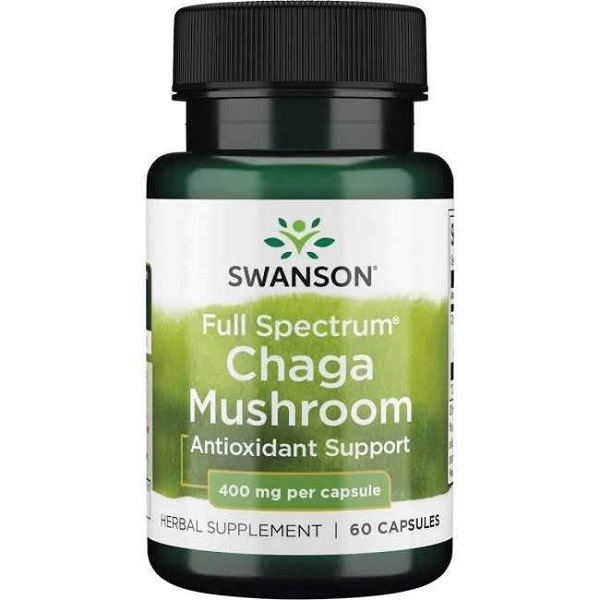 Chaga mushroom powder is also available in capsule form and the health benefits are just the same! The Swanson Full Spectrum Chaga Mushroom Capsules (available on The Supplement Warehouse Pte Ltd) is a herbal supplement that works best when you routinely consume two capsules every day. The chaga mushrooms used in this formula are sourced from Russia and Eastern Europe, where chaga mushrooms are well-known health solutions for centuries. 
How to use this chaga mushroom supplement: Simply pop a capsule into your mouth, chase it down with some water and you're good to go! Alternatively, you can open the capsule and empty the powder into hot water to create a cup of chaga tea. 
Best chaga mushroom skincare products
Aside from oral ingestion, you can also tap on chaga mushroom's health benefits through topical application. Incorporating chaga mushroom skincare products into your routine can help with redness and sensitivity while healing and strengthening your skin. Your complexion will look naturally dewy with chaga skincare products! Chaga mushroom skincare also fights skin ageing. It has ultraviolet protection properties to shield your skin from those harmful UV rays, and the antioxidants help prevent wrinkles! 
5. Little Drops Welcome My Youth Face Serum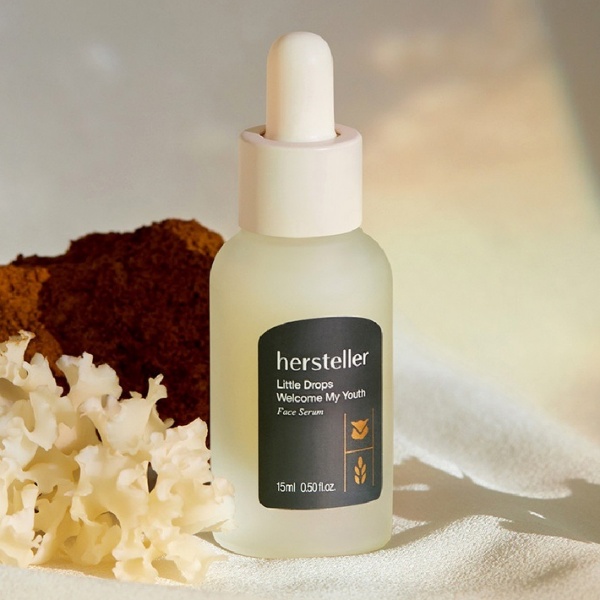 Include chaga mushroom serum to your skincare routine and witness how it benefits your skin! With the antioxidants in chaga mushroom, this Little Drops Welcome My Youth Face Serum (available on BAHAT market) is your best bet to help fight ageing skin. The rice bran in this serum is extremely moisturising, so it's perfect for those who are having troubles with their dry, flaky skin! 
How to use this chaga mushroom skincare product: Start off your skincare routine with your regular toner. Next, take a sufficient amount of the chaga mushroom serum, spread it evenly on your face and lightly pat your skin to help with absorption. 
6. APLB Comfort Tightening 47% Neck Cream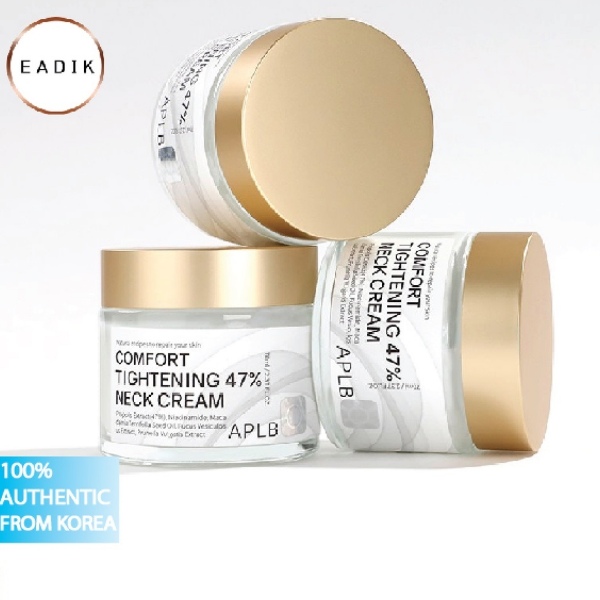 Did you know that neck wrinkles could make you look a lot older than you actually are? The best way to fight it is with some chaga mushroom cream like the APLB Comfort Tightening 47% Neck Cream (available on eadik shop). This chaga mushroom cream contains all the moisturising goodies that can benefit the skin on your neck. Apart from chaga mushroom, it also has three other types of fungi (Meshima mushroom, Reishi mushroom and Cauliflower mushroom) that can help reduce the appearance of wrinkles on your neck! 
How to use this chaga mushroom skincare product: Take a decent amount of cream and apply it around your neck. Massage the cream into the skin using upward motions for a lifting effect.
7. Chaga Mushroom Face Mask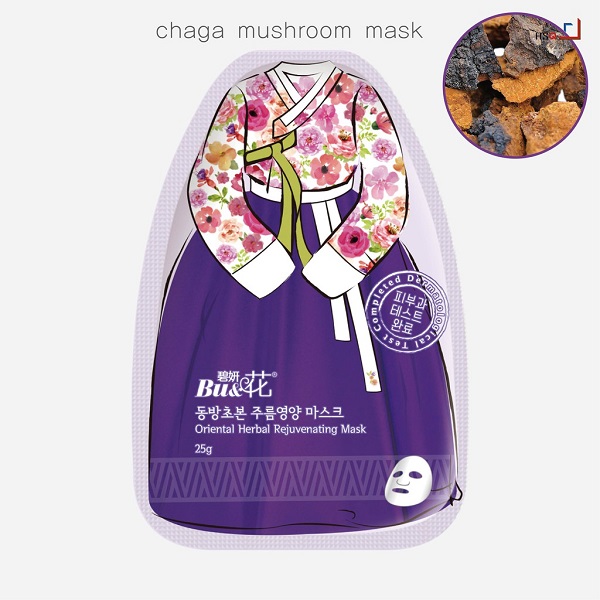 We can't get enough of these chaga mushroom skincare benefits and this Chaga Mushroom Face Mask (available on hansquare) is another one we highly recommend! This facial mask contains that crucial star ingredient – chaga mushroom – for skin rejuvenation and brightening. Let your skin drink up all the goodness of chaga mushrooms while you kick back and enjoy your relaxing sesh with this facial mask!
How to use this chaga mushroom skincare product: Apply the mask onto your face and make sure every inch is covered! Use every drop of the essence in the packaging by applying it to your neck. Leave the face mask on for about 10 minutes and when you're done, remove the mask. Lightly pat your face to aid with absorption. If your face mask is dry before the 10 minutes are up, remove it immediately otherwise the mask will start to extract moisture out of your skin! 
Incorporate chaga mushroom into your daily routine to benefit your health
The best chaga mushroom powder products can greatly benefit your general well-being. From tea and coffee, to yogurt and smoothies, adding chaga mushroom powder to your food is a great way to start working towards a healthier you! Bring your chaga tea along when you head out with the best water bottles and complement your new diet regimen with chaga mushroom skincare products! Take the next step towards a healthier you by munching on the best healthy snacks instead!