Holiday season is coming, so get ready to embark on a tropical adventure like no other as we dive into the enchanting world of Krabi! Known for its breathtaking beauty and laid-back vibes, Krabi is a dream destination for those seeking relaxation and rejuvenation. From exquisite luxury vibes to charming beachfront views, here are some of the best Krabi resorts that will elevate your holiday to new heights of tranquillity and opulence. 
How to get to Krabi?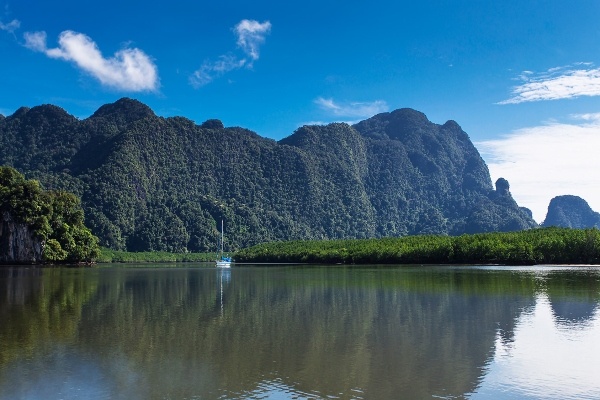 Getting to Krabi is convenient for those living in Singapore. For travellers departing from Singapore, there are various direct flights available from Singapore Changi Airport to Krabi, with a short flight time of under 2 hours. Additionally, if you plan to explore other parts of Thailand before heading to Krabi, you can take advantage of flights from major cities like Bangkok or Phuket, providing convenient connections to this stunning destination. With a range of flight options available, reaching Krabi is a hassle-free experience, allowing you to focus on enjoying your relaxing holiday in the best Krabi resorts.
What is the best part of Krabi to stay in for a relaxing holiday?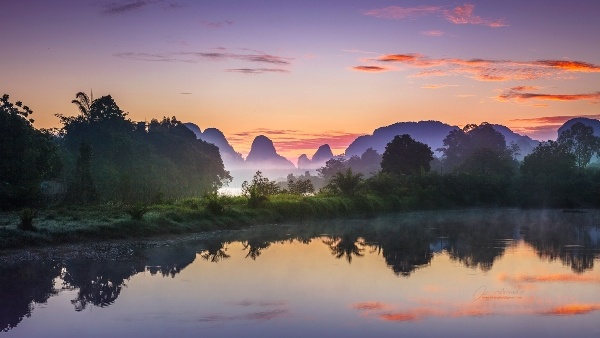 This is the place for first-time travellers to Krabi, as it is right in the heart of the action, surrounded by some of Krabi's most famous attractions. This area allows for easy access to the breathtaking Railay Beach, the stunning Phi Phi islands, and the awe-inspiring Tiger Cave Temple. Whether you're seeking sun-soaked beach days, thrilling island-hopping adventures, or cultural exploration, Ao Nang serves as the perfect base for your Krabi getaway, providing a vibrant and energetic atmosphere coupled with access to all the must-see attractions the region has to offer.
Whether you're a seasoned or a beginner snorkeler, the Phi Phi Islands will leave you in awe of the natural wonders that lie beneath the surface. Nestled within the Krabi region, the Phi Phi Islands are renowned for their magnificent coral reefs and abundant marine life. Exploring the crystal-clear waters surrounding these islands will reveal a vibrant world of colourful fish, fascinating sea creatures, and mesmerising coral formations. 
This serene and secluded beach is a haven of relaxation away from the hustle and bustle of the tourist crowds, making it the ideal choice for couples and honeymooners seeking a romantic getaway. With its pristine sandy shores, you are able to unwind, recharge, and soak up the sun in the peaceful atmosphere. At Klong Muang Beach, privacy, tranquillity, and the natural beauty of the surroundings converge to create an unforgettable retreat for couples in search of a blissful escape.
Best Krabi Resorts – Ao Nang
1. Rayavadee ($$$)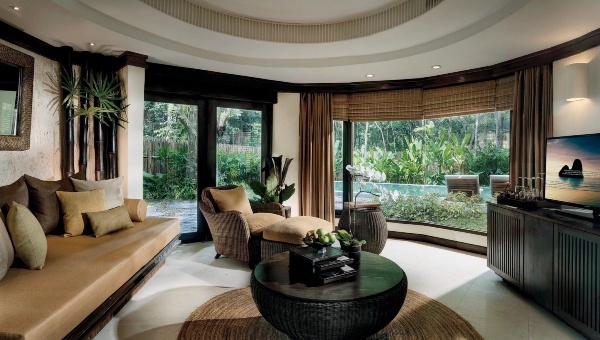 Tucked beside the Krabi Marine National Park, this Krabi luxury resort is surrounded by lush tropical gardens and pristine sandy beaches. The Rayavadee features numerous two-story beachfront pool villas, each equipped with a private terrace. For the ultimate relaxing resort experience, you can indulge in rejuvenating massages, invigorating facials, and soothing body treatments at the renowned spa. 
On top of that, the renowned Bamboo and Phi Phi Islands are just a short speedboat ride away from this Krabi luxury resort, where you can encounter fascinating wildlife. Don't wanna venture too far out of the resort? The beautiful Railay Beach is just a stone's throw away from this Krabi beach resort, where you can soak up the sun on powdery white sand, go rock climbing on the limestone cliffs or explore the hidden lagoons and caves. Therefore, this resort not only provides a tranquil retreat for those seeking relaxation, but its convenient location also allows the adventurous to explore thrilling attractions nearby, making it one of the best Krabi resorts. 
Price: From $602/night
Address: 214 Moo 2 T. Ao Nang, Muang, Krabi, 81000 Railay Beach, Thailand
2. Saifon Villas ($$$)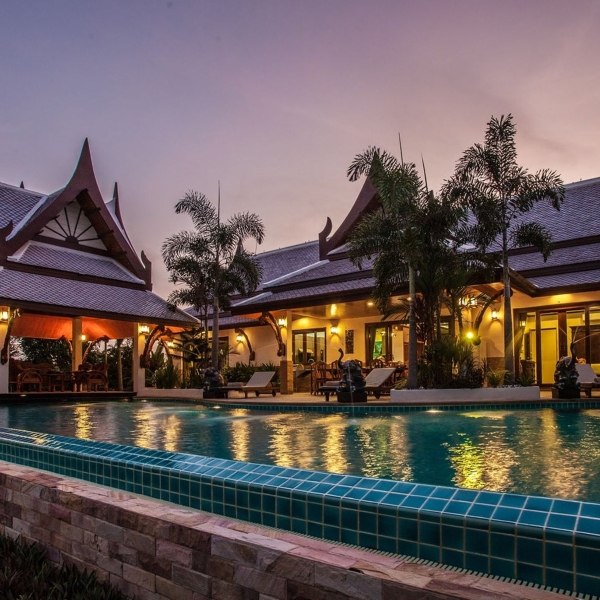 Imagine a tranquil escape surrounded by breathtaking mountain views in the picturesque Ao Nang district. Cue the Saifon Villas; this Krabi luxury resort offers a collection of private pool villas nestled in a serene oasis. Each villa is adorned with beautiful teak furnishings and includes a 19-yard infinity pool, allowing you to take in the surrounding scenery while relishing in the luxurious amenities.
There's also the Nopparat Thara Beach nearby, where you can spend your days soaking up the sun and listening to the gentle waves. This Krabi luxury resort also offers complimentary airport transfers and local shuttle services to Ao Nang Beach and nearby restaurants. You'll be able to truly indulge in a blissful Krabi experience at the Saifon Villas, one of the best Krabi resorts.  
Price: From $295/night
Address: 166/1 Moo 6 Aonang, Muang, Krabi, 81180 Ao Nang Beach, Thailand
3. Aonang Hill Krabi ($)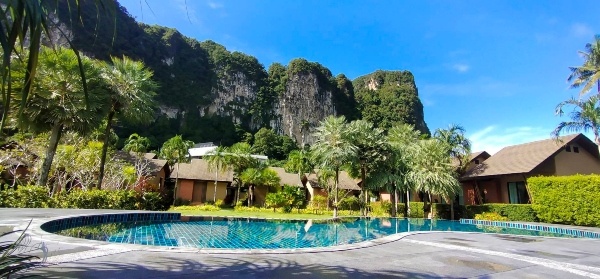 Aonang Hill Krabi offers a range of accommodations, catering to various preferences from spacious rooms to villas. The rooms are perfect for individuals or couples seeking a cosy space, while the villas, each including a private garden, are ideal for families looking for larger spaces.
There are also many nearby attractions for you to explore. The beautiful Ao Nam Mao is a short 10-minute drive away, and Gastropo Fossils The World Museum can be reached within 15 minutes. Furthermore, Krabi Airport is only a 35-minute drive from this Krabi beach resort, meaning you can save time on transport and maximise your precious vacation time. With all these amazing features at such an affordable price, Aonang Hill is definitely one of the best Krabi resorts!
Price: From $49/night
Address: 890 Moo 2 Ao Nang Krabi, 81000 Ao Nang Beach, Thailand
4. The Scene Cliff View Villas ($$)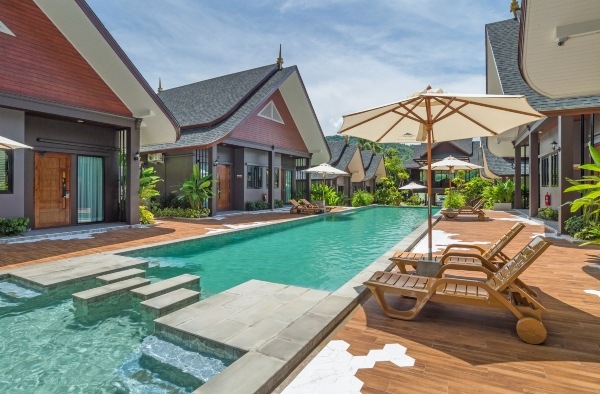 The Scene Cliff View Villas by Swiss-Belhotel is situated near the scenic Ao Nang Beach, providing a delightful haven for travellers seeking comfort and convenience. It is within the vicinity of many of the area's attractions, including the Aonang Mosque, Ao Phai Plong and Dragon Crest Mountain. 
Got kids along but want to have a romantic date with your significant other? This Krabi beach resort has got your back. It has a kids' club where your children will be entertained while you enjoy a day out with your partner. Along with other amenities including two outdoor swimming pools and a spa centre, you will be immersed in a truly rejuvenating stay at one of the best Krabi resorts. 
Price: From $91/night
Address: 907 Moo 2, Soi Ao Nang 11/1, Ao Nang, Muang,, 81000 Ao Nang Beach, Thailand
Best Krabi Resorts – Phi Phi Islands
5. Zeavola Resort ($$$)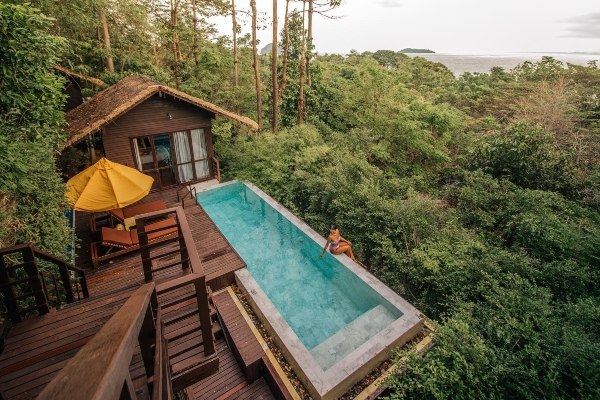 Zeavola embodies the essence of barefoot luxury and stands out as one of Thailand's most sustainable resorts. In this unique jungle resort, you won't find opulent golden faucets or white marble. Instead, the allure of this Krabi luxury resort lies in its harmonious integration with the tropical jungle and sand paths. Accessible only by boat, this secluded paradise ensures a peaceful, private and car-free environment, allowing guests to truly disconnect from the outside world.
Furthermore, diving enthusiasts can indulge in professional diving experiences at the five-star Padi Dive Centre, or go on guided snorkelling tours with the Zann Zanook Activity Center. Complimentary sports equipment, including volleyball and frisbees, are provided for guests to enjoy on the beach, along with kayaks for exploring the azure waters. Offering such an all-encompassing experience, there's no doubt that Zeavola is definitely one of the best Krabi resorts. 
Price: From $290/night
Address: 11 Moo 8 Laem Tong, Ao Nang, Krabi, 81000 Phi Phi Don, Thailand
6. SAii Phi Phi Island Village ($$$)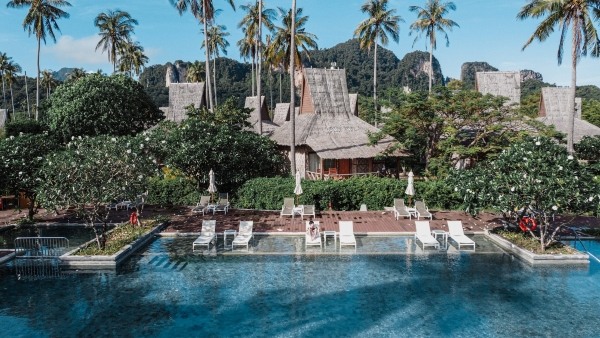 Nestled on a private 800-metre stretch of pristine white sand, this Krabi beach resort is embraced by the pristine, turquoise waters of the Andaman Sea. And you're in luck as each villa at SAii Phi Phi Island Village boasts its own private pool, providing a serene sanctuary with breathtaking views of the island's magnificent scenery. 
But that's not all this best Krabi resort has to offer. Its extensive facilities include five restaurants, three bars, two large swimming pools, and a tennis court. Adding to its allure, SAii Phi Phi Island Village is conveniently located near the recently reopened Maya Bay in Ko Phi Phi National Park, a must-visit destination for many travellers, as it was the filming location of the blockbuster The Beach starring Leonardo DiCaprio. You'll definitely be starstruck here!
Price: From $225/night
Address: 49 Moo 8, Phi Phi Island, Ao Nang, Amphoe Muang, 81000 Phi Phi Don, Thailand
7. Phi Phi Phu Chalet Resort ($$)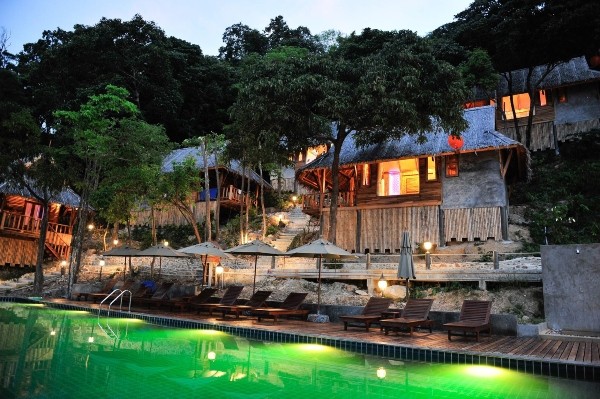 Are you longing for breathtaking sea views from your room? This is the best Krabi resort where you'll definitely get them. With rooms offering stunning vistas of the ocean, pool, or garden, you'll be immersed in natural beauty throughout your stay. During your stay, you can indulge in a variety of activities, such as snorkelling, fishing, and canoeing, all available in the surrounding area. Alternatively, visit the enchanting Loh Lana Bay or venture to Pak Nam Bay, both located not far from the resort. After a day of adventure, feel free to unwind at the on-site bar and savour a refreshing drink. 
Price: From $117/night
Address: 3/2 Moo 8, Phi Phi Island, Ao Nang, 81000 Phi Phi Don, Thailand
8. Viking Nature Resort ($)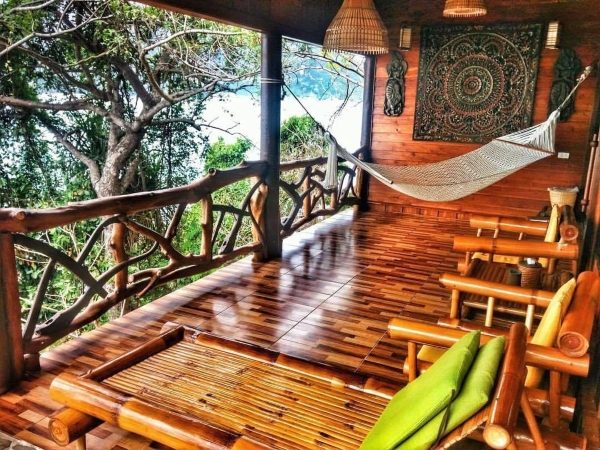 Want to stay at a beautiful resort without breaking the bank? Look no further than Viking Nature Resort. From just $45 a night, you'll get to stay in a bungalow on the beach surrounded by lush greenery. Additionally, this Krabi beach resort combines the cool rustic vibes of Phi Phi islands with tropical serenity – imagine relaxing on your bungalow's balcony, swaying in a hammock while enjoying breathtaking sea views. The airy bungalows at this resort offer just that. Some even boast outdoor showers, bringing you closer to nature. You can also explore the nearby Ton Sai Beach and Phi Phi viewpoint, and immerse yourself in the breathtaking beauty of the Phi Phi Islands.
Price: From $45/night
Address: 222 Moo.7, Aonang, Kho Phi Phi, 81000 Phi Phi Don, Thailand
Best Krabi Resorts – Klong Muang Beach
9. Sofitel Krabi Phokeethra Golf and Spa Resort ($$$)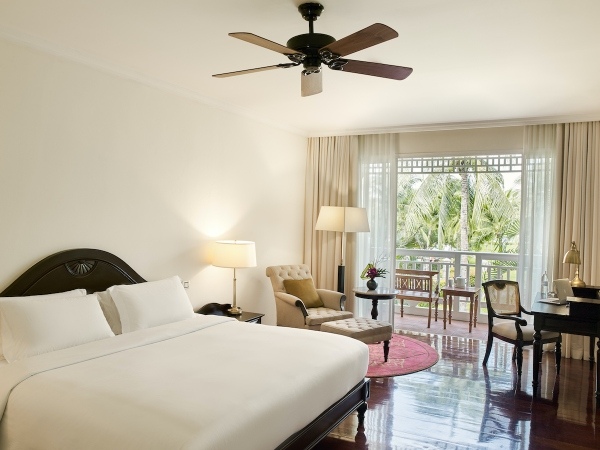 Located within a tropical forest, this Krabi luxury resort offers rooms each featuring a private balcony or terrace, providing stunning views of the surrounding jungle, limestone cliffs or the sea. On top of the luxurious accommodation, this resort also offers an impressive range of facilities and recreational activities.
Obsessed with golfing? The resort's 9-hole golf course is your true haven! The course winds its way around lakes and streams, making up a unique terrain that presents both challenges and rewards. This resort also boasts a 7000 m² swimming pool, the largest in Thailand, providing plenty of space to swim, play games and simply rewind. For those who want to venture out of the resort, there are private Krabi tours and luxury speedboat excursions, allowing guests to uncover hidden beaches and islands. This is truly one of the best Krabi resorts, promising a wondrous vacation.
Price: From $205/night
Address: 200 Moo 3 Tambon Nongtalay, Amphur Muang, Krabi 81180, Thailand
10. VARANA Hotel ($$$)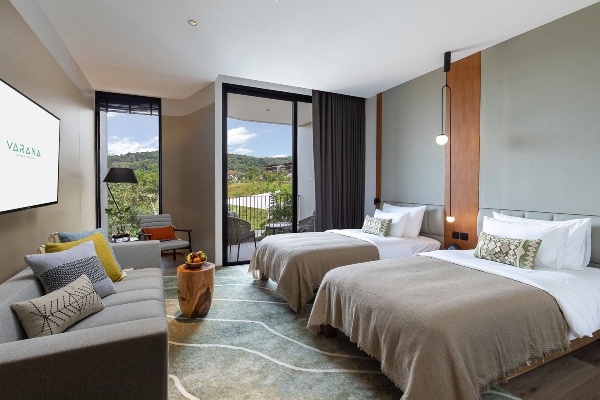 This five-star Krabi luxury resort, located a couple of minutes from Koh Kwang Beach, provides an array of amenities to ensure a memorable stay. You can start your day with a yoga class or a personalised workout with our professional trainers. Thereafter, indulge in a delectable breakfast with the choice of buffet, à la carte or continental. 
For the adventurous, Varana Hotel offers activities like canoeing and cycling in the picturesque surroundings of Klong Muang Beach. You can also rejuvenate yourself with spa treatments at the hammam or unwind on the terrace. With exceptional service and a range of amenities, this best Krabi resort promises a truly relaxing holiday experience.
Price: From $221/night
Address: 258 Moo 3 Tambol Nongtalay Amphur Muang Krabi 81180, Thailand, 81180 Klong Muang Beach, Thailand
11. Nakamanda Resort and Spa ($$$)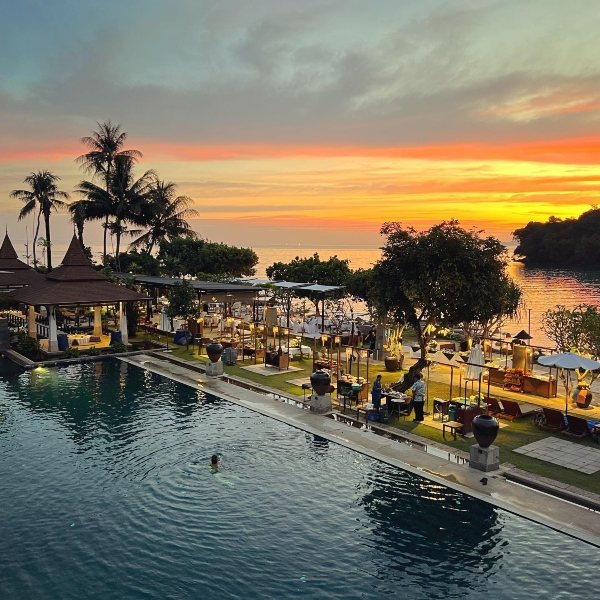 Located along the pristine shores of Klong Muang Beach, this Krabi beach resort allows guests to be immersed in its lush gardens and enjoy stunning sea views from their private villa. Guests can indulge in spa treatments or take a dip in the infinity pool overlooking the turquoise waters. On top of that, the resort's beachfront restaurant serves a wide range of Thai and international cuisine. There's also The Living Bar that offers refreshing cocktails and English high tea in a relaxed setting — so zen.
Situated just a 20-minute drive from the vibrant Ao Nang Beach and 40 minutes from Krabi International Airport, this resort allows for easy exploration of the region's natural wonders. You can also embark on a thrilling speedboat ride to Hong Island in just 15 minutes or venture further to the captivating Phi Phi Island, which can be reached in 1 hour and 45 minutes. 
Price: From $206/night
Address: 126 Moo. 3, Tambon Nongtalay, Amphur Muang , 81000 Klong Muang Beach, Thailand
Embark on a journey of pure relaxation at the best Krabi resorts
With its stunning coastline and pristine beaches, Krabi offers some of the best resorts that cater to the discerning traveller seeking a serene and rejuvenating experience. From the moment you arrive, expect nothing less than opulent accommodations, world-class amenities, and impeccable service from these best Krabi resorts we have picked. Whether it's strolling along sandy shores, savouring delectable cuisine, or immersing in local culture, your days will surely be filled with excitement. With so many incredible things to do in Krabi, a relaxing holiday in Krabi is sure to leave lasting memories. Also, check out our best luggage to be all set for your trip!