Did you know that the Pokémon Trading Card Game (TCG) has a rather competitive scene? While the Pokémon video games centres around individual Pokémon's stats, the TCG is where attacks are based on the individual Pokémon's moveset and additional power-up cards, if any. These TCG cards can be obtained from a pre-constructed deck or booster packs and can be combined to create a powerful deck that is used to face off against your opponents. From eye-catching artwork to unique movepool, here is a list of the best card packs in Singapore to obtain the strongest Pokémon.
How can you tell if a Pokémon card is rare?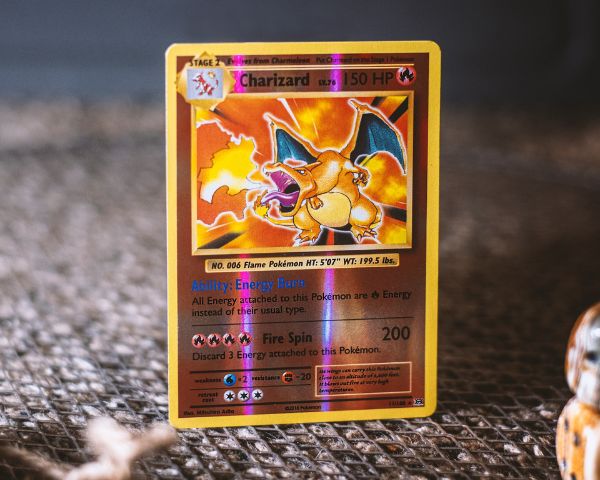 With so many Pokémon cards out there, it's hard to determine the card's rarity with just a quick glance. But you just need to take a closer look and you will find symbols or letters at the bottom corners denoting its identity. Here are some broad categories that your Pokémon card may fall under.
Common and uncommon Pokémon cards are denoted by circle and diamond symbols respectively. These symbols can come in black or white colours depending on the Pokémon card's colour scheme.
Promotional Pokémon cards are released to commemorate special events or in conjunction with a merchandise release. These cards' symbols consist of a black star with the word "Promo" printed over it.
Rare Pokémon cards are denoted by black or white star symbols. Each booster pack is guaranteed to have one Pokémon card whose rarity is Rare or higher.
Just like Rare cards, Holofoil Rare Pokémon cards are denoted by star symbols. However, these cards' artworks contain a holographic foil and are not guaranteed in any booster pack. This makes the Holofoil Rare Pokémon cards a mark higher compared to the basic Rare cards.
The Ultra Rare Pokémon cards sport eye-catching designs that cover the entire card. These cards are also wrapped in foil and have silver foil star symbols instead of the black or white stars seen on typical Rare ones.
Just like its name, Secret Rare Pokémon cards are those that bear unique traits, giving them their elevated status. Some of these features include special artworks that range from alternate holofoil to shiny Pokémon designs. These cards can also be distinguished by their collection number — greater than the number of cards in a typical set. So it's always best to protect them with some Pull Tab Sleeves (available on Grade Saver Pro Authorised Store) lest they get damaged.
Best Pokémon card packs in Singapore
1. Silver Tempest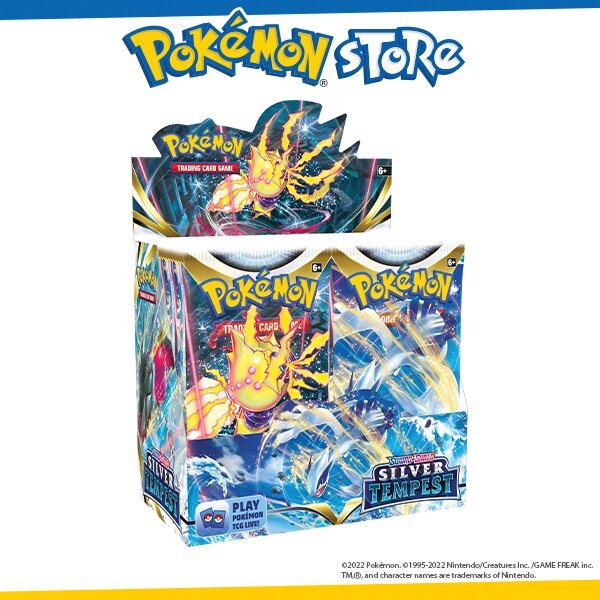 Pokémon Silver Tempest Booster Pack (available on Pokémon Store Shopee Singapore) is the best in Singapore for adding interesting Pokémon cards to your own deck! Get the chance to draw some new Pokémon from the mix such as the two new Regis: Regieleki and Regidrago. If you're lucky, you might even draw out one of the strongest Pokémon, Lugia, from the Pokémon Silver Tempest pack. This rare Lugia VSTAR card comes in an alternate colour scheme and possesses a whopping 280 HP. No wonder it is one of the most highly sought-after cards of the series!
2. Crown Zenith
Sporting the legendary mascots of Pokémon Sword and Pokémon Shield, the Pokémon Crown Zenith Booster Pack (available on Lunarto) is the best Pokémon card pack in Singapore to start out your adventures! Aside from regular Galarian Pokémon, you can also get the chance to draw rare Hisuian Pokémon as well. This includes both the Origin Formes of Palkia and Dialga, Giratina, and of course, Arceus. Not only that, but Unovan gym leaders also make their cameo appearances in support cards as well. From Cheren to Elesa, the Pokémon Crown Zenith card pack will certainly get you feeling all nostalgic!
3. Lost Origin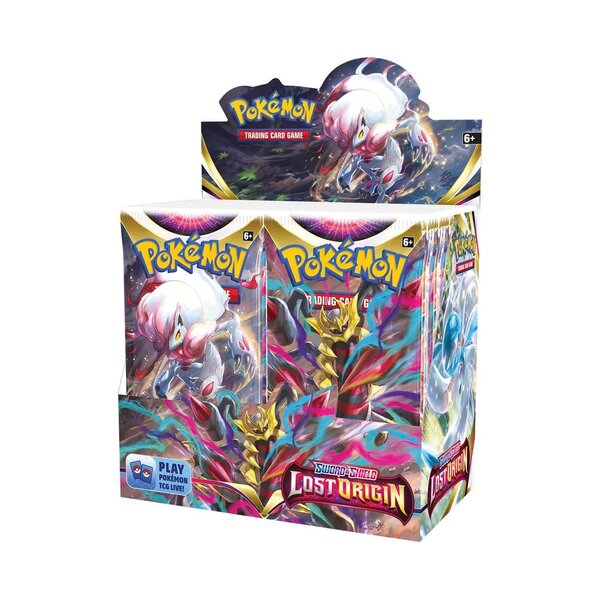 If you're looking for the strongest Pokémon to add to your team, then the best cards in the Pokémon Lost Origin Booster Pack (available on The Avid Collectors) definitely fit the bill! Within the pack lies the Giratina VSTAR — whose attacks deal enough damage to take down any Pokémon on the field. Its massive HP pool and lack of weaknesses also give it enough defence to handle any incoming attacks. Of course, all of this is only possible if you manage to draw it out from the booster packs. So, wait no more! Test your luck and snag the Pokémon Lost Origin booster pack now!
4. Vivid Voltage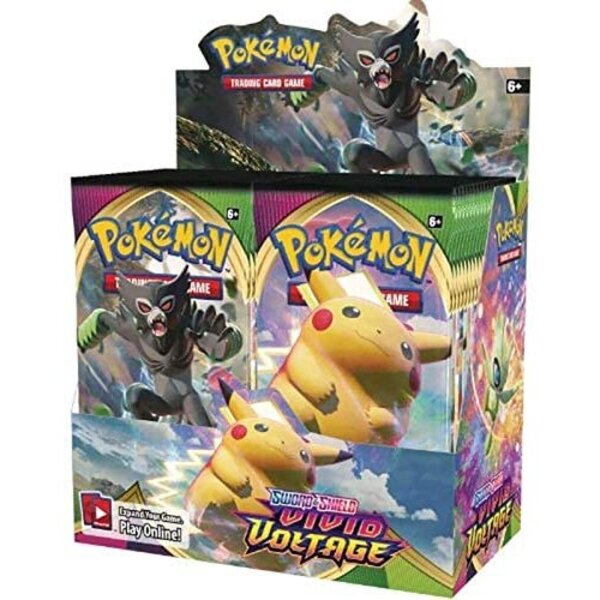 Those who've played the core series will know that Gigantamax Pikachu is one of the best Pokémon in the game. Therefore, it isn't very surprising that there is a card pack in Singapore based on the adorable yellow mascot. Case in point: the Pokémon Vivid Voltage Card Pack (available on mgwgames)! The Pokémon Vivid Voltage pack features the Pikachu VMAX Pokémon card that has the fourth-highest HP among all the cards. In terms of its offence, its attack isn't too shabby as well! Its G-Max Volt Tackle move can dish up to 270 damage — sufficient enough to defeat most other Pokémon. No doubt, this is one formidable Pokémon with a force to be reckoned with!
5. Astral Radiance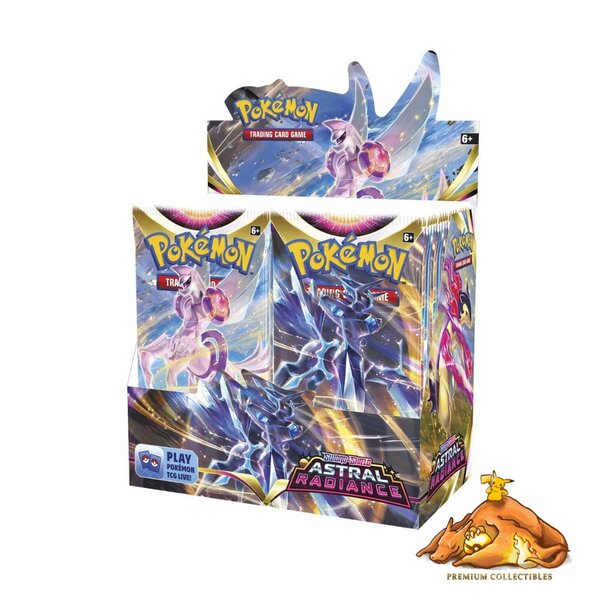 The Pokémon Astral Radiance Booster Pack (available on PremiumCollectibles) is the first booster pack to contain Pokémon from the Hisui Region! The Pokémon Astral Radiance's cover art features Sinnoh legendaries Dialga and Palkia in its special Origin Forme, which is a form found exclusively in the Pokémon Legends: Arceus. Other Hisuian Pokémon are present in the pack as well, including the final evolutions of the three Hisuian starter Pokémon. With so many in this series, this is the best Pokémon pack in Singapore to collect some Hisuian Pokémon cards!
6. Battle Styles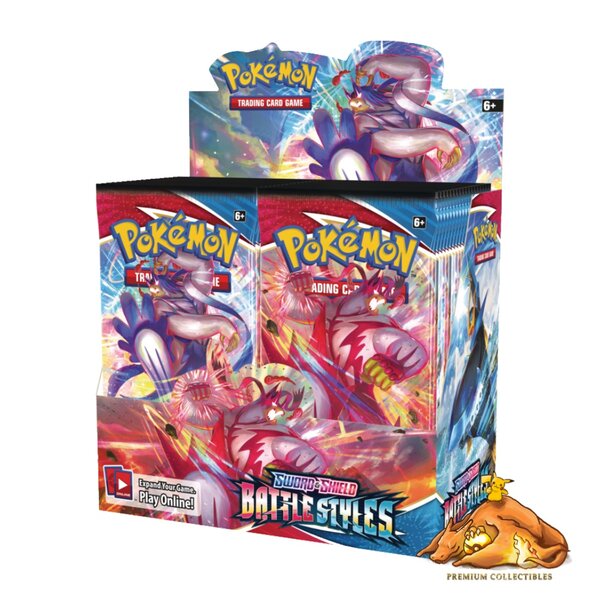 The Pokémon Battle Styles Booster Pack (available on PremiumCollectibles) is the best Pokémon card pack in Singapore for loyal fans of Pokémon Sword and Shield. This pack features the wushu Pokémon Urshifu and introduces two new types of cards: Single Strike and Rapid Strike. Single Strike Pokémon cards have abilities that increase the chance to take out opposing Pokémon in a single attack. On the other hand, Rapid Strike Pokémon cards allow for concurrent attacks on multiple of your opponent's Pokémon. Use the Pokémon Battle Styles booster pack to your advantage and create the best synergy to triumph over your competitors!
7. Fusion Strike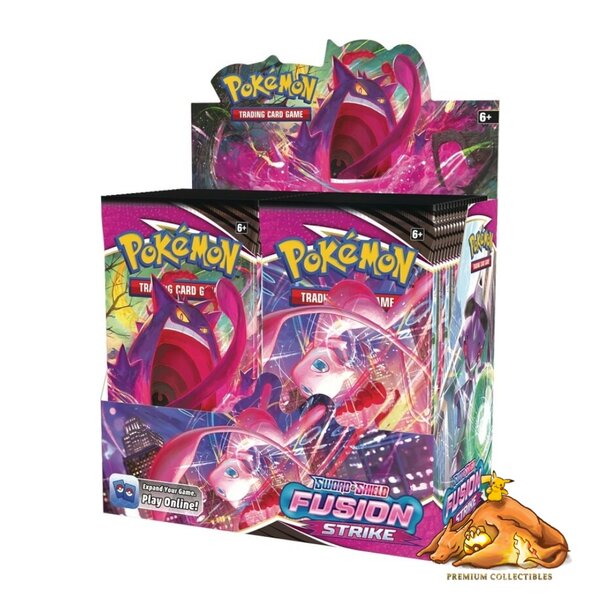 Sourcing for the best and strongest Pokémon cards in Singapore to add to your deck? If so, then the Pokémon Fusion Strike Booster Pack (available on PremiumCollectibles) is the perfect choice to do so! The entire Pokémon Fusion Strike set consists of 284 cards — the most among all the Sword and Shield packs. This also increases the chance of getting special Pokémon cards, especially ones with the newly-introduced Fusion Strike label. Pokémon with the Fusion Strike cards grant special abilities based on the total number of Fusion Strike Pokémon in play. This allows for more diverse and interesting gameplay when used in friendlies as well as competitive tournaments.
8. Pokémon Go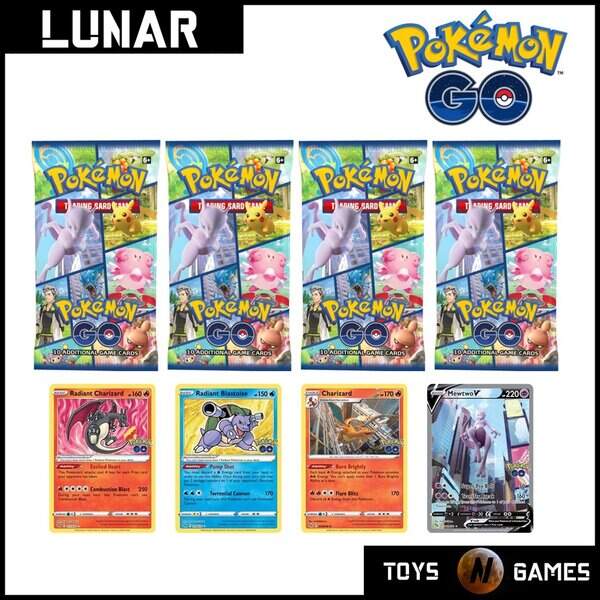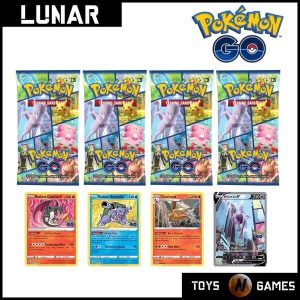 Those who've played Pokémon GO will fall in love with the references found within the Pokémon GO Booster Pack (available on Lunarto)! Unlike normal cards, these cards feature hand-drawn images of multiple Pokémon found in the ever-popular mobile game. The three Kantonian starters' final evolution also gains a Radiant version that uses its shiny colouration found in the games. Lucky ones can even find characters like Spark, Blanche, Candela, and Professor Willow cards hidden within the pack's trainer cards. Centred around a spin-off game, this is undoubtedly one of the best Pokémon card packs in Singapore to add to one's collection.
Best Pokémon card trainer box in Singapore
9. Celebrations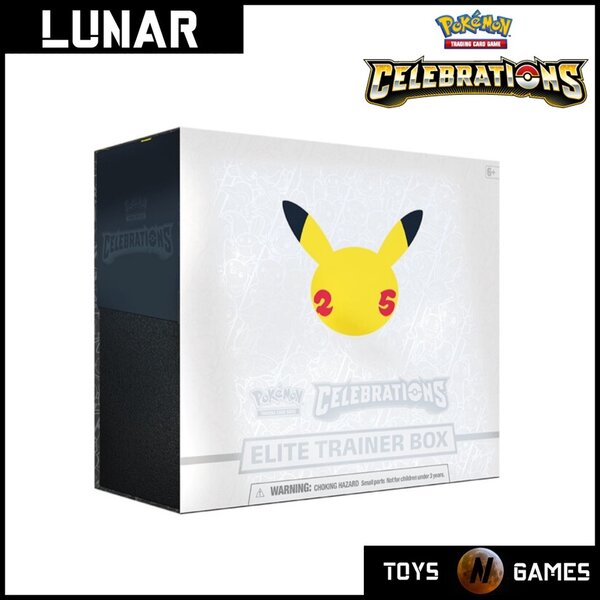 The Pokémon Celebrations Card Trainer Box (available on Lunarto) has one of the best line-ups of Pokémon cards to date! From Pokémon Celebrations booster packs to card sleeves, the trainer box is the epitome of a Pokémon collector's item. Moreover, its booster packs also have a guaranteed chance of drawing a legendary Pokémon or a special version of Pikachu. Whether you're starting out on your TCG journey or have been on the scene for years, this trainer box is one to get your hands on before it's too late!
10. Shining Fates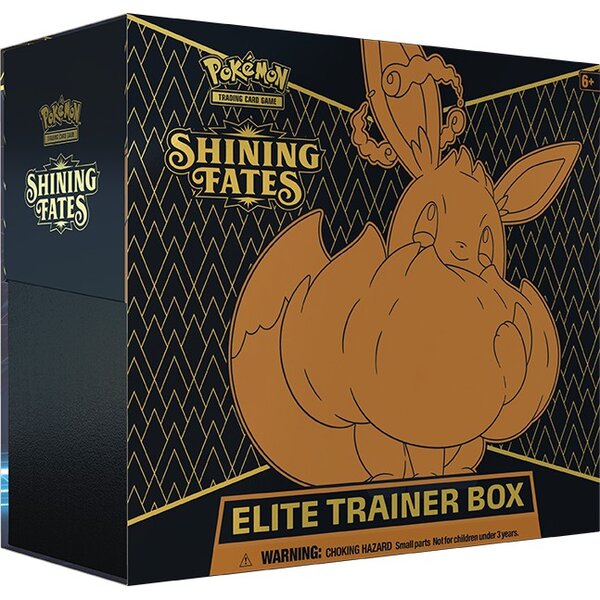 Pokémon Shining Fates is one of the best booster packs in Singapore for collecting shiny cards. What's special about this series is that users will also get an increased chance to draw shiny Pokémon cards. Its Shiny Vault contains 122 shiny Pokémon cards, including the legendary Pokémon Eternatus and fan-favourite Shiny Charizard VMAX. To increase your chances, get yourself a Pokémon Shining Fates Elite Trainer Box (available on TCGtrading) instead. With ten booster packs in each box, you can start gathering all your luck to manifest your desired shiny cards. 
11. Brilliant Stars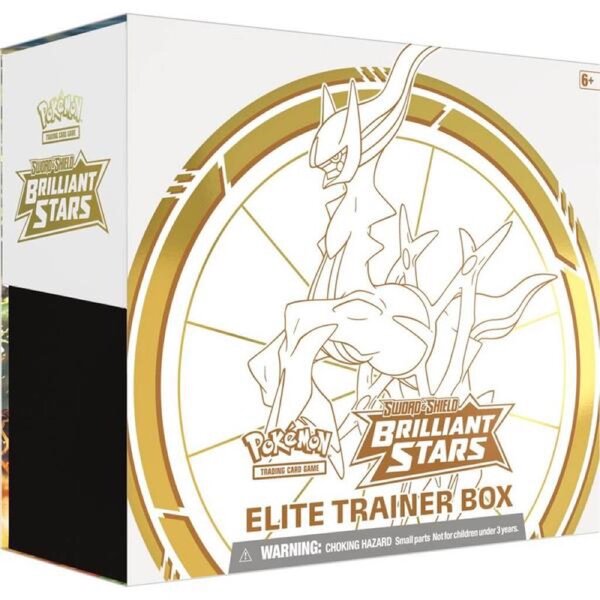 The Pokémon Brilliant Stars Elite Trainer Box (available on CardGaiden) is the best way for trainers to learn more about VSTAR-powered cards! Pokémon Brilliant Stars sees the return of the legendary Pokémon Arceus being armed with new VSTAR powers. Additionally, the pack's Trainer Gallery provides access to Kalos and Alolan VMAX Pokémon such as Sylveon and Mimikyu as well. This 2023, seize the opportunity and get hold of the best Pokémon card packs in Singapore before they're all gone!
Battle it out with the best Pokémon card packs in Singapore
Want to be a true-blue Pokémon master? Then make sure you have the best Pokémon games to claim the title. Whether it's trading cards or video games, you can find all these at Pokémon Store Shopee Singapore. Alternatively, you can always head down to Pokémon Center Singapore at Changi Airport to get all your Pokémon merchandise. Happy battling!