In a blink of an eye and it's the holidays already! Most Singaporeans often spend only a few hours at Changi Airport before embarking on their overseas adventures. Unfortunately, this is often not enough to cover all the gems hidden within this world-class landmark. Whether you're on the airside or within the terminals, there are simply so many things to do in Changi Airport! Has your curiosity been piqued yet? If so, stay on to discover what Changi Airport has to offer!
How to get to Changi Airport?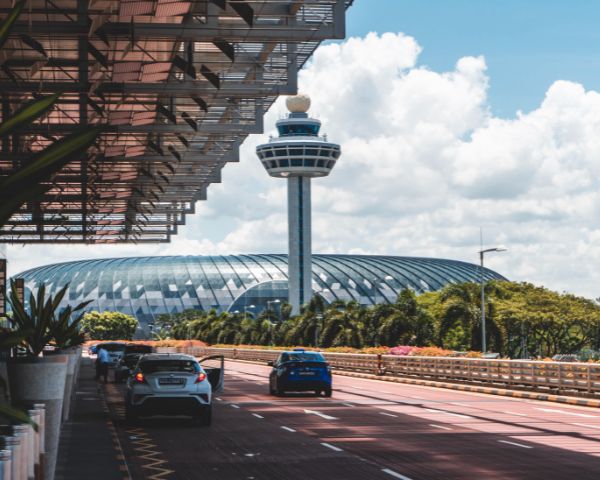 Thankfully, Changi Airport can be accessed easily by major transportation modes, dropping you right at its doorstep. Here are some forms of transport you can take to reach the airport.
Private-hire car and taxi
Taking a private-hire car or taxi is perhaps the most straightforward method to reach Changi Airport. Simply pop your luggage into the boot and your driver will handle the rest! After skillfully navigating the Singapore streets, you will reach the drop-off point in no time! While this may be a pricier option, this can be offset with a S$30 Ryde voucher (available on Ryde Official Store – Ride hailing). For the added convenience, it's definitely worth it!
Those who stay near an MRT station can consider taking the MRT to Changi Airport as well. First, make your way to Tanah Merah station via the East-West line. Thereafter, take the airport branch line and alight at Changi Airport station. Once done, follow the signs to access Terminals 2 or 3 — connected directly to the station's two ends. You will then have to take a Skytrain or internal shuttle bus to access Terminals 1 and 4 respectively.
Tapping on Singapore's well-connected expressways, public bus services offer fast and direct connections from the heartlands to the airport. These services call at the respective airport terminals' bus stops, saving travellers time and effort spent commuting between terminals. Below are the bus services as well as the respective bus and airport terminals they serve. 
| | | |
| --- | --- | --- |
| Bus service | Airport terminal served | Bus terminus |
| 24 | Terminals 1, 2, 3, and 4 | Ang Mo Kio |
| 27 | Terminals 1, 2, and 3 | Hougang |
| 34 | Terminals 1, 2, 3, and 4 | Punggol |
| 36 | Terminals 1, 2, 3, and 4 | Changi Airport Terminal 2 |
| 53 | Terminals 1, 2, and 3 | Bishan |
| 110 | Terminals 1, 2, 3, and 4 | Sengkang |
| 858 | Terminals 1, 2, and 3 | Woodlands |
Things to do in Changi Airport: Terminal 1 attractions
1. Stare in awe at the Kinetic Rain Sculpture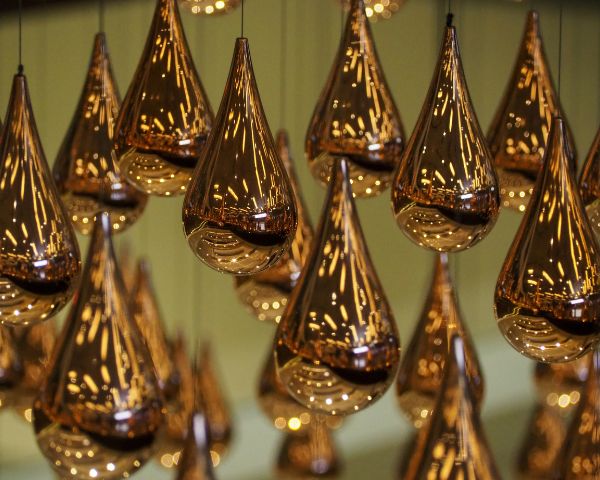 There are artworks aplenty around Changi Airport, but this takes the cake as one of the best ones out there. In Changi Airport Terminal 1, one of the best things to do is to visit the Kinetic Rain Sculpture at the Departure Hall. This masterpiece contains more than a thousand glossy bronze droplets, which come together to put up a stunning performance. Watch as they dance in the air to form a series of abstract and familiar shapes. Ranging from an aeroplane to a dragon, the artwork changes its form every few seconds, pulling off the choreography flawlessly.
Price: Free
2. Watch aeroplanes dock at the T1 Viewing Mall
Hands down, this has got to be one of the most unique things for a traveller to do in Changi Airport! Tucked away on the second floor of Terminal 1's departure hall lies a spacious Viewing Mall unbeknownst to many. Designed with floor-to-ceiling windows, the Viewing Mall offers a glimpse of the airport's ground operations behind the scenes. Throughout the day, travellers can watch as the ground crew work tirelessly around the clock to replenish supplies. From restocking in-flight supplies to clearing trash, the crew ensures that these planes are sufficiently readied for the upcoming flight. Once finished, the plane pushes back and taxis onto the apron, prepared to set off for its next destination.
Price: Free
3. Admire the amazing verdure at the Arrival Garden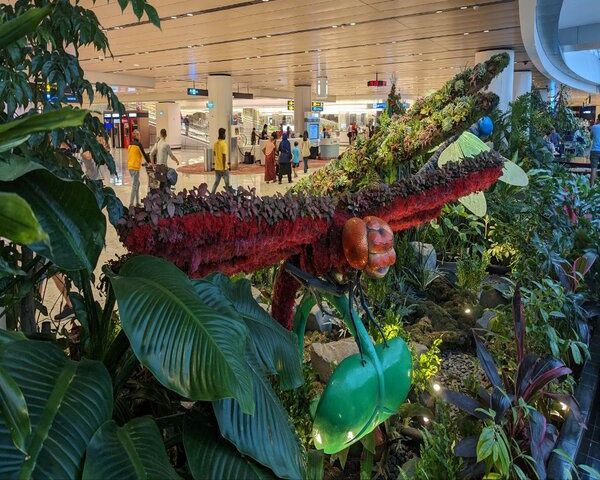 It's incredible how Changi Airport manages to incorporate greenery within its art forms. Case in point: the Arrival Garden! Situated between Terminal 1's arrival hall and Jewel, the Arrival Garden features an extensive flora collection alongside three dragonfly topiaries. Its main highlight lies in its Mexican Fan Palm trees — found towering over the other plants. Reminiscent of those found in Beverly Hills, the palm trees steal the show with their grandeur and magnificence. Snap tons of pictures at Changi Airport's Arrival Garden; it's definitely one thing you got to do when visiting!
Price: Free
Things to do in Changi Airport: Terminal 2 attractions
4. Snap a photo with the LEGO Mural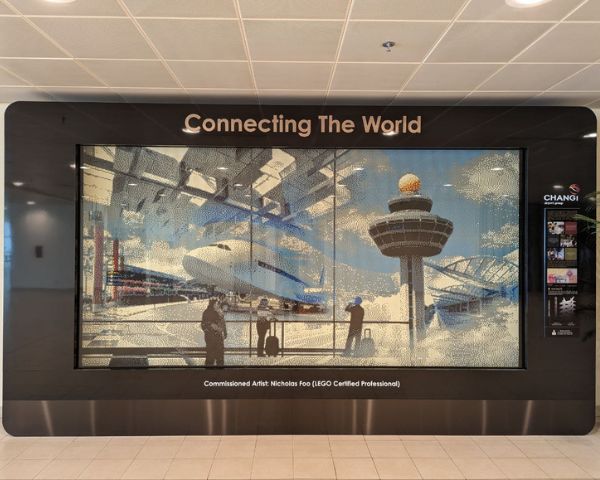 We've all played with LEGO bricks when we were a child, but can you imagine assembling 5,200 pieces together? A joint effort by Singaporeans and tourists from around the world, the mural pays homage to the airport's symbolic landmarks. Its main features are the airport's three main terminals, as well as its centrepiece: the gorgeous Control Tower. Its centre also features the Airbus A380, the largest passenger aircraft to date and local carrier Singapore Airlines' flagship product. Find this iconic mural nestled right beside the terminal's Viewing Mall on the second floor of the departure hall. Visit this iconic mural today; it's one thing you need to do when visiting Changi Airport Terminal 2! For those who want to build their own masterpiece, check out the best lego sets to achieve your architectural dreams.
Price: Free
5. Enjoy a cuppa coffee at Hub & Spoke
Prefer a slower pace of life? Then visiting Hub & Spoke is one of the best things for you to do at Changi Airport. Just a stone's throw away from the terminal building lies the Hub & Spoke is always teeming with activities during the day. Sample local and western fusion dishes such as Black Angus ribeye and kaya toast while staying cool in the indoor dining area. Alternatively, opt for the alfresco area to breathe in some fresh air while catching up with your family and friends. Bon appetit!
Pro Tip: If you're feeling all sweaty from Singapore's humid weather, fret not! Hub & Spoke also has pay-per-use showers to refresh yourself. With coin lockers and toiletries provided, all you got to do is to bring along your own towel. How nifty!
Price: Free
Things to do in Changi Airport: Terminal 3 attractions
6. Have a blast riding on The Slide@ T3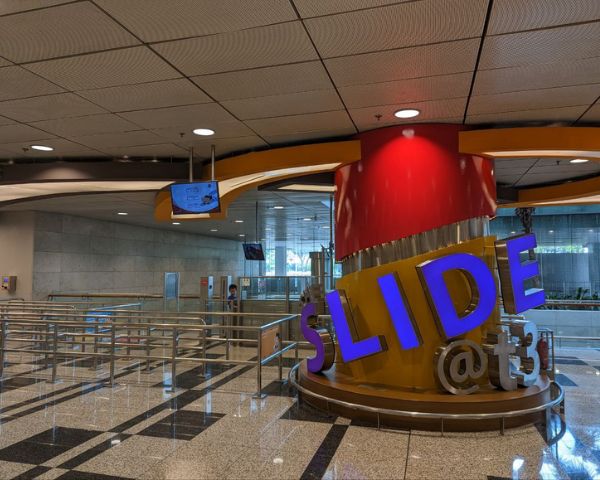 If you think that airport is just about flying, think again! One of the most fun things to do in Changi Airport's Terminal 3 is to ride on The Slide@T3. At a height of 12 metres, The Slide@T3 is the world's tallest slide located within an airport! It consists of two slides: the taller one accessible via Level 1 and a shorter version accessible via Basement 3. Whether you're a kid or someone young at heart, this slide will certainly give you the thrill you seek!
Price: Free for Changi Rewards Members (limited to 10 rides daily)
7. Catch a movie at the ST3PS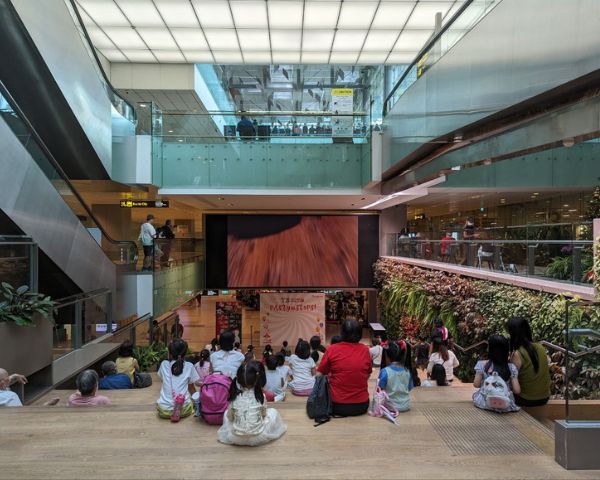 For families with young kids, ST3PS is one place you wouldn't want to miss out on! ST3PS is a large open space found in the Basement 2 level, capable of accommodating up to 200 people. Throughout the day, you will get to catch thematic movie screenings and sports programmes — aired on its ultra-wide high-definition screen. Every Saturday, ST3PS organises a myriad of programmes that showcases the talents of our local homegrown performers as well. You can never get bored with so many things for families to do in Changi Airport Terminal 3!
Price: Free
Things to do in Changi Airport: Terminal 4 attractions
8. Hunt for aesthetic installations around the terminal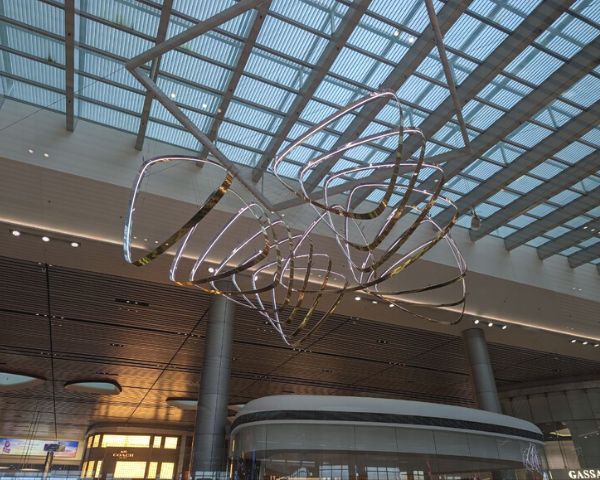 Within the glitzy exterior of Changi Airport's Terminal 4 lies an impressive array of sculptures. The main attraction is the futuristic kinetic sculpture hanging overhead in the terminal. Dubbed Petalclouds, this orchid-inspired artwork consists of six identical sets of sculptures hanging in the air. Each set's individual pieces then move in unison, positioning themselves into distinct and spectacular circular, wave, and morph formations. Another highlight is the Les Oiseaux wired sculpture found right at the entrance of the terminal. This sculpture is made up of three birds — one perched on the ground while the other two suspends in mid-air. In such a layout, they embody the connection between the sky and earth, as well as between dreams and reality.
Price: Free
9. Travel back in time at the Changi Jurassic Mile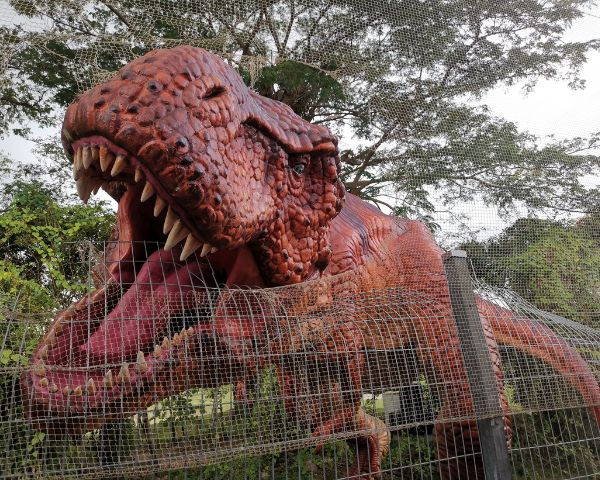 Dinosaurs are things of the past, but not these creatures at the Changi Jurassic Mile! One of the newest things to do at Changi Airport is definitely to walk along this themed trail. Showcasing nine different species of dinosaurs, the trail offers plenty of photo-ops for families to capture some family photos. Some creatures you can find along the trail include the long-necked Brachiosaurus as well as the ferocious Tyrannosaurus Rex! Whether you're jogging or sightseeing, seeing these creatures up close will definitely make your trip there worthwhile.
Price: Free
Things to do in Changi Airport: Airside attractions
10. Bask in the sunlight at the Sunflower Garden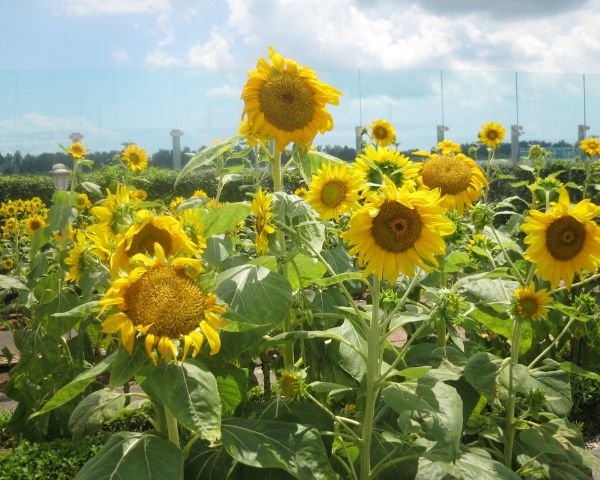 A common thing for travellers to do while waiting for their flights at Changi Airport is to visit this garden! Found on the third floor of Terminal 2's transit hall, the garden's sunflowers are featured regularly on many travellers' social media feeds. While snapping some photographs, discover the names and traits of the garden's sunflower varieties. Thereafter, take a selfie as a keepsake with the accompaniment of the runway and aircraft in the backdrop. Now, you don't have to travel all the way to Thailand just to get a glimpse of these adorable flowers!
Price: Free
11. Take a dip at the Aerotel Hotel Rooftop Pool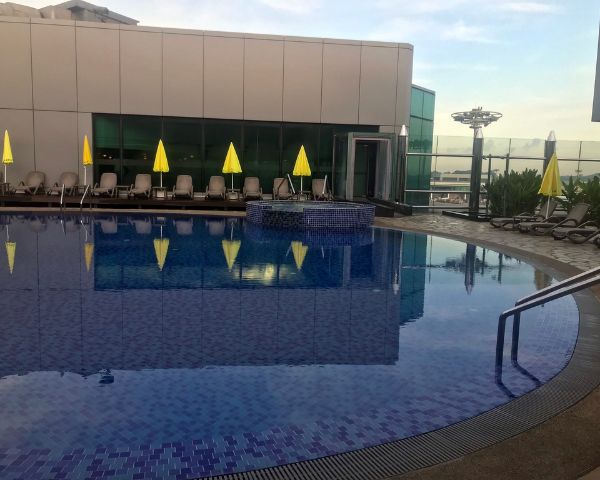 Looking for things to do at Changi Airport while waiting for your flights? Then, look no further because this attraction is here to save the day! Aerotel Singapore (viewable on mobile only) is the world's only airport transit hotel packed with amenities such as an outdoor pool and a poolside bar. Open from 6 am to 12 am daily, the open-air pool provides a cooling respite for travellers amidst Singapore's hot weather. While you're winding down in the jacuzzi, you can also enjoy a refreshing pint of beer as planes fly overhead. How neat!
Price: Free for hotel guests. S$17 for non-hotel guests
12. Get mesmerised by the butterflies at the Butterfly Garden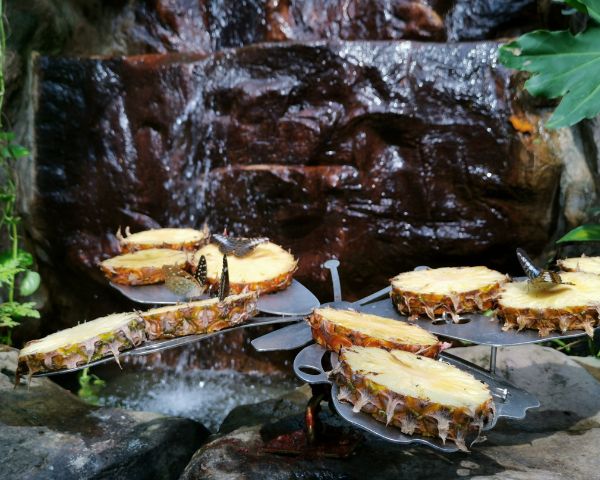 You may have visited many airports from around the world, but have you seen one that houses insects? Changi Airport's Butterfly Garden features various greenery, a 6-metre tall grotto waterfall, as well as thousands of these beautiful creatures. When there, take a walk around the two-storey garden and learn more about how these butterflies thrive within the sanctuary. Once done, head on over to the educational corners and individual enclosures and observe their breeding and feeding processes. Visiting Changi Airport's Terminal 3 soon? This is one thing to do if you're ever tired of waiting in the transit hall.
Price: Free
13. Learn more about desert plants at the Cactus Garden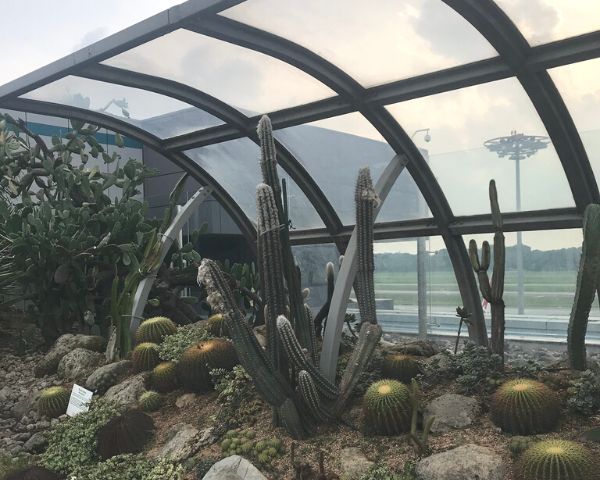 Just like Terminals 2 and 3, Terminal 1 has its own garden as well! Meet the cacti of Changi Airport's cactus garden! This garden houses more than 100 species of cacti and other desert plants; all of them thriving while under the intense sun. Expect to see plants like Sago Palm and Century Plants — both existing in the garden for more than fifty years. What's more, a rooftop bar is also nearby for travellers to hang out and enjoy a drink or two. Add this to your list of things to do in Changi Airport today!
Price: Free
Things to do in Changi Airport: Jewel attractions
14. Marvel at the wondrous HSBC Rain Vortex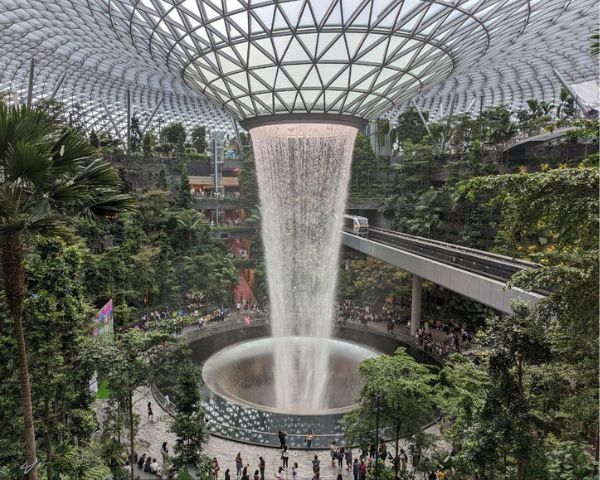 The HSBC Rain Vortex can be spotted at the heart of the megamall, capturing everyone's hearts with its majestic appearance. Standing at a height of 40 metres, this is Jewel Changi Airport's main attraction! To achieve the waterfall's mesmerising circular effect, water is fed from a network of pipes and a series of pumps. They are then evenly distributed by the oculus, creating this iconic water feature everyone knows of. The attraction hosts the nightly Light & Sound shows as well, putting on a spectacular light show for all to enjoy. 
Pro Tip: Looking to get some aesthetic shots for the 'gram? If so, head up to the upper floors for a bird's eye view of the HSBC Rain Vortex and the surrounding Shiseido Forest Valley. Alternatively, take the Skytrain between Terminals 2 and 3 to admire the waterfall up close.
Price: Free
15. Discover the multifaceted Canopy Park and its attractions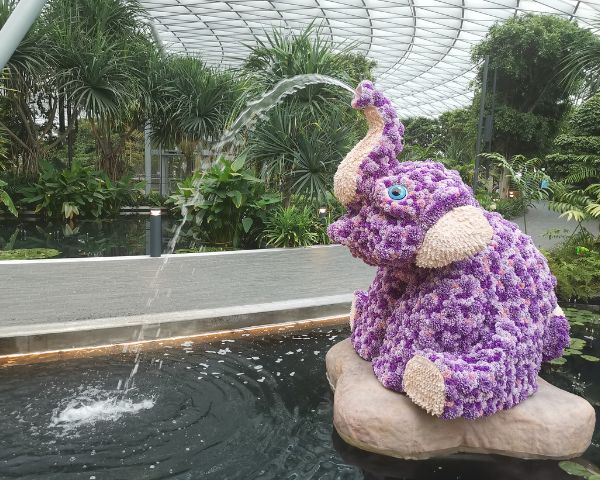 On the uppermost floor of Jewel Changi Airport lies Canopy Park, a nature-based theme park for all ages to enjoy! Canopy Park (available on DirectConnect Official Store) consists of nine different attractions; each of them offering an unforgettable experience. Kids can enjoy frolicking in the cloud puffs and slides at the Foggy Bowls and Discovery Slides respectively. On the other hand, adults can walk around the Topiary Walk and Petal Garden to admire the various flower arrangements. For an out-of-the-world (figuratively) experience, do be sure to head on over to the Walking Net and Bouncing Net!
Price: $5.90 for access to Topiary Walk, Petal Garden, Foggy Bowls, and Discovery Slides
16. Capture aesthetic shots along Mastercard Canopy Bridge
Want to know what it feels like to walk on air? Then the Mastercard Canopy Bridge (available on DirectConnect Official Store) is just the right attraction in Jewel Changi Airport to do so! Hovering 23 metres above ground, the bridge takes you closer to the waterfalls (albeit at a safe distance). If you're feeling courageous, peer below to catch the moving crowds right beneath your feet. Those lucky enough might even get to capture shots of the waterfalls alongside the crawling SkyTrain.
Price: $8.45 for kids, $9.85 for adults (includes Canopy Park admission)
17. Relive your childhood at Pokémon Center Singapore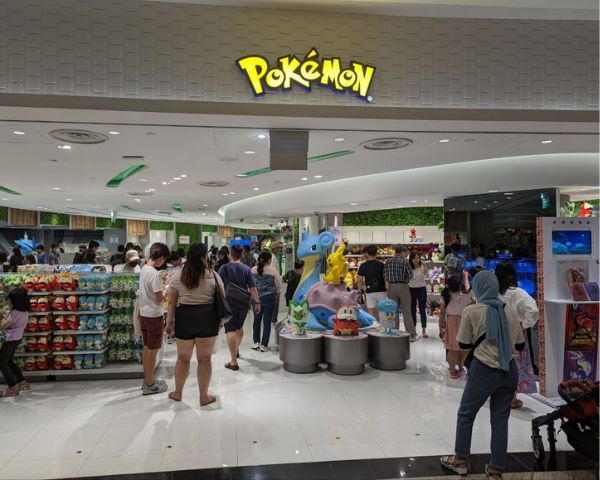 Jewel Changi Airport is a place where more than hundreds of retail and F&B establishments call home. And among them lies the Pokémon Center Singapore, the franchise's first permanent branch in Asia outside of Japan. Located on the 4th floor of Jewel, this attraction has an abundance of official Pokemon Center merchandise up for grabs! From Pokémon key chains to plushies, plenty of them can be found neatly displayed on the store's shelves. It's truly a haven for all you Pokéfans out there! Want to be a true Pokémon master? If yes, be sure to check out some of the best Pokémon games to add to your amazing collection.
Pro tip: Love all things Pokémon? You will be happy to know that Pokémon Center Singapore even has its own online store! Before checking out, do remember to apply Shopee discount vouchers to your purchases to enjoy significant cost savings!
Price: Free
18. Immerse yourself in the interactive exhibits at Changi Experience Studio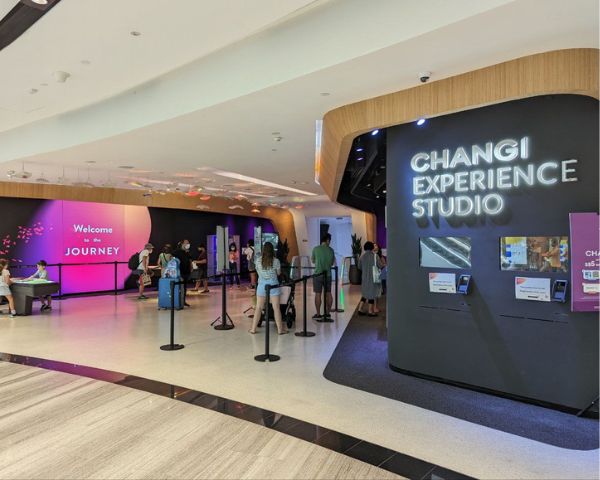 Fun and excitement await at Jewel's Changi Experience Studio (available on DirectConnect Official Store)! The Changi Experience Studio is a state-of-the-art attraction that provides insights into how Changi became a world-class airport. Within the centre are 20 different interactive installations — each of them incorporating different fun and intriguing elements. Some key attractions include traversing a runway by riding a spin bike and an AR experience to collect airport trolleys. No doubt, this will be one of the best places in Changi Airport to spend your holidays!
Price: $12.80 for children aged 5 to 12, $18.50 for adults
19. Stay the night at YotelAir Hotel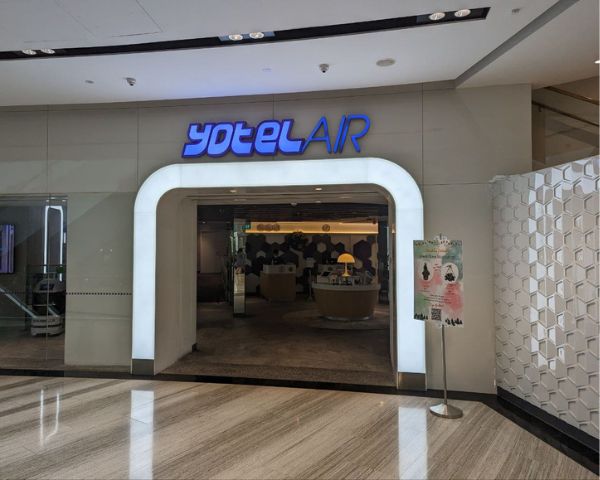 After spending the day visiting Jewel and Changi Airport's terminals, it's time to hit the sack. And what's a better way than to head to a hotel right within walking distance? Enter YotelAir Jewel Changi Airport (viewable on mobile only)! Located at the end of the 4th floor, the hotel has three different room options for guests to choose from. Guests residing in the hotel can also dine and socialise in their in-house communal area as well. Known as the Komyuniti, the lounge is ideal for travellers to relax and work while enjoying spectacular views of Jewel. This attraction is pretty popular, so do be sure to secure your room early to avoid disappointment!
Price: From $226/night
Things to do around Changi Airport: Local attractions
20. Relax and unwind at Changi Beach Park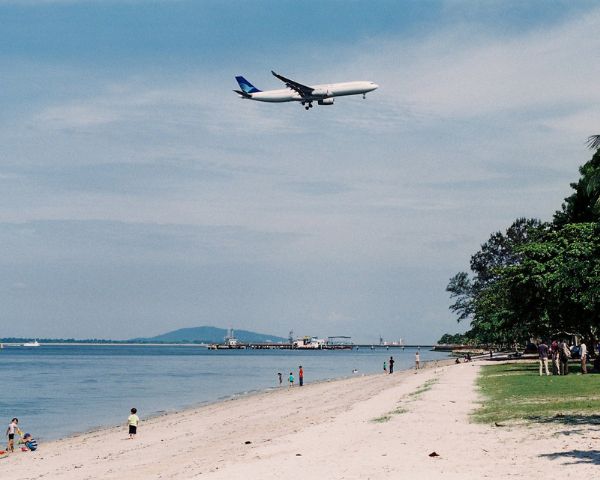 This attraction in Changi is mostly visited by plane enthusiasts and it's not hard to see why! Located on Changi Airport's fringes, Changi Beach Park is a well-known spot to watch aircraft making their final descent. Coupled with pristine sand and serene kampung vibes, this park also provides a superb beach experience (sans boisterous crowds). Couples can chill on a picnic mat and enjoy a romantic picnic — all while watching the mesmerising sunset. Bid goodbye to East Coast Park and Sentosa because this will soon be your favourite haunt!
Price: Free
21. Witness the sunrise at Changi Boardwalk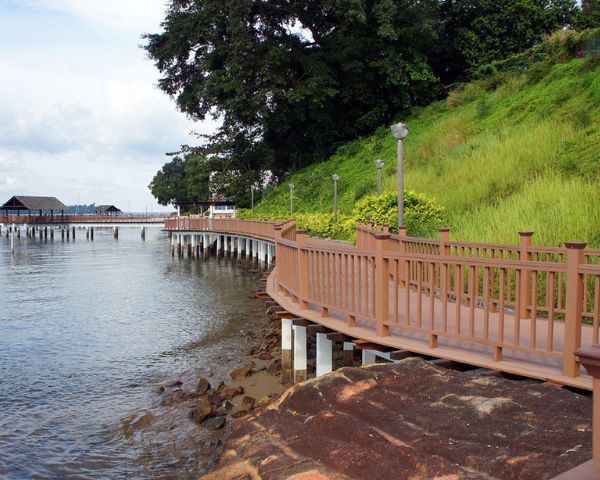 Situated on the eastern end of Singapore, Changi Boardwalk provides an unparalleled vantage of the sunrise. Spanning 2.2 kilometres, the boardwalk takes you on a short yet interesting adventure around Changi's coastline and beaches. Come the golden hour, the sun's warm crimson streaks create a dreamy sky — resembling that of another dimension. To admire the sunrise and sunset in their entirety, make sure that the skies are clear before heading out. Thereafter, all that's left to do is to wait as the sun makes its glorious appearance!
Price: Free
22. Breathe in some fresh air along Changi Bay Park Connector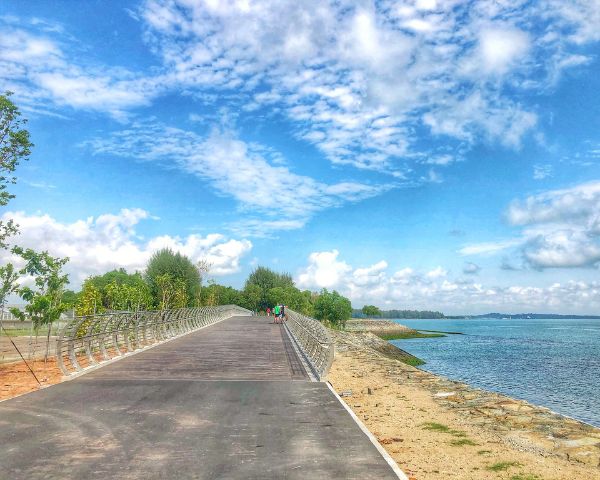 Adding to Changi's long list of attractions is the brand-new Changi Bay Park Connector! This 3.6-km park connector runs along the fringes of Changi Airport and provides breathtaking views of the Singapore Straits. With blooming flowers and lalang grass, its views have even been likened to those in New Zealand and South Korea! Head on over to Changi Bay Point — a scenic lookout point to rest your feet and watch boats cruise by. So what are you waiting for? Be sure to whip your camera phones out to take some swoon-worthy shots.
Price: Free
23. Tuck into a hearty meal at Changi Village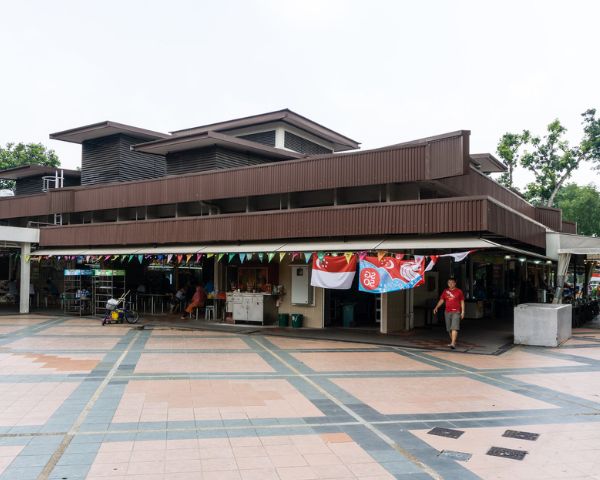 This is one attraction in Changi to satisfy your hunger pangs after a full day out at the airport! Changi Village is known for having a wide assortment of Singapore's famous dishes — all housed under one roof. Kickstart your meal with some juicy satay and BBQ chicken wings. After that, order some mains to share with your family and friends. Popular dishes include the seafood white beehoon and nasi lemak; both of which are highly recommended by local food critics. Once done, conclude with the commando dessert — a special treat made with red tea jelly and longan.
Price: Free
24. Embark on your own adventure around Pulau Ubin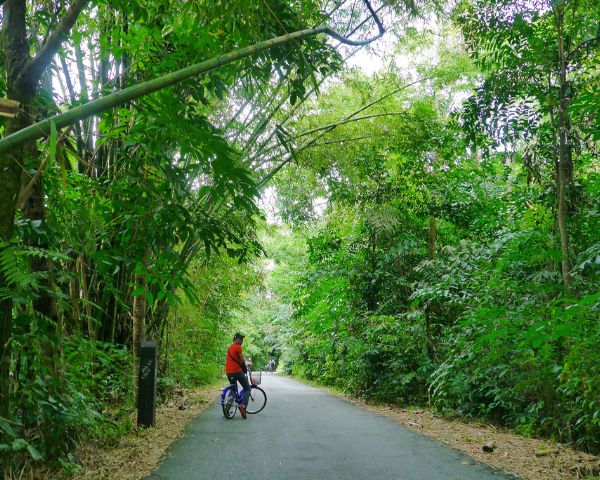 Pulau Ubin is perhaps one of the best attractions in Changi to experience life in pre-modern Singapore. Twice the size of Sentosa, Pulau Ubin is a major rural area boasting an incredible variety of flora and fauna. Most of these can be found within Chek Jawa Wetlands, a 100-hectare wetlands located on the island's eastern end. The reserve houses six different ecosystems and various wildlife. Some of these include crabs, snails, and sea cucumbers — all found peeking their heads out from behind the seaweeds and seagrasses. If you're looking to extend your stay at Pulau Ubin, be sure to take a look at this handy camping guide before going on your overnight trip. For adventurous souls, this is definitely something right up your alley!
Price: $4 per pax for the bumboat ride (+ $2 for those bringing along bicycles)
BONUS: 25. Revel in the festivities with Changi Airport's seasonal attractions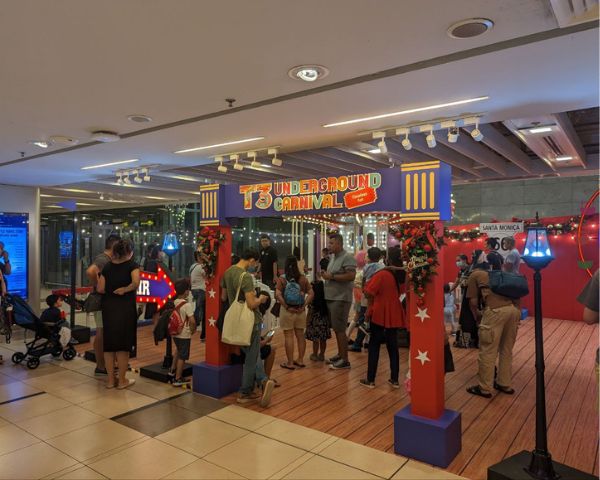 Still searching high and low for things to do during the year-end holidays? Why not spend the day in Changi Airport! From now till 2 Apr 2023, the T3 Underground Carnival will be held at Terminal 3's Basements 2 and 3. Featuring games from three different generations, the carnival is free for all to enter. To play the rides and games, simply purchase the carnival credits via the iChangi app or from the ticketing booths. Thereafter, you can head out and partake in the exciting carnival games to win attractive prizes!
Price: Free
There's just so many things to do in Changi Airport!
With four terminals and a megamall, Changi Airport and Jewel have loads of attractions you can visit during the holidays! For those with little ones, do remember to read our guide on fun things to do with kids in Singapore. Otherwise, check out some other fun things to do at Sentosa — Singaporeans' all-time favourite holiday destination.