Jeff is a Computer Science and Business junior at the University of Southern California and current intern in Shopee Singapore's Data Science team. Since joining Shopee in December 2019, he has worked on several projects relating to machine learning and prediction, honed his skills in handling big data and data modelling as well as improved the way Marketing Science is done at Shopee.

Are you a student looking to spend your holidays productively? Ever wondered how it's like to intern at Shopee? Well, you're in luck! We managed to speak to Jeff Chen, a current Data Science intern in Shopee Singapore, and he shared about his experience at Shopee and tips on snagging the role.
Here's how my conversation with Jeff goes!
What made you join Shopee?
Breaking into the Artificial Intelligence / Machine Learning / Data Science field is really tough, especially as an undergraduate. Most job openings in this field are reserved for either Masters or PhD students who already have the mathematical maturity or experience with such technologies either through the curriculum or their own research projects. I wanted to see whether it's possible to bypass these professional qualifications and prove that landing a job in this field was possible as long as I could demonstrate my skills.
Luckily for me, a Data Science intern position in the Marketing Science department opened up at Shopee Singapore, and the job scope aligned closely with a personal project that I had been working on over the past few months!
What is your role at Shopee?
My role here varies, but my main scope in the Marketing Science team is to improve the Shopee App's churn prediction model. To put it simply, we find out when Shopee users don't buy from shops anymore and figure out ways to cater to them. On top of that, the majority of my time here has been spent on generating new features that we can use for the existing models! I also get a chance to engineer my own models to potentially improve the overall performance.
Apart from this, I also handle various ad-hoc tasks such as explaining the prediction of the current model to our stakeholders and building dashboards to visualise the model's performance over time. The former involves asking questions such as: why does our model predict that this user won't buy from shops anymore – is it because they've been inactive recently, or is it because there's a special pattern in their purchasing behaviour?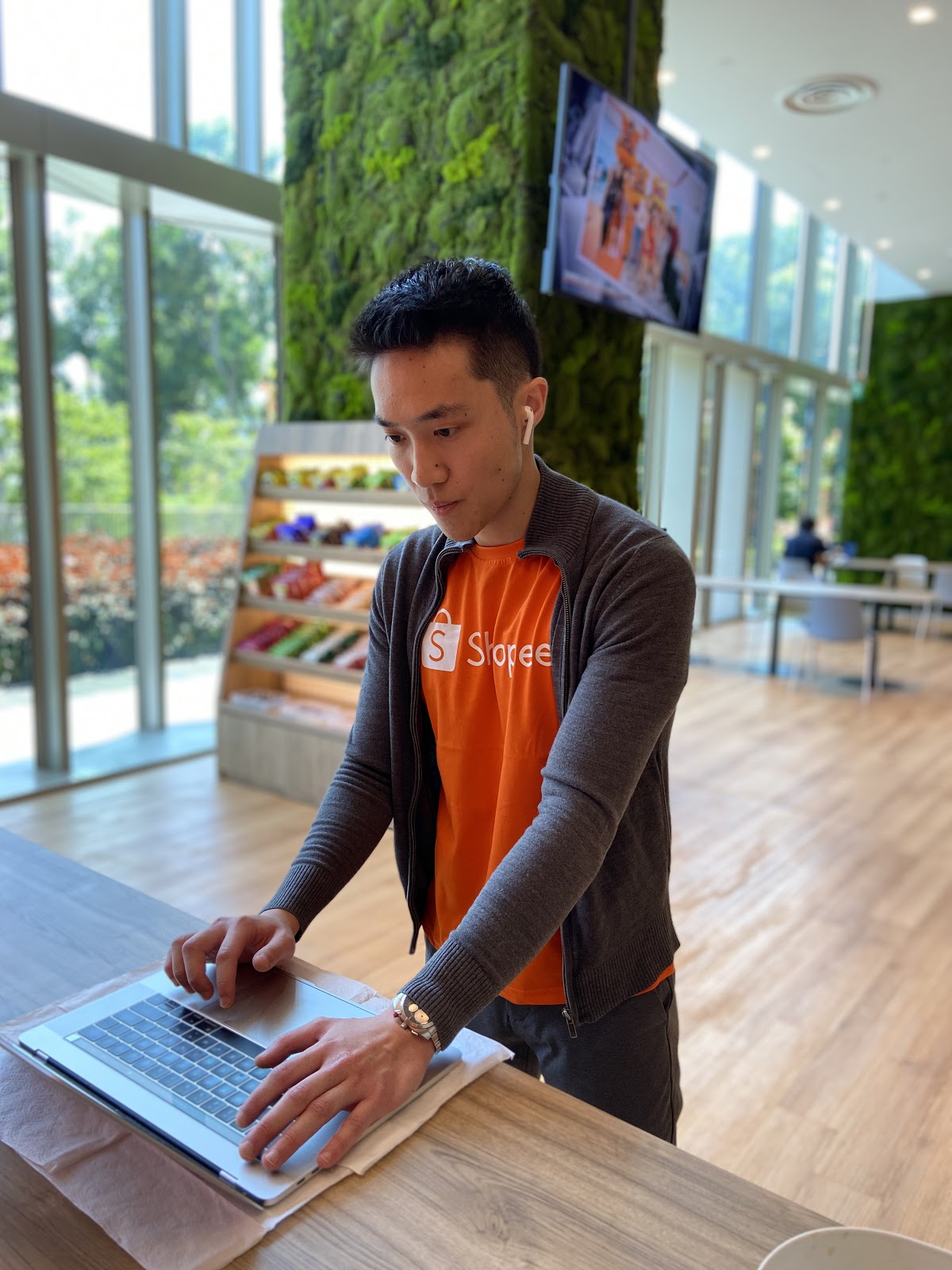 A serious-looking Jeff hotdesking in the Shopee Cafe.
What are some highlights of your internship journey?
The ice cream in the fridge! No kidding, haha. I also really enjoy the freedom that I get throughout this internship. On top of the cool office and awesome perks that Shopee gives, as my role is more of a Research and Development position, I get to call the shots as to what models I want to explore and how I'd like to improve the model. Do I want to explore more features to add to the model? Do I want to make it more complex? What's the core reason behind the incorrect predictions and how can we solve that? I feel like I'm truly making a difference here.
However, one thing that truly stuck with me is that I never stop learning! I'm really grateful that I have great mentors who would regularly check in on me. They guide me and make sure that I'm not lost, and they are also always there to give me advice on what I can potentially do here at Shopee and for my future.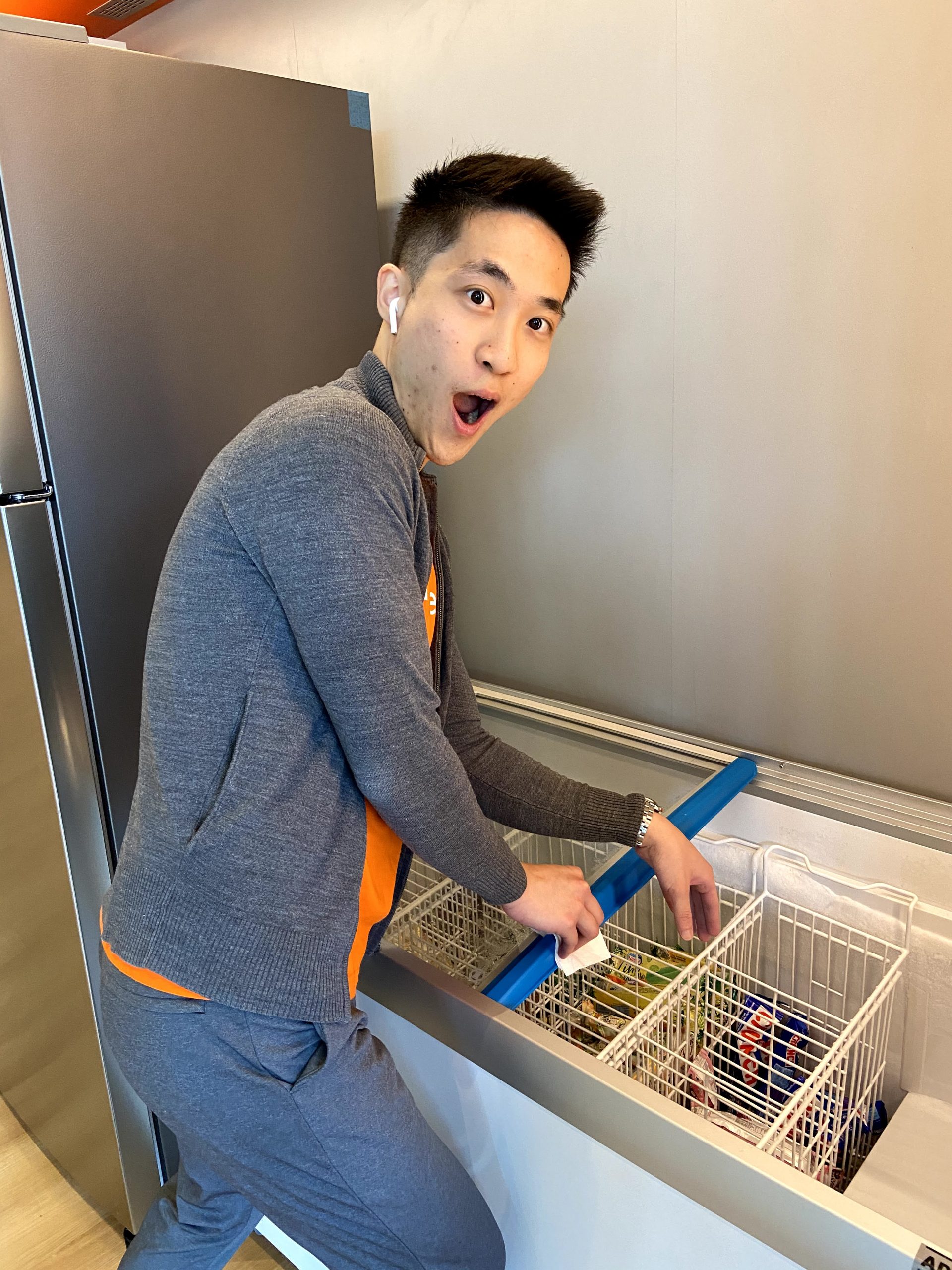 Jeff at his favourite place – the ice-cream fridge at Shopee's Level 1 Cafe.
How about your greatest takeaway?
The biggest skill I've gained from this internship would definitely be the ability to multi-task in big data environments. In my previous personal projects, I've never had to deal with big data problems because the datasets were always pretty small. However, in my problem domain, I need to work with a huge number of characteristics about our various users, so the type of technologies that I've picked up in this internship (e.g. Pyspark and Spark SQL) are pretty different from the ones I was used to (e.g. Pandas, NumPy). Additionally, given the large number of models and hypotheses that I've had to test thus far, I've also learned the importance of managing the department's shared resources prudently.
Opportunities to access huge data sets and learn those big data technologies (e.g. via Amazon EMR) outside of work are rare, hence being able to sharpen these skills at Shopee has been an extremely valuable part of the internship.
How would you describe Shopee to your peers?
Hmm, I would say that Shopee is young, friendly and flexible! The company is made up of many young people, making discussing current technologies easy. Everyone at Shopee is very friendly and willing to help, even if you have questions that are not directly related to their job scope. I've constantly sought help from people outside my department and if they can't help me directly, they would always point me to someone that can. I'm also not a morning person, so the fact that work starts at 9:30 am is a definite plus!
Any advice for your peers who are looking to intern with Shopee?
Do come in knowing what you want to achieve and regularly check in with that goal. Internship time is short and at the end of this journey, you want to make sure that you have grown professionally as well as value-added to the team.
Try your best to know people from different departments as they might have experience in a database that others in your department might not. It helps that the Data Science team holds bi-weekly intern meetings for everyone to share what they've done in the past 2 weeks to align everyone with each other's goals. If you won't be in the Data Science department, don't be afraid to talk to other interns to learn what they're doing and help others too. Teaching really is the best way to learn! All the best!

Thank you Jeff for giving us insights into what you do here at Shopee as a Data Science Intern!
---
Follow the #ShopeeInsider and #lifeatshopee hashtags on LinkedIn for more features like this. If you'd like to be part of our Shopee Team, find out more here!]]>