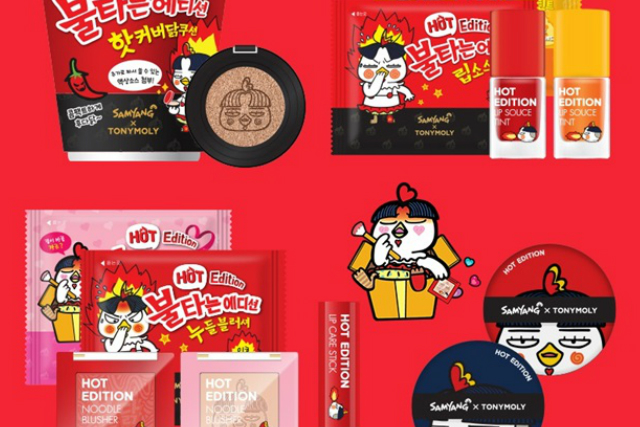 <![CDATA[The Korean beauty market has once again outdone themselves with the latest TonyMoly x Samyang Full Makeup Set that features a BB Cushion (with refill), blusher, highlighter and lip tints. Yes, you read that right – this is a collaboration with Samyang, the instant noodle brand that's infamous for its ridiculously spicy sauce and the protagonist in many Spicy Noodle Challenges. See below for our many attempts at completing the challenge: [embed]https://www.youtube.com/watch?v=pLH37o2f0cY[/embed] When we saw that the full set was available on Shopee, we immediately had to get our hands on it, and boy were we surprised at how fast the delivery was (it took less than a week for the seller to ship the items over to us from Korea) and the amount of effort that was put into designing and packing the makeup products! [caption id="attachment_19775" align="aligncenter" width="905"]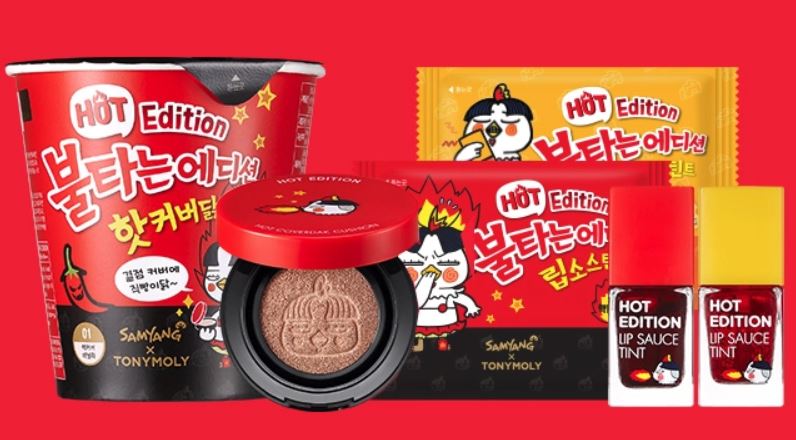 (Daily Vanity)[/caption]
Obviously, the entire set has Hochi, the adorably ugly chicken mascot that fronts the popular Samyang noodle series, plastered all over the packaging. The creators have also packaged all the products into actual cup noodle packaging, making it even more realistic. P.S. If you get the entire set, you'll even get a complimentary Samyang cup noodle, for you to munch on as you do your makeup!
So, first up – the BB cushion pact also called the TONYMOLY Hot Coverdak Cushion: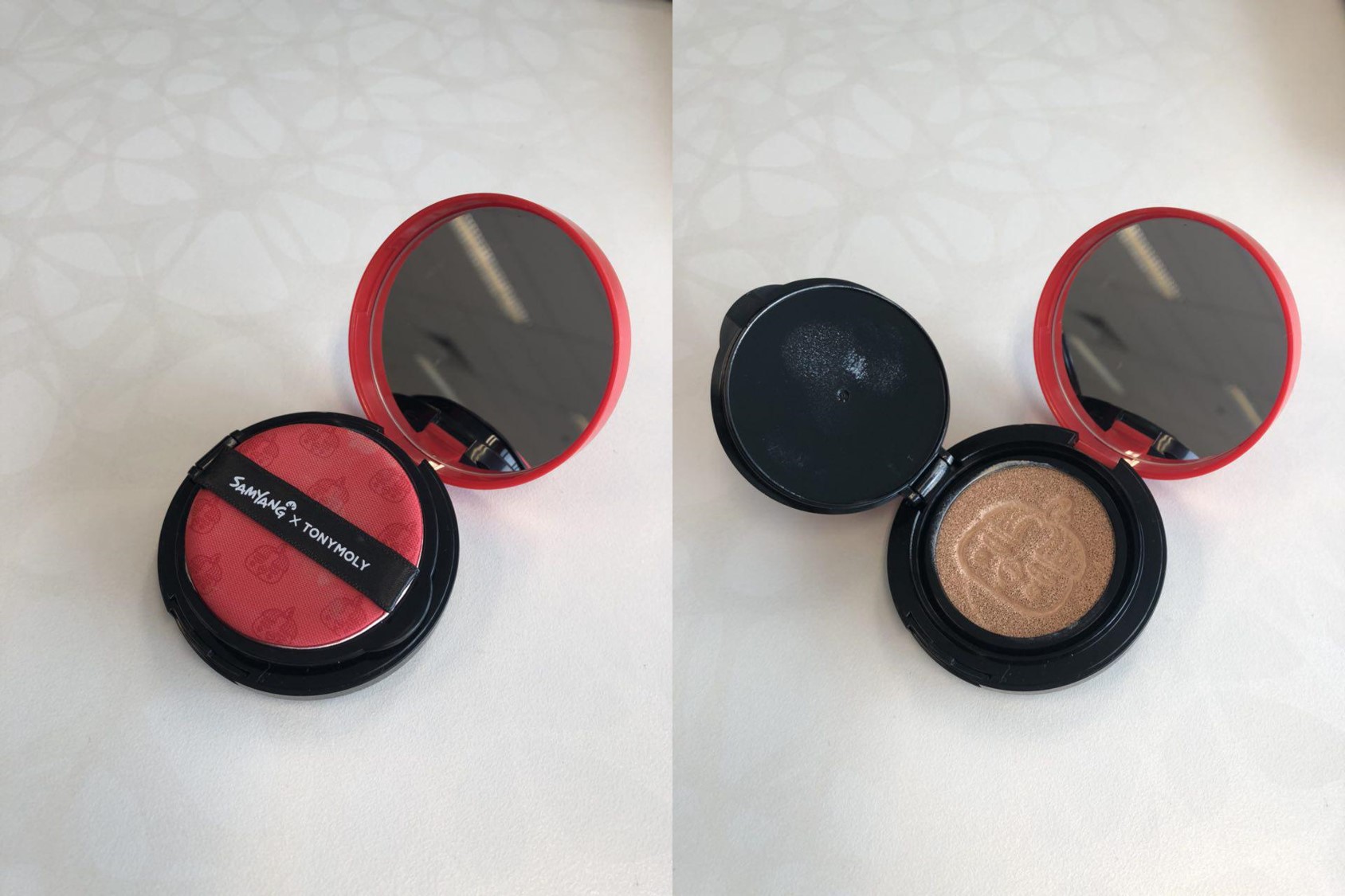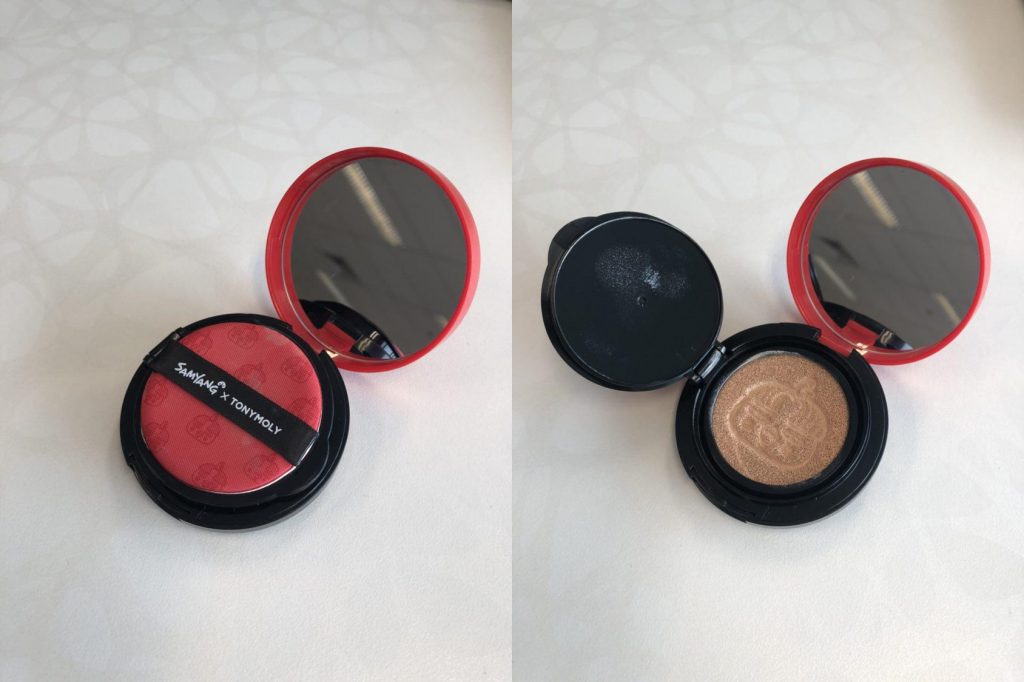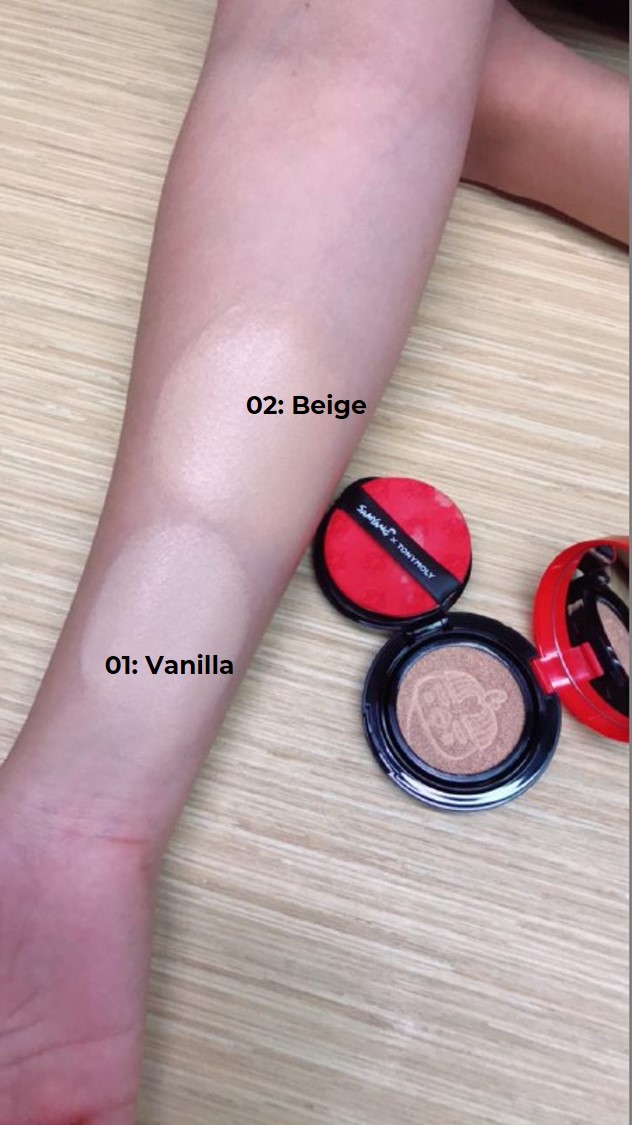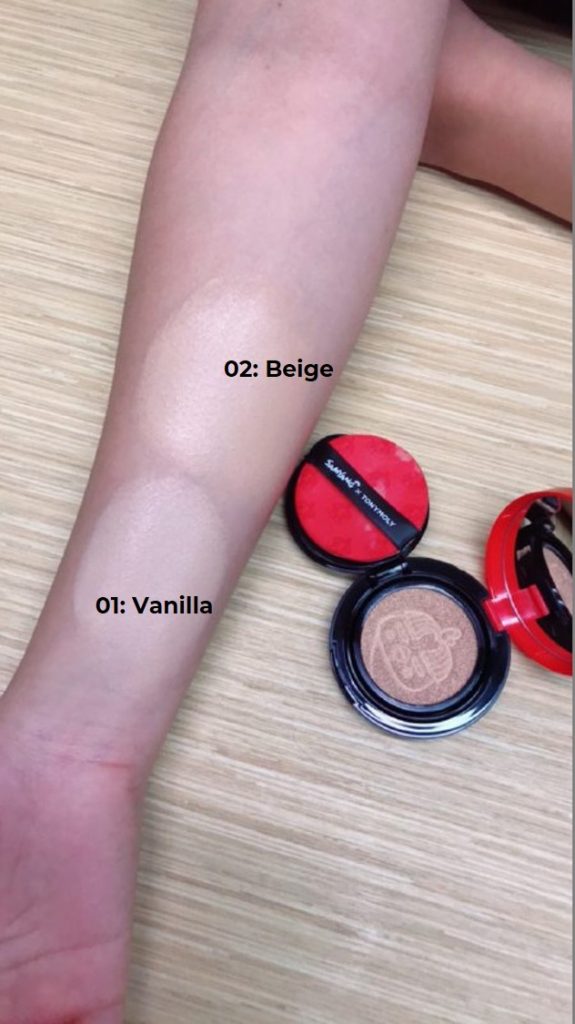 Unlike other brands, this particular collaboration only comes in two shades – 01: Vanilla and 02: Beige, which might be a limitation to some of us. The shades are pretty much similar to other brands of BB cushions with medium coverage and a dewy finish. The cushion even has Hochi's face engraved into it, though it doesn't really matter when you're trying to apply it onto your face.
[caption id="attachment_19783" align="aligncenter" width="1336"]
(Daily Vanity)[/caption]
And here's the fun part. When you're done with the product, you can use the refill pact which resembles an actual instant noodle seasoning that normally comes with your Samyang noodles, to refill your BB cushion pact! Talk about effort huh?
Next, the TONYMOLY Noodle Blusher and Highlighter: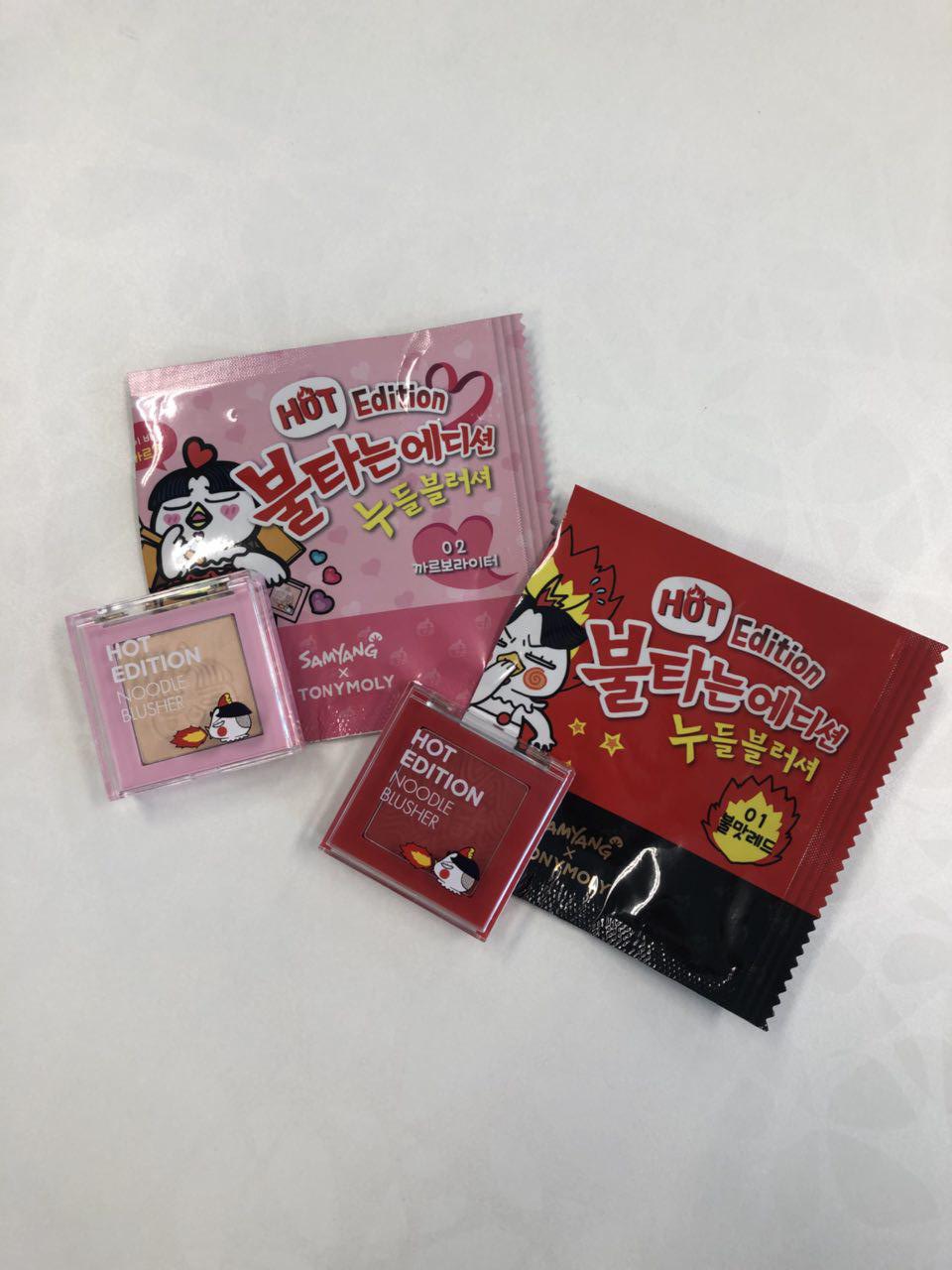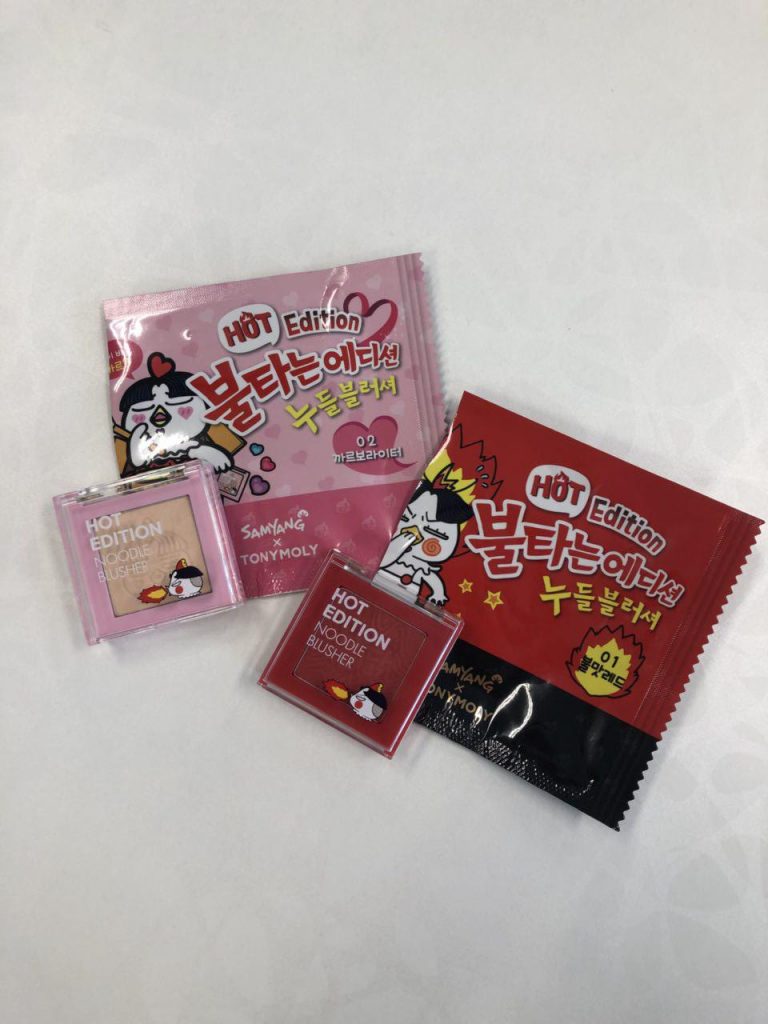 These arrived in little packages that resembled the normal instant noodle packaging. Unfortunately, the shades are pretty limited too, with the blusher coming only in shade: 01: Fire Red, and the highlighter in shade: 02: Carbolighter.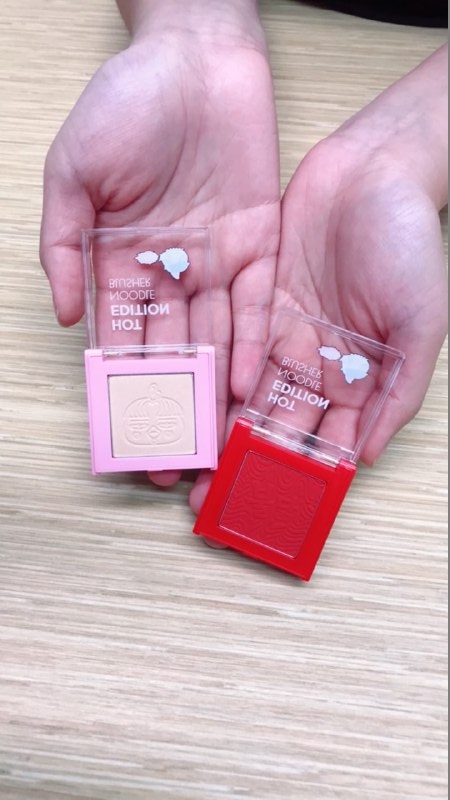 We'll recommend using the Fire Red blusher to create the same flushed look when you gobble down a packet of Samyang instant noodles, and the Carbolighter to highlight your face. If you look closely enough, the Carbolighter even has little shiny flecks. (P.S. The highlighter isn't too pigmented so we'll recommend piling them on!)
Lastly, the TONYMOLY Lip Sauce Tint: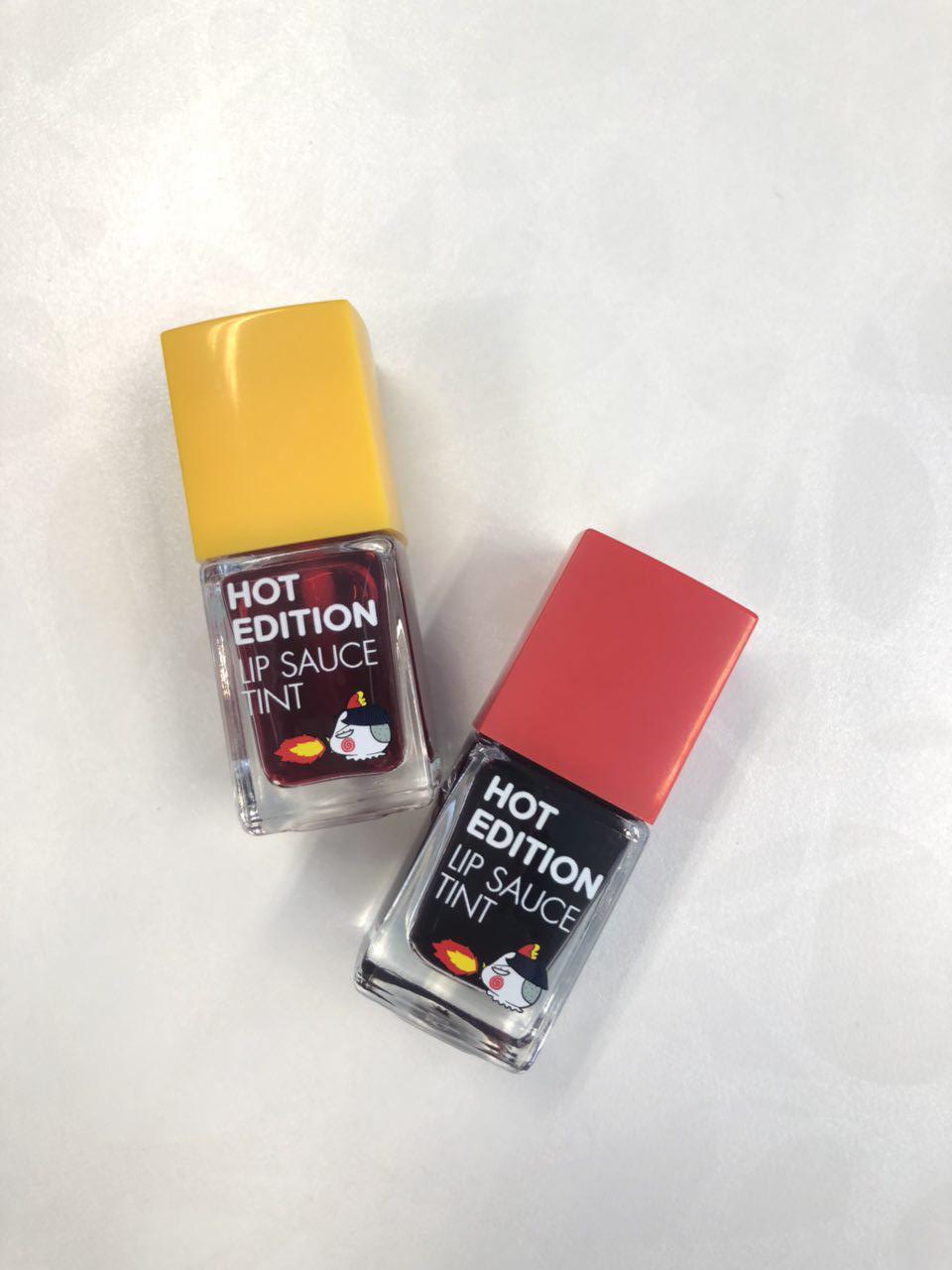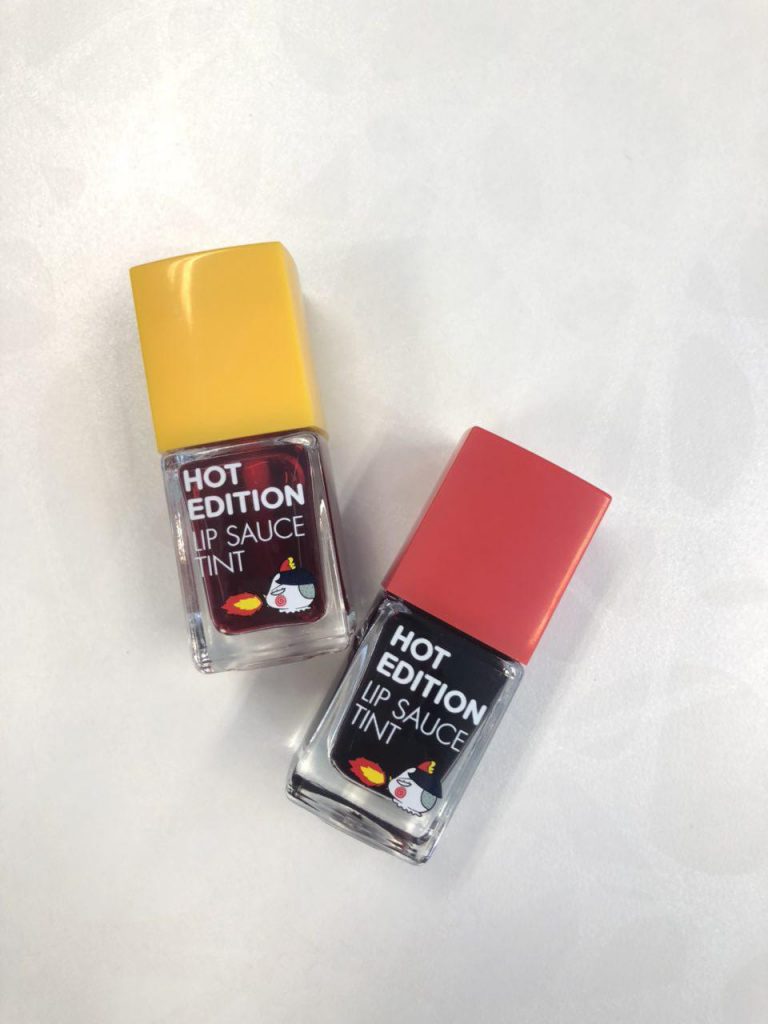 Like all the other products, Tony Moly clearly didn't stinge on the packaging for something as small as the lip tints, designing the bottles to look just like tiny chilli oil bottles. To top it off, these also arrived in cute packets made to look like the instant noodle packaging!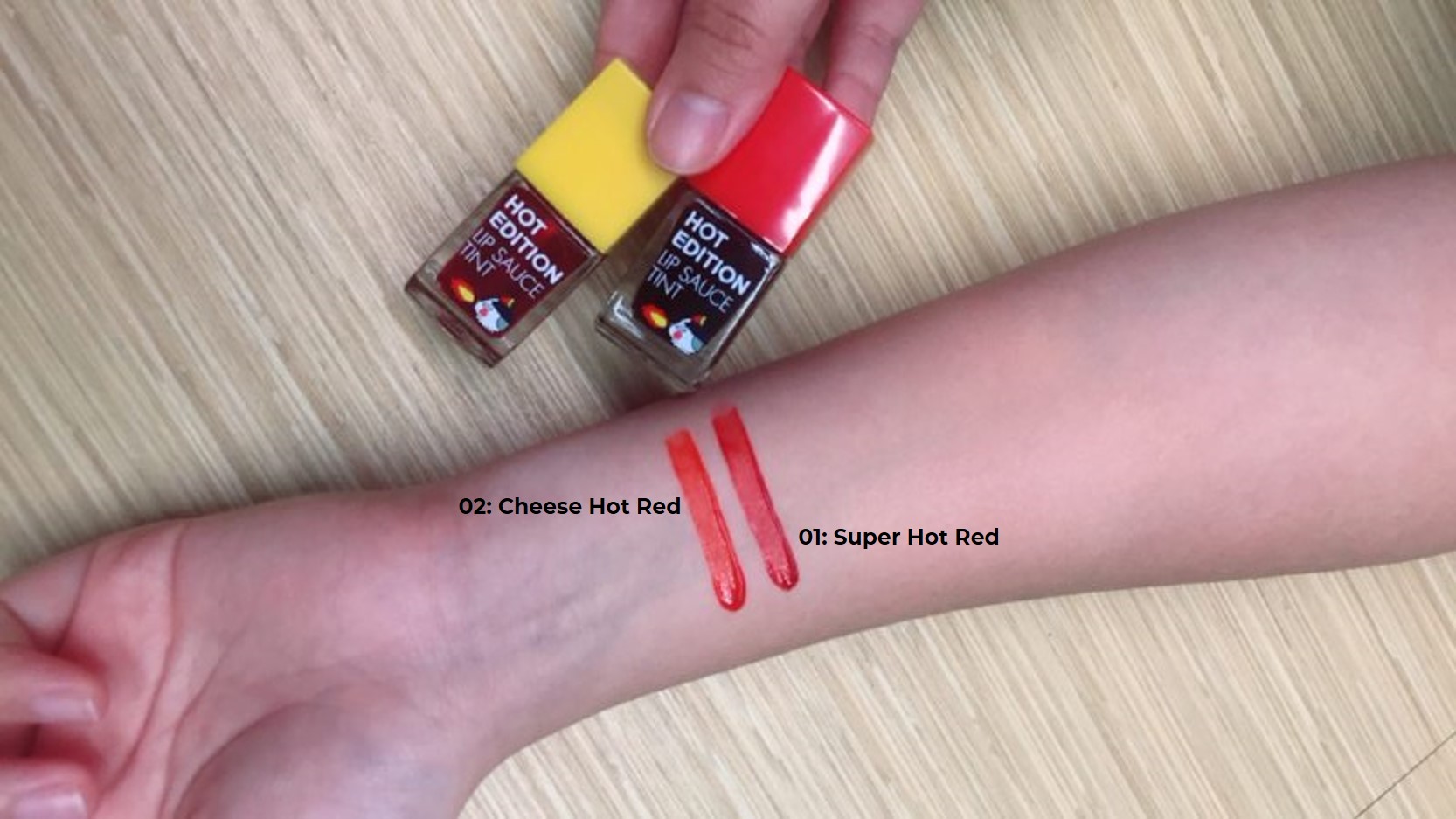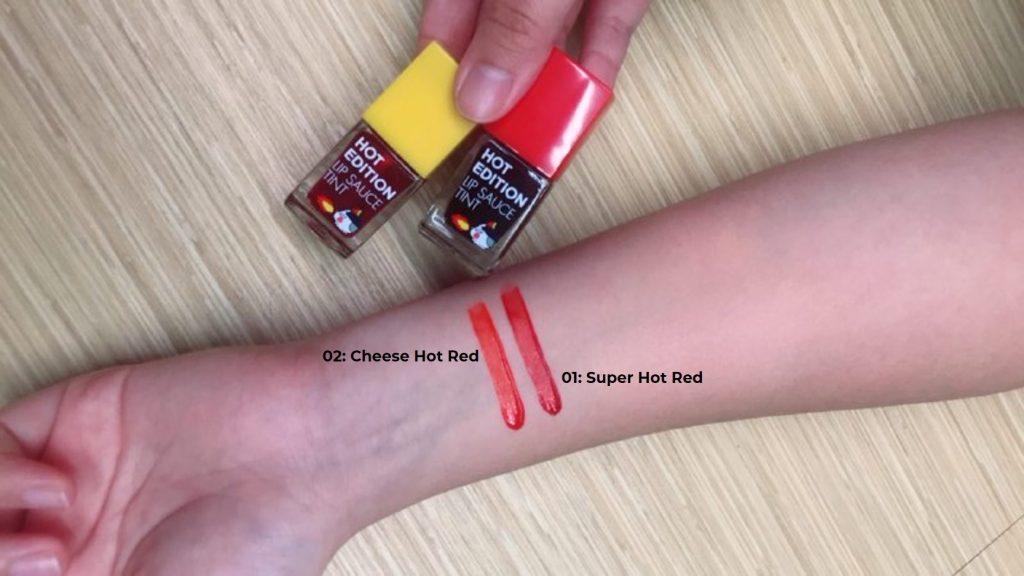 Similar to the other products, it comes in two shades: 01: Super Hot Red and 02: Cheese Hot Red, with the former with more red pigments and the latter with a slightly orange-y tint to it.
Oh, an interesting point to note is the smell of the products. We've always been a fan of Korean beauty and skincare products because of the sweet scent and this is no exception! Each product (fortunately) does not smell of the Samyang instant noodle but has a slightly fruity smell to it.
Intrigued and can't wait to get your hands on this limited edition set? Get the
full set here
and receive the complimentary instant cup noodle now!
---
New to Shopee? Get $7 off (min. spend $15) with code*:
TMSAMYANG
*TNC Applies. Valid for new users from
24 Sep to 1 Oct
only.]]>