<![CDATA[Original draft by Vanessa Tan The day I received a request to move to another desk was the same day I met my colleague Jocelyn Kaylee. She was new to the team back then, and I, the intern, was asked to move so she, the full-timer, could have a dedicated workspace. And whilst I was hastily packing up and transporting my belongings to a half-table in a drab corner, Jocelyn must've apologised about 20 times. "I'm sorry you're moving because of me," she continued as she offered to share the desk, which was now hers. "It's alright, I'm just an intern!" I exclaimed in return. Jocelyn's response to my off-handed but lowly "I'm just an intern" remark surprised me. Pausing her moving-in, she spoke in an almost horrified tone, "No! Don't say that about yourself!" I spent the rest of the day thinking about her simple but empowering comment. [caption id="attachment_19913" align="alignnone" width="7360"]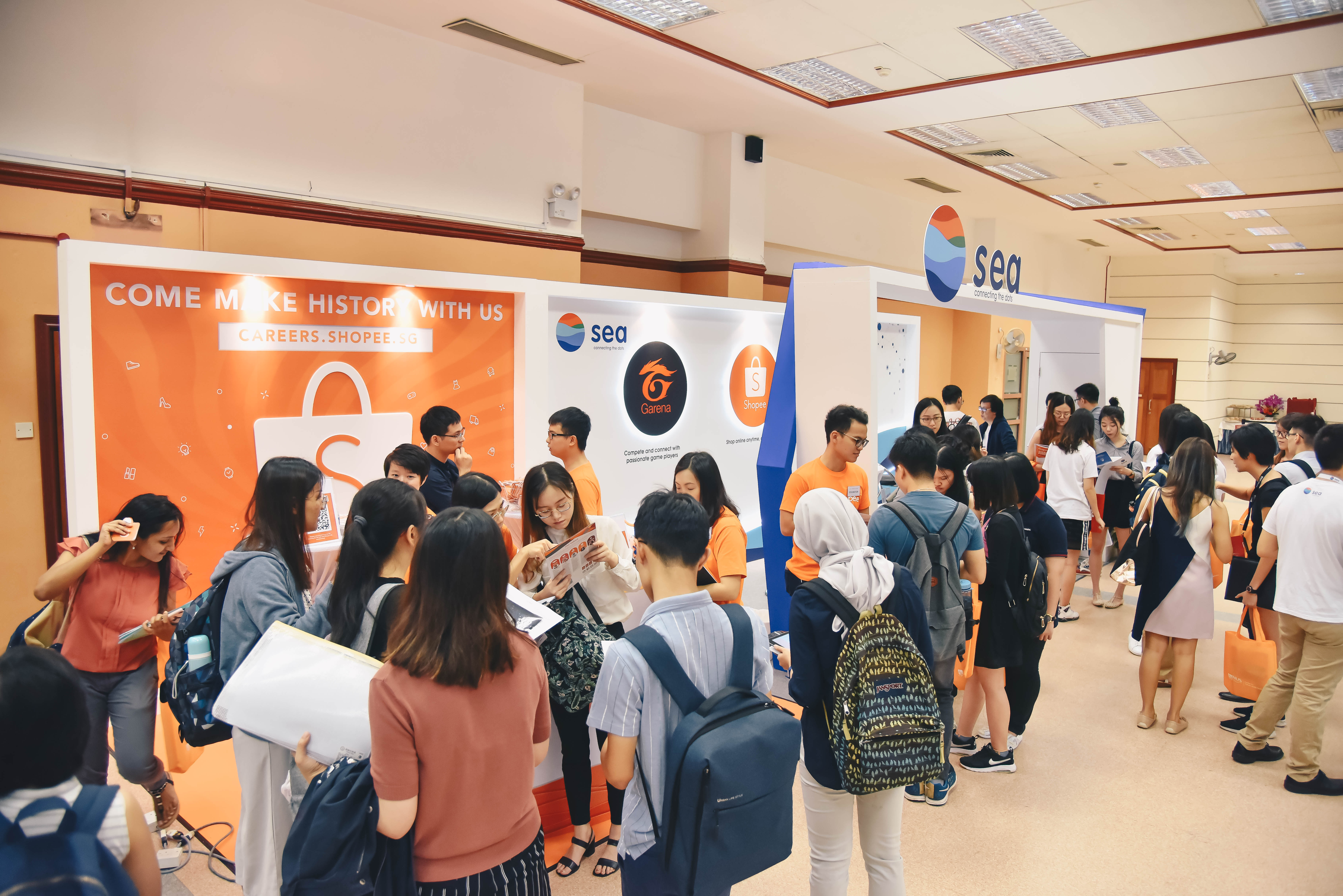 Students peddling their craft and resumes at one of our many recruitment fairs. See our schedule here![/caption] Interns are often thought of as extras, calefares in the theatrical play of corporate life. The senior management are the main performers, the other full-timers supporting actors, and interns the trees swaying in the background and the unnoticeable boulders framing the scene. Most of us have been hired to do what the full-timers didn't deign to do, and so we've often been given the most tedious and repetitive tasks a company could possibly have. And yet, I found myself playing a different role in Shopee. The first act hadn't yet started, and I was made a part of the back-stage crew, tweaking the infrastructure and designing the foundations on which the performance of the century would be built. And on her very first day (goes to show that Shopee's recruiters are really good at hiring for culture fit), Jocelyn's quip summarised all that. I'm not "just" an intern; I mean something here. [caption id="attachment_19915" align="alignnone" width="6000"]
We're all trying our best here, regardless of whether we're interns or full-timers[/caption] I spent a total of four months in Shopee, and did end-to-end recruitment for new interns (on top of market research for employer branding purposes). That's right, an intern recruiting interns. This might be a lofty experience to desire elsewhere, but here at Shopee, the impossible was made possible – all thanks to my manager Viona. Recruiting new interns was fun. It stretched my capacity for quick-witted responses, taught me how to discern sincerity and truthfulness from mere eloquence, allowed me to work with supervisors across departments, and showed me what a life of a full-time recruiter could be like. I received sufficient training to do the basic, and pushed myself to go beyond what I knew. I never had to reveal that I was an intern myself, and my candidates never asked – probably because it would've been impolite to do so or because they couldn't even tell, or both. [caption id="attachment_19916" align="alignnone" width="7360"]
Learning from the best: A moment in time with our Senior Recruiter Diah Fawnia[/caption] As a recruiter, your candidates' questions will begin to sound familiar after the first 10 phone calls. The questions I got asked most frequently were related to my experiences with Shopee's company culture. "What is it like working in Shopee? What is the culture like?" Every candidate wanted my honest response, and that's exactly what I would give them. Without even hesitating, I would repeat the following for as many times as they asked: there's an abundance of learning opportunities if you would go looking (or asking) for them; supervisors will empower you to make autonomous decisions; you'll have freedom and flexibility to create a ripple effect in the company, however small and shallow it may be. Being Shopee's intern was one of the best things that could've possibly happened for my career and personal development. I can't put to words everything I've learnt in this short but incredible internship, but here's my attempt to summarise the most important lessons into two pointers:
1. Which is menial – your job or your attitude?
[caption id="attachment_19912" align="alignnone" width="7360"]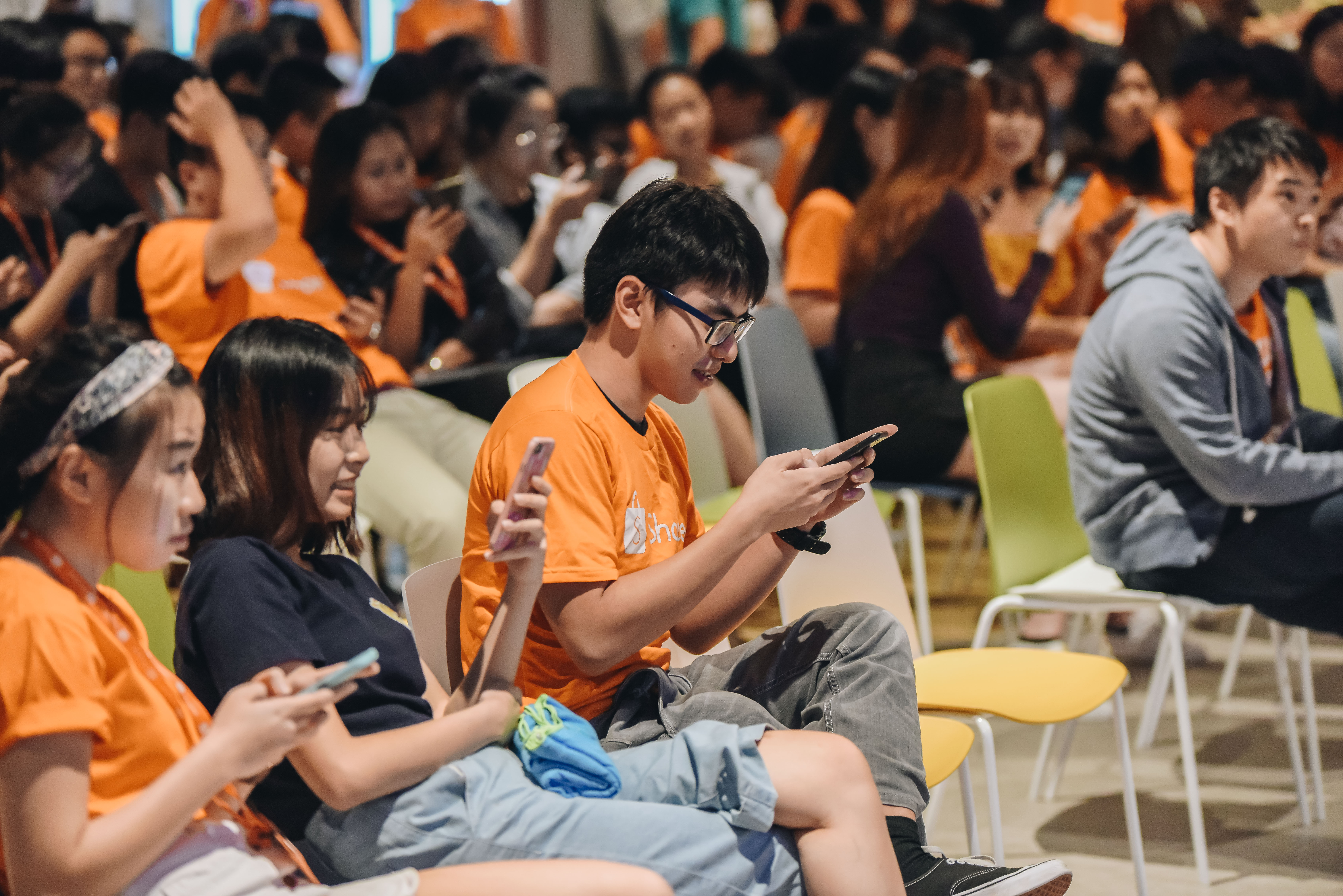 Playing second fiddle doesn't mean you're of lesser worth; it only means you're stepping up to answer to a need, so do it with gusto and glee[/caption]
In the movie
The Devil Wears Prada
, main character Andrea
Sachs
finally gets her big break – but only after her fairy Vogue-father Nigel Kipling points out that her work attitude needed a makeover. She was bored of scheduling her boss' appointments with Dolce & Gabbana, and was frustrated that her outstanding college transcript and the-sky-is-the-limit journalist dreams led her only to this.
Truth is, we're all Andreas, myself included. As an intern recruiter, I must've sieved through close to a thousand resumes, some impressive and some hardly worth a second look. At some point, I started getting restless. "How is what I'm doing helping me become the best version of myself? Is this all I'm contributing to the team? Is this what I want to do after graduation?" Thoughts like these haunted me, and gradually became a buffet to my appetite for excellence.
Then one day, out of the blue, my manager thanked me for the little notes I had left for her. I had made them to categorise the resumes I had studied, in hopes that the colored tabs would help her see the reasoning behind my differentiating of the potentials from the debacles with clarity and ease. They did, and they even, much to her delight, lightened her workload. My side projects proved to be helpful to the team too, which I realised when my other
supervisor
Michelle
brought them up during several of our team meetings. That's when I realised that having a good attitude and being faithful with the little things can go a long way.
All of us like to think that the highest forms of satisfaction come only from creating world-shaking, history-making results (which begin from having stellar assignments). But if there's one thing my internship here at Shopee has taught me, it's doing above and beyond in spite of your personal reservations about the tasks. You've been trusted to do this job, so do it with all your might.
2. Don't be afraid of your own voice
[caption id="attachment_19914" align="alignnone" width="4873"]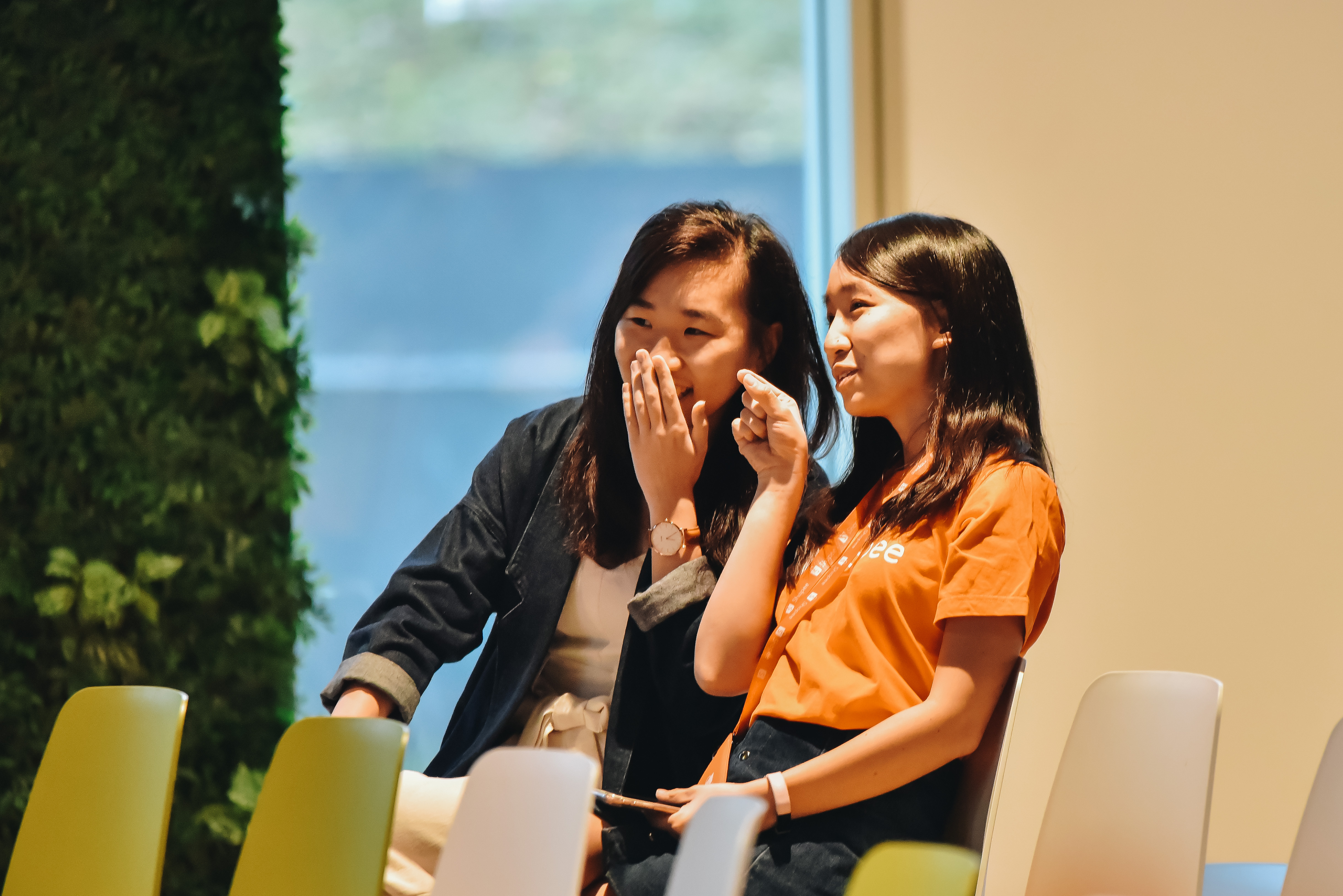 Find a comfortable way to speak up – it could be standing in front of a crowd or a one-to-one outside of the meeting room walls[/caption]
The first meeting I had with the People team, an opinion formed in my head and I was terrified at how urged I felt to speak it aloud. Even in my head the ideas sounded awfully raw – what sense would I make if I were to say it to the 20-odd seated around the table? How could I bear their razor-sharp gazes on me, the intern bold enough to have an opinion? My heart raced for a good 10 minutes, until I could take it no longer and blurted it out.
To my surprise, the full-timers nodded. They agreed with the direction I was taking, and added to my ideas with some of their own. That's when I realised I wasn't going to be parked in the shadows, disapproved or denied because of the title in my contract; my merit would be based on the value I created. And so that's what I went on to do. I turned up at work each day ready to shine like a star – in my own little way.
In school, we're used to being handed little gold stars for participating in group discussions and asking questions in class. Yet, every intern will step into the workplace realising that there's no reward system for verbal participation. You either make sense or are just making noise, which, in that case, is far more prudent for you to be quiet. No one will pat you on the back for speaking; they will, however, give you compliments for suggesting good ideas and strengthening the fallibility of a project's premise. So do that; if you have something worthwhile to say, make sure you voice it out – at the appropriate time and to the appropriate person. Great ideas have never been chained in the astral space of one's mind – it has always required courage to speak it aloud before things get set in motion.
[caption id="attachment_19911" align="alignnone" width="6945"]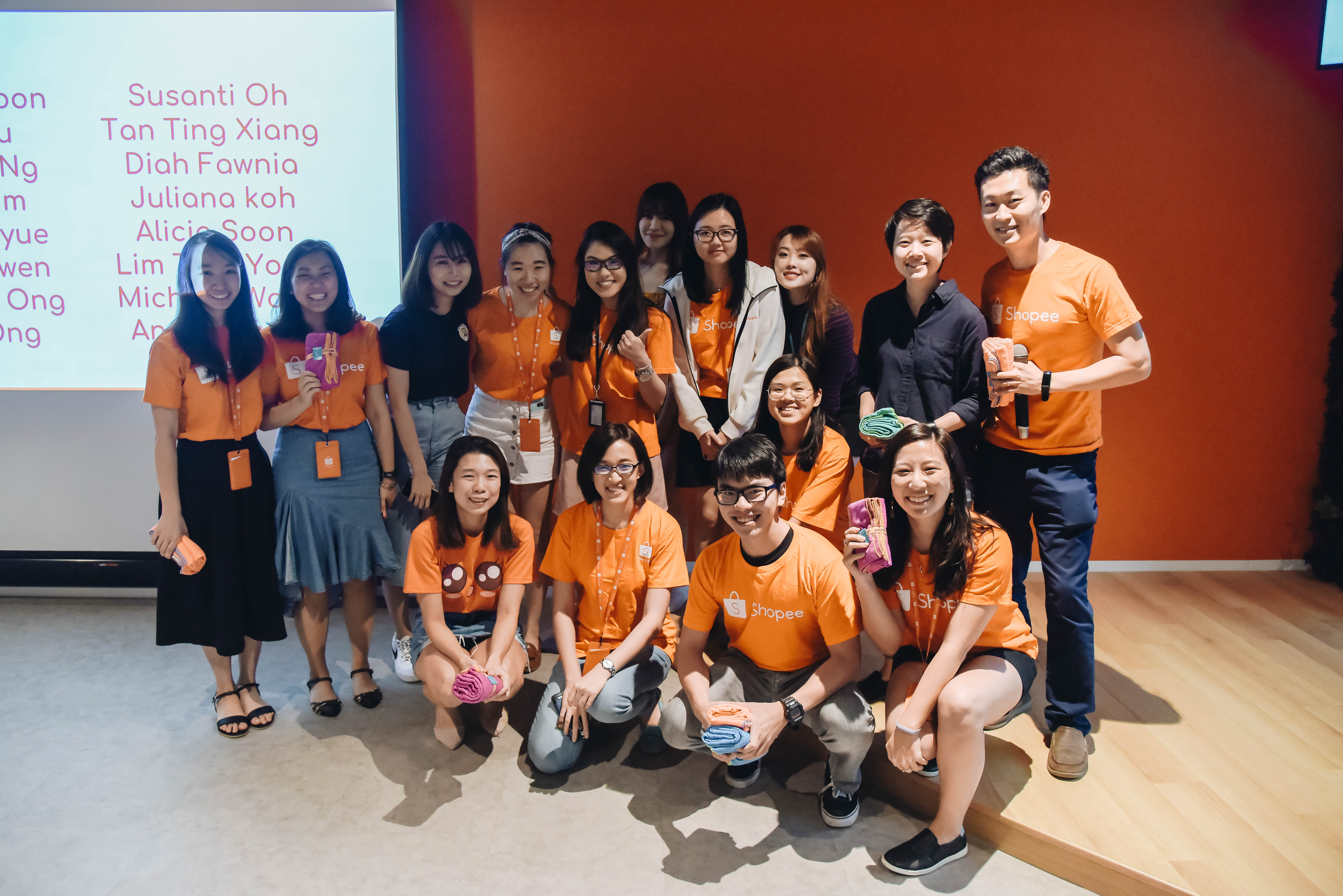 Stepping out of your comfort zone to challenge even your own habits will reap you rewards beyond imagination[/caption]
There's no perfect internship, but Shopee has provided me with so much room to grow. I developed professional skill sets, gained new connections across functions, and grew as an individual. I even conquered the ultimate pummel of initiating conversations, which had once caused me to lose countless opportunities to be acquainted with others and to get to know them better. Somehow, being a recruiter helped me overcome that barrier. I'm no longer fearful, which is such liberty to experience.
Thank you, Shopee, for being my home ground for growth and for treating me like an equal!
Signing off,
Vanessa Tan
Former People Team intern
---
Inspired by Vanessa's story? Looking for an internship? We're open for summer interns and interns all-year-round.
Find your opportunities here!
For more reflection pieces by our Shopee employees, click
here
and
here
.]]>