As cat owners, we count our blessings everyday for sharing a special bond with our furry feline friends. However, this is all true until we catch the first whiff of their stinky business emerging from the litter box — ew. Don't let the odour get to you (or your cat). Make the switch to the best cat litter in Singapore today! From clumping cat litter to ones with strong odour control, find out the best type of cat litter that suits your needs!
How to choose the best cat litter in Singapore?
To ensure your feline friend has the best toilet experience, here are a few factors to consider before you bag home a huge sack of cat litter.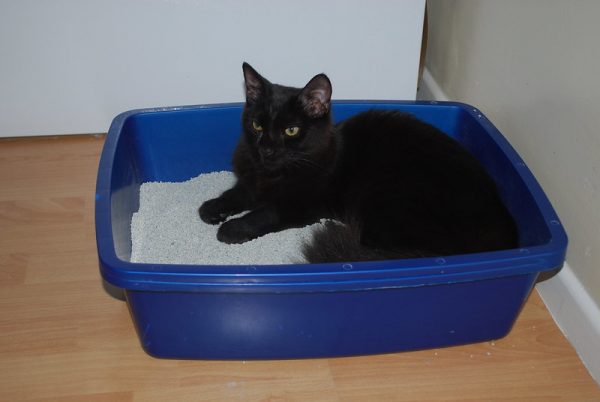 Many litters come in both scented and unscented options. Scented litters are designed to mask litter box odours. However, some cats prefer unscented litters to ones with overwhelming fragrance. 
Clumping or non-clumping cat litter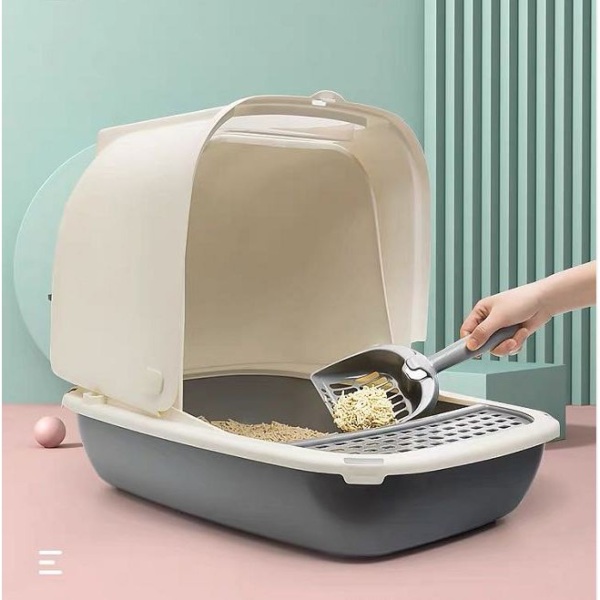 While non-clumping cat litters were some of the earliest cat litters used, they've since evolved into clumping litters for extra convenience. Clumping cat litters form solid masses when they come in contact with liquid (i.e. pee). You can easily scoop out the affected litter for quick waste removal. This also means you don't need to fully replace your cat litter as often. Simply top-up the litter whenever necessary. On the other hand, non-clumping litter will need to be emptied completely to ensure thorough cleaning.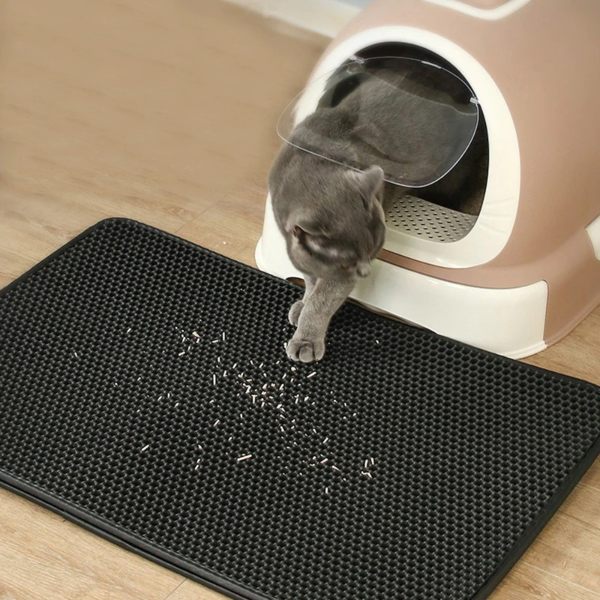 Tracking happens when your bits of the litter sticks to your cat's paws and fur. The litter is then transferred to other areas of your home as your cat goes about its day. Tracking is more common in non-clumping litter as well as lightweight litter, but there are ways to minimise this. You can use a top-entry litter box which helps to get litter off your cat's paws when it jumps up and out. Alternatively, you can use a litter mat that traps litter from your cat's paws.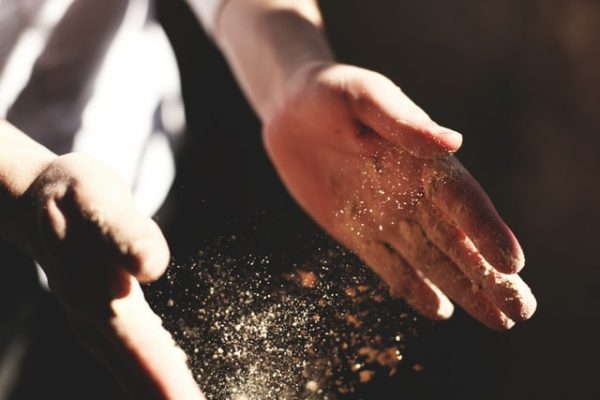 Some litter, like clay litter, can kick up a huge amount of dust in the litter box. This dust can cause respiratory problems for your cat and family. In addition, the dust cloud may leave a powdery layer all over your floor. Hence, it's better to pick a cat litter that is dust-free.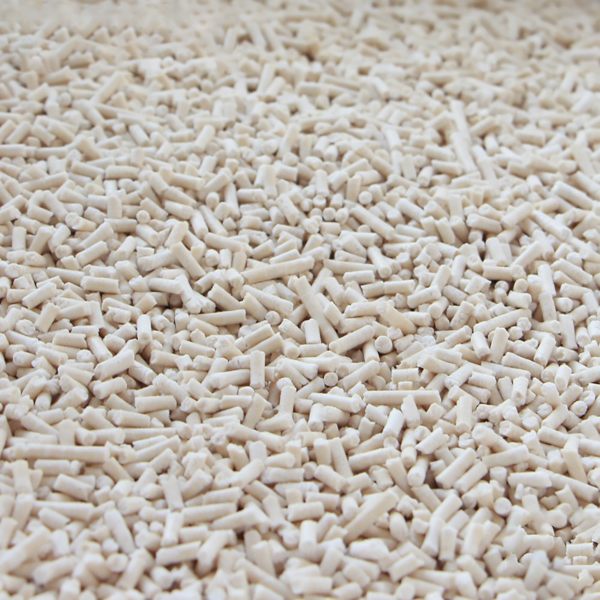 Environmentally friendly cat owners will want to ensure their cat litter is biodegradable and sustainable. Thankfully, there are eco-friendly options available such as tofu and corn litter. These types of cat litters are compostable and can be reused as garden fertilisers. They are also easy to dispose of — just flush them down the toilet. 
Which type of cat litter is the best in Singapore?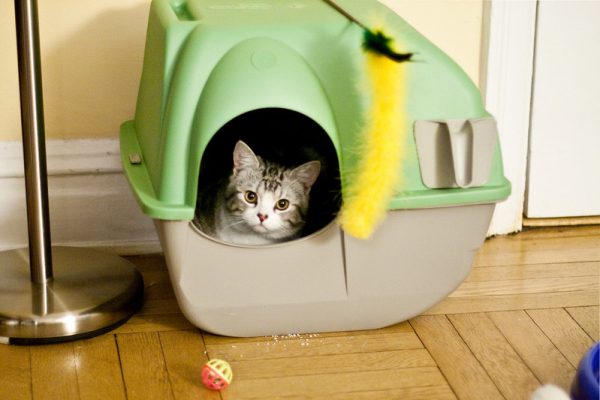 From bentonite clay to tofu cat litter, the extensive range of cat litter may leave you at a loss. Cat litter are equivalents to our toilet papers, so will a different type of cat litter actually make a difference for Mr Whiskers? Trust us, it will! Not only will the right type of cat litter encourage Mr Whiskers to frequent the toilet more, it'll also make your life much easier when you're clearing the litter box. Here's a brief summary of the pros and cons of different cat litter types for you to consider. 
Types of cat litter
Pros
Cons

Non-clumping clay litter

Most cats like it

Low cost

Dusty

Not environmentally friendly

Prone to tracking

Do not clump

Frequent litter change required

Clumping clay litter

Most cats like it

Low dust

Low cost

Quick clumping

Easy to clean

Dusty

Not environmentally friendly

Prone to tracking

Silica gel litter

Dust-free

Excellent odour control

Cats may not like it

Expensive

Do not clump

Frequent litter change required

Paper litter

Low dust

Eco-friendly

More absorbent than clay

Cats may not like it

Poor odour control

Frequent litter change required

Tofu litter

Dust-free

Eco-friendly

Absorbent

Quick clumping

No tracking

Corn litter

Cats may not like it

Poor odour control

Prone to tracking

Expensive
Best Cat Litter In Singapore 
1. Aatas Cat Kofu Klump Tofu Cat Litter — best clumping litter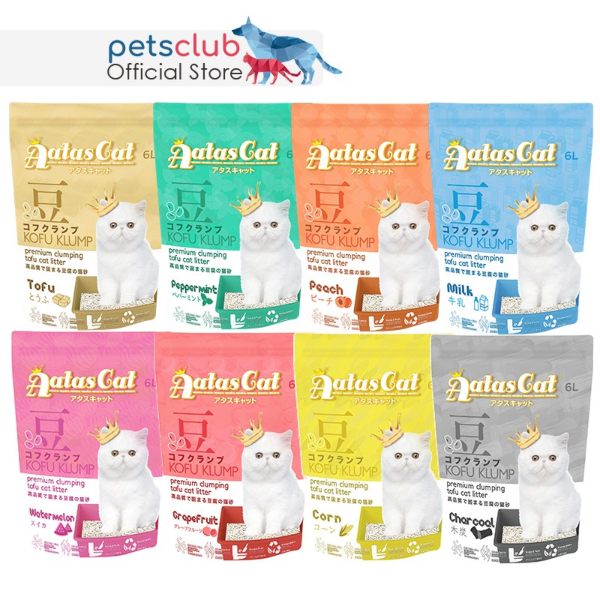 From cat food to cat litter, Aatas Cat is one of the most popular brands for cat essentials in Singapore. The Aatas Cat Kofu Klump Tofu Cat Litter (available on Pets Club) is an environmentally-friendly cat litter made from pure natural soybean curd. The pellets clump rapidly upon contact with liquids, preventing pee from sipping through to the bottom of the box. The obvious chunks of litter clumps will also make your life much easier as you don't have to shovel through the box to find the smelly 'surprises' Mr Whiskers left you. 
In addition, the litter acts on the odour by neutralising it with soy isoflavones. As such, cat owners who don't get to clean the litter boxes as frequently as they'd like will not be overwhelmed by the pungent smell of waste. This is also one of the best cat litters in Singapore with minimal tracking issues. The pellets are also relatively lightweight — great for kitties who enjoy kicking up a storm in their boxes. 
2. Eco Cane Clumping Cat Litter — best eco-friendly litter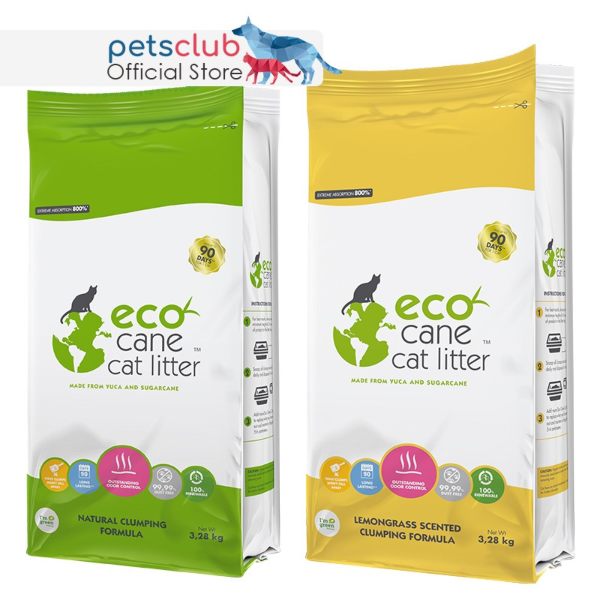 As its name suggests, the Eco Cane Clumping Cat Litter (available on Pets Club) is one that places a strong emphasis on environmental sustainability. Made from the by-product of yuca and sugarcane agricultural processes, this best cat litter in Singapore is 100% natural and renewable. In fact, even the packaging of the Eco Cane cat litter is made from sugarcane and recyclable! This will contribute to your efforts to reduce your carbon footprint. 
Environment aside, the Eco Cane Clumping Cat Litter has excellent odour control. This is made possible by the high absorbency of sugarcane. The litter can absorb up to 800% of its own weight, which significantly reduces the number of pellets needed to form a clump. Thus, a little goes a long way with this cat litter, which translates into better cost efficiency! 
3. Kit Cat Soya Clump Litter — best scented litter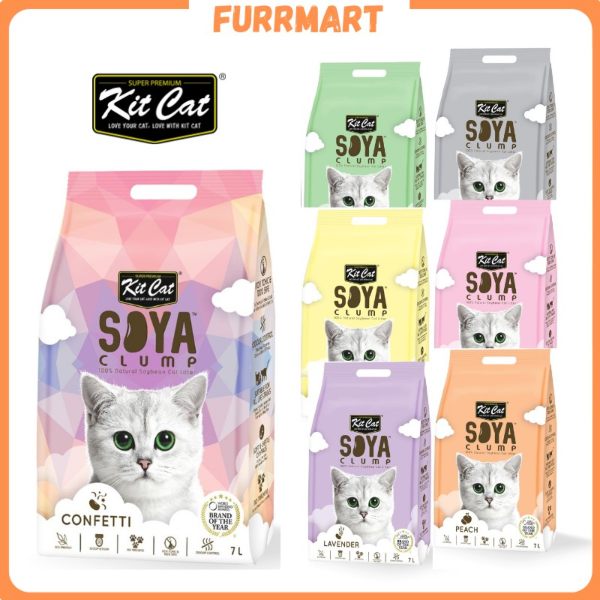 Tired of unscented cat litter and looking for one with pleasant fragrances that can help mask the smell after your cat's toilet trip? Then, you need the Kit Cat Soya Clump Litter (available on furrmart) which comes in seven different scents! Think green tea, peach, strawberry and the best of them all — confetti! Confetti scented cat litter is a combination of original, lavender and strawberry-scented pellets. The result is a mildly sweet-smelling cotton candy aroma that will completely hide away unpleasant smells. 
Another benefit about using this 100% biodegradable soybean cat litter is that it truly minimises tracking. The pellets are slim and long, making them almost impossible to be stuck on your cat's paws. This best cat litter in SIngapore also clumps instantly when wet and does not stick to the base of the litter box, making it easier for you to scoop and flush away. 
4. Vitakraft Magic Clean Cat Litter — best non-clumping cat litter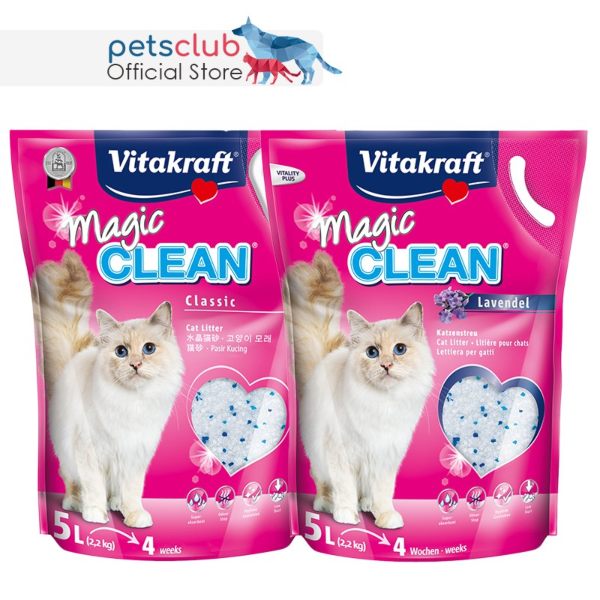 While there are many benefits to clumping cat litter, they can sometimes pose risk to your cat's health too. Cats, especially kittens, may ingest clumping cat litter out of curiosity. This can be particularly dangerous as some clumping litter, such as clay litter, may harden in their digestive tract and cause health issues. Hence, some cat owners prefer to avoid clumping litter as a whole. 
If you share the same concern, the Vitakraft Magic Clean Cat Litter (available on Pets Club) may be the best cat litter in Singapore for your cat. This non-clumping cat litter is made up of quartz sand mineral beads which are super absorbent and dust-free. It also has anti-bacterial properties to ensure your cat's litter box remains hygienic and germ-free. However, as the litter does not clump, you will have to empty the entire litter box after a period of time. In addition, fussy kitties may not like crystal cat litter in general due to its coarser texture. So it's better to do a slow transition into crystal litter by mixing it with your current litter for your cat to be more receptive to it.
5. Kit Cat Snow Peas Cat Litter — easiest litter to clean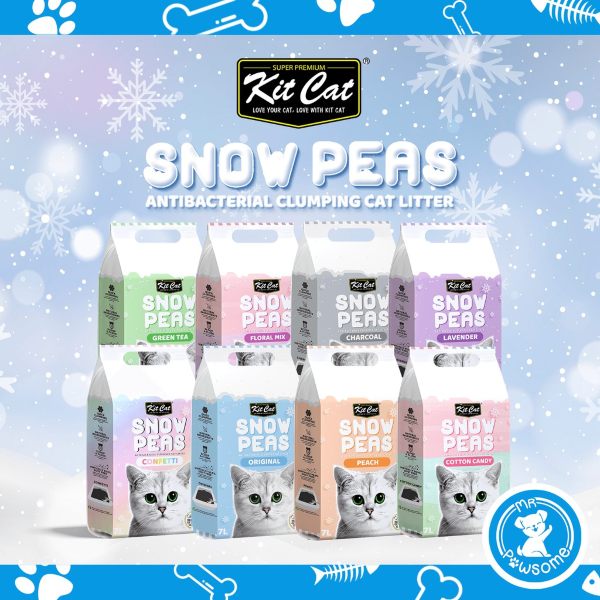 Those who've used clay litter before will know the pain — the litter is heavy to transport and even heavier to scoop out when it's wet. Who knew cleaning your cat's litter box can become an arm workout? But this need not be the case when you make the switch to lightweight litter such as this Kit Cat Snow Peas Cat Litter (available on Pawhavensg). 
At this point, you may have noticed that many cat litters are made from food derivatives — think soybean and sugarcane. Similarly, the Kit Cat Snow Peas Cat Litter is created with natural green pea fibre for a toxic-free formula. The litter balls are light and soft on your cat's paws and easy for you to clean. This best cat litter in Singapore also comes in unique scents such as the invigorating floral mix and sweet cotton candy fragrances! 
6. Unicharm Zeolite Pellets Refill Litter — best odour control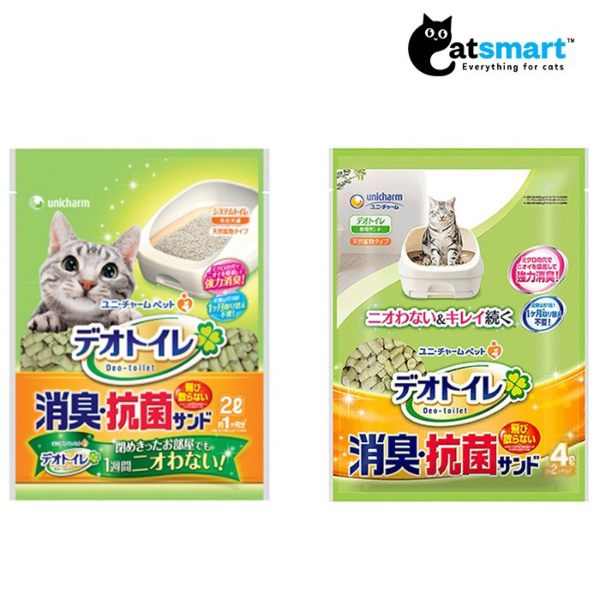 You can count on the Japanese to come up with some of the most innovative products even in the pet department. The Unicharm Zeolite Pellets Refill Litter (available on Catsmart) is unlike any other litter we have seen before. Zeolite, a natural mineral, makes up the main component of this litter. It acts as a strong magnet that attracts ammonia and ammonium, eliminating them from your cat's waste and sealing them within the pellets themselves. As such, the odour is undetectable even without masking it with artificial scents. Here comes the best part — you only need to change the cat litter once a month thanks to its superb odour control! 
However, as Zeolite is a non-clumping material, the best way to use this cat litter is with the Unicharm Wide Cat Litter System House (available on aPetMart). This litter box features a two-tier litter tray system — the zeolite pellets sit on the top while a fitted pet sheet is placed in the bottom tray. The cat litter eliminates all the nasty odour from the pee as it flows down and absorbs into the pee pad below. Although soiled, there is little to no sign of ammonia on the pee pad. This means that the pee pad remains odour-free and will require no replacement for a whopping seven days. You may even forget that you have a cat litter box sitting in your home for once!
7. Angel Pine Natural Animal Bedding Cat Litter — best natural cat litter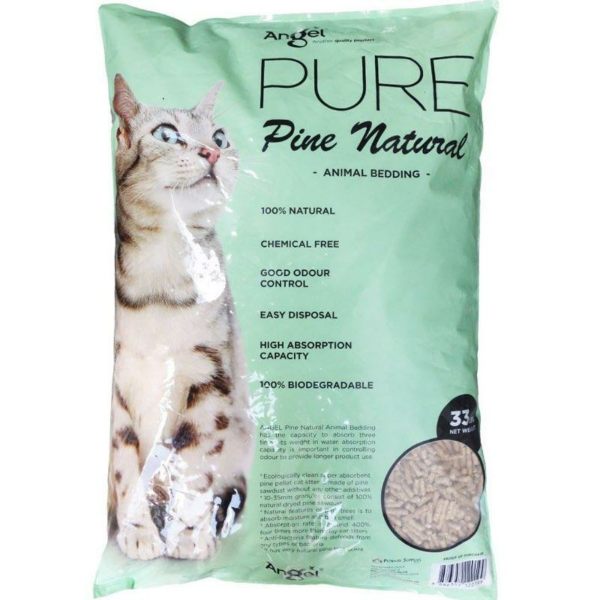 Did you know that cats (and humans) can be allergic to cat litter? This is especially so if the cat litter comes with a lot of dust. Together with poor air ventilation, signs of allergies such as sneezing, watery and irritated eyes as well as inflamed ears can occur. To minimise the risk of allergies, the best cat litter in Singapore for you and your feline is one that's made from natural material and completely unscented. 
A good example would be the Angel Pine Natural Animal Bedding Cat Litter (available on Pethouse Supplies Official Store). It is made of sanitised wood pulp which boasts a natural pine scent and good absorbent properties. Most importantly, pine litter has minimal dust and doesn't contain artificial ingredients or chemicals that may trigger allergies. It also has a lower track rate to maintain a clean environment for your family. However, the downside to pine litter is that it does not clump. As such, you may have to sieve the litter box to get rid of dirty pellets. 
Best cat litters in Singapore that will please your
meow
-jesty
While there isn't a perfect formula when it comes to cat litter, we hope our comprehensive guide helped you to pick the best cat litter in Singapore suitable for your little furry friend. Dirty business aside, here's another important aspect of your cat's life that will need your attention — cat food! Learn about the best dry cat food for your furry pal or whip up some homemade cat food with our easy recipes to satisfy your picky eater.
New to Shopee? Get $7 off (min. spend $15) with code*: 7BESTCATLITTERS
*TNC Applies. Valid for new users from 5 to 12 Sep only.