It's not going to be a blue Monday this April because our Shopee 25 Super Shiok Sale is back again on 25 April! We've got lots in store for you including $0.10 Hourly Deals, $25 Cashback, $0.01 ShopeePay Deals and so much more. Here are our top 10 picks that should not be missed ~
1. Stack Up To $25 Cashback Voucher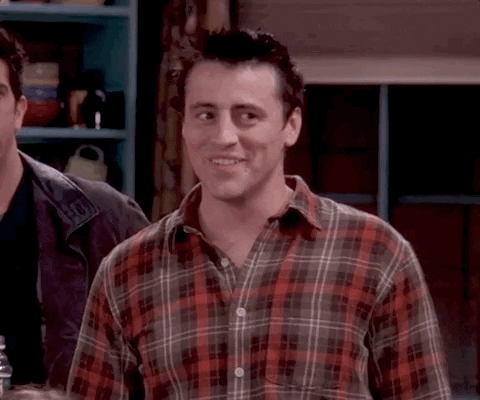 Time to shop and get your money back this 25 Apr Super Shiok Sale with the all-day $25 cashback for everyone! Pre-claim your vouchers now and enjoy $25 cashback when you checkout with ShopeePay. Don't forget to check in for flash vouchers released at 12am, 10am, 12pm, 2pm, 6pm, 8pm, 10pm and use them on 25 Apr (vouchers can only be used on items with the cashback label)!
Plus, keep a close eye on the 11PM Upsized Voucher Drop happening on 24 Mar at 11pm and claim an up to $25 off voucher exclusively for Visa Cardholders. It's that simple to get your money back so that you can shop more! Browse all the available vouchers here~
2. $0.10 & More Bazaar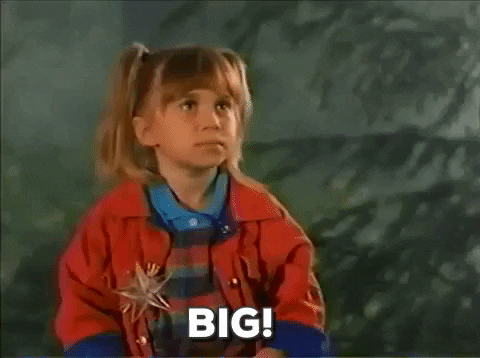 If you have been a fan of the $0.10 deals (which we all are), then you would be glad that the $0.10 & More Bazaar are back this 25 Apr Super Shiok Sale! Not only can you enjoy the $0.10 deals, you can also shop different price point collections such as $0.50 & Under, $0.99 & Under, Under $5, Under $25 and more. We've added two new categories for you to choose from – the $5 & Under Foodie Deals, $10 & Under Reopening Fashion Deals as well as the under $15 Mother's Day Gifts collection which will be right on time for you to get your Mum a gift to thank her this Mother's Day.. From Home & Life Essentials to Shopee Supermarket deals, there's bound to be a deal out there for you!
3. Super Shiok Big Brand Discounts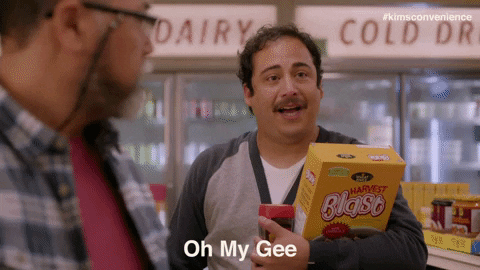 Where else can you get popular brands that are 100% authentic at the lowest prices? Shopee's Super Shiok Big Brand Discounts of course! Don't miss out on the Super Shiok Big Brand Discounts happening on 25 Apr with 50% off Super Solid Deals like the Dibea G22 Dual Usage Bendable Mop Cordless Vacuum Floor Cleaner, Russell Taylors Belgian Waffle Maker, Bundle of 20 Jinro Chamisul Fresh Soju 360ml, and so much more! Plus, if you're a DBS cardholder – you get an additional $10 off voucher too.
4. Super Shiok Flash Sales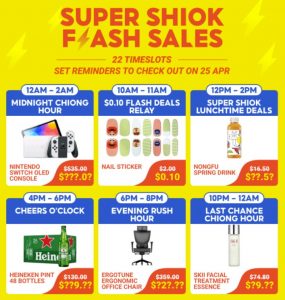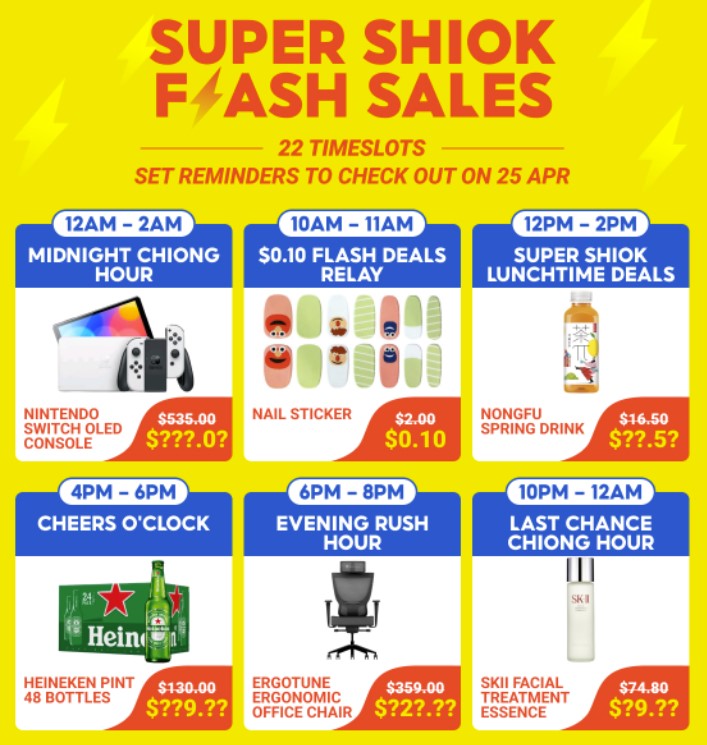 Everybody loves flash sales, and that's why we're bringing out a special line-up of flash deals this Super Shiok Sale! Keep this list of 28 Flash Sale time slots close to you and set your reminders for the different timings to get the best prices on the items that you've been eyeing. 
12am – 2am: Midnight Chiong Hour
2am – 8am: Late Night Shiok Deals
8am – 10am: Supermarket Grocery Run
10am – 11am: $0.10 Flash Deals Relay
11am – 12pm: $0.01 Belly Yummy Deals
12pm – 2pm: Super Shiok Lunchtime Deals
2pm – 3pm: $0.10 Flash Deals Relay
3pm – 4pm: Super Shiok Deals
4pm – 6pm: Cheers O'Clock
6pm – 8pm: Evening Rush Hour
8pm – 10pm: Super Shiok Big Brand Discounts
10pm – 12am: Last Chance Chiong Hour
5.
24-Hour Brands Flash Sale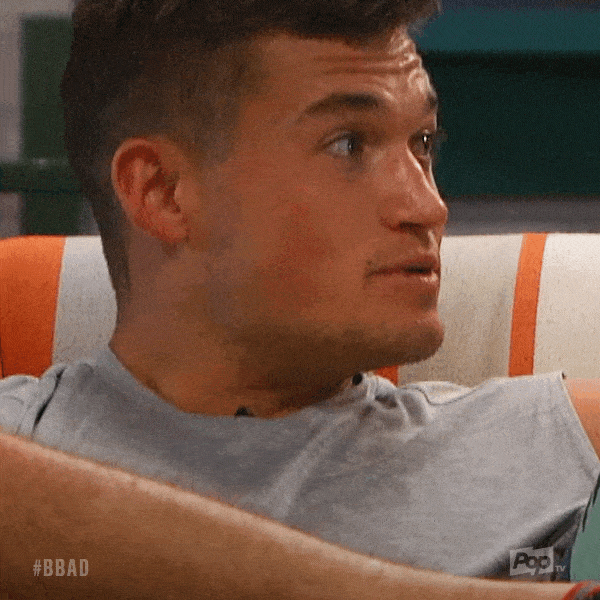 On top of these deals, you'll also want to check out our Shopee Mall 24-hour Brands Flash Sale because we've curated a whole collection of deals at up to 90% off over 170 authentic brands. With super shiok deals from superbrands like Apple, Samsung, Dyson, Huawei, Walch, New Moon, Sasa and more, we guarantee you can shop till you drop! Plus, you can pre-claim 8% off Shopee Mall vouchers now to check out during the flash sale period. Don't forget to set your reminders for upsized brands' storewide discounts happening from 12am to 2am too! 
6. $0.01 Super Shiok Vouchers and Food Deals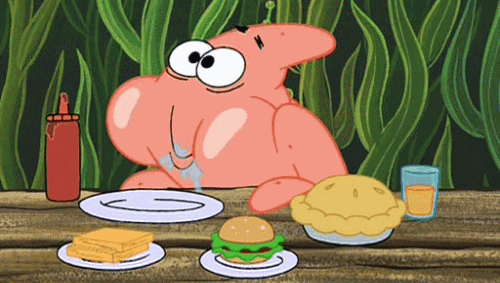 If there's one thing all Singaporeans love – it's food for sure! Mark your calendars for 25 Apr because we'll be releasing $0.01 Super Shiok Vouchers on selected ShopeePay merchants like Sheng Shiong, Mustafa Singapore, Udders Ice Cream, Jollibean and more! Set your reminders for our $0.01 Shiokness limited releases happening only at these timings for hot items you love ~

12am: Old Chang kee Curry'O

12pm: BreadTalk Egg Tart
4.25pm: Nam Kee Pau Char Siew Pau
8pm: Hockhua Tonic Ginseng Luo Han Guo Tea
Don't miss out on other foodie deals below $2.50 like Old Chang Kee Chicken Wing, Roti Mama Chocolate Bun, Each a Cup Chocolate Snowshake, Milksha Premium Tea Series, as well as amazing deals with 25% discount and above from I Love Taimei, Fragrance Bak Kwa, Boost and so much more!
7. Shopee Supermarket Grocery Run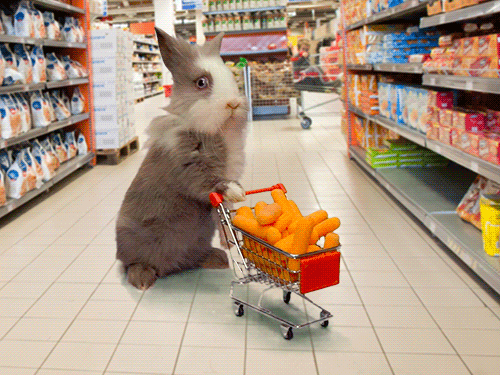 Get your daily essentials from Shopee Supermarket this Super Shiok Sale with savings on hot deals like Carlsberg Danish Pilsner Beer [Bundle of 24], ValueStar Kitchen Towel 2-ply, 6 rolls x 60 sheets [Bundle of 3], SongHe Whole Kernel Thai Hom Mali Rice 5kg, Enfagrow Pro A+ Stage 3 Baby Formula Milk Powder 1.8kg [Bundle Of 2] and so much more! Set your reminders for $1 Hourly Deals refreshed at 12am, 8am, 12pm, 1pm and 6pm with your favourites from categories like Snacks & Staples, $1 Breakfast & Supper, $0.10 Lunchtime Specials, Beverages and Bestsellers. Snag 1-for-1 deals, value bundles with upsized brand deals at up to 60% off from brands like APB Singapore, P&G, Nestle and more. You definitely don't want to miss out on Crazy Slashed Deals Relay and keep this list close:
12am – 12pm: Alcohol & Beverages

12pm – 6pm: Cooking Essentials

6pm – 10pm: Covid-19 Essentials

10pm – 12am: Home Essentials
Psst.. sign up for our Shopee Supermarket Membership programme to enjoy members exclusives with more savings and vouchers up for grabs ~
8. Super Shiok Members Sale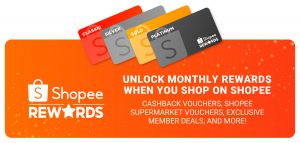 If you haven't joined Shopee Rewards, there's no better time than now! We're bringing you Shopee Rewards member exclusives this 25 Apr Super Shiok Sale ~ If you're a platinum member, don't miss out on our Spotlight Deals from Shopee Mall where you can get the Samsung Galaxy Z Flip3 5G at $1,263 (OP $1,398), Samsung Galaxy Z Fold3 5G ay $2,161 (OP $2,398), Samsung Galaxy S21 FE 5G at $877 (OP $978) and more. Snag other exclusives available for Gold Tier members too from brands like Kobo, Estee Lauder, Kinohimitsu, New Moon and more!
9. Shopee Prizes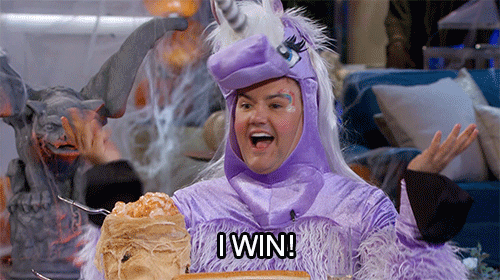 If you're a fan of Shopee Prizes, you'll be delighted to know that there are special events running only on 25 Apr! Don't miss out on any of these specials:
10. Social Media Giveaways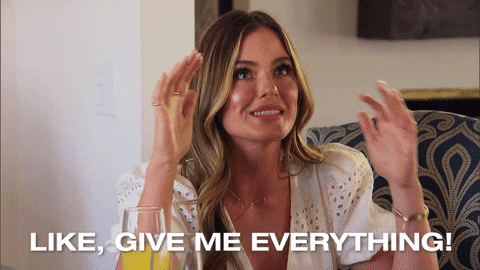 If all the great deals are not exciting enough for you, why not head on to our Social Media channels for your chance to win big this Shopee 25 Super Shiok Sale! Win yourself Shopee Coins, Shopee Vouchers or even gifts like The Omnidesk Essential (worth $349) or the AIBI Air Bike (worth $399) on our Facebook and Instagram channels. There's going to be an exclusive Telegram voucher for you to claim and use on 25 Apr for extra savings too so you should definitely be following us on our socials to not miss a thing!
With so much good stuff, we're sure that no one wants to miss out on all the good stuff! Best tag your friends and get them to join in the fun this Shopee 25 Super Shiok Sale~
---
New to Shopee? Get $7 off (min. spend $15) with code*: 25SSSAPRIL
*TNC Applies. Valid for new users from 20 Apr to 29 Apr 2021 only.