The Shopee Design Team constantly challenges ourselves to create a design language for our users in Southeast Asia. We rethink, restructure and consider new possibilities for connecting our business to our users.
Shopee Design Talk is our first ever conference that takes the Shopee team on a journey to discover what goes on behind the scenes (or screens) of our talented design team. Topics that were covered include brand and product design with key highlights being the sharing of how our beloved Shogi mascot came to life! The conference is co-hosted by Shopee Academy and Product Design Team.
Missed out on our Design Talk? Read on to find out the key highlights and understand more about the thought process of our design team as we catch up with them through an informal Q&A!
Chapter 1: Brand Design and Marketing Design
Brand design is an indispensable strategic factor in brand operations, it can help users to recognize and connect with the company immediately. Brand design also plays a key role in helping a brand achieve top of the mind awareness. To kick off this Q&A, we have Liyuan with us!
Q: What are your thoughts about brand design?
Liyuan: In the commercial society that we live in today, we are surrounded by a wide variety of brands. Brands in general also represent one's personal taste and even one's societal status.
In the past, a brand design request by a company is easily satisfied by a simple visual identity that comprised of a fancy logo, exquisite font and beautiful texture. Over the years and as we transit into a digitized world, the idea of brand design has evolved. This means the concept of what a good brand design has changed drastically. As designers, we need to do much more in various areas to keep up with this change.
Q: So what would you say is the definition or concept of brand design in the present?
Liyuan: According to the Harvard Business School, the mantra of brand design is to "build your brand as a relationship". Let me share two examples to illustrate this point: Samsung was deemed by users as a good brand before the Galaxy Note 7 explosions. The news spread like wildfire on social media platforms and today, users' trust in Samsung has fallen drastically. Another case in point is Nokia. The telecommunications equipment supplier once held the largest market share in the cell-phone industry. Unfortunately, due to its slower pace of innovation, it was quickly transcended by Apple and Samsung.
These cases exemplified how a successful brand can meet its downfall by not investing in its customer service and product quality. Our role as designers is therefore to build and contribute to a healthy relationship between the brand and its customers. As brand designers, we cannot revive a brand that has lost its value. Instead, we can help to elevate a brand to become more stable and strengthen the relationship between the brand and its customers.
Q: How does the design team help a brand to build that relationship?
Liyuan: According to our prior experiences in various projects, we realized that delivering a satisfactory product design requires many levels of optimization. The process can be described as follows: winning the user's approval to getting their acceptance to finally succeeding in gaining their love and trust in our brand.
In order to do so, the product design has to check these 3 boxes:
Solve the problem

: The design has to solve an existing problem to get the users' initial buy-in and acceptance.

Optimize the experience

: The design should optimize our user experience to attract users to fall in love with your brand.

Standardise the brand experience

: To hit the home run, we need to standardize the brand experience to win the user's trust.
Q: Could you share with us a real-life example of how the Shopee Design Team succeeded in that?
Liyuan: Our recent mascot design project for Shopee Thailand is an excellent example! Shogi (also known as Shopee Corgi) was conceptualized by our very own design team. Let me share some background about how our corgi came to life!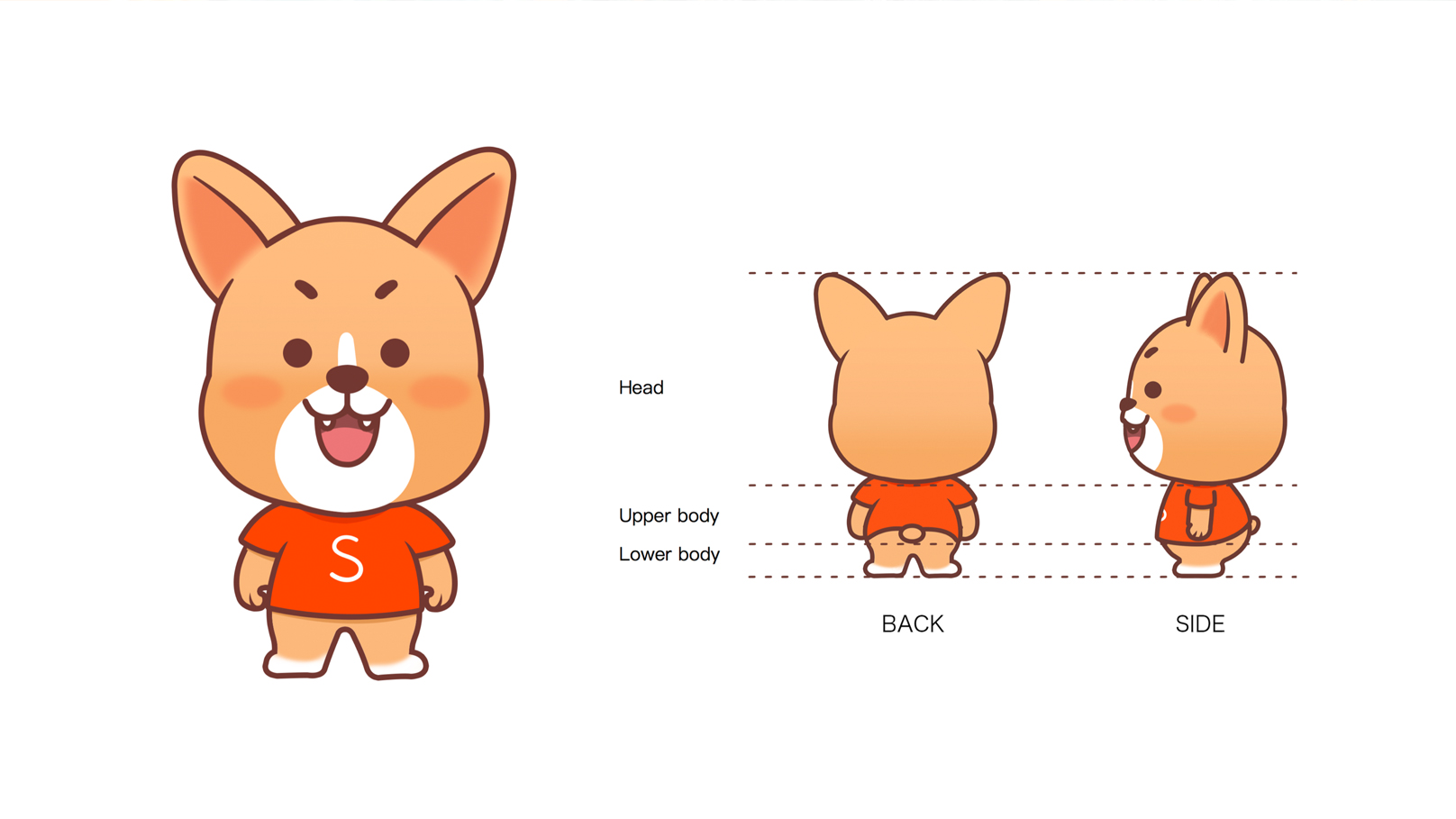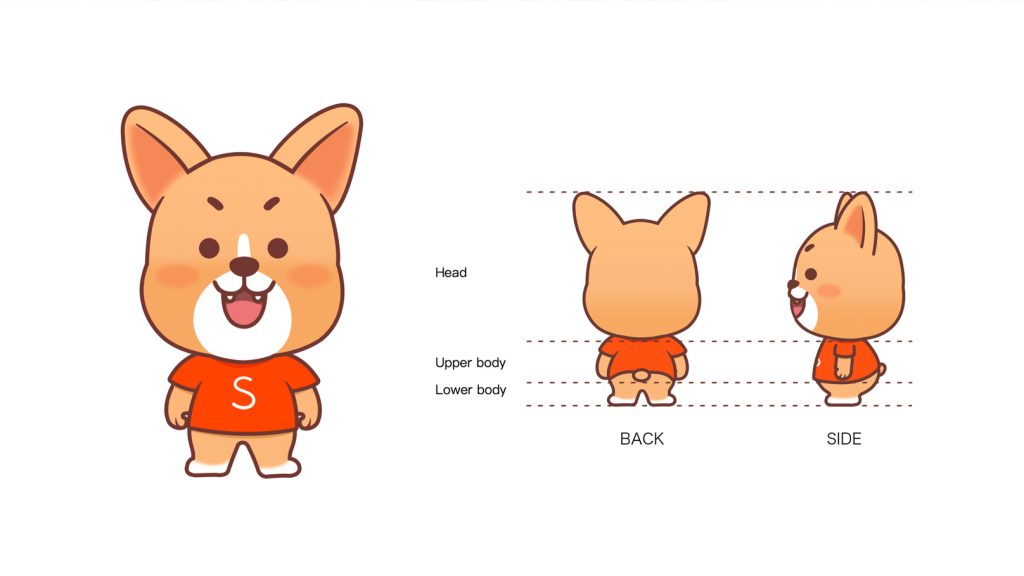 Based on the above check-list, this is how we achieved success:
Solve the problem

: According to user research done by our marketing team, we defined the personality, character and appearance of our mascot to enhance user loyalty. Moving forward, we drafted some samples that are aligned to our broader business goals.

Optimize the experience

: One of the ways to make our users fall in love with our sticker is to appeal to their emotions. Based on our understanding of our target audience – including their culture, sense of humour, we decided on a couple of facial expressions that would sit well with the Thai audience.

Standardise the brand experience:

Finally, we formulated the master template in order to standardise the brand experience for our users!
The set of 16 stickers was downloaded more than 1,000,000 times on the day it was released. Within the first month, Shopee Thailand gained more than 5,000,000 new followers on Line. This result is testament to how overwhelmingly success this project was!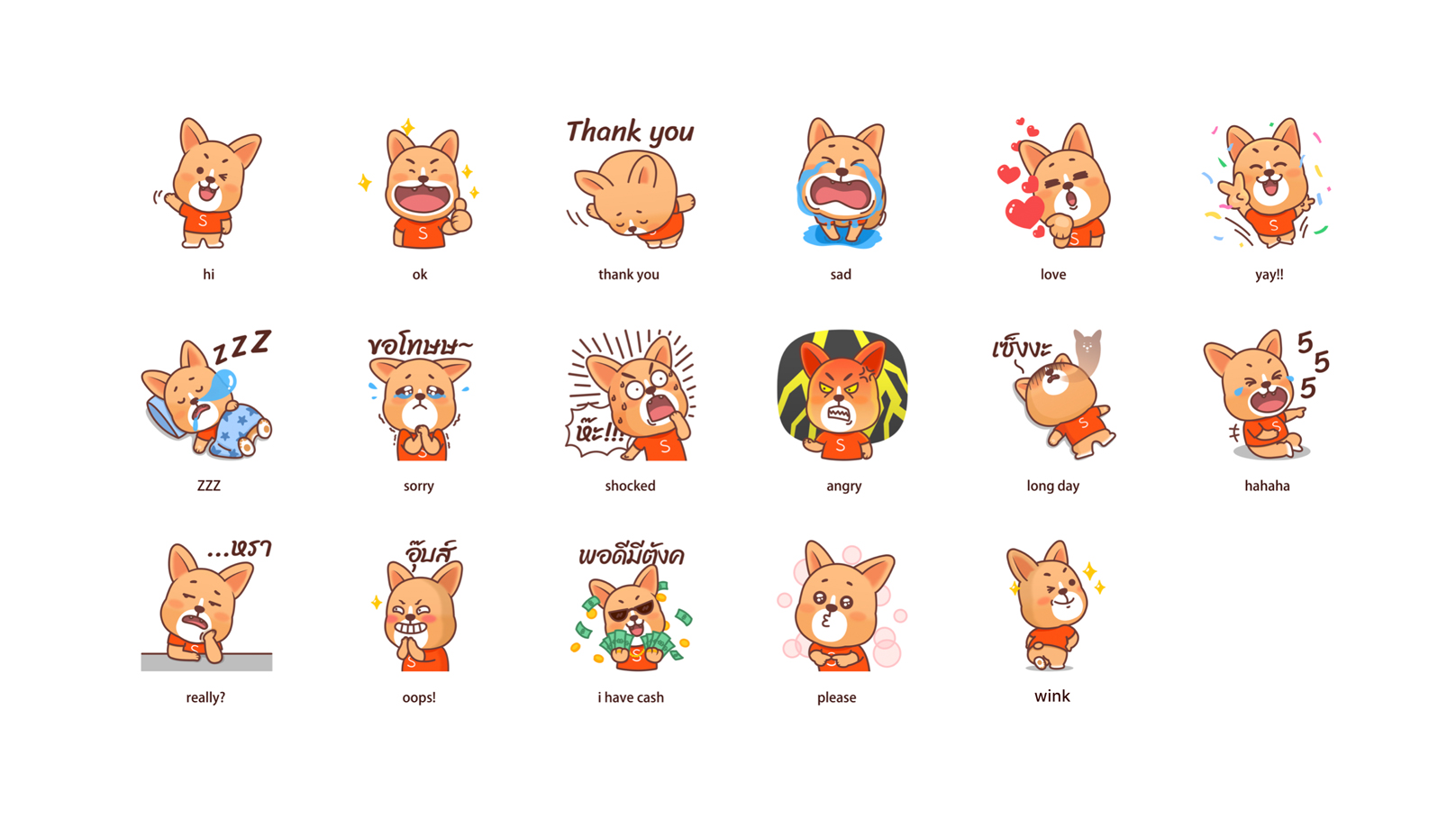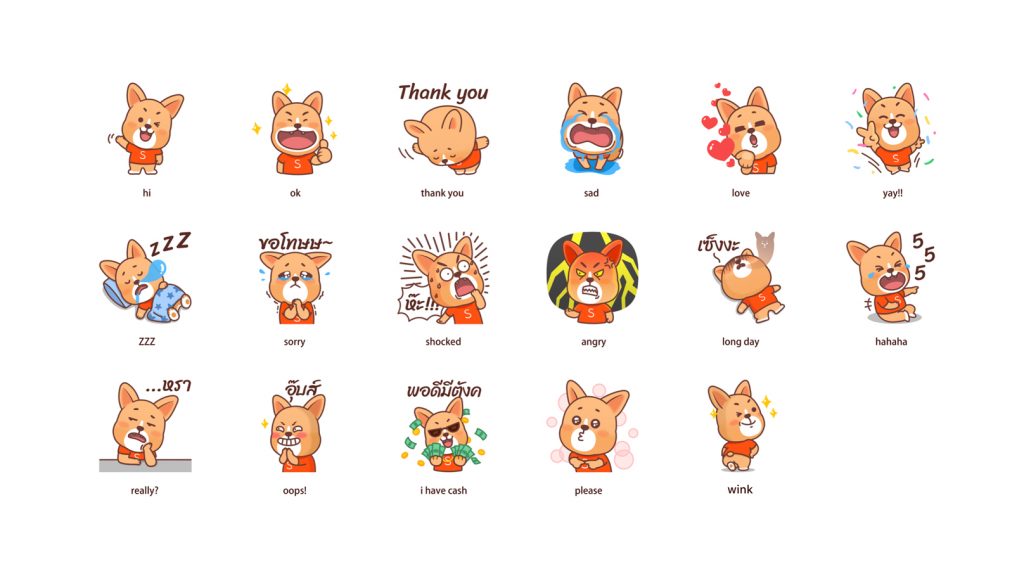 That being said, brand design is an extremely broad concept which involves many dimensions of design. Let's dive deeper into one key component of brand design – Design in Marketing – with Lei Fang.
Q: Just to start off, what is the connection between brand design and design in marketing?
Lei Fang: Brand design is a display of the company's best qualities, personality and culture. It is what you use to build a relationship with your users.
On the other hand, design in the context of marketing involves packaging and advertising the brand in order to attract users and make a deep impression. It is therefore the bridge linking the brand and its users.
Q: What is the most important factor for design in marketing?
Lei Fang: The two most important factors are "your message" and "the user". Design in marketing is a tool to convey your desired message to a select group of users. Effective marketing branding design should interest and excite the user, ensuring that they will remember your brand and spread the word!
The main issue we are looking to resolve here is how then do we go about conveying the right message to the right users.
Q: Could you share about how Shopee did that?
Lei Fang: 80% of the message that we receive everyday comes from visual sources. We therefore focus on engaging our users with eye-catching visuals.
Let me use our recent 9.9 campaign as an example. 9.9 is Shopee's largest campaign of the year, making it one of the best examples to use to exemplify my point! While developing the designs for the campaign, our decisions were guided closely by the three objectives below:
Excite users and ignite their interest in the campaign –

In order to create a visual design that is both attractive and encompasses the brand's unique characteristics, the designers first need to understand the brand on a deeper level. What is the Shopee culture? What is the unique selling point of our 9.9 campaign? What are some characteristics of our users and the respective target markets? With these answers in mind, the designers will decide on the style and direction of the relevant visuals.

Set up a unified visual system which interacts with the user at every touchpoint – The main design is the first step towards formulating the visual system of the whole campaign. We also have to ensure that other elements at key touchpoints of the campaign has to be aligned. This means that our user will be able to experience a visually appealing and visually aligned Shopee experience. This leaves the user with a strong mental image of the Shopee brand which is continuously enhanced throughout his user experience.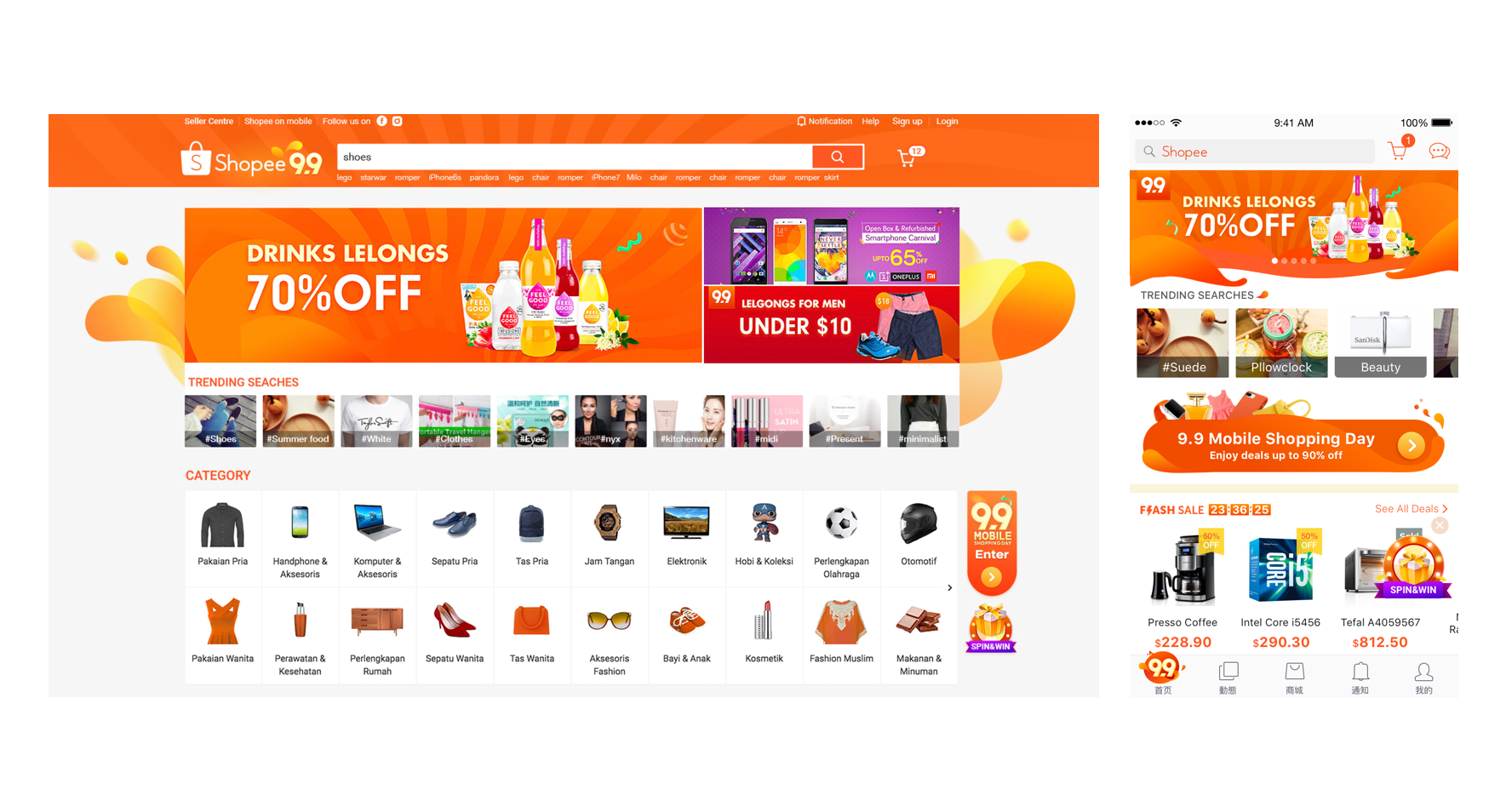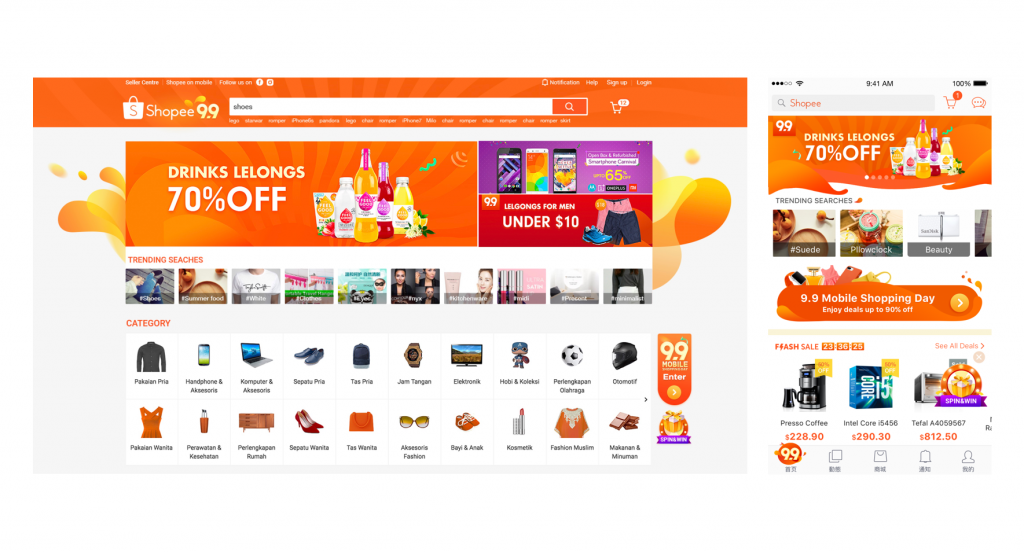 Brand designs should be visible throughout the campaign – From the pre-campaign marketing, we leverage on the power of social media platforms to disseminate relevant visuals and create hype. With consistent marketing pre-, during and post- campaign, we are able to leave deep and lasting impressions on our users.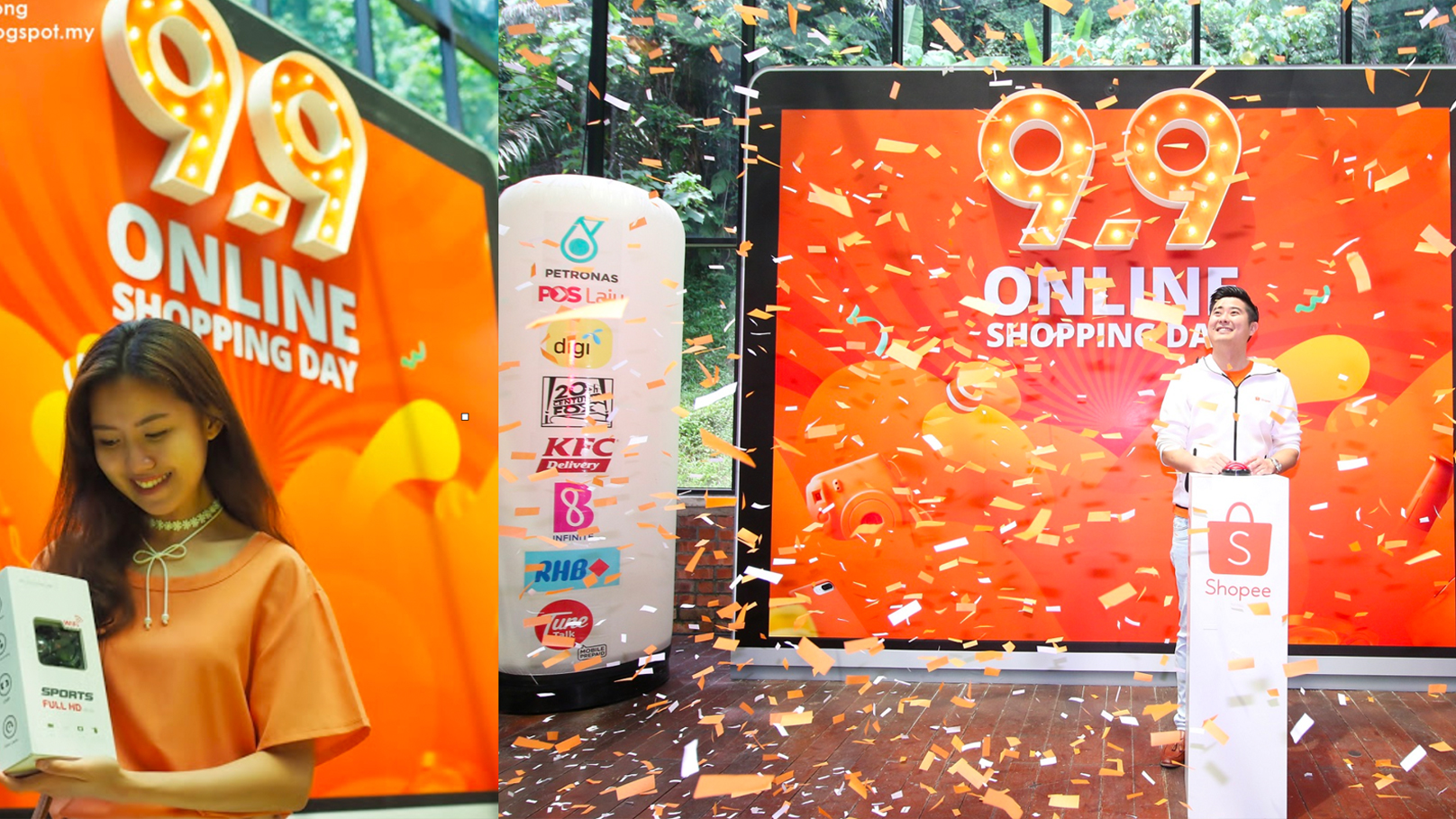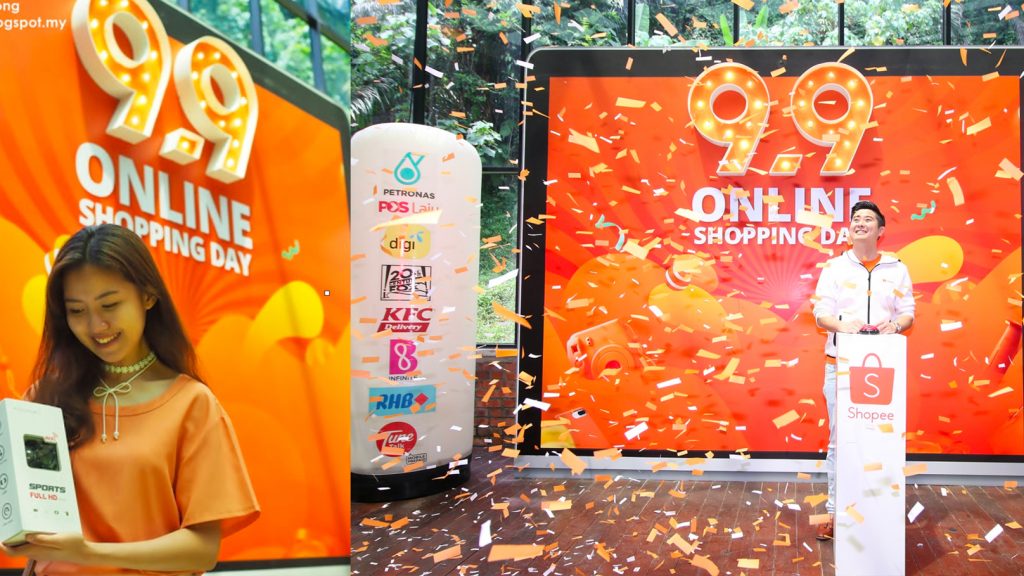 Lei Fang: In order to maintain a level of standard and consistency across the countries that we operate in, we take charge of preparing the templates and specifications for main designs of all our key visuals.
With the templates and specifications ready, the local designers take over the process and are able to customize the visuals based on the relevant marketing activities. This way, we are able to both keep our designs consistent and also localize the brand experience in the various markets!
Chapter 2: Product Design and Guidelines
Based on discussions earlier, we now understand the design team's thought process behind an effective brand design. This part of the interview with Sunday and Xinling will now focus on how our designers do their job in the most efficient manner!
Q: How do you understand product design?
Sunday: Good product design is one that is able to solve the problems that users encounter. We can divide this into 4 main levels:
Form + Function: Appearance and functionality

make up the most fundamental level. The focus is on making sure that the product is practical, easy to use and durable.

Brand:

A good product should be able to convey the brand's

value and philosophy

.

Experience:

Good product design also contributes to an

enjoyable user experience

. Understand your user's expectations and make the effort to surprise the user! Continuously improve on your product based on user feedback.

Problem-solving:

The final tier is about being ever

responsive to the problems

that users face and develop products that will resolve them.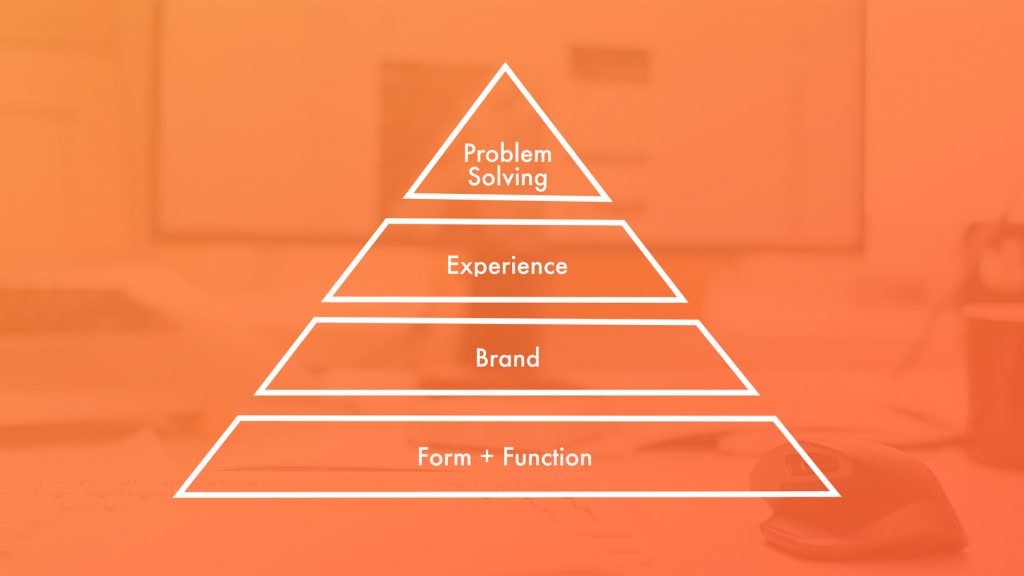 Sunday: That was a key problem that we faced initially and we have resolved that by creating product design guidelines to ensure consistent and unified designs.
Q: What kinds of problems can a product design guideline help us to solve?
Sunday: First, we can ensure that our design is unified and consistent across platforms, be it in terms of visual elements or styles. Having a unified product allows users to avoid having to browse or try out the product unnecessarily. This provides for a smoother and more enjoyable brand experience!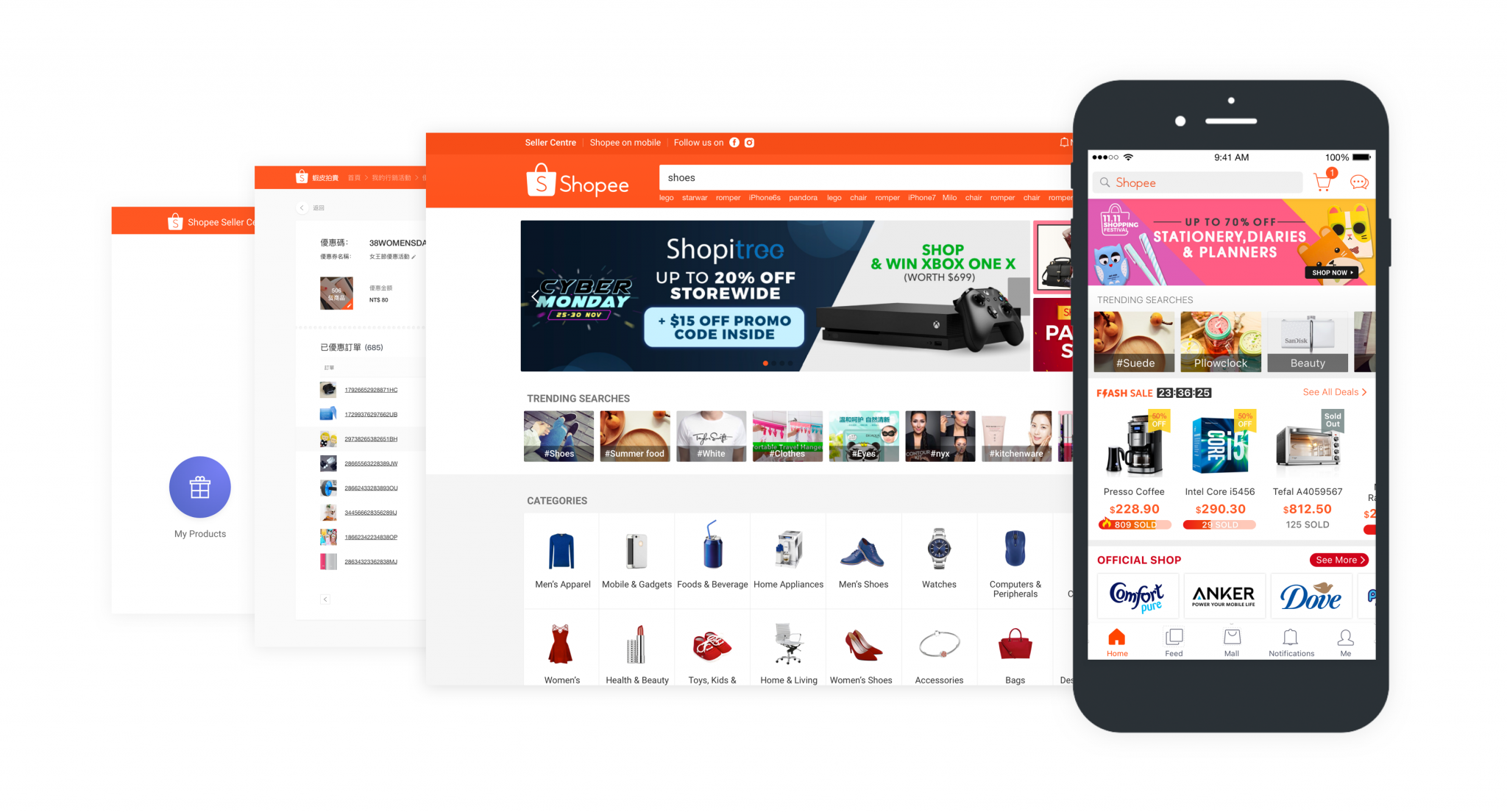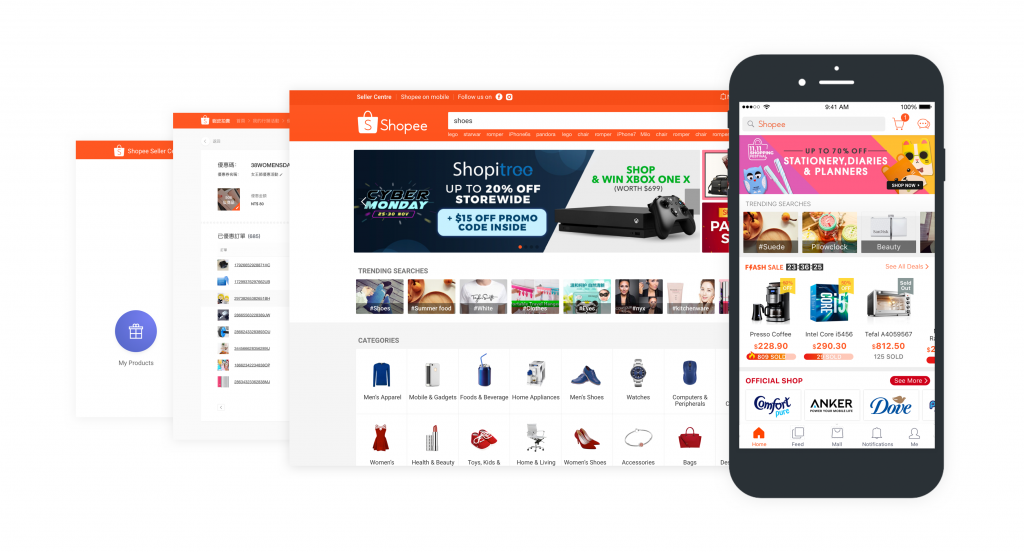 Q: Could you give us an example of a guideline we have in Shopee?
Xinling: That would be the Seller Center Guidelines! Seller Center Guidelines, a.k.a Modular Design, includes three tangible design documentations and is backed up with a series of design principles. The principles are tailored for (but not limited to) the Seller Center which aims to cultivate a better experience and impression for our users.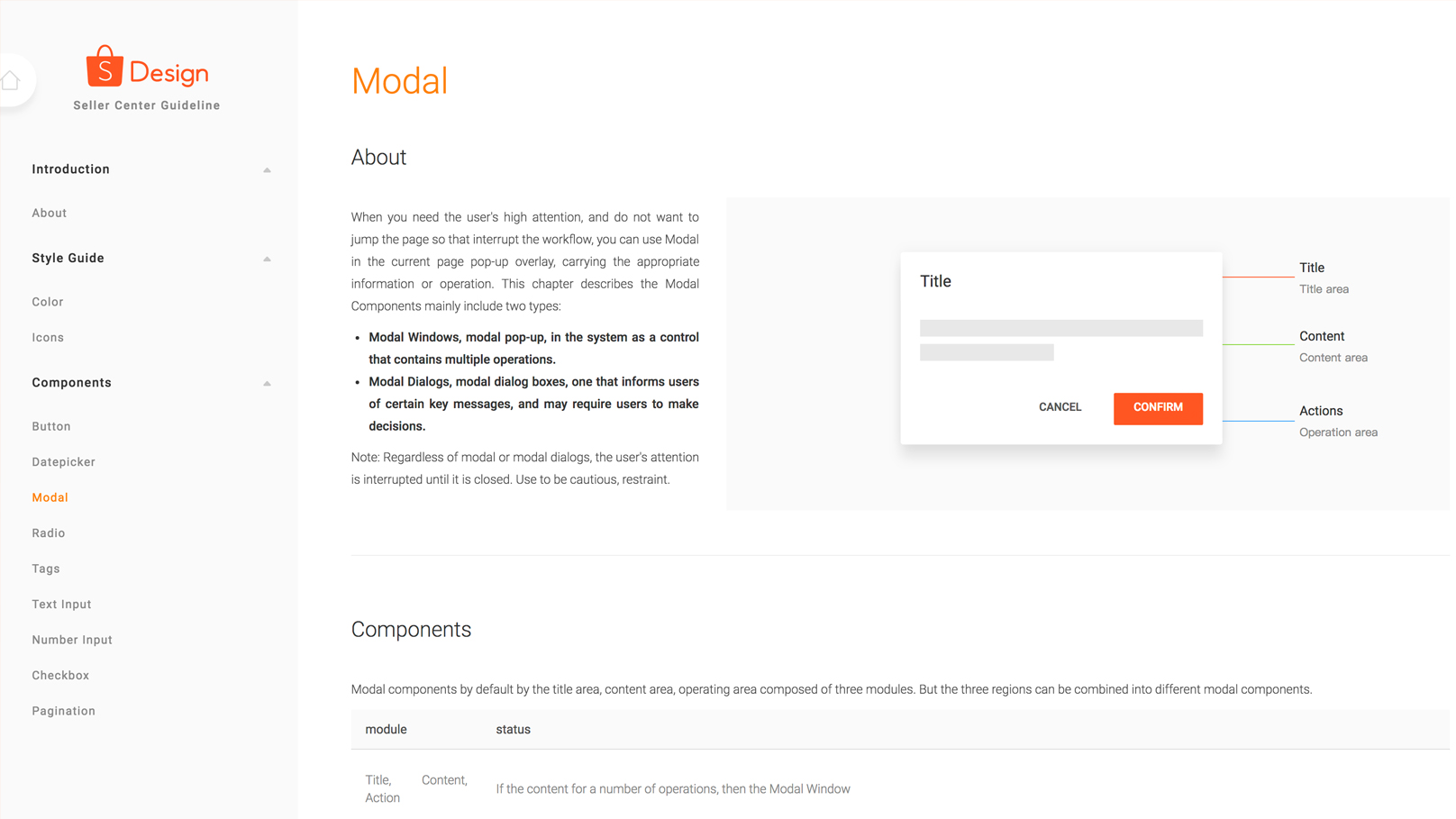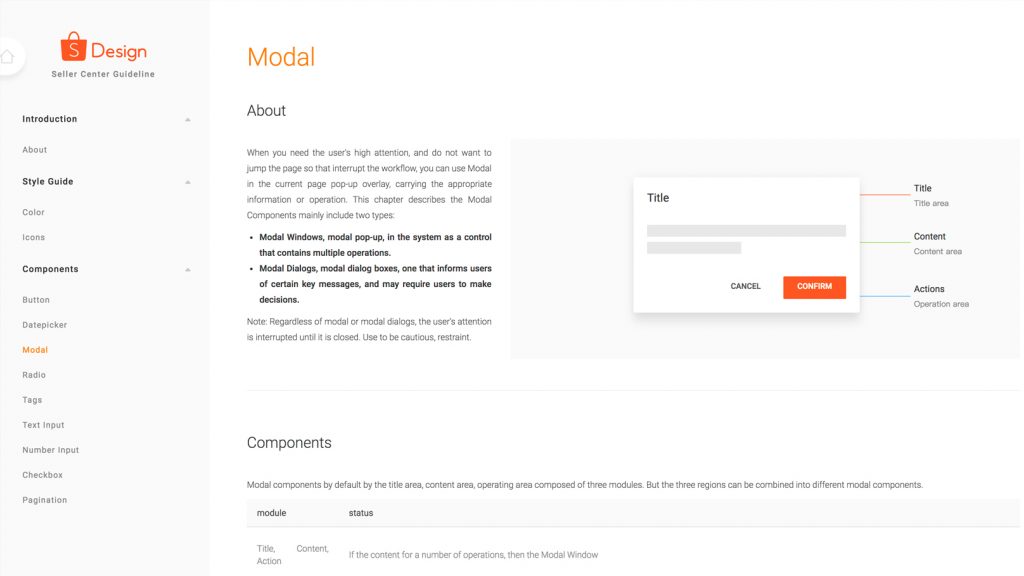 Style and component guidelines:

Style and interaction rules of visual elements and why-so

User Interface Kit:

The complete set of component that are editable and re-usable for designers & other teammates to prototype

Component Library

: The online library of components maintained by developers
In addition, the design principles can be summarised as follows:
Be efficient

Be accurate and predictable

Be inspiring
With the above general commands in mind, the designs formulated for our Seller Center will thus be consistent.
Q: What does the Guidelines mean to the designers?
Xinling: I would say the process of putting together guidelines is a tedious but extremely fulfilling one. As the sole designer for Shopee Seller Center when it first started, working without the Guidelines was like trying to navigate alone in a pitch-black room.
In the process of building the guidelines, I had to come to terms with the wrong decisions I made previously and make modifications accordingly. It also taught me to take the time to reflect instead of rushing to deliver a feature in a short time frame. Growth is not just admitting what you have done wrong but also about reflecting on the process and making a conscious effort to ensure it does not happen again.
To sum it all up, I would say that crafting a set of design guidelines is a challenge to my profession that I was very happy to have undertaken.
—
Design is a journey that requires continuous problem-solving and brainstorming. Our design team sees every project from end to end – from prototyping to optimising the design process and the eventual marketing. This has attracted many users to understand and love our Shopee brand. We hope that you now have a better appreciation for the elements you see on our app. The design team will continue to work hard and bring you a better Shopee!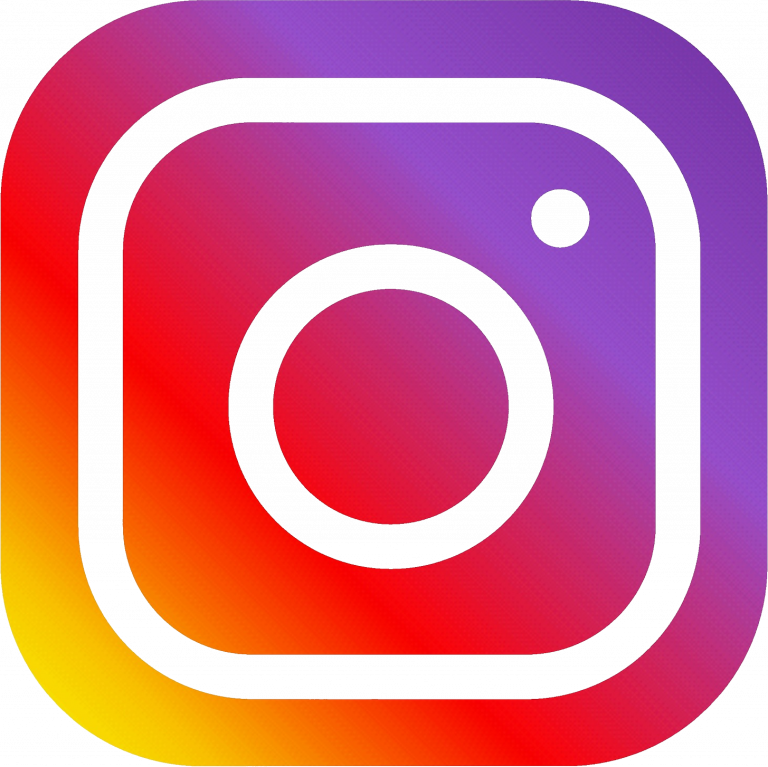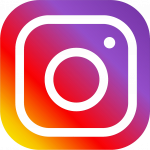 shopee_design
For more information about Shopee Design,
you can follow our instagram