When was the last time you made a trip to one of the arcades in Singapore? From popular video games like Daytona to air hockey tables, pinball machines, claw crane machines, virtual reality and more, our arcades have got them all. Promising you endless hours of fun with your friends, it's time to head back to these old school arcades and have a go at your favourite arcade games!
1. Fat Cat Arcade
(Credit: Fat Cat Arcade / Facebook)
Calling itself the largest arcade in the East, the Fat Cat Arcade just opened in Bedok's Djitsun Mall. With over 100 machines on the arcade floor, get your tokens and start playing! Tokens start from S$0.16 and games cost from one to six tokens. Try your hand at the claw machines or coin-drop arcade machines if you're feeling lucky. Put your skills to the test to win tickets which can be later exchanged for prizes such as toys, bags, plushies and more! With over 500 items available at the prize redemption area, be sure to bag something home!
Address: 445 Bedok North Street 1, Djitsun Mall, Level 2, S(469661)
Opening Hours: Daily, 11am – 1am
2. Cow Play Cow Moo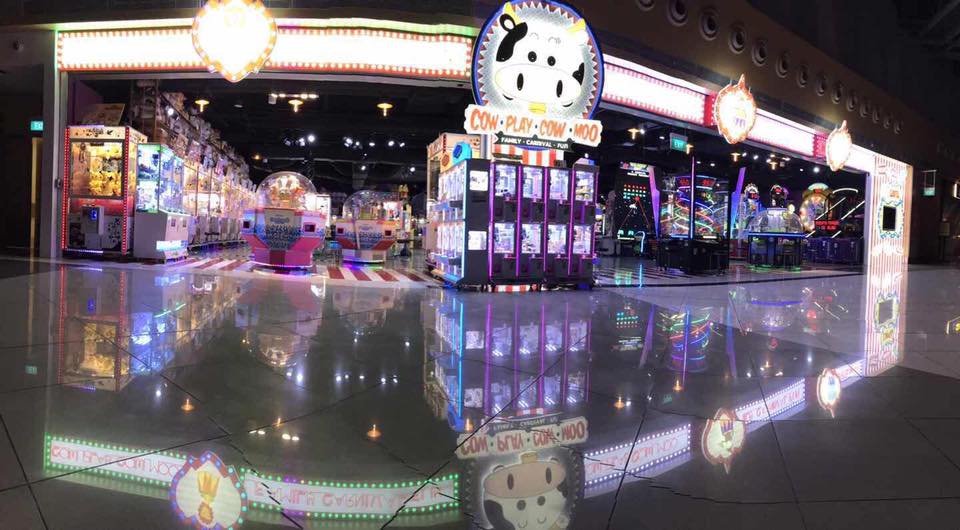 (Credit: Cow Play Cow Moo / Facebook)
With their sneakily punny name, Cow Play Cow Moo ignites a giggle before you even step in. Drawing in passersby with their fancy neon lights, Cow Play Cow Moo fills their arcade floor with the all-too-familiar video games such as Space Invaders and UFO catcher games to claw machines where you can try to bring home one of the super cute licensed stuffed toys from Japanese brands like Sanrio.
Each game requires about 3 tokens but keep your eye out for the 1-token games! Purchase $20 worth of tokens at once to get an extra $5 worth of tokens, which means each token will only be $0.16!
Expect maximum fun at one of the largest arcades in Singapore!
Address: 8 Temasek Boulevard, Suntec City, #03-372, S(038988)
Opening hours: Daily, 11am – 1am
3. Timezone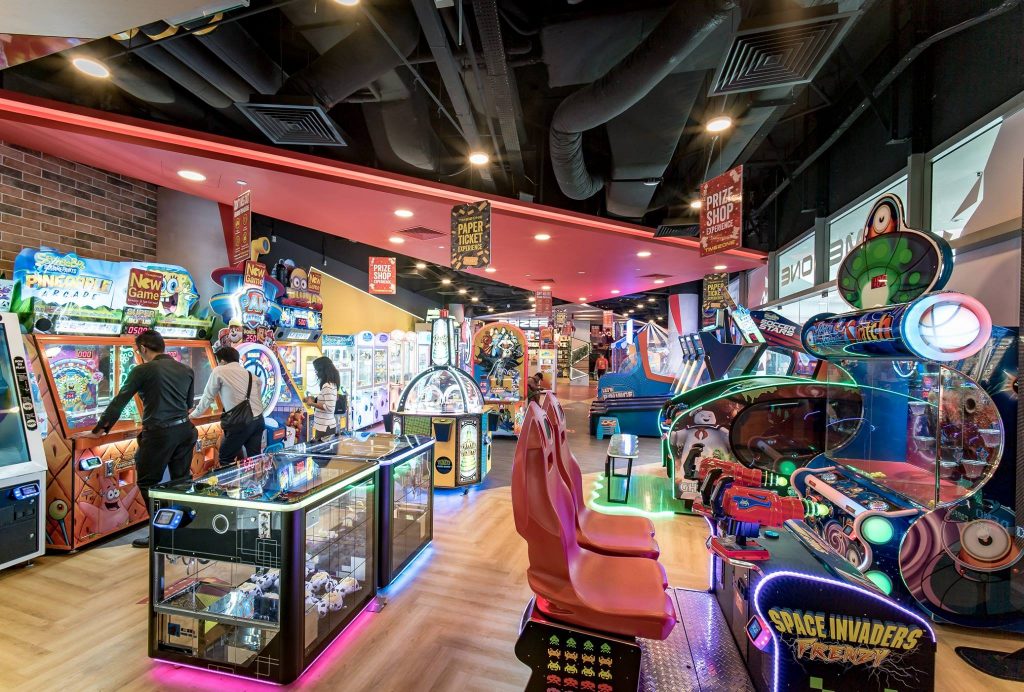 (Credit: Timezone / Facebook)
Every 90s kid would have spent several hours at Timezone, playing classic arcade games and table hockey. Travel back in time when you visit Timezone's new flagship store at VivoCity! The flagship branch even has VR rides, mini bowling alleys and flashy LED bumper cars!
Sign up for the Timezone Playwave Card at $10 only to enjoy benefits like discounted game plays and free daily games. You'd also get first dibs on the latest promotions and games! In addition to their standard promos, enjoy further discounts when you top up your card. Check out their special bundles like the Value Fun Pass ($28) which entitles you to 1 hour of unlimited play time at the Yellow Reader Games, 12 other games of your choice and 2 Rainbow Reader Games.
Play to your heart's content without bursting your wallet! Who said all arcades in Singapore were expensive?
Address: 1 Harbourfront Walk, VivoCity, #02-43, S(098585)
Opening Hours:
Mon – Thu: 11am – 10pm
Sun, PH & Sch Hols: 1030am – 10pm
Fri, Sat & PH Eve: 1030am – 12mn
4. Virtualand
(Credit: Virtualand / Facebook)
Got that natural dancing groove going? Virtualand is well-known for their rhythm games that allow you to showcase all your dance moves! From Jubeat to Maimai and Rhythm Vaders, be the first one to dance to their latest tunes by following Virtualand's Facebook page for updates!
If you're feeling competitive, take part in their game tournaments and stand a chance to walk away with the grand title of 'Gaming Champion'!
Each game at Virtualand costs between $0.50 to $2.
Note: If you're looking for a wide variety of games, head straight to the Virtualand at Nex as many machines were moved here when the other Virtualand outlets were closed down.
Address: 23 Serangoon Central, Nex, #04-65, S(556083)
Opening Hours:
Sun – Thurs: 1030am – 1159pm
Fri, Sat, PH Eve: 1030am – 1am
5. Star Factory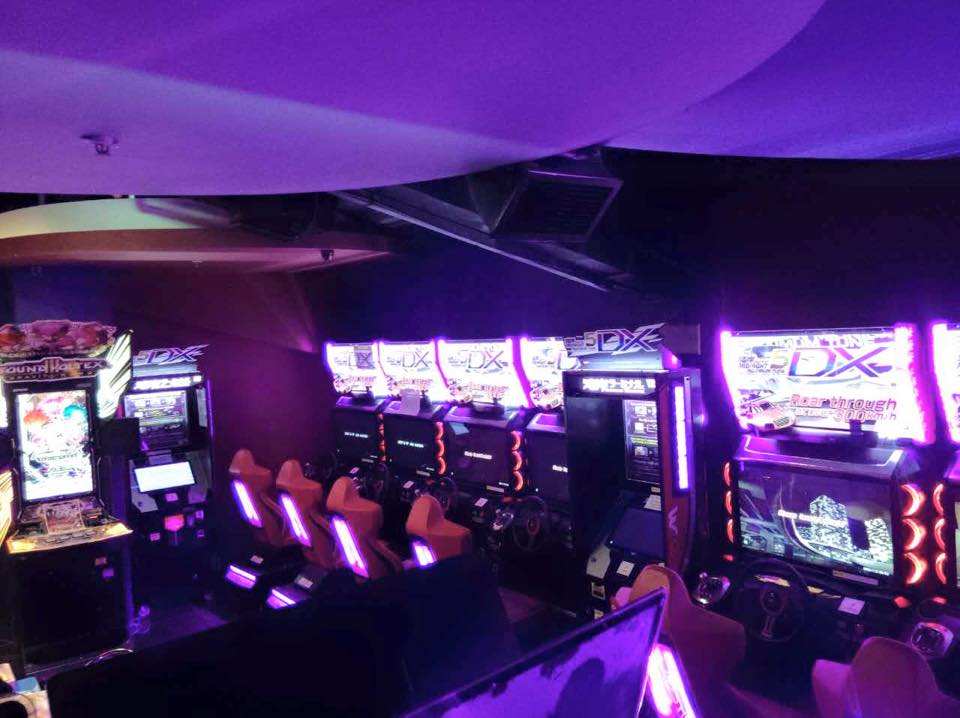 (Credit: Star Factory / Facebook)
Under the same management as Virtualand, Star Factory is another familiar name among avid arcade-goers. Although there is only one outlet left at Jurong Point, it continues to entertain and bring joy to the young and old alike. Star Factory is home to various arcade game stations from racing car games to virtual skiing and rhythm games.
Game prices range from $0.50 to $2 per game.
Address: 1 Jurong West Central 2, Jurong Point, #03-25B, S(648886)
Opening Hours:
Sun – Thurs: 10am – 10pm
Fri, Sat and PH: 10am – 11pm
6. Zone X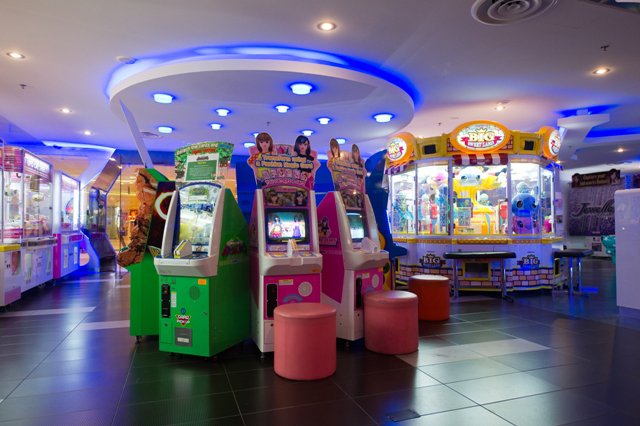 (Credit: Zone X / Facebook)
Bringing in new games like the collectible card battle game, Hero of Robots Ver.10, Planet Buster, World Cup Champion Football 2016-2017 and dance simulation game, Pump It Up Prime 2, Zone X now offers up a fresh variety of arcade games.
A leading player and one of the top arcades in Singapore, Zone X has 3 outlets in Singapore: Ang Mo Kio Hub, Choa Chu Kang's Lot 1 shopping mall and Changi Airport Terminal 3.
Slightly pricier than other arcades in Singapore, one game here will set you back by at least $1.20. Hard-core arcade gamers can sign up for the MIP card at $85.60 to get $85.60 worth of credits and lowered game prices by about $0.20.
Address: 53 Ang Mo Kio Ave 3, AMK Hub, #04-02A, S(569933)
Opening Hours: Daily, 1030am – 1030pm
7. Prize Station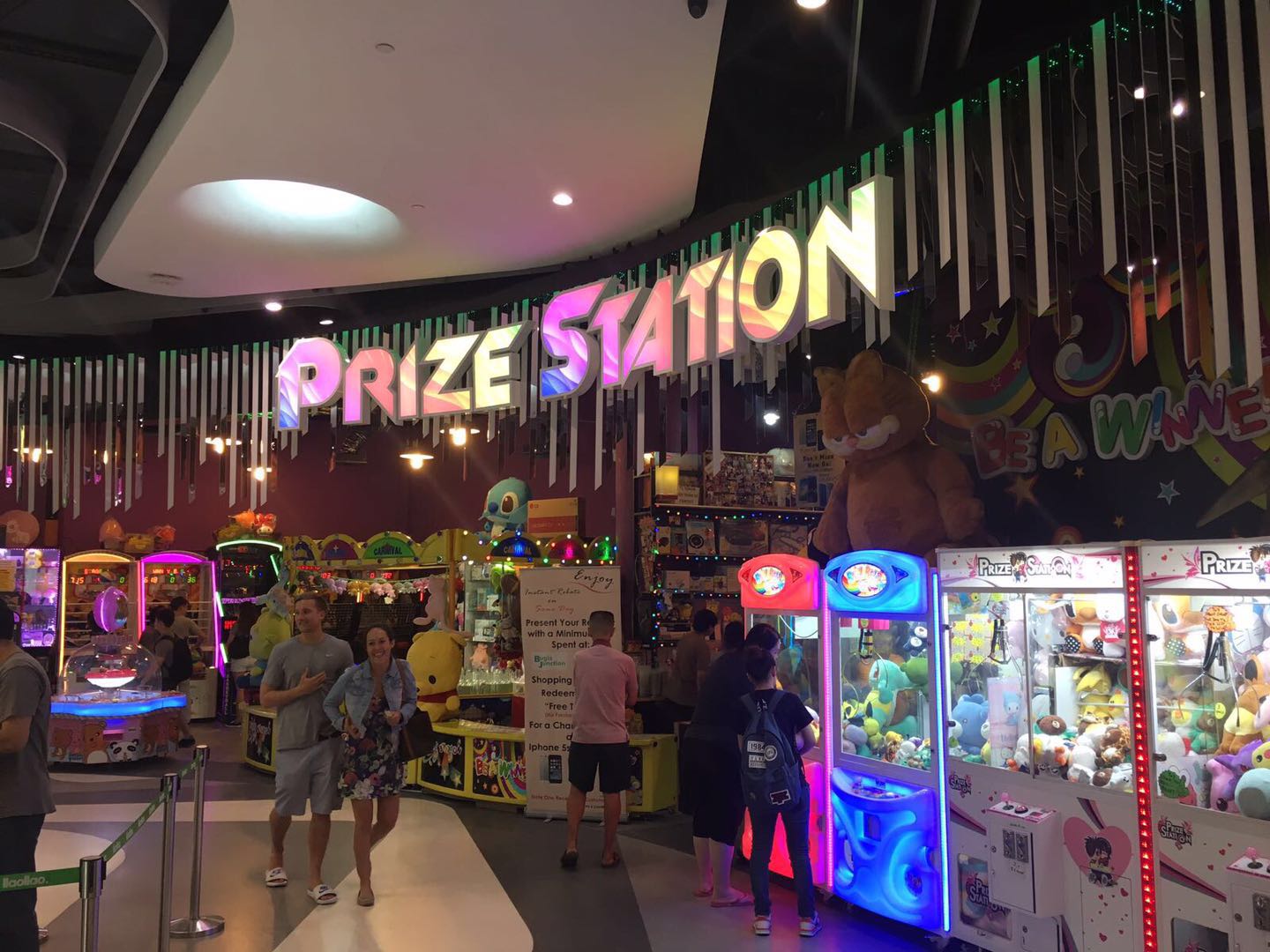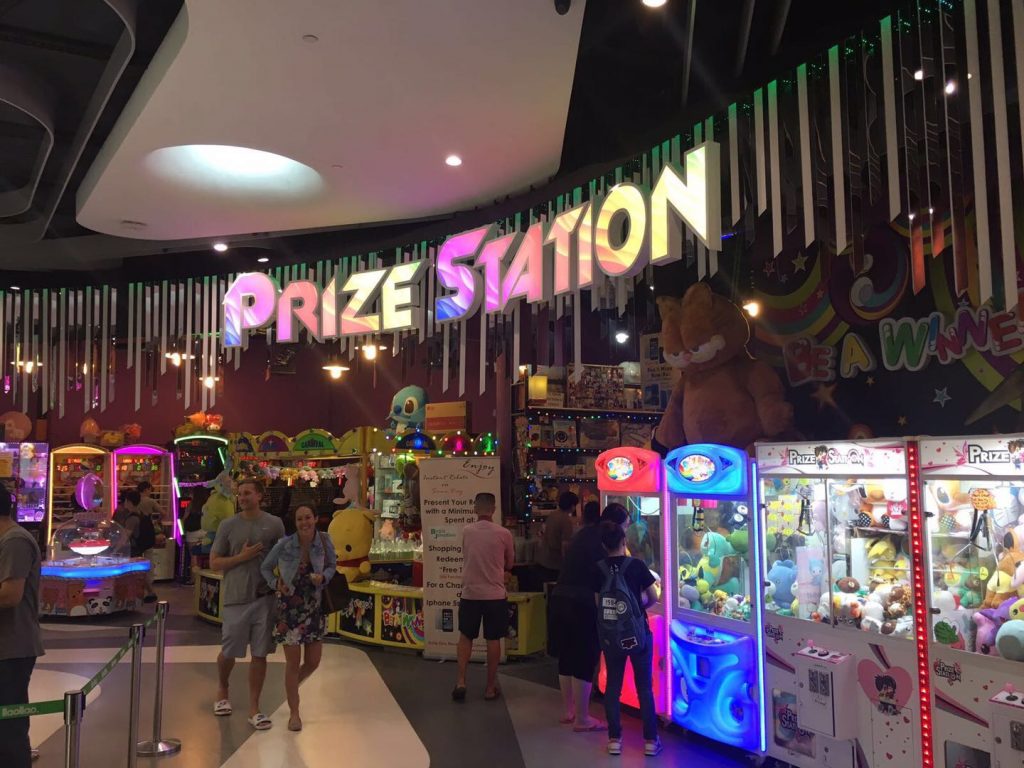 (Credit: Prize Station / Facebook)
Think you've got it all figured out? Beat the claw machine with your sick toy catching skills at Prize Station and you just might be the one bringing home Pokemon plushies as well as incredibly cute soft toys! Earn the jealous looks of all your friends and passersby whilst feeling like a champion. If you're not a fan of toys, have fun over at the standard arcade game machines like car racing and electronic basketball.
Address: 201 Victoria Street, Bugis Plus, #03-25/26, S(188067)
Opening Hours: Daily, 11am – 11pm
8. Level Up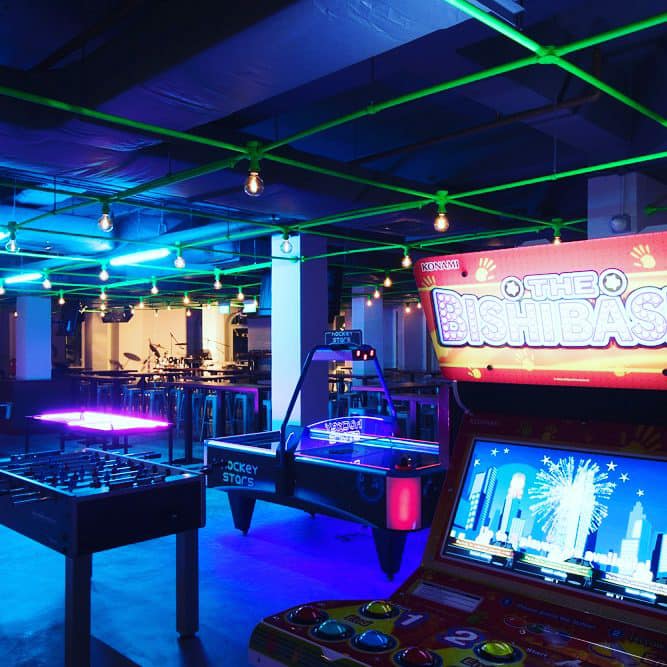 (Credit: Level Up / Facebook)
Although we will never be too old for the arcade, wouldn't it be amazing if we could play arcade games while chugging booze and gorging on delicious food? Well, Level Up at Clarke Quay is a arcade-themed bar that provides you with game tokens whenever you purchase food and drinks! (If you're really not hungry or thirsty, you can purchase tokens at $2 for two, $5 for six and $10 for 15).
Every corner is made for your next Insta-worthy photo as the walls are plastered with familiar, iconic video game characters such as Pac-Man and Mario.
Go on a virtual killing spree in Time Crisis 3 or smash some buttons at a game of Street Fighter to kick some ass. Challenge your buddies to a game of beer pong, foosball and air hockey or test your skills at the hoops and darts machines. Walk home with a plushie when you try your luck at the claw machine!
Level Up may be a bar, but it welcomes kids with free entry and free games on Family Sundays! A great place for the young and young at heart to spend their Sunday afternoons.
Address: 3A River Valley Road, #02-04, S(179020)
Opening Hours:
Mon – Thu: 5pm – 2am
Fri – Sat: 5pm – 3am
Sun: 2pm – 11pm
9. Hado Singapore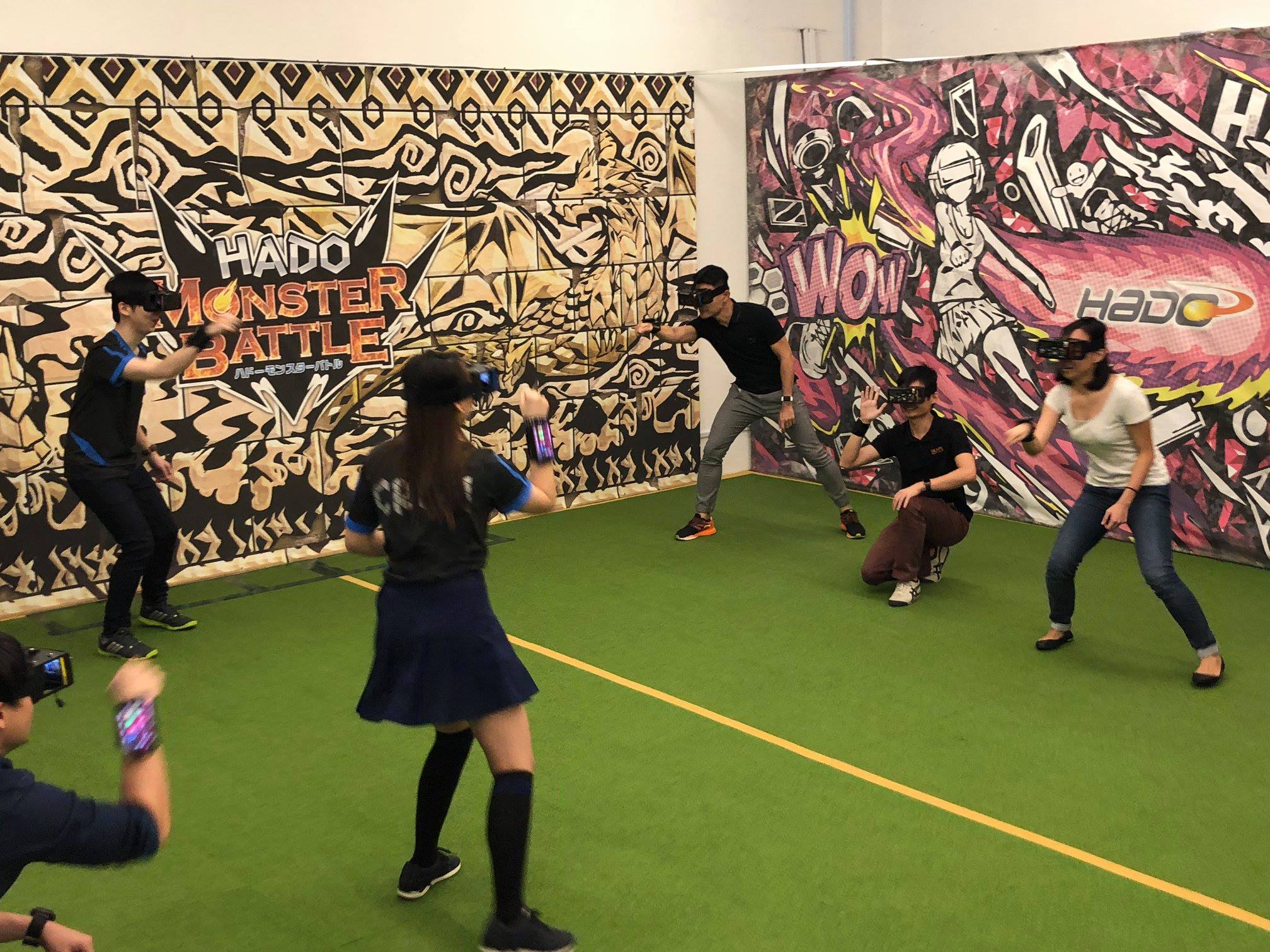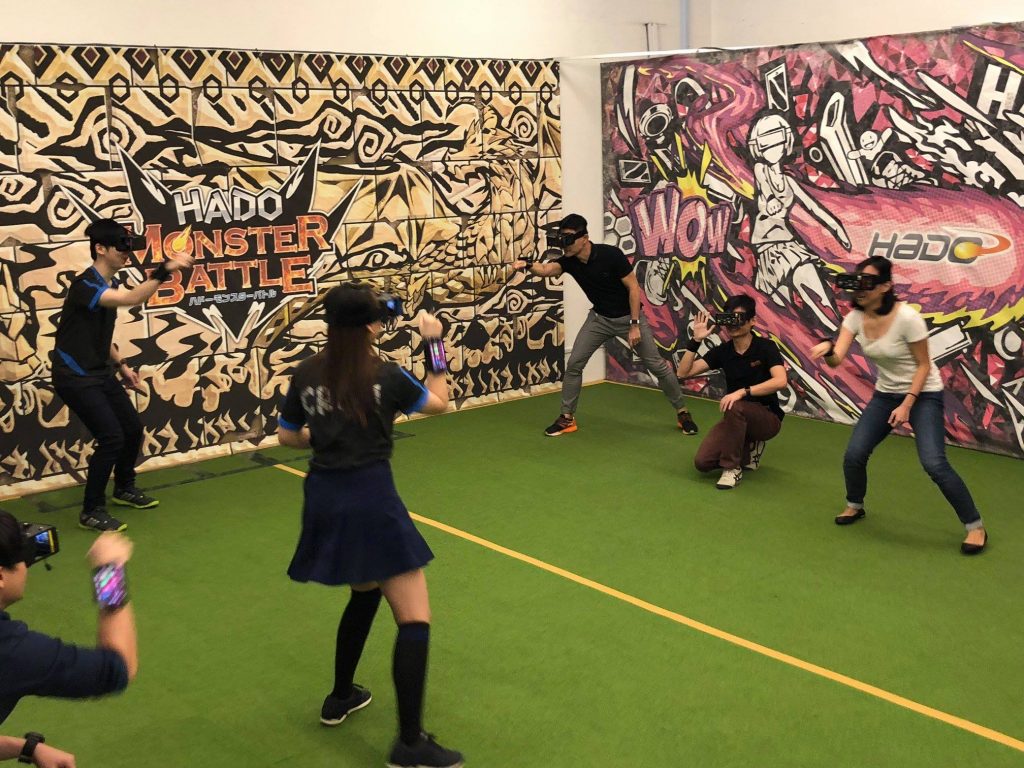 (Credit: Hado Singapore / Facebook)
If the old school arcade games and traditional arcades in Singapore just don't cut it for you anymore, why not enter a world of augmented-reality at Hado Singapore? This unique concept store is located at *SCAPE, encouraging team-based gameplay whereby players must work together to take down virtual enemies or battle each other in a game of virtual dodgeball. Although Hado does not teleport you into a full-fledged virtual world, virtual objects like exploding mushrooms, roaring dragons and virtual fireballs will sprout to life.
Hado was derived from the word "hadoken" which means fireball – a term made famous by popular fighting arcade game Street Fighter. Hado offers 3 different games, with increasing physical intensity: Hado Shoot, Hado Monster Battle and Hado Dodgeball.
Start by putting on AR goggles – made from a plastic headset and iPhone 6s strapped on. It really is more physically demanding than you think! Get straight into the action and buy a one-time pass at $20 on weekdays or $23 on weekends to play all three games.
Address: 2 Orchard Link, *SCAPE, #02-15, S(237978)
Opening Hours: Daily, 12pm-9pm
10. V-Room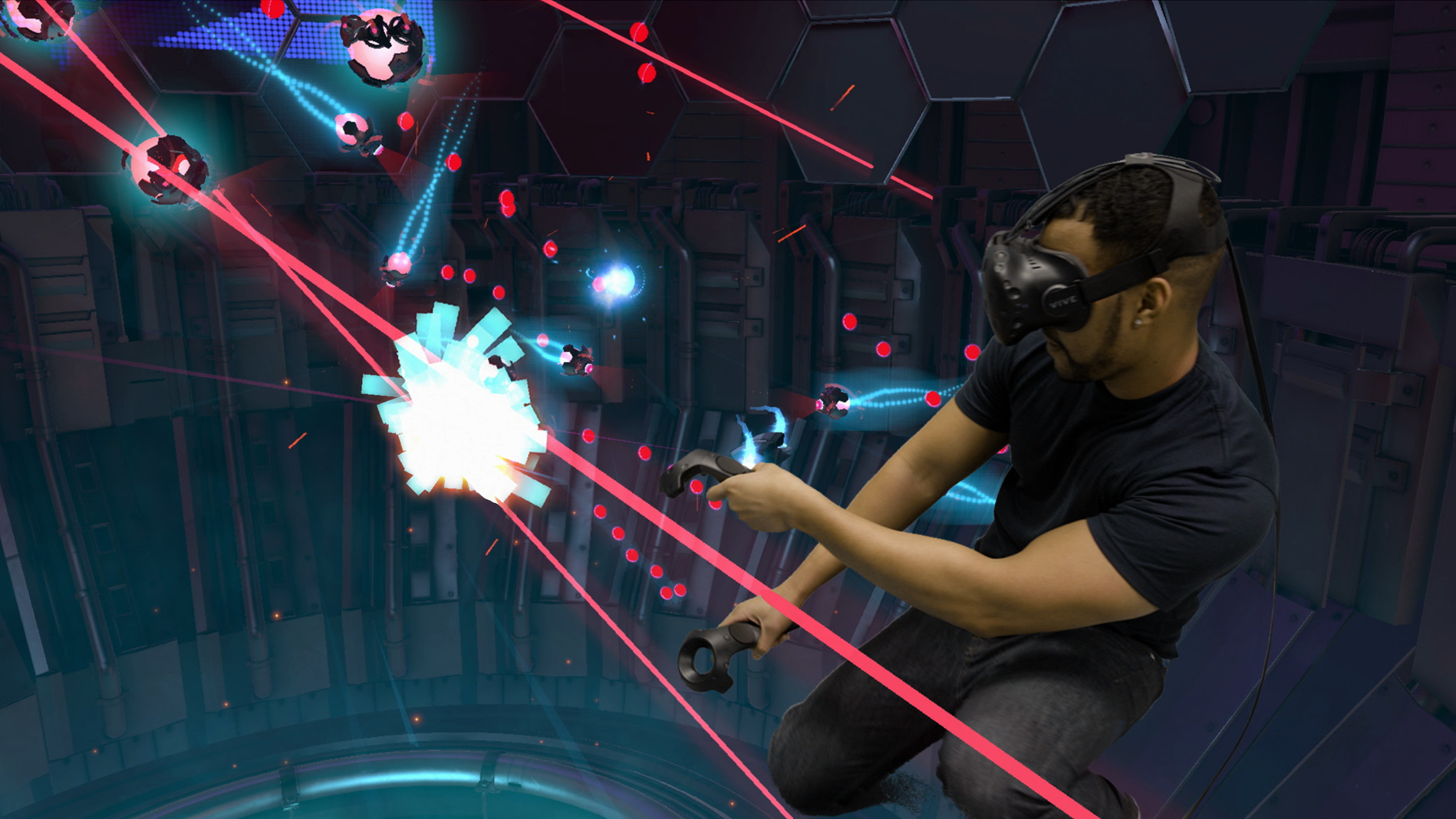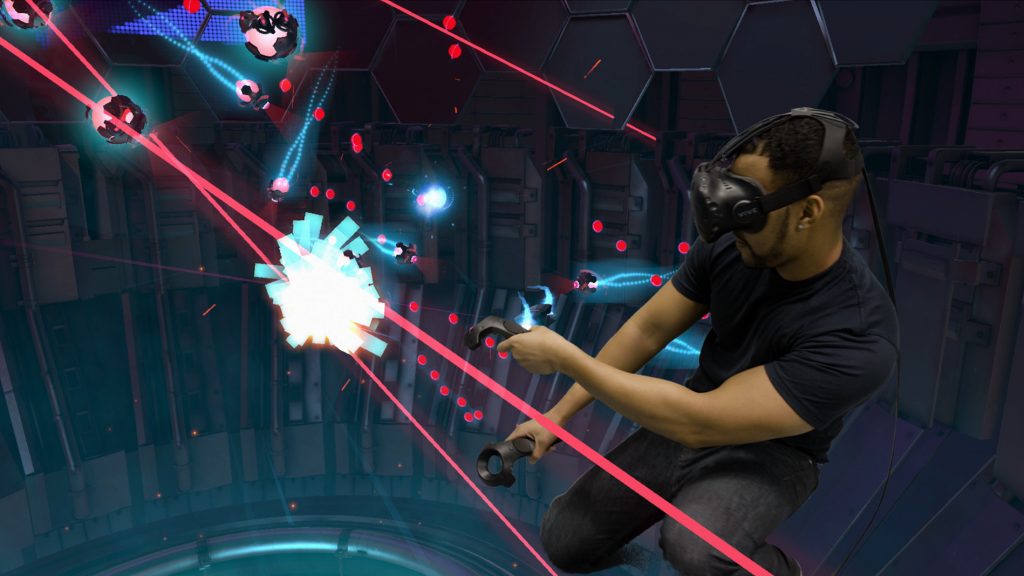 (Credit: VRoom / Facebook)
Enter a different world when you make a trip to V-Room! This virtual-reality arcade offers customers a variety of games from simple puzzle games to multiplayer role-playing games. Interact with your friends through a special headset and console in each private room. All rooms are also connected to each other for multiplayer play! Their high end VR technology will create an immersive, unique experience; giving you a glimpse into the future of games and entertainment.
Get your lifetime membership for $5 only! This allows you to accumulate stamps for every hour of play, which can be later redeemed for free drinks and discounts!
Address: 2 Jurong East Central 1, JCube, #02-11, S(609731)
Opening Hours: Daily, 11am – 10pm
Time to Visit These Super Fun Arcades In Singapore!
Go crazy and have tons of fun at these arcades in Singapore! If you're too lazy to leave the house and just wanna chill with your buds at home, get these Nintendo Switch games or board games to spice up your next gathering!