This year, do your skin a favour and make the switch to quality bar soaps in Singapore! There's more to benefit from bar soaps than commercial soaps sold in stores. Read on to learn about the benefits of bar soaps and find out which are the best handmade soaps in Singapore suitable for your skin type!
Bar soaps VS commercial soaps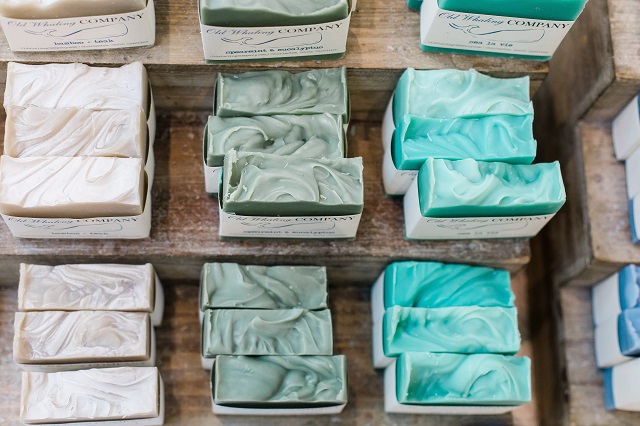 Majority of us have developed a huge dependence on commercial soaps sold in stores. They are convenient to buy, easy to lather and come in larger volumes. However, did you know that commercial soaps are often made with harmful ingredients such as chemical detergents and fragrances? Some of these ingredients can dehydrate or irritate your skin after prolonged use.
In contrast, bar soaps such as handmade soaps in Singapore are usually made of nourishing oils and natural ingredients to improve your skin in the shower! Glycerin, a natural byproduct of the soap making process, is retained in handmade soaps and works as an important skin moisturiser and softener. This ingredient is often extracted out of commercial soaps and redirected into lotions and creams for more profitability, reducing the moisturising properties in commercial soaps.
Bar soaps for different skin types
1. For normal skin
Normal skin refers to skin that's neither too dry nor oily. If you have normal skin, you probably don't experience enlarged pores or frequent acne breakouts. In addition, your skin is rarely irritated and isn't sensitive to most products. With normal skin, the lack of flare ups and skin issues may convince you to neglect proper skincare. This should not be the case! Keep your skin in tip-top condition with the following bar soaps in Singapore!
Dr. Bronner's Pure-Castile Bar Soap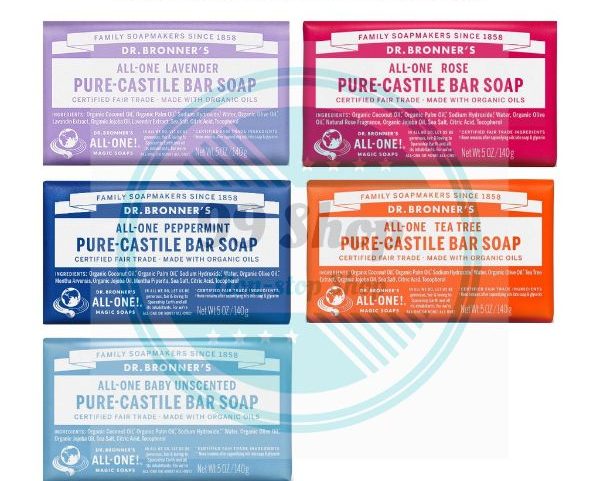 Renowned for their high quality and eco-friendly soaps, Dr. Bronner's Pure-Castile Bar Soaps (available on 99 Megamart) feature 100% certified organic extra virgin coconut, palm, olive, jojoba and other essential oils to provide a nourishing and refreshing bath. Dr. Bronner's bar soaps do not contain irritating surfactants, harsh chemicals, preservatives, synthetic fragrances, petrochemicals or artificial dyes. In addition, they're paraben-free! Choose from scents like tea tree, lavender, rose and more to cleanse your pores after a long and tiring day. 
Thailand Rice Milk Soap Bar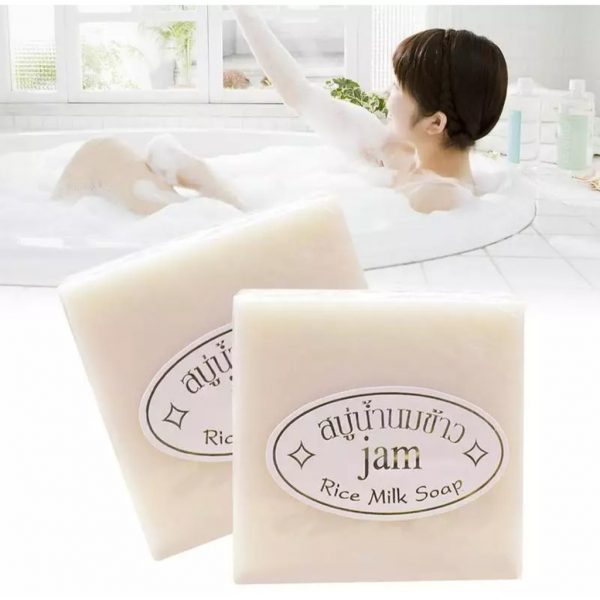 Always wanted soft and smooth skin? Use this Thailand rice milk soap bar (available on 101 Market)! Made from premium ingredients like jasmine rice extract and coconut oil, this bar soap is perfect for all skin types. The Thailand rice milk soap bar helps to maintain your skin tone and brighten your skin complexion. Additionally, it moisturises and smoothens your skin. Use this bar soap on a regular basis to get supple skin!
2. For dry skin
If your skin feels tight and itchy or you notice flakes and cracks, you may be suffering from dry skin. A common misconception about dry skin is that it's under-moisturised. However, dry skin actually refers to skin that experiences low sebum production which results in poor moisture retention. One of the most common factors causing (or exacerbating) dry skin is using harsh soap. Frequent application of harsh soaps may result in excessive removal of natural oils, worsening your skin condition. Keep your skin supple and moisturised with the soaps below!
The Soap Haven Double Mint Goat's Milk Soap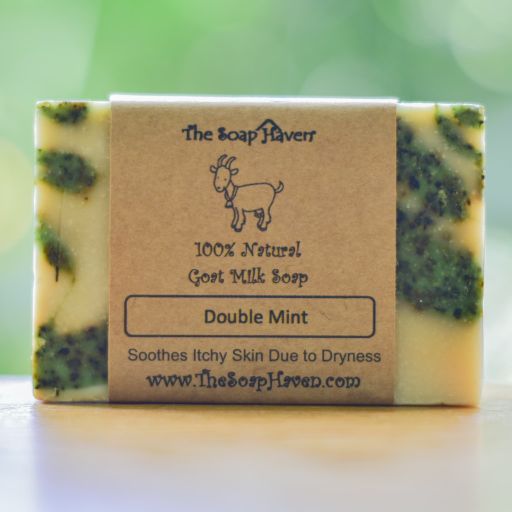 If you've been suffering from dry skin, it's time to give goat's milk soaps a try! Goat's milk soap is rich in nourishing proteins, vitamins and minerals which help to deeply moisturise your skin without stripping the skin's natural barrier! Severe dryness may cause your skin to become itchy and irritated. A relaxing bath with the Double Mint Goat's Milk Soap (available on The Soap Haven) can help soothe your skin and give it a much-needed moisture boost! This handmade soap in Singapore also boasts mint oil which can cure infections and provides a cooling sensation to relieve those unbearable itches!
The Soap Haven Aloe Calendula Bar Soap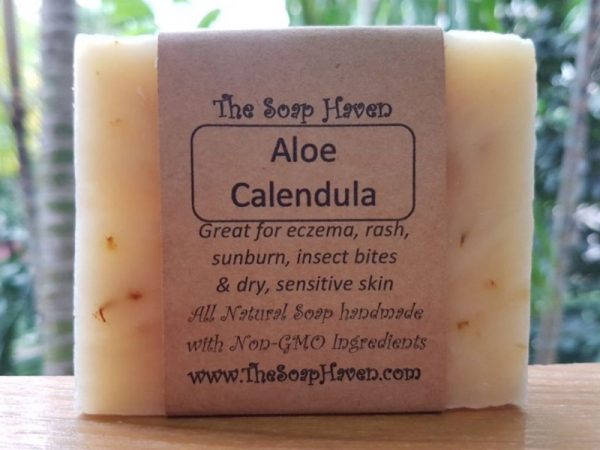 The best part about handmade soaps in Singapore is that most of them are made from scratch, allowing for customisation of beneficial ingredients to tackle specific skin conditions! This Aloe Calendula Soap (available on The Soap Haven) is loaded with moisturising ingredients such as calendula flower, olive oil, coconut oil and aloe vera. This bar soap is especially good since it contains calendula flowers that have anti-fungal and antiseptic properties. Get this Aloe Calendula bar soap to soothe your dry skin issues!
3. For combination, oily or acne-prone skin
People with combination skin tend to experience both breakouts and skin tightness. Thus, it is advisable to alternate between soap bars that cater to dry skin and oily skin to improve skin complexion.
Meanwhile, those with oily or acne-prone skin require soap bars with deep cleansing benefits. This is to reduce the possibility of clogging up the pore and minimising sebum build-up, which may be the main cause of annoying breakouts (either on the face or back).
The Soap Haven Organic Bergamot Cassia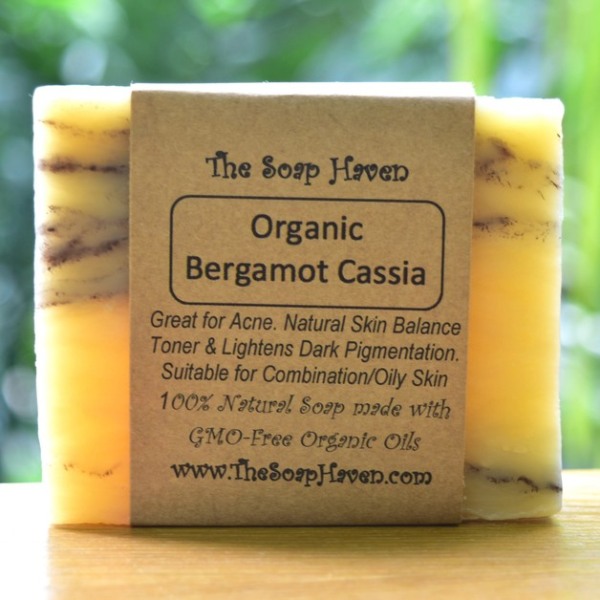 Oily and acne-prone skin can be quite tricky to treat because you don't want to suffer a breakout while finding the right soap for your skin. With the Organic Bergamot Cassia (available on The Soap Haven), fix your skin's oil control levels to prevent clogged pores and eventually acne. This bar soap contains the perfect blend of essential oils like lemon bergamot and cassia that act as an excellent skin balancer. Additionally, bergamot acts as a natural antibiotic, antiseptic and disinfectant, leaving your skin free of bacteria. It also helps to treat any existing scars on your skin and evens out your skin tone so that you don't suffer from hyperpigmentation.
Cocolarme Mild Soap

(Credit: Windyfairy Japan)




Battling with large pores on your face? Why not use natural, handmade soap in Singapore like this Cocolarme Mild Soap (available on Windyfairy Japan). It's formulated from coconut oil, lauric acid (extracted from coconut oil) and palm oil, all of which help to shrink pores and fade dark spots. This VCO soap (or virgin coconut soap) works in a cool way too. Simply place the soap in the accompanying soap net, rub the soap net evenly to create a lather and massage that soap lather onto your face, starting from the T-zone. Your skin will feel moisturised and refreshed after your daily cleanse!

The Soap Haven Organic African Black Soap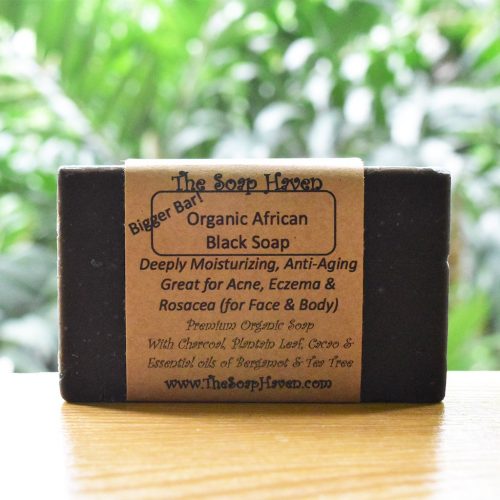 Looking for handmade soaps in Singapore that target acne-prone skin without being over-drying? Look no further than The Soap Haven Organic African Black Soap (available on The Soap Haven)! Since 2018, African black soap has been highly raved by the beauty community as a solution for breakouts and hyperpigmentation. The Soap Haven Organic African Black Soap is handmade with plantain leaf which improves inflammation and diminishes acne scarring. It also contains orange, bergamot and tea tree essential oils to tackle acne problems! That's not all, the shea and cocoa butter used in the soap bar help to protect and moisturise your skin, making this one of the best handmade soaps in Singapore for combination skin!
4. For sensitive skin
As its name suggests, sensitive skin often experiences bad reactions to a wide variety of factors such as a change in the weather, stress and even dust. Some common signs of sensitive skin include tightness, soreness, redness and a burning itch after coming in contact with irritants. If you have sensitive skin, make it your priority to only use skincare products that do not contain harsh ingredients that may agitate your skin.
The Goat Skincare Chamomile Soap Bar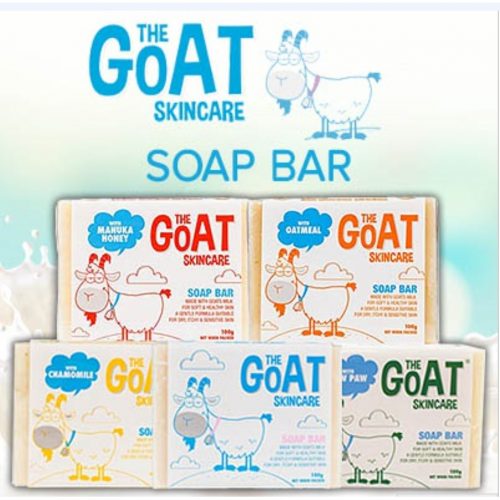 When it comes to soaps for sensitive skin, go for something mild like The Goat Skincare Chamomile Soap Bar (available on skinsociety.sg), which contains chamomile for its soothing and healing properties. This natural soap bar relieves dry and itchy skin, making it a gentle remedy for severely parched skin or those suffering from eczema and dermatitis. Check out other soap variations from The Goat Skincare, such as the manuka honey, paw paw and baby goat soap bars!
The Soap Haven Oatmeal And Honey Goat's Milk Soap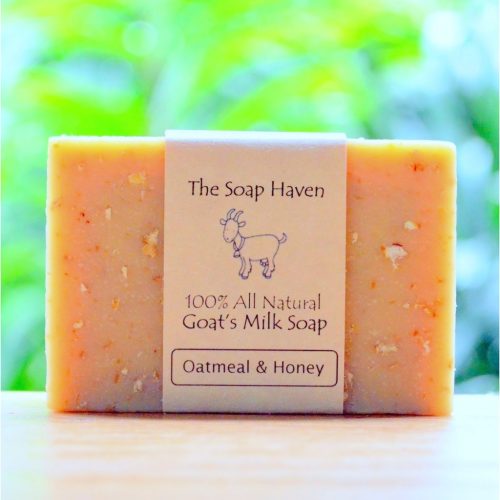 If you have extremely sensitive skin or suffer from eczema, this is the soap for you! The Soap Haven Oatmeal And Honey Goat's Milk Soap (available on The Soap Haven) has received tremendous positive response from customers who claim that they've seen visible improvements in their skin conditions after using it! Made from 100% natural ingredients, this handmade soap in Singapore contains gluten-free oatmeal which boasts natural anti-inflammatory, anti-itch and anti-oxidant skin-soothing properties. In addition, pure raw honey is added into the soap as a natural moisturiser. Together, this unscented handmade soap in Singapore serves as a natural treatment for eczema skin!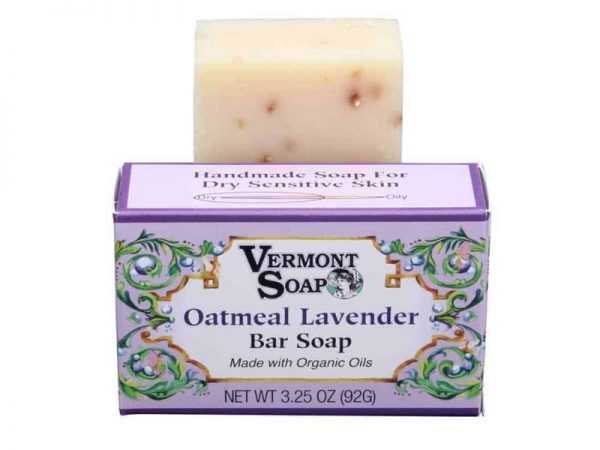 Having sensitive skin is very troublesome but you can treat it with Vermont Organic Soap (available on Naturain Official Store). This bar soap is especially good if you suffer from reactive sensitive skin. Whether you have dry and sensitive skin or oily and sensitive skin, there will certainly be a suitable bar soap that matches your skin. If you have dry and sensitive skin, choose scents like aloe baby and shea butter. The best part of this Vermont Organic Soap is not the wide array of scents available. What's good about this bar soap is that is can be used for body, hair as well as for shaving.
5. For ageing skin
While we can't stop the natural ageing process, we can try to slow it down by using the right products for our skin! There are certain parts of our body that ages faster than the rest, such as the neck, hands and face. If you notice fine lines, age spots and dull skin tone, it's time to invest in a good bar soap in Singapore to slow down the ageing process! A suitable bar soap would be one that's moisturising and has anti-ageing properties.  
The Soap Haven Lavender Luxe Anti-Ageing Formula Bar Soap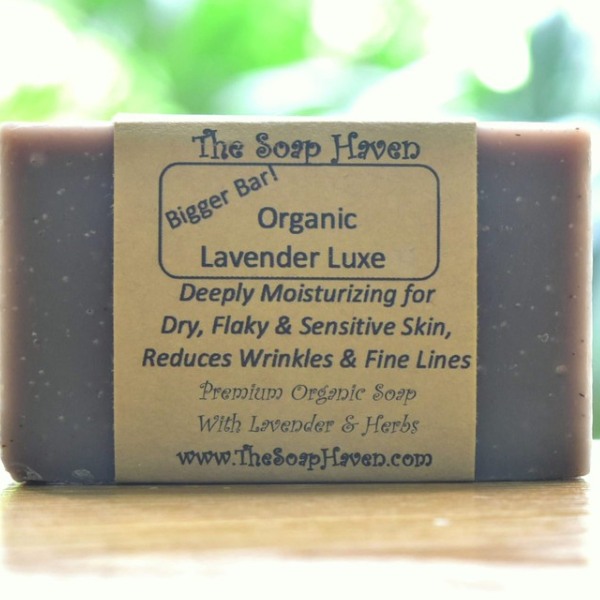 Ageing is inevitable and definitely not fun. But with this Lavender Luxe Soap ((available on The Soap Haven), you'll definitely be able to retain your youth. With premium ingredients like lavender essential oil, coconut oil, organic comfrey root and rosemary all jam-packed into a bar, this bar soap is perfect in helping you the reduce any wrinkles or fine lines that may be slowly forming. Comfrey root helps to promote new skin cell growth and maintain healthy skin, giving you radiant skin after each use. Additionally, lavender has anti-oxidants that help slow down the effects of ageing. Preserve your skin with this lavender luxe soap that can be used both in the morning and at night! 
If you love green tea products, you'll certainly love this Original Tsuki Soap (available on bosskosmetikmedan.sg). We love that it contains vitamin E which is beneficial for reducing any UV damage to your skin, especially in sunny Singapore.
The Tsuki Soap is suitable for most skin types and it's especially good at restoring youthful skin — something we cannot neglect as we grow older. Use this green tea soap bar every morning and night to see smoother and tightened skin. It also helps to prevent the formation of wrinkles especially around your eyes and premature ageing of your skin. Additionally, it intensely moisturises and brightens your skin with each wash. With so many benefits, what's there not to love about this bar soap?
Choose the right handmade bar soaps according to your skin type
Already using bar soaps or handmade soaps in Singapore? Don't stop there! Proper storage is required to prolong the usage of bar soaps. Invest in a pine wood soapdish (available on The Soap Haven) which features a two-direction drainage design to prevent mould and fungus. Help your handmade soaps in Singapore last longer with a soap saver bag, which creates more lather with lesser use of the product. It's also perfect for storing crumbled soap bits and can be used to air-dry your soap! Meanwhile, explore our bath and body products and show your luscious locks some tender loving care by learning more about the popular Sahaolea shampoo in Singapore!