The best part about bullet journaling — or bujo — is that it's a flexible activity that helps you keep track of your life events in any way you'd like. In fact, bullet journal ideas often manifest in a way that reflects your lifestyle. Not the artsy type? Keep it minimalistic with scribbles and stickers! Or if you're the artsy type, go wild with icons and calligraphy in your bullet journal! But what if you're unsure of where to start?
1. Tell your story through icons
Icons are a given with most bullet journal ideas but have you tried using them to tell a story? That's right! If you don't fancy the typical 'Dear, diary…' approach, tell it with icons! You can keep it in micro-logs that capture your mood at different hours of a given day.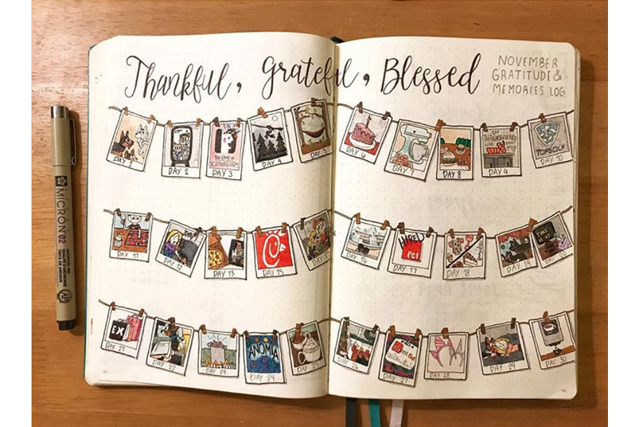 Or if you prefer focusing on moments that REALLY matter, then you can doodle icons about key events in your week like a really good meal, or a Netflix series. Just get yourself a good set of graphic markers and let your creativity handle the rest of this bujo idea!
2. Go crazy with washi tape!
If you love creating mood boards in your bujo pages for artistic ideas, then you must get a variety of washi tape! These eye-catching tapes come in various sizes and designs. It's also a great way to include more patterns into your bujo if you don't have the patience to create elaborate doodles.
A recent trend among bullet journal ideas features washi tapes as colourful borders between bujo sections. It's a real aide for folks who aren't artistically inclined but still prefer a little personalisation in their bullet journals!
3. Life is strange – keep track of it
If you're looking to improve yourself this year, then it's time to stay on top of the details in your daily lifestyle. Bujos are great for keeping track of things like habits, exercise regimes, new year's resolutions and many more! But don't limit this bujo idea to adulting must-dos, you can also use it to keep track of hobbies too — like the songs, movies, or places that you wish to experience.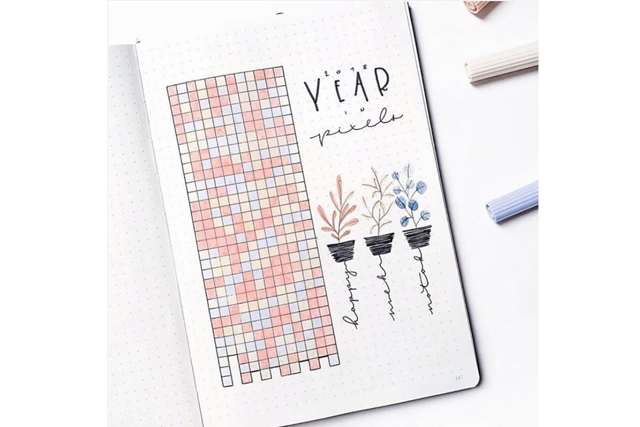 We advise you to grab a good set of coloured markers to help you do the job. With colours, you gain flexibility in the way you prefer to visualise your daily tracker. It's also pretty motivating to see the colours slowly fill up each page of your bullet journal. So try this bullet journal idea if you're looking to cover the little corners of your life this year!
4. Spark joy with minimalism
Contrary to popular belief, you don't have to fill up every page of your bujo with a plethora of content. Sometimes keeping things simple and straight to the point works well too. But don't get us wrong, minimalist bujo ideas aren't all that easy either.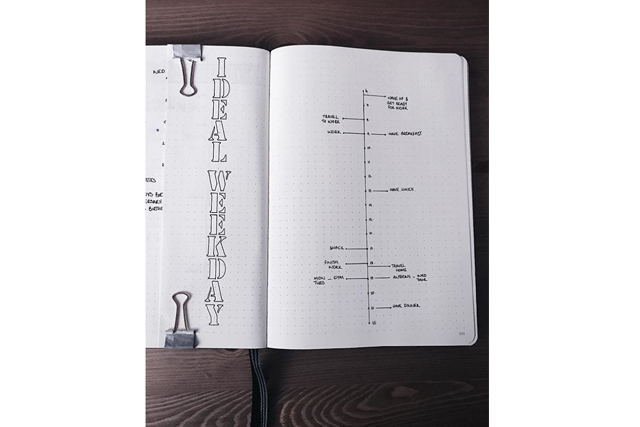 It takes quite a bit of trial and error to figure out the essential elements that should be included in your bujo to not only make it functional but also aesthetically pleasing. The best part about adopting a minimalist bullet journal idea is that you only need a few tools like pencils and markers to achieve those clean and clutter-free lines.
5. Let your journal be one with nature
Love the environment and feel like including it in your bujo? If you see any pretty leaves or flowers, go ahead and include them into the pages of your bullet journal. But of course, this bullet journal idea is bound to draw the frowns of some environmentalists, so do it with a little restraint. [heh]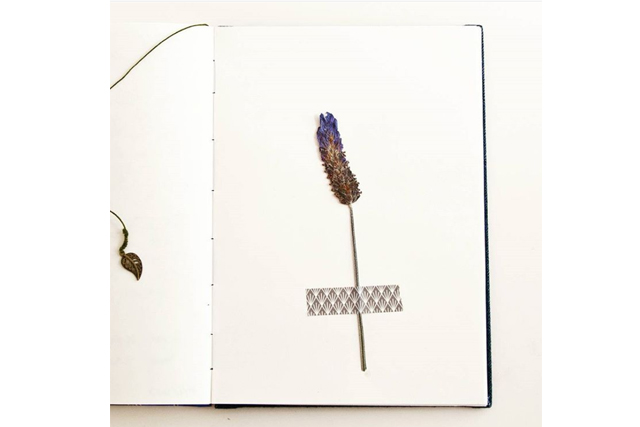 6. Send a letter to yourself!
Letters of love and affirmation aren't just reserved for those in a relationship. Perhaps at some point in the year, you'll feel a gush of emotions that you must pen down. But instead of chucking the note in a secret corner, why not seal it in an envelope within your bujo?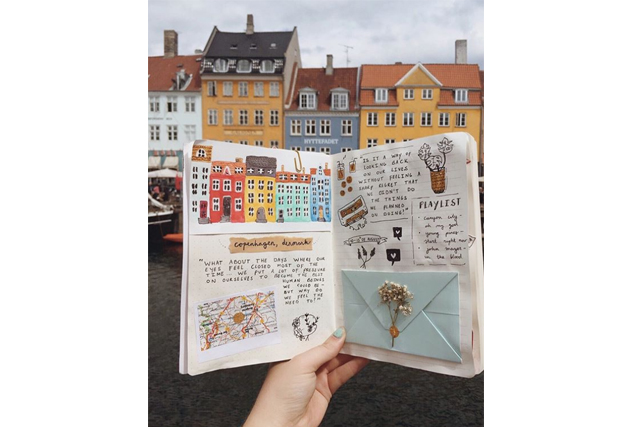 This bullet journal idea will be sure to fill you with warm fuzzies. Just make sure you don't seal the envelope too tightly if not you'll end up ripping a pretty addition to your bujo.
7. Bujo – your pocket museum
Need a bullet journal idea that will support your artistic flair? Then make your bujo a canvas of your life experiences! Some bullet journals have thicker pages that allow you to paint to your heart's content. We recommend using paint as a divider between major sections of your bullet journal. You could even use this bujo idea as a way to decorate the pages before you scribble on it.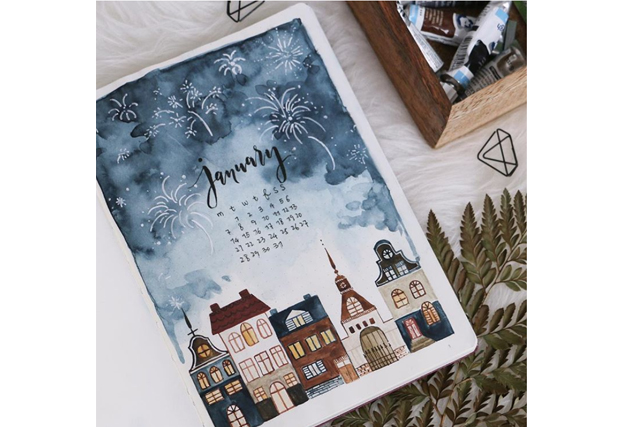 8. A picture is worth a thousand words
If you already own a polaroid or fujifilm instax camera, this is a bujo idea for you! You can use your instant photos as a storytelling tool for your daily or weekly reflections. Simply take a photo of something important or fun and use it to decorate your log.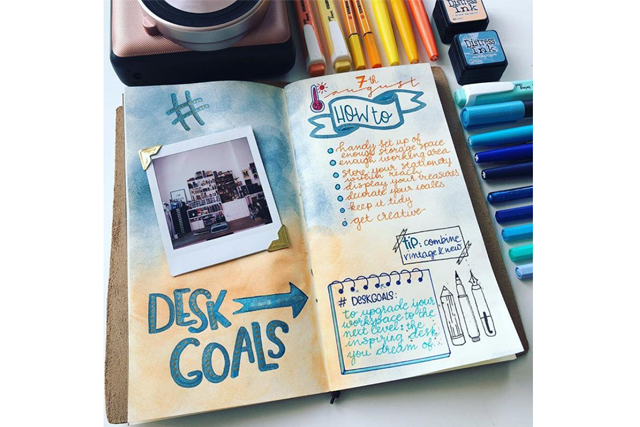 You can make things funkier with coloured-border Instax films or by using washi tape as a makeshift frame. But of course, don't let this bullet journal idea turn your bujo into just another photo book. You can furnish each page with some quick doodles and a few words about the experience!
9. Stickers are your aesthetic quick-fix
Can't doodle for nuts? No worries! This bullet journal idea is a quick fix if you're just looking to pimp your bujo. Simply replace your icons with colourful stickers! You can design some stickers of your own — or rip them off Telegram's stickers — and have them printed. Alternatively, you can splurge on a wide variety of stickers sold online!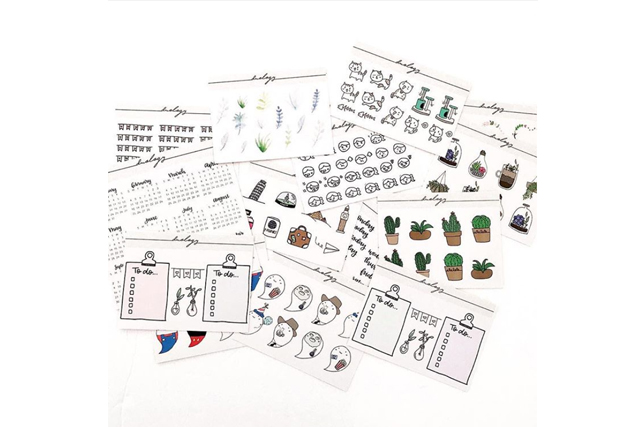 Just furnish your pages with random stickers at every corner. Or if you prefer functional bullet journal ideas, you can couple your stickers with each page header — a makeshift header icon.
10. Put your calligraphy skills to good use
If you're already a penmanship maestro, then have a go at calligraphy! It'll definitely make your bujo one of the prettiest. But before you do, we recommend getting a good set of calligraphy tools that will help you achieve the visual effect you desire.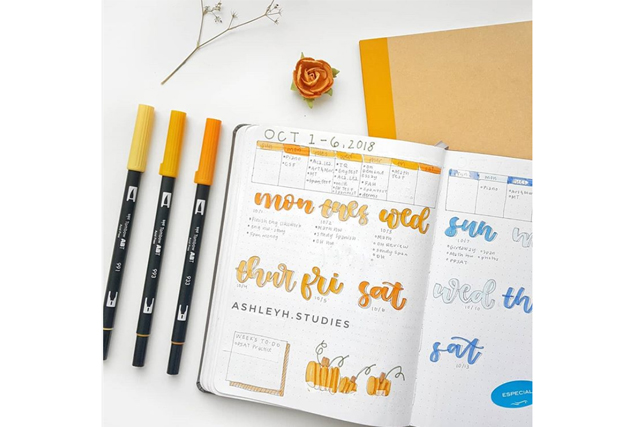 Admittedly, this bullet journal idea can be a little tough to execute for newbies. But hey! If you're keen to pick up a new skill, here's one for you. You can even impress your peers once you've mastered the art of calligraphy.
Looking for more ways to keep your life in check?
There are an endless amount of bullet journal ideas to help you keep track of the things you cherish. It all depends on what matters to you the most! Going for a trip overseas — or heading for an overseas exchange programme? Implement one of our bujo ideas and create stories forever! Not ready to take the bujo leap? Then check out our quick guide to organising your diary planner! Otherwise, have fun building your bujo!