Heading to Tokyo soon? With travel in full swing, it's time to plan your itineraries with an oishi time if you live to eat! We're talking about sashimi, sushi and more, and what better way to fill your bellies with these goodies than at some of the best omakase spots in Tokyo? The curated menu, watching the chef preparing your food and everything in between makes a bougie experience like no other. But there's no need to break the bank now that we've sussed out some of the most affordable sushi omakase restaurants in Tokyo!
Why should you try omakase in Japan?
You can't stray far from sushi and sashimi when it comes to Japanese cuisine. And that's because these food items make up their staple diet. So, you can trust that most of the sushi omakase spots in Tokyo are priced affordably. Instead of the usual $100 to $300 in Singapore, anticipate low prices between $40 and $100 in Japan – without any compromise on quality! 
Best affordable sushi omakase spots in Tokyo
1. Sushi M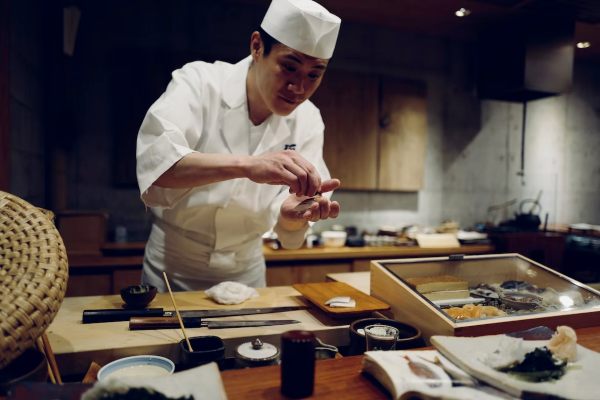 Put a sushi master and a sommelier together, and you'll get one of the best sushi omakase spots in Tokyo. At Sushi M, each sushi is paired with a unique selection of artisanal sake and wines. The innovative sushi dishes coupled with delectable beverage pairings bring about a heavenly omakase experience like no other. 
From sashimi to beverages, the restaurant picks out only the finest ingredients while keeping prices low. Their Edomae Lunch Menu (¥8,800) features 13 courses, including sushi, soup and more. And with seasonal ingredients, Sushi M only goes for the freshest from all over Japan to bring you all the specialties in one seating.
Address: 〒107-0062 Tokyo, Minato City, Minamiaoyama, 4 Chome−24−8 アットホームスクエア 2F
Opening hours:
Tues: 5pm – 11pm
Wed – Thurs: 12pm – 2pm, 5pm – 11pm
2. Manten Sushi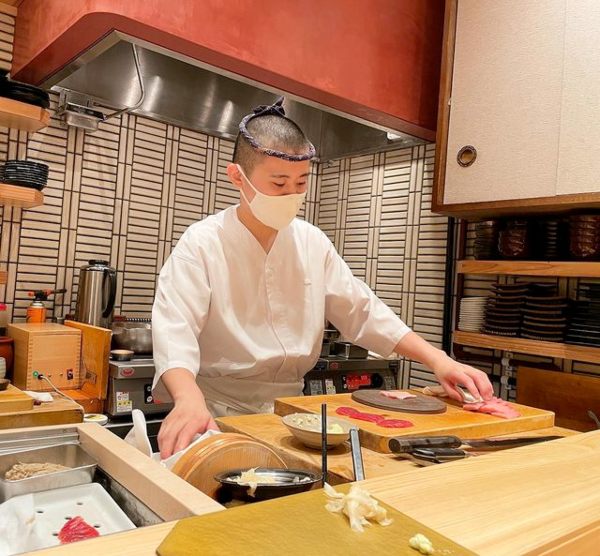 Living up to its name, Manten Sushi is definitely one of the best omakase spots you have to visit in Tokyo. The word 'manten' literally translates to 'full marks', so you can bet that this restaurant is going to check all your boxes. 
Located in the financial district of Tokyo, Manten Sushi is a popular joint among office workers during lunch. And we can't blame them because their Manten Sushi's Lunch Omakase only costs ¥3,850! It even includes the decadent sea urchin that's the epitome of umami and chutoro (fatty tuna) that's absolutely divine. You won't even need to make reservations but we suggest heading there before 1pm to snag seats before the lunch crowd hits.
Address: 〒100-6990 Tokyo, Chiyoda City, Marunouchi, 2 Chome−6−1 ブリックスクエア B1
Opening hours:
Mon – Fri: 11am – 2pm, 5pm – 9.30pm
Sat: 11am – 1.30pm, 5pm – 9.30pm
3. Sushidan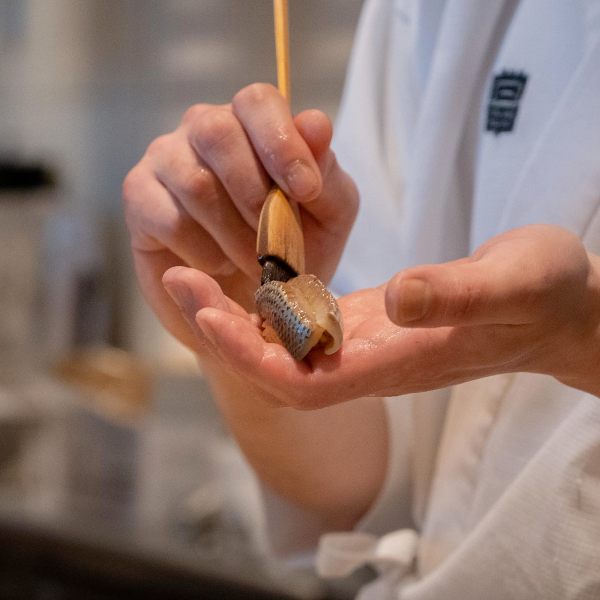 Opening his doors to only eight customers at a time, Sushidan is the best sushi omakase spot in Tokyo that's known for its exquisite quality. Chef Takehiro Arakawa displays his fine chef skills through each piece of sushi – so much that every one of them glimmers when it's presented to you. 
We recommend going for the 'White' Omakase Course (¥3,300) that comes with nine nigiri sushi and one maki roll. Last we heard, the course included atas items like sea urchin, fatty tuna (chutoro) and monkfish liver (ankimo). So best believe that this is one of the most affordable omakase spots in Tokyo that's extremely value-for-money!
Address: 〒150-0012 東京都渋谷区広尾5丁目4−16
Opening hours:
Thurs – Tues: 11.30am – 2.30pm, 5.30pm – 10pm
4. Sushi Tokyo Ten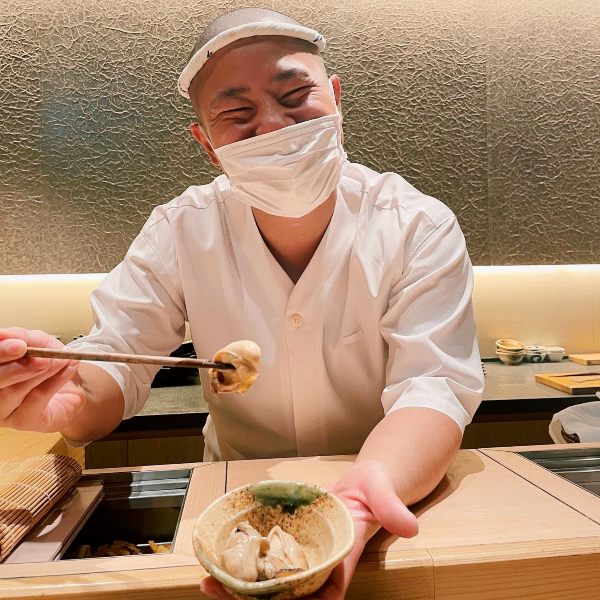 Spoil yourself without blowing your budget at Sushi Tokyo Ten. Featuring traditional Edo-style sushi, this is one of the best omakase spots in Tokyo if you're looking for something different. And that's because Edomae-style sushi is usually sweeter and saltier. But since Sushi Tokyo Ten commits to bringing in seasonal ingredients, every diner gets to taste the freshest. 
While most people go for the weekday lunch set (¥4,235), you can also treat yourself to their dinner omakase that's just ¥8,470. After all, you've already made the trip here. So go big, or go home (literally)! You'll be served tons of high quality seasonal fish, side dishes and soup, so there's no way you're leaving Sushi Tokyo Ten dissatisfied. 
Address: 3 Chome-21-3 Shibuya, Shibuya City, Tokyo 150-0002, Japan
Opening hours:
Daily: 11am – 3pm, 5pm – 11pm
5. Ikina Sushidokoro Abe Aoyama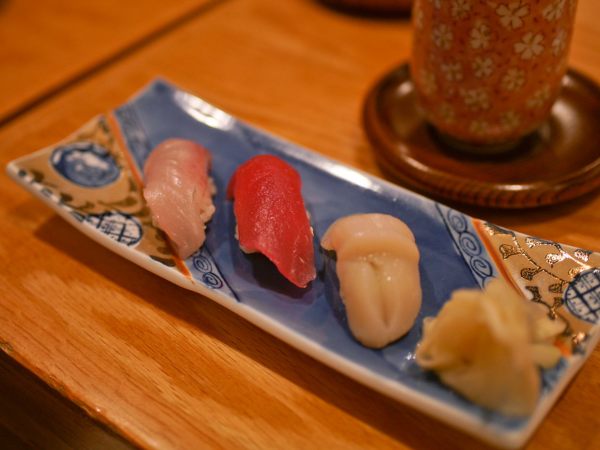 You've probably heard of Ikina Sushidokoro Abe thanks to how it has around five other locations located in Tokyo. But did you know that each branch has a unique menu of its own? Specifically, the Ikina Sushidokoro Abe in Aoyama is a mark above the rest due to its seasonal highlights. Look forward to seasonal delicacies such as tataki-style horse mackerel and black throat seaperch during your visit to this best sushi omakase in Tokyo. 
Ikina Sushidokoro Abe Aoyama offers one of the most affordable omakase courses in Tokyo. Their Agano Course (¥3,500) is where you'll get the best bang for your buck. Sit back and relax as you'll be treated with appetisers, sashimi, grilled and steamed dishes, nigiri sushi and more. Worried about filling up too fast with all these delicious goodies? We've been told that this sushi joint offers riceless maki rolls, so you'll still be able to relish in the other food items here.
Address: 〒150-0001 Tokyo, Shibuya City, Jingumae, 5 Chome−46−7 GEMS青山CROSS 地下1階
Opening hours:
Mon – Fri: 11.30am – 3pm, 6pm – 3am
Sat – Sun: 11.30am – 2.30pm, 5.30pm – 3am
6. Kizushi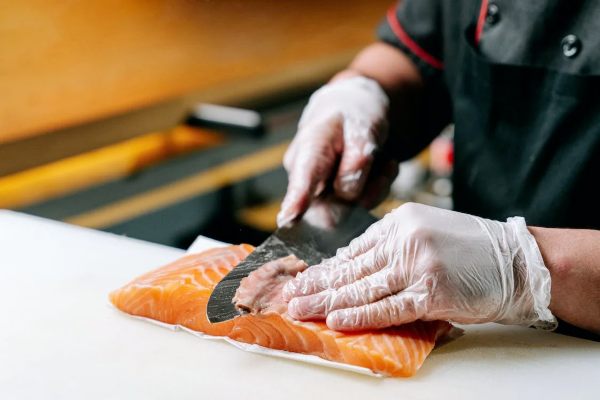 Another one of the best Edomae-style sushi omakase in Tokyo comes from Kizushi. Known for their sushi rice, people flock to this restaurant just to get a taste. The sushi rice is just a tad salty, with a tinge of acidity and sweetness to round it off.This complements every sashimi, enhancing the natural flavours to give you a well-rounded nigiri dish. 
With a Lunch Set that's only ¥5,000, you'll be immersed in traditional flavours. Chef Ryuichi Yui focuses on classics by perfecting the restaurant's tuna, clam and conger eel dishes. But on top of that are some dishes that are somewhat unorthodox. You'll have to try Kizushi's Ika No Inrou Zume that features boiled squid that has been stuffed with gourd, ginger, seaweed and rice. And while you're snapping pics of your meal, don't forget to update the 'gram with shots of the IG-worthy restaurant!
Address: 〒103-0013 Tokyo, Chuo City, Nihonbashiningyocho, 2 Chome−7−13 喜寿司
Opening hours:
Mon – Fri: 11.45am – 2.30pm, 5pm – 9.30pm
Sat: 11.45am – 2.30pm, 5pm – 9pm
7. Edomae SS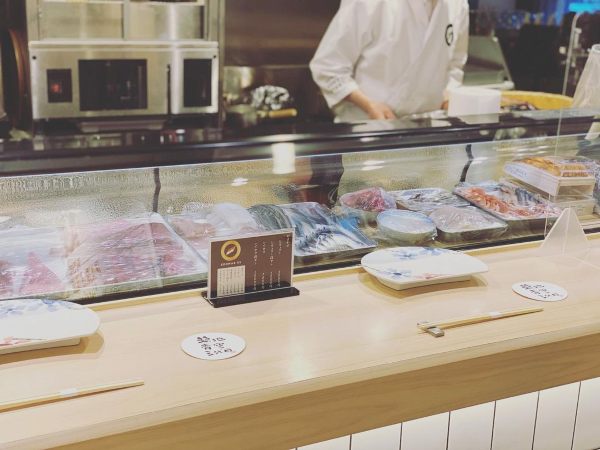 You don't always need reservations for the best sushi omakase in Tokyo. Situated in a food hall, Edomae SS offers exquisite sushi that you can get any time. The restaurant compares itself to a petrol station, where cars can drive in anytime to get a refuel. Similarly, customers are welcomed to embrace their spontaneity and visit Edomae SS to fuel up on sushi. 
Their ¥4,000 Regular Lunch Omakase Set is where you'll be spoiled with eight pieces of Edomae-style sushi. The sushi rice has a slightly acidic flavour thanks to the red vinegar seasoning, making it so addictive that you'll be going for more. If the regular set isn't enough, go for the Full Tank Set ¥6,000 that's one of the more affordable omakase in Tokyo. 
Address: 〒160-0022 Tokyo, Shinjuku City, Shinjuku, 3 Chome−20−8 トップスハウスビル 1F
Opening hours:
Thurs – Tues: 11.30am – 2.40pm, 5.30pm – 10.30pm 
8. Imayoshi Sushi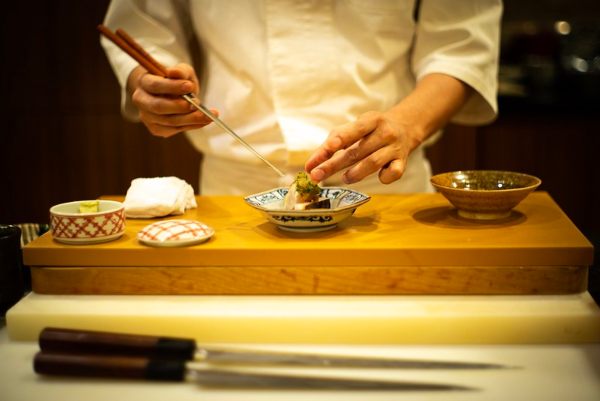 Juggling preferences and dietary restrictions is tough when you're choosing the best omakase spot in Tokyo for your travel pals. But Imayoshi Sushi has got your back. They've curated an inclusive menu for customers who require halal, vegan and vegetarian options. Additionally, Imayoshi Sushi offers brown rice to substitute the usual white sushi rice for their health-conscious customers. 
With a ¥4400 Lunchtime Omakase featuring eight pieces of sushi, Imayoshi Sushi is definitely one of the more affordable omakase spots in Tokyo. Moreover, their mindfulness when it comes to food options has caused their popularity among foreigners to surge, so do make reservations well in advance to chope a spot!
Address: Sankei Building B2, 1-7-2 Otemachi, Chiyoda-ku, Tokyo 100-0004
Opening hours:
Mon – Fri: 11.30am – 2pm, 5.30pm – 11pm
Sat: 5.30pm – 11pm
9. Nadeshico Sushi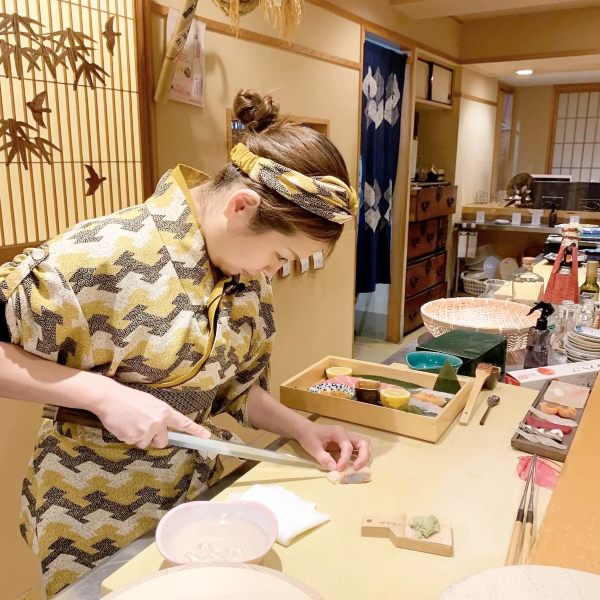 Enjoy one of the best omakase in Tokyo and be part of a cause at Nadeshico Sushi. Challenging gender stereotypes, this restaurant is entirely run by females who prove that women can be sushi chefs.
Seeing sushi as an art form, owner and chef Chizui Yuki injects her creativity into the dishes at Nadeshico Sushi. Be prepared for a burst of flavour from unique seasonings like peppercorn – a sushi that mala lovers will definitely appreciate. So make some space in your itinerary and schedule a visit to try the Chef's Omakase Set (¥8000) where you'll be in for a delightful surprise at every turn.
Address: 〒101-0021 3-12-15 Sotokanda, Chiyoda-ku, Tokyo
Opening hours:
Mon – Fri: 5pm – 10.30pm
Sat – Sun: 12pm – 10.30pm
Have an 'oishi!' time at the best omakase spots in Tokyo
Indulge in sashimi, sushi and more at these best omakase spots in Tokyo without busting your budget. Need some help with your itinerary? If you're looking for day trip ideas, check out some of the best things to do in Kobe! Your trip to the Land of the Rising Sun won't be complete without a visit to the best places to see cherry blossoms in Tokyo. And don't forget to visit the best ski resorts in Hokkaido on your next winter vacation!