Ready to get down on one knee and propose to the love of your life? It's time to make the big purchase — your engagement ring! It symbolises a lifetime commitment and love for your partner, so you'd want to give it a little more thought before deciding on the one for her. For something more unique and sentimental, why not consider designing your own gemstone engagement ring in Singapore? Read on to find out where and how you can design a gemstone engagement ring that's perfect for your special girl! 
Why go for a gemstone engagement ring?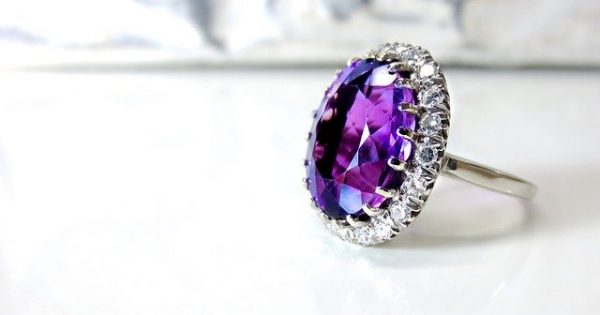 It's no secret that a diamond ring can cost a pretty penny (or pound, even). With the same amount spent, you could actually shop for a gemstone ring in Singapore that dazzles in size and beauty. 
The hardness of the stone you pick determines whether the ring is durable enough for her to wear it on a daily basis. While diamonds are known to be the hardest natural substance found on earth, many gemstones are durable enough for daily wear too! On the Mohs' scale of mineral hardness, diamonds are a 10 while gemstones such as rubies and sapphires are a 9. In fact, gems with a hardness of 7 or more are suitable to be worn as rings! 
White diamonds are not particularly rare; they're actually the most common precious stones among the range of gemstones. If you're looking for a rare gem for your special lady, gemstones may be a better alternative. Gemstones such as 'Jedi' spinels, Padparadscha sapphires and Paraiba tourmalines are some of the rarest stones you can consider when designing your engagement ring. 
Gemstones come in an assortment of hues, vibrancy and cuts, making it almost impossible to find two gemstones that are exactly similar to one another. This means that you have more designs to choose from and can get creative when you're designing the ring. However, it's good to keep in mind that it may take a bit of time (and luck) when hunting for your ideal gemstone ring in Singapore, so it's better to start your ring shopping early!
How to determine her ring size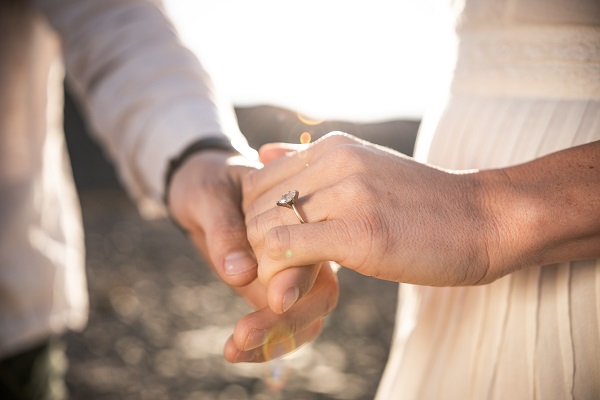 Bring her to a jewellery shop
Many jewellery shops in Singapore, such as Goldheart, offer free ring fitting services. Shuffle your partner into one of these stores and have her ring size measured professionally. This is a great method if you're not planning a surprise proposal. 
If you intend to keep her in the dark about the proposal, we suggest you go for stealthier methods. Have a look at her ring collection and 'steal' one of them to bring along when you design the engagement ring. Just remember to return it back to her and she'll never find out! 
If your girlfriend is a deep sleeper, you're in luck! Carefully loop a piece of string around her ring finger while she's asleep and take note of the correct length. Then, compare the length against a ring measurement chart to find out her ring size. 
Fret not, in the case where none of the methods above work, you can still make a smart guess! To play it safe, go for Singapore ring size 13, which is the most common ring size for Singapore women. Even if it ends up not being a good fit, most jewellers can help to resize your rings at a small cost or even completely free of charge! Make sure to check with your jeweller before you make a purchase. 
Where to design your gemstone engagement ring in Singapore
Disclaimer: Prices indicated in this article are purely for reference. Actual prices of gemstones may vary depending on their weight, vibrancy, hue, cut, treatment, inclusions and rarity. For more accurate pricing, please contact the jewellers. 
1. Yuen Tung Jewellery Pte. Ltd.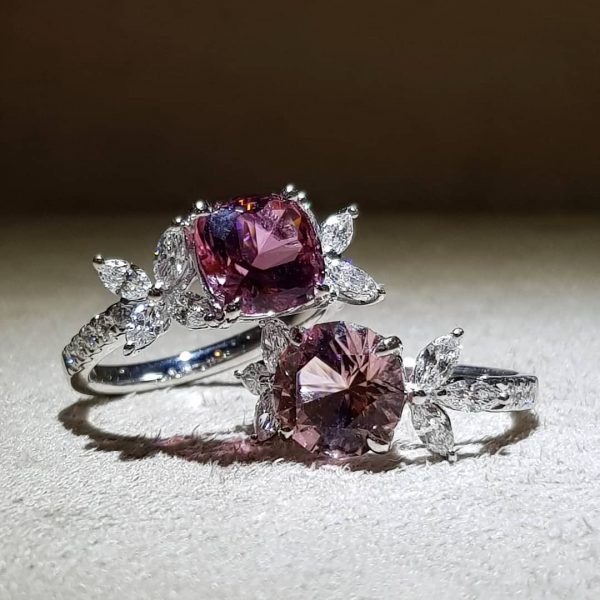 Nestled in the Lower Delta factory cluster, Yuen Tung Jewellery Pte. Ltd. is a hidden gem (no pun intended) for those looking to design a gemstone engagement ring in Singapore. As the first factory established in our nation by top Hong Kong craftsmen, this unassuming jeweller has been around for almost 50 years. Yuen Tung is now recognised as one of the most trustable bespoke jewellers that produce high-quality jewellery at budget-friendly prices — perfect for the boyfriends who want something special but are also looking out for their wallets. 
What truly sets Yuen Tung apart from its other competitors is their own in-house craftsmen. This ensures that your design is well-communicated to the jeweller and allows for stricter quality control. Moreover, you may potentially get your piece crafted sooner as there's no need to ship your ring overseas for production. The friendly experts here are also more than willing to give you professional advice on the design of your engagement ring, so we suggest making Yuen Tung your first stop when you're ready to go ring shopping! 
Address: 1093 Lower Delta Road, #07-09, S(169204)
Opening hours:
Mon – Fri: 10am – 7pm
Sat: 10am – 5pm
Cost: $$
2. Les Precieux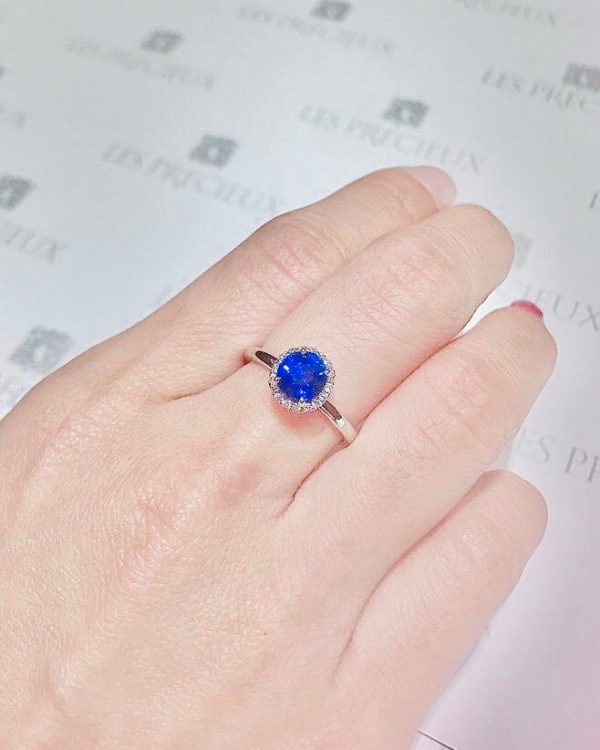 Representing fidelity and undying devotion to love, it's no wonder sapphires are one of the most popular gemstone engagement rings in Singapore. If you're planning to design a sapphire engagement ring for your other half, you've got to pay Les Precieux a visit! This leading private bespoke jeweller specialises in sapphires of all kinds, including ones with unique shades like teal, pink and cornflower blue. You can also find one of the most extensive ranges of padparadschas here — the rarest sapphires in an alluring sunset hue. 
Feeling like a lost sheep while you're shopping for the right engagement ring? Fret not, the patient staff at Les Precieux are here for you! To ensure the ring's not only perfect for your wife-to-be but also meaningful to you, Les Precieux pays special attention even to the smallest of details. Let them know how you plan to propose as well as the type of person your girl is — the experts here will be able to provide helpful suggestions to make your engagement ring extraordinary! Just make sure to make an appointment at least two to three months in advance as Les Precieux tends to have quite a long waiting list. 
Address: International Building, 360 Orchard Road, #11-04, S(238869)
Opening hours: By appointment only
Mon – Fri: 3pm – 7pm
Sat: 2pm – 5pm
Cost: $$$ 
3. Madly Gems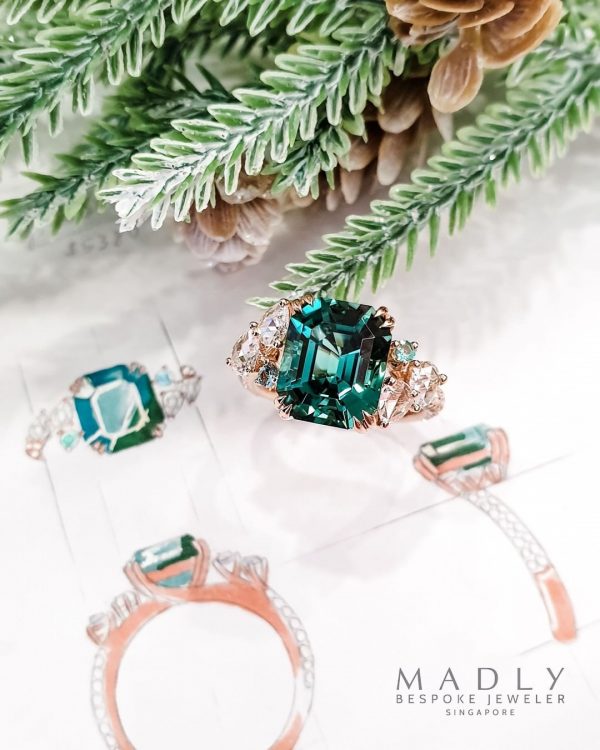 Founded by radio DJ Maddy Barber, Madly Gems embodies her fun personality and passion for all things sparkly. They've got a huge rainbow stash of gemstones ranging from spinels to colour-changing alexandrites. Plus, this is the jeweller to go to if you're ready to splurge for a huge jaw-dropping gem to grace the crown of your fiancee's ring! There's no doubt about the quality of the gems here, as Madly only work with the top 1% of gemstones mined from around the world. 
Did we also mention that Madly Gems' bespoke creations come in bold and whacky designs that are unconventional and a pleasure to look at? Let your creativity run loose as you watch your design come to life under the skillful hands of their in-house designers! If you happen to have an heirloom piece that you'd like to customise into a brand new engagement ring for your lady, bring it along with you to Madly Gem and let them work their magic!
Address: 72 Seng Poh Road, #01-63, S(160072)
Opening hours: Daily, 10am – 7pm
Cost: $$$$$
4. Rachel P Jewels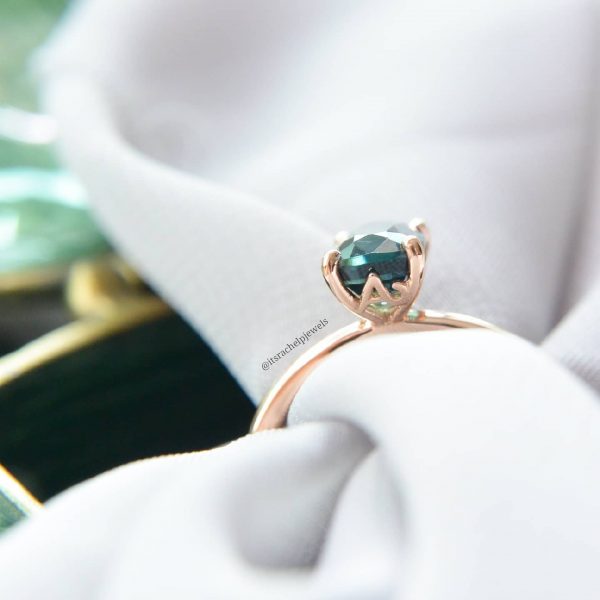 Shopping for such a big purchase may seem daunting at first, but Rachel Pang from Rachel P Jewels never fails to make it an enjoyable process! Born into a family of jewellers, Rachel has a keen eye for details and in-depth knowledge on jewellery craftworks. It's easy to warm up to Rachel with her chummy personality as she excitedly explains the colourful world of gemstones. If you're new to the idea of designing your own gemstone engagement ring in Singapore, Rachel is the person you should look for! 
As an extended wing of Blue Diamonds, Rachel P Jewels was established to cater to younger customers looking for bespoke jewellery with a modern twist. You'll find an array of two-toned gemstones and other precious jewels in rich hues handpicked by Rachel herself. This is also another jeweller that has its own in-house craftsmen so you know your precious piece is in good hands. 
Address: Lucky Plaza, 304 Orchard Rod, #03-51, S(238863)
Opening hours: By appointment only
Cost: $$$
5. GIOIA Fine Jewellery
Looking for a jeweller to design an engagement ring in Singapore can sometimes be a frustrating process. This is because many jewellers tend to steer you towards a generic design with minor customisations to simplify the crafting process. As such, if you have a specific design in mind, we suggest you head to GIOIA Fine Jewellery instead! Founded by Clarence and jewellery designer, Cheryl, the team is known to make any dream piece a reality by staying true to clients' proposed designs. 
The process is simple — you start off by picking a gemstone of your preference. Take your time at this step because GIOIA has a huge selection of precious gems, including Burmese spinels, pigeon blood rubies and highly valuable Paraiba tourmalines! Before you decide on a stone, we suggest you allow the experts to escort you outdoors so you can see the gems in their full glory under sunlight.
Once you've found the gem for you, let the team know about the design you want. Some sample photos of other gemstone rings in Singapore may help smoothen out the designing process. The team will then construct a hand-drawn sketch of your design before producing the ring! With constant communication on the ring's progress, you can set your heart at ease as you leave it up to the professionals to do their job! 
Address: International Plaza, 10 Anson Road, #02-97A, S(079903)
Opening hours:
Mon – Fri: 11am – 7pm
Sat: 11am – 4pm (By appointment only)
Cost: $$$$
Planning for the big 'I do'
Now that you're done with the engagement ring design, it's time to make the necessary arrangements for your proposal event! Make a reservation at one of these romantic restaurants in town that can double up as a proposal venue or head to these quiet dating places in Singapore if you're planning for an intimate affair! Also, don't forget to make the event extra special with some of these affordable proposal props and decorations!
---
New to Shopee? Get $7 off (min. spend $15) with code*: PROPOSENOW
*TNC Applies. Valid for new users from 3 to 10 Apr 2020 only.