This Valentine's Day 2022, bring back a touch of old-fashioned romance — a candlelight dinner for two. Charm your way to your date's heart through his or her stomach, with our guide to the following must-visit romantic restaurants in Singapore – we've also included some affordable spots too so you don't have to worry about breaking the bank! Be sure to reserve a spot quickly to avoid disappointment!
Affordable romantic restaurants in Singapore 
1. Dusk Restaurant & Bar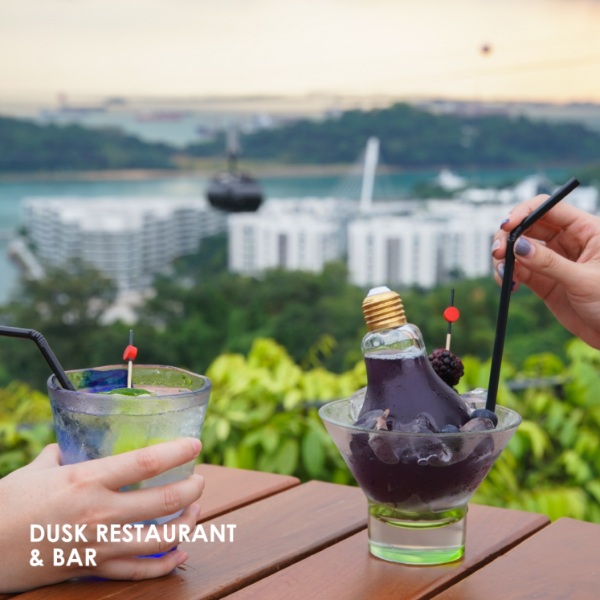 Want the best sunset view over a hilltop? Dusk Restaurant & Bar is a relatively affordable romantic restaurant in Singapore that offers just that and more. Enjoy European tapas over a sharing platter and pair it with cocktails or their fine selection of wine. 
The interiors here are a dreamy mix of wood surfaces with tile designed floors, perfect for a semi-casual romantic dinner. We suggest picking a table as close to the edge as possible to enjoy the gorgeous pink sunsets on this special day with your partner. 
For $68, enjoy a six-course chef's special with torched cheese grilled shrimps, savoury french onion soup and a choice between overn-roasted bone marrow with braised oxtail or pan-seared cod served with champagne cream. Once you're done with your meal, surprise your date with a Sentosa cable car ride and admire the dazzling landscape together!
Address: Faber Peak Singapore, Level 2, 109 Mount Faber Road, S(099203)
Opening Hours: Daily, 4pm – 11pm
2. Coastes Singapore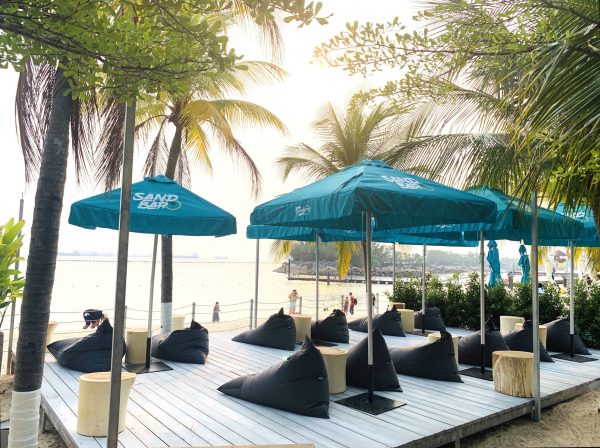 Are you and your partner a casual, laid-back couple? Then deviate from the high-end restaurants and choose a beach-front destination instead for 2022 Valentine's Day dinner! With hearty ribs, burgers, pasta and seafood (most under $30), Coastes Singapore is a charming bistro with a rustic vibe that will win you over for sure!
Don't forget to order a beer and go for a barefoot stroll on the beach after dinner. This affordable and romantic restaurant in Singapore is also loved by families, perfect for if you want to include your little one on this intimate occasion!
Address: 50 Siloso Beach Walk, S(099000)
Opening Hours:
Mon – Thurs: 9am – 9.30pm
Fri – Sun: 9am – 10.30pm
3. Privé Keppel Bay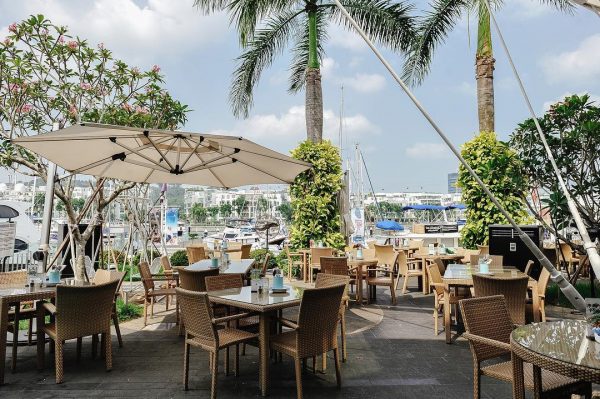 There's no better way to celebrate Valentine's Day than to enjoy each other's company against the gentle sea breeze at Privé Keppel Bay. Despite the sweltering heat, we urge you to go for the alfresco seating where you can take in the serene view of yachts bobbing on the water.
Not sure if this meets your budget? Fret not. Privé Keppel Bay is surprisingly one of the more affordable romantic restaurants in Singapore with mains priced below $35. Sink your teeth into their all-day brunch which includes soft and fluffy homestyle pancakes ($15) or go for the ultimate big breakfast ($21) that's perfect for two. Booking a spot for your 2022 Valentine's Day dinner? While the bruch menu won't be available after 5pm, other dishes worth the calories are the pan-roasted chilli and lime salmon ($25) and the fork-tender lemon and thyme roasted half chicken ($25).
Address: 2 Keppel Bay Vista, S(098382)
Opening Hours:
Mon – Fri: 9am – 10.30pm
Sat – Sun: 8am – 10.30pm
4. Super Loco Robertson Quay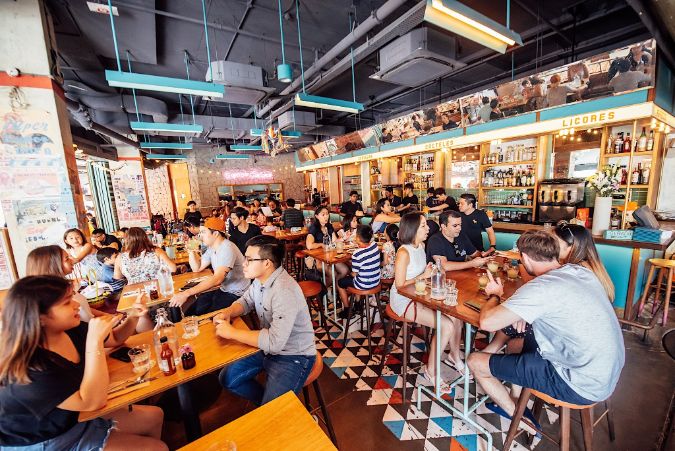 Not into fine dining and looking for a casual yet 'nice' place to bring your date for a 2022 Valentine's Day dinner? Super Loco Robertson Quay is an affordable romantic restaurant in Singapore we'd highly recommend. Don't overthink your dress code for this one and enjoy the fun and festive Mexican vibes. While there's nothing quite private about this buzzy restaurant, we think the vibrant atmosphere makes Super Loco a place we want to stay at all night!
Grab a table outdoors facing the Singapore River to begin your night. Enjoy casual conversations with your partner as you tuck into tacos (from $9), quesadillas (from $16), mains (under $40) along with their signature margaritas!
Address: The Quayside, 60 Robertson Quay #01-13, S(238252)
Opening Hours:
Mon – Fri: 11.30am – 10.30pm
Sat – Sun: 9am – 10.30pm
Romantic restaurants in Singapore with a view
5. LeVeL33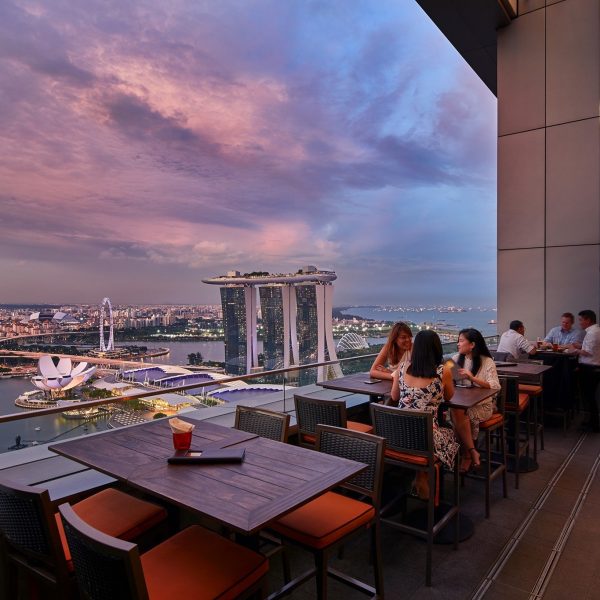 Are you and your partner beer enthusiasts? Head to the highest microbrewery in the world. LeVeL33 sits – you guessed it –  33 storeys above the CBD overlooking Marina Bay and easily earns a spot as one of the top romantic restaurants in Singapore to head to.
The restaurant incorporates hops and malt into its cuisine as well — a cooking technique that has earned rave reviews from patrons. Choose from their beer pairing menu and enjoy the view of Marina Bay and the city skyline from the outdoor seats. Psst, this romantic restaurant is one of the most affordable in Singapore with a scenic view. Their value-for-money mixed grill tasting platters start at $108 for two diners – that makes it less than $60 per pax! Each platter includes juicy Iberico pork jowl, tender lamb chops and premium dry-aged wagyu. 
Address: Marina Bay Financial Centre Tower 1, 8 Marina Boulevard, #33-01, S(018981)
Opening Hours: Daily, 11.30am – 10.30pm
6. Artemis Grill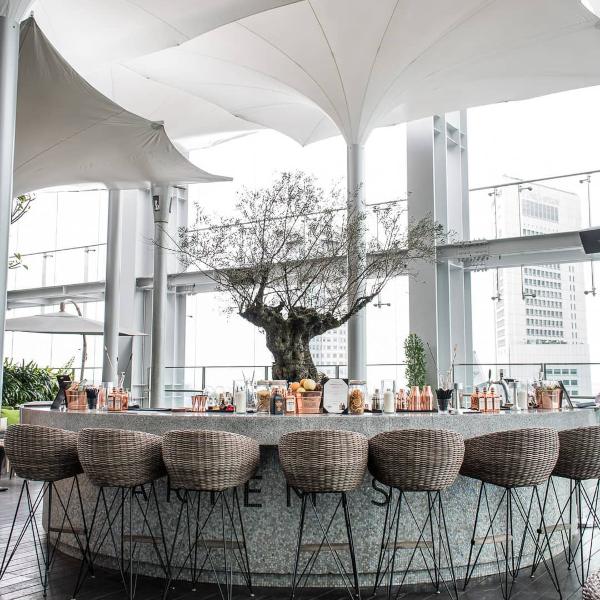 Artemis Grill combines a luxurious dining room and adjacent open-air bar — Sky Lounge, the crown jewel of this romantic restaurant. Serving up Mediterranean cuisine, Artemis Grill prides itself on using ethically-farmed meat and sustainable seafood as well as a good selection of vegan options for all to enjoy.
Located on the 40th floor of Singapore's eco-green building, CapitaGreen, take in the glittering landscape and cheers to an everlasting relationship with your partner. While the main courses range from $29 to $88 in this romantic restaurant in Singapore, there are some affordable grill platters such as the Morroccan Lamb Chops ($144 for two pax) that will fill your happy bellies this Valentine's Day!
Address: CapitaGreen Rooftop, 138 Market Street, Level 40, S(048946)
Opening Hours:
Tues  – Fri: 11.30am – 2.30pm, 5.30pm – 10pm
Sat: 5.30pm – 10pm
7. MONTI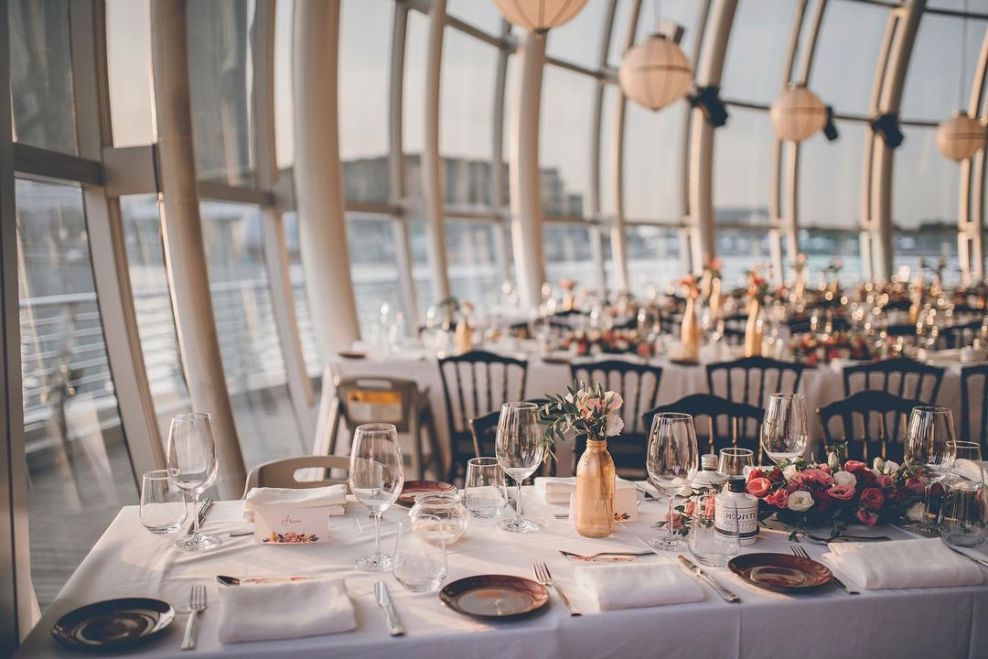 For some Italian Dolce Vita by the bay, head to MONTI where you'll get front row seats and dazzling views of Marina Bay Sands. Savour Italian fare with your partner and enjoy a tipple in their dreamy low-setting lounge or open-air rooftop terrace.
A must-try is their signature Acquerello Risotti ($48) which is mixed in a wheel of Parmigiano Reggiano and topped with generous shavings of fragrant black truffle. Another dish that will delight your taste buds is the Braised Beef Short Ribs ($42) that's tender and succulent – we're sure it'd be one of the best fall apart beef you've ever tasted!
Address: The Fullerton Pavilion, 82 Collyer Quay, S(049327)
Opening Hours:
Mon – Fri: 11am – 5pm, 6pm – 10.30pm
Sat – Sun: 9am – 5pm, 6pm – 10.30pm
8. LAVO Singapore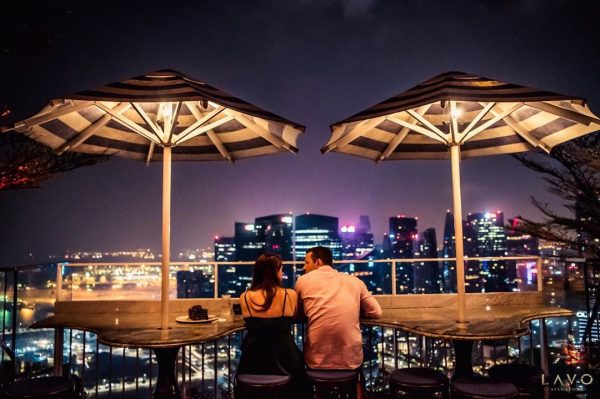 Looking for glitz and glamour? Pay a visit to Lavo Singapore for your Valentine's Day dinner this 2022! While this may not be the most affordable romantic restaurant in Singapore, the experience is unparalleled. Indulge yourself in vibe dining — a unique experience that combines dining with nightlife — at this swanky location!
The kitchen places a focus on Italian-American cuisine, serving up classics like chicken Parmigiano ($43) and their signature "The Meatball" ($35) – made from fresh wagyu beef topped with whipped ricotta. Be sure to retreat to their lush garden terrace with your partner (and a cocktail) for some quiet time.
Address: Marina Bay Sands, 10 Bayfront Avenue, Hotel Tower 1, Level 57 Sands Skypark, S(018956)
Opening Hours:
Mon-Sat: 11 am – 12 am
Sun, 12pm  – 12am
9. Zafferano Italian Restaurant & Lounge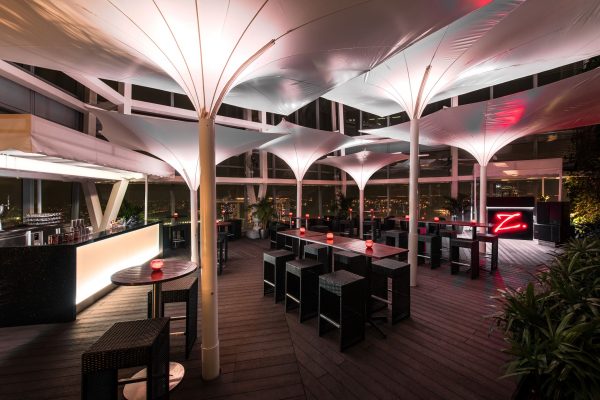 Zafferano Italian Restaurant & Lounge's dining room with Italian-inspired furniture and elegant decor will charm you at first sight. This explains why we can't help but reserve a spot for them on our list of romantic restaurants.
Perched atop Ocean Financial Centre Singapore, indulge in a pre-Valentine's day or Valentine's Day dinner 2022, with mouth-watering dishes like spaghetti served with razor clams and caviar ($46) and roasted lamb loin with heirloom beetroots, pistachio and sambuca jus ($55). Once done with your meal, sip on sunset cocktails in their Terrace Lounge and soak in the glittering views of Marina Bay Sands with your partner!
Address: Ocean Financial Centre, 10 Collyer Quay, Level 43, S(049315)
Opening Hours: Tues – Sun: 12noon – 3 pm, 6 pm – 11 pm
10. Art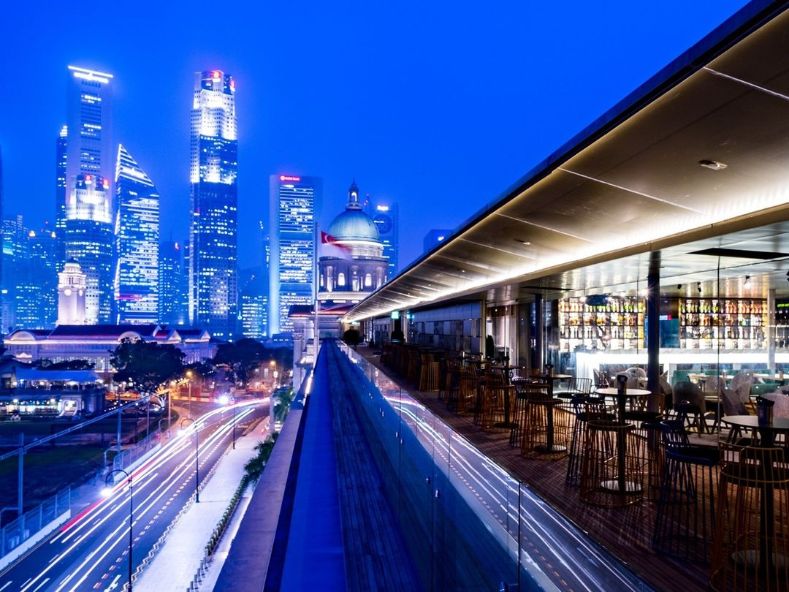 It's hard to beat the brilliant view at Art (previously Aura). The Italian cuisine is headed by chef Beppe de Vito (restaurateur who also runs Braci and pizzeria, Amo among other establishments). Art is an Italian fine dining restaurant that dishes up a repertoire of Italian cuisine paying homage to the chef's home. 
In the mood to splurge a little for a memorable 2022 Valentine's Day dinner in Singapore? Go for the juicy peckin duck ($88) drizzled with peppery chinotto sauce or the egg-laden taglierini ($48) served with a rich special sauce made from fresh red prawns. Don't forget to order a glass (or more) of wine or head up to Smoke and Mirrors for drinks, where you get sweeping views of the Padang and beyond that, Marina Bay Sands.
Make sure you're dressed to the nines when heading to this romantic restaurant in Singapore! Its sleek interior design and opulence begets it. This is also one of the best places in Singapore to take that couple #OOTN!
Address: National Gallery, 1 Saint Andrew's Road, #06-02, National Gallery S(178957)
Opening Hours: Tues – Sun: 12pm – 2pm, 6pm – 10pm
Romantic Japanese restaurants in Singapore
11. KOMA Singapore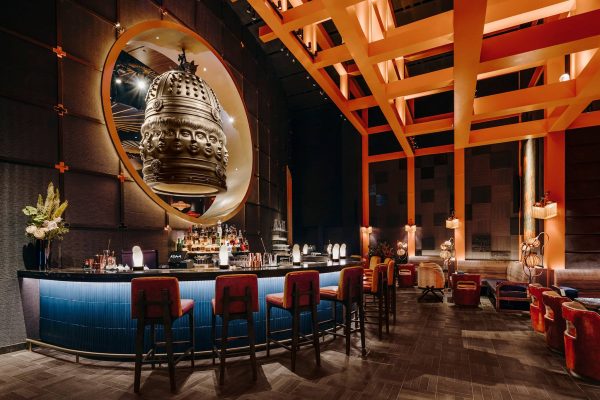 Be prepared for an eye-opening experience the moment you set foot in KOMA, for this is probably one of the grandest romantic restaurants you'll find in Singapore. Escort your date through the 20 meters long entrance lined with red Japanese Torii gates that resemble Kyoto's Fushimi Inari Shrine. Then, watch as she gasps in awe at the gigantic Japanese bell suspended above the bar — this dramatic setting is bound to get her heart thumping! 
But it's not only the Japanese-inspired decor that impresses at KOMA Singapore, the food here is extraordinary too. From the assorted sushi platter ($88) to A5 wagyu beef tenderloin ($170), they've got it all. Need a drink after your hearty meal? Head over to the bar and sip on their popular sake cocktails to end the night right! 
Address: The Shoppes at Marina Bay Sands, 2 Bayfront Avenue, #B1-67, S(018972)
Opening Hours: Daily, 11.30 am – 3 pm, 5 pm – 12 am
12. Akira Back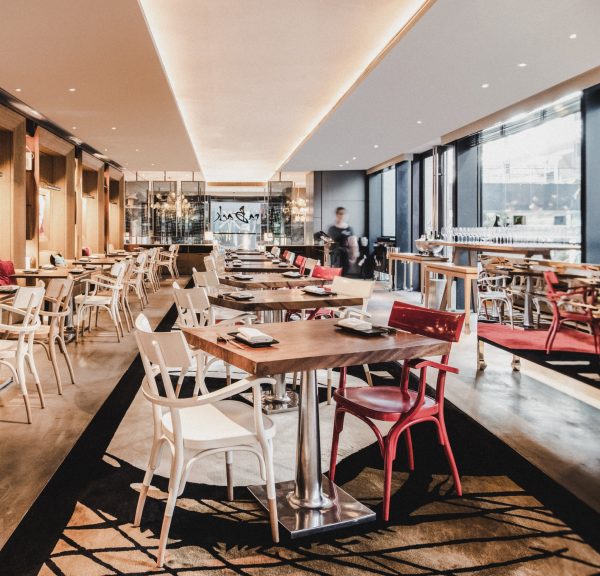 You don't need an overly fancy restaurant when you've got the right person to share your food with. Here at Akira Back, the pleasant ambience and delectable food more than make up for the lack of a picturesque view. 
The menu is designed for communal sharing, with cold dishes like AB Tuna Pizza ($26) and unique fusion delights like the gochujang miso with caviar ($66). There are also hot dishes to warm your stomach, including applewood smoked A4 Tochigi Striploin ($68) and pan-seared yellowtail served with wasabi Brussels ($27). 
Address: JW Marriott Hotel Singapore South Beach, 30 Beach Road, Level B1M, S(189763)
Opening Hours: Daily, 12pm – 2.30pm, 6pm – 10pm
13. Keyaki Japanese Restaurant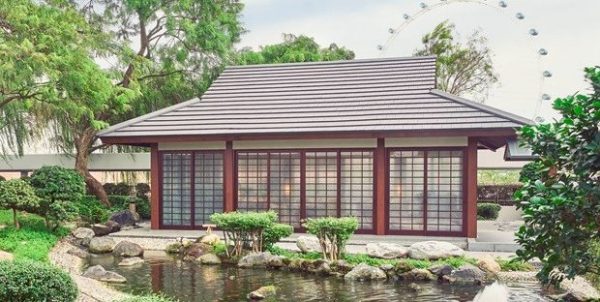 Open up into the fourth floor of Pan Pacific and you'll find yourself transported into a whimsical Kyoto-styled garden complete with weeping willows, koi pond and Shoji screens. Definitely one of the best ways to start your 2022 Valentine's Day dinner date! The Garden Pavilion house Keyaki Japanese Restaurant, an award-restaurant renowned for its use of fresh ingredients imported directly from Japan. 
While this is definitely not an affordable romantic restaurant in Singapore for those on a tighter budget, the top-notch seafood quality makes every cent a worthwhile investment. Indulge yourself in the eight-course Kerayki Kaiseki ($200) which comes with premium lobster and wagyu beef dishes or the teppanyaki multi-courses ranging $165 to $210 for a smokey feast! Be sure to bring along a camera so you can capture some sweet couple shots in the scenic Japanese garden set against the backdrop of the Singapore Flyer. 
Address: Pan Pacific Singapore, Marina Square, 7 Raffles Boulevard, S(039595)
Opening Hours: Daily, 11.30am – 2.30pm, 6pm – 10pm
Garden-like romantic restaurants in Singapore
14. Marguerite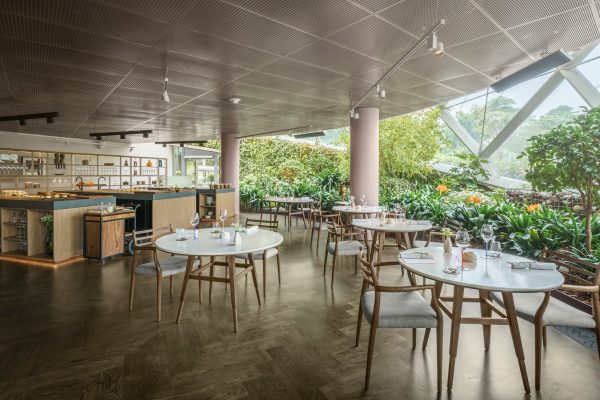 A sub-20-degree temperature, beautiful flowers and good food — now this is one place you'd want to bring your date to for Valentine's Day dinner 2022. Marguerite is housed within the Flower Dome in Gardens by the Bay, easily making it one of the most romantic restaurants in Singapore to cosy up in. Helmed by Michelini-starred Chef Michael Wilson, one can look forward to a kaleidoscope of flavours presented in a unique way. Get ready to be wowed by the food in this atmospheric restaurant.
Couples can look forward to the French-inspired seven-course menus (from $228). Some Instagrammable delights include the Foie Gras Cornetto which looks exactly like a mini ice-cream cone and the savoury faggotini purse made from watermelon puree and seaweed jelly. Another highlight is the juicy Ora King salmon that's complemented with lime and fumet for a unique medley of flavours. 
Prices may be a little on the steep side here, so if not for yourself, you can perhaps slip this to your parents celebrating the special day!
Address: Flower Dome, Gardens by the Bay, 18 Marina Gardens Drive, #01-09, S(018953)
Opening Hours:
Wed – Thurs: 6pm – 10pm
Fri – Sun: 12pm – 3pm, 6pm – 10pm
15. The Halia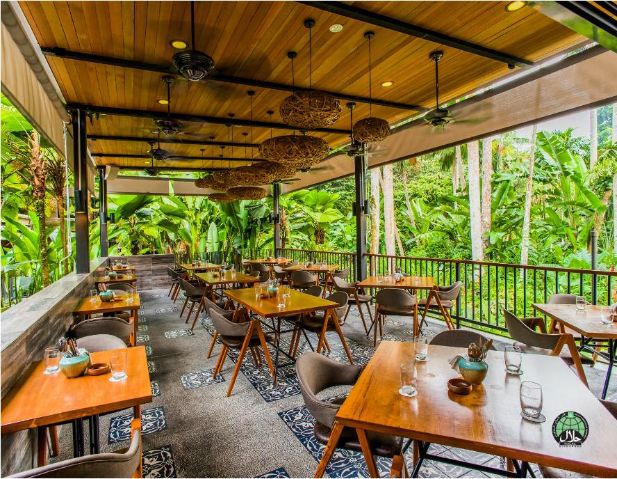 Are you and your other half nature lovers? If yes, then The Halia will make the perfect romantic restaurant for your Valentine's Day dinner 2022 in Singapore. With floor to ceiling windows, lush greenery and with an interior that gels perfectly with the Ginger Garden it's situated in, there is much to admire about this tranquil space. Bonus: this romantic restaurant in Singapore has also been halal-certified since 2017.
Their all-day menu boasts local favourites like chilli crab spaghetti ($26) and several steak renditions. The restaurant also features vegetarian options including vegetarian desserts like sticky toffee pudding ($9) and candied ginger parfait — paying ode to the surrounding garden it's in.
Address: Ginger Gardens, Singapore Botanic Gardens, 1 Cluny Road via Tyersall Avenue, S(259569)
Opening Hours:
Mon – Fri: 9am – 8.30pm
Sat-Sun: 10am – 8.30pm
16. The Summerhouse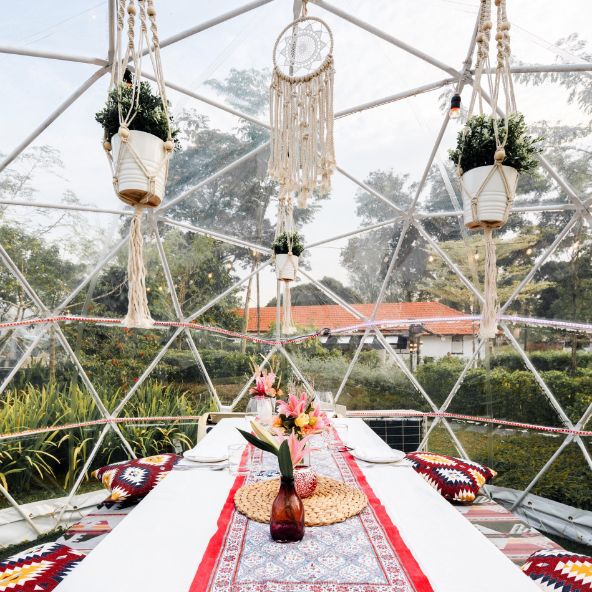 Now we're sure many of you have heard of or seen pictures of the idyllic garden domes in The Summerhouse on social media. For those who haven't, this romantic restaurant in Singapore houses a French Dining Room, Wildseed cafe, Wildseed bar and of course, the stunning Garden Domes. As pictured above, you and your partner will be seated in an igloo-like dome, under the stars, amidst lush gardens. One highlight of this restaurant is its dedication to bringing you farm to table food — some of the herbs and flowers are incorporated into the dishes that land up on your plate, giving you the freshest possible experience.
A reservation at the Garden Domes for 2022 Valentine's Day dinner will set you back about $380++ per couple (subject to additional charges for V-day). For that price, you'll be treated to an eight-course meal with starters like freshly shucked oyster and foie gras, mains like black cod with risotto or dry-aged Angus tenderloin with black truffle, and a decadent white chocolate millefeuille and berries sorbet. Paired with the perfect couple #OOTD, it'll be hard to resist this V-day idea!
Address: 3 Park Lane, Seletar Aerospace Park, S(798387)
Opening Hours (Garden Dome): Wed-Sun: 6 pm – 10.30 pm
Colonial house setting romantic restaurants in Singapore
17. UNA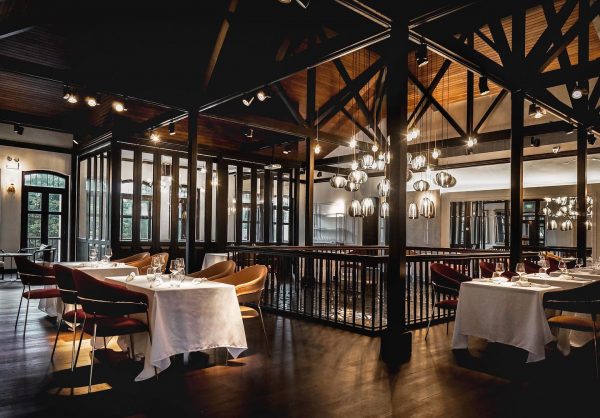 If UNA sounds familiar to you, that's because this renowned Spanish restaurant was once housed in One Rochester. They've since found a new home in The Alkaff Mansion, a rustic manor decked in timber and dazzling drop lights. Returning customers will be glad to know that the UNA's signature dishes such as suckling pig and paella are still available in the new location. 
This romantic restaurant in Singapore is probably also one of the rare few places you can go for a taste of Basque Country on V-day! Start the feast with some tapas, including tiger prawns ($26) and foie gras with flatbread ($28) before moving on to some Spanish delicacies like Paella De Marisco with generous fresh prawns, clams and mussels ($52 – $72) and Angus beef cheek braised in red wine ($34). There's also a good selection of desserts such as caramelised brioche with vanilla ice cream and the signature creme brulee to end the night off on a sweet note!
Address: The Alkaff Mansion, Level 2, 10 Telok Blangah Green, S(109178)
Opening Hours:
Tues – Thurs: 6pm – 10.30pm
Fri: 11.30 am – 2.30pm, 6pm – 10.30pm
Sat-Sun: 6pm – 10.30pm
A romantic dinner is the best way to say 'I love you'
Our list of affordable and luxurious romantic restaurants in Singapore will surely make your 2022 Valentine's Day dinner a delicious and lovely one! Can't make it for dinner on this special occasion? Make it up to your other half with a slow afternoon at some of these best high tea places in Singapore. Aside from feasting, catch your partner by surprise with these alternative V-day ideas! Or shower your special one with these wonderful Valentine's Day gift ideas! Check out awesome deals during our Valentine's Day Sale!
This article was updated on 24 February 2022. Additional research done by Iris Tan.