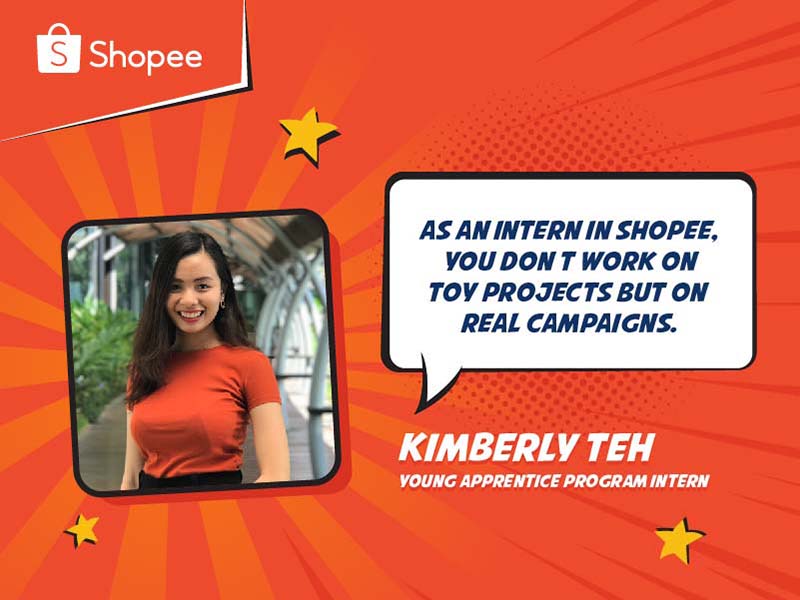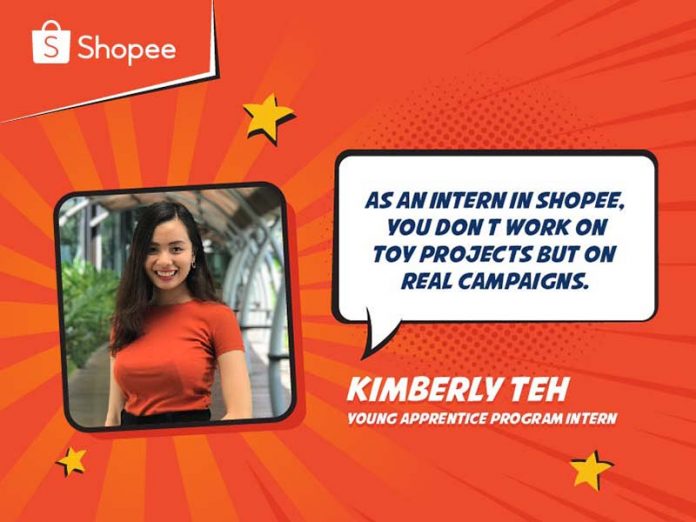 <![CDATA[
Kimberly was a final year Business Management student at Sunway University and recently completed her internship in Shopee Malaysia's Business Development team. During her 3-months' stint in the Shopee Young Apprentice Program (YAP), she was assigned to projects for ShopeePay.
In our second segment of Shopee Stories: Intern @ Shopee Malaysia, we caught up with Kimberly Teh, one of the interns in Shopee Malaysia's Young Apprentice Program (YAP), to ask her what was her experience like during her 3-months internship with us. Below is my conversation with Kimberly!
What made you join Shopee?
My interest has always been in E-commerce. Since young, I have been selling products (from clothes to cosmetics) online. Therefore, I believe the best place for me to advance my career is with a stable and well-respected e-commerce company like Shopee. As Shopee is internationally known for its products and its mission and has a history of providing its employees with a happy yet challenging work environment, I want to be part of a company where I can continue to use and expand my skillset and knowledge of this industry. Furthermore, I'm incredibly impressed with how fast the company has grown, being an industry leader. This is exactly the type of a company I'm looking for – a fast-growth start-up where my experience and skills can be put to use, and where I can play a part in making things happen.
What are some highlights of your internship at Shopee?
Besides the free snacks, I enjoyed the autonomy given to me during this internship. I cannot believe that even as an Intern, I was given so much ownership on taking responsibilities on high-impact projects, actively contribute to the decision-making process, and successfully execute the project towards the end. As this was my internship program and being inexperienced, I thought that I would be told what to do and just follow the instructions given by managers. However, I was pleasingly surprised by the autonomy and the growth I experienced working on my tasks and projects in my team. This did not mean negligence from my supervisor, but rather I felt trusted as a subordinate to be able to think independently and critically about my projects and be accountable for my actions. Moreover, my manager and teammates were always nearby to give me advice when I needed it.
What is your greatest takeaway from the Young Apprentice Program?
By participating in the Young Apprentice program at Shopee, it has enabled me to bridge a gap between theoretical and practical skills. This has allowed me to apply knowledge as well as skills I've learnt in the course of my studies and put them into practice. In addition to that, it was a great opportunity for me to develop newfound knowledge, which includes knowing how to fulfill tasks relevant to my desired career path. Not only that, but it was also great to sharpen and hone the skills I have already possessed through YAP. Moreover, this internship also introduced me to the "corporate" world by getting a glimpse of insights into professional practices. Besides developing an understanding of the world of work, I have also gained awareness of my skills and abilities. As such, this experience increased my understanding, professionalism, and excitement for work after graduation. It also gave me the motivation to pursue a career in a similar field.
Any advice for future interns who want to join this program?
Be prepared! In a fast-paced company like Shopee, things can get hard, you might get lost, but help is always there. I am so grateful that my team and manager is so supportive!  They always have guided me through difficulties and provided me with feedback. Therefore, don't be afraid to ask for help. If someone asks you to do something and you're not exactly sure how to do it, you
need 
to ask for clarification. It will only take them a minute to explain it to you compared to the 30 minutes it would take you getting frustrated, feeling incompetent, and still not getting the job done. I know It can be intimidating when you're surrounded by professionals while you're just trying to figure everything out, but know your abilities! At the end of the day, you are working with them so you are just as qualified. Besides, the people in Shopee are very friendly and helpful. In times of need, they will lend you a hand to overcome the challenges that you are facing.
How different is Shopee Young Apprentice Program compared to other internships?
As I did not intern at other companies before this, I can only speak for the experience that I have had in Shopee. My internship experience was truly rewarding as I understood after this experience that you have to have a passion for what you do because 9-5, 5 days a week can be tiring and boring if you aren't enjoying your work. By saying so, you will LITERALLY never get bored at Shopee! In my short span of 3 months, I worked on 4 campaigns, launch a new feature, picked up some design skills, and got to put my Excel skills to use.
Do you think your work in Shopee is impactful?
Yes definitely! As an intern in Shopee, you don't work on toy projects, you are working on real campaigns that once deployed, will be seen by millions of people. Given that, Shopee has a large number of users and every single decision you make will have direct impacts on the user's shopping experience. During my internship at Shopee, I was involved in the development of many campaigns and they were eventually deployed to the front end of the app and are now being seen and browsed through by millions of users. Very few companies can have that impact, so I am truly proud of my work. Thank you Kimberly for sharing us insights into what you do here at Shopee as a Young Apprentice Program intern. Stay tuned for more sharing from our interns!
---
Follow the
 #ShopeeInsider
 and
 #lifeatshopee
 hashtags on
 LinkedIn
 for more features like this. If you'd like to be part of our Shopee Team, 
find out more here!
]]>