What compels you to buy a skincare product? For some, it may be the attractive packaging; for others, the pleasant fragrance. However, an important factor to consider is also the ingredients used in making the product. Many skincare products in the market contain harsh and harmful ingredients — a no-no for those with sensitive skin. Make a healthier decision for your skin (and our environment) by switching out to organic skincare in Singapore! Read on to find out what's the difference between 'natural' and 'organic' skincare labels as well as the best organic skincare products to purchase online.
What is organic skincare?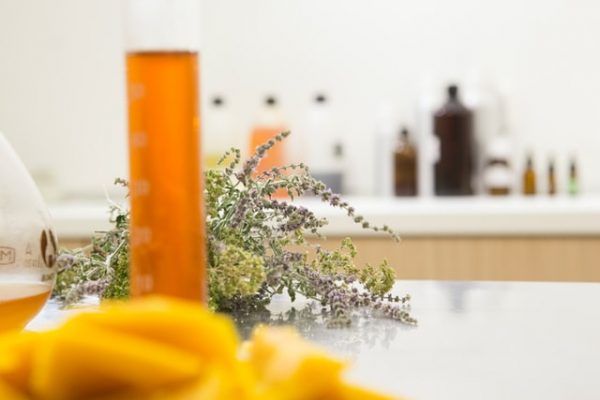 Organic skincare in Singapore refers to products which contain ingredients grown naturally. For plant-based ingredients, this means the elimination of pesticides, herbicides, fungicides and synthetic fertilisers. For animal-based ingredients, the animal and its parents must have been raised organically, live on organic pasture and fed organic crops without any exposure to genetically modified organisms (GMO). Additionally, in order to be certified as organic, the ingredients used in the skincare product must be documented and traceable. The product must also be cruelty-free.
However, it's good to note that certified organic skincare products may not include 100% organic ingredients. Products that claim they are 'Made with Organic Ingredients' are only required to have 70% organic ingredients. Many skincare products are also water-based and water is a natural ingredient but not organic. Instead, look out for products which have the USDA Organic seal. This label is given to products with at least 95% organic ingredients.
Natural vs organic skincare products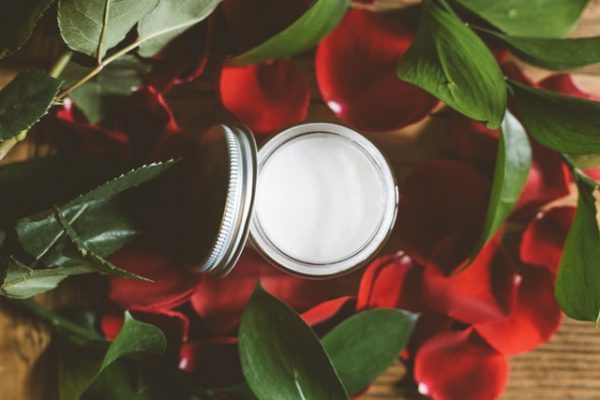 You may have noticed that many skincare brands in Singapore tend to use the terms 'natural' and 'organic' loosely. As consumers, we may be misled into thinking they mean the same thing. However, 'natural' skincare products are not regulated. They can contain naturally-derived ingredients which may be highly processed and harsh to the skin. Additionally, fertilisers, pesticides and GMO may have been used in the production of natural ingredients.
But that does not mean all natural skincare products are bad. In general, natural skincare may be more preferable for those with sensitive skin. It reduces the concern for potential side effects of synthetic ingredients. Nonetheless, the key to choosing the right skincare is to read the ingredient list to ensure they all work for your skin. Meanwhile, if you're all about minimising the damage done to our mother earth, sticking to skincare products with a certified organic label is your best bet.
1. Alteya Organics Organic Bulgarian Rose Water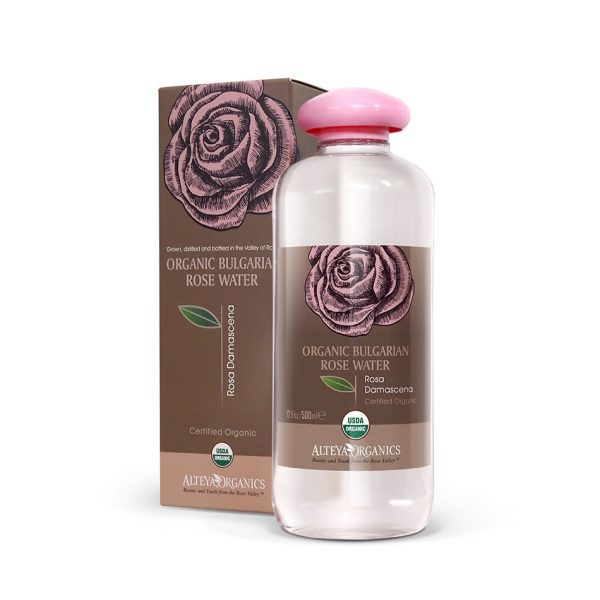 Flower water offers many skin benefits and amongst them, rose water is one of the most popular. There's no better place to get your hands on organic rose water than Alteya Organics. The brand is known for their rose-breeding expertise and has its own organic rose fields in Bulgarian Rose Valley. It relies on ancient recipes to produce high-quality organic rose skincare products that improve skin complexion while being kind to the earth.
The Alteya Organics organic Bulgarian rose water (available on skinsociety.sg) has the USDA Organic seal and is vegan-certified. Containing only 100% pure steam distilled rose flower water, this product has anti-inflammatory, acne-preventing and skin balancing properties. You can use this with a cotton pad or pour some of the organic Bulgarian rose water into a spray bottle and bring it on the go. Your skin will thank you for a refreshing spray especially in Singapore's hot weather!
2. Bentley Organic Reviving Eye Cream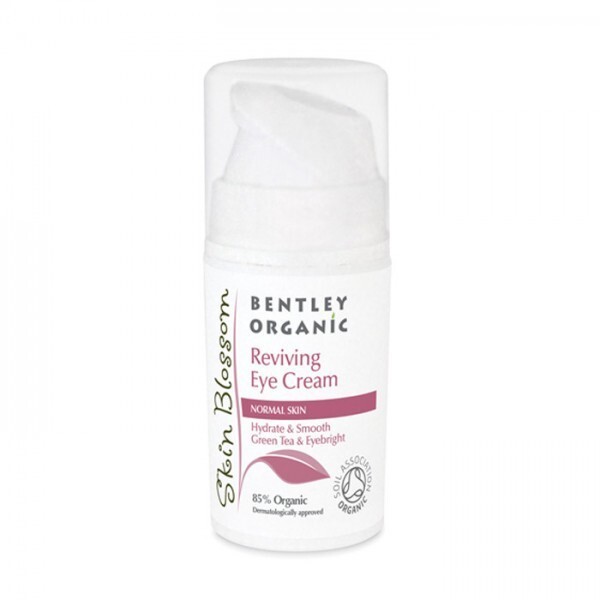 The skin around our eyes is extremely sensitive and delicate. Which is why it may be better to use organic skincare products in Singapore instead of regular eye creams which can be harsh . If you're on a search for an organic eye cream, look no further than Bentley Organic. The brand takes pride in providing a unique range of Soil Association certified organic products for different skin types.
The Bentley Organic reviving eye cream (available on Aldha) is a vegan certified product and has received The Green Parent Natural Beauty Gold Award in 2014. Popular with the organic beauty community, this lightweight eye cream is great for moisturising the eye area and smoothing fine lines. The non-oily formula absorbs easily into the skin and will not cause your eye makeup to become a cakey mess. It's also absolutely free of skincare nasties like paraben, SLS, phenoxyethanol and fragrance!
3. Sierra Bees Organic Lip Balm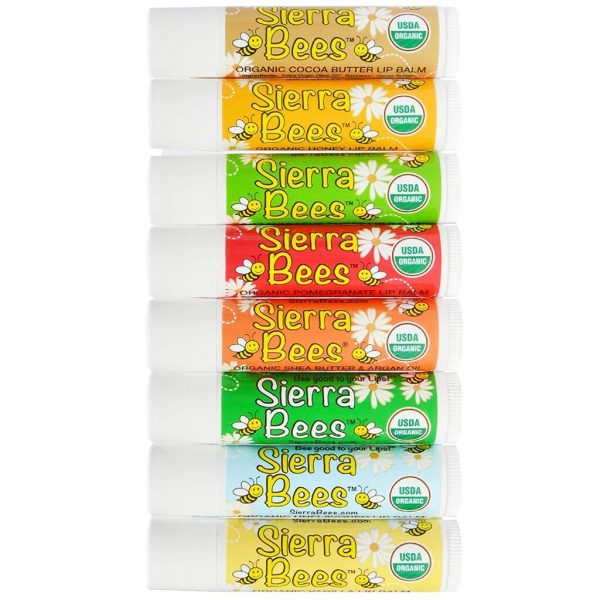 Getting ready for a romantic date? Dry, chapped lips are the last thing you want to turn up with! While a simple chapstick will do the trick, nothing quite compares to the healing powers of organic ingredients found in the ever-so-famous Sierra Bees organic lip balm (available on ohsofresh). Formulated with sustainably sourced beeswax, olive oil and non-GMO Vitamin E, these lip balms are a must-have in your organic skincare collection in Singapore!
As its brand name suggests, Sierra Bees specialises in producing skincare products made with wholesome ingredients from bees. This includes honey, bee propolis, royal jelly and beeswax. As part of their efforts to protect bees and the environment, Sierra Bees only works with well-established bee farmers who practice ethical and humane collection of crude wax and honey. Organic beauty junkies will be happy to know that all of the brand's lip balms are gluten-free and USDA Organic certified.
4. Dr. Bronner's Organic Magic Balm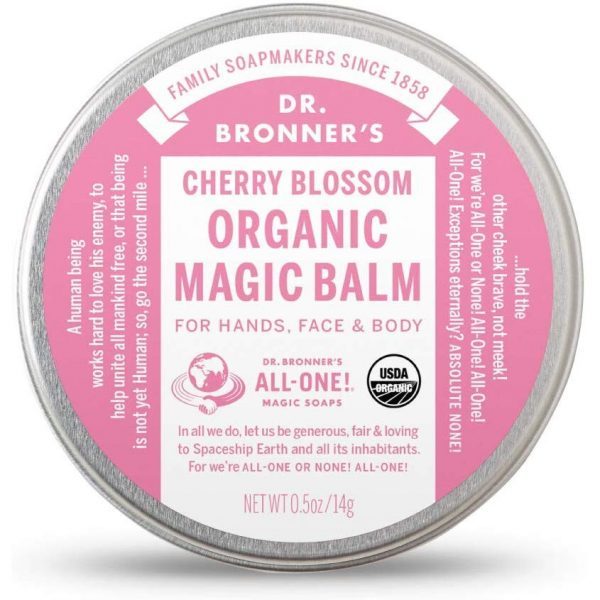 Those with sensitive skin will be familiar with Dr. Bronner's, an organic skincare brand in Singapore well-known for its Pure-Castile soaps (available on S3Beauty). The brand prides itself on using the purest organic and Fair Trade ingredients with absolutely no synthetic preservatives, detergents or foaming agents. Dr. Bronner's products are a must-have if you're starting out your organic skincare journey as the brand is vegan and USDA Organic certified, Non-GMO project verified and cruelty-free!
Aside from the Pure-Castile soaps, you should also try Dr. Bronner's Organic Magic Balm (available on A-style Japan). This handy little all-purpose balm fits well in your purse and comes into good use on chapped-dry skin on any part of your body! It's formulated with all things organic, including beeswax, coconut, avocado oil, jojoba oil and hemp oil. If you've just gotten inked recently, this organic magic balm can also help accelerate the healing process and brighten up any old tattoos!
5. BE.ST Organic Peach Rose Mask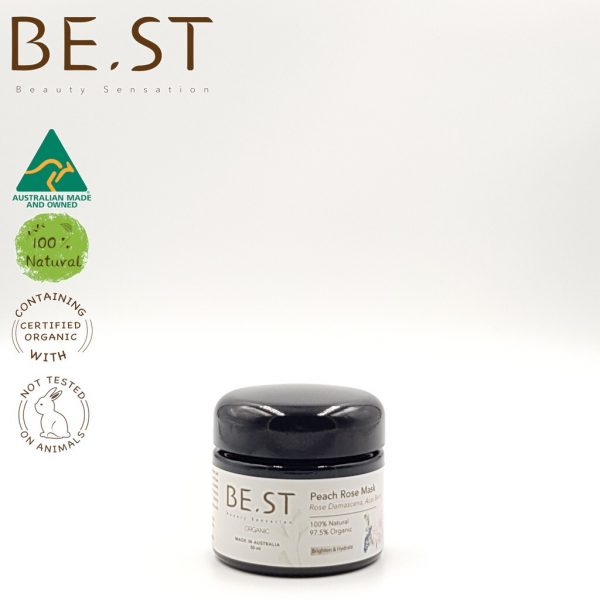 It's no surprise that many good organic skincare brands originated from Australia. BE.ST Organic is one of the up and rising organic Australian skincare brands worth looking out for in Singapore. Designed with Asian skin in mind, BE.ST Organic products boast a 100% natural formula. It's free from harmful ingredients such as mineral oils, pesticides and synthetic fragrances.
While the brand offers a wide range of products including cleansers, makeup removers, and essences, what stood out for us is the BE.ST Organic peach rose mask (available on Best Organic Official Store). This mask acts as a quick pick-me-up for dull and dehydrated skin. Made of 100% natural ingredients and 97.5% organic ingredients, the mask contains nutrients from acai berries and Rose Damascena to boost collagen and accelerate skin regeneration. It's also formulated with vegan hyaluronic acid which relieves skin dryness for a plump and dewy complexion!
6. The Organic Pharmacy Blemish Gel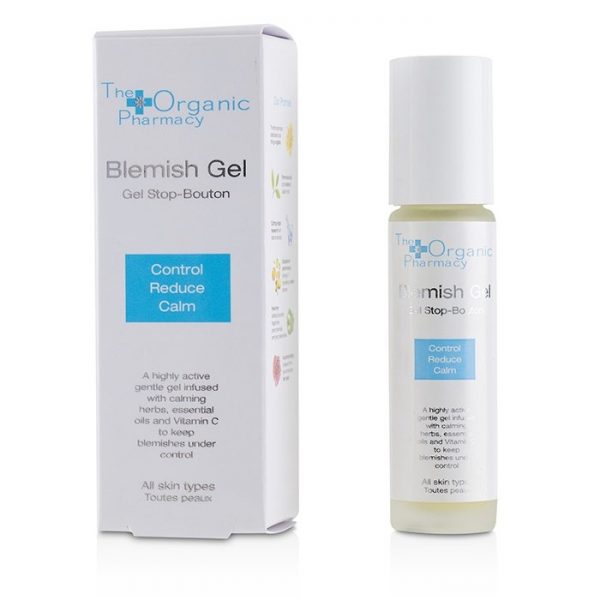 The Organic Pharmacy is a one-stop destination for all things organic. The brand is an Ecocert approved manufacturer and adheres to specific market's regulations on organic products. In fact, The Organic Pharmacy makes constant effort to avoid any ingredients with synthetic growth hormonal activities to provide safe products for its customers.
If you're having some last-minute skin troubles and need to look your best for the night, The Organic Pharmacy blemish gel (available on strawberrynet.sg) can come to your rescue! This rollerball spot treatment is formulated with organic nasturtium, echinacea and tea tree oil to disinfect, calm and treat inflammation all at once. Simply roll it over the targetted area to dispense the product and watch the pesky blemishes diminish gradually!
Pro Tip: Keep the blemish gel refrigerated and experience the ultimate cooling sensation from the metal rollerball tip! A refrigerated skincare product can also help to soothe irritated skin faster.
7. Avril Organic & Vegan Lifting Face Mask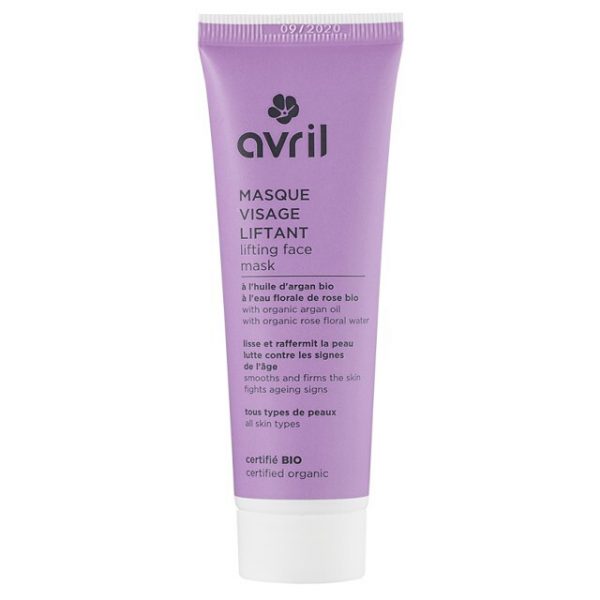 Avril Organic is THE organic skincare brand to go for in Singapore if you're big on environmental sustainability. Aside from using organic ingredients for its range of products, the brand goes the extra mile to eliminate unnecessary packaging materials and plant trees to offset their CO emissions. All their products (with the exception of dissolving bath and nail polishes) are certified by Ecocert or Bureau Veritas which ensure no harmful ingredients (you know the drill) are used.
Harsh ingredients are the last thing you want on your face especially if you have mature skin. A healthier way to fight against signs of ageing is by using the Avril organic & vegan lifting face mask (available on Avril Official)! This firming face mask is enriched with organic shea butter, organic rose floral water as well as organic cherry extract to boost skin's vitality. But most importantly, it contains Junia Rubens extracts which stimulate the production of collagen for a youthful appearance. Unlike usual clay masks which you have to apply on a clean and dry face, this lifting face mask works better on moist skin. Use it every one to two times a week for the best results!
8. Green People Facial Sun Cream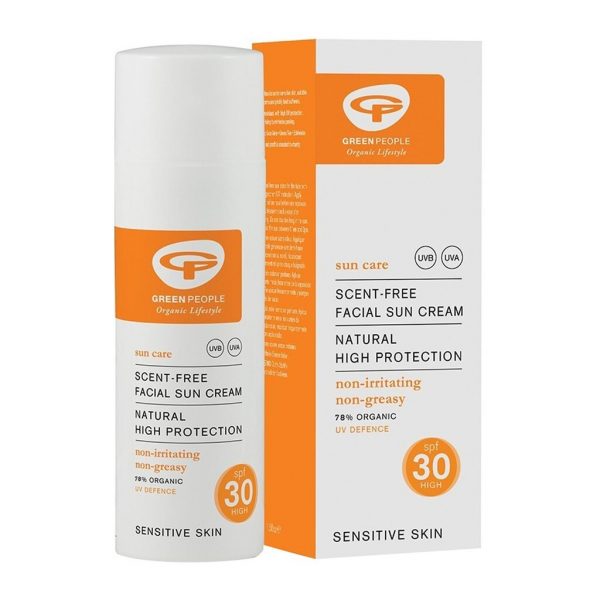 Charlotte Vøhtz, the Founder of Green People, embarked on her organic skincare journey when she failed to find an all-natural range that caters to her daughter's eczema-prone skin. After the brand was established, Charlotte was invited to become a committee member of the Soil Association to design the first standards for organic beauty. The brand was subsequently certified by two other certification bodies — Organic Food Federation and EcoCert. Having shaped the organic beauty industry, you can be sure that Charlotte's in-depth knowledge in organic skincare translates into the quality of the products produced by the Green People.
The Green People facial sun cream (available on VitaKids Pte Ltd) is an organic, scent-free sun cream with SPF30 for everyday sun protection. It contains high amounts of antioxidants thanks to the inclusion of organic edelweiss and rosemary. Additionally, it's enriched with organic avocado and organic green tea to maintain collagen and elasticity in the skin. This organic skincare product in Singapore is a godsend for both adults and kids suffering from eczema and psoriasis as it's non-irritating, non-comedogenic and non-greasy. For more tips on managing sensitive skin, read this guide on skincare for sensitive skin!
More ways to keep up with your skincare
Organic skincare or not, patience is the key when you're trying to improve your skin's complexion in Singapore. Instead of expecting overnight results, a better way to boost your skin's vitality is to keep up with your daily skincare routine steps. Additionally, go the extra mile and pamper your skin with a DIY spa facial using these nifty beauty gadgets. For more beauty deals and tips, don't forget to join our Shopee Beautyholics membership for exclusive, members-only deals! ]]>