Whether you celebrate the Festival of Lights or not, henna art is something that all races can enjoy. We can't say no to getting our palms (or bodies) decked out in intricate hand drawn patterns — almost like a beautiful tattoo that fades! Still thinking about what henna design to go for this Deepavali 2021? We've rounded up 10 beautiful henna designs from bold snake motifs to gorgeous white floral patterns that you can take inspiration from.
What is henna?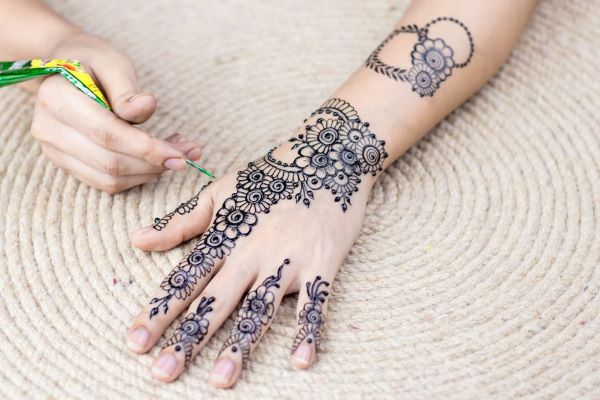 Henna is a plant-based dye made from powdered leaves of the mignonette tree, also known as the henna plant. Other ingredients include sugar and essential oils that help to create the consistency of a paste. After being applied to the skin, it oxidises with the air and gradually turns darker. Henna is often used when celebrating special occasions like Deepavali and weddings, as it symbolises good health and prosperity.
How long do henna designs last?
Henna stains generally last for about two weeks before it starts fading, while white henna designs last for three to ten days. 
Pro Tip: Dab on a few drops of medicated oil, such as axe oil, all over your henna design to make it appear darker and last longer. Alternatively, apply a mixture of sugar and lime onto the design for the same effect. Avoid washing your hands too often or the design will wear off faster.
How to remove henna?
Want to try more henna designs? Here's how you can remove henna stains safely, without having to wait for them to slowly fade.
Gently massage the skin with any

cleanser

or

hand wash

of your choice for five minutes in circular motions.

Fill a bowl with warm water and add one teaspoon of salt and slices of lemon 

Soak your hand in the water for 10-12 minutes

Get one teaspoon of

baking soda

and mix it with lemon juice

Massage the mixture gently on henna-stained skin

Soak your hands in water for another 5-10 minutes

Rub gently with a towel
White henna designs
1. White floral henna design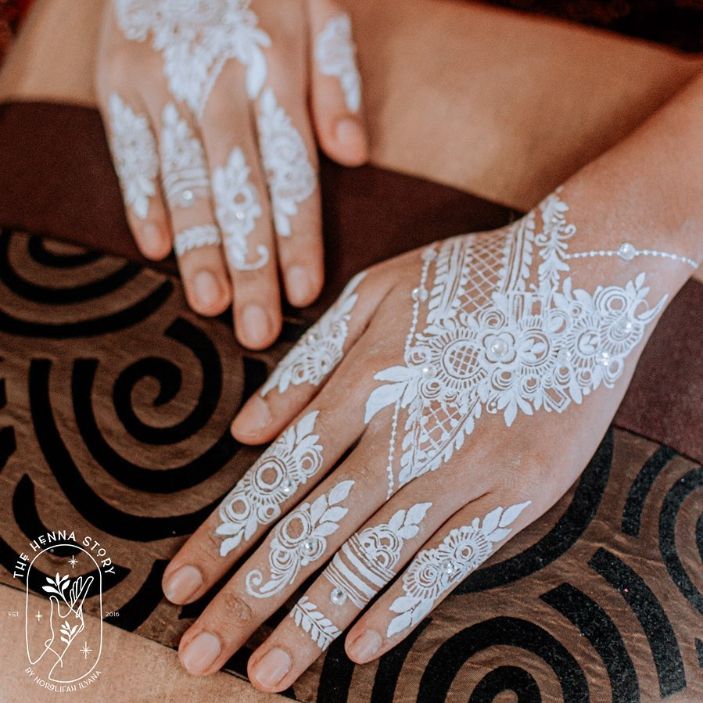 Opt for white floral henna designs for Deepavali this 2021! White henna might not be derived from the henna plant but the cosmetic-grade body art is safe for your skin. We love how elegant and feminine this white henna design looks and how it stands out. To achieve this, simply adorn the back of your palm with floral patterns for a beautiful henna design. For the finishing touch, add accents with tiny diamond rhinestones.
2. White veil design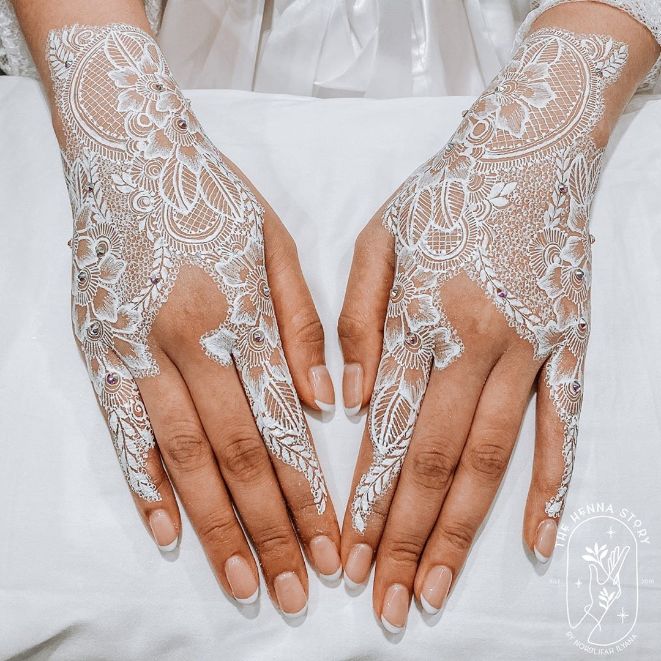 We couldn't leave this beautiful white veil henna design out of our list! This henna design might even serve as inspiration for your bridal henna or Halloween this 2021 — if you're planning to dress as bridezilla! Use tiny jewels to add a lovely sparkle to the henna art. Complement it with French manicure for a clean, put-together look.
Pro tip: White henna is easy to remove — simply use makeup remover or oil to rub it off. You can create your own white henna designs with white henna cones online!
Reptile henna designs
3. Snake design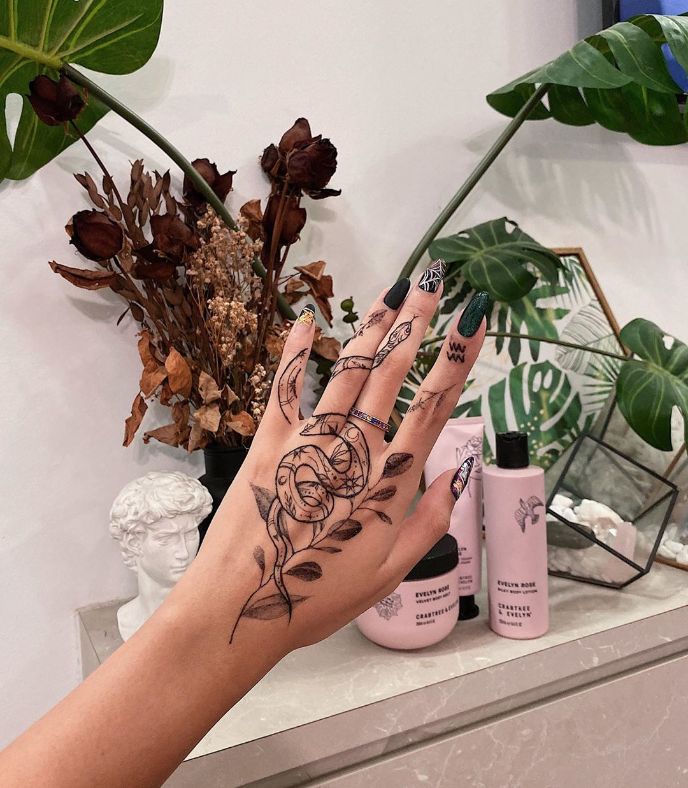 Reptile henna designs may not be as common as floral henna designs, but they hold symbolic meanings. For instance, this snake henna design represents seekers of enlightenment. If your 2021 resolution is to have greater peace of mind, this henna design would be the perfect choice for Deepavali. 
Take note that this snake henna design is drawn with Jagua ink (available on inkperfect.co) — a natural ink made from Jagua fruit extract. Jagua ink designs resemble permanent tattoos more than henna designs as they have a black-bluish stain. This gives it a more modern, gothic vibe and is a safe alternative to traditional henna.
Body henna designs
4. Back henna design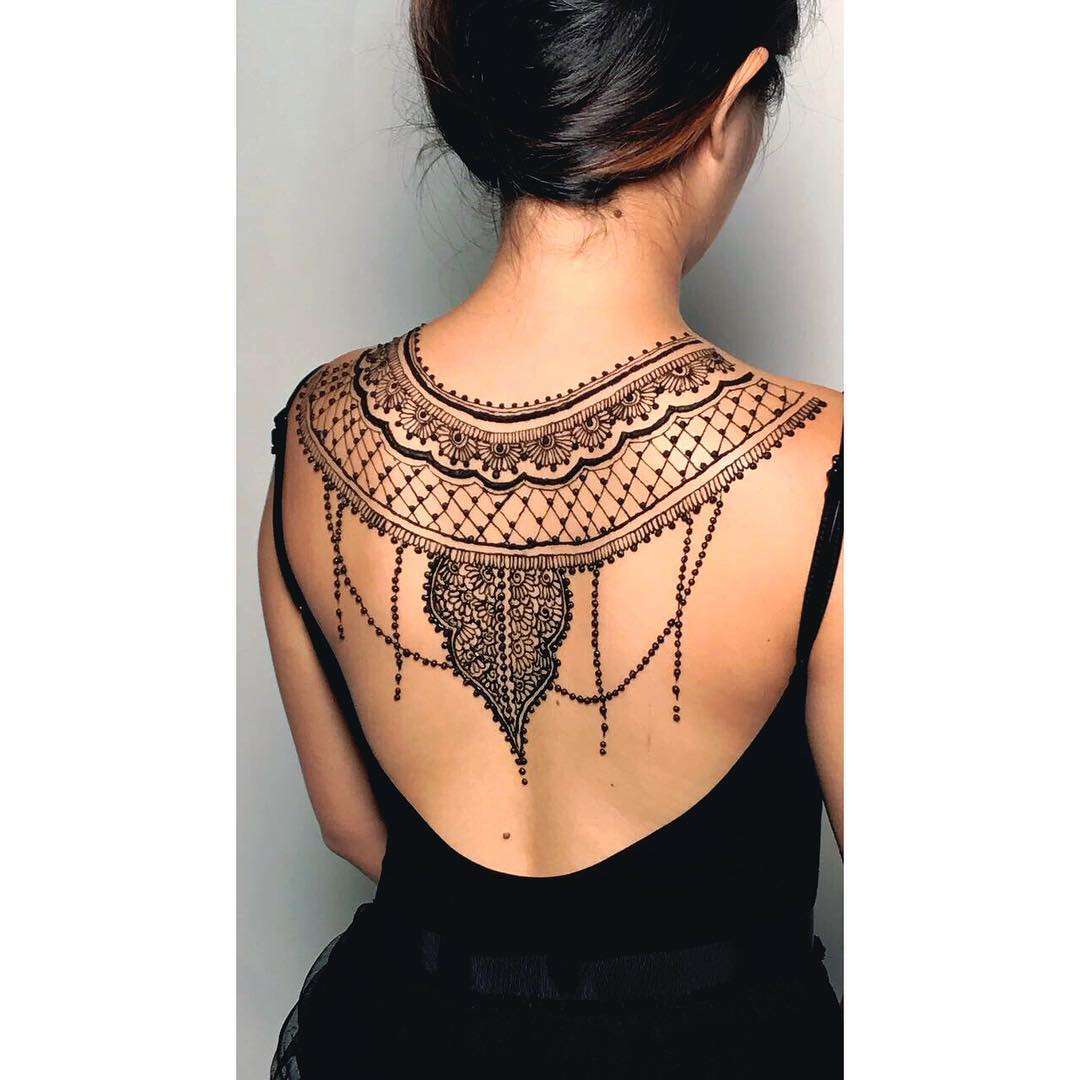 Henna is usually drawn on the back of your palms, but why not get a henna design on your back for a change in 2021? This head-turning piece of art features layers of floral and lattice patterns with an intricate arch-like drop design surrounded by chains and hanging dots. Show off your bold and beautiful henna design in a low-back top!
5. Mandala arm design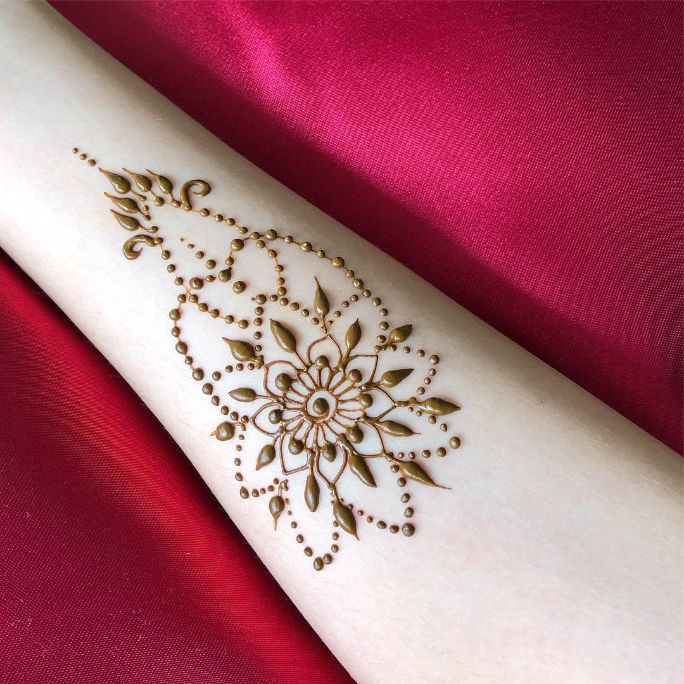 Fancy a henna design on your arm? Go for Mandala henna designs for Deepavali this 2021! Mandala henna designs are popular because of their beautiful circular shape. The mandala shape represents the universe in Hindu and Buddhist cultures and is a symbolic henna design to adorn your body with. Consider this henna design if you prefer to sport a more subtle look!
6. Vines and birds design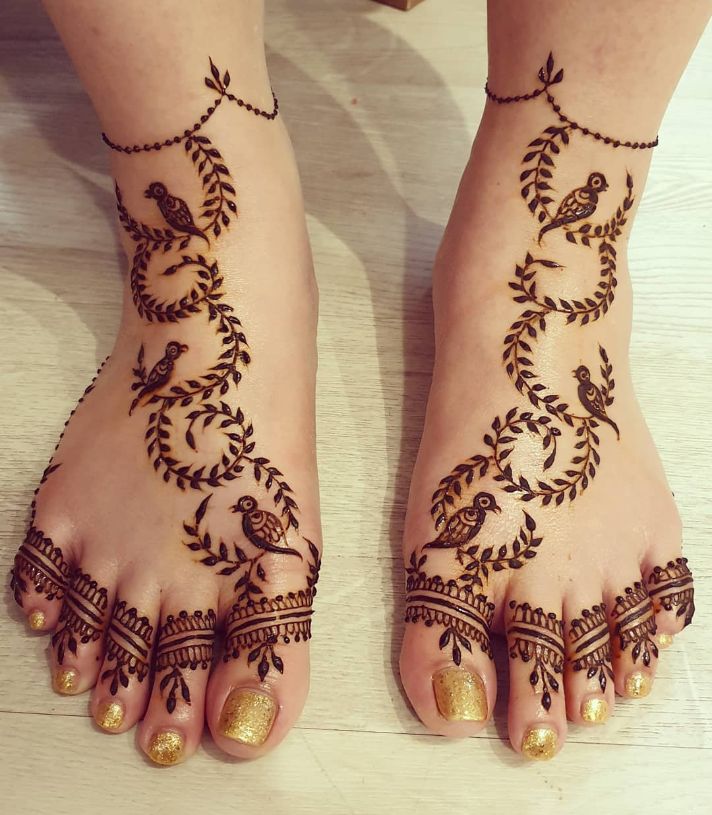 You don't have to be an Indian bride to adorn your feet with henna! This spunky design features vines stretching across the feet with birds perched on them. A simple chain design above the ankles and intricate detailing on the toes bring the whole look together. We think this is a fun henna design to try this 2021 for all you free-spirited souls!
Two hands, different designs
7. Lattice, paisley + arch design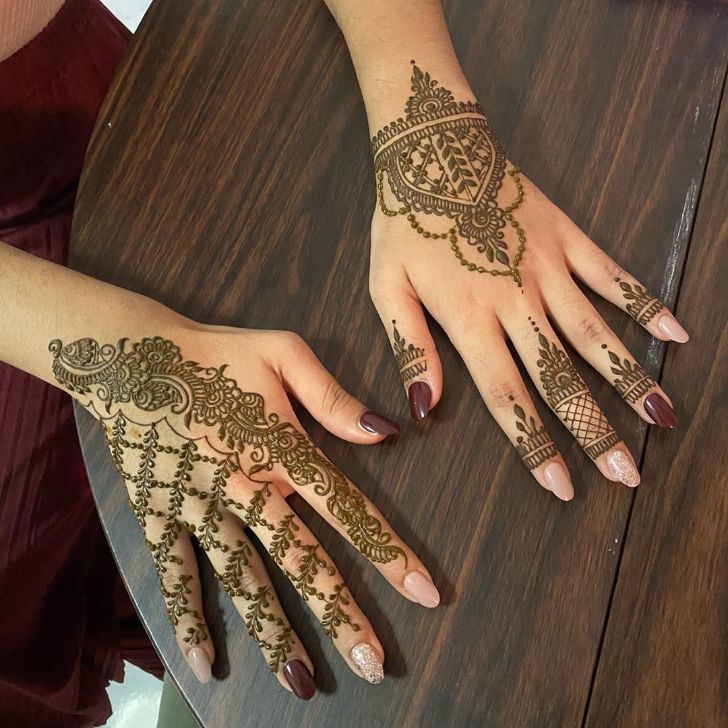 Torn between two henna designs? Get them both — one on each hand! The henna art pictured above will be especially flattering for those with long, slender hands. Choose a paisley henna design interlaced with a lattice on the right hand. For the left, a simple arch design centering around the wrists and intricate detailing on the fingers will be just nice to tie the design together and elongate your hands.
8. Chain design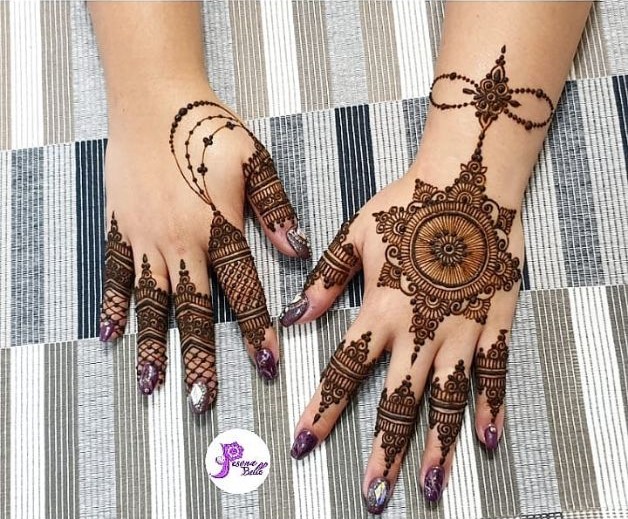 Chain henna designs may look simple at first glance but its elaborate details will leave you in awe. We love the mandala art on the left hand that makes use of the entire outer palm space. But what caught our attention was the chain designs featured on the hand on the right, just below the wrist. It makes it look like you're wearing chain ring jewellery! Be sure to show off this beautiful henna design on your 'gram once done!
Traditional henna designs with a modern twist
9. Bold lotus design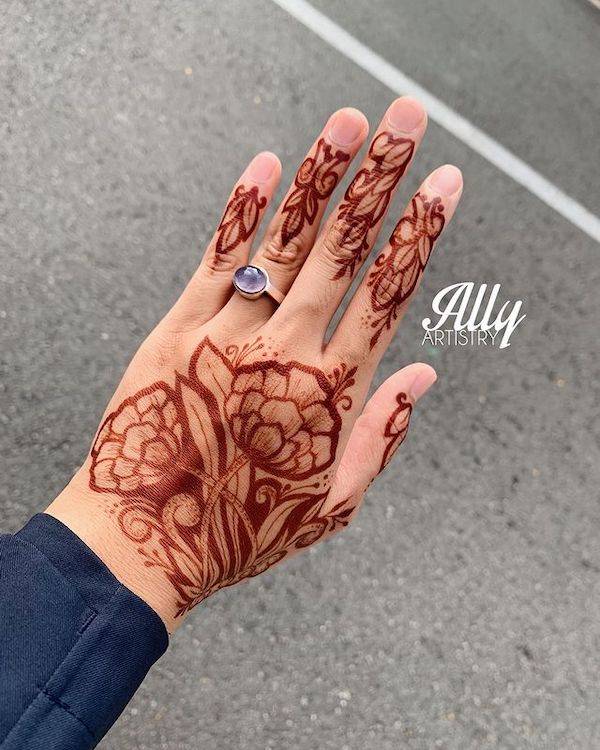 Henna designs can be bold and pretty at the same time! This 2021, channel strong woman vibes with this all-encompassing lotus design. Lotus represents virtues like creativity, femininity and sensuality. Enjoy a double dose of these virtues with this henna design that features two lotus flowers, where the petals are beautifully accentuated with light henna strokes.
10. Vine tendrils design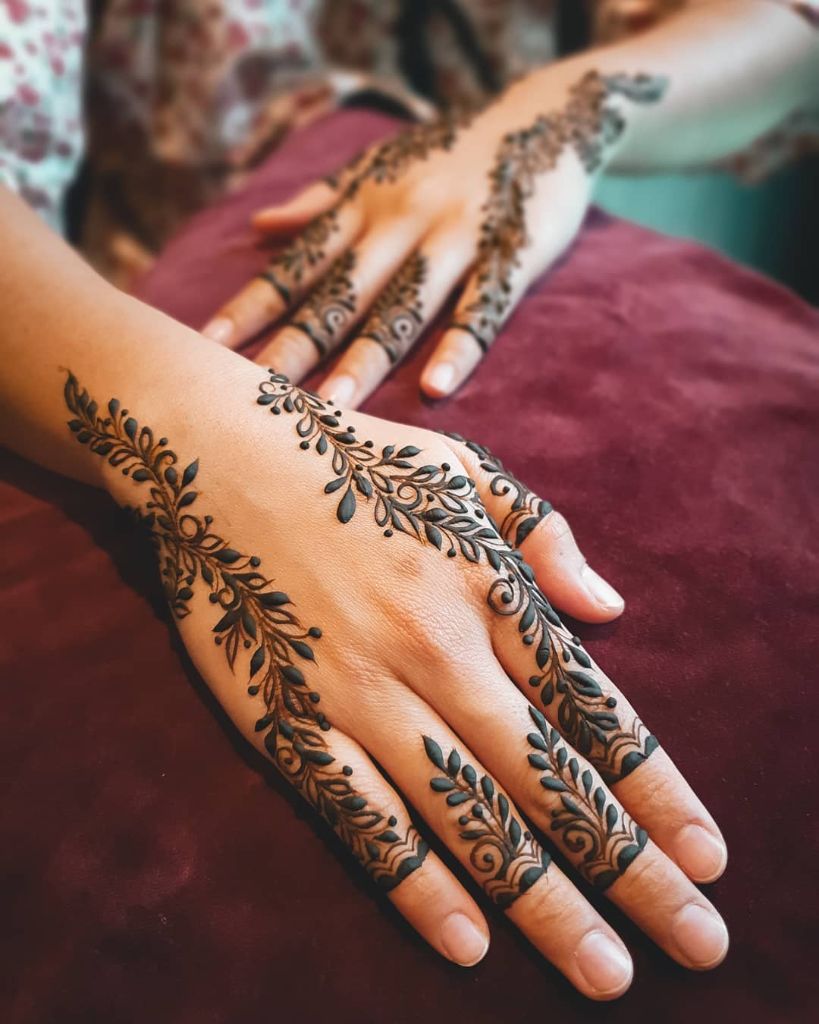 Choose leaves and vines for your henna design for Deepavali this 2021! This beautiful henna design features vine-like tendrils trailing down from the index and small fingers to the edges of the outer palm while leaving the centre bare. We love how Pinterest-worthy this look is! Vines also symbolises longevity and perseverance, which makes this one of the most auspicious henna designs to adorn.
Pro tip: Get the same henna design on the palm of your hands — you'll realise that henna designs on the palm of your hands tend to come out better than those on the back.
Get creative with beautiful henna designs this 2021!
Want to create these henna designs this 2021? Grab yourself some henna cones and get creative! With Deepavali round the corner, whip up a feast without having to step out for groceries with the best meat delivery vendors in Singapore. Don't forget to snap pictures of your henna designs and capture memories with your loved ones with the best camera phones too!
This article was updated on 24 October 2021. Additional research done by Fatimah Tasmeem.
_______________________________________________________________________
New to Shopee? Get $7 off (min. spend $15) with code*: HENNADESIGN7
* TNC Applies. Valid for new users from 26 October to 2 November 2021 only.