One of the most important adulting skills is managing your finances properly! While it can be tough to manage your cash flows with pen and paper, it can be made infinitely easier with digital money management programmes. Need recommendations on where to start? Read on for our rundown of the best expense tracker apps to help with modern day adulting! 
Best expense tracker apps: Free
1. Seedly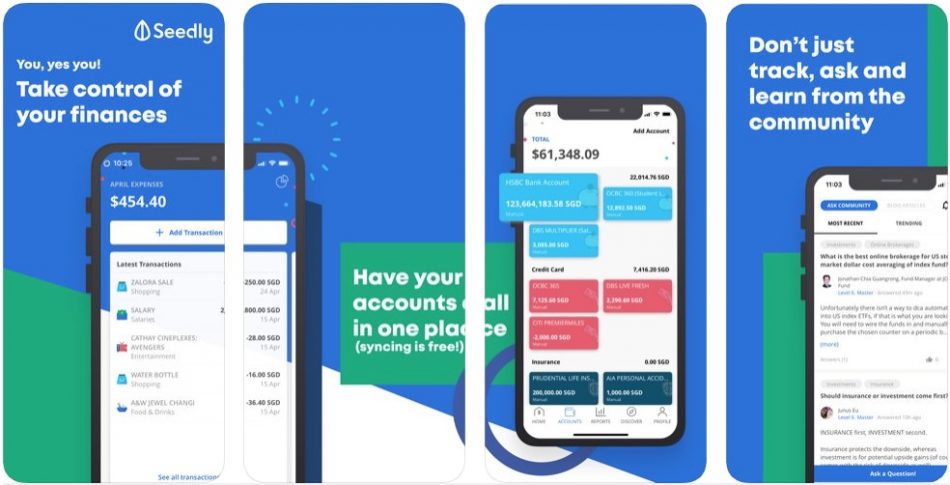 Don't be caught taking your first steps into financial literacy without Seedly! Seedly helps manage your personal finances with its comprehensive monthly spending overviews and user-friendly interface. Regardless of how many accounts or credit cards you own, Seedly allows for automatic synchronisation with banks like Bank of China and OCBC! This means all your transactions with them will be immediately categorised so you can manage your budget with greater ease. 
Additionally, Seedly's community provides handy information on the value of various credit cards and bank account interest schemes. It's no wonder many term Seedly as one of the best expense tracker apps for the busy Singaporean.
Best expense tracker apps: Free with in-app purchases
2. Spendee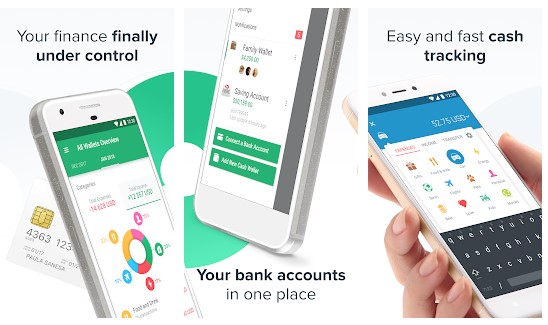 If you're searching for the best expense tracker apps with gorgeous visuals, you should check out Spendee! Utilising a minimalistic user interface, the app is certainly one of the more visually appealing ones out there. Spendee will impress you with its all-in-one functionality, whether you're handling multiple currencies while travelling or setting up separate budgets for expenses like holiday gifts.
Whether you're utilising its auto synchronisation function with your credit cards or manually keying in cash transactions, Spendee displays all of your spending habits in useful graphs and charts. Furthermore, Spendee lets you export your data via a succinctly formatted Excel spreadsheet should your spending data require further analysis or archiving.
3. Spending Tracker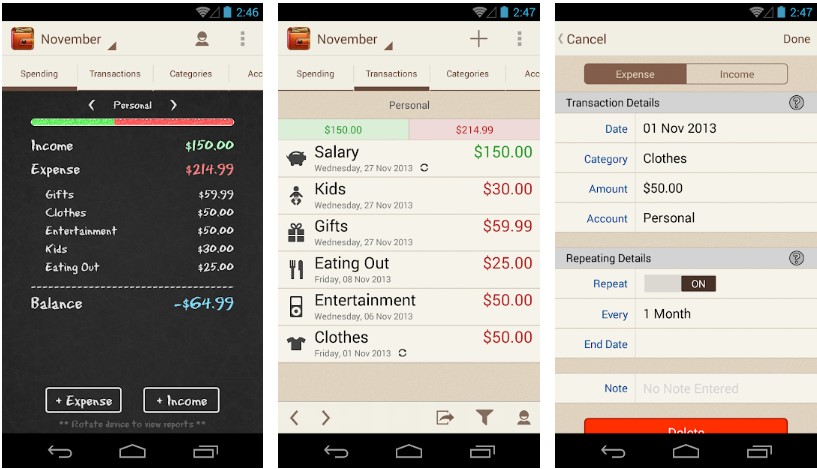 Baffled by the confusing categorisation in other money management apps? Spending Tracker keeps things simple by being one of the best expense tracker apps for those looking to skip complex menus and input formats. Its fuss-free interface allows you to input your expenses with as little as three clicks! 
If you're looking to make minor tweaks, you can do so with the in-app options to customise fonts and create new expense categories! With the option to export your data in PDF format and seamless Dropbox synchronisation, if you pay a premium, Spending Tracker is absolutely worth your time. 
4. Household Account Book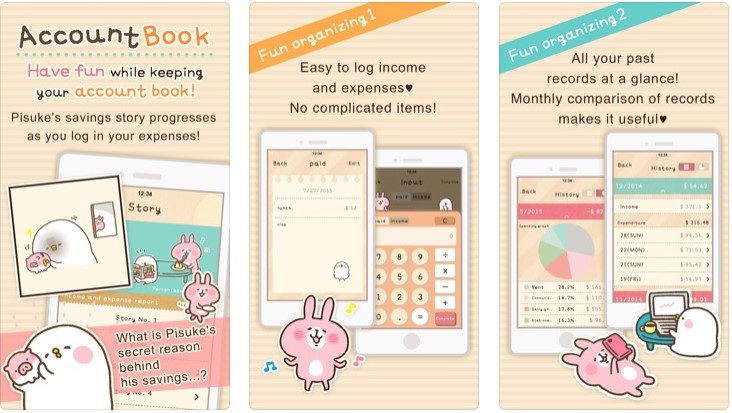 If there was an award for the cutest expense tracker app, Household Account Book would win it in a landslide. Injecting some fun into your usual array of personal finance apps, the app changes things up by using the allure of adorable illustrations and cute mascots.

As you add more entries, you're rewarded with access to Household Account Book's comic stories that feature the app's titular characters! This ensures there's a constant flow of motivation; keep track of your finances so you can keep up to date with your favourite money-smart characters!
5. Expensify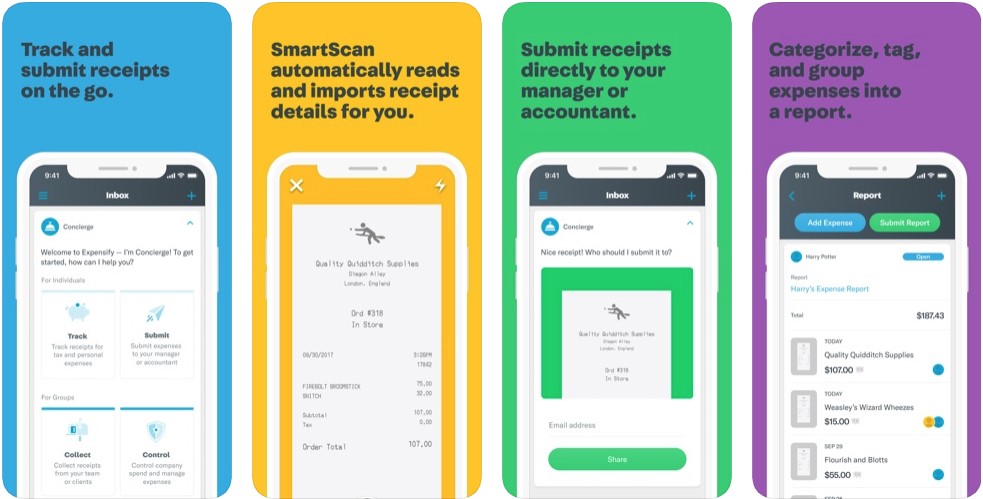 Curious why many are calling Expensify one of the best expense tracker apps for business travel? Integrate your coworkers' business expenses with Expensify, simply by entering your company's email domains while signing up. With features like GPS mileage tracking and corporate card consolidations, Expensify is perfect for businesses looking to streamline expense management processes!
Another key feature is Expnsify's SmartScan! To use the app's receipt scanning capabilities, simply snap a picture of it to record the spending. Expensify will then automatically transcribe the information so you can skip the hassle of manual data entry. For unlimited SmartScans and more premium features, make sure to sign up for only $6.48 a month!
Best expense tracker apps: Paid 
6. You Need A Budget (YNAB)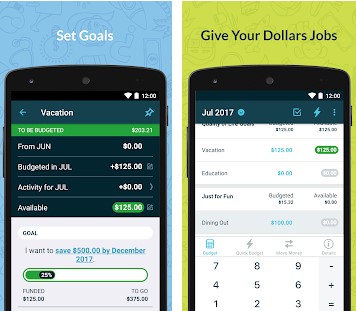 Sick of living paycheck to paycheck? Instead of treating yo' self and regretting it later, why not break the cycle by trying You Need A Budget (YNAB)! While some of the best expense tracker apps utilise conventional methods of setting up budgets with no room for compromise, YNAB believes in the "job for every dollar" mindset. Essentially, you're encouraged to plan ahead of time as you decide how your dollar will serve you. 
Promising $6000 in savings within your first year, enjoy total financial control when using YNAB! The developers even included a No-Risk, 100% Money-Back Guarantee with no questions asked if you feel you don't have more control of your money by the end of the free trial.
Price: Free for first 34 days, $113.98 / year thereafter
7. Goodbudget
Previously known as Easy Envelope Budget Aid, Goodbudget is one of the best expense tracker apps catered for those who prefer social budgeting. Allowing for cross platform linking with family and friends, this expense tracker utilises the envelope system to ensure you're on track with your spending. With instant synchronisation with those you're sharing with,  say goodbye to miscommunication and unnecessary expenses. While the app features a paid subscription service, the first ten envelopes are free so you can test out this masterfully designed household budget planner.
Price: $8 / month, $50 / year
We hope some of these best expense trackers will kickstart an interest in budgeting! Keen on saving even more? Read up on where to park to enjoy the cheapest carpark rates in Singapore! Alternatively, if you're a foodie, check out our guide to saving money with these food vouchers.