It's an open secret that Singaporeans love their food. And I mean all kinds of food. They will go to great lengths to get their hands on the sacred food, even if it means queuing for hours,  traveling from Pasir Ris to Jurong East, or paying $22 for a plate of lobster Nasi Lemak. As much as we love our local food, we get immensely excited when international food brands arrive on our shores, because that means getting good food minus the travel time and extra flight costs!
You might have heard of some of these brands in the list, or even visited them for a meal. Whichever it is, here's 11 international food brands that we'd recommend you to try the next time you head out for a meal with friends.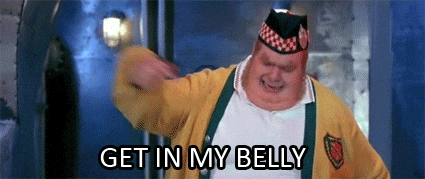 1. Shake Shack
Behold the almighty Shake Shack. You would have seen the snaking queues at Jewel Changi Airport when they opened in April 2019, or read about the crazy hype on the news. The famous American fast food joint started on humble grounds as a hot dog cart in Madison Square Park in Manhattan and their popularity slowly grew over the years. Today, they can be found in over 15 countries worldwide.
Their classic ShackBurger is one of their signature burgers, and it consists of a thick beef patty, topped with melted cheddar, the legendary Shake Shack sauce and sandwiched between 2 golden brown burger buns. We hadn't had the chance to visit its flagship store in the US, but it certainly is comparable to the ShackBurger we had in Seoul's outlet.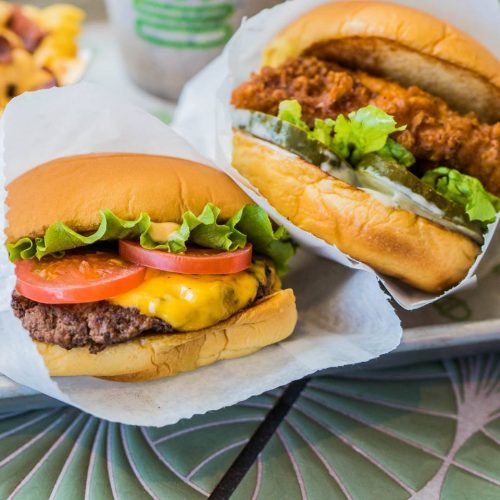 The patty is moist and juicy with every bite, and the tangy Shake Shack sauce just intensifies the flavours by leaps and bounds. Their other burgers like the SmokeShack, the Shroom Burger (vegetarian option!) and their crinkle-cut fries are all also delectable and tasty, and we found ourselves devouring them in no time at all.
Now we know what the hype is all about. Be prepared to set aside at least half a day if you are planning to eat Shake Shack, because you can expect a minimum of 45 minutes wait. But with the standard of their burgers, we'd think it's worth the wait. And if you are not prepared to wait it out, you can check out some other restaurants in Jewel Changi Airport here. 
P.S. The Singapore outlet has an exclusive menu, the Pandan Shake, the Jewela Melaka Concrete, and the Takes Two To Mango Concrete (ice-cream). We haven't tried them, but it already sounds heavenly! 
Address: 78 Airport Boulevard, Jewel Changi Airport #02-256, Singapore 819666
Opening Hours: 10AM – 10PM, Sunday – Saturday
2. Mui Kee Congee
A must eat for majority of Singaporeans traveling to Hong Kong will definitely be, duh, dim sum. And Tai Cheong Bakery for egg tarts. And Australian Dairy Company for their scrambled eggs, toast and macaroni soup. And Mui Kee Congee for delicious cantonese congee and side dishes.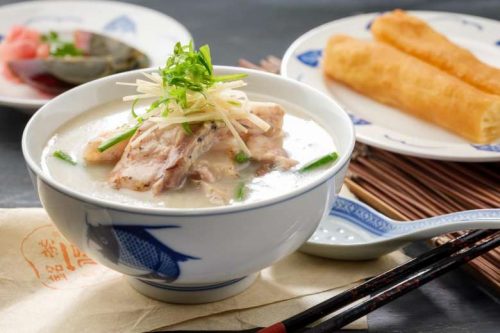 Most of these Hong Kong delicacies have made their way to our sunny island, and Mui Kee Congee is the newest addition, opening its first outlet at Shaw Centre in 2018. Each order of congee is prepared on the spot in a copper pot, and simmered for 3 hours with pork bones and fish stock to bring out the flavour. Their specialties include the Congee with sliced beef and Congee with pork meatballs.
The menu in Singapore also has a larger variety, serving noodles, claypot dishes, sides and desserts on top of the basic menu of congee. Psstt…we heard that the wait can be as long as 1.5 hours on weekends during peak meal times, so head down early if you want to avoid the crowd and waiting time (as much as possible). 
Address: 1 Scotts Rd, #01 – 12, Singapore 228208
Opening Hours: Lunch 11:30am – 3pm Last Order 2.30pm, Dinner 6pm – 10pm, Last Order 9:30pm (Tues – Sun), Closed Mon
3. Mom's Touch
Korea is not only known for their Kpop idols or beauty products, they are also popularly known for their amazing food culture. For one, when I think of Korea's food, fried chicken and beer immediately comes to mind. When I was on my university exchange in Korea, it was almost a weekly routine to visit a fried chicken joint with friends, grab some beers and talk the night away.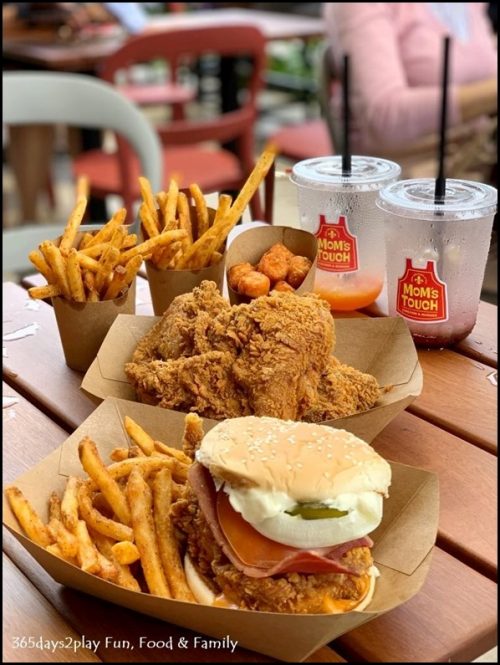 There are a couple of fried chicken brands from Korea that are already in Singapore, such as favourites like Chicken Up and Nene chicken. When Mom's Touch announced its impending arrival to Singapore, I was sufficiently delighted because, no one will say no to more fried chicken options! The store just opened its doors last week, together with the opening of Paya Lebar Quarters mall, and the queues are already pretty insane. Be prepared to wait a minimum of 30 minutes as seats are also quite limited there.
If you are heading over, make sure to try their Incredible Burger, which comes with a thick piece of chicken cutlet, slices of ham, a fried egg, lettuce, pickles and the store's signature special sauce. If you are a cheese lover, you must try the onion cheese chicken, we promise it won't disappoint.
Address: 10 Paya Lebar Rd, #01-37 Paya Lebar Quarter, Singapore 409057
Opening Hours: 10AM – 10PM, Sunday – Saturday
4. Fong Sheng Hao
Another highly anticipated, new international brand that opened its doors at Paya Lebar Quarters mall is the famous Fong Sheng Hao, a Taiwan toast cafe from Taipei's Shilin Night Market. The design of the outlet is as authentic as it can get, with their name in traditional chinese characters splashed across the signboard and peppered on their menu. It is also tucked in a cosy corner of basement 2 with only 32 seats, reminiscent of the crowded areas of the night markets in Taiwan.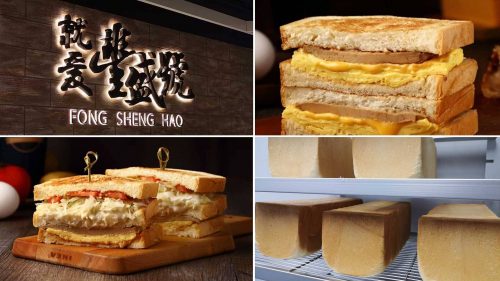 Their best sellers are their savoury toasts, including the TW Special Pork Patty, Spicy Pork Egg & Cheese and Potato Special. Their milk toasts are specially made in their central kitchen with premium ingredients, and carefully grilled over charcoal, making it very flavourful. The Singapore outlet also has a special menu, which includes Kaya Butter, Butter Sugar and Ham & Cheese toasts which are favourites among Singaporeans.
Complete your meal with their Fong Sheng Signature Milk Tea, which uses black tea leaves from Taiwan's oldest tea shop, Lin Hua Tai Tea Co. and fresh milk brewed together to create the addictive drink.
Address: 10 Paya Lebar Rd, #B2-04 Paya Lebar Quarter, Singapore 409057
Opening Hours: 8AM – 10PM, Sunday – Saturday
5. Isaac Toast
How can we miss mentioning this when we are on the topic of famous toast brands in Singapore? Popular Korean toast brand Isaac Toast finally hit our shores in 2018, and you have no idea how long I waited for this to happen. There are over 700 stores in South Korea, and outlets in Macau, Taiwan and Malaysia as well.
The toasts are cut in thick slices, and pan-grilled with copious amount of butter until soft and fluffy. The toasts are then paired with a variety of ingredients, such as chicken cutlet, bulgogi, ham and even potato. The crowd favourites are their Bulgogi MVP, Bacon Best and Double Spicy Cutlet toasts.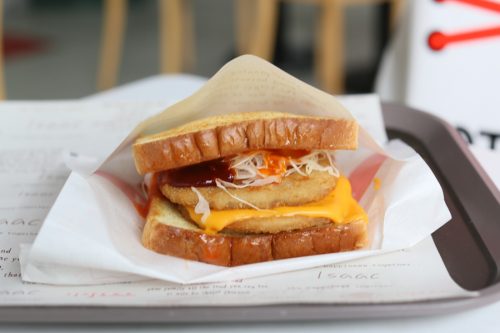 What makes me a big fan of this toast brand is their generous amount of ingredients, as well as their sweet and spicy special sauce that they pair with refreshing sliced cabbage. I am not a big lover of veggies, but the ingredients complement each other so well that I can't help but gobble them all down. Side note though, it is slightly pricey for breakfast, with toasts ranging from $4.90 – $6.90 per toast.
Address(Flagship Store): 68 Orchard Road, #B2-42, Singapore 238839
Opening Hours: 830AM – 930PM, Monday – Friday, 9AM – 930PM Saturday – Sunday
6. Tan Yu 
With mala dishes all the rage in our sunny island recently, you can bet that investors will be rushing to put their foot in the local market as well. Following the success of mala favourites Hai Di Lao and Ri Ri Hong, Tan Yu is the latest fad in Singapore. Famous for their grilled fish menu with 15 flavours and 4 types of fish to choose from, there is bound to be something for everyone.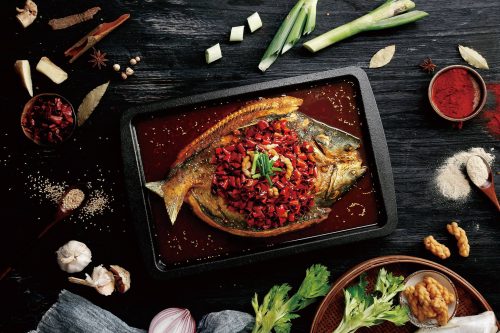 The restaurant's recommended popular items are the Grilled Fish with Green Pepper, which comes covered with green bell peppers and a whole lot of peppercorns, sufficiently creating the ma effects in our mouths. It is rather spicy, so if you cannot really stomach spicy food, go for their grilled fish with soy sauce option as an alternative. Another must try dish for all spice lovers is the Chongqing Bean Curd Grilled Fish.
The appearance of the dish looks scarily spicy, with a large amount of red chilli placed on top of the fish, complete with an intense red looking soup. The spiciness is surprisingly manageable, and the beancurd below helps to neutralise the spice too. On top of these, there are 21 side dishes to choose from! If you are a fish and mala lover, you have got to try this. 
Address(Flagship Store): 313 Orchard Rd, #B3-30/31/32, 313@Somerset, Singapore 238895
Opening Hours: 1130AM – 3PM, 5.30PM – 10PM, Monday – Friday, 1130AM – 10PM Saturday – Sunday
7. CHICHA San Chen
Cool your palates down after a spicy mala meal with CHICHA San Chen! This bubble tea brand is one of the latest to arrive in Singapore, riding on the bubble tea craze that has re-emerged over the past 2 years. With over 200 stores in Taiwan and China, it is known for its exclusive patented product and technology that allows for more than 1,000 custom settings and three-stage temperature control brewing technique to bring out the tea's best flavour and natural scent.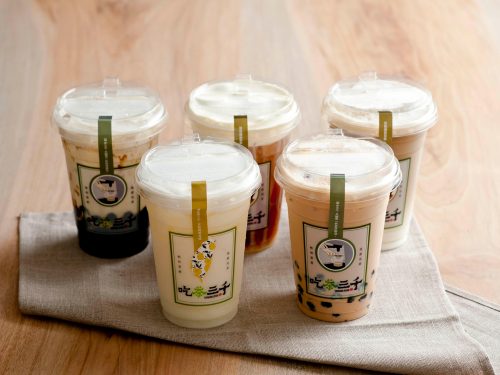 The first outlet in Singapore opened at 313@Somerset, and since then there are 4 more outlets that have opened around Singapore. Their must try drinks include the Bubble Milk Tea, Dong Ding Oolong Fresh Milk Tea and Bubble Brown Sugar Milk Tea. But what makes CHICHA San Chen stand out from its multitude of competitors is its customisable drinks menu! Not only can you customise the sugar level to your liking (which most bubble tea shops offer), you can even customise the specific combination of tea base, flavours and toppings.
That means choosing from a range of teas which includes Green Tea, Osmanthus Oolong Tea, High Mountain Pouchong Tea, Plain Black Tea, Dong Ding Oolong Tea and Cassia Black Tea. You can even make it a milk tea by opting to add fresh milk to your tea base, or cream or mousse. If cheese/cream teas are your type of tea (pun intended), you can check out our recommendations of must try cheese tea in Singapore here.Their pearls are also layered in caramel and are 1.5 times bigger than normal pearls, making it extra delightful with every sip. 
Address(Flagship Store): 313 Orchard Road, #03-41, 313@somerset, Singapore 238895
Opening Hours: 11AM – 10PM, Sunday – Saturday
8. A&W
Has our wish been granted? We previously wished for A&W to come back to Singapore here, and they actually made a comeback in April 2019 with a much anticipated outlet in Jewel Changi Airport! Who can forget their famous root beer float and ice cream waffles combo? Or their curly fries and classic coney chicken dog? We were so excited to pay a visit to the outlet at Jewel, but the long queues of more than 1.5 hours waiting time deterred us. So imagine our joy when they announced the opening of a second outlet at Ang Mo Kio Hub in July, and a third outlet in the talks to open next year!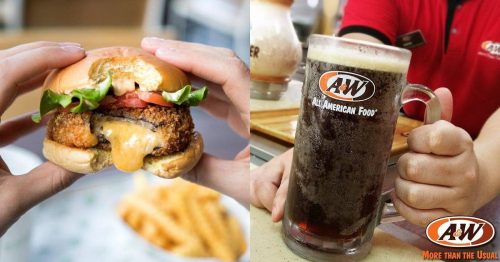 While there were queues at the Ang Mo Kio outlet as well, it was significantly shorter than the one at Jewel. Pro tip to avoid the queues: Go to the Ang Mo Kio outlet, or visit the outlet at Jewel after 12mn (since it is opened till 3am!) and the queue should be significantly shorter.
Address(Flagship Store): 78 Airport Boulevard, Jewel Changi Airport #B2-209, Singapore 819666
Opening Hours: 7AM – 3AM, Sunday – Saturday
9. Burger & Lobster
The London powerhouse is finally in Singapore. Burger & Lobster opened in Jewel Changi Airport to much fanfare, with many people having raved about it on the internet about their lobster rolls. Served with a toasted soft brioche bun, thick chunks of sweet and fresh lobster meat, and topped with Japanese mayo and lemon and a side of fries and salad, it certainly did not disappoint. We have tried other lobster rolls in Singapore, but this is by far the best lobster roll we have eaten hands down.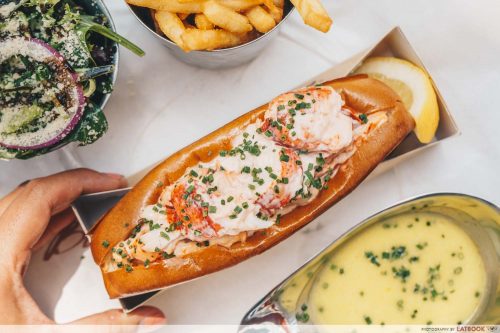 They also have burger options, such as the Original Burger, which comes with a grilled Nebraskan beef patty, lettuce, tomato, pickles, their secret burger sauce and fries and salad. But we know the majority of people are here for the lobster dishes. So while you are here, you can try their other dishes such as the Jewel exclusive Sambal Glazed Lobster, which is glazed with sweet and spicy sambal sauce and then grilled to perfection. With its affordable prices, delicious food and cosy ambience, we will definitely be back for more.
Address: 78 Airport Boulevard, Jewel Changi Airport #05-203, Singapore 819663
Opening Hours: 10AM – 12AM, Sunday – Thursday, 9AM – 1AM, Friday – Saturday
10. Tenjin 
Tendon bowls have also been largely popular over the past few years, with the likes of Japanese favourites such as Tendon Kohaku and Akimitsu coming to Singapore. Tenjin is the latest kid on the block, and I can already foresee a large crowd flocking there to satisfy their tempura cravings.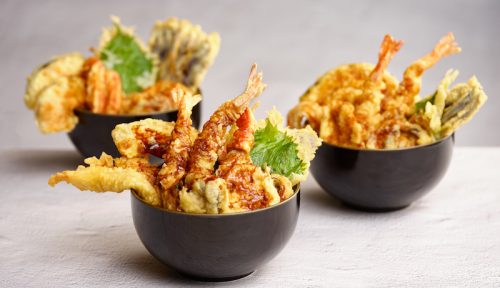 Newly opened this year, Tenjin is a latest concept under the Les Amis Group. The restaurant has a minimalist theme, with plain concrete walls and bamboo lights dotting the cosy space, and counter seats like most authentic Japanese restaurants, to watch the chefs in action.  If you are feeling hungry, go for the Toku-Jo Bowl, which is a mixed bowl with eel, crab leg, prawn and fish, all coated in tempura batter and fried to crisp perfection.
The Yasai bowl, which is their vegetarian option, comes with 5 kinds of vegetable assortment, and your choice of regular or spicy tare. And if you are feeling adventurous, try their truffle chawanmushi, which comes with a sprinkle of truffle flakes on the steamed egg custard. We are salivating just by writing this piece!
Address: Shaw Centre, 1 Scotts Road #03-08, Singapore 228208
Opening Hours: Lunch 1130AM – 3PM, Dinner 6PM – 10PM Tuesday – Sunday, Closed Mon
11. %Arabica
You might have seen their "%" cups somewhere on instagram before. The famous Kyoto cafe finally opened its doors here this year, and they are known to be one of the best coffee joints around. Founder and owner of the brand, Kenneth Shoji, had a dream to grow his business around the world so that young baristas will have the chance to "See The World Through Coffee". The flagship % Arabica store was opened in Discovery Bay, Hong Kong, but it faced challenges to attract customers. He then decided to move the store to Higashiyama, Kyoto, and the rest is history.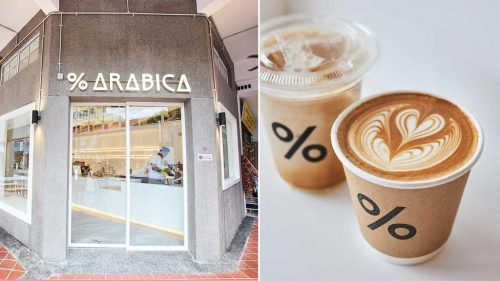 % Arabica prides itself in using beans sourced directly from its origins, which Kenneth himself, along with his global head barista, Junichi, personally travel to get them. So depending on the season and availability, you can look forward to tasting coffees from Japan, Panama and even Ethiopia! Their iced cafe latte was delightful with every sip, because the aroma of the coffee was strong and robust, and complemented the smoothness of the milk.
The cafe has a minimalist vibe to it, with their walls largely painted in white and grey tones, making it very instagram worthy. There's often a queue at the outlet at Arab street, and while we are not sure if people are there for the gram or for the coffee, one thing's for sure, head there for your coffee fix only if you have time to spare.
Address: 56 Arab St, Singapore 199753
Opening Hours: 8AM – 8PM Sunday– Saturday
Which international food brands are you excited to try? Let us know in the comments below!

_____________________________________________________________________
New to Shopee? Get $7 off (min. spend $15) with code*: FAMEFOOD
* TNC Applies. Valid for new users from 7 to 9 Sep only.