Whether you're looking for a place to house your primary school reunion or family gathering, we know it can be a struggle to find restaurants for big groups in Singapore. Fret not, we did the homework for you and came up with a list according to budget and with a mix of cuisines, so everyone can catch up over good food without bursting their wallets.
Big group restaurants: $15 – $25/person
1. Samy's Curry Restaurant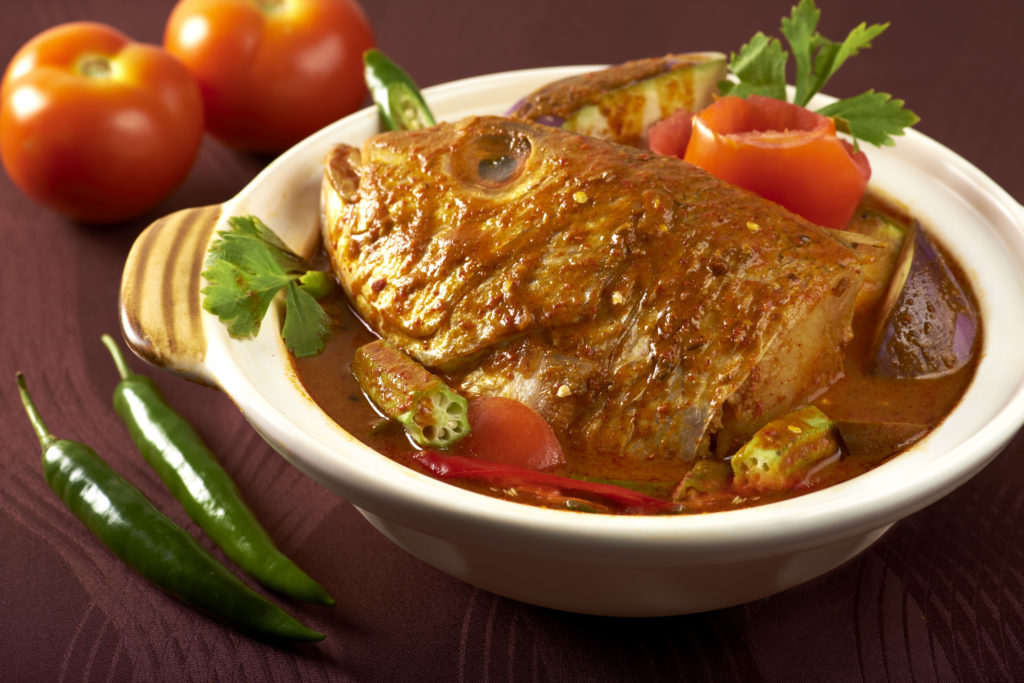 If the gang's craving Indian cuisine, there's no better place to bring your shindig to than Samy's Curry — one of the best Indian restaurants for big groups in Singapore. Need a table for more than 10? You can expect them to set you up at the long indoor tables or ushered into the private air-conditioned room at the back of the room. Wherever you're seated, it's tough not to ignore the charm of this high-ceilinged, airy restaurant nestled among the lush greenery of Dempsey Hill.
Once settled in, order their Chicken Masala, Mutton Mysore and their speciality Fish Head Curry. We're sure you and your company will be bowled over by the flavours in this 50 plus-year-old establishment.
Address: Block 25, Dempsey Road, S(249670)
Opening Hours: Mon, Wed – Sun
Lunch: 11am – 3pm
Dinner: 6pm – 10pm
2. Fika
https://www.instagram.com/p/Bz-yjWqhrmm/
If you love the Scandanavian, minimalist vibe, you have to head to Fika. This Halal cafe serves up Swedish-inspired cuisine in a cosy setting and welcomes large group reservations — just be sure to inform them in advance. We've heard their Swedish Meatballs, Korvstroganoff and mouth-watering Pannbiff are must-haves. You can also stick to safer, but equally delicious options like Grilled Chicken and Salmon fillet. Just be sure to finish the meal with Kladdkaka (Swedish brownie).
Address: 257 Beach Road, S(199539)
Opening Hours:
Sun – Thurs and PH: 11am – 10pm
Fri – Sat: 11am – 11pm
3. PS Cafe
https://www.instagram.com/p/B1xi3GMHdN7/
You can't go wrong with the decadent PS Cafes if you're after a brunch spot with your favourite group of gals. We can already envision a group of chattering girls having a ball of a time among the high-ceilinged and mirrored interiors of PS Cafe's several outlets.
Food-wise, they're known for their fries — truffle shoestring ones to be exact. You can also find a Shared Brunch Platter (available at the Ann Siang Hill outlet). The mouth-watering menu features Gazpacho Oyster Shots, Tiger Beer Battered Fish and Chips and vegetarian options like Impossible Brioche Sliders. Did we mention there's free-flow wine, prosecco, cocktails and beer too? Now, this is definitely a big group restaurant to hit up on lazy weekends!
Address: 45 Ann Siang Road, #02-02, S (069719)
Opening Hours:
Mon – Wed: 11.30am – 11pm
Thurs – Fri : 11.30am – 12 midnight
Sat: 9.30am – 12minight
Sun: 9.30am – 11pm
Check out their other locations here
4. Pepperoni Pizzeria
One can never go wrong with pizza, no matter what age you are — whether with a group of middle-aged colleagues or students trying to save every last penny. Pepperoni Pizzeria is our favourite pizza restaurant for big groups just because of how good and affordable the pizzas are.
With seven outlets islandwide, there's a chance that your last-minute reunion plan might actually come to fruition at any of their outlets. Go for their classic or special 21-inch tomato-based pizzas and choose from their pastas or range of mains if you're still hungry. Don't miss out on their Happy Hour deals too to get more bang for your buck!
Address: Suntec City Mall, 3 Temasek Boulevard, #B1-130, S(038983)
Opening Hours:
Mon – Fri: 11am – 3pm, 5pm – 10pm
Sat – Sun: 11am – 10pm
Check out their other locations here
Big group restaurants: > $25/person
5. Picnic Food Park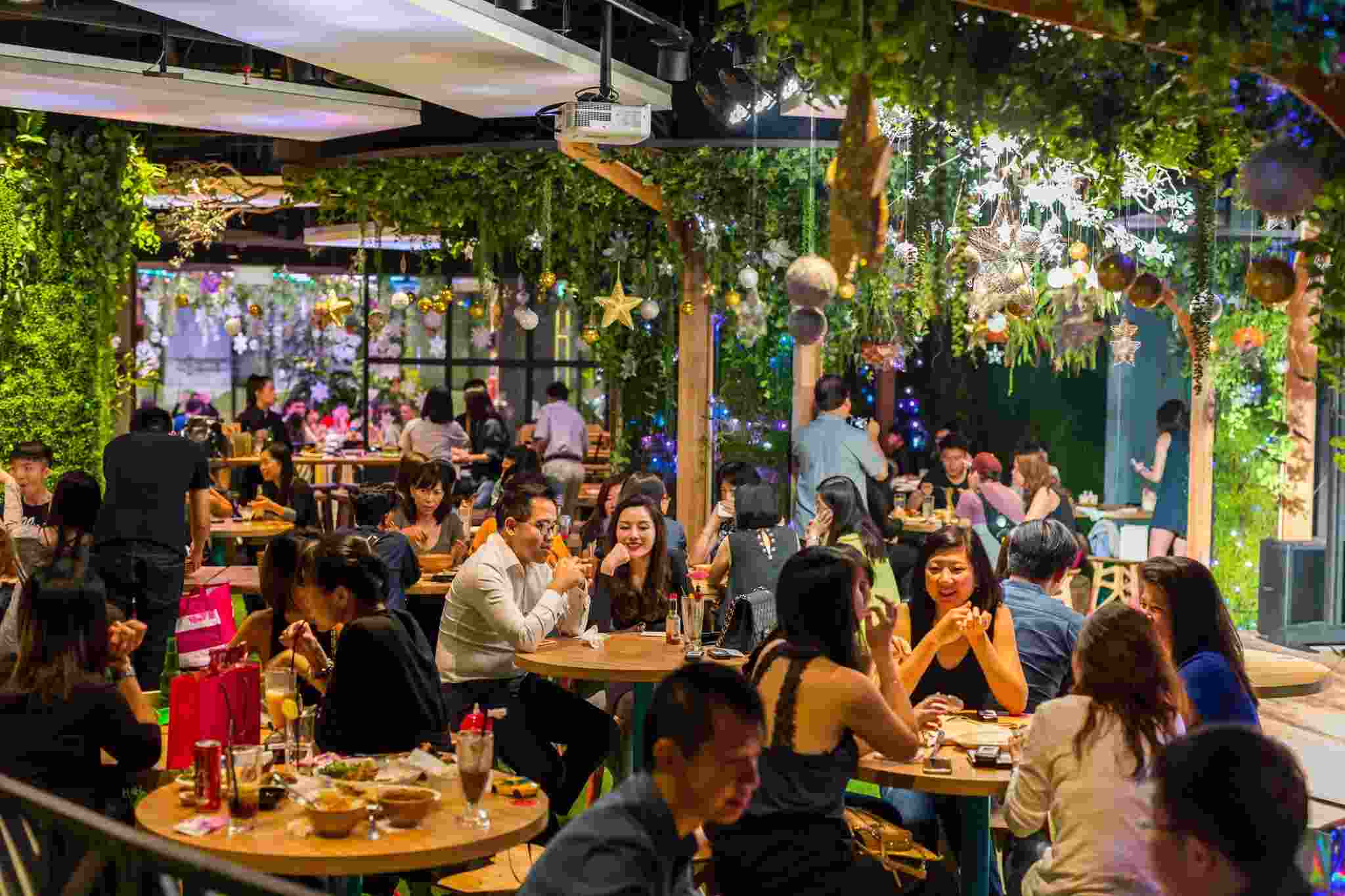 Tasked with the job of organising your department's first-ever dinner gathering? If you don't fancy taking on the work of attempting to please every palate, Picnic Food Park will take you in — all diets and preferences included. Self-order from various food trucks selling Japanese Butadon to Korean-Mexican tacos and American-style Omakase Burgers.
But what sold us was the buzzing vibes of this outdoor-themed communal dining experience — enjoy your meal on the long, rustic wooden tables or have the team pull together however many tables you need. With live music to bob to and located centrally at Orchard, this is one of the best restaurants for large groups in Singapore without having to put too much thought into — except to reserve!
Address: Wisma Atria Shopping Centre, 435 Orchard Road, #03-15, S(238877)
Opening Hours: Daily, 10am – 10pm (trucks start at 11am)
6. Camp Kilo Charcoal Club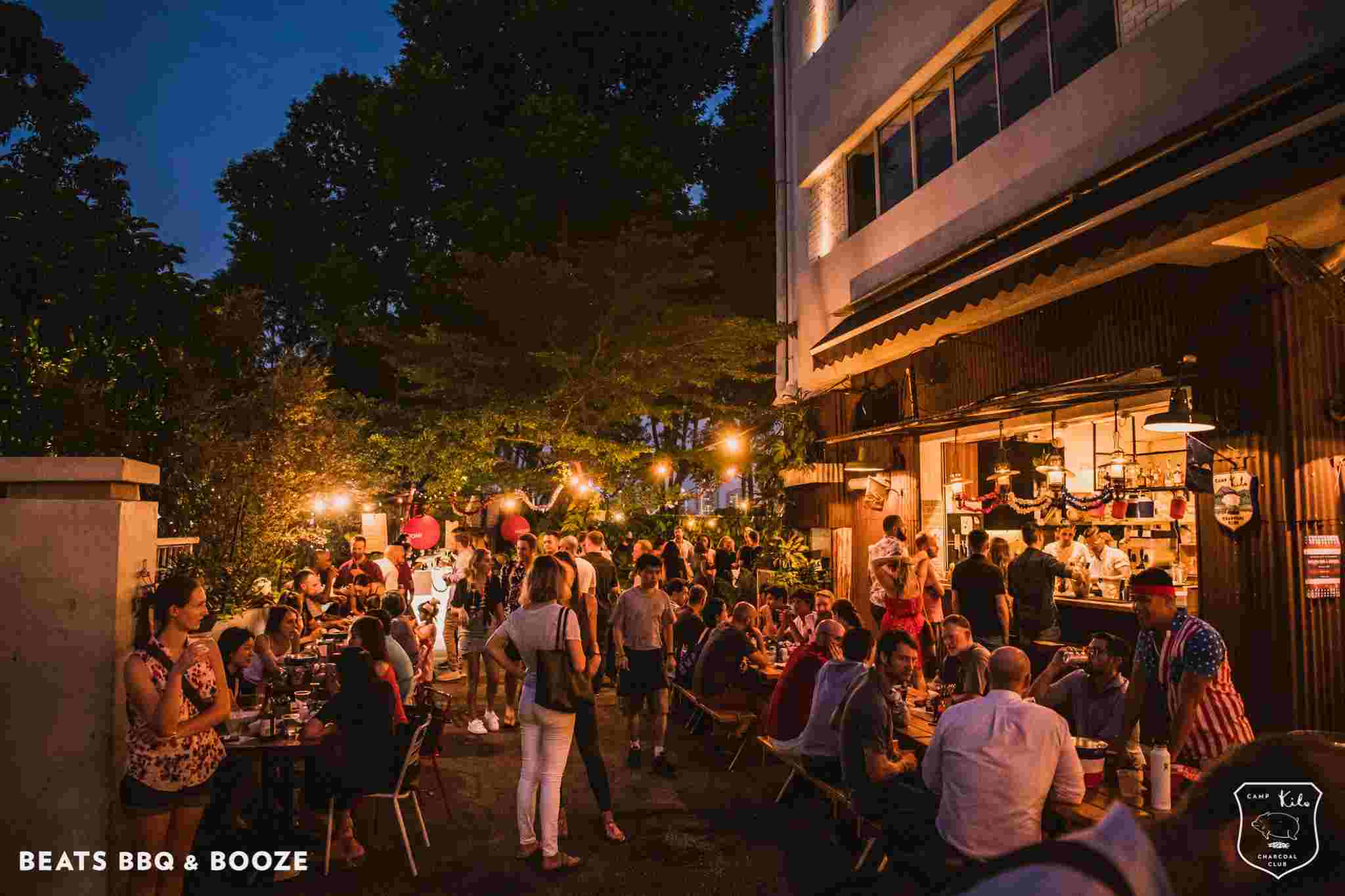 Calling all meat, roast and BBQ lovers! Camp Kilo Charcoal Club is your best bet for a restaurant for a big group of carnivorous friends. It's hard not to get enamoured with the laidback vibes of this place. Start with being seated at the long tables but don't be disappointed if your friends start getting up to mingle with others — including the affable chefs.
Be sure to check if the group is O.K. with the open-air venue. If all's good, look forward to sinking your teeth into the smokey Chipotle Pork Ribs, Boneless Lechon and much, much more. Accompanied by your choice of poison, of course!
Address: 66 Kampong Bugis, Level 1, S(338987)
Opening Hours:
Fri: 5.30pm – 11pm
Sat – Sun: 11am – Till late
7. Hai Xian Lao Buffet Hotpot
At a relatively quiet location in Wilkie Edge, you can be sure to avoid jostling throngs of people to reach this hotpot location. Hai Xian Lao serves eight soup bases from Mala broths to Laksa and the flavourful collagen base soup. Opt for the buffet hotpot and let your companions pick their own ingredients. We hear the Kurobuta Pork Belly, Lamb Shoulder and Wagyu Beef are part of the long must-try food list.
Not only is Hai Xian Lao a good restaurant for big groups but it's also one of the best supper hangout places to go with your friends since it closes at 5am daily!
Address: Wilkie Edge, 8 Wilkie Road, #01-21, S(228095)
Opening Hours: Daily, 11am – 5am
Big group restaurants: > $35/person
8. Como Cuisine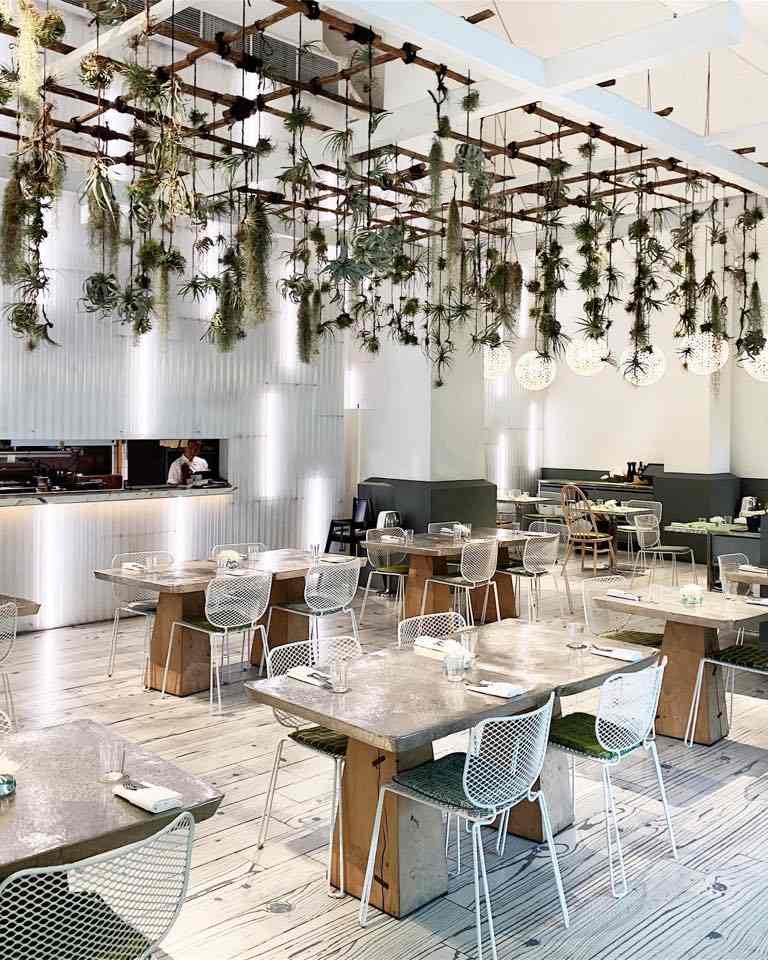 Como Cuisine takes the concept of nutritious eating to new heights with signature dishes from their resorts and hotels in the region. This restaurant in Singapore is not only for big groups but is also a place for all-day dining — from brunch and lunch to high tea and dinner.
Bask in the naturally sunlit restaurant and enjoy chatter over nourishing combinations of light and fresh foods like Market Fish Crudo to mains like Lamb Shank Massaman. The brunch menu features everything from Fruit, Grains and Cereal to therapeutic brews and kombucha.
Take note that the restaurant can sit up to eight pax but contact them in advance if you're planning on coming in with a larger group. Alternatively, book their private dining room which sits up to 23 people and faces the tropical oasis of Dempsey Hill.
Address: Block 18A Dempsey Road, S(249677)
Opening Hours: Varied timings, check here
9. Jumbo Seafood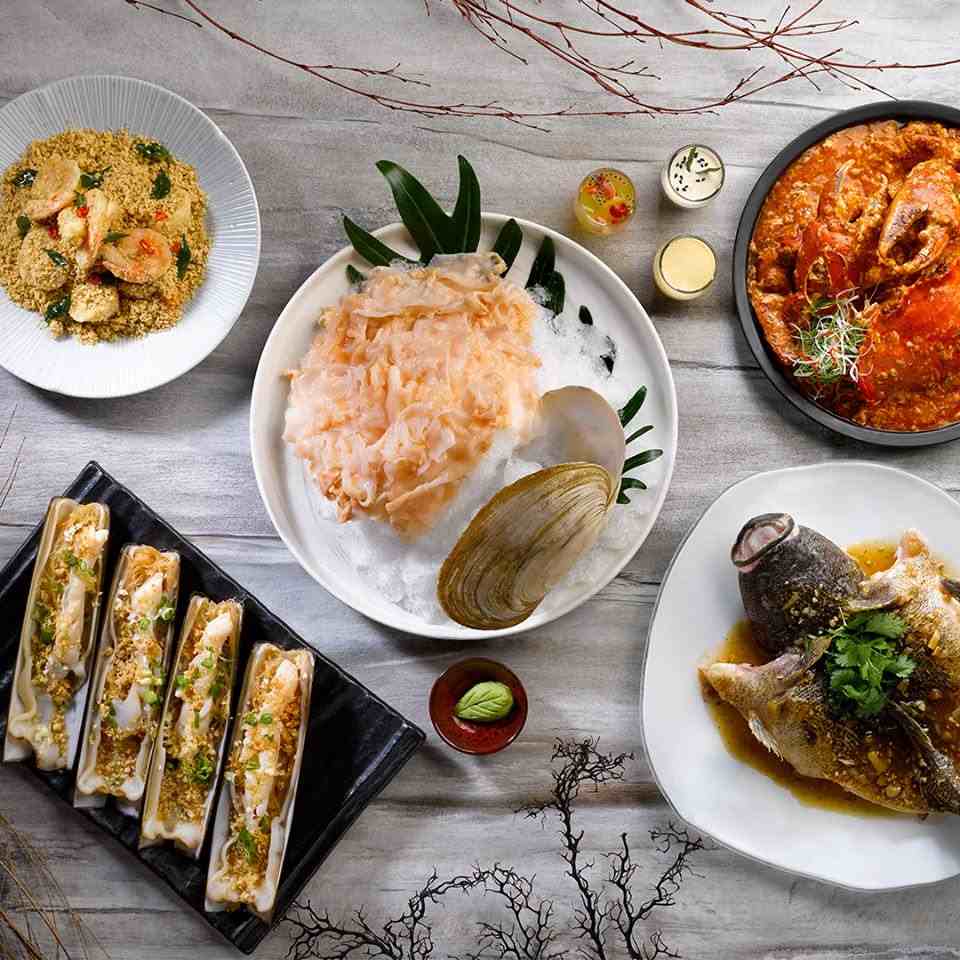 Messy eating has never been this good! If you're bringing your foreign friends out, be sure to reserve a day for the crazy, satisfying mess that's Jumbo Seafood. Tie up an apron and scoop the fried mantous into their star dish — the plump Chilli Crabs oozing with delightful chilli-eggy sauce. Since you're going in a large group, be sure to enquire after their set meals. These consist of appetisers like baby squids, to a crab main of your choice served with fried rice and finished with a traditional Singaporean dessert.
Although most of their six outlets would be able to accommodate a large group, we'd recommend setting up camp at Jumbo Riverside Point, just because you'll be getting the glittering view of Clarke Quay! You can also request for one of the five sound-proof private rooms if you're looking for a more intimate crab-eating experience.
Address: Riverside Point, 30 Merchant Road, #01-01-02, S(058282)
Opening Hours: Daily
Lunch : 12pm – 3pm (last order at 2.15pm)
Dinner : 6pm – 12am (last order at 11.15pm)
Check out their other locations here
10. Coriander Leaf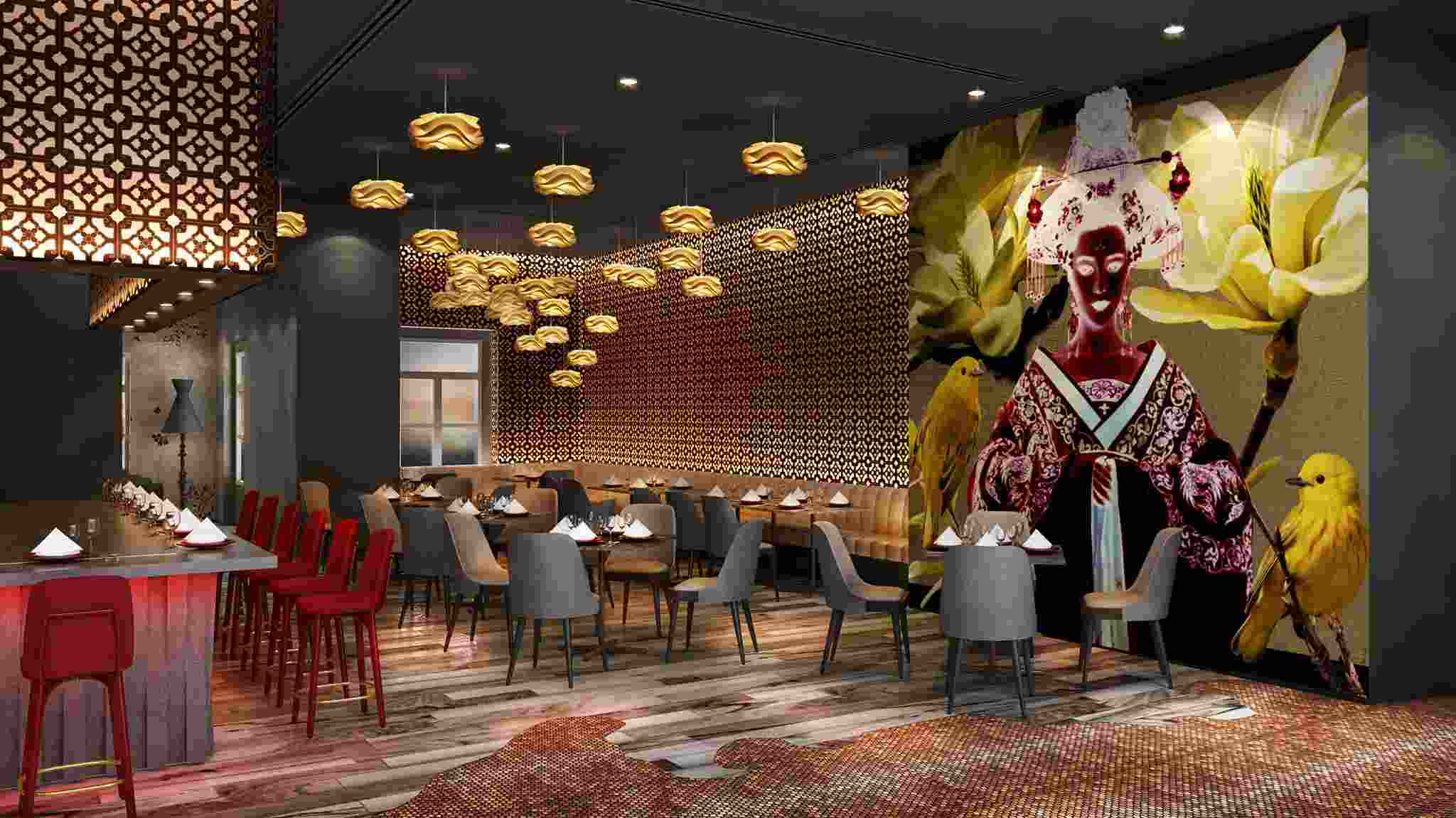 Coriander Leaf serves some of the best Pan Asian dishes under founder and Culinary Director, Samia Ahad. Get ready to be captivated by the innovative line-up with most of them revolving around five taste profiles; Fresh, Familiar, Spicy, Umami and Sweet. Tantalize your tastebuds with dishes like Momo Dumplings, Lamb Chops, Rice Noodle and a variety of vegetarian options (inspired by coriander of course) to boot.
The flagship restaurant at Chijmes can sit up to 41 in the main dining hall and 24 in the private dining room and is an exquisite big group restaurant to consider if you're alright with forking out a bit more cash.
Address: CHIJMES, #02-01, 30 Victoria Street, S(187996)
Opening Hours:
Lunch: Mon – Fri 12pm – 2:30pm
Dinner: Mon – Sat: 6pm – 10:30pm
Check out the Ann Siang location details here
Need more options to consider for a feast with your big group? We've got a host of other gluttonous inspiration just for you! Check out this list of carnivorous food challenges for a free meal or grab a seat at some of the best halal cafes and restaurants if you need a meal after a round of shopping in Orchard!