Nothing tastes better than free food in Singapore, especially when it's whipped up in humongous servings! Running low on funds but still keen on having a gastronomic experience? Here are eight free food challenges in Singapore fit for the carnivorous diner! Walk away with a free meal if you wipe the dish spot-clean in the given time limit! Warning: this is not for those with weak stomachs.
1. The Beast Burger Challenge @ The Beast Southern Kitchen and Bourbon Bar
https://www.instagram.com/p/BlIfLTknCF0/?utm_source=ig_web_copy_link
Calling all who live and breathe burgers! If you're up and game for the ultimate burger challenge, The Beast dishes the most formidable ones. Be sure to come with an empty stomach because you're about to go face-to-face with 1.6 pounds of beef patty, 1 pound of slow-cooked pulled pork, 1 pound of Southern buttermilk fried chicken and all sandwiched between two 9-inch buns garnished with lettuce, tomatoes and coleslaw. If that isn't scary enough, this giant burger also comes with a bucket-full of sweet potato fries.

Wolf the entire thing down in 60 minutes and your meal's free! This free food challenge in Singapore is not for the weak-hearted — the previous contender chowed it all down in just under 13 minutes! Fail the challenge and the damage will set you back $125. 
Address: 17 Jalan Klapa, S(199329)
Opening Hours:
Mon – Wed: 5pm – 12 midnight
Thu – Fri: 5pm – 1am
Sat – Sun: 11am – 12 midnight
2. Xiang Ji's 3kg Mega Chicken Rice Challenge @ 289 Xiang Ji Roasted Delights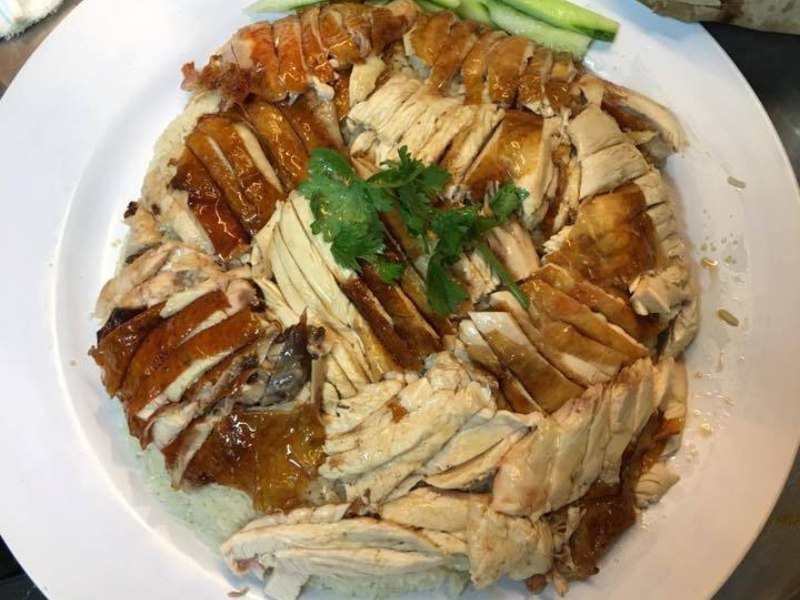 Touch your heart, if you aren't willing to chow down nearly 4kg worth of chicken rice, do you really love chicken rice? This ginormous plate of chicken rice serves 12 people and if you can lick it clean in 40 minutes, you walk away a very full and satisfied person. With 800g of roasted chicken and 2.2kg of rice, take your love for Singapore hawker cuisine to a new level! Take any longer than 40 minutes and be prepared to leave $28 poorer.
Address: 395A Bukit Batok West Avenue 5, S(651395)
Opening Hours:
Mon, Wed-Sun: 11am – 5.30pm
3. Satay Challenge @ Lau Pa Sat (Stall 8)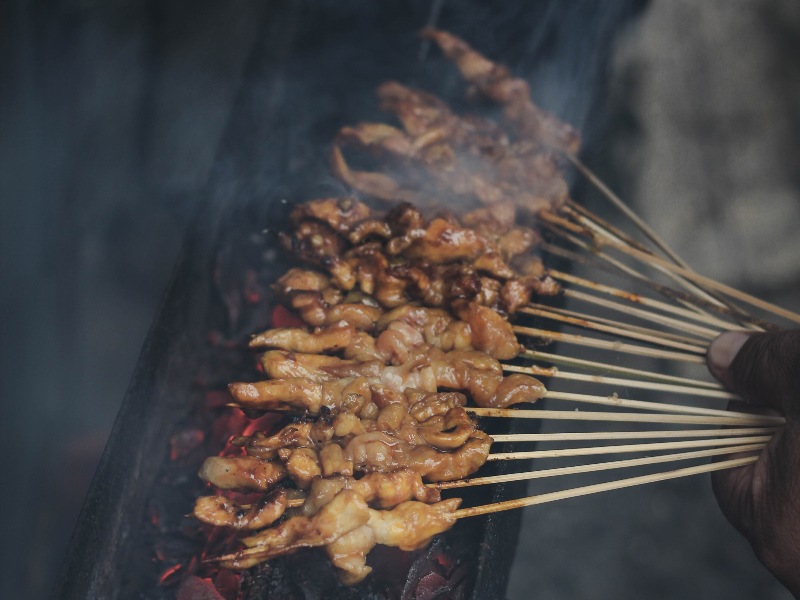 Head onto the streets of Lau Pa Sat on any night and you'll find an entire road closed off for street vendors serving up mouth-watering local delights. Satay stall number 8 is famous for its satay challenge — to wipe clean as many satay sticks you can in 20 minutes. The current record to beat is 150 sticks, so if you're up for it, be sure to head down to show your love for a choice of chicken, beef or mutton skewers! Fail the challenge and you'll end up paying for every stick you've devoured (it's $0.70/stick). 
Address: Lau Pa Sat, 18 Raffles Quay, S(048582)
Opening Hours: Daily, 7pm – Till late (Satay Street)
4. McGettigan's Burger Challenge @ McGettigan's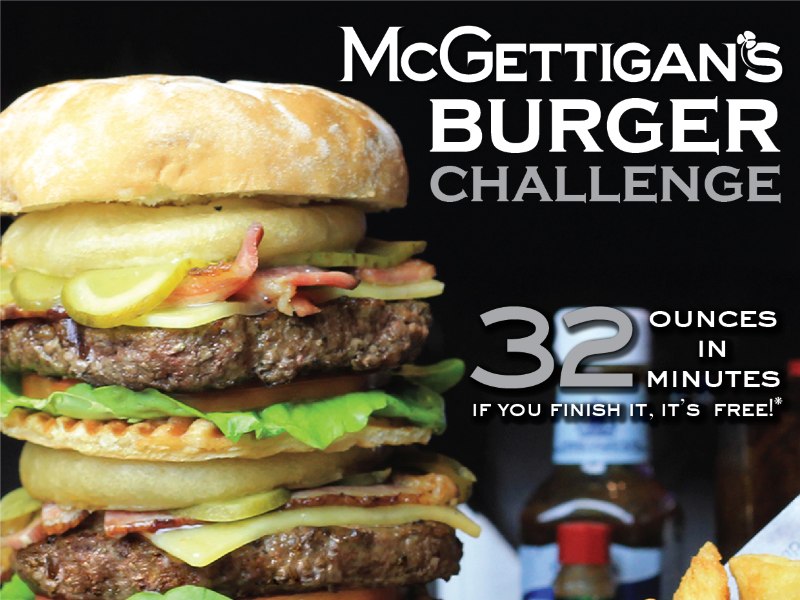 Many have tried, few have succeeded. If you can't get enough of tantalizing burgers — the McGettigan's burger challenge is here to test your love for it! Nothing screams a good free food challenge in Singapore than this enormous pile of meaty goodness. With four layers of beef patty slathered between strips of bacon, cheese, lettuce and pickles, this 32-ounce towering behemoth can be a recipe for disaster or the best free meal ever.

Gorge it down within 32 minutes and you'll earn yourself a free meal that might've otherwise cost you $80 and have your name on their Wall of Fame!
Address: Merchant's Court, 3A River Valley Road, S( 179020)
Opening Hours:
Mon – Tue: 12pm – 1am
Wed – Fri: 12pm – 3am
Sat: 10am – 3am
Sun: 10am – 1am
5. Spaghetti From Hell Challenge @ Southwest Tavern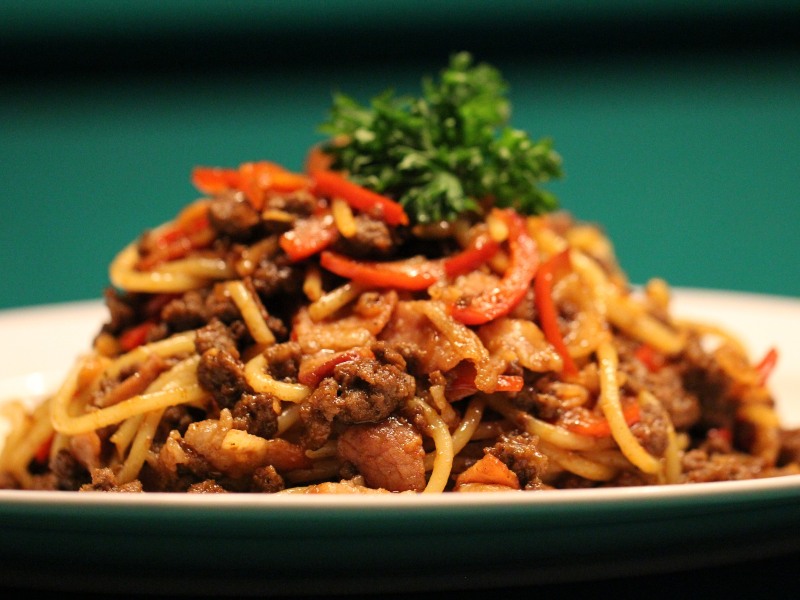 (Warning: SPICY) If you can't handle spice, turn around, this one's for the spice king and queens out there! Have a taste of hell with this insanely-spicy spaghetti 'bolognese' with a level 18 spice level (the highest on the scale). Earn bragging rights by polishing the dish clean within 10 minutes and win two towers of Heineken draught beer or choose the $100 dining voucher at Southwest Tavern! 
All brave souls are required to sign an indemnity form before they partake in this devilish challenge. But remember — no milk or drinks allowed. 
Address: Tradehub 21, 8 Boon Lay Way, #01-33, S(609964)
Opening Hours: Daily, 11am – 12am
6. The Humongous Murtabak Challenge @ Springleaf Prata Place (The Rail Mall)
https://www.facebook.com/realspringleafprataplace/videos/260598614646754/
Enjoy free local food in Singapore with the ultimate murtabak challenge by Springleaf Prata Place! The challenge has been around since October 2018 and this $26 humongous murtabak is yours for free if you can finish it within 20 minutes! Only available at The Rail Mall outlet, drop them a DM to express interest in the challenge and be on your way to gobbling down one of the largest mutton murtabaks in Singapore! That's the beauty of living in Singapore, free food (if you are up for the challenge) comes in a variety of cuisines as well!
Address: The Rail Mall, 396 Upper Bukit Timah Road, S(678048)
Opening Hours: Daily, 8am – 12am
7. Tag Team Pizza Challenge @ Gourmet Pizza To Go!
Share some of the best free foods in Singapore with your friend! If your best pal is a huge foodie with an even huge-r tummy, pair up with them to compete in the #TagTeamPizzaChallenge! If both of you can devour not one, but two Al Taglio pizzas weighing almost 5.5kg in 45 minutes, your meal is absolutely free! Don't be fooled, 45 minutes is a short time getting through 5.5kg worth of flour and carbs. Take any longer and be ready to pay $130 and maybe spend the next few hours visiting the washroom.
Address: Kallang Wave Mall, 1 Stadium PIace, #01-43, S(397628)
Opening Hours: Daily, 10am – 10pm
8. Empire Burger Challenge @ Little Diner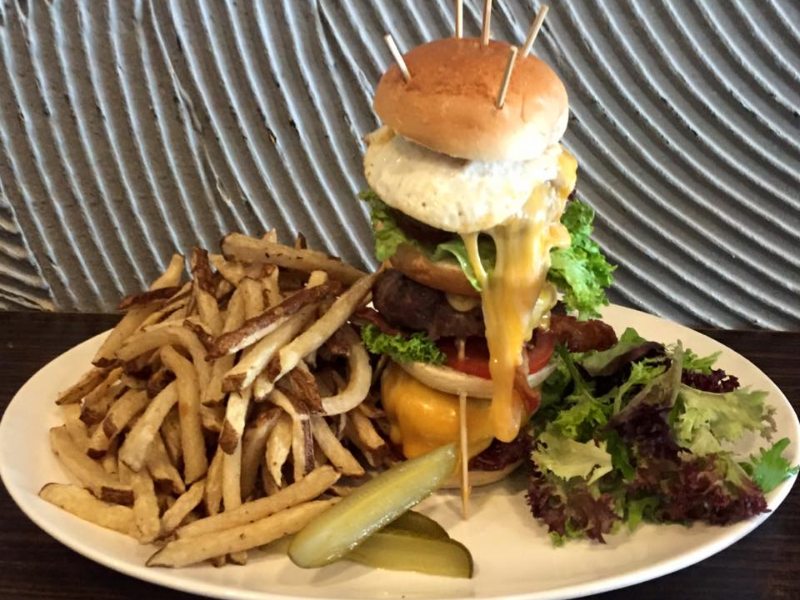 Here's yet another free food challenge in Singapore — the Empire burger weighs a whopping 1.6kg and if you can scale up and wolf the entire plate down in 20 minutes, your meal is free plus you can have your name engraved onto their Hall Of Fame. With three juicy patties sandwiched between thick, oozing sections of melted cheese and eggs — be prepared to skip several meals before downing all that goodness. Remember, you have to lick the entire plate clean, including every last french fry and leafy green.

Don't underestimate this burger though, call it quits early and it'll set you back $55 and an embarrassing walk of shame to the counter. Complete the challenge and you would have just earned yourself another plate of free food in Singapore!
Address: 789 Bukit Timah Road, S(269763)
Opening Hours:
Tue – Fri: 11.30am – 3.30pm (Lunch), 6pm – 10pm (Dinner)
Fri – *Sun: 11am – 6pm (Brunch), 6pm – 10.30pm (Dinner)
*Sun: 6pm – 10pm (Dinner)
There you have it, some of the nastiest and toughest carnivorous free food challenges in Singapore! If you think you've got four stomachs and a slim wallet, put those stomach muscles to the test and you might just walk away with a free meal. Who said you can't have free food in Singapore? You can, but it comes at a price. 
If you're a massive foodie but still love to find the best deals to get your munch on, here's a list of food vouchers you need right now! Can't get enough of the juicy tenderness of meat? Head over to these affordable steakhouses in Singapore and sink your teeth into all the warm protein goodness.