Whether you're looking to perfect your dribbling skills or organise a five-a-side showdown, you'll want to play at the best futsal pitches in Singapore. From picturesque rooftop futsal courts to sheltered courts for quality indoor futsal in Singapore, we've scoured the island to bring you the best futsal pitches in Singapore that will deliver fun footy experiences for all! 
Fun matches await at these futsal pitches in Singapore
1. SkyPark Arena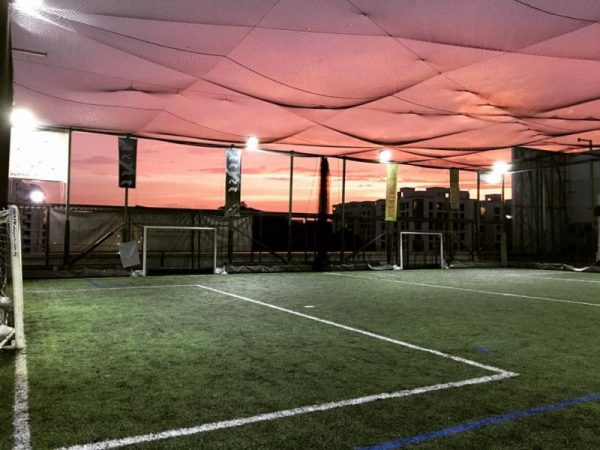 SkyPark Arena has one of the best futsal pitches in Singapore because of its attention to detail in recreating an authentic futsal experience. Sporting smaller than usual FIFA-recommended AstroTurf for five-a-side and six-a-side games and premium goal posts and netting, you're guaranteed a fantastic time on the court with these quality amenities.
Additionally, there are dedicated facilities to allow for some quality rest and relaxation. These include an air-conditioned bistro, darts, pool table, video game stations and hot showers! Ultimately, it's this all-encompassing approach that makes playing at SkyPark Arena a world-class experience on and off the pitch.
Address: 896 Dunearn Road, #05-03, S(589472)
Check out their other location here
Opening Hours: Daily, 8am – 11pm
2. Stadio Futsal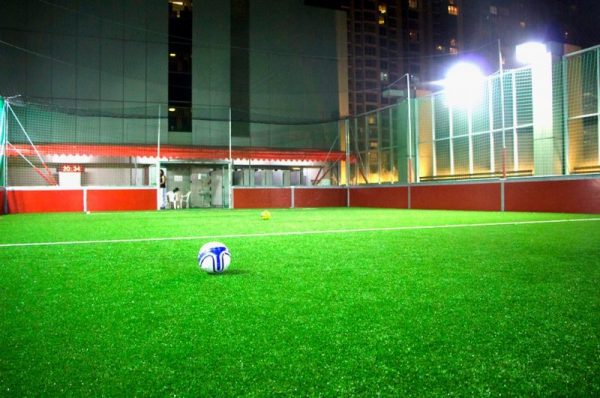 Ever played on a hotel rooftop? Stadio Futsal collaborated with Amara Hotel to create Singapore's first rooftop futsal pitch in 2014 and immediately won the hearts of footballers islandwide. For us, nothing quite matches the experience of playing with a view of Tanjong Pagar's skyline. If you're looking to blow off some steam after a long workday, you know where to head to!
Even if the killer view doesn't win you over, the pitch quality will! Fans of the German Bundesliga will recognise that you're treading on the same turf that's featured in league games. From hourly rates of $70 for five-a-side and $80 for six-a-side, get ready to play on quality turf with a stunning view!
Address: Amara Hotel, 165 Tanjong Pagar Road, S(088539)
Check out their other locations here
Opening Hours: Daily, 8am – 12am
3. The Cage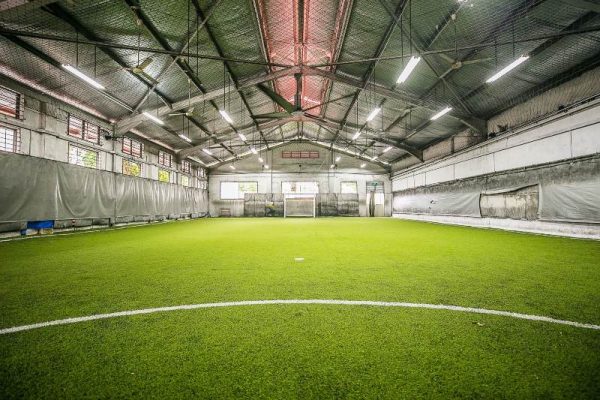 Ask any avid football player where the best futsal pitches in Singapore are and they'll likely bring up The Cage! Hosting kickabouts since 2005, The Cage practically pioneered indoor futsal in Singapore with well-maintained pitches and ventilated interiors. Whether you're playing fast-paced five-a-side games or taking on another squad in full scale 11-a-side games, The Cage has you covered with more than 25 pitches across their three locations.
The most enjoyable part about playing at The Cage are the venue's roaring speakers. Blast high-energy tunes and recreate your favourite football highlights with fancy footwork!
Address: 38 Jalan Benaan Kapal, S(399635)
Check out their other locations here
Opening Hours: Daily, 9am – 10.30pm
4. FutsalArena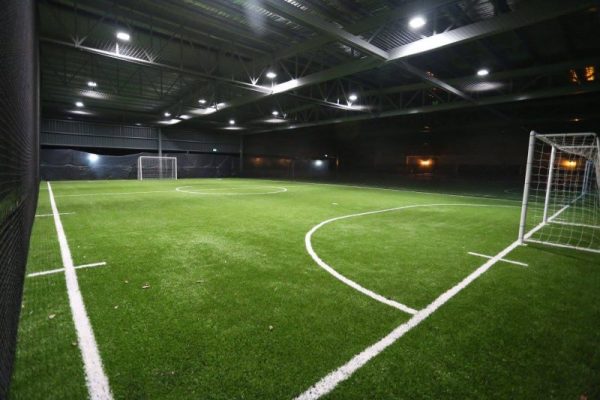 Keen on getting a convenient fix for indoor futsal in Singapore? Located a stone's throw away from Yishun MRT station, FutsalArena boasts some of the best futsal pitches in Singapore for footy fanatics residing in the north. Packing five all-weather futsal courts and ample parking space, you'll be hard-pressed to find a better alternative when it comes to futsal courts in Singapore. After the game, you're welcome to cool down at the resting area, buy a few drinks from the vending machine and clean up at the shower facilities.
Looking to chow down after a strenuous session? Check out our rundown of the best food at Northpoint City for a sumptuous meal.
Address: 32 Yishun Central 1, S(760932)
Opening Hours: Daily, 9am – 1am
5. Ubersports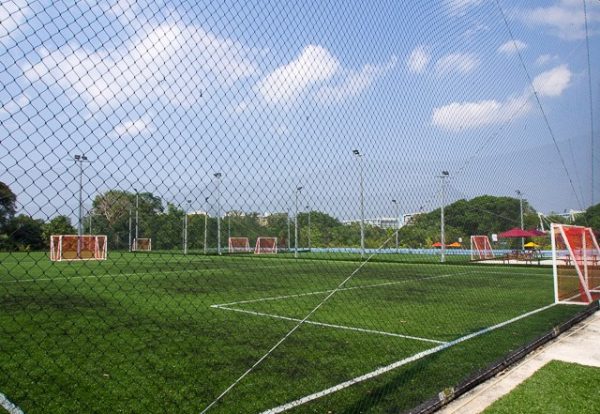 Prefer outdoor futsal pitches in Singapore? Offering both indoor and outdoor futsal courts, Ubersports' various locations give players the freedom to decide where to hold their five-a-side matches. Aside from allowing you to comfortably play, they also take pride in their superb events management skills! From coordinating team-building tournaments with referees, medics and medals to coaching clinics to help players refine their overall skills, you can easily get a tournament going at Ubersports. What's more? Ubersports' pitches are open all day! If you want to book a pitch for after 2am, be sure to reserve in advance before 11pm on that same day.
Address: Orto Park, 81 Lorong Chencharu, #01-13, S(769198)
Check out their other locations here
Opening Hours: 24/7
6. Golazo Futsal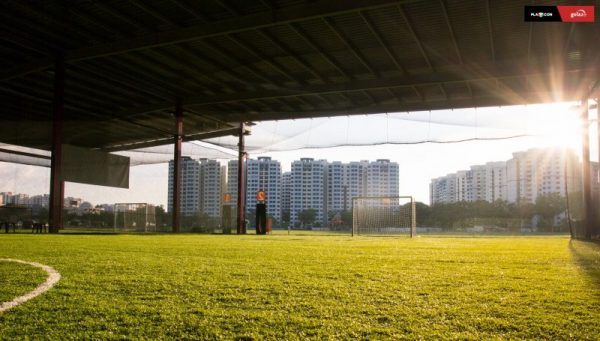 As one of the few futsal pitches in Singapore that cater to west-siders, Golazo Futsal features everything you'll need for an action-packed game! You're free to book either the sheltered or outdoor pitches for play. Those who book the open pitches will be glad to know that they feature UV sun shades so you can enjoy the sun's warmth while staying protected from harmful radiation.
This combined with its strategic location among flat plains means you'll never need to fret about games getting unbearably stuffy or humid. All of this is made affordable with their hourly rates that start from $50 for weekdays and $70 for weekends!
Address: 21 Jurong West Street 23, S(648196)
Opening Hours: Daily, 8am – 3am
7. The Ark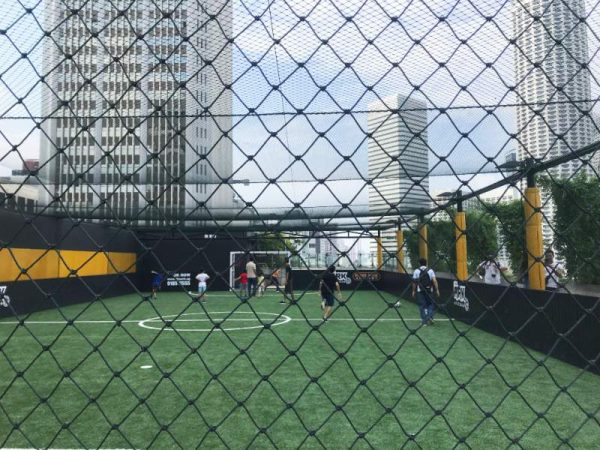 Dread having to travel to remote futsal pitches in Singapore? Why not play a game in the heart of the civic district? Located on Funan Mall's roof, The Ark brings after-work footy closer to you. Besides featuring a gorgeous cityscape view, The Ark prides itself on having a seamless automated booking system. To book the unmanned space, simply reserve online, head down to Funan Mall and follow the instructions on the vending machine to begin your five-a-side session.

First time visiting the newly reopened shopping centre? You'll definitely want to read our comprehensive guide to conquering the new Funan Mall.
Address: Funan Mall, 109 North Bridge Road, #07-37, S(179097)
Check out their other locations here
Opening Hours: Daily, 8am – 11pm
Reserve the futsal pitches early for guaranteed fun with your squad! If you're keen on conditioning your body for optimal performance, our easy home workout routine will be key to helping you play at your best! Alternatively, get kitted out for your favourite sports with some of the best sports equipment available.