Don't get us started on our love for all things matcha — including the green tea-infused desserts. There's something oddly pleasant about matcha's bitter and earthy taste that keeps us coming back for more. If you're a fellow matcha fan, don't miss out on some of the best matcha cakes in Singapore. We guarantee these would brighten up your day in an instant!
1. Kagurazaka Saryo – Brulee Matcha Chiffon Cake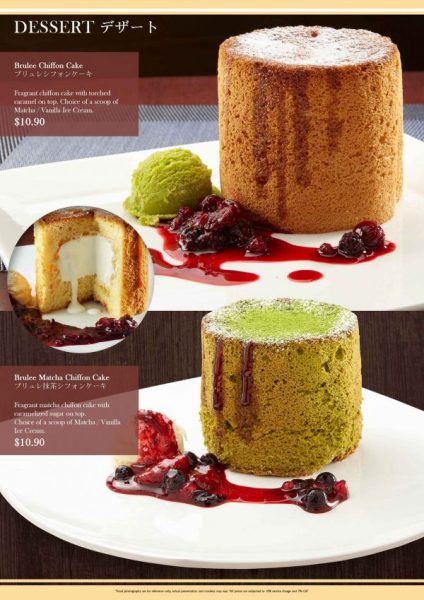 If you've been to Japan, chances are that you've enjoyed one or two of Kagurazaka Saryo's signature matcha desserts. This popular Japanese green tea dessert house has almost 10 outlets in Japan and is famous for its premium Uji Matcha from Kyoto. 
If you're looking for the best matcha cake in Singapore to satisfy your sweet tooth, you won't be disappointed with the Brulee Matcha Chiffon Cake. This light and fluffy matcha chiffon cake is filled with smooth whipped cream, creating the perfect balance between bitter and sweet. But the highlight of this green tea cake lies in the caramelised sugar coating that covers its top. As its name suggests, this crunchy sugar layer shares the same burnt sweetness as creme brulee while adding more overall texture to the treat!
Address: Vivocity, #01-59, 1 Harbourfront Walk, S(098585)
Opening Hours: Daily, 12pm – 9pm
2. Nana's Green Tea – Matcha Chocolate Cake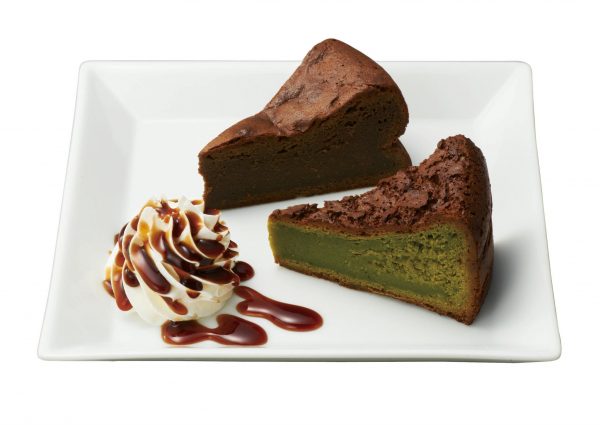 Looking for traditional Japanese matcha desserts with a modern twist? You won't go wrong with Nana's Green Tea, a contemporary Japanese tea house that offers an extensive range of Matcha-based beverages, parfaits and sweets. This 'Japanese Starbucks' also serves all-day mains such as donburi and udon! 
If you do pay Nana's Green Tea a visit, you must try their Matcha Chocolate Cake. This sinful dessert is a chocolate lover's dream come true with its perfectly moist and rich chocolatey taste. Each bite bursts with deep matcha flavour that lingers in your mouth. Moreover, the cake comes with light whipped cream that's drizzled with brown sugar syrup which you can scoop into for a mildly roasted sweetness. 
Address: The Atrium @ Orchard, Plaza Singapura, 60B Orchard Road, #03-80/82, S(238891)
Check out their other location here
Opening Hours: Daily, 11am – 10pm

3. Matchaya – Koicha Azuki Roll Cake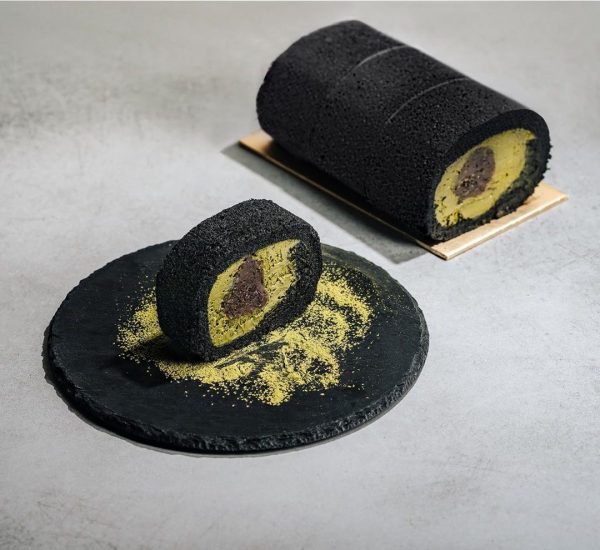 Think all matcha-concept cafes in Singapore originated from Japan? Think again! Matchaya was founded on our sunny island in 2015 after its owners failed to find the ideal matcha experience beyond Japan. What started as a small kiosk cafe has since expanded into a sophisticated concept store that offers a wide selection of desserts, drinks and even mains!
Looking for the best matcha cake in Singapore that would make your Instagram followers go wild? You won't be disappointed with Matchaya's signature Koicha Azuki Roll Cake. Unlike most other green tea cakes we've seen, this one spots an odd dusty black shade that makes the emerald matcha and chantilly cream pop. Its unique appearance is attributed to the 100% activated charcoal sponge cake which is light and airy. The Koicha Azuki Roll Cake tastes as good as it looks and has a subtle sweetness thanks to the Azuki red beans. 
Address: The Cathay, #01-08/09, 2 Handy Road, S(229233)
Opening Hours:
Mon – Thurs: 1pm – 10pm
Fri – Sat: 1pm – 10.30pm
Sun: 1pm – 10pm
4. Baker's Brew – Matcha Azuki Cake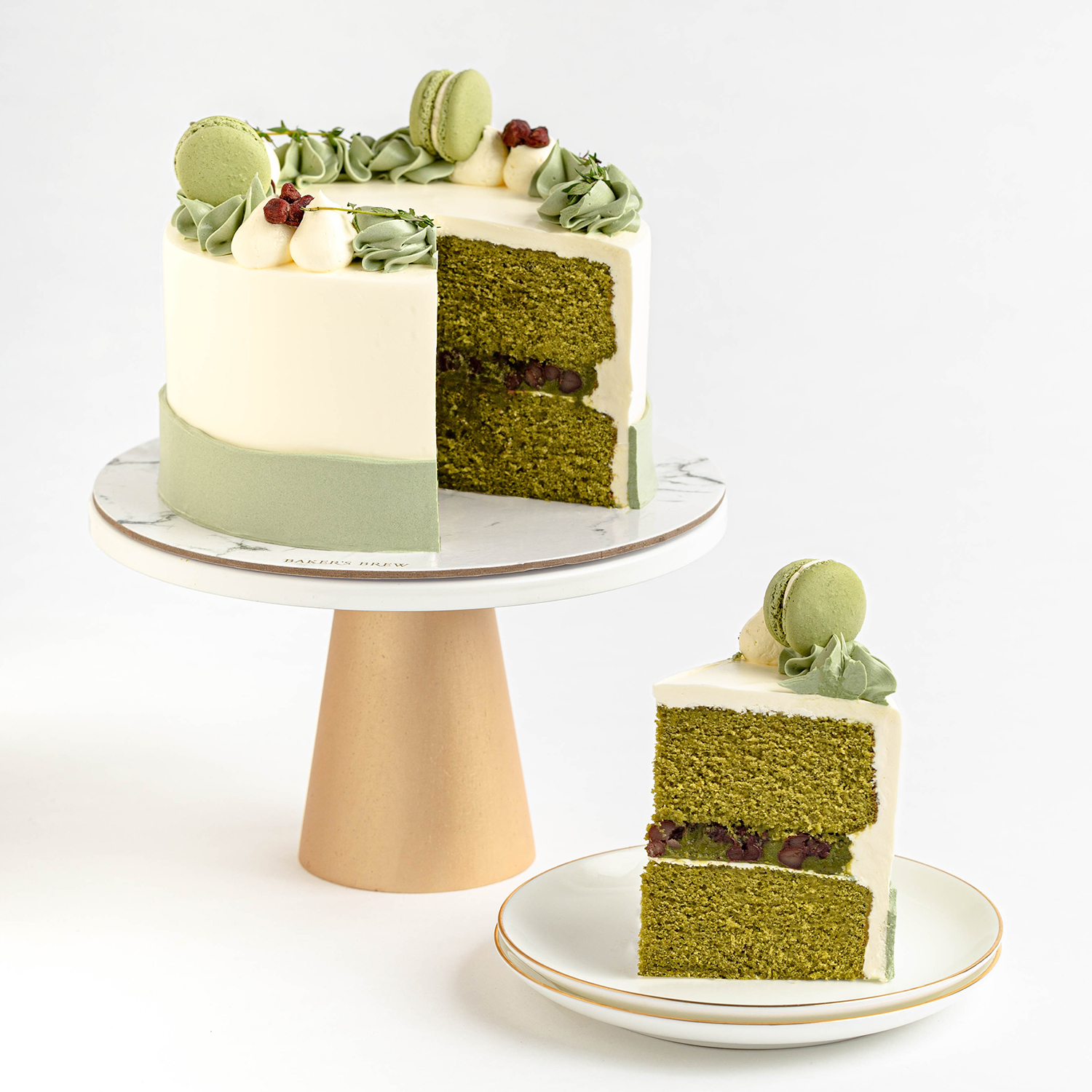 Celebrating a green tea lover's birthday party? Then it's a MUST to order the best matcha cake in Singapore for them! But where can you find a green tea cake that's big enough for a party of 40? Fret not, here's where Baker's Brew comes to the rescue! Baker's Brew is both a boutique cake shop and a baking studio rolled into one. If you're a baking enthusiast, you'll be stoked to know that Baker's Brew Studio offers hands-on baking classes of various difficulty levels so you can bake your own matcha cake next time! 
If baking is too much effort, you can grab the ready-made Matcha Azuki Cake from Baker's Brew. Covered in white chocolate buttercream, this delicious cake is made of luscious matcha sponge layers, green tea-infused pastry cream and home-made Azuki paste. Decorated with matcha macarons and gorgeous green drizzle, the Matcha Azuki Cake is bound to impress the birthday boy or girl! Don't forget to make the party a success with our creative birthday party ideas in Singapore!
Address: Paragon, Orchard Road, #05-46, S(238859)
Check out their other locations here
Opening Hours:
Mon – Fri: 11am – 9pm
Sat – Sun: 10.30am – 9pm
5. Lady M – Green Tea Mille Crêpes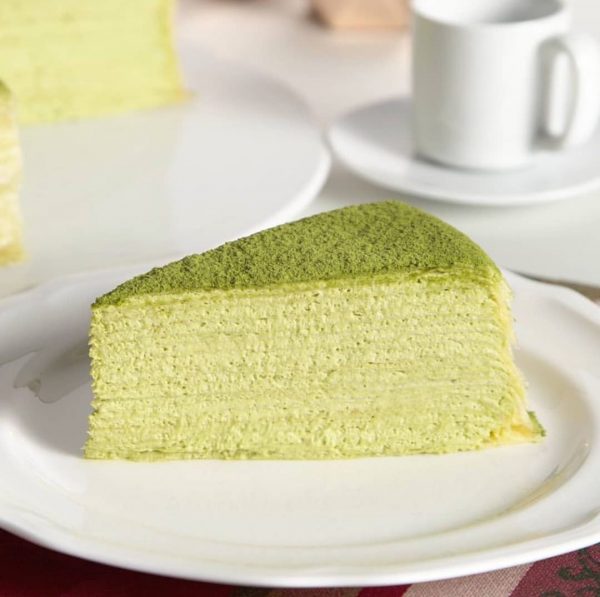 When we talk about Mille Crêpes, what's the first cake shop that comes to your mind? For us, it's definitely Lady M, a cake boutique that's achieved unbeatable popularity both in New York and Singapore. Marrying pastry concepts from France and Japan, Lady M produces premium Mille Crêpes consisting of about 20 paper-thin handmade crêpes layered with licks of pastry cream. The result? Soft and tender Mille Crêpes in a wide variety of flavours including rose, salted caramel and tiramisu. 
But an absolute crowd favourite at Lady M is the Green Tea Mille Crêpes. This is the best matcha cake in Singapore for those craving a dessert that's not too sweet. Despite the generous amount of fine green tea powder sprinkled on top, the matcha flavour takes a back seat compared to the milky pastry cream wrapped between the layers. Together, it tastes exactly like how we would imagine a matcha latte would be if made into confectionery — fragrant, light yet addictive.
Address: Orchard Central, 181 Orchard Road, #01-27 & #02-07, S(238896)
Check out their other locations here
Opening Hours: Daily, 11am – 10pm
6. TSUJIRI's O-Matcha Roll Cake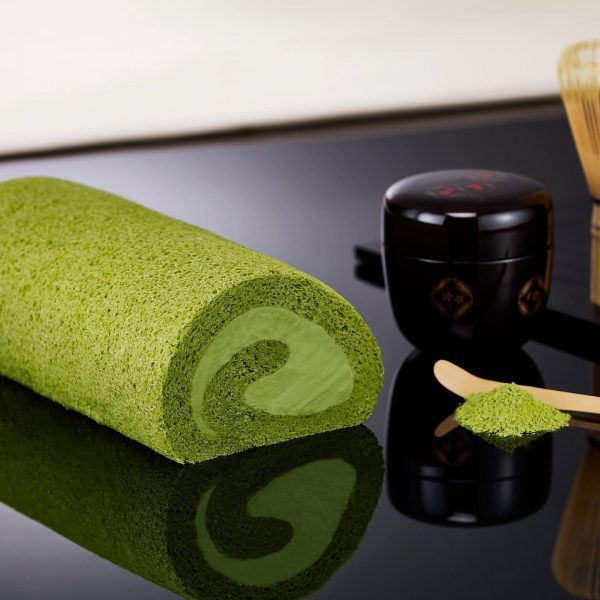 As one of the most well-established tea brands in Japan, TSUJIRI has been producing the highest quality of green tea since 1860. Selecting only the finest tea leaves from Uji, it's no wonder TSUJIRI's tea offerings are unmatchable. Indulge in a quick pick-me-up with their latte selection or beat the heat with delectable treats such as the O-Matcha Parfait and Houjicha Shaved Ice! 
Meanwhile, TSUJIRI's cakes are also strong contenders for the best matcha cake in Singapore. Created with pillowy soft matcha sponge cake, the TSUJIRI O-Matcha Roll Cake contains generous amounts of aromatic matcha cream that's bound to send any matcha lover into a state of bliss. And how exactly does TSUJIRI manages to create such divine taste? The secret lies in the traditional tea grinding method which TSUJIRI swears by to retain the full-bodied flavour of premium Uji green tea leaves!
Address: The Centrepoint, 176 Orchard Road, #01-101, S(238843)
Check out their other locations here
Opening Hours: Daily, 11am – 10pm
7. Flor Pâtisserie – Emerald Black Cake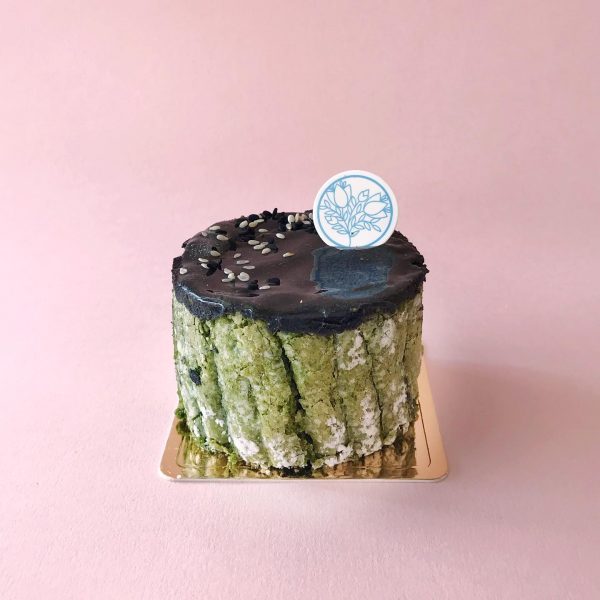 Don't be mistaken, Flor Pâtisserie isn't just another French pastry shop. Owned by Japanese Chef Yamashita Masataka, Flor Pâtisserie is the place where the renowned chef experiments with different flavours to produce aesthetically pleasing and delectable Japanese-inspired French pastries. Here you can find some of the best matcha cakes in Singapore that don't contain baking powder, artificial rising and softening agents, stabilisers or preservatives. 
If you're looking for a green tea cake catered to the local taste buds, you've got to give the Emerald Black cake a shot. This matcha cake is unlike any other. It is made of matcha dacquoise — a meringue-based cake — and matcha sponge layers, creating a nice contrast in texture. But the real surprise awaits on the inside, where rich black sesame cream oozes out with every bite. We suggest having this delicious treat on a half-filled stomach or share it with a friend, otherwise, you may be overwhelmed by its strong flavour!
Address: 2 Duxton Hill, #01-01, S(089588)
Check out their other locations here
Opening Hours: Daily, 11am – 9pm
8. Edith Patisserie – Matcha Bubble Tea Cake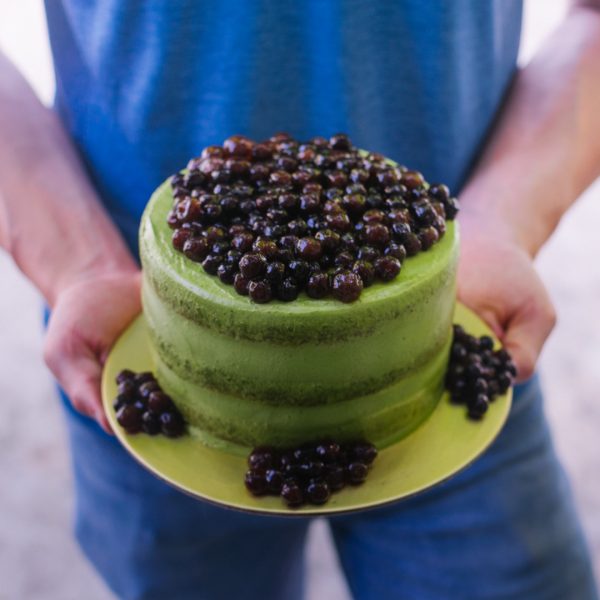 Our favourite bubble tea in a cake? Say no more, take our money! The Matcha Bubble Tea Cake is, without a doubt, the best matcha cake in Singapore for all bubble tea lovers! This glorious creation can be found at Edith Patisserie, a homestyle bakery founded by talented bakers Shaun and Ethel. They are most famous for their custom cakes, offering more than 12 flavours and 18 unique cake exteriors to create your dream cake. You can also provide them with your desired cake designs and watch them work their magic! 
Aside from custom cakes, Edith Patisserie is also famous for their irresistible green tea cakes. The Matcha Bubble Tea Cake is one of them. It's piled with freshly cooked boba pearls both on top and between the moist and creamy matcha sponge layers. Remember to preorder the Matcha Bubble Tea Cake to avoid disappointment! If you need to have your green tea fix immediately, we suggest going for the Yuzu Matcha Cake or Matcha Dark Chocolate Cake instead! The former contains zesty yuzu chantilly made from 100% yuzu juice while the latter is filled with dark chocolate ganache for a deep cocoa flavour. 
Address: 772 North Bridge Road, S(198740)
Opening Hours:
Tue – Sat: 10am – 5pm
Sun: 10am – 2pm
9. The Plain Jane Cafe – Matcha 2.0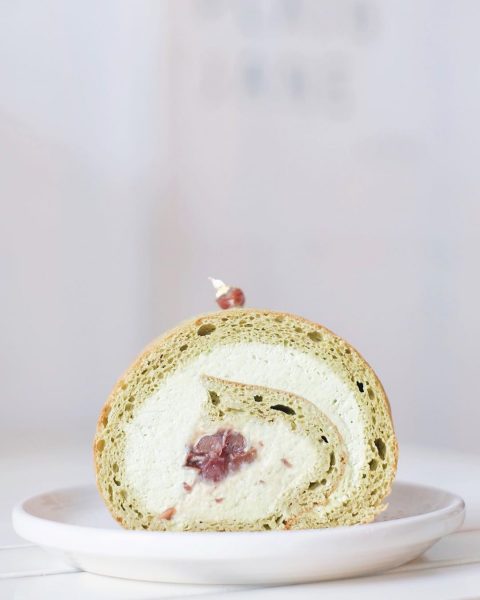 If there's one thing we're sure of, it's that The Plain Jane Cafe is anything but plain. Packed on most weekends, this cafe stands out in the rustic Serangoon neighbourhood with its minimalist and clean interiors. What draws the crowds is its highly-raved swiss rolls that come in flavours such as vanilla, Thai milk tea, chocolate, raspberry and of course, matcha. Created by the same geniuses behind the well-loved Rich And Good Cake Shop, it's no wonder the swiss rolls here are selling like hotcakes!
The Plain Jane Cafe recently improved their matcha swiss roll recipe and renamed it Matcha 2.0. The main difference between the old and new recipe lies in the addition of Azuki beans imported from Japan. Improved or not, we believe Matcha 2.0 is still the best matcha cake in Singapore for those looking for a creamy dessert. The matcha flavoured cream lends the swiss roll a distinct tea flavour that brings out the sweetness in the red bean filling — perfect for tea time!
Address: 211 Serangoon Avenue 4, #01-10, S(550211)
Opening Hours:
Mon – Tues: 12pm – 8pm
Thur – Fri: 12pm – 8pm
Sat – Sun: 10am – 8pm
Have more room for dessert?
Besides these mouth-watering matcha desserts, you can also check out other cafes at Upper Thomson and enjoy a vegan ice cream (or two, we won't tell)! Craving for some sweet treats in the middle of the night? Make a stop at these late-night dessert spots to satisfy your midnight hunger pangs!