Hunting for the best baby haircut spot in Singapore? The anxiety of your baby's first haircut can be quite taxing, both for the parent and the baby. It definitely isn't the most pleasant experience to watch your baby squirm or worse yet, wail while getting that haircut. Which is why we have compiled a list of the best places for baby haircuts in Singapore that boast toys, patient hairdressers and overall pleasant environments to ease your little ones!
Best baby haircut spots in Singapore
1. Baby Spa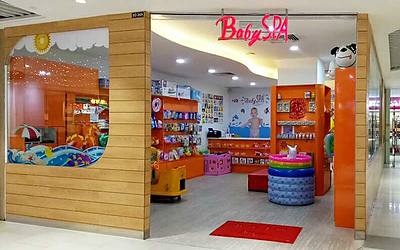 BabySPA specialises in baby water training programs, baby massages and baby haircuts in Singapore! Bring your little one here for their first haircut experience and they will be awarded a haircut certificate at the end of the session too. They have countless outstanding testimonials commending BabySPA's friendly and helpful staff. On top of that, Baby Spa provides home visits, perfect for busy parents!
Address: Plaza Singapura, 68 Orchard Road, #03-30, S(238839)
Check out their other locations here
Opening Hours: Daily, 10am – 10pm
2. Huixia Taimaobi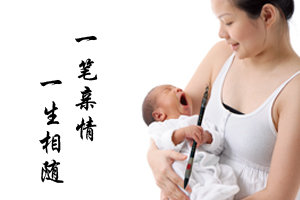 If you're looking for a unique memorabilia from your baby's haircut in Singapore, you'll definitely want to check out Huixia Taimaobi! They specialise in making taimaobi among other special keepsakes like umbilical cord stamps.
Taimaobi, or, baby hair brush is a fairly popular practice in the Chinese culture where parents get a calligraphy brush made from the hair of their baby's first haircut. Place an order for a Taimaobi and receive a free baby haircut! Parents can rest assured knowing that professionals have undergone training to ensure your baby gets a safe and sanitary haircut.
Address: KK Women's and Children's Hospital, 100 Bukit Timah Road, #01-02, S(229899)
Check out their other locations here
Opening Hours:
Mon – Sat: 9am – 6pm
Sun & PH:10am – 5:30pm
3. Stephy The Mobile Hairdresser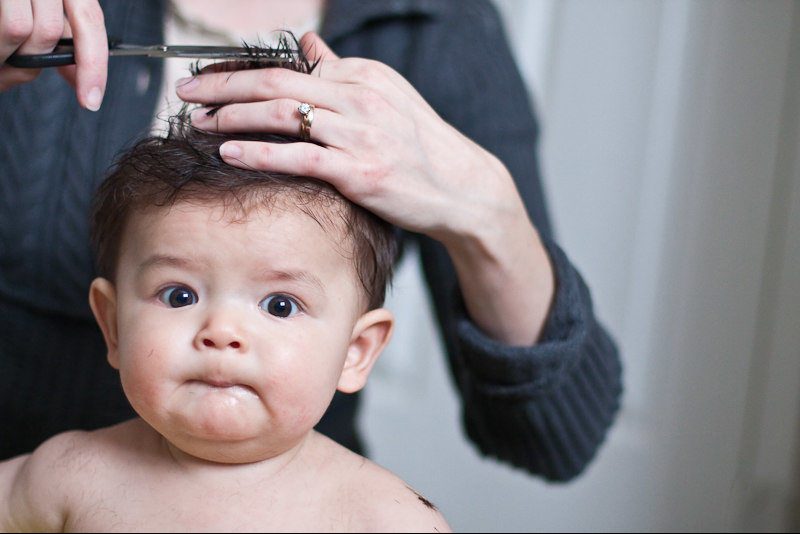 Can't simply find the time to squeeze in a haircut for your baby? Fret not! Specialising in baby haircuts in Singapore, Stephy The Mobile Hairdresser is the perfect match for you! Have a squeamish baby? She's also known to be somewhat of a baby whisperer and will soothe your baby in no time!
She can also give you a makeover and has experience in a wide array of adult grooming services from hair styling and bridal makeup to manicures and pedicures, all at the convenience of your own home! A godsend? We think so!
Book an appointment here
4. Mummy Baby Care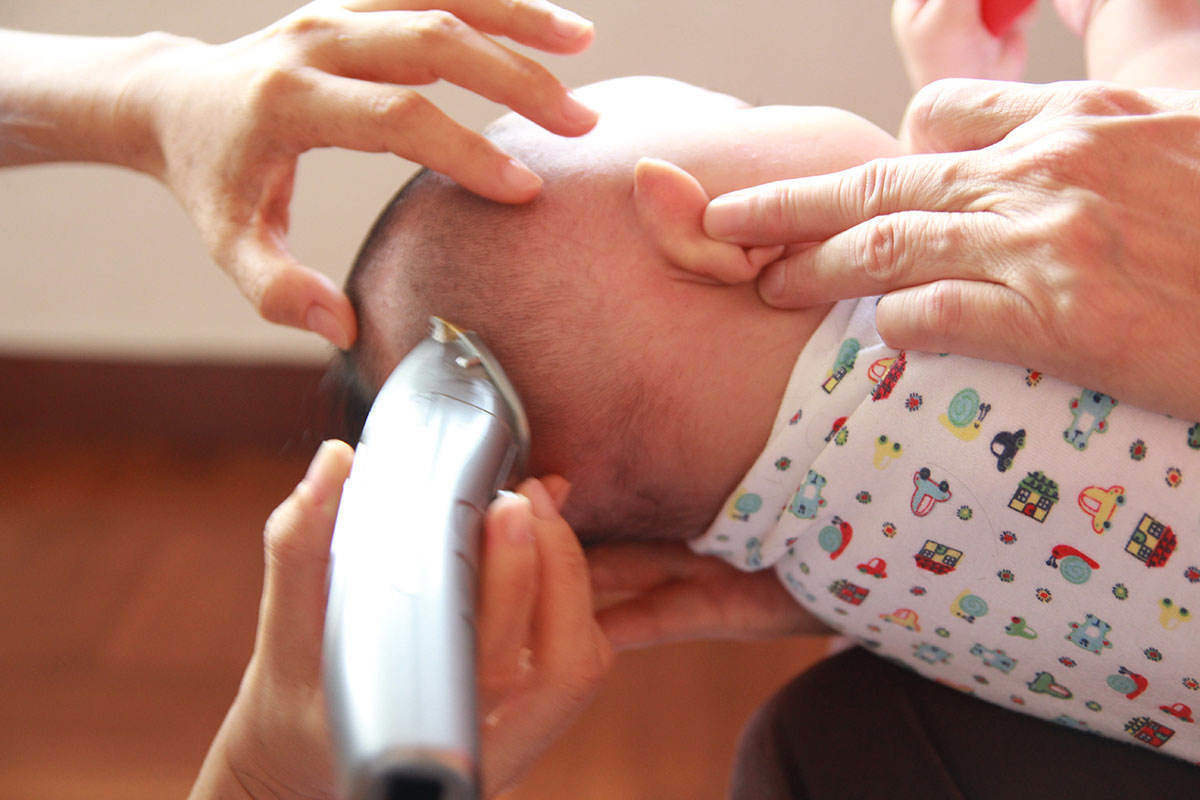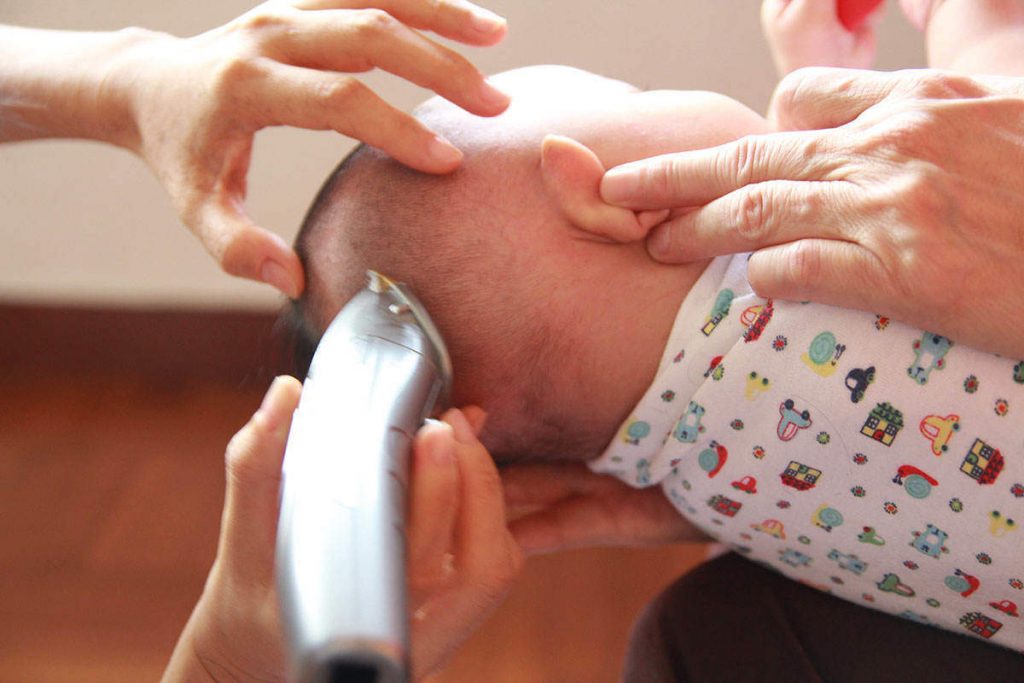 Looking for a place to pamper yourself and your baby? Mummy Baby Care may just be the place for you! They provide baby's first haircuts for babies aged one to six months old. Founder Sharon, has numerous positive testimonials on her services so parents can rest assured that their baby will be in good hands. Mummy Baby Care also conducts baby massage classes for parents — these classes can help create deeper bonds between baby and parents!
Mummies can also look forward to postnatal and prenatal massages, lactation breast massages, Gua Sha facial services and an extensive selection of moxibustion services too.
Address: Bugis Cube, 470 North Bridge Road, #03-20, S(188735)
Opening Hours: Daily, 9am – 9pm
5. Trimmings Salon & Spa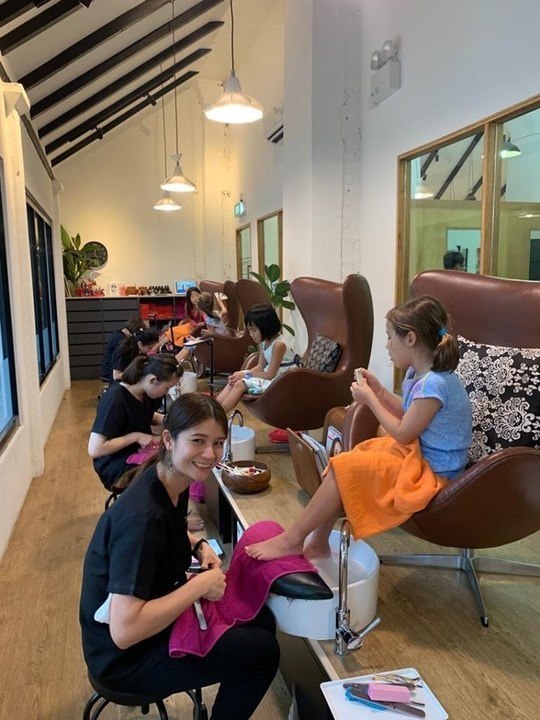 Trimmings Salon & Spa provides hair cutting, hair styling, massage, manicure and pedicure services for both adults and kids. Prices for a kid's haircut are pretty affordable too! For children aged till nine, a haircut session costs between $25-$35. Alongside haircuts, you can also consider their Pampering Body Massage for children two to 16 years old, only available at their Loewen outlet.
They also offer manicure grooming services under their "Little Princess" package for kids aged two to nine years old. Mark your calendar for a great hair styling slash bonding session with your kid!
Address: Tudor Court, 123 Tanglin Road, S(247920)
Check out their other location here
Opening Hours:
Tues – Thurs: 9am – 6pm
Fri – Mon: 9am – 9pm
6. Curly & Spike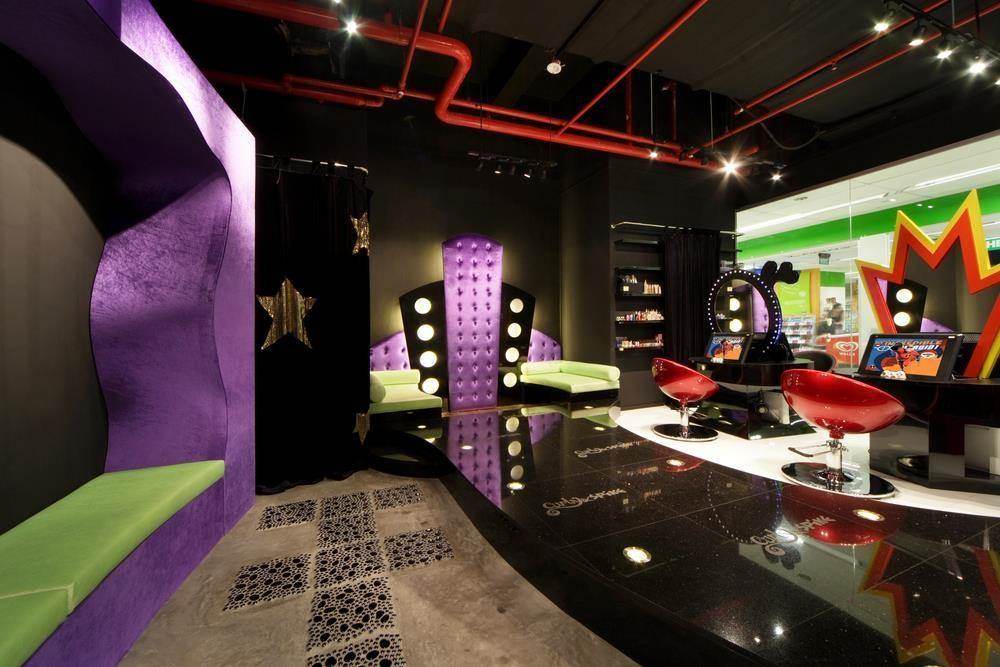 Curly & Spike is one of the coolest places for kid's haircuts in Singapore. They offer a variety of services from baby haircuts to themed makeover packages and birthday celebrations. Designed with a Hollywood themed interior, it's definitely a go-to place if you're looking to give your kid a unique haircut experience.
Did we mention they also provide a certificate to commemorate your baby's first haircut as well as a lock of their hair for keepsake and scrapbooking? Curly & Spike also offers other cool hairstyling services for kids including a Braidy Bunch hairstyle where your kids will have a small section of hair wrapped in embroidery floss with colourful charms at the bottom!
Address: UE Square, 81 Clemenceau Avenue, #02-14, S(239917)
Opening Hours:
Tues: 3pm – 7pm
Wed – Sun: 10am – 7pm
7. EC House Kids' Corner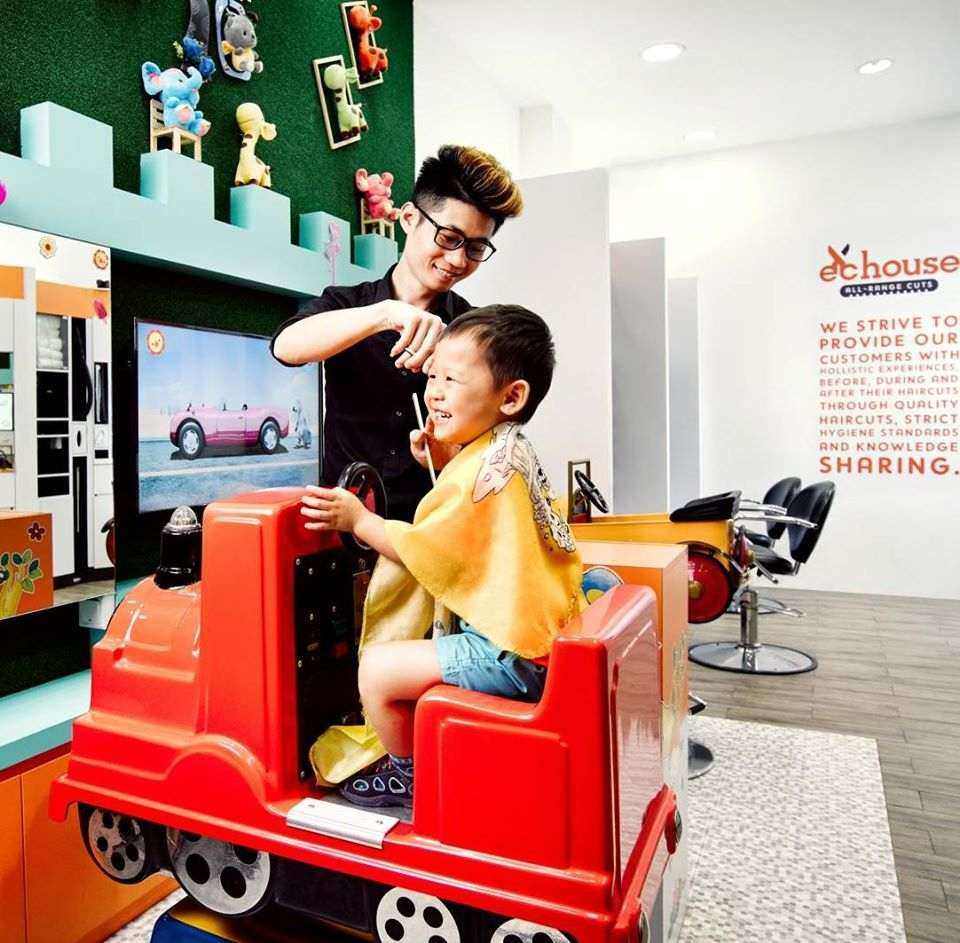 Looking for an affordable and accessible salon for a baby haircut in Singapore? Look no further! At EC House Kids' Corner, each baby haircut session only costs $12! With nine locations across Singapore, you'll definitely find an outlet convenient for you. Their kiddy rides often come in the form of cool spaceships and cars to distract and entertain your child while they get their haircut. Check out their Facebook for locations and treat your kids to a fun haircut experience in Singapore!
Address: United Square, 101 Thomson Road, #B1-56B, S(307591)
Check out their other locations here
Opening Hours:
Mon – Fri: 10:30am – 9pm
Sat – Sun: 10am – 9pm
8. Little Red Dot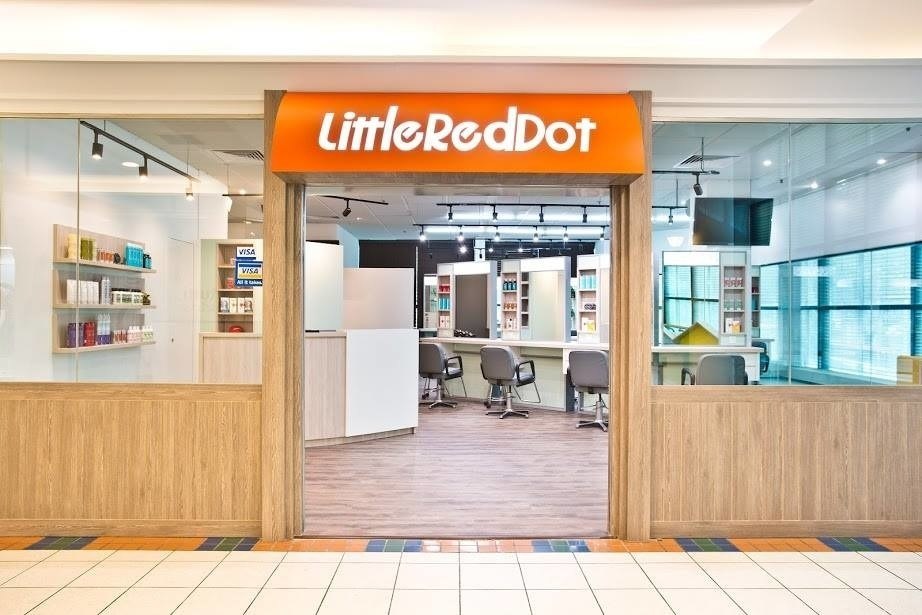 Having served a long line of customers since 1992, Little Red Dot has more than 25 years of experience offering haircuts for babies till teens. They have a play area consisting of toys and books for kids to entertain themselves while waiting for their haircut.
Located in a central location along Orchard Road, Little Red Dot makes for an accessible hair salon. Their hairstylists are trained to handle children of all ages, so parents can feel at ease knowing their child's haircut will be done by a trained professional.
Address: The Forum Shopping Mall, 583 Orchard Road, #02-35/36, S(238884)
Opening Hours: Daily, 10:30 am – 6:30pm
9. Scissors Paper Stone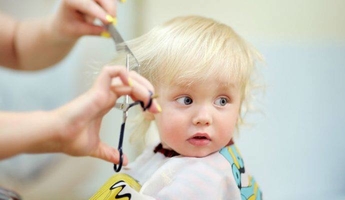 Scissors Paper Stone kid's hair salon is one of the best places for baby haircuts in Singapore as it aims to give your child a holistic haircut experience. They offer an array of games and movies on iPads which will keep your kids entertained. On top of that, they have a selection of toys for babies too. Consider joining their membership programme to enjoy perks like downloading images of your kid's haircut sessions and receiving a free 8th haircut! A good deal? We think so too!

Address: Marina Square, 6 Raffles Boulevard, #03-157, S(039594)
Check out their other locations here
Opening Hours: Mon – Sun: 10:30am – 8:30pm
10. QB House Kids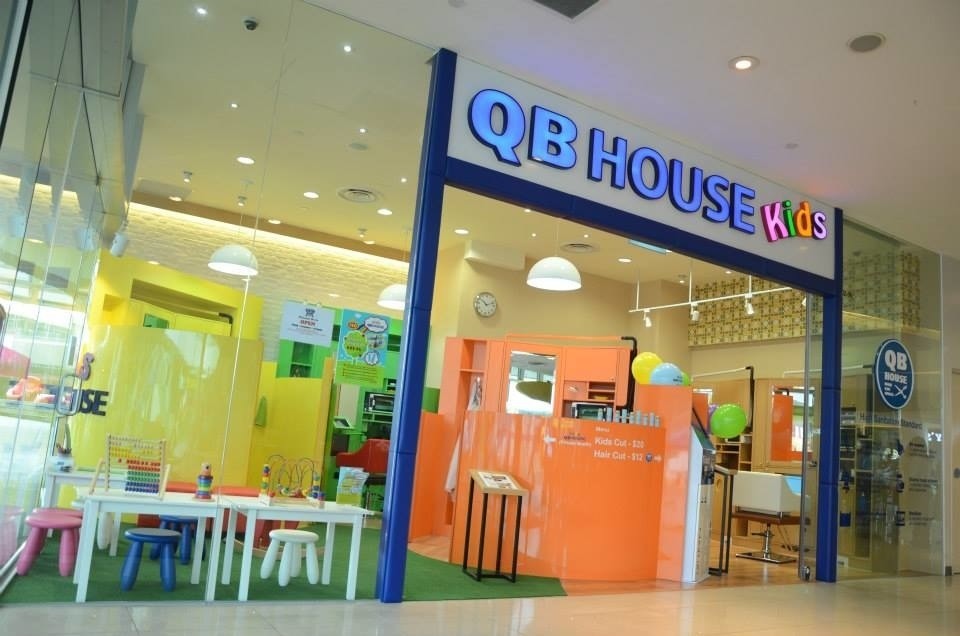 QB House Kids is a children's haircut salon that includes a kid's play area with toys, cartoons streaming and an array of comic books. It's well known for their high sanitation control, sterilizing their hair styling equipment between each client. Hence, you can feel assured that your baby's haircut experience will be conducted with the utmost professionalism. QB house is well known for their express services, so if you're tight for time, it's the salon to head to.
Address: Century Square, 2 Tampines Central 5, #04-01, S(529509)
Check out their other locations here
Opening Hours:
Mon – Fri: 10:30am – 9:30pm
Sat: 10:30am – 9:30pm
Sun & PH: 10:30am – 9:30pm
Enjoy a worry-free and tress-less time at these baby haircut spots in Singapore! From the glamourous to the affordable, find your ideal baby haircut salon and have your little bundle of joy looking prim and proper. Are you a new parent? We got your back with this delicious list of easy baby food recipes for a fuss-free meal prep. Alternatively, if you're shopping for baby stuff, add one of these best baby monitors to your cart to always keep an eye on your adorable little munchkin!