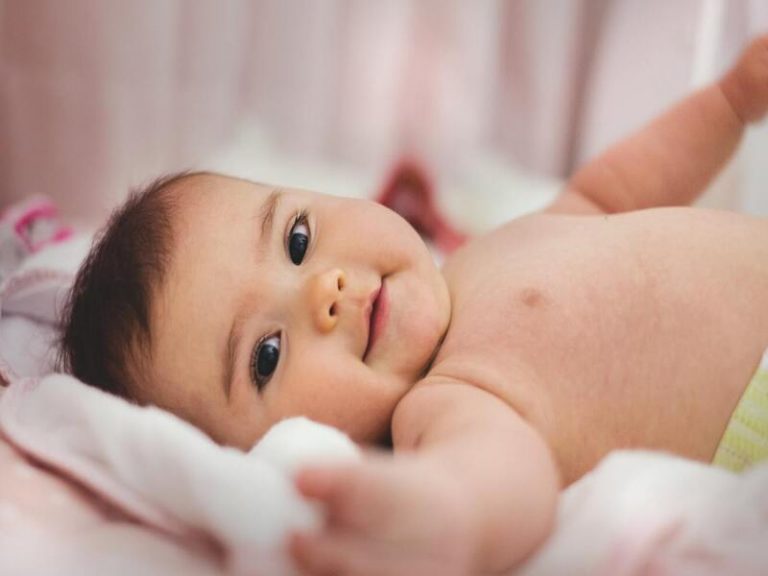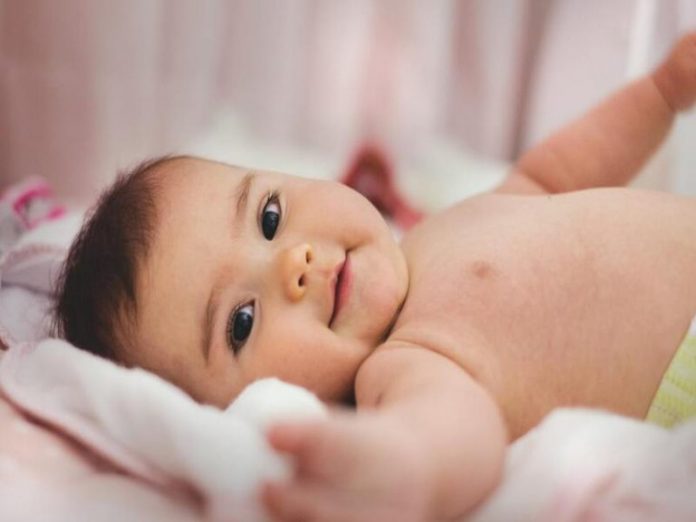 On the hunt for the best baby monitors in Singapore? Unless you share the same room as your baby, it can be distressing to not have eyes on your little bub 24/7 — especially during sleep or nap time. What if your baby needs you in the middle of the night and you're too far away to even hear your baby crying? Baby monitors are an excellent way to stay connected with your little one. They're designed to give you peace of mind even when you're not physically near your baby. We've curated a list of the best baby monitors you can get in Singapore so you don't have to search high and low! 
How to choose the best baby monitor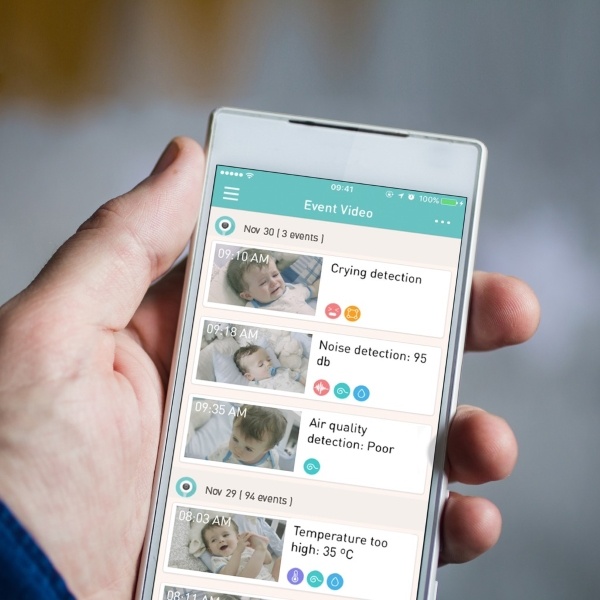 Not sure what to look out for when buying a baby camera in Singapore? Here are a few factors to consider:
Depending on the size of your house, you might need a baby monitor that has a longer range. Before getting one, do check both measurements of your home and the range of the monitor.
Make sure that the baby monitor has a rechargeable battery that lasts at least the amount of time that you'll be asleep. The best baby monitors in Singapore have battery lives that range from 5 hours to 24 hours — so do look out for this factor when choosing your baby camera. 
Additional alert features
Some baby monitors come with detectors for noise, motion, heat, and humidity. Noise and motion detectors help you be aware of when your baby is awake even when they're not crying. On the other hand, heat detectors notify you of any potential danger that might be in the nursery. Babies need to be watched carefully when the temperature is too high as it could cause them to suffer discomfort, heat rash, or could even lead to infant sleep death.
Sleep better with the best baby monitors in Singapore
1. Xiaomi MI 360 IP Camera 2021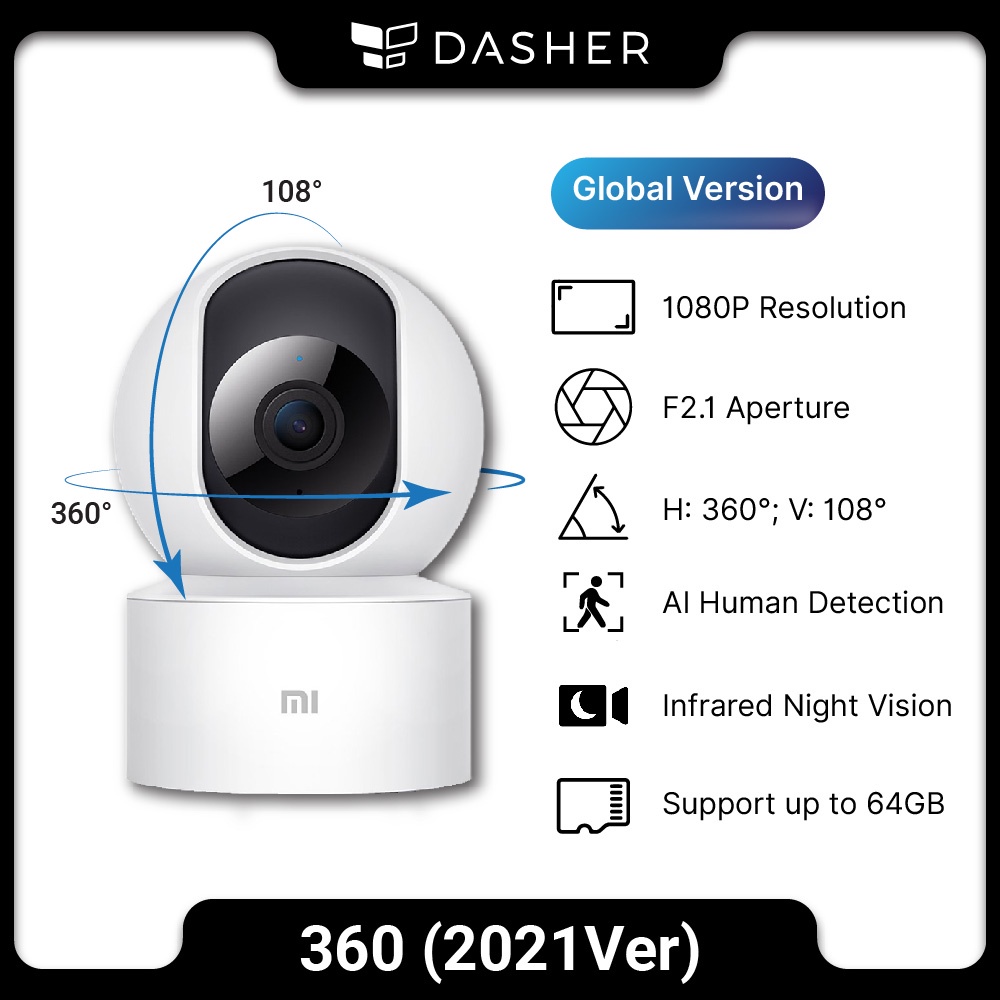 Xiaomi is known for their affordable smart home appliances like robot vacuums, and their baby monitors have received good reviews too. Shaped like a sphere, the Xiaomi MI 360 IP Camera (available on Dasher) comes equipped with night vision and a wide angle lens to give you a clear view, day or night. It also has a sensor for smoke and carbon monoxide, so you'll be alerted of any danger. That said, the Xiaomi MI 360 IP Camera is affordably priced at only $42.90, which makes it one of the best baby monitors in Singapore. 
If you want to monitor your entire house and not just your baby's nursery, Xiaomi has surveillance cameras at affordable prices too!
2. Philips Avent Digital Video Baby Monitor SCD833/05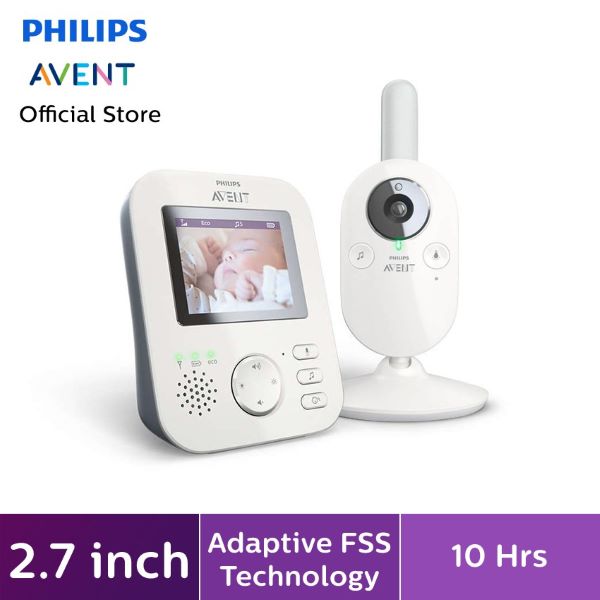 The Philips Avent Digital Video Baby Monitor (available on Philips Avent Official Store) provides a private, secure connection with the FHSS technology that ensures that you're the only one listening in. Compared to Wifi, FHSS is less prone to having connectivity issues, which allows the baby monitor to be more stable. Apart from providing crystal clear sounds so you can be alerted of any activity in your baby's room, you'll also see your baby's movements clearly through a high resolution screen with night vision.

There are several amazing features about this baby monitor, including its far-reaching indoor and outdoor range (50m and up to 330m respectively) and the Talkback function. When your baby's fussy, sometimes all the little tot needs is your soothing voice — and that's where the Talkback function comes in handy! 
On top of that, the Philips Avent Digital Video Baby Monitor offers comforting lullabies to calm your baby to sleep when you're not around. Prefer cordless monitoring? A full charge of the parent unit can last for 10 hours so you can keep an eye on your baby throughout the night!
3. KODAK CHERISH C125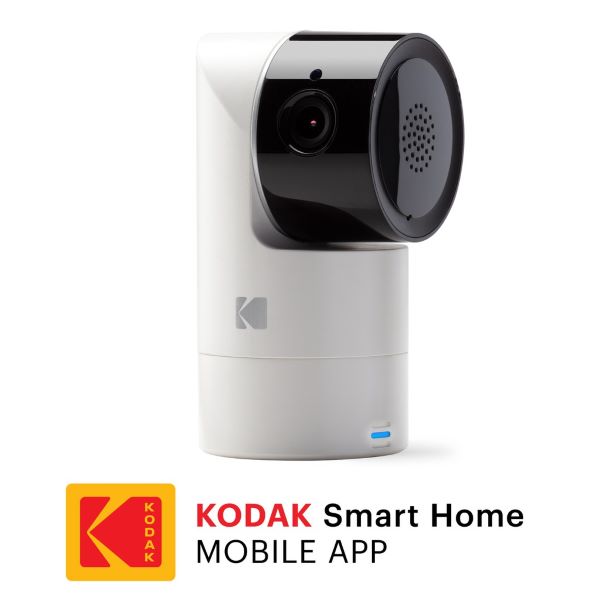 There are many things going for the KODAK CHERISH C125 (available on Kodak Official Store). The baby monitor allows you to tilt, pan and zoom in for a closer view of your precious one without making any noise that might wake them up. It also pairs seamlessly with the Kodak Smart Home Mobile App so you can monitor your baby wherever you are.

Parents would appreciate the Cloud and SD recording feature, as it allows you to save the video stream from your Cherish C125 baby monitor. It is also wall-mountable so you can have a 'bird's eye view' of your child and prevent your child from knocking it down.  
4. Motorola MBP33 Wireless Video Baby Monitor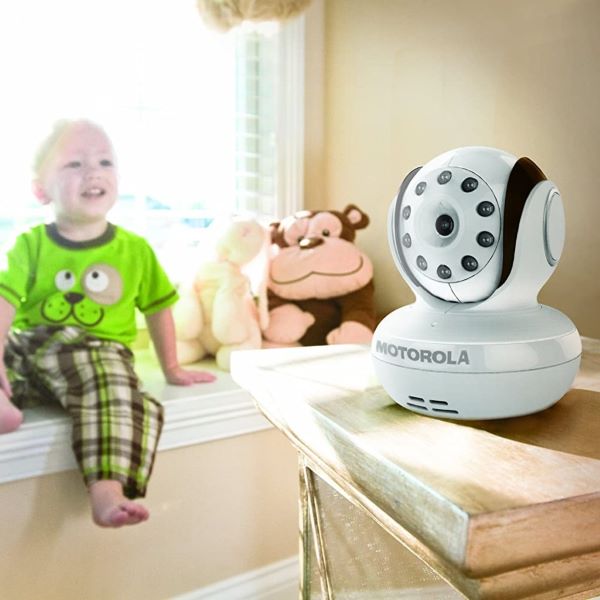 Want to monitor more than one room at a time? The Motorola MBP33 Wireless Video Baby Monitor (available on Baby's Hyperstore) might just be the best baby monitor for you in Singapore. Equipped with multi-camera viewing that sports auto-switch screen and picture-in-picture options, you can keep your eye on your entire family with additional cameras in up to four rooms. It also boasts a superior wireless range that allows you to stay connected to your baby up to 300 meters away.
The parent unit of this baby monitor includes a high sensitivity microphone. There's also an out-of-range alert so you can be alerted of any sounds from your baby's nursery. In addition this baby camera in Singapore can play five melodies to soothe your baby into sleep. 
5. Lollipop Smart Wi-Fi Based Baby Camera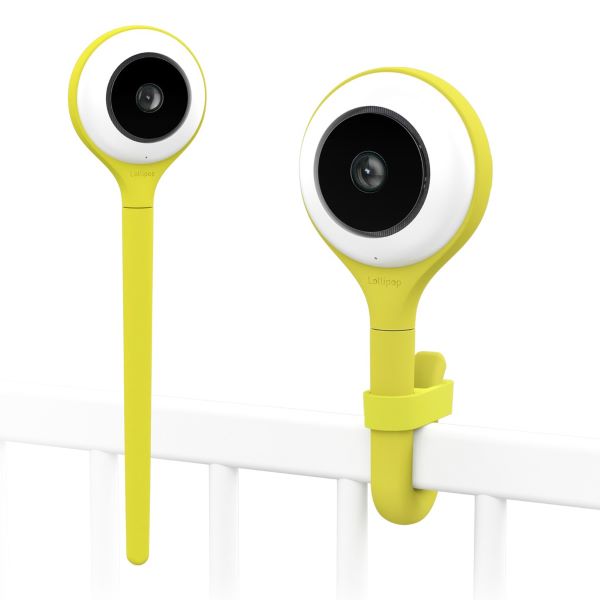 Firstly, how cute is this baby monitor? Available in turquoise, cotton candy and pistachio, the Lollipop Smart Wi-Fi Based Baby Camera (available on Lollipop Baby Camera Official Store) is the only one of its kind on the market in Singapore. This baby monitor comes with at least five mounting options so you can position it whichever way it's most convenient. It also boasts two different night vision infrared settings for both long and short distance monitoring.

Connect your phones to the Lollipop app and get notified by the video baby monitor in the event of sounds or unusual activity. Parents will also appreciate the distinction it can make between baby sounds and ambient noise, so you won't be interrupted by false alarms. Smitten by this baby monitor but already have one in working order? Spread the love and gift this as a baby shower gift to other expectant parents!

Meanwhile, for dads who prefer to understand more about the technical specs of this baby monitor, here's an in-depth review for you.
6. iBaby Monitor M8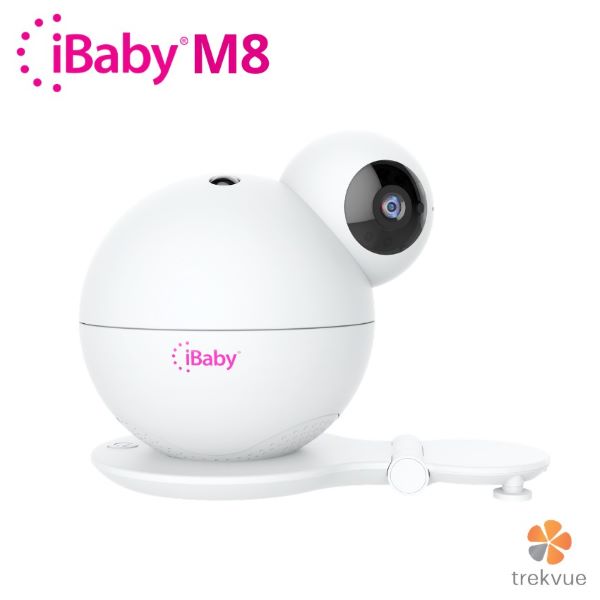 Add the smart iBaby Monitor M8 (available on Trekvue) video baby monitor to your existing range of smart home devices in Singapore! Besides the regular sound and motion detection, it also boasts smart sensors for temperature and humidity. It also pairs with an app so you can access the video feed from anywhere including from your office or on travels. How neat is that?

Training your baby to self soothe? This baby monitor can also help with that. It features a spate of lullabies, white noise, and even a built-in moonlight projector to lull your child into sleep. It's not hard to see why this is one of the best baby monitors in Singapore.
7. Prolink Full HD Wifi Baby Monitor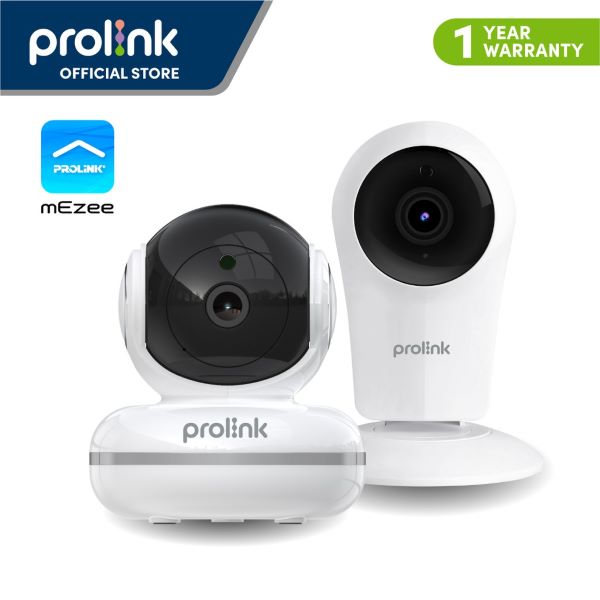 With a nifty motion detection feature that sends a push notification to your mobile device, the Prolink Full HD Wifi Baby Monitor (available on Prolink Official Store) is a godsend to all busy parents who might need a little nudge every time your baby moves. After all, their safety is of utmost importance, and this notifies you to check on them if they're in a dangerous situation.
You can adjust the Prolink camera vertically and horizontally with its pan and tilt functions to remove any blind spots. It also sports a built-in LED light that provides up to 10 meters distance of crystal clear visibility at night. If you'd like to save and playback the video recordings, remember to get an SD card separately! 
8. VAVA Baby Monitor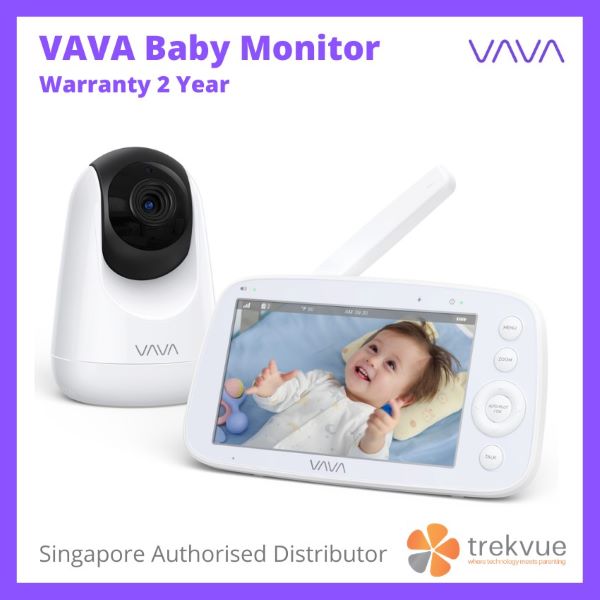 Winner of the Red Dot Design Award in 2019, the VAVA Baby Monitor (available on Trekvue) is one of the best baby monitors in Singapore. This baby camera comes with LED noise indicators and an external thermostat. These sensors help you keep an eye on every aspect of your baby's well-being. If you're a heavy sleeper, the VAVA Baby Monitor has got you covered with seven volume alerts. Simply set it to the highest level so you'll be woken up when your baby needs you. 
Another feature that pleased users is the large HD display. What's more, the rechargeable battery can last up to a whopping 24 hours when the display is turned off. 
9. Infant Optics DXR-8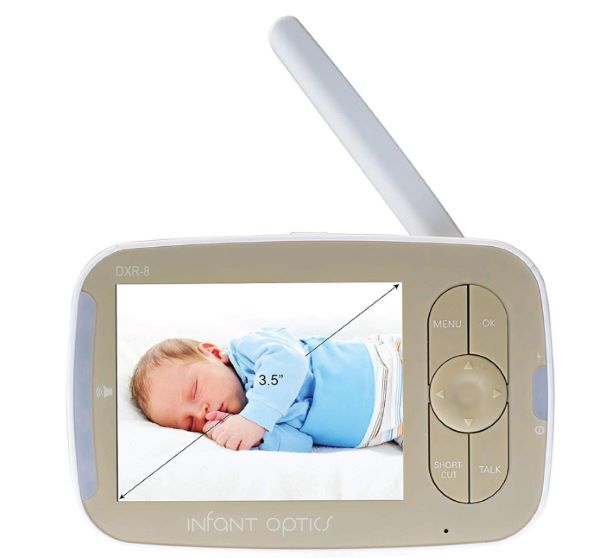 If you prefer a private connection with a traditional parent unit, then Infant Optics DXR-8 Baby Monitor (available on Souky) is the one for you! Even when the parent unit is switched off, you can still hear the sounds coming from your little one. On the flip side, the video quality isn't the best. Yet, parents still love this because it's simple to use and easy to set up! 
You can also rotate the baby camera through the parent unit. This is especially useful if you want to monitor two kids across the room simultaneously. Plus, you also never have to worry about your baby feeling too cold or warm as you're able to monitor the room temperature.
Have a good night's rest with the best baby monitors in Singapore

From Xiaomi XiaoBai to the Lollipop Smart Baby Camera, these are the best baby monitors in Singapore that'll help you keep an eye on your little one. If you've a knack for DIY-ing things, you can make a baby monitor with an old smartphone too! You'll need two smartphones, an internet connection and one of these apps: Baby Monitor 3G, Cloud Baby Monitor or Baby Monitor Annie. Through these apps, you can talk to your baby and play lullabies with just a tap on the screen. Apart from baby monitors, anti-colic bottles come in handy too when soothing a crying baby at night.
If you're preparing for a newborn's arrival, here's the ultimate newborn checklist that'll help you keep track of everything you need to get. Get the best bang for your buck when shopping for baby essentials on Shopee Singapore's Mega Online Baby Fair, where you can get up to $50 upsized voucher savings on over 100 trusted brands!

This article was updated on 17 August 2021. Additional research done by Liang Shi Nan.
---
New to Shopee? Get $7 off (min. spend $15) with code: *BABYMONITORS7OFF*. T&Cs apply. Valid for new users from 13 October to 20 October 2021 only.