Start the year right by getting yourself a stylish ladies' sports bag! This list of fashionable gym bags for women might help motivate you that little bit more. We know it's tempting to carry that freebie tote you received years ago but a shiny, compartmentalised, waterproof bag might make your gym sesh a less stressful and more organised. Read on to find your ideal gym bag for women that will help you easily transit between the office and the gym!
1. For the glamorous gym-goer: Hot Pink Sequin Duffel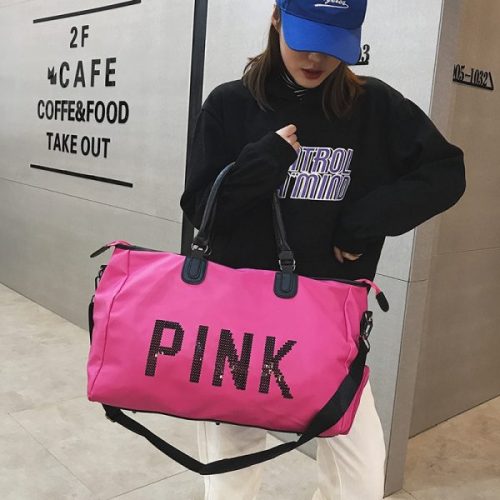 If a hot pink, shiny gym bag for women doesn't get you off your butt and working out in the gym then we don't know what will! This Hot Pink Sequin Duffel Bag (available on totomart.sg) boasts the perfect size to hold your fitness apparel, shampoo and other bathing essentials. There are also some nifty compartments for shoes and wet clothes. 
Made of nylon, this gym bag for women can resist water fairly well and accidental stains can also be wiped off quickly. You can sling the hot pink sequin duffel bag across your shoulder or remove the shoulder strap if you prefer a hand duffel. Hot pink too loud for you? Then go for the black option!
2. For the no-frills lady: Black Cylindrical Gym Bag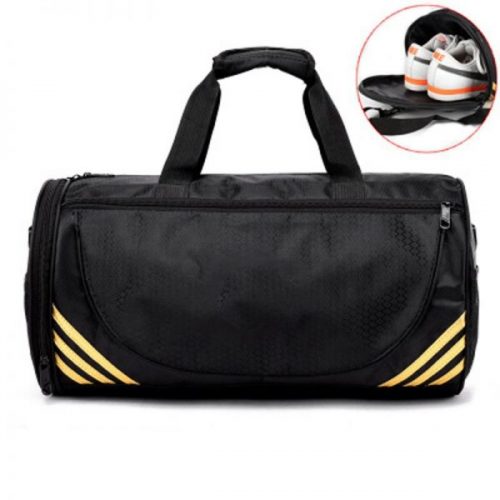 With zippered pockets and a light polyester outer material, this Black Cylindrical Gym Bag (available on BlingBling) is perfect for the no-frills gym goer. Wear-resistant and with soft handles, this gym bag for women can also be packed with sports equipment when needed and be carried without breaking your back!
The black cylindrical gym bag is also not a bag solely for women but can be used by males too. So if your partner fancies it, share it with him and make full use of the bag!
3. For the low profile woman: Herschel Duffle Bag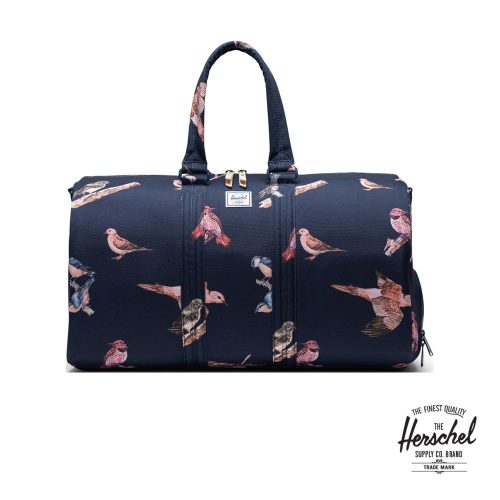 Tote your bag from work to the gym with this Peacock Birds Duffle Bag (available on Herschel Singapore Official). This compact and classy gym bag for women is perfect for those who don't necessarily want to draw attention to your after-work plans. Pack your workout clothes in the main compartment and use travel pouches to organise your toiletries.
We also love how the Herschel bag carrying handles are long enough to be slung easily over your shoulders without you fighting to fit it under your pits. Yup, we've seen too many OL's (ourselves included) struggling with their ladies' sports bags.
4. For the girly athlete: The North Face Women Isabella bag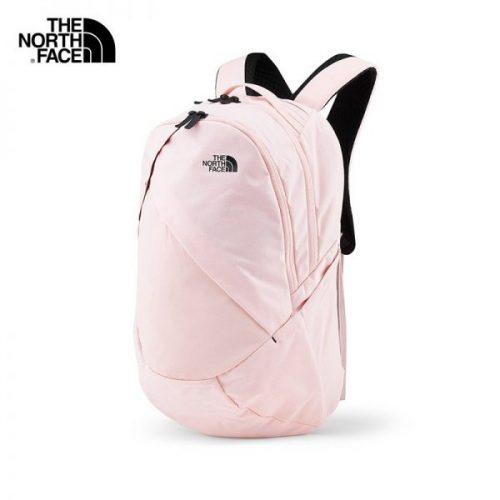 Gym bags for women need not come in dull and rugged styles. Take The North Face Women Isabella bag (available on The North Face Official Store) for example. Its sweet baby pink hue is gym bag goals and will surely stand out among the crowd. It also comes with a built-in fleece-lined laptop compartment to keep your device protected while providing more than enough space for your exercise equipment. We especially love the front stretch mesh panel which provides easy access to your gym card or phone. 
5. For the convenience seeker: Adidas Run Gym Bag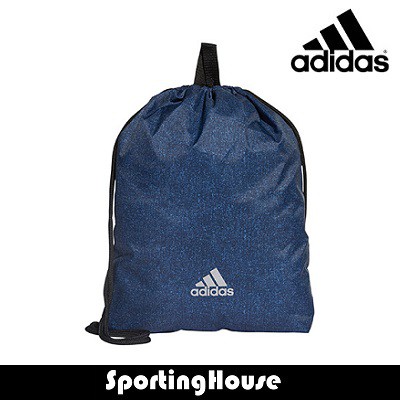 If you're the OL who loves a hassle-free gym bag, then drawstring backpacks are your best bet. Do away with the hassle of zippers and clasps. Simply pull the drawstrings and you're good to go! But that doesn't mean you have to scrimp on the design factor.
This stylish Adidas Run Gym Bag (available on Sporting House) boasts a cool blended blue design that'll go well with any outfit. We also appreciate that the drawstring back comes with an extra chest strap for additional support. Another plus point: most drawstring bags are machine washable which means you can simply throw it into the washing machine to get rid of perspiration odour — yay!
6. For the part-time yogi: Under Armour Women's Project Rock Gym Bag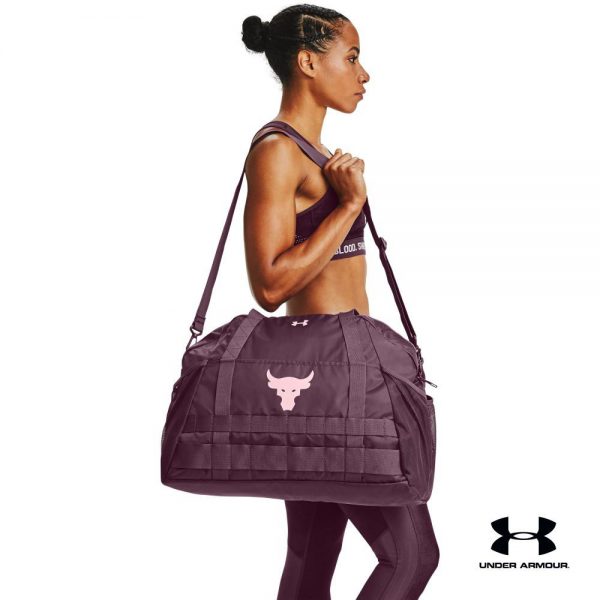 Lugging yoga equipment like a yoga mat and blocks to your yoga class after work isn't fun. But the Under Armour Women's Project Rock Gym Bag (available on Under Armour Official Store) can help make your life much easier! It comes with adjustable straps at the back of the bag which you can slot your yoga mat through to carry with ease. 
Additionally, the bunch of webbing loops in the front of the Under Armour bag offers many attachment points for hooking your shoe bag, water bottle, and other workout accessories. There are also multiple internal zippers and compartments for easy organisation so you can access your knick-knacks without rummaging through your ladies' sports bag.  
7. For the multi-tasking OL: Adidas Training Parkhood Backpack
Busy answering calls or typing away on your laptop while commuting to work? Don't let your gym bag get in your way! The Adidas Training Parkhood Backpack (available on Adidas Official Store) ensures you can travel to and fro work handsfree. Moreover, you won't feel the weight on your shoulders (even after your ultimate arms workout) thanks to the Adidas bag's comfortable wide padded shoulder straps. This gym bag for women also comes with internal dividers to separate your gym and work essentials — definitely a functional companion for active OLs!
8. For the heavy-duty fitness enthusiast: Herschel Retreat Ash Rose Mid-Volume Backpack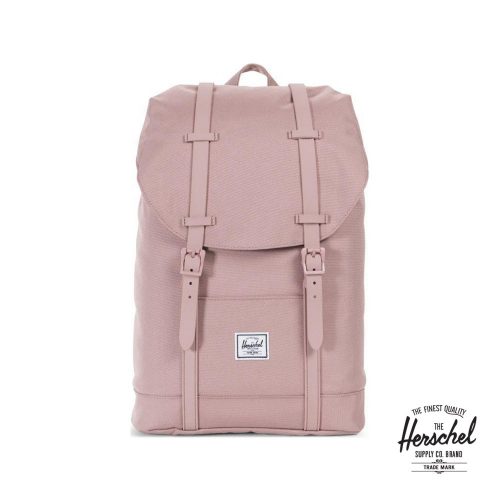 For those who're looking for a bigger fitness bag to fit all your essentials, turn to the Herschel Retreat Ash Rose Mid-Volume Backpack (available on Herschel Singapore Official). At over 40cm in height, it's definitely one of the roomier gym bags for women on the market. Despite the initial heavy-duty look, the top flap, matte leather belt and pretty ash rose colour helps to soften the overall look. This will be a piece that will look great even when you're in your office wear!
As for the inside of this ladies' sports bag, you can look forward to a padded 13" laptop sleeve and a deep enough main compartment to organise your gym attire, shoes and toiletries. We reckon you can even fit a badminton racket too! The contoured shoulder straps will also ensure the bag sits comfortably on both your shoulders without straining one more than the other.
9. For the impromptu gym-goer: Anello Kuchigane Backpack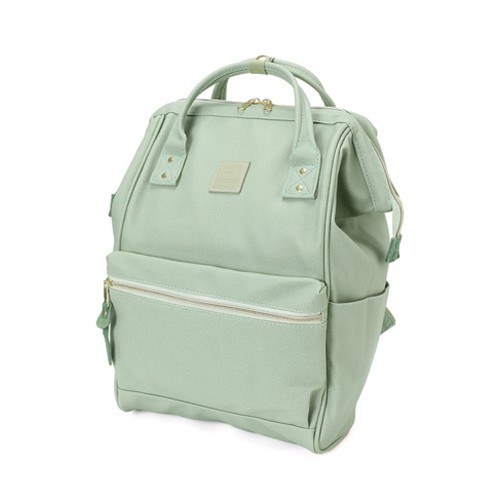 Not every gym sesh needs to be planned. The Anello Kuchigane Backpack (available on Anello Store Singapore Official Store) is lightweight and spacious so you can throw in your workout equipment when you get an impromptu urge to hit the gym! Made of PU leather, this gym bag for women features a lovely pastel mint hue that's hard to resist. Upon opening the hinged clasp zipper, you'll be greeted with a large main section for your workout gear. There's also a useful back pocket in this Anello bag which provides convenient direct access to the bag's main section so you can grab anything you need in a jiffy! 
10. For the clean freak: Dry And Wet Gym Bag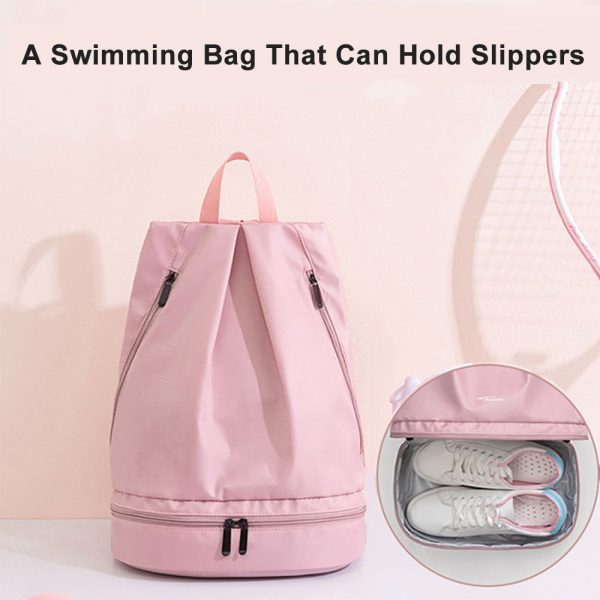 Whether you hit the gym or prefer to go for an after-work swim, this Dry And Wet Gym Bag (available on houbly.sg) will be your best workout buddy. Featuring two separate compartments in the main section, you can organise your clean clothes in one while storing your wet swimwear or sweat-drenched clothes in the other. Psst, there's even a separate shoe compartment at the base of this ladies' sports bag to store your office high heels after you've changed into your sports gear!
Hit the gym in style with your favourite gym bag for women
We hope you find an ideal gym bag for women from our list to get yourself motivated and keep up with an active lifestyle! Need a little more push? Why not check out some of these stylish high impact sports bras which will provide you and your girls with all the support needed. Additionally, treat yourself to one of the best fitness trackers to monitor your workout performance. When you see yourself improving, you'll feel pumped to do more!
This article was updated on 04-01-2021. Additional research done by Kimberley Ng.

---
New to Shopee? Get $7 off (min. spend $15) with code*: 10OFFGYM
*TNC Applies. Valid for new users from 7 to 14 Jan 2021 only