There's more to it than meets the eye – that's the epitome of mechanical keyboards these days. What used to be a mere keyboard for practical purposes has gradually grown into a hobby for many. One of the greatest customisable aspect of mechanical keyboards if the keyboard switches. As you type away on the best keyboard switches, you'll notice different types of sound. Whether you're looking for something clicky and loud, or going for those almost-silent clicks, read on to find out more about the best mechanical keyboard switches! 
What are keyboard switches?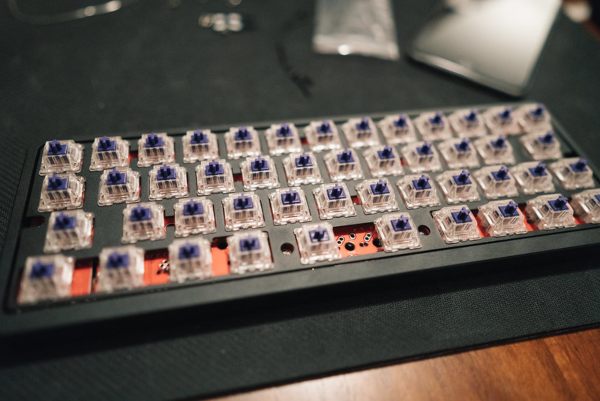 Ever freaked out after one of the keys on your keyboard fell off? If you've tried putting it back, you would've noticed that the keys are held in place by a box-like mechanism. These are your keyboard switches, commonly referred to as key switches. These key switches are the reason why you're able to type complete sentences and carry out your favourite "Control C", "Control V" functions. 
Each key switch has metal pins on the bottom that are in direct contact with the mechanical keyboard's printed circuit board (PCB). The PCB is basically the brain of your keyboard that contains all the knowledge needed for computer functions. The keyboard switch is activated when you press a key. The switch then sends electric pulses through its metal pins and informs the PCB on what to do. 
What is the best type of mechanical keyboard switch?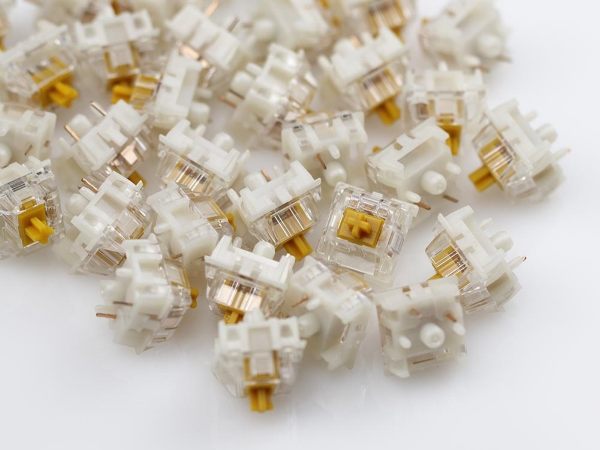 There are mainly three types of keyboard switches: tactile, clicky and linear. Depending on manufacturers, there can be some slight differences in these keyboard switches. Apart from the aesthetics, they also vary in terms of sound, feel and more. 
Each keyboard switch produces a sound that's unique from others. There is one particular sound that many enthusiasts strive to achieve and that's called "thock". A thockier keyboard simply refers to one that has a lower pitched typing sound. Certain keyboard switches also produce a more clicky sound that's similar to typewriters, while others are more silent. 
We all know that typing requires some effort but did you know that certain keyboard switches can help reduce that? You may not realise much of a difference until you try out a keyboard that's using different switches. This is usually referred to as the actuation force which is measured in grams and indicates how much effort is needed to activate the switch. The higher the actuation force, the more effort is required on your part to type. If you're constantly at your keyboard for long periods of time, we'd suggest going for the best mechanical keyboard switches that have lower actuation forces. 
Apart from the sound, your sense of touch plays a key role in determining which keyboard switch you should get. Certain keyboard switches have a bump that can be felt when you're typing. You'll feel that it's not exactly the smoothest typing experience as the bump produces a slight resistance. Meanwhile, most switches don't require you to press the keys all the way down in order to activate them. This act of bottoming out is rarely needed since mechanical key switches will usually actuate before keys are pressed to full depth. 
Overview of the different types of keyboard switches
Type of keyboard switch
Sound
Feel
Colour
Best for

Clicky

Clicky sound similar to typewriters 

Has a bump sensation

Doesn't require much typing force as compared to other switches

Those who need to type for longer periods of time and love the sound of typing

Tactile

Sound not as high-pitched and crisp as compared to clicky switches

Has a bump sensation that's similar to clicky switches

Those new to keyboard switches and need to type for longer periods of time

Linear

Typing sound is not as loud and crisp as compared to other switches

Smooth typing without  a bump sensation

Those who need to type quietly and quickly as keys can be activated more smoothly
How to swap out your keyboard switches?
You'll first have to check whether your mechanical keyboard is hot-swappable. It's easier to replace the switches on hot-swappable keyboards as all you'll need is a switch puller. Simply pull the switches out with the switch puller as there's no need for any complex soldering skills with hot-swappable keyboards! From there, you'll just have to manually fit switches into each compartment and you're done. 
On the other hand, non-hot-swappable keyboards require some soldering work. These are more tedious and it's easier to damage the PCBs since heat is involved. The switches are held in place by liquefied solder, so you'll need a solder sucker to remove these bits. Once that's done, your keyboard switches can be removed. To place new switches back on, use a soldering iron to melt the solder wire so the switches can be kept in place. 
Best clicky mechanical keyboard switches
1. Outemu Blue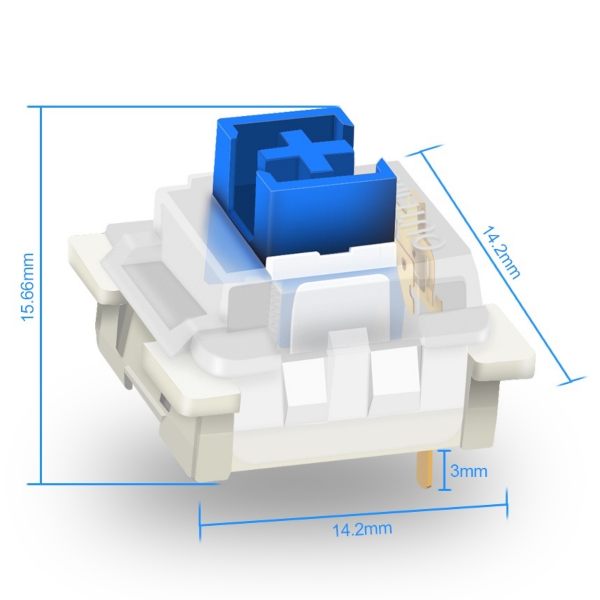 Outemu Blue Switches (available on Redragon Official Store) are one of the most classic. These are the best mechanical keyboard switches for those who are new to the hobby as they're usually the most clicky. Typing with these switches can be extremely addictive for a start since they sound almost like typewriters. We suggest getting some Krytox Lubricant (available on Spacekeys – Mechanical Keyboard) to smoothen things up, so you'll always be able to maintain that crisp typing sound! 
2. Kailh Box White V2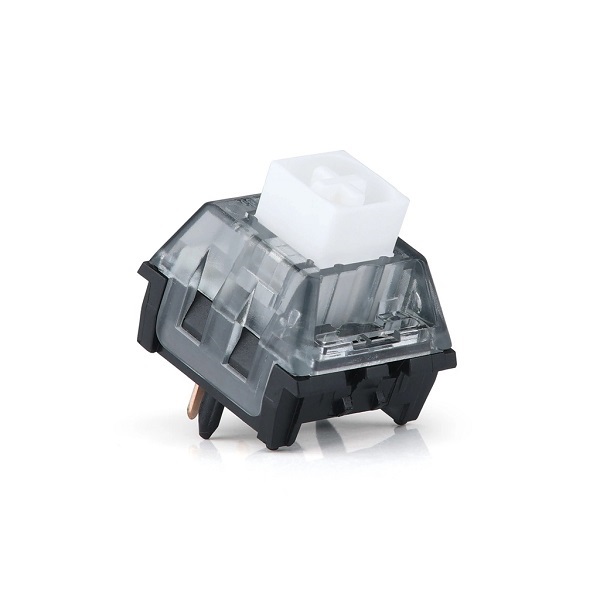 The Kailh Box White V2 (available on PXL SG) is one of the best clicky keyboard switches thanks to its upgraded components. Instead of the regular stainless steel springs, the Kailh Box White V2 has gold-plated springs that are more resistant to rust. This means that you'll get the best value with these keyboard switches as they'll last a lot longer! Moreover, these clicky switches have five pins, which means that they'll be directly mounted onto your PCB and will be a lot more stable. You won't experience much wobbliness with these best clicky mechanical keyboard switches! 
3. Gateron KS-9 Blue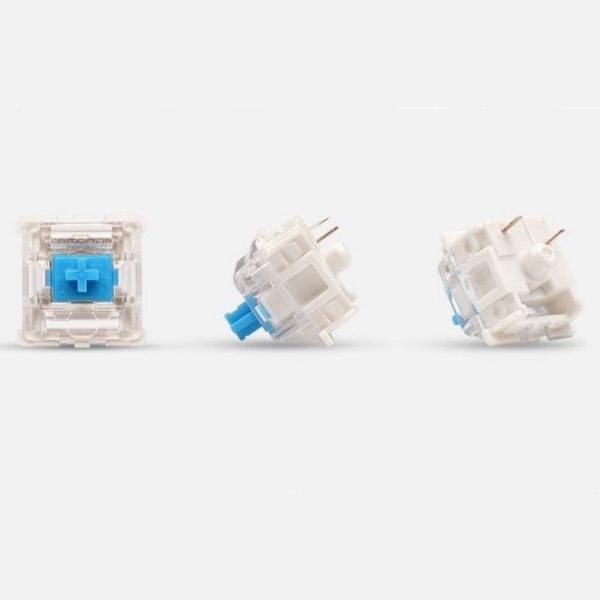 The Gateron KS-9 Blue Switches (available on Blinkfyre) are another one of the best clicky keyboard switches. These are the iconic and classic clicky switches that most mechanical keyboard newbies will start off with. Apart from being very affordable, the Gateron Blue Switches have a unique clicky sound that's one of the loudest as compared to others. These clicky keyboard switches are therefore best for serious gamers who appreciate the feel of knowing when they've activated their skills with the keys. 
4. Kailh x Novelkeys NK Sherbet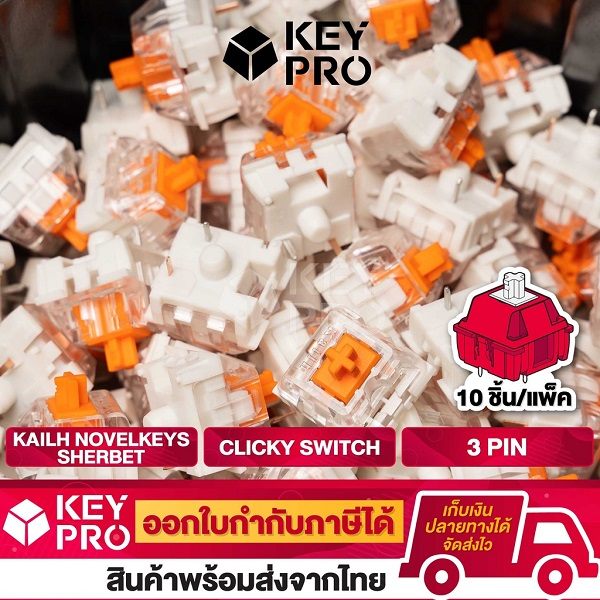 Clicky switches that aren't blue? Sign me up! The Kailh x Novelkeys NK Sherbet (available on keyprogt.sg) are different from the classic clicky switches. While the usual ones have a clicky sound that's more high-pitched and scratchy, these Kailh Sherbets are more crisp and satisfying. If you love the clicky feel but aren't a huge fan of the loud typing sound, these Kailh Sherbets would be the best mechanical keyboard switch for you! These are also the best clicky keyboard switches for those who appreciate the RGB lighting. Thanks to the transparent top housing, your Kailh switches will really shine with all the beautiful colours, elevating your keyboard setup to another level!
5. Kailh BOX Jade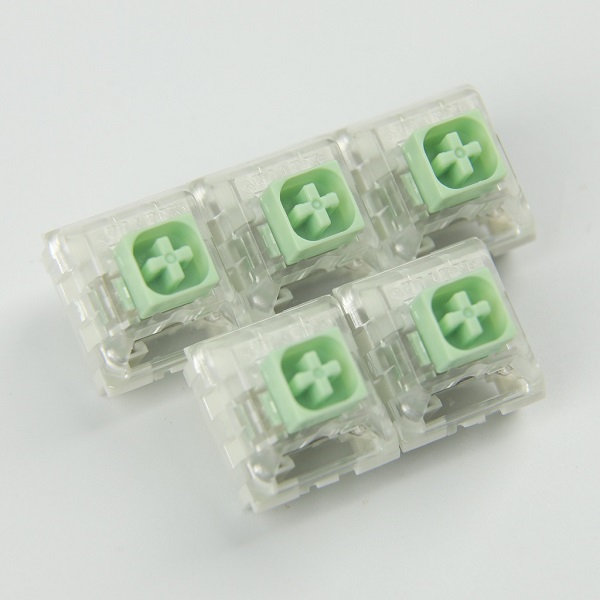 These Kailh Box Jades (available on Ymdkey.sg) aren't your typical green clicky switches. The Kailh Box Jades produce a more subtle sound that's still satisfying to the ear. This makes it great for using in the office, or if you find the standard clickiness too overwhelming. IThe other great thing about these Kailh switches is in its name – the box. The box protects the inner components that makes electrical contact with the PCB. This ensures the Kailh switches have a longer lifespan as the inner components are protected from external elements that can cause any damage. These are definitely one of the best clicky keyboard switches anyone could ever have! 
Best tactile mechanical keyboard switches 
6. Tecware Pearl Purple 
Not all keyboard switches are created equally and these Tecware Pearl Purples (available on Tecware Singapore Official Store) are one of the reasons why! With a frosted housing and five pins, these are some of the best tactile keyboard switches that everyone should try at least once. The frosted housing amplifies the RGB lighting that's common with mechanical keyboards. All you need is some pudding keycaps and that lighting will surely glow! In addition, the five pins on these Tecware switches are one of the main highlights. The five pins lock each switch into place and make sure there isn't any rattling sound while you're typing. If you're still wondering which is the best tactile mechanical keyboard switch, these Tecware ones are your best bet! 
7. Pantheon Gazzew Boba U4T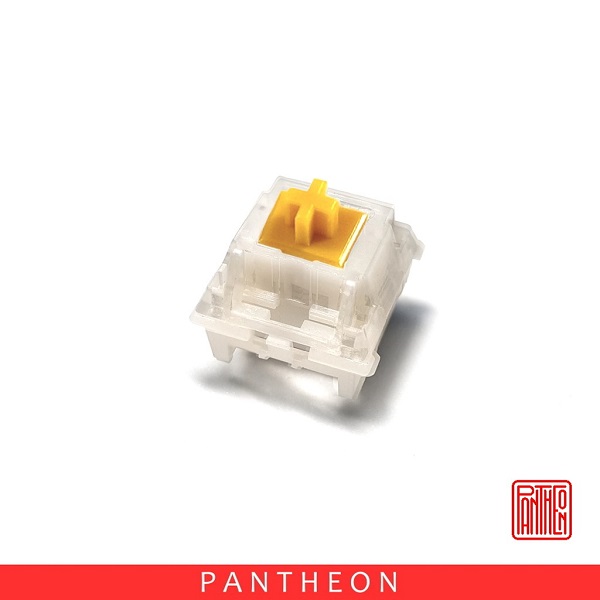 While the Pantheon Gazzer Boba U4s have been highly raved for being the best silent tactile keyboard switches, the Pantheon Gazzew Boba U4Ts (both available on Pantheon) are truly the epitome of "thock". These Pantheon Gazzew Boba U4Ts feature a longer stem, which means the travel distance to bottom out is a lot shorter. This results in a loud and more thocky sound as you type. Coupled with the tight housing, these U4Ts end up with very little chance of rattling so there won't be any need for switch films! 
8. TTC Silent Brown V2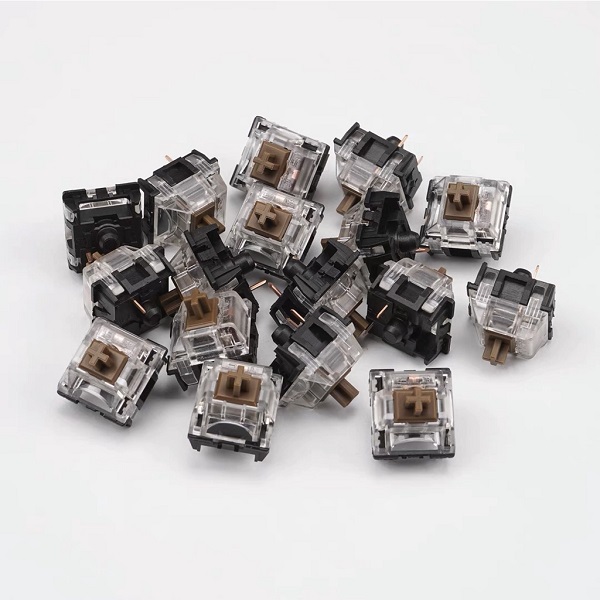 Love the bump but hate the sound? Go for some of the best silent tactile keyboard switches instead! The TTC Silent Brown V2s (available on Jumping Around) feature a slight bump, making these TTC Silent Brown V2s perfect for those who prefer something with less resistance. Moreover, these TTC switches are almost silent, resulting in a thocky sound that's not too loud and thus, great for use in your office! 
9. Redragon Bullet A113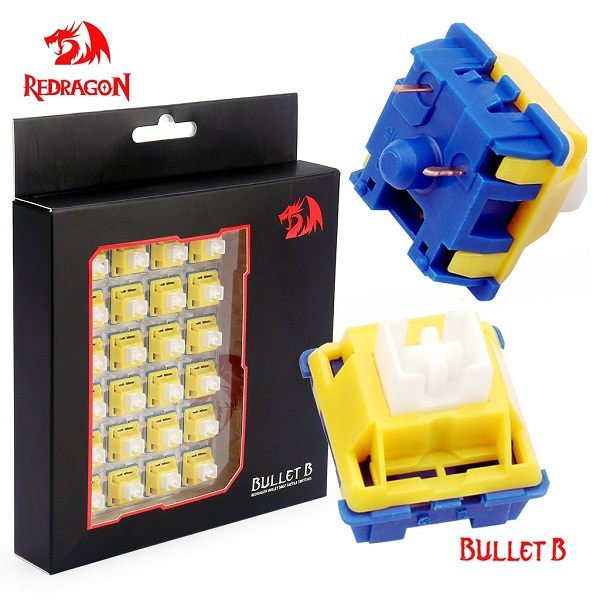 Go bananas over these Redragon Bullet A113s (available on Redragon Official Store) that are gold all over! Not only do these tactile mechanical keyboard switches resemble the Minions from Despicable Me, they're also one of the best for pro gamers who are tired of missing their shots. The Redragon Bullet A113s don't require much actuation force in order to activate keyboard functions, so long gaming sessions won't ever be too Gru-elling. Moreover, these tactile switches have a bump that lets you know when you've actually actuated the key. The only thing missing is the see-through switch housing, but you won't have to miss out on that beautiful RGB keyboard lighting. Just get some deskmats that have in-built LED lights and you're good to go! 
10. AKKO CS Sponge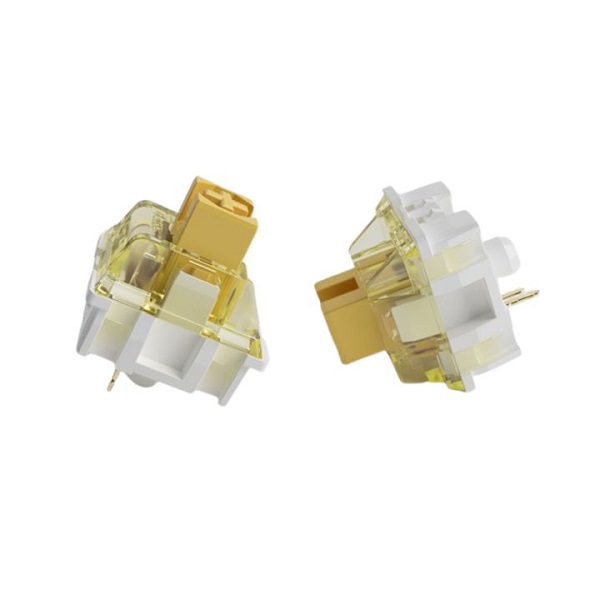 While AKKO may be known for having one of the best pre-built mechanical keyboards, they're also famous for their tactile keyboard switches! The AKKO CS Sponge (available on AKKO Flagship Store) is the best tactile keyboard switch that features a dual bump. If you've heard of the AKKO Jelly Blue, you'd know what we're talking about! You'll feel that iconic tactile bump as you press each key and also uponrelease as well. The sound of these keyboard switches is so prominent that it's almost as if they're clicky switches. But of course, these AKKO CS Sponges still aren't as loud since they're rather thocky. 
Best linear mechanical keyboard switches
11. Tecsee Ice Candy
The Tecsee Ice Candies (available on PXL SG) are 2022's best linear switches for those who love to see their setup glow with every colour of the rainbow! That's because the entire keyboard switch is totally see-through! Moreover, they're an affordable alternative to the popular Everglide Aqua King linear switches. With dual-stage gold-plated springs, the Tecsee Ice Candies are unlikely to experience any damage and rust. Apart from being extremely durable, these are the best linear switches for those who love the bare-bones aesthetic. You'll really get to appreciate all the internal elements of this Tecsee switch especially if you've got a similar keyboard case to house these switches!
12. Logitech G GX Red Switch Kit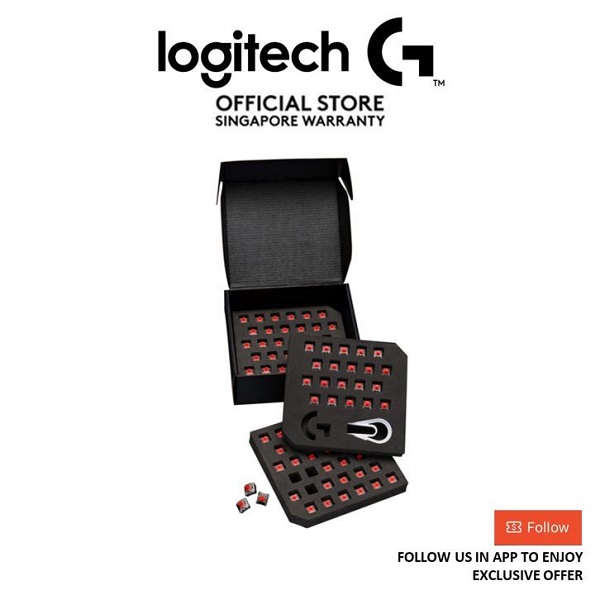 Keeping those switches organised and safe from damage is really a task, but that won't be the case with the Logitech G GX Red Switch Kit (available on Logitech G Official Store)! These Logitech GX Reds are the best linear switches of 2022 and it's a whole lot better since it comes in a protective case. The Logitech GX Reds are one of the most affordable linear switches that are of excellent quality. They promise a typing experience that's smooth and quiet. These are the best linear switches to go for prime thockiness! 
13. Ajazz Peach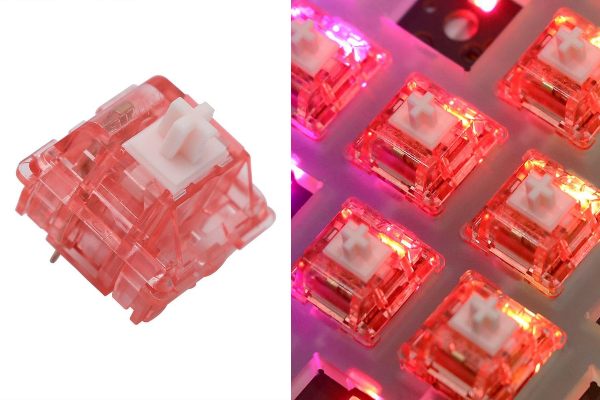 The Ajazz Peaches (available on PXL SG) are another one of the best linear switches for prime RGB lighting! These linear switches feature a translucent housing that has a peachy pink hue. This means you'll get a unique coloured lighting effect with your keyboard's RGB! The Ajazz Peaches are the best linear switches of 2022 with a rather short distance to bottoming out, thus resulting in someof the most thocky sounds ever. It's an amazing sound that only the Ajazz Peaches are capable of – no wonder it's such a peach! 
14. AKKO Sakura Linear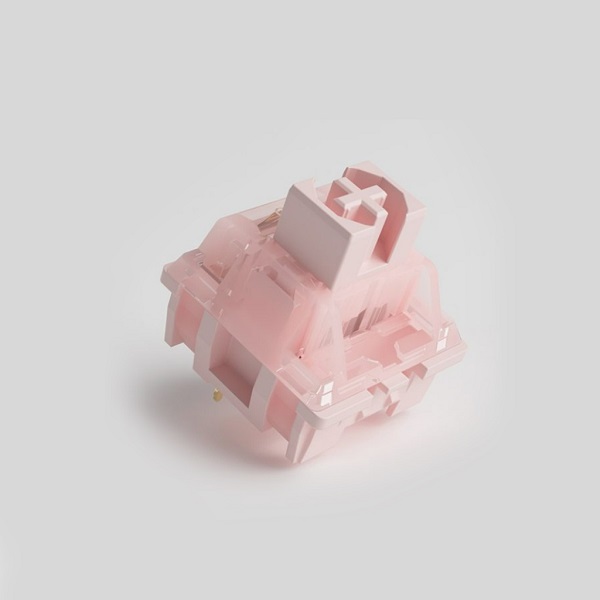 Transform your keyboard into a pink paradise with the AKKO Sakura Linear Switches (available on AKKO Flagship Store)! Aesthetics aside, these are the best linear switches for those who prioritise the cleanliness of their setup. The AKKO Sakura Linears have a dust-proof structure that guarantees all internal components will be kept safe from any external elements. Moreover, you can also reduce the frequency of removing all the keyboard's components for its scheduled cleaning, which can prove to be quite a hassle! These AKKO Sakura Linears are also 2022's best linear switches that feature a translucent housing that's almost opaque. This allows for minimal RGB to glow through, so it's a perfect switch choice for those who are not a fan of the lighting!
15. Glorious Lynx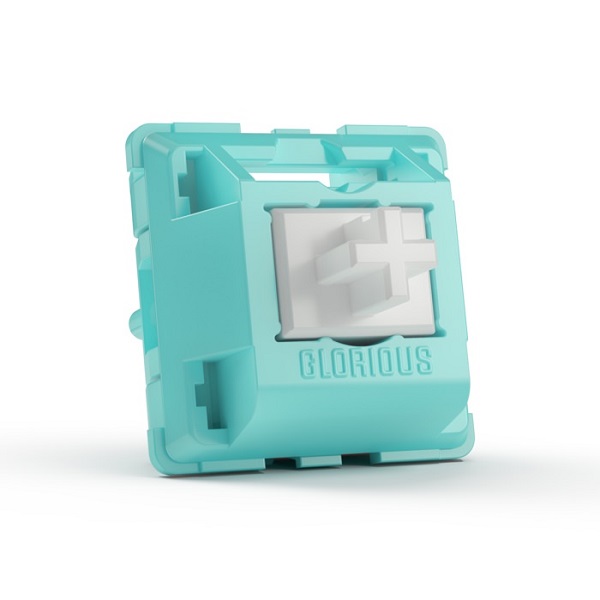 Glorious switches are popular among many and the Glorious Lynx (available on keysservices.sg) is another one that's just as well-loved. These are one of the best linear switches of 2022 that are perfect for both amateurs and seasoned mechanical keyboard enthusiasts as they're available with and without the lubricant. The Glorious Lynx switches feature a beautiful light blue housing that is eye-catching and of high quality. The nylon material used in the housing is what helps these switches produce the most pleasant and thocky sound. While the Glorious Lynx switches are considered to be in the premium tier thanks to their price, these are truly the best linear switches for newbies who are looking to achieve that cream-of-the-crop thocky sound.
Switch things up with the best mechanical keyboard switches
Whether you're a long-time enthusiast or a newbie, thockiness is always going to be in the back of your mind when you're searching for the best mechanical keyboard switches. While that can be achieved with different types of keyboard switches, it's always fun to experiment with other components like switch films and foam dampeners, or even switching out those stabilisers! In the meantime, check out these different types of mechanical keyboard keycaps to change up the entire look. If you're still not sure about how to build your very first setup, read up on this guide to building a custom keyboard in Singapore! Alternatively, purchase some of the best pre-built mechanical keyboards to do away with the hassle.