While Singapore is blessed with potable tap water, most households still rely on boiling them to get rid of potential bacteria and chemical nasties. Even though trusty ol' kettles may suffice, nothing quite beats the convenience that a water dispenser can give. Need a glass of ice cold water to beat the heat or feel peckish for a bowl of instant noodles? You won't need to wait for it to boil and cool down with a water dispenser at your service. If you're looking for one for your countertop, read on for our roundup of the best water dispensers in Singapore!
The difference between water dispenser, water filter and water purifier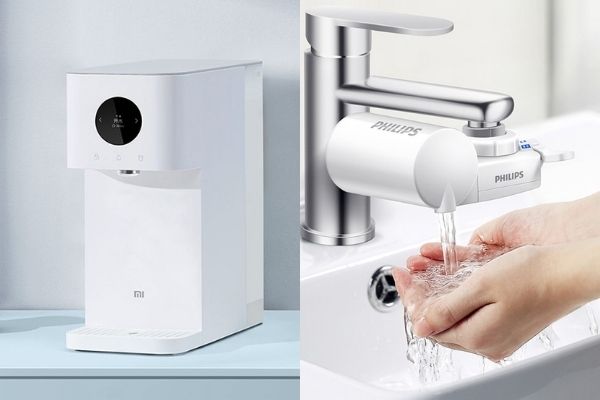 The terms water dispenser, water filter, and water purifier are often used interchangeably, which is why it's common to get confused between the three. While the three aren't the same, they are not mutually exclusive. For instance, water dispensers often come with in-built water filters or purifiers to dispense clean, healthy water. To understand them better, check out the table below!
| | | |
| --- | --- | --- |
| Type | Purpose | How it works |
| Water dispenser | Convenient access to clean, healthy water at multiple temperatures  | Uses instant boil technology or/and filtration systems to dispense clean water at different temperatures  |
| Water filter | Comes in the form of pitchers and on-tap installments to filter tap water | Uses physical barriers like fine mesh to filter out physical impurities |
| Water purifier | For eliminating chemicals and viruses that may be present in tap water | Uses multiple layers of filters and chemicals to kill viruses or UV to treat pathogens |
How do I choose a water dispenser?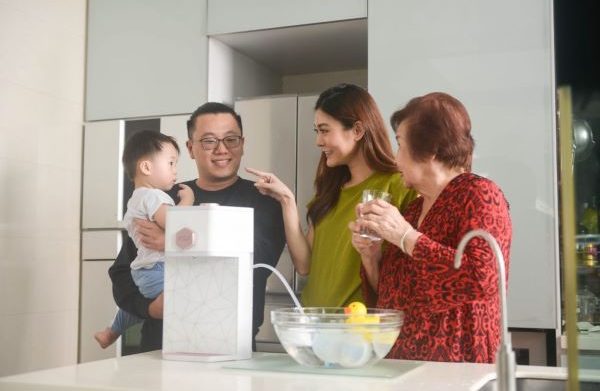 While water dispensers may seem straightforward, there are a host of factors to consider when choosing one. From space-saving designs, water filtration capabilities to maintenance requirements, here's what you need to look out for during your search.
Before buying a water dispenser, be sure to check how much countertop space you have to spare and look out for the dispenser's dimensions. If you have limited space, we highly recommend checking out the best tankless water dispensers in Singapore that feature slim, compact designs. Tankless water dispensers use a piped-in water source, which not only saves space but also saves you the manual work of refilling water to a tank. 
Water filtration capabilities
One of the main advantages of having a water dispenser is having clean water that's free of harmful chemicals and bacteria readily available. That's why if you're investing in one, you should definitely read up about its water filtration capabilities. On top of eliminating bacteria, the best dispensers in Singapore can also effectively filter out heavy metals like lead and chemicals like chlorine. (You'd have to boil water for more than 15 minutes to effectively remove chlorine!)
The best water dispensers in Singapore don't come cheap, which is why most of us would want to avoid having to shell out further for frequent maintenance. That said, it is important to keep your tanks clean and free of limescale buildup. To curb this issue, get a trusty one with self-cleaning features like UV-C LED which helps to eliminate bacteria and germs or steriliser modules to minimise the need for maintenance. It is also helpful to have a dispenser that indicates the filter lifespan to ensure that your water is effectively cleaned all year round!
Best tankless water dispensers in Singapore
Tankless water dispensers are, you guessed it – water dispensers without tanks. It uses piped-in water from a water source to dispense clean water. Apart from saving a ton of space, tankless water dispensers are also less likely to be contaminated as they are equipped with robust water filtration systems and self-cleaning functions. That said, tankless water dispensers need to be connected to a water source which means they can only be placed in the kitchen and not your study room or bedroom. They also tend to be on the pricier side compared to tank water dispensers, so be prepared to set aside a budget for it. 
1. Sterra S Tankless Water Purifier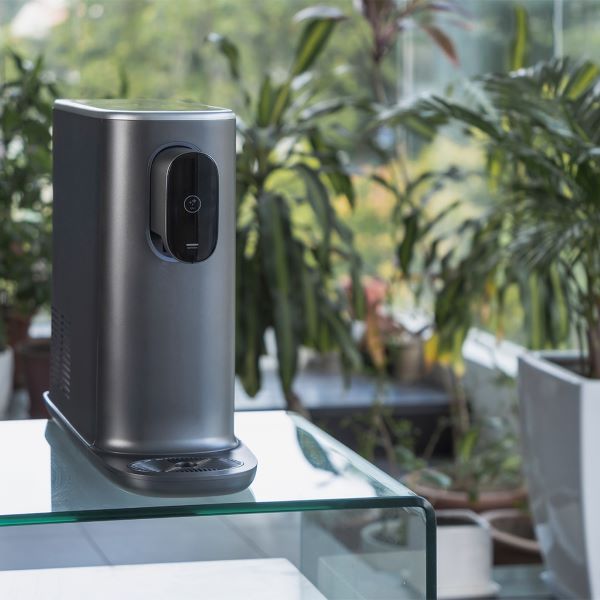 Sterra is one of the top brands when it comes to the best water dispensers in Singapore, offering quality options that have been endorsed by many. If you're looking for a space-saving option, the Sterra S Tankless Water Purifier (available on Sterra SG) rocks a slim, minimalist design that fits neatly on your countertop. 
In terms of filtration capability, it boasts a four stages filtration system that helps to remove any bacteria, chlorine, particles and odours, which ensures that the water you drink is clean and healthy all the time. Another feature we love is the electric steriliser module which allows the Sterra S to self-clean. This saves you the hassle of scheduling it for maintenance, which saves you cost in the long run too. That's why it is one of the best tankless water dispensers in Singapore.
2. CUCKOO Prince Top Lite Water Purifier Dispenser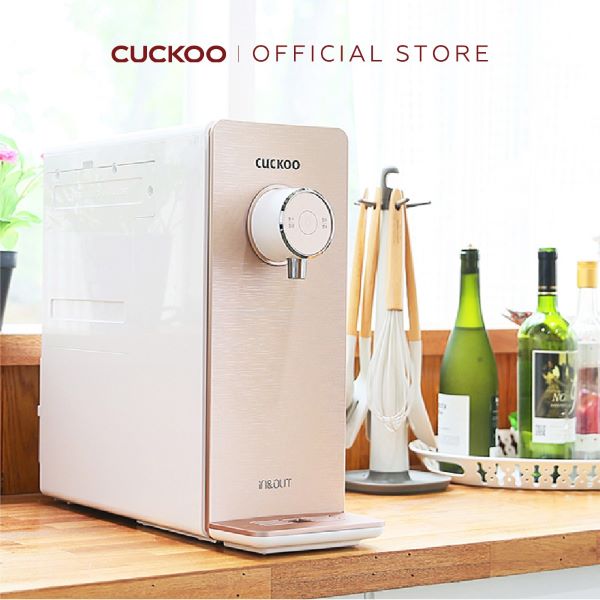 If you're used to telling Siri to do everything for you, you'd love the CUCKOO Prince top Lite Water Purifier (available on CUCKOO SINGAPORE Official Store) which can be operated using voice command. It supports not just one but three languages including English, Mandarin, and Malay – obtaining your daily water intake couldn't get any easier! While most water dispensers are limited to set volumes of water, the CUCKOO water dispenser allows you to dispense any amount with just the click of a button.
We absolutely adore its rose gold exterior that adds a touch of luxe to your kitchen countertop. It is also super slim and compact, which frees up space for other appliances on your wishlist like the best waffle makers and the best air fryers in Singapore!
3. Ruhens Tankless Water Dispenser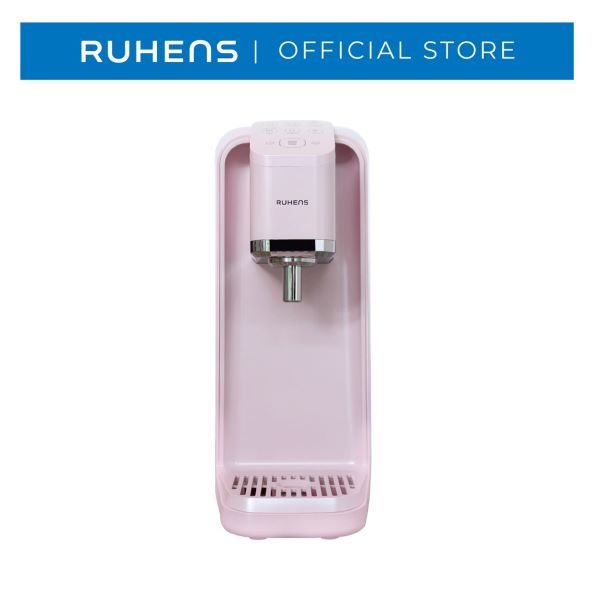 If you're concerned that a bulky water dispenser might ruin your pretty kitchen aesthetics, worry no more. The Ruhens V Series Tankless Water Purifier Dispenser (available on Ruhens SG 루헨스) will fit right in with its sleek design and fresh colours like bubblegum pink, white, silver, and black. It also comes with eco-mode which helps to reduce power consumption by 30% so it won't be racking up your bills!
What's more, the Ruhens water dispenser makes maintenance easy with a UV automated sterilisation feature for self-cleaning. In addition, the filter change indicator eliminates the guesswork by notifying you whenever the filter needs to be replaced. Its faucets are also removable and adjustable, so you can dismantle them any time for washing. 
4. Wells Tankless Water Purifier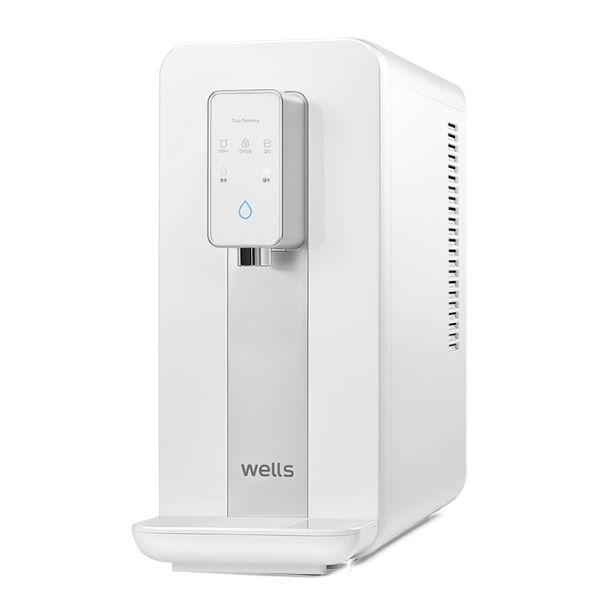 Seasoned mums will know that the optimal water temperature for making baby milk formula is 40 degree celsius. However, with the number of things you'd have to keep track of with a newborn, the extra step of cooling water down to the right temperature can be a burdensome chore. Cue the Wells True Tankless Water Purifier (available on Wells), one of the best water dispensers in Singapore that dispenses water in five different temperatures, including an option for baby milk powder.
You can be assured that the water it provides is clean and healthy with its nine step filtration system. This includes a multi-carbon filter and nano clean filter that eliminates seven types of heavy metals, chlorine, and 35 different types of microorganisms. This nifty gadget not only adds convenience to your daily lives, but also keeps your health in check!
Best tabletop water dispensers in Singapore
Tabletop water dispensers refer to traditional water dispensers that dispense water from a water tank. They are relatively affordable and often come with essential features like water purifying capabilities and multiple temperature options. Since they have a tank to store water, they can be placed away from a water source for more convenient access. However, tabletop water dispensers are bulkier and require more effort to maintain.   
5. Sterra X Tabletop Water Purifier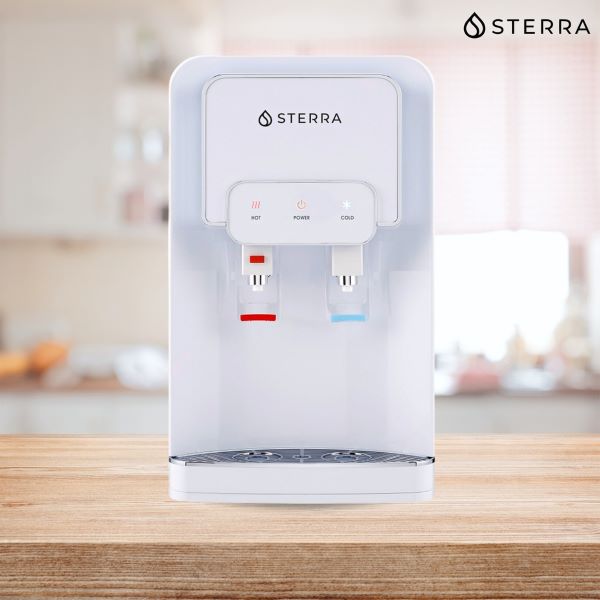 For night owls who need to grab a drink at midnight but don't want to wake the entire family up, the Sterra X Tank Tabletop Water Purifier (available on Sterra SG) is the best dispenser in Singapore for you as it operates quietly. Furthermore, it keeps things simple with just two separate taps for hot water at 95 degrees celsius and cold water at four degrees celsius. 
Even though it is not tankless, there's no need to top up water as the Sterra X connects directly to your water supply and automatically replenishes the tank whenever needed. It's ideal for those with large families, as you won't have to top up water a dozen times just to stay hydrated.
6. Tecno Instant Water Dispenser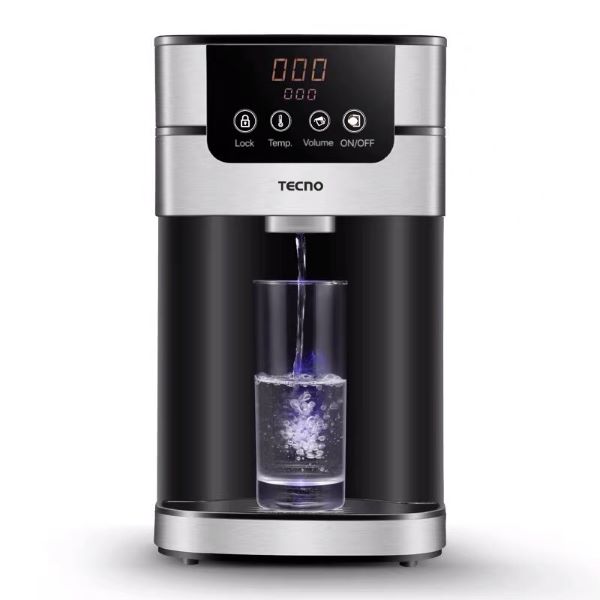 Tea connoisseurs will appreciate how the Tecno Instant Hot Water Dispenser (available on Tecno Official Store) has an extensive selection of seven different temperature options. This is ideal for steeping different types of tea leaves as they each have their own optimal temperature to get the best brew. For instance, black tea and herbal tea should be brewed with boiling water at 100 degree celsius, while white tea and green tea are best brewed with water at 80 to 85 degree celsius.
Apart from temperature selection, the Tecno water dispenser is equipped with the STRIX water filter which features fine mesh to filter out particles and activated carbon to remove chlorine, pesticides, and herbicides. In addition, it only takes five seconds to prepare water of any temperature – even boiling water – which is great for busy folks!
7. Aerogaz Premium Digital Water Dispenser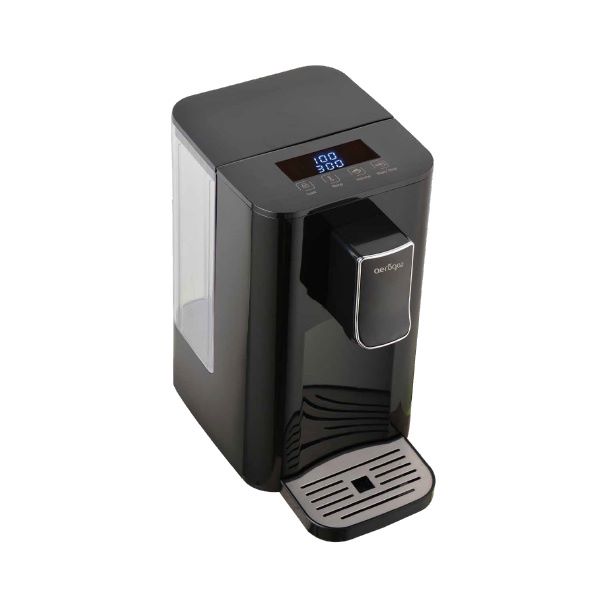 The best water dispensers in Singapore don't always cost a fortune. Case in point: the Aerogaz Premium Digital Water Dispenser (available on aerogaz Official Store) that comes in at just below $90 – a huge fraction of its competitors, but not a fraction in terms of quality and convenience. 
It is a no-frills option that is equipped with instant boil technology. Simply add water into the tank and it'll be boiled instantly within five to 10 seconds! You won't have to wait for it to cool either, as the aerogaz water dispenser is able to dispense water out immediately in seven different temperatures. This includes boiling hot water for your instant noodles, 85 degrees celsius that's ideal for brewing oolong tea, and room temperature for clocking in hydration. It also sports a big LED display that indicates the volume of water left so you won't have to open up to check!
8. Toyomi Filtered Water Dispenser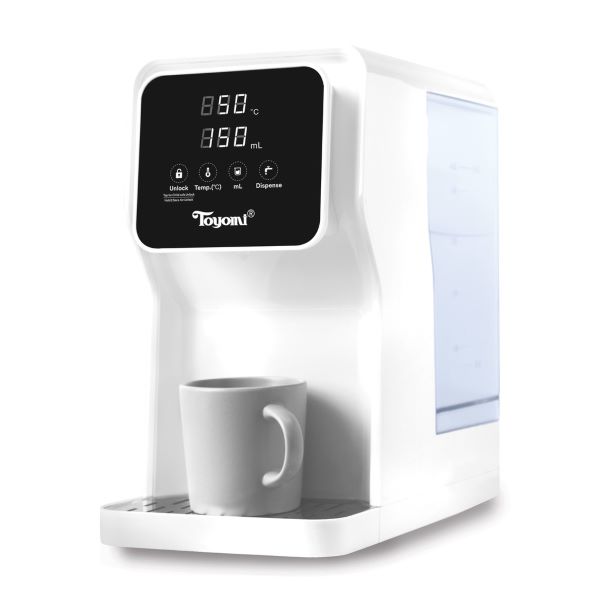 According to WebMD, there's a slew of health benefits you can reap from drinking mineral water such as improved heart health and better digestion. That's why the Toyomi Instant Boil Filtered Water Dispenser (available on Toyomi Singapore Official Store) stands out as one of the best water dispensers in Singapore. On top of its robust six stage water filter, the Toyomi water dispenser also re-mineralises water by adding elements like iron, zinc, and magnesium, which are important minerals that our body needs. 
The best part? This bad boy comes with an affordable price tag of only $179. For those who aren't ready to splurge, this is a great starter option to go for. It also sports essential features like a child safety lock to keep those with the young 'uns at ease, as well as a low water volume alarm to remind you to refill it. 
9. Philips Filtered Water Dispenser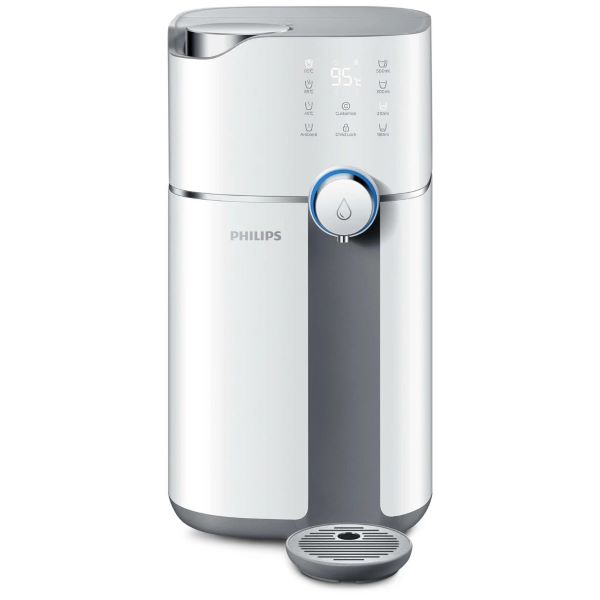 Philips is a renowned household brand that offers value-for-money appliances, and their range of water dispensers are no different. The Philips Filtered Water Dispenser (available on Philips Water Official Store) proves to be a worthy contender for the best affordable water dispensers in Singapore with its host of capabilities. Apart from instant heating, it is also equipped with the AquaShield all-in-one RO filtration which removes 110 types of harmful substances like lead, chlorine and pesticides that may exist in tap water.
The Philips water dispenser also uses UV-LED as a second line of defence, further eliminating bacteria both in the water and the water tank. It allows you to choose from four temperature options from ambient to 95°C for your instant drinks like Nestea and cup noodles. 
Best alkaline water dispensers in Singapore
Alkaline water refers to water with a higher pH level (above 7). It is believed to be healthier as it can act as an antioxidant to neutralise harmful free radicals. Alkaline water dispensers allow an electric current to pass through the water to increase its pH level, thereby dispensing alkaline water. We recommend getting an alkaline water dispenser that has both pure and alkaline water options for a more balanced intake. 
10. AmGlow Touchscreen Hot & Cold Tabletop Dispenser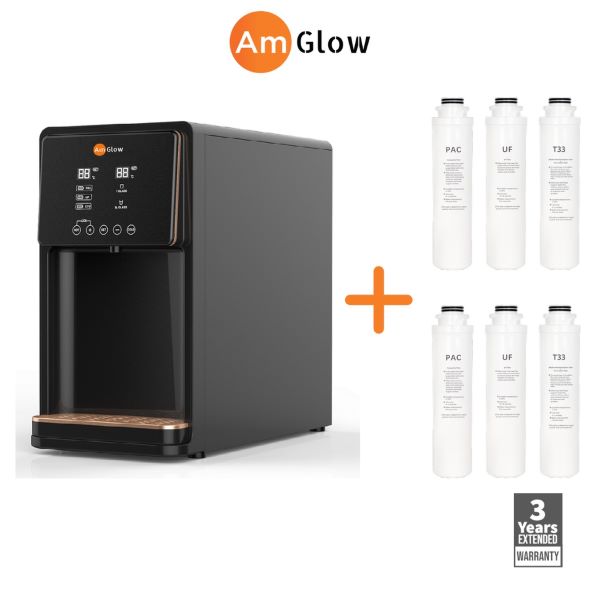 If you're looking to reap the health benefits that alkaline water claims to offer such as lowering blood pressure and improving bone health, get the AmGlowTouchscreen Tabletop Water Dispenser (available on AmGlow Official Store). It is equipped with an alkaline water filter and ultrafiltration capabilities to provide healthy drinking water that's rid of germs, chlorine, and bacteria. 
Size wise, the AmGlow water dispenser is smaller than most of its counterparts, which makes it a viable option for those with limited kitchen space. It also comes with two extra sets of replacement filters so your purchase will last you at least two years.
11. Novita Countertop Water Purifier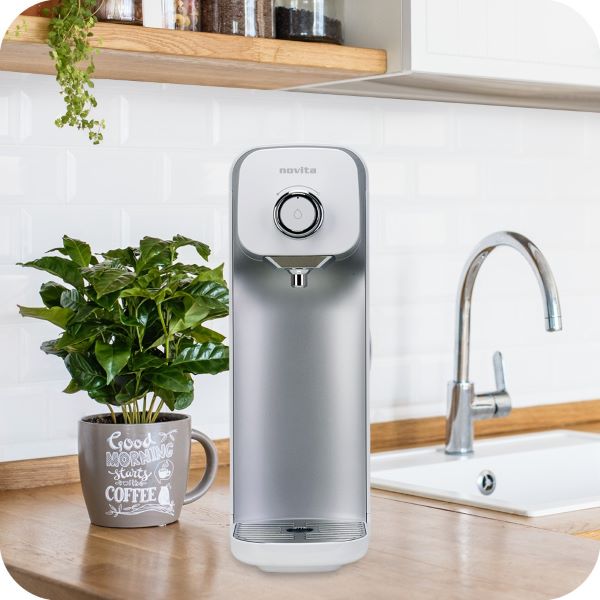 While tankless and alkaline water dispensers can easily set you back by a thousand, the novita Countertop Water Purifier (available on novita Official Store) is one of the best affordable dispensers in Singapore that those on a budget can consider. It also helps you stretch your savings further as it does not require electricity to operate. Simply turn the control knob to dispense water with ease! 
Furthermore, it sports a smart filter replacement timer which helps you track the filter lifespan and prompts you when it is due for replacement. For alkaline water, simply opt for the Hydroplus Alkaline Antioxidant Water filter at no extra cost. Overall, the novita water dispenser is one of the best tankless water dispensers in Singapore that doesn't compromise on features.
12. LivingCare Water Dispenser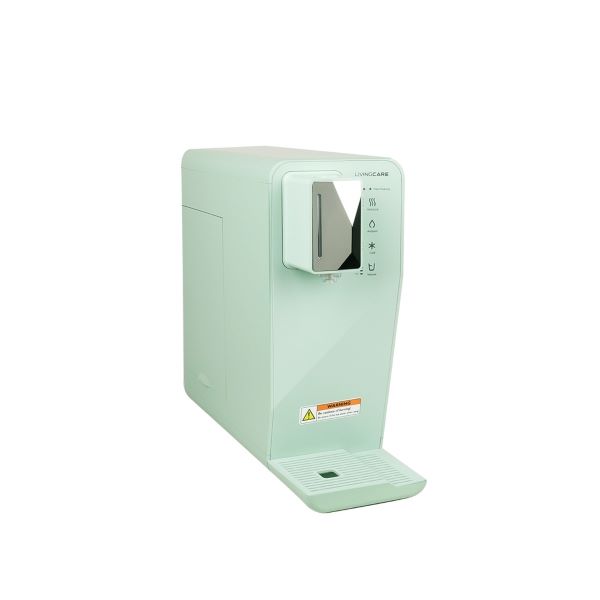 To achieve that picture-perfect kitchen, the Livingcare Water Dispenser (available on Gain City Official Store) is one that you'd eagerly show off to your guests. Available in pastel colours like mint green and baby pink, it'd fit seamlessly with your scandinavian reno and SMEG kitchen appliances. For those with a more industrial or monochrome aesthetic, go for the black or white options instead.
The Livingcare water dispenser matches beauty with brains with its self-cleaning function, tankless feature, and motorless alkaline dispenser. Furthermore, it has an energy-saving mode that ensures zero power consumption when the appliance is idle. It is also one of the best tankless and alkaline water dispensers in Singapore that offers seven hot and cold temperatures as well as unlimited quantity selection to meet your household needs.
13. AOX COMPAC O2+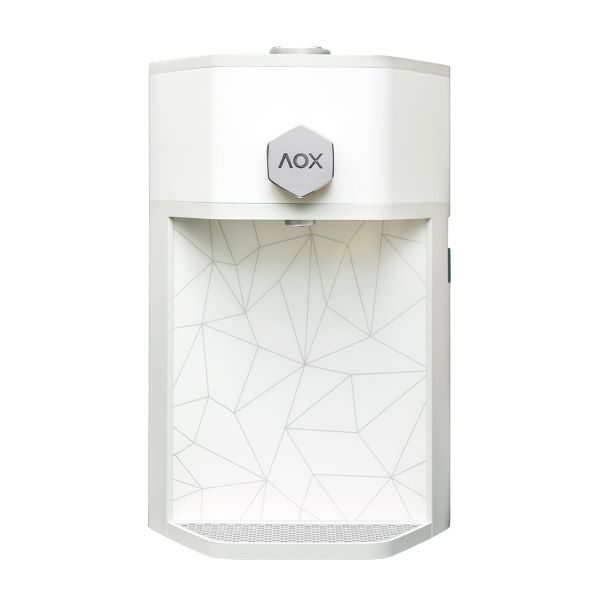 There's no hiding the fact that the AOX Compac O2 (available on AOX Singapore Official Store) is an expensive appliance, but its technology, state-of-the-art design, and features surely makes the price a justifiable one. 
Not just a mere alkaline water dispenser, the AOX Compac O2 packs a punch with other useful features like the built-in active oxygen steriliser. Active oxygen contains negative ions that help to eliminate viruses, allergens, and bacteria. Simply insert the oxygen tube into a bowl of water and you can use it to sterilise baby milk bottles, kitchen utensils, and even your hands or the air. It can also detox meat and vegetables as well as produce clean water for dental care, treating cuts, and even washing your face! That's why the AOX water dispenser is one of the best alkaline and tankless water purifiers in Singapore. 
Overview of the best water dispensers in Singapore (sorted by price)
| | | | | | |
| --- | --- | --- | --- | --- | --- |
| Water dispenser | Dimensions (mm) | Tank size | Features | Price | Best for |
| Aerogaz Premium Digital Instant Water Dispenser | 210 x 450 x 400 | 2.3L | Instant boil technology and LED display | $89 | Bargain hunters |
| Toyomi Instant Boil Filtered Water Dispenser | 355 x 252 x 410 | 4.5L | Re-mineralising capabilities  | $160 | Healthy mineral water  |
| Tecno Instant Water Dispenser | 190 x 260 x 335 | 4L | 7 temperature selection and fine mesh filter | $178 | Tea lovers |
| Novita Countertop Water Purifier Dispenser | 115 x 436 x 341 | Tankless | Zero electricity consumption and alkaline water filter | $599 | Energy saving |
| Philips Filtered Water RO Dispenser | 232 x 250 x 424 | 4L | UV-LED and filter change reminders  | $799 | Value-seeking Singaporeans |
| Sterra X Tabletop Water Purifier | 300 x 365 x 520 | 3.8L (cold), 1.5L (hot) | Silent operation and automated tank refill  | $979 – $1077 | Large families |
| AmGlow Tabletop Dispenser | 210 x 450 x 400 | 1.5L (cold), 1L (hot) | Alkaline water filter | $1648 | Unlimited access to alkaline water |
| Sterra S Tankless Water Purifier | 509 x 182 x 403 | Tankless | Electric sterliser module for self-cleaning | $1665 | Low maintenance |
| Wells True Tankless Water Purifier | 190 x 495 x 430 | Tankless | Baby milk powder course and 7 stage filtration system | $1980 | Busy, working parents |
| CUCKOO Prince Top Lite Water Purifier | 468 x 170 x 408 | Tankless | Voice command | $2188 – $2288 | Easy, hands-free navigation |
| Ruhens V Series Tankless Water Dispenser | 514 x 160 x 432 | Tankless | UV automated sterilisation and filter change indicator | $2430 – $2500 | Aesthetic kitchens |
| Livingcare Water Dispenser | 130 x 390 x 320 | Tankless | Self-cleaning function | $2488 | Smaller countertops |
| AOX Compac O2+ | 244 x 240 x 390 | Tankless | Active oxygen steriliser and alkaline water dispenser | $2799 | Easy sterilisation  |
Stay hydrated with the best water dispensers in Singapore
With trusty water dispensers that provide clean, filtered, or even alkaline water, you'd never have to skip that eight glasses of water because you're too lazy to boil them. Get the best deals for 100% authentic products at Shopee Home Appliances where you can enjoy 0% installment plans and one year warranty! For those who prefer to save on countertop space, check out the best water filters in Singapore for an alternative. Meanwhile, those who are always on-the-go can get one of the best water bottles in Singapore to stay refreshed throughout the day!