When we mention Japanese cuisine, you're likely to think of endless plates of sushi and sashimi. But for our meat lovers, you'll drool over the thought of this trendy dish – yeap, it's yakiniku! From casual to atas experiences, it's time to jump on this bandwagon with the best yakiniku spots in Singapore this 2023. 
Is yakiniku Korean or Japanese?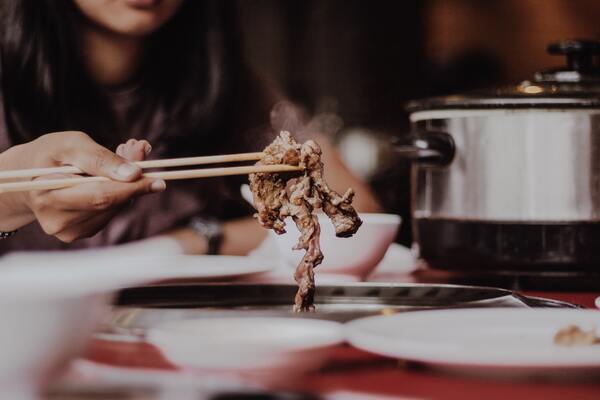 Directly translated into "grilled meat", yakiniku is an important part of Japanese cuisine that originated in Korean restaurants in Osaka and Tokyo during the 50s. As such, yakiniku can be considered the Japanese equivalent of the ever popular Korean BBQ. The main distinction between the two is that K-BBQ uses marinades to add flavour, whereas yakiniku is served plain and relies on the dipping sauce. For many Japanese people, a night out is only complete with a trip to the best yakiniku restaurants!
What is the best meat for yakiniku?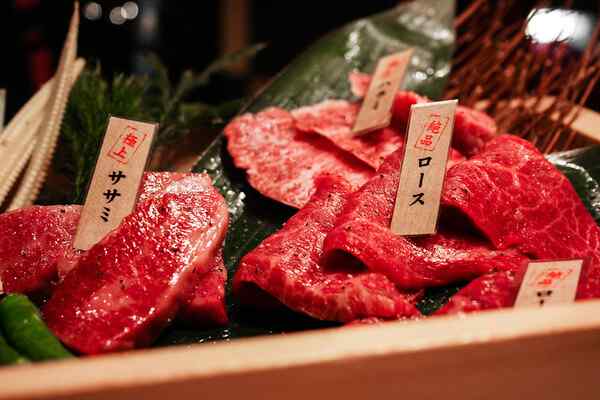 Thinly sliced ribeye, short ribs, and skirt steak are the most sought-after cuts in yakiniku. However, the best yakiniku restaurants in Singapore will specialise in butchering unique parts of beef such as the knuckle or heel to bring you amazing flavours and textures.
Affordable yakiniku spots in Singapore with prices below $30
1. Yakiniku Like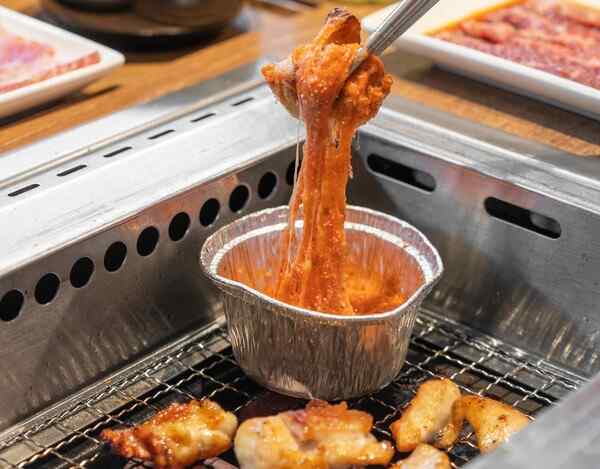 One can't write about the best yakiniku spots in Singapore without mentioning Yakiniku Like,  an all-time favourite of meat lovers. Priding themselves as a fast-food style Japanese BBQ chain, this is one of the most affordable Yakiniku restaurants in Singapore for solo diners. 
Prices start from $9.80 nett for a set inclusive of meat, rice, soup and a choice of kimchi or salad. Try the Like Quattro Set ($17.90 for 100g) that gives you a plethora of meat choices including beef chuck, pork belly and chicken thigh – mmm, so worth!
Pro tip: Save more by popping by their outlets from Monday – Thursday, between 3pm – 5pm, to enjoy their student deals that start from only $7.80! 
Address: Paya Lebar Quarter, 10 Paya Lebar Road, #B1-28, S(409057)
View their other outlets here
Opening hours: Daily, 11am – 10pm
2. Yakiniku-GO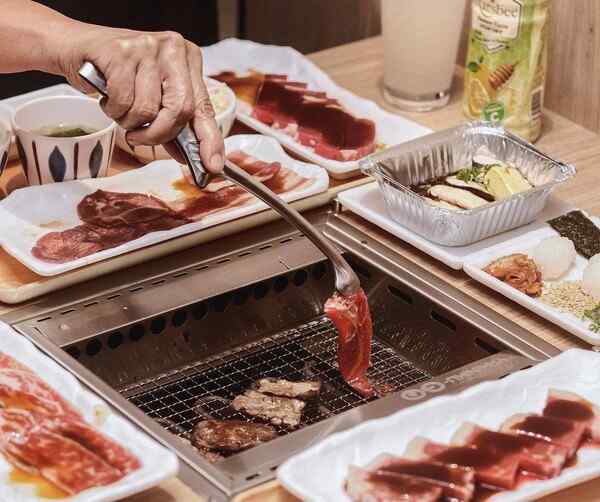 Who said you can't enjoy the best of Japanese cuisine at the same time? At Yakiniku-GO, they offer sets with rice, kimchi and soup starting from $6.80. Expect an interesting experience with their DIY Sushi Niku Set where you get to grill your own short rib and roll it into a mini onigiri with the sides provided. The kimchi helps to cut through the greasiness while the spring onions and sesame seeds add that little crunch! 
Additionally, don't miss out on their in-house special sauces, such as the House Special Yakiniku Tare, Spicy Yakiniku Tare, Miso Tare, and Negi Shio Tare. And good news for those worried about smelling like BBQ after a meal: this best yakiniku spot in Singapore uses only electric grills that produce no smoke and hence, there's no lingering smell! 
Address: NEX, 23 Serangoon Central, #B1-78, S(556083)
View their other outlets here
Opening hours: Daily, 11am – 10pm
3. Yakiniku Shokudo
If the name Shokudo rings a bell, that's because Yakiniku Shokudo is the sister company of Tokyo Shokudo, a Japanese brand known for the best ramens and hearty don bowls – so you can be sure of the quality and authenticity. 
This best Yakiniku spot in Singapore serves up bangin' beef sets starting from only $9.90 but if you want a little of everything, get the Shokudo Set. The Shokudo set consists of juicy, succulent slices of beef karubi, beef tongue, and beef steak at only $18.90++ for a half portion! The best part? This affordable Yakiniku restaurant in Singapore is halal-certified, making it the perfect meal option when you're dining with muslim friends in 2023! 
Address: IMM, 2 Jurong East Street 21, #02-53, S(609601)
View their other outlets here
Opening hours: Daily, 11.30am – 9.30pm
4. Hey! Yakiniku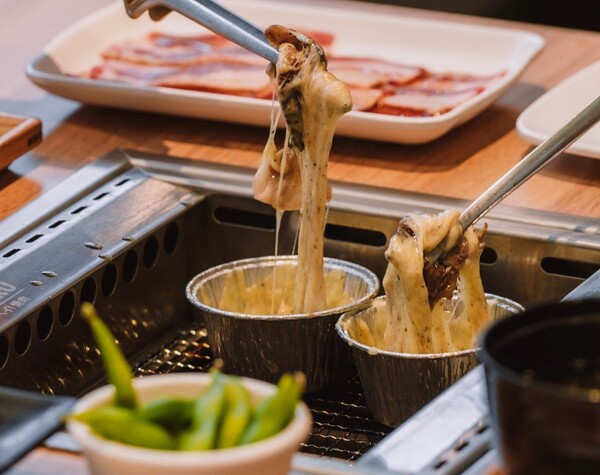 Hey! Yakiniku packs a punch with their extensive menu of fresh-cut meat, and beef directly imported from the USA and Australia. Our recommendation would be the Premium Karubi ($11.90 for 100g) – well-marbled, succulent and flavourful even without dipping the sauces. 
If not, simply opt for the Hey Set, which comes with three types of beef cuts, rice, and soup for a fuss-free experience. Conveniently located at Bugis Junction, this is one of the best affordable Yakiniku restaurants to visit for that quick protein fix after working out at the best gyms in Singapore!
Address: 80 Middle Road, #01-92/96, S(188966)
Opening hours: Daily, 11am – 10pm
5. ROCKU Yakiniku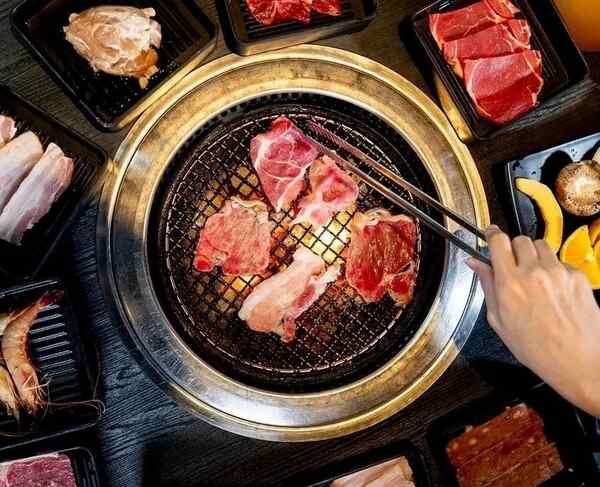 Calling all buffet lovers! If you've always dreamt of digging into an endless amount of meat, ROCKU Yakiniku is one of the best yakiniku buffet restaurants to visit in Singapore this 2023! Starting at just $24.90++, you can feast on more than 10 different types of small bites, meat, seafood and even some Aburi Salmon Mentaiko Rice! 
To keep you well-entertained throughout your meal, ROCKU Yakiniku has their own in-house entertainment and live band performances of Korean, Japanese and Mandarin pop-rock on Friday evenings! Psst… you'll also get to dine free (with three paying adults) on your birthday month – nothing gets more affordable than a free meal! 
Address: Bugis+, 201 Victoria Street, #04-06, S(188067)
Opening hours: Daily, 11.30am – 10.30pm
6. Yakiniku Warrior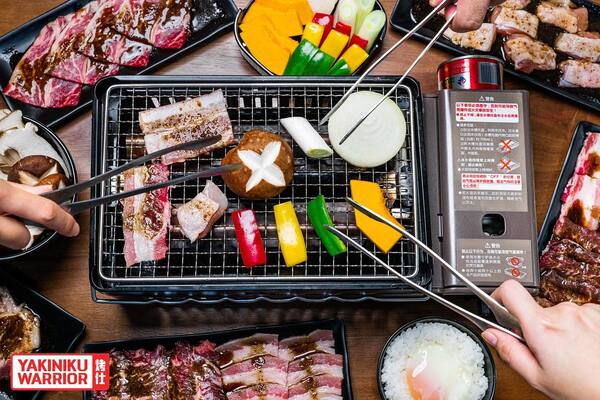 Elevate your dining experience by going alfresco-style – in a coffee shop, of course! Yakiniku Warrior has eight different options known as grades, ranging from Grade S to Grade G, with S standing for Supreme. Melt-in-your-mouth and smoke-kissed, the Premium Karubi Set ($14.80 for 100g) is a must-order at this affordable yakiniku spot in Singapore. 
On the other hand, we'd recommend the thrifty ones to go for the Beatbox Set ($12 for 200g). This dish features a trio of chicken, beef, and pork that is well-complemented by their signature Garlic Shoyu sauce. Airy, cooling, and romantic, all while being easy on the wallet, have a chill date night at the best yakiniku place in Singapore this 2023! 
Address: 121 Geylang East Central, # 01-90, S(380121)
Opening hours: 
Mon – Fri: 12pm – 2pm, 3.30pm – 10pm
Sat – Sun: 3 – 10pm
7. Waa Cow! Yakiniku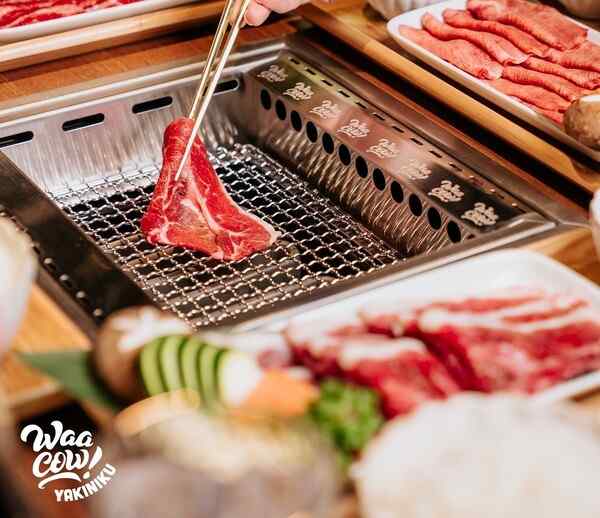 Good news for the north-easties: Waa Cow!, known for serving one of Singapore's best and most affordable flame-torched wagyu beef bowls, has now launched a brand new grill-it-yourself dining concept, Waa Cow! Yakiniku at Serangoon Gardens.
For a variety of meat, go for the Trio Meats Set ($9.90++) which includes a plate of karubi, pork collar, and chicken thigh. Be sure to add a bowl of truffle rice for an atas touch to your meal.  Ground fresh truffle, mushrooms, and truffle oil, the rice complements the meat perfectly, as does their signature Sweet Sukiyaki with Raw Egg dip!
Address: myVillage, 1 Maju Avenue, #02-10/11, S(556679)
Opening hours: Daily, 12pm – 10pm
8. Yen Yakiniku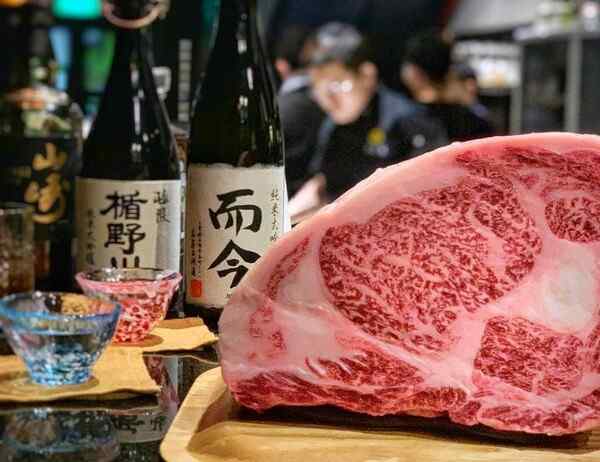 Yen Yakiniku is the only Michelin-recommended yakiniku restaurant in Singapore. That being said, it is also recognised as one of the best yakiniku restaurants to visit this 2023. What makes this place so special is their contemporary yakiniku dining experience nicely designed with farm-to-table premium Japanese wagyu, USDA, and Australian grass-fed cuts. 
At the heart of their meat platters is the thin-sliced Ox Tongue ($19), topped with spring onion and Yen's signature dressing. If you're feeling bougie, take a bite of their Japanese Wagyu A4 Oyster Blade ($68 for 100g). With a dedicated staff to cook your meat by your table, only your mouth is kept busy savouring the meat! 
Address: 15 Ann Siang Road, S(069695)
Opening hours: Daily, 6pm – 11pm
Upscale yakiniku restaurants in Singapore
9. Gyu-Kaku
Gyu-Kaku seeks to inspire laughter, conversation and amazing times and hence, they provide an authentic J-BBQ dining experience where customers share premium cooked meats over a flaming charcoal grill, while sipping on Japanese sake! 
Touted as one of the best yakiniku buffet restaurants in Singapore, their 90-minute "All You Can Eat" buffet is the most popular option for big eaters. Wagyu enthusiasts can enjoy the Australian Wagyu ($69.80++ per pax) or splurge an additional $20 for the Japanese Wagyu. With more than 70 cold appetisers, fried food and seafood on the menu, there's something for everyone!
Address: Marina Square, 6 Raffles Boulevard, #02-106, S(039594)
Opening hours: Daily, 11.30am – 10pm 
10. Syohachi Yakiniku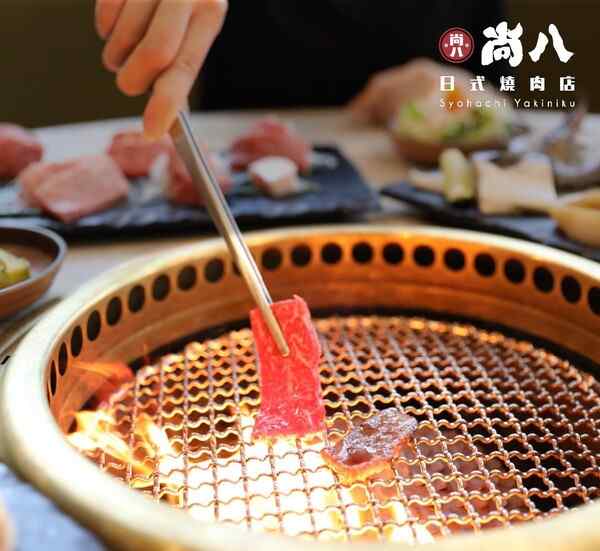 Nothing beats winding down at the best Yakiniku buffet restaurant in Singapore after a long day of work. Hailing from Hong Kong, Syohachi Yakiniku promises a convenient CBD location, endless plates of premium A5 Wagyu and an ice cold beer while you're at it. 
The two-hour A5 Wagyu Ala Carte Buffet starts from $70++ per person and you'll also get to enjoy free-flow servings of US beef, pork, chicken, lamb, seafood and vegetables. Though if you really need to strategise for your tummy, be sure to at least help yourself to a portion of the Thick-Sliced Pork Belly with Yuzu and Peppers – sure shiok with a nice zesty aftertaste! 
Address: Guoco Tower, 5 Wallich Street, #01 – 13, S(078883)
Opening hours: Daily, 11.30am – 11pm
11. Shatoburian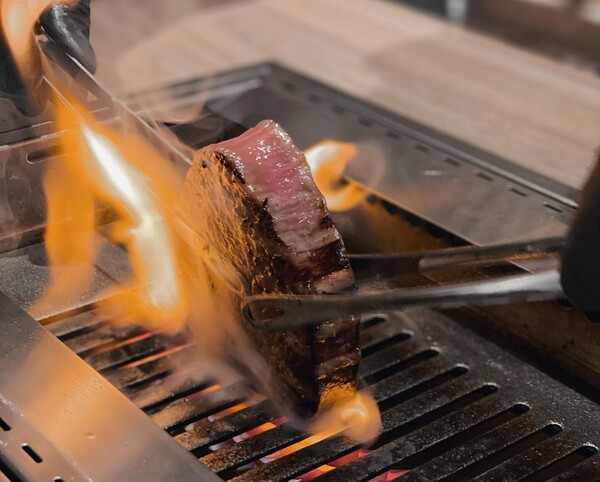 Shatoburian sits on the second level of Palais Renaissance and boasts a cosy, intimate space to celebrate Valentine's Day with bae. Their menu features a variety of top-grade cuts of Japanese Wagyu beef as well as caviar and foie gras from France.
For beef connoisseurs, you can't miss out on The Chateaubriand ($158 for 120g), the most tender and best cut of the tenderloin. Or if you're on a double date, the Platter of Beef Tongue ($228) – featuring five different styles of premium cut ox tongue – is perfect for sharing! 
Address: 390 Orchard Road, #02 – 08, S(238871)
Opening hours: 
Tue – Thur: 12pm – 2pm, 6pm – 8.30pm
Fri: 12pm – 2pm, 6pm – 10pm
Sat – Sun: 12pm – 2.30pm, 6pm – 10pm
12. Yakiniquest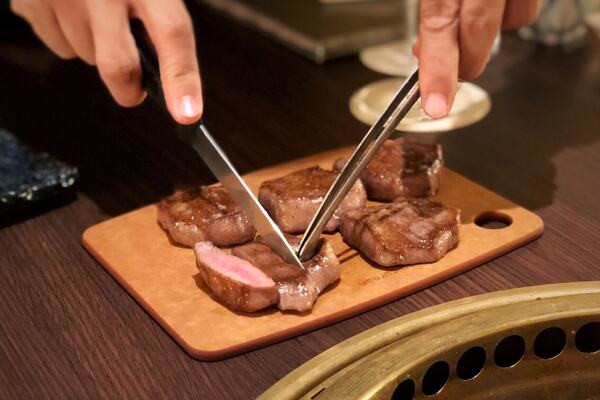 What started out as a gastronomic mission to discover decadent yakiniku across Japan has now bloomed into one of the best yakiniku restaurants in Singapore this 2023. Yakiniquest seeks to take you on a unique yakiniku journey through an omakase dining experience where the chefs choose and grill your beef.
Indulge your taste buds in their Dinner Omakase "Classic" ($138++ per pax). This course meal includes a Tail Soup Chawanmushi, three kinds of Wagyu Appetizer, Signature "Beef Noodle" Niku Somen, seven premium cuts of Grill Beef (including Signature Yakisuki), Japanese Salad, Cold Noodle, and Dessert. Mmm, the thought of this made our mouths water!
Address: Mandarin Gallery, 333A Orchard Road, #04-08/09/10, S(238897)
Opening hours: Daily, 12pm – 3pm, 6pm – 10.30pm
13. The Gyu Bar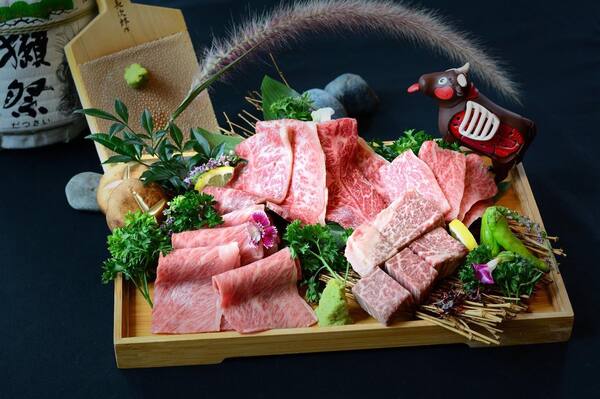 Founded in 2018, The Gyu Bar has been a popular destination of beef enthusiasts looking for a top-level wagyu experience. One step into this modern restaurant, you'll be greeted by clean lines and sleek wood finishes; and when night falls, the use of track lights, pendant lamps, and city lights will put you in a relaxing mood. It hence comes as no surprise that The Gyu Bar is one of the best yakiniku restaurants in Singapore.
The Gyu Bar promises only the best wagyu experience with their omakase meals (starting at $238++ per pax), which feature quality beef prepared yakiniku-style. The highlight of their nine-course menu, however, is the Wagyu Katsu with Homemade Curry. The wagyu inside is medium rare, with a crispy exterior that provides a soft and crunchy contrast!
Address: 30 Stevens Road,  #01-08, S(257840)
Opening hours: Daily, 12pm – 3pm, 6pm – 10pm
Keep it sizzling hot at the best yakiniku places in Singapore this 2023
From affordable yakiniku places to the best yakiniku buffet restaurants in Singapore, you'd be spoilt for choices the next time you crave for some tasty BBQ! After a sizzling hot meal, why not cool down at the best acai dessert cafes? Otherwise, fly to Tokyo for the authentic experience and admire the cherry blossoms this spring!