Are you craving a delicious and authentic Mexican dish that will take your taste buds on a journey? Look no further than Birria Tacos! This mouth-watering dish has a rich history and is now taking the world by storm with its combination of tender meat, flavourful broth, and traditional spices.
Where did Birria Tacos originate from?
Birria Tacos originated in the state of Jalisco, Mexico, and were traditionally made with goat meat. However, in recent years, beef has become a popular substitute for goat. The meat is slow-cooked in a flavourful broth made from dried chilies, tomatoes, and a variety of traditional spices such as cumin, cloves, and cinnamon. The result is tender, juicy meat that is bursting with flavour.
Classic birria tacos recipe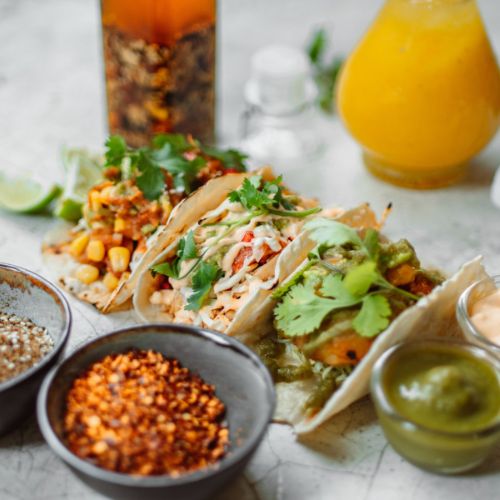 Ingredients:
2 pounds of beef chuck roast

4 dried ancho chilies

2 dried guajillo chilies

1 large tomato, quartered

1 small white onion, quartered

4 cloves of garlic, peeled

2 bay leaves

1 tablespoon of cumin

1 tablespoon of

dried oregano

(available on

teeminispices

)

1 teaspoon of

ground cloves

(available on

after5.sg

)

1 cinnamon stick

Salt and pepper

Corn tortillas

Chopped cilantro and diced onions for garnish

Lime wedges for serving
Cutleries: 
How to prepare the classic Birria Tacos recipe?
Cut the beef chuck roast into large chunks and season with salt and pepper.

Heat up a large pot over medium-high heat.

Sear the meat until it is browned on all sides.

Remove the meat from the pot and set it aside.

Remove the stems and seeds from the dried chilies and tear them into pieces.

In the same pot, toast the chilies until they are fragrant.

Add in the quartered tomato, onion, garlic, bay leaves, cumin, dried oregano, ground cloves, and cinnamon stick.

Pour in enough water to cover the ingredients and bring everything to a boil.

Once it comes to a boil, reduce the heat to low and let the mixture simmer for about 10 minutes until everything is soft.

Using a slotted spoon, transfer the chilies, tomato, onion, and garlic to a blender or food processor.

Add in about one cup of the broth and blend until the mixture is smooth.

Pour the mixture back into the pot with the remaining broth and stir to combine.

Add in the browned meat and bring everything back to a simmer.

Let it cook for about two to three hours or until the meat is tender and falling apart.

Heat up a frying pan or griddle over medium-high heat.

Take a corn tortilla and dip it into the hot broth to coat it on both sides.

Place the tortilla onto the hot pan and add a generous spoonful of the Birria meat onto the centre of the tortilla.

Fold the tortilla in half and let it cook for about one or two minutes until it is crispy and golden brown.

Flip the taco over and let the other side cook for another minute.

Repeat the process until you have made as many tacos as you desire.

Top each taco with chopped cilantro and diced onions for added flavour and crunch.

Serve with lime wedges on the side for squeezing over the tacos.
Change up your Tacos Tuesdays
Time to switch it up! After having a hot and crunchy taco, it is time to eat something light yet delicious to sweeten your taste buds. So give these acai bowl recipes a try to have the perfect end to your meal. Otherwise, have some local delights and learn how to make chendol so you can satisfy your sweet tooth and add some oriental taste to your Tacos!