"Mirror, mirror on the wall, who's the fairest of them all?" Apart from helping us keep check on our physical appearance, mirrors also play an essential role in interior home design. Whether you're looking to make your space appear brighter, more spacious or just want to take stunning #OOTDs for the gram, here are seven stylish wall mirrors in Singapore that'll help you do that! 
Benefits of decorating your home with wall mirrors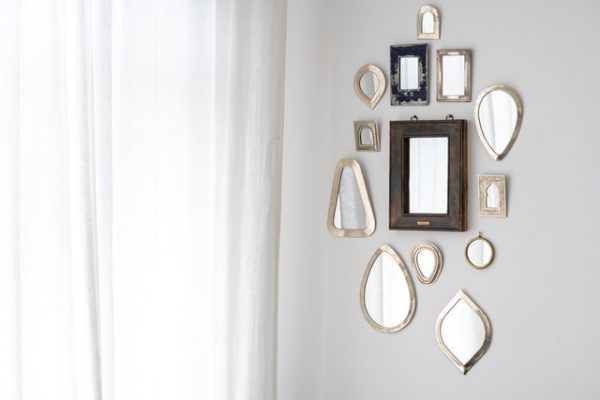 Creating the illusion of space 
Living in a small house? Simply hang a wall mirror in your living room and instantly make your home appear more spacious. If you have a narrow hallway at home, consider placing a mirror in the middle of the hallway to make it look wider.
Hanging a mirror near or opposite a window can help to reflect the natural light back into the room. This will make your room feel more inviting, open and brighter. Besides doubling up on light sources, this also saves electricity costs since mirrors help to light up a room during the day.
Are there holes, stains or discoloured paint on your wall that you wish to hide but find it a hassle to repaint? Hanging up a stylish wall mirror will cover up these imperfections and give your wall a brand new look! 
1. Minimalist round wall mirror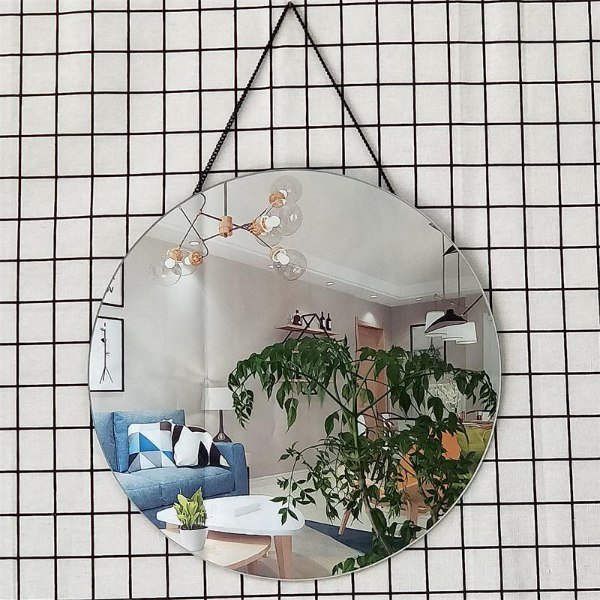 This minimalist boundless geometric mirror (available on Saturn Home Official Store) is a versatile decorative wall mirror in Singapore that'll blend well into every home decor theme. As we tend to view angular lines as hard and harsh, adding round elements to your home may subconsciously calm your mind. Simply hang this up in your bedroom or even bathroom to create a tranquil atmosphere that's perfect for unwinding after a long day. 
2. Multipurpose wall mirror with hooks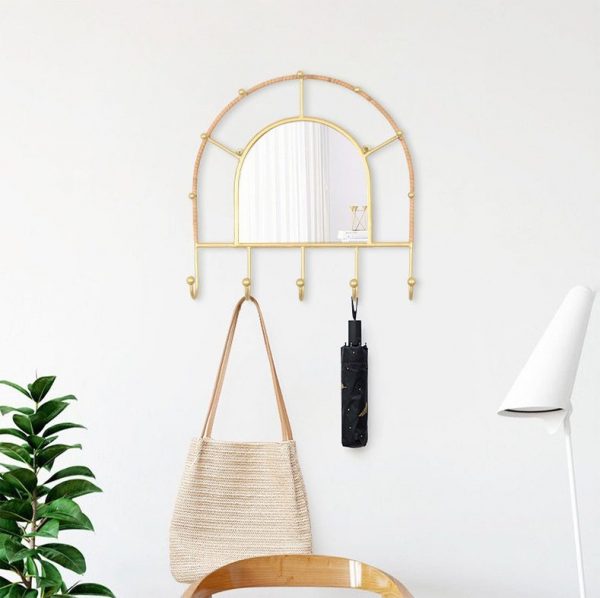 This gold framed multipurpose wall mirror with hooks (available on shengbang.sg) is the perfect wall mirror in Singapore for anyone who prioritises functionality over style. Keep things organised with this nifty mirror with five metallic hooks to hang everyday items like bags, clothes and even accessories such as necklaces and earrings. Have no clue where to place this chic and practical wall mirror at home? Simply hang it up behind your room door or at the home entrance for a final touch up before you step out for the day.
3. Rattan wall mirror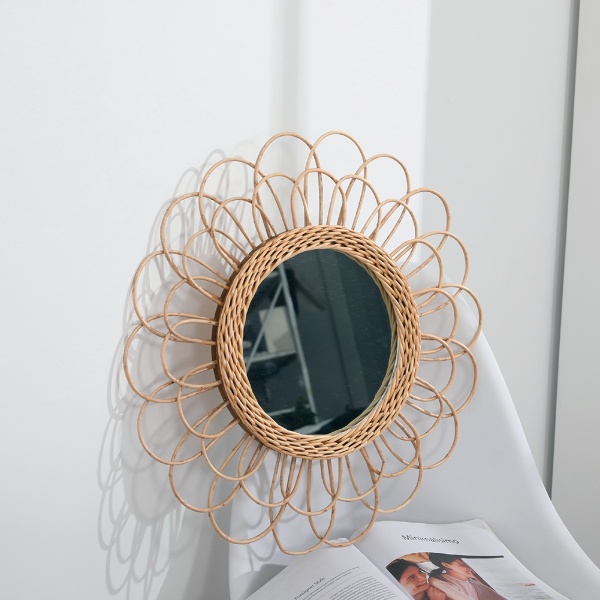 Who says that you can't feel like you're staying in a posh beach resort while living in an apartment in Singapore? This rattan wall mirror (available on bigworld.sg) has a rustic bound frame that channels the holiday vibes and will transport you back to your favourite Bali resort! This mirror does not oxidise or rust easily, making it one of the best decorative wall mirrors in Singapore for transforming your home into a relaxing seaside villa!
4. Moon phase wall mirror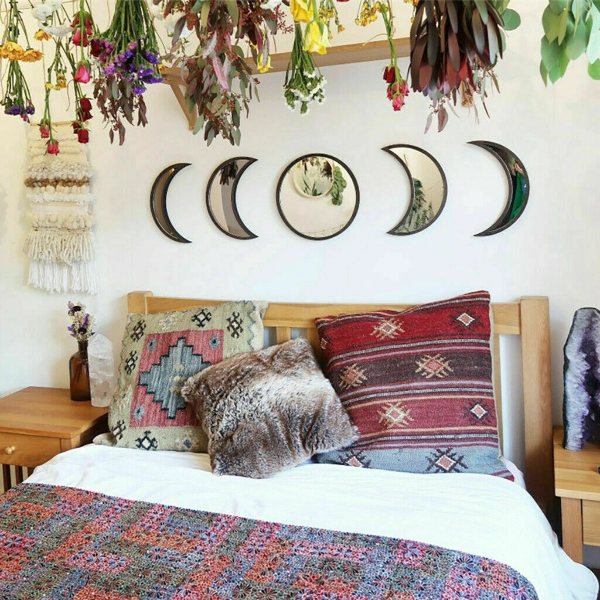 Take your room interior up a notch with this stylish moon phase wall mirror (available on U smile Store) in Singapore! They are available in sets of three or five and you can arrange the order of the crescents and moons according to your preference. Worried that the mirrors will not be evenly spaced out? Fret not, a handy template is included to guide you when putting them up and this also makes aligning the mirrors a whole lot easier. 
5. Cactus wall mirror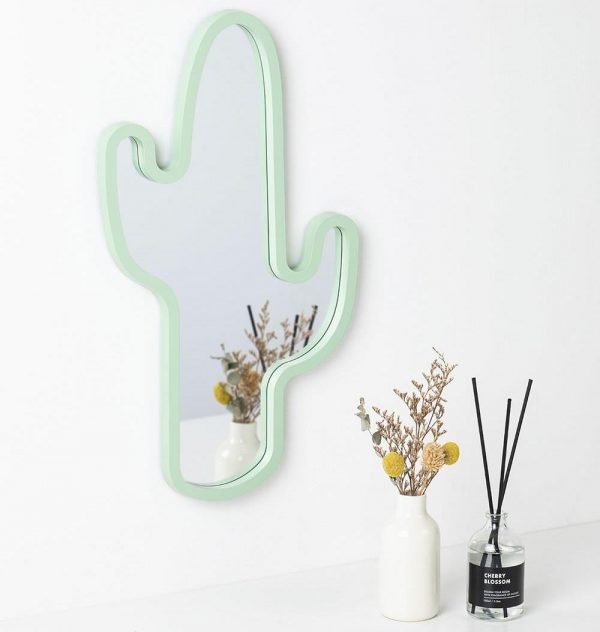 Add a pop of colour to your bare walls with this mint-coloured cactus wall mirror (available on Artboxmall) in Singapore! Thanks to the hook included at the back of the mirror, mounting the mirror is also less of a hassle. Searching for an adorable wall mirror to create a comfy playroom for your little ones? You may want to consider this wall mirror as the pastel mint shade will be calming for your little one, making it a great decor to include in your baby room design ideas. 
6. Nordic decorative wall mirror
Looking for a decorative wall mirror in Singapore that is out of the ordinary? This eye-catching and luxurious nordic wall mirror (available on Shengbang.sg) is a statement piece. With a round mirror in the middle and leaves surrounding it to create the shape of a flower, this works both as a mirror and stylish wall art. Its silver metallic finish also adds a pop of contrast to any dark coloured wall. Hang this mirror directly above your sofa to create a chic and opulent living room!
7. Bohemian style hanging wall mirror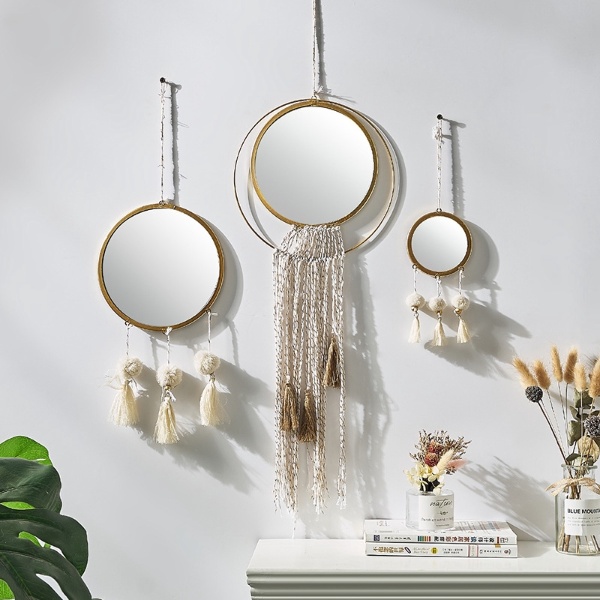 These bohemian hanging wall mirrors (available in Modernatta Decor Store) resemble dreamcatchers and are suitable for the dreamers among us. The mini pom-poms and loose ropes hanging down the mirror make it a wonderful piece of wall art that'll showcase your carefree personality. Available in five designs, you can mix and match these decorative wall mirrors in Singapore to give your room a quick makeover.  
Liven up your home with stylish wall mirrors in Singapore 
From minimalist to cute designs, you're bound to find a decorative wall mirror in Singapore that suits your home and budget. Now that you've got your home interior all settled, why not check out these sleek bar counter design ideas and host friends for late night drinking sessions! Alternatively, if you're settling into your new home then read up on our guide to essential kitchen equipment you'll surely need. Check out other high quality furniture that you can snag at great discounts during our Shopee Home Furniture Sale!