Robust driver quality or in-ear sound isolation? Vivid soundstage or portability? These are some considerations you'll have when comparing headphones vs earphones! Whether you're an avid gamer who wants minimal audio lag or an active runner who needs a sweat-resistant audio companion, we have you covered in this comprehensive guide that debates when to use headphones vs earphones and what are the best ones for each activity. Take note that headphones and earphones have their own advantages that make them suitable for different occasions! For example, both headphones and earphones are great for exercise but you'll likely want the portability of earphones while running and the optimal headphone sonics while in the gym.
Headphones Vs Earphones – Workouts
Best earphones for exercise junkies
1. JBL Endurance Sprint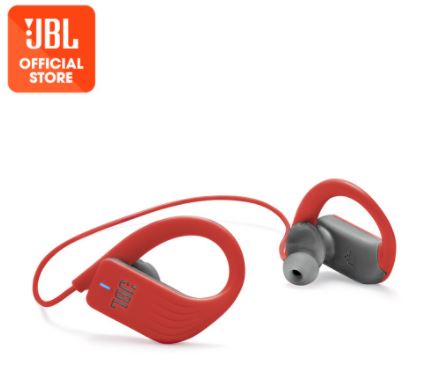 When it comes to headphones vs earphones for workouts, there's no shame in cutting bulkiness and sacrificing driver quality for added portability. Fortunately, with JBL's Endurance Sprint (available on JBL Official), you can enjoy the best of both worlds. These water-resistant JBL earbuds don't compromise on audio quality either. Boasting IPX7 water resistance and eight hours of play time, you'll never have to fret about them dying on you mid-exercise. Also, if you're a fan of low bass music, you'll be glad to know the Endurance Sprint places adds emphasis for its bass and treble undertones! This synergises with your workout playlist to motivate you during those intense workouts.

Want the background track in your songs to be more amplified? Embrace a higher range of frequencies and heightened undertones with these:
Best headphones for exercise junkies
2. Plantronics Backbeat Fit 6100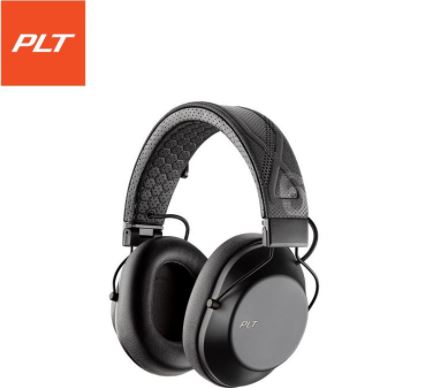 Who says headphones can't feel comfy when exercising? Many users often disregard headphones when it comes to the fitness aspect of the headphones vs earphones argument. With the Backbeat Fit 6100 (available on Plantronics Official), Plantronics have gone the extra mile to guarantee a feel-good gym experience! Thanks to its hexagonal groove designed headband, your wireless headphones will stay put even during the most vigorous squat sets. Additionally, these lightweight headphones have IPX5 water resistance and are lined with a unique sweatproof leather for a more comfortable gym workout session.
On top of these exercise-friendly features, the Backbeat Fit 6100 is certainly no slouch in its audio performance. From slim 40mm angled drivers to noise isolation features, this is basically everything you could want from a pair of value-for-money gym headphones.
Headphones Vs Earphones – Music
Best earphones for music heads
3.

Shure SE215 Wireless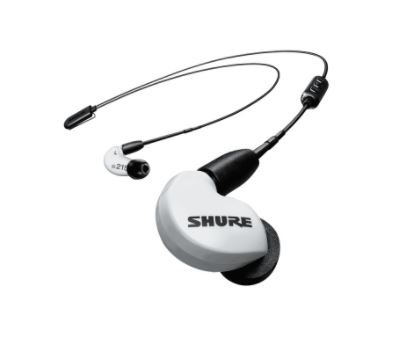 Whenever anyone brings up the headphones vs earphones debate, you're bound to hear how earphones with smaller drivers don't produce the best sounds. While it's generally true across most earphones for music, they compensate for this with increased portability. After all, there's no better feeling and convenience than plugging in your premium earphones to enjoy your favourite song while on the go!
Need recommendations? The Shure SE215 Wireless (available on SHURE) is praised among enthusiasts for its vibrant and clear sounds. On top of its clear sonic production and extensive frequency range, the SE215 Wireless stands out from the competition thanks to its over-ear form factor so you won't face your earbuds falling out.
Still not hearing the subtle background track being sampled in your favourite song? Embrace the higher range of frequencies and amplified undertones with these:
Best headphones for music heads
4. Audio-Technica's ATH-M50X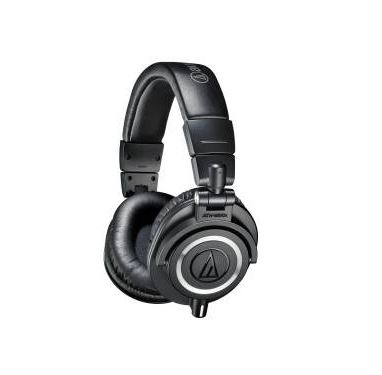 Dive into the wonderful world of studio headphones! If you're intrigued by tracks with strong instrumentals, you'll be in for a treat as studio headphones are great at highlighting the subtle nuances in your music!
With Audio-Technica's ATH-M50X monitor headphones (available on Audio Technica S.E.A. Official Store), you can enjoy a host of additions to enhance your overall aural experience. From featuring an extended frequency range to ensuring minimal distortion across all frequency ranges, studio headphones are a huge upgrade when it comes to appreciating the finer side of your tunes!
Headphones Vs Earphones – Games
Best earphones for gaming enthusiasts
5. Razer Hammerhead True Wireless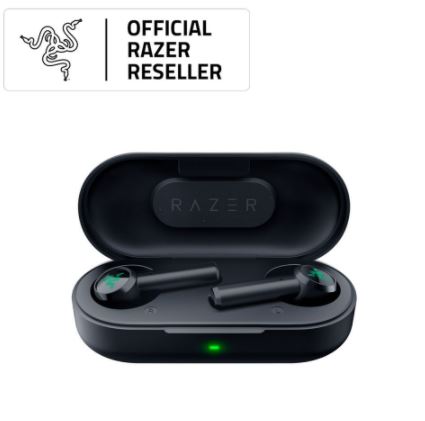 When it comes to deciding between headphones vs earbuds for gaming, it's difficult to not mention the Razer Hammerhead True Wireless earbuds (available on Razer Official Store) — a pair of earphones specifically designed for gamers! If you hate wearing thick and bulky headphones for hours while gaming, you'll appreciate the lightweight Hammerhead True Wireless. New to the world of competitive video games? Razer eases you in by granting these gaming earphones a heavy bass sound profile! This helps to amplify all kinds of ambient sounds so you're more aware of your surroundings.
Curious about the sound profiles of gaming headphones vs earbuds? Razer has included a tonne of cool features to win over users. Irked by audio input lag? Don't fret — turn on the built-in Gaming Mode and minimise the sound latency so you can get the drop on your foes. These earphones also offer up to 16 hours of usage when paired with its pocket-friendly charging case — perfect for gamers on-the-go
Not a mobile gamer? Get the definitive gaming experience with these:
Best headphones for gaming enthusiasts
6.

Steelseries Arctis Pro Wireless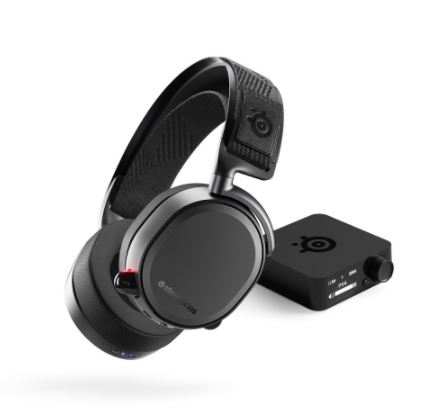 In competitive multiplayer games, audio transmission speed and defined soundstages can often determine victory or defeat. Leveraging upon features like bluetooth 5.0 and enhanced sound accuracy, the Steelseries Arctis Pro Wireless headphones (available on Steel Series Official Store) excels by letting you pick up the faintest of mid-game footsteps and gunshots. Consequently, you can then use this information to crush your opponents before they even know what hit them. 
There's nothing that kills an in-game squad faster than miscommunication. To allow for crystal clear communication, the Steelseries Arctis Pro Wireless packs one of the best microphones in the gaming space! Be prepared for studio-level vocal clarity and excellent background noise cancellation as you issue commands and lead your team to victory.
Settling the headphones vs earphones debate
From the workout-friendly Plantronics headphones to true wireless earbuds from Razer, there's no shortage of the best brands for headphones and earphones with us! Regardless of which side you're on, we hope our headphones vs earbuds guide has been handy in helping you make your final decision. Keen on exploring other wireless earphone options? Find your favourite model from our 10.10 Brands Festival with this guide to the best wireless earphones! Otherwise, if you're a hardcore headphone fan, you'll love our list of the best noise cancelling headphones to plug in and tune out to.