It's no surprise that beauty service prices are jacked up during Chinese New Year (ahem, surcharges). But that doesn't mean you can't get a pretty manicure without feeling the pinch! Instead of booking an appointment at salons, why not give home based nail salons a try this CNY? Here's a list of popular and affordable nail salons in Singapore that can help you achieve your nail goals this festive season! 
About home based nail salons in Singapore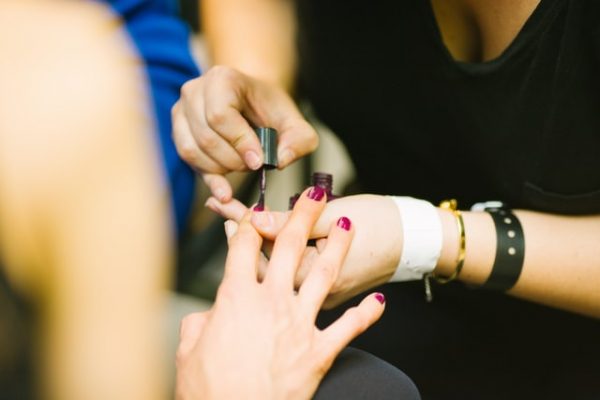 Just as the name suggests, home based nail salons are usually based in the nail technicians' residential homes and do not have a shop front. While some may not be as spacious as regular nail salons, they provide a more intimate experience as most of them only serve one customer per session. Plus, without the rental cost, many they often are able to offer more competitive prices! Since these services are carried out at a residential address, do note that you'll only receive the full address of the home based nail salon after you've confirmed an appointment with them. 
Home based nail salons in the north 
1. BB_Glamours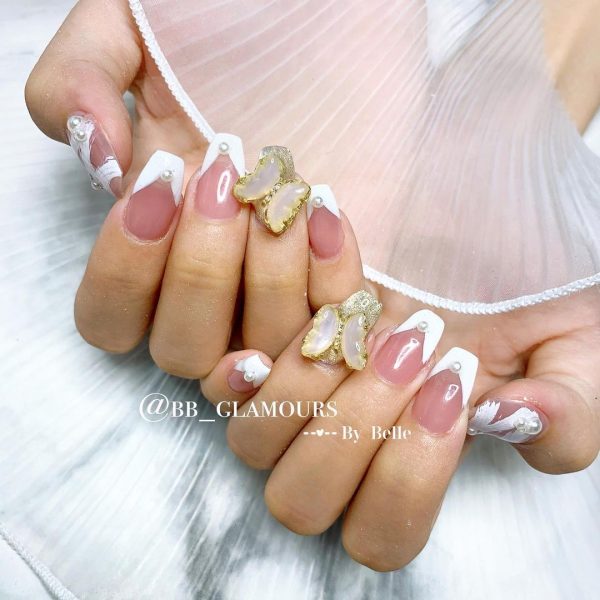 Too busy to look for a nail design for your CNY manicure? Fret not, you can leave it all in the hands of Belle from BB_Glamours. This home based nail salon in Sengkang offers mystery nail designs at only $48 — yes, you read that right! For less than $50, you get to enjoy a classic gel manicure along with a unique mystery design that's decided by Belle herself. On top of that, you're also entitled to a coat of hardgel overlay for all your nails. This helps to ensure your manicure stays shiny and chip-free post-CNY ! 
Demand for this affordable nail salon in Singapore is quite high, so we highly recommend you make bookings as soon as possible. Also, do take note that there will be a $5 to $20 CNY surcharge starting from 18 January to 11 February, depending on how close your appointment date is to Chinese New Year. You'll also need to place a $20 deposit that's non-refundable to confirm your booking. This amount will be used to offset your total bill at the end of your appointment. 
Location: Sengkang
CNY Surcharge:
18 – 22 Jan: $5
23 – 28 Jan: $8
29 – 31 Jan: $10
1 – 5 Feb: $15
6 – 11 Feb: $20
Book your appointment here
2. Maniqure By Ling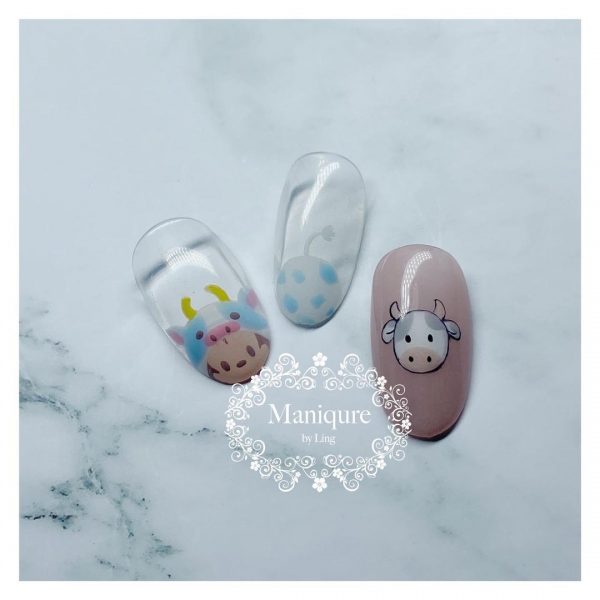 Credibility is key when you're selecting a home based nail salon. Maniqure By Ling is a trustable nail technician who has been featured by Her World Brides, Singapore Brides and The Smart Local — so there's no doubt about the quality you'll get here. Plus, if you're one to go for cutesy CNY nail designs, you'll definitely be satisfied by Ling's ability to make adorable characters come to life! Take for example the endearing cow motif and Mickey Mouse in cow costume designs which she has created specially for the Year of the Ox. 
Prices are kept relatively affordable at this home based nail salon in Singapore. Classic gel manicure cost $40 and include nail shaping, cuticle care, buffing and a coat of gel polish of your choice. Her signature free hand nail art designs start from $2 per nail and will vary depending on how intricate the design is. Fancy some bling to go with your CNY outfits? Nail embellishments here start from $0.50 per piece so you can go wild and deck your nails in jewels without worrying about the price tag! 
Location: Khatib
CNY Surcharge: None
Book your appointment here
Home based nail salons in the south
3. Fingerme.sg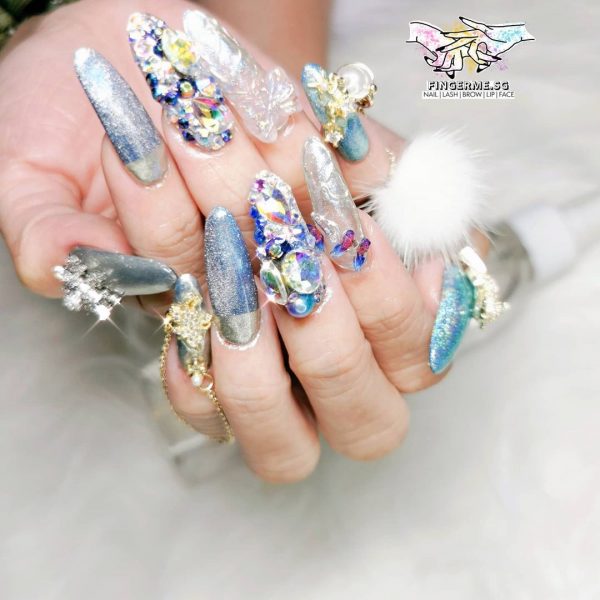 What's the point of getting your nails done if they are not going to be noticeable? Go loud or go home this CNY with Fingerme.sg, your one-stop home based nail salon for bold nail designs! From chroma nail powders to 3D nail arts and foils, Fingerme.sg has got everything you need to create your dream nails for Chinese New Year. While embellishments can get quite expensive in regular nail salons, they are reasonably priced here. Enjoy a full set of nail powder design at only $15 and accessorise your manicured hands with a 3D nail art from $4 per nail. 
Psst, this affordable nail salon in Singapore is also running a CNY promotion! At $68, you get to enjoy unlimited classic gel manicure (excluding hand-drawn nail art and premium charms) with free hard gel overlay and intensive cuticle care. This is perfect for pampering your hands after all that spring cleaning! Worried that your nails are too short for nail art? Simply top at $20 to get gel extensions. Surcharges for CNY will begin on 18 January and end on 11 February, ranging between $8 to $25.
Location: Alexandra
CNY Surcharge:
18 – 24 Jan: $8
25 – 31 Jan: $15
1 – 9 Feb: $20
10 – 11 Feb: $25
Book your appointment here
4. Okkonails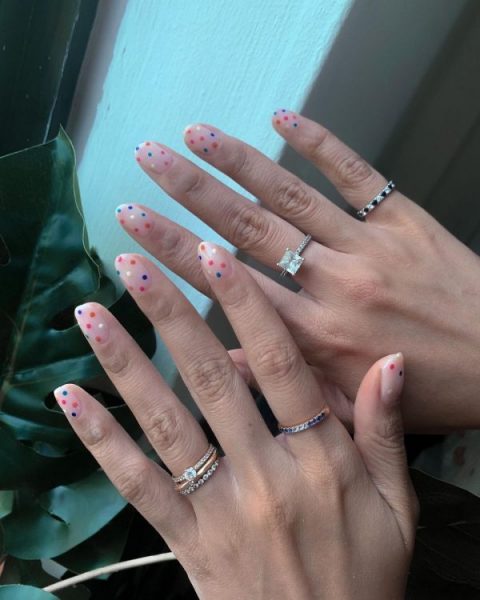 If you're in the mood for some minimalistic nail designs that will match with any CNY outfit, Okkono at Okkonails is the expert to turn to. She specialises in simple geometrical patterns and avant garde designs that look oh-so-sophisticated. Thanks to their minimalistic styles, these nail designs can also be work appropriate too! Plus, prices are pretty affordable at this nail salon in Singapore. It costs $25 for express gel manicure and $40 for a classic. You can also get your pedicure done here, starting from $25 for express service. Extensions usually cost a bomb in nail salons, but a full set of Apres Gel-X will only set you back at $70!
Planning to book your CNY nail appointment with this home based salon? We've got good news for you! There will be no CNY surcharge at Okkonails through January to February. All you have to do is to place a $20 non-refundable deposit to secure your slot which can be used to offset your total cost. As there's no surcharge, slots are snatched up really fast so be sure to book your appointment as soon as possible. 
Location: Tiong Bahru
CNY Surcharge: None
Book your appointment here
Home based nail salons in the east 
5. Nailmachineservices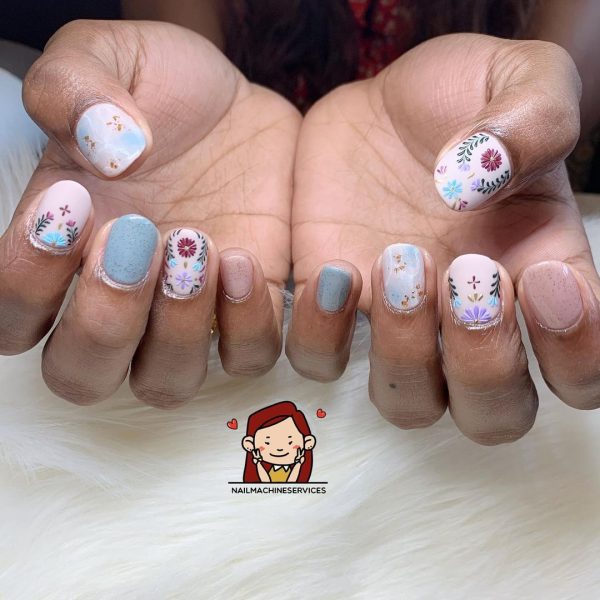 Unlike regular canvas drawings, hand-drawn nail art designs are more complex and challenging due to the smaller sizes of fingernails. However, no nail art design is too difficult for Kimberlyn, the certified nail technician behind Nailmachineservices! Kimberlyn is capable in recreating whatever design you show her, be it mosaic tiles-inspired nail art or life-like floral designs. We're sure your relatives will marvel at how detailed your nail design is this CNY!
While embellishments usually only require proper positioning and adhering, hand-drawn designs take a lot of skill, effort and time. This is why many nail salons may charge a higher rate for hand-drawn nail art. However, you won't be getting any nasty surprises when the final bill is concluded at Nailmachineservices as you can always send your desired nail art to Kimberlyn for a quote. She's also open to making changes to your desired nail art to ensure the total price stays within your budget. Nailmachineservices is an affordable nail salon in Singapore, with prices ranging from $28 for express gel manicure to $38 for classic gel manicure. Extensions will cost $11 per nail. CNY surcharges apply from $10 to $20 between 21 January and 10 February. 
Location: Bedok Reservoir
CNY Surcharge:
21 – 27 Jan: $10
28 Jan – 3 Feb: $15
4 – 10 Feb: $20
Book your appointment here
6. Eunicetannails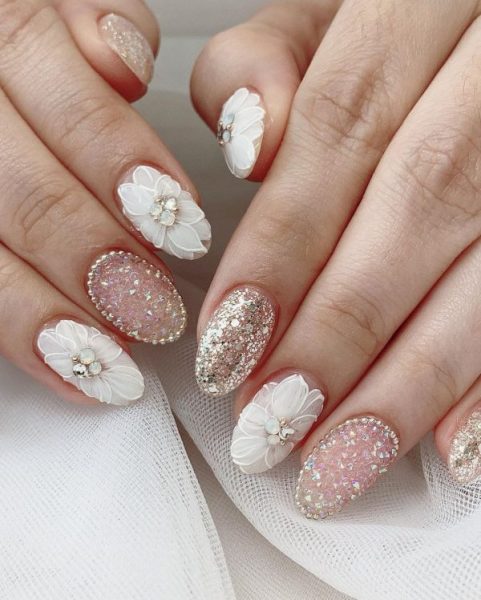 If you're looking for more elegant, Korean-inspired nail designs, you've got to pay EuniceTanNails a visit! With a relatively strong following of almost 10,000 followers on Instagram, this home based nail salon has established a group of loyal customers who return time after time for Eunice's amazing talent. From cracked shells to hand-drawn watercolour floral designs, Eunice can handle them all! Another plus point about this affordable nail salon maintains high hygiene standards. All tools are sterilised before use and nail files as well as buffers are not re-used on customers.
However, do note that you'll have to make a non-refundable deposit of $50 for CNY when booking an appointment. This deposit will be used to offset the total cost. Additionally, there will be a CNY surcharge of up to $25 from 16 January. With that said, the price list at EuniceTanNails is still pretty affordable with classic gel manicure at $55. There's no fixed price for nail art, hence it'd be good to send Eunice a picture of your desired nail look for an accurate quote. 
Location: Simei
CNY Surcharge:
16 – 22 Jan: $5
23 – 29 Jan: $10
30 Jan – 5 Feb: $20
6 – 10 Feb: $25
Book your appointment here
Home based nail salons in central
7. Eileennailssg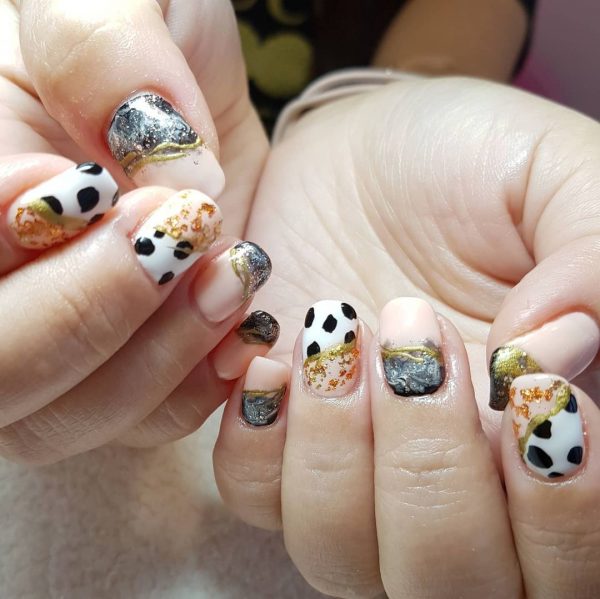 It's the Year of the Ox, which means you have an excuse to go all out with cow prints for your CNY manicure! Get moo-ving with Eileennailssg, a home based nail salon located in Bidadari. Eileen is not only skilled at drawing cow prints, she also has a flair for art and can fuse trending designs with oriental ones for Chinese New Year. At this affordable nail art salon in Singapore, you can get a classic gel manicure with unlimited nail art done at only $68! Extensions are also available at $10 per nail. 
Furthermore, this is one of the few home based nail salons that provide pedicure services. At $50, you can enjoy a classic gel pedicure with unlimited gel colours, sea salt scrub and dead skin removal. Everything you need to get your feet ready for those pretty Chinese New Year high heels! Slots are limited for this festive season and Eileen is almost fully booked out. So act fast to secure a session at Eileen's newly renovated nail studio — psst, it's all decked out in pink! 
Location: Bidadari
CNY Surcharge:
11 – 15 Jan: $8
16 – 22 Jan: $15
23 – 29 Jan: $20
30 Jan – 5 Feb: $25
6 – 10 Feb: $30
11 Feb: $38
Book your appointment here
8. Celinenailedit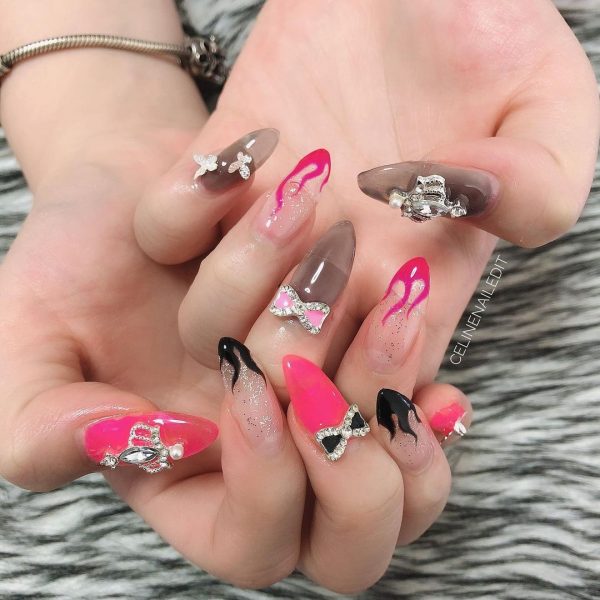 Not everyone is born with strong, long nails. Which is why many of us rely on nail extensions to create length and space for fanciful nail art designs! However, nail extensions can get quite expensive and often cost beyond $100 in most nail salons. Aside from the price, you'll also need to ensure your nail technician is trained in nail extensions to ensure durable retention and minimise any potential damage to your nails. 
Leave your worries behind when you engage Celine from Celinenailedit! This affordable nail salon in Singapore provides nail extension services at wallet-friendly prices. The nail extensions have also been highly raved for their long retention time. A set of simple nail tip extensions with overlay and unlimited designs (be it charms or nail art) will only cost you $50. Meanwhile, sculpted hard gel extensions with unlimited designs cost $65 and you can get acrylic extensions with unlimited designs for $70. You can even bring along a friend to this home based nail salon to enjoy a $5 discount each for extensions! 
Location: Ang Mo Kio
CNY Surcharge:
11 – 17 Jan: $5
18 – 31 Jan: $8
1 – 7 Feb: $10
8 – 11 Feb: $15
Book your appointment here
Home based nail salons in the west
9. Mynailcottage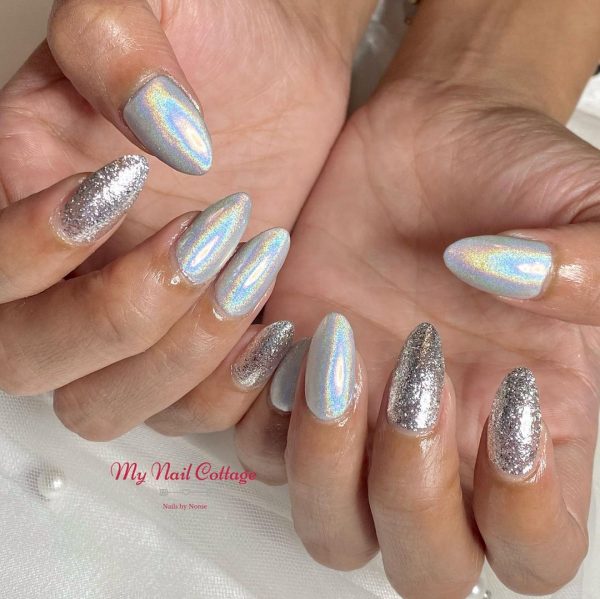 It's all about the glitz and the glamour this Chinese New Year! So get your nails decked in mesmerising holographic nail art at Mynailcottage. As one of the best nail deals for CNY, the Express Unlimited All In package includes express gel service as well as unlimited colours, designs and add-ons with free overlay and free return soak-off services for only $60, what a steal! You can even grab a buddy to enjoy the Classic Unlimited Add In package at $120 for two sessions. If you're going for extensions, we suggest picking the $88 Full Gel Extensions Unlimited package which include classic gel service, unlimited colours, designs and add-ons as well as free soak off. Choose from Swarovski crystals, premium charms and decals for your add-ons to make your nails stand out from the crowd! 
Mynailcottage understands that not everyone can afford the full cost of a manicure session for Chinese New Year. Hence, with her own goodwill she's open to discuss the prices for lower income or unemployed individuals as well as students. However, do note that she may request for verifications for such arrangements. Also, this home based nail salon operates at two locations, Bukit Batok and Tiong Bahru. So be sure to confirm the location with Mynailcottage for your desired date before booking your appointment. 
Location: Bukit Batok and Tiong Bahru
CNY Surcharge: None
Book your appointment here
10. Flutterytips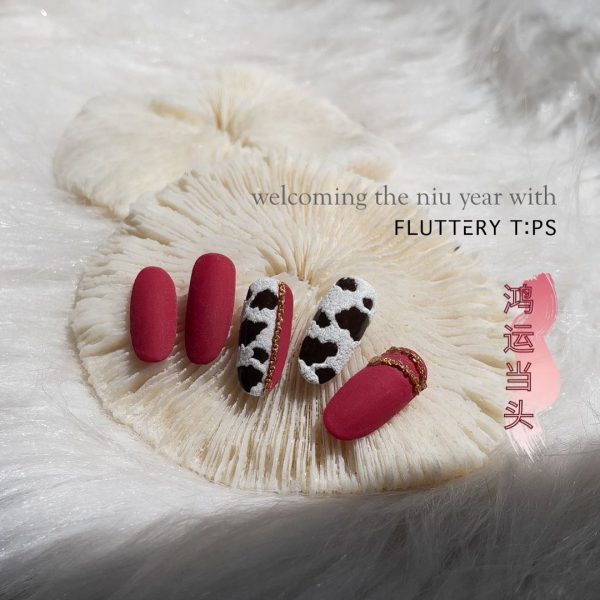 While some may agree that cow prints may not seem as sexy as leopard prints, Rebecca at Flutterytips begs to differ. Having worked on nails for editorials and commercials, the Rebecca specialises in eclectic nail art with unique designs. If this is a style you're going for, be sure to make an appointment at the Flutterytips! Prices start from $50 for a classic gel manicure and $60 for classic gel pedicure. Bespoke designs are subjected to extra charges so check in with Rebecca to get a quote. Do also note that there's a fixed $15 CNY surcharge for this period. 
If you're too lazy to step out of the house to get your nails done, Flutterytips house call services will be a godsend! Rebecca will bring all the necessary nail tools to your home and dress your nails without you having to set foot out of the door. Expect slightly higher prices house call service, starting at $60 for a classic gel manicure and $70 for classic gel pedicure. The total bill will also include transportation charges of $20 to $50 and the CNY surcharge of $20.
Location: Clementi
CNY Surcharge:
At Flutterytips home based nail salon: $15
House call service: $20
Book your appointment here 
Enjoy a pampering sesh at these home based nail salons 
These affordable nail salons in Singapore prove that getting your nails done doesn't need to be a costly affair! If you'd like your nails to be in tip top condition for Chinese New Year, we suggest scheduling your appointment as close to CNY as possible. And if you're looking to remove your manicure design yourself after the festive season is over, refer to our step-by-step guide on removing gel polish to avoid damaging your nails. For other CNY essentials, check out our 2.2 CNY Sale to snag great bargains!