So you're going on a first date with someone special on Valentine's Day — we can imagine the butterflies! If you're nervous about making a first impression, we've got you sorted with this style guide of ideas on what to wear on a first date. After all, nothing is as much of a confidence booster as looking and feeling your best! Psst, couples who are already together for a period of time can tap on these attractive date outfit ideas to recapture that heart flutter too.
1. The daytime date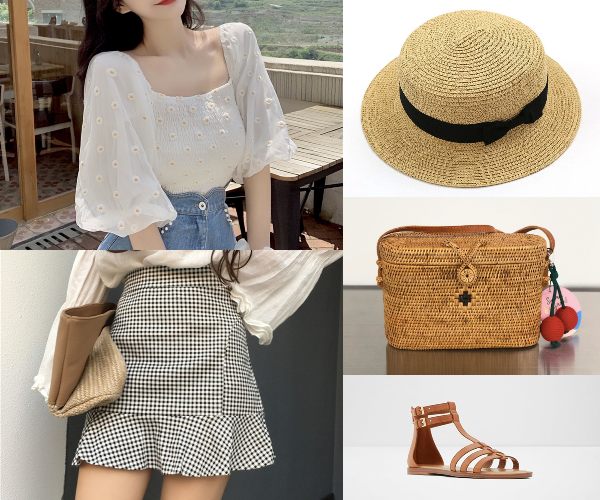 Going for a  relaxing picnic sounds great for a first date doesn't it? With so many picnic places in Singapore, there is bound to be somewhere you both are eager to go! Not sure what to wear on a first date for a picnic? We suggest going for something thin and breathable to beat the heat in. The Korea Off-Shoulder Little Daisy Blouse (available on Miss Jan) is made of thin polyester fabric and features the popular puff sleeves design for a girly silhouette. Its shirred design makes this top flattering for ladies of all body shapes. Throw on an IEGLY Plaid Skirt (available on IELGY.SG-Women's Official Store)  with a subtle ruffled design to show off your beautiful legs. 
Of course, a picnic date outfit isn't complete without a few rattan accents. Be sure to bring along a Straw Hat (available on Coobuy Flagship Store) to shade yourself from the scorching sun. The Summer Honeymood Rattan Loaf Bag (available on NOTAG Official Store) is also perfect for this occasion! As for footwear, go for a pair of ALDO MUTISIA Women Round Toe With Zipper Gladiator Sandals (available on Aldo Official Store). The zipper at the back makes it convenient for wearing and taking the sandals off, in case you want to enjoy a barefoot stroll with your special someone!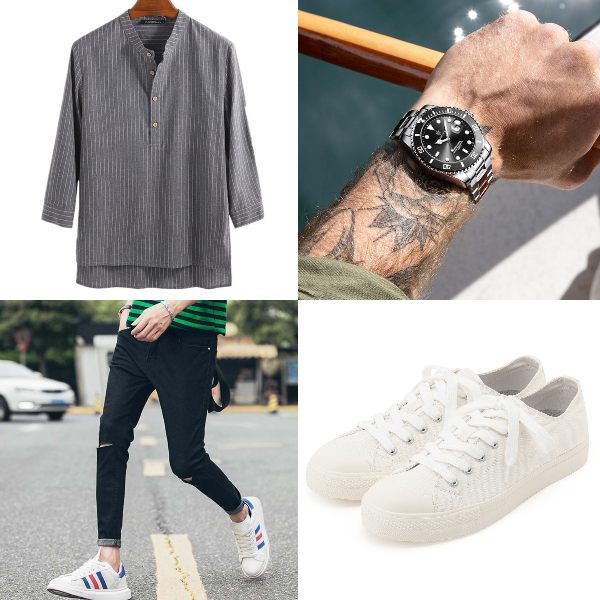 The girl of your dreams agreed to hang out with you on Valentine's Day, but where should you take her for a memorable daytime date? Don't rack your brains, here's a great idea for you — a brunch date at one of these popular Tiong Bahru cafes! Afterall, it's the same for girls — the way to her heart is usually through her stomach too!
Once you have the location settled, the next question to ask is what to wear to a first date? For a brunch date, dress the part by avoiding anything too formal. Wear the INCERUN Men Casual Slim Fit Half Sleeve Striped Print Shirt (available on INCERUN), leaving the buttons open for a more casual getup. Skip formal pants and instead, go for a pair of Men Ripped Jeans (available on Cool Man) for a more relaxed appearance. Tie the look together with a pair of MUJI Men's Walk Support Water Repellent Sneakers (available on MUJI Official Store) and a luxurious-looking DITA Chronograph Waterproof Quartz Wristwatch (available on dita.official.sg). 
2. The stay-home date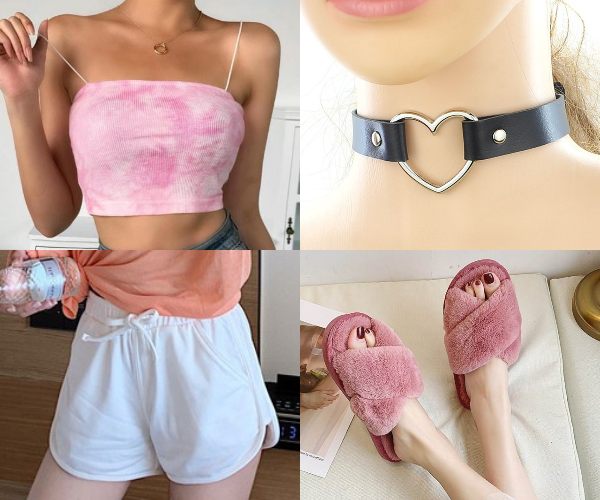 Inviting your date over for a bake off this Valentine's Day? Ditch the usual school T-shirt which you've worn to death and replace with this fun Camisole Tie-Dye Print Rib Top (available on icebear 2018.sg). We absolutely love the thin spaghetti straps which help to draw more attention to your pretty collarbones and shoulders. Stay comfy with a pair of Einashop Zoie Cotton Shorts (available on einashop – premium selection) and show that you've put in the effort to dress up a little with a cute PU Leather Heart Choker (available on bluefish.sg). Complete this casual yet flirty look with a pair of Faux Fur Indoor Slippers (available on factorydirect889.sg)!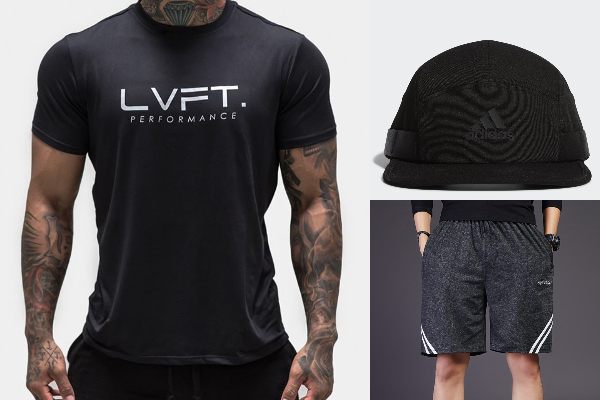 Invited your date to your home gym to sweat it out together on this special occasion? Well, you've got to play up your assets and show off those buff arms to impress her! The slim cut of this LVFT Men's Gym Cotton T-shirt (available on FY Fitness) will accentuate your muscular silhouette. Additionally, its breathable cotton material means you need not worry about any potential stench. Pair it with these Sports Shorts With Pockets (available on mshretail) and a cool yet minimalistic Adidas Training 4CMTE Black Cap (available on adidas Official Store) for a cool, yet comfy athleisure look! 
3. The after-work date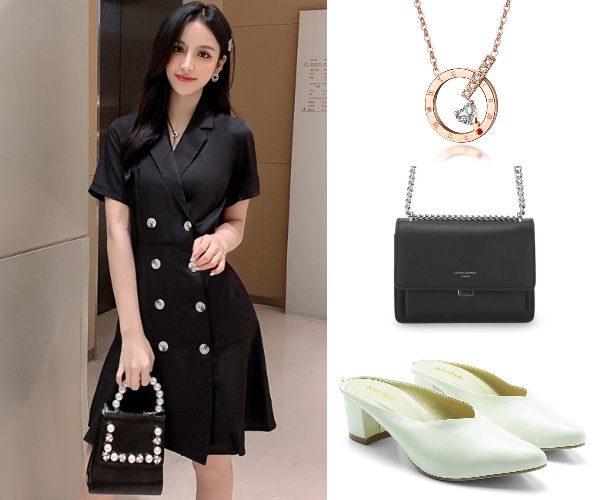 Beat the crowds and celebrate Valentine's Day on a weekday this year! This also means you'll have to put in extra thought on what to wear on a first date as you'll need an outfit that's both work and date appropriate. 
The Korean Suit Mini Dress (available on shrimp.fashionshop.sg) strikes the perfect balance as it looks professional yet stylish enough for a dinner date after work. In addition, it features a fit and flare cut to make you appear slender and feminine. As the dress has a V-neckline, don't leave your neck bare. Instead, accessorise with the YOUNIQ Love O'Clock Roman 18K Rosegold Necklace (available on YOUNIQ) to add an elegant flair. As for your bag, we suggest ditching your regular chunky women's briefcase and picking something smaller, like the David Jones Women Chain Sling Bag (available on David Jones SG Official Store) which is still spacious enough to hold your valuables and other knick-knacks. Create the illusion of longer, slimmer legs with a pair of Isabel Adelia Women's Chunky Mules (available on isabeladelia.sg). Its closed toe design makes it appropriate even for the office.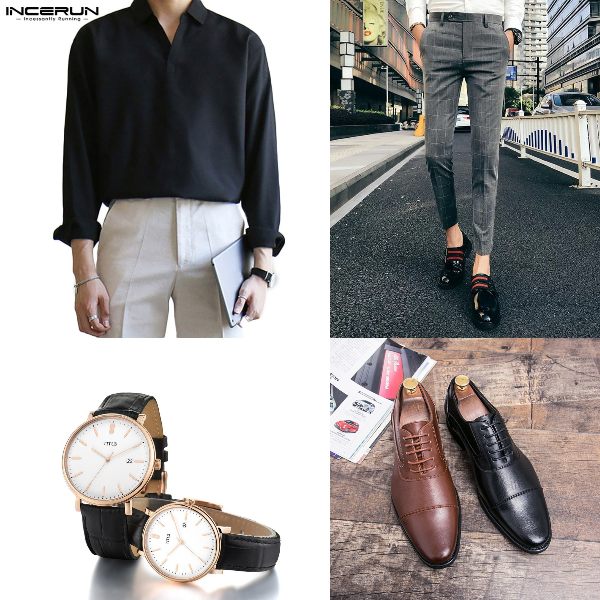 Many gentlemen maintain a minimalistic wardrobe for a streamlined and fuss-free way when dressing up for work. However, today is the day to put extra effort into what to wear for a first date after work. 
Put on your favourite watch, such as this Solvil et Titus Men's Quartz Analogue Watch in Silver White Dial and Leather Strap (available on City Chain Stores (S) Pte Ltd.). Bring out your boyish charms with this flowy and oversized INCERUN Men Long Sleeves Collared Shirt (available on INCERUN). Instead of plain formal pants, why not elevate the style of this outfit with a Men Plaid Ankle-length Formal Pants (available on mukeshopeer.sg)? Tuck your shirt into the pants and accessorise with a belt of your choice. Lastly, slip into a pair of formal shoes, like these Leather Men Formal Shoes (available on INLIKE SHOE《ready stock》) and you're ready to go! 
4. The late night date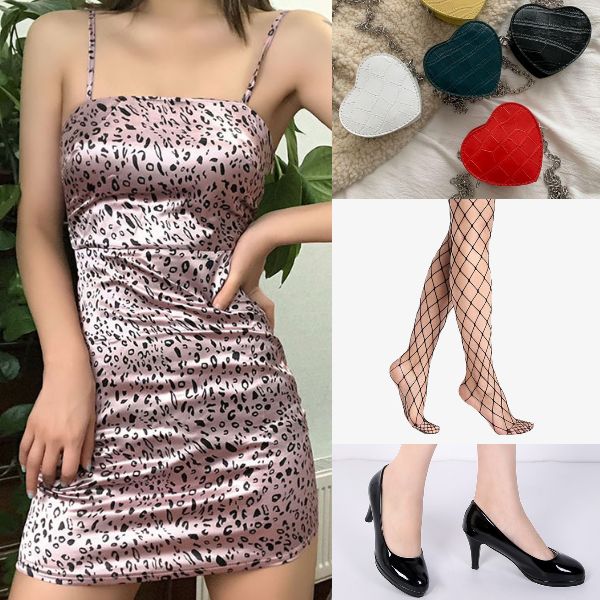 Meeting your date for the first time can be nerve wrecking, especially if you're worried about long, awkward silences. Going for an after dinner tipple can be one way to break the ice! Whether you're meeting him at a posh rooftop bar or a mysterious hidden bar in Singapore, the time calls for your sexiest outfit. 
When it comes to what to wear on a first date at the bar, we suggest going for body-hugging dresses like this attractive Leopard Prints Silky Mini Dress (available on KEAIA.sg). It hugs your curves and ends perfectly at your mid-thigh — definitely a dress that will take his breath away. If you feel like you're showing too much skin, slip into some FUNFIT Fishnet Tights (available on Funfit Outlet Official Store) for a more covered up, yet fun look. Remember comfort is key! Choose a supportive pair of footwear like these IEGLY Thick Heels (available on IELGY Women's Shoes Official Store). And if you need a bag to hold your keys, phone and wallet, the Crocodile Pattern Peach Heart Shoulder Small Bag (available on Yrd Fashion Shop) will fit the bill.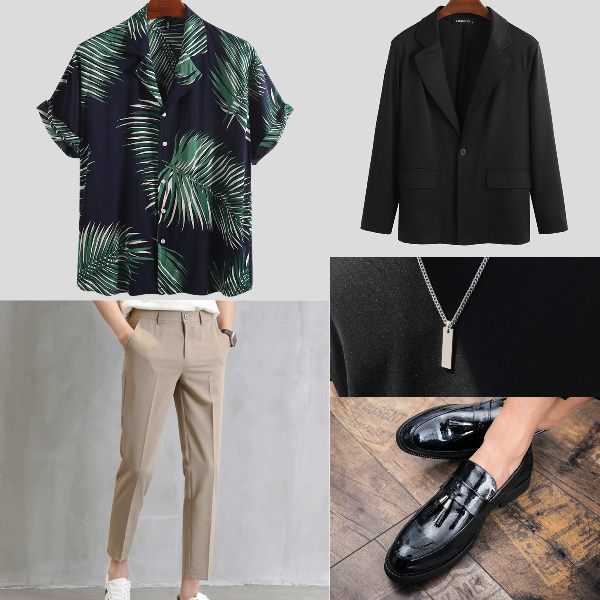 You can either grab a few drinks or catch a midnight movie for a late night date. If you've booked a movie, carrying along outerwear like the INCERUN Men Casual Blazer (available on INCERUN) will be a good idea — especially if your date feels cold in the cinema! This blazer features an oversized fit with a single button design, giving it a stylish casual vibe that will not be too formal for a date night. Be sure to roll up the sleeves to play up the laid back style. To score more points in the fashion department, go for a printed shirt underneath the blazer, such as this Men's Hawaiian Casual Short Sleeve Collar Shirt (available on Mr.only). 
Meanwhile, keep things simple for the bottoms by picking these Men Ankle-length Khaki Pants (available on mukeshopeer.sg) which will contrast nicely against the glossy black Mens Pointed Loafers (available on INLIKE SHOE《ready stock》). Add in some streetwear elements by accessorising with the FLYDAY Minimal Stick Necklace (available on FLYDAY OFFICIAL). Your date is bound to be impressed by your impeccable dress sense!
Other first date outfit ideas
We hope these date outfit ideas give you the inspiration you need to dress up for V-day. Need more suggestions on what to wear on a first date? Check out our guide to men's oversized shirts and high waisted jeans outfits for women! Snag your desired fashion apparels at discounted prices through the use of these fashion vouchers and explore other fashion bargains on our Fashion On A Budget page!