You've seen it on Korean celebrities like IU and the BlackPink girls. Hollywood icons like Lili Reinhart and Zendaya were spotted in it too. Yes, we're talking about the girly puff sleeve blouses that are a must-have in your wardrobe this summer! Puff sleeve tops earned themselves the reputation of being an over-the-top outfit choice in the 1900s. And the French-inspired blouses are back in a BIG way this year. They come in a large variety of styles that even the minimalist fashionista will find irresistible. Find out how to style different puff sleeve blouse designs to achieve a modern-chic look today!
1. The glam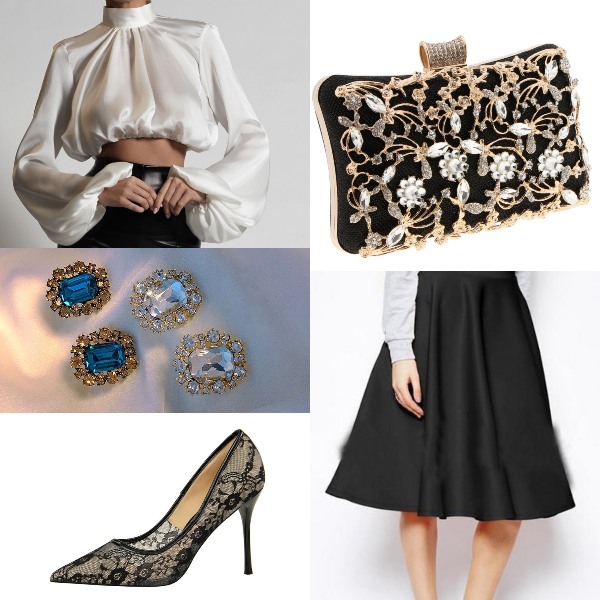 An invite to a wedding or a cocktail party is always a great excuse to glam up! Steal the limelight in a high neck cropped puff sleeve blouse (available on walkmart.sg) made from satin-like fabric that'll shimmer with every move. Pair it with a flattering high waisted A-line midi skirt (available on Be My Queen). No glamorous outfit is complete without a pair of glamorous high heels — like these IELGY mesh lace stilettos (available on IELGY Official Store). The lace design and pointed closed toe means it'll sneakily hide your non-pedicured feet.
Don't forget the details! Store your lipstick and touch-up necessities in this bling crystal rhinestone evening clutch (available on Fenteer1) which comes with a gold chain sling — useful for when you need to keep your hands free for the endless wine toasts! Spice up the look with a pair of big crystal earrings (available on DDFI Store | Fashion&Accessories) that'll go perfectly well with the bling on your clutch!
2. The seductive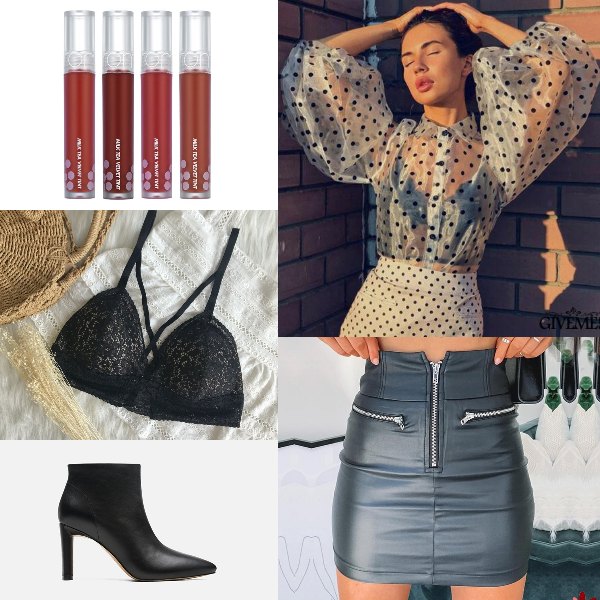 Think that most puff sleeve tops are too feminine and girly? Think again! Whether you're out for a girl's night out or want to re-create an edgy look, this sexy polka dot see-through puff sleeve blouse (available on giveme5) will do it for you! Keep the entire look classy with a black Evelyn lace bralette (available on thebraletteshop) which features a criss-cross strappy design for extra oomph!
Accentuate your figure with a leather mini skirt (available on icebear2018.sg) and a pair of PAZZION black heeled ankle boots (available on PAZZION Official Store) to create the illusion of longer, slender legs! Don't forget to paint your pout with Rom&nd chocolate tea milk tea velvet tint (available on Virvici Official Store) for a finishing touch to this killer number!
3. The cute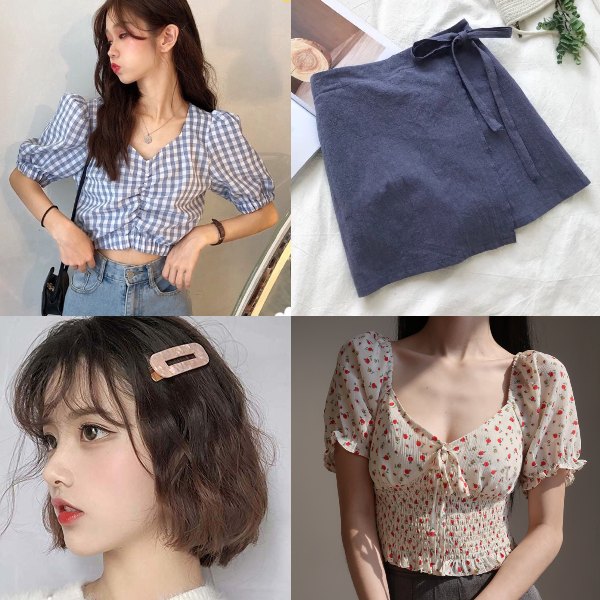 In for the cute vibes this summer? You'll be spoilt for choice with the variety of adorable puff sleeve tops online! Take your pick between this plaid puff sleeve ruched top (available on IELGY.SG-Women's Official Store) and this sweet floral chiffon smock puff sleeve top (available on Fashionista Store) — both styles are popular among Korean youngsters! The simple prints and exaggerated shoulder details strike just the right balance and will flatter our petite sisters.
While you can pair these tops with denim shorts, we suggest wearing it with a simple side tie overlap skorts (available on DULITINA) to create a fun brunch date look! Tie your hair into a one-sided braid and embellish with an acrylic hair clip (available on ameliexiao.sg). Voila you're ready to take on the summer heat! 
4. The feminine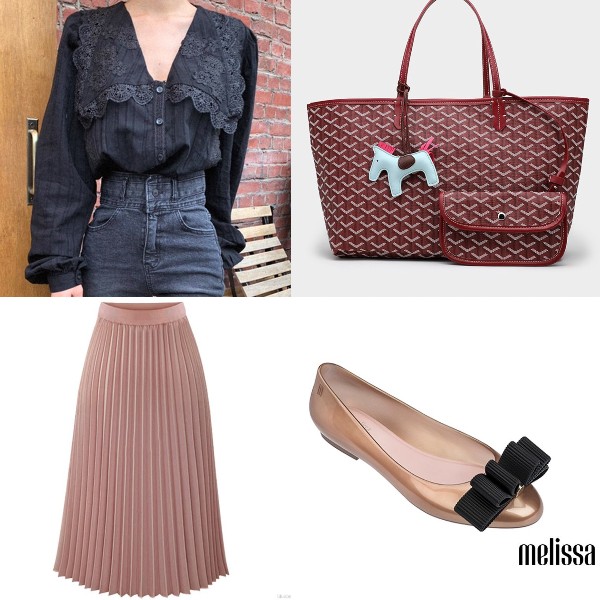 You can't go wrong with a classic feminine style! Recreate the same demure elegance with the right puff sleeve blouse designs! Go for the Korean retro lace puff sleeve blouse (available on Streamer night snow) —  the intricate lace collar gives the otherwise simple top a more refined touch. Wear it with the high-waisted pleated skirt (available on blueberry.sg) in dusty pink for a soft pop of colour. Pleated skirts are one of the best staples in your wardrobe. They are comfortable and versatile, perfect for work or play!
Give your feet a break from heels and switch out to a pair of Melissa doll fem and Jason Wu ballerinas (available on Melissa Official Store). Remember to bring along a roomy tote bag, such as the Emo dog Korean tote bag (available on bagsworld.sg) to hold your umbrella and sun care essentials! Check out other popular Korean bag brands that deserve a spot in your collection.
5. The bold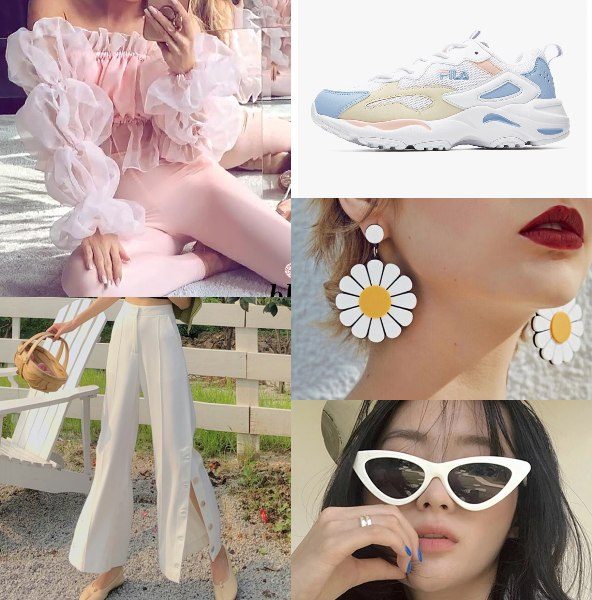 Making the effort to dress up? Why not go all out and pick something unique yet fun? Exude confidence in this eye-catching pastel ruffled puff sleeve top (available on Fashion Lady) which comes in a series of whimsical cotton candy colours!
As a lot is going on at the top, we suggest keeping the bottoms relatively simple with this high waisted side slit wide pants (available on one fashion shop) and the FILA tracer chunky sneakers (available on FILA Official Store). Otherwise, take your pick from this list of hypebeast sneakers. Spread good vibes with these big sunflower earrings (available on pinkgirl.sg) and stick to the over-the-top theme with bold cat eye sunglasses (available on 【TIANYI FASHION】) to complete this bold look!
6. The girl boss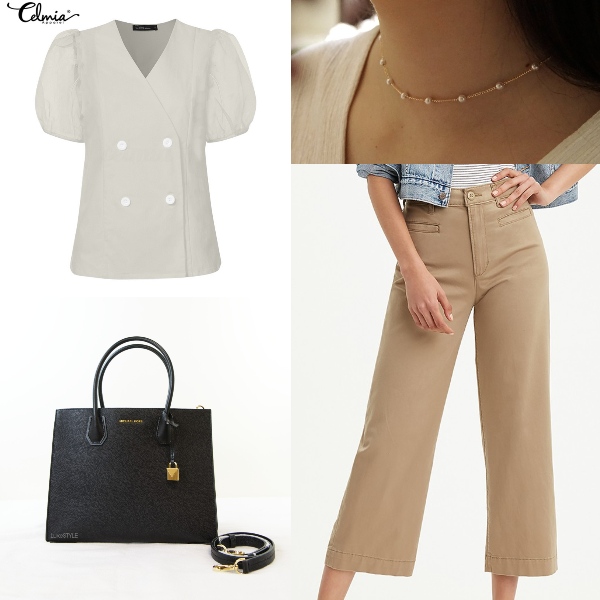 Channel girl power vibes by dressing up like your mean business! With a structured and conservative cut, this double-breasted puff sleeve blouse (available on Celmia Official Store) is definitely work appropriate. Don't leave your neck empty! Clasp on the dainty Helen pearl necklace (available on Evolia Official Store) to accentuate your collar bones.
Shuffling between deadlines? Don't let your outfit get in the way! Opt for these Levi's ribcage wide-leg cropped pants (available on Levi's Singapore Official Store) which are comfortable and smart enough for boardroom meetings. Your choice of bag counts too! Strut into the office with the Michael Kors black mercer large pebbled leather tote (available on Maxi-Cash Singapore Official Store) which will hold your office must-haves without a hitch! 
Puff it up and walk proud this summer
Discovering your own fashion style takes time. If you're still feeling uninspired, check out the latest fashion items offered by some of the best blog shops on Shopee! Curating the perfect look for any occasion goes beyond just the outfit itself. Make sure your makeup is on point with these trendy graphic eyeliner looks and style your hair to match your clothes with this guide to trendy Korean bangs styles!