With Chinese New Year around the corner, it's time to go on a shopping spree! If you're on the hunt for new additions to your wardrobe, there's no need to break the bank. We've put together some Chinese New Year clothes and accessories to create fashionable CNY outfits for 2021 at around $50 per getup. Yes, you read that right! From comfy looks to 'haute couture' outfits, you're bound to find one that vibes with you!
Chinese New Year outfits in Singapore for women
1. For the chill lady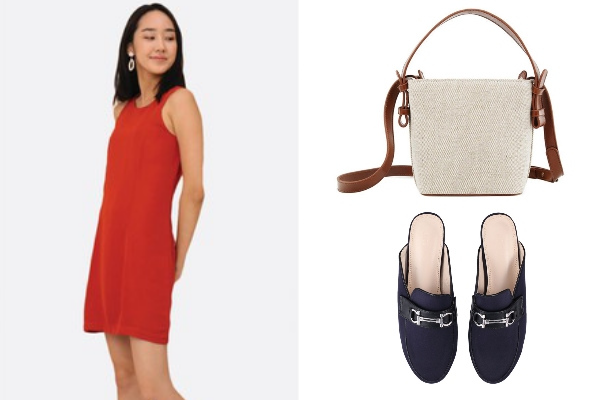 What's your priority when shopping for Chinese New Year clothes? For some, comfort is key. Which totally makes sense as you'll be spending hours in them while visiting! If you're after that comfy yet chic look, this CNY outfit for 2021 is perfect for you. 
The Dear Lyla Tabitha Shift Dress (available on Dear Lyla Official Store) is a curvy dress that gives you just enough figure, yet doesn't expose your food baby after indulging in a festive feast with the family. Complete this fuss-free outfit with a pair of Nose Buckled Flat Mules (available on nose.os.sg) which you can easily slip into and out of. Sling the IELGY Korean bucket bag (available on IELGY Official Store) across your body to hold your red packets and wallet.

2. For Miss Prim and Proper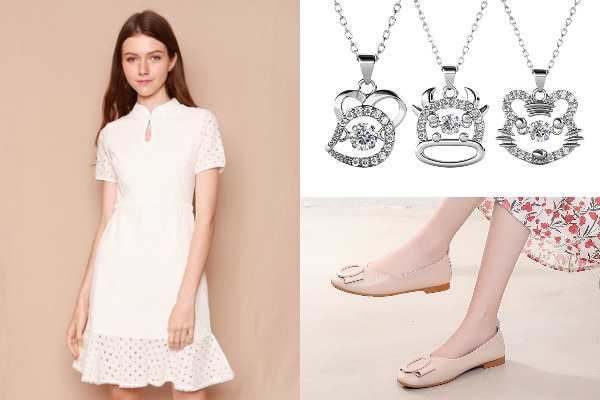 Visiting the in-laws and need an outfit that's modest and suits your personality? While you'll never go wrong with a beautiful cheongsam, we suggest opting for one with a modern twist so you can wear it post-CNY. The Jemsa Mandarin Collar Eyelet Dress Ivory (available on Purpur Official Store) fits the bill. Combining both oriental elements such as the pankou button and the latest eyelet fabric, this piece strikes the perfect balance between old and new. The A-line dress will also flatter most figures! Add some bling with this Dancing Zodiac Pendant (available on Her Jewellery Official Store) and complete the outfit with a pair of simple Women's Square Toe Flats (available on Sara). Your in-laws will be bound to be impressed at your fabulous dressing style! 
3. For the girl boss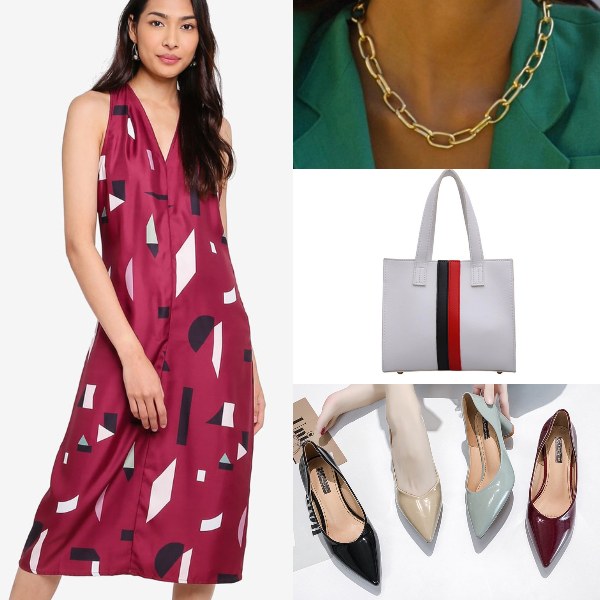 Channel your confidence and charisma at CNY social gatherings. This stylish 2021 CNY outfit not only suits the festive occasion but will also look great for the office. The Zalora T-Back Midi Dress (available on Private Labels by Zalora) sports contemporary geometric prints and has a flowy silhouette for that picture-perfect #OOTD. Since it features a V-neck, accessorise with a Gold Chain Necklace (available on hishop1.sg) to draw attention to your collarbones. Tote all your CNY essentials in the IEGLY square bag (available on IELGY Official Store) which can be slung across your shoulder to free up your hands for the mandatory CNY handshakes. Complete this beautiful getup with a pair of Patent Leather Work Pumps (available on Sara).
Pro Tip: Transform your Chinese New Year clothes into a work-appropriate outfit by throwing on a blazer for a professional look at the workplace. 
4. For the sweetheart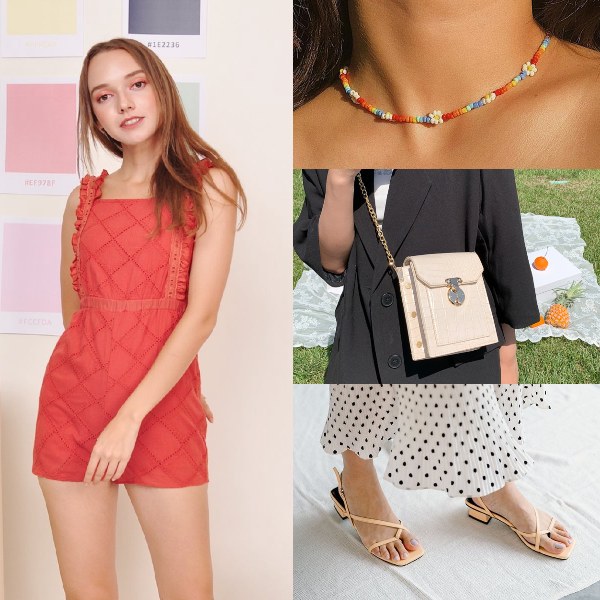 Bring out your youthful charm with bright coloured Chinese New Year clothes this spring festival! Your cheery CNY outfit will set you in a good mood and brighten up the day for your loved ones. At around $50, this lovely look will get you endless likes on the 'gram! 
There's only one word to describe the Bedelia Frill Trim Eyelet Romper Burnt Orange (available on Purpur Official Store) — oh-so-cute! Featuring girly frill-trimmed straps and vibrant eyelet embroidered fabric, this piece is not only great for the festive occasion but also a cute date outfit. The romper design means you can sit on the floor comfortably when you're playing Chinese New Year games with friends. Pick other matching accessories in fun pops of colour such as this multicoloured Daisy Flower Seed Beads Choker (available on twinkle1.sg) and Sunday Staples Raelynn Sandals in fun daffodil yellow. With so many colours in your outfit, we suggest keeping your bag simple with the IELGY Western Style Chain Bag (available on IELGY Official Store) in basic white. 
5. For the fashion-savvy mom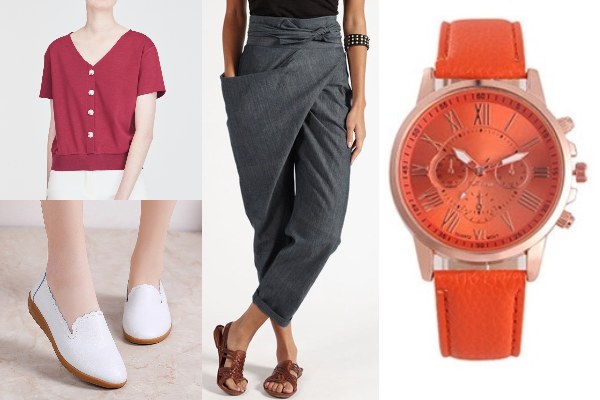 Moms, there's no better chance to dress up than Chinese New Year! We know you'd prefer something convenient, comfortable and practical. But that doesn't mean you have to throw style out of the window. 
The iORA Button Placket Tee (available on iorasg) is made of extremely soft jersey fabric and boasts a classic V-neck design that will go well with most bottoms you already own. To amp up the style points for the outfit, pair it with the unique-looking ZANZEA Women High Waist Asymmetrical Harem Pants (available on ZANZEA Official Store). Psst, it comes with spacious pockets to store your valuables! For the ultimate comfort, skip the heels and go for a pair of Korean Women Loafers (available on Austin Shop White Sneakers). Strap on the Geneva Women PU Leather Wristwatch (available on fashionchoice.sg) in a matching red to go with your top. 
Chinese New Year outfits in Singapore for men
6. For the athleisure fashionista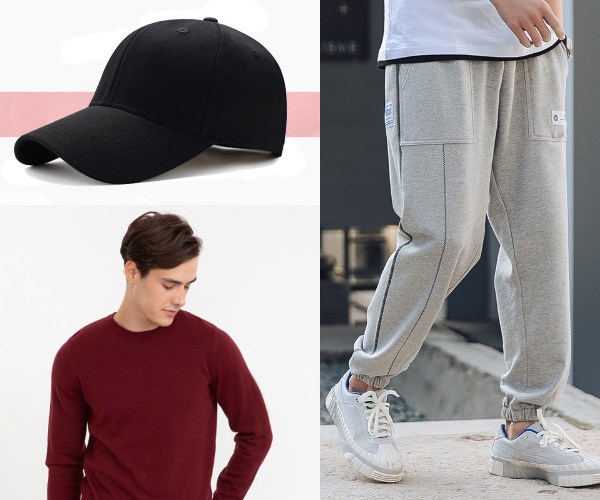 The athleisure trend is going strong even in 2021. So why not put together a casual yet sporty number that will make you look and feel good for the Lunar New Year? If you're new to the athleisure style, it's easy! This fashion trend is all about re-styling the use of sports apparels to make them wearable on a day to day basis.
One of the hit items in athleisure fashion are jogger pants. This pair of Men's Loose Knitted Joggers (available on odmcloth.sg) can be easily transformed into a trendy everyday outfit by pairing it with the right top. The BOSSINI MEN Long Sleeve Striped Pullover (available on bossini Official Store) goes perfectly well with this pair of pants thanks to its minimalistic yet casual design. It isn't too thick for our weather and comes in a dark wine shade that's not too in-your-face. Slide into your favourite pair of sneakers and put on a Korean Fashion Cap (available on YESMAN FASHION) to tie the look together. 
7. For the laid-back dad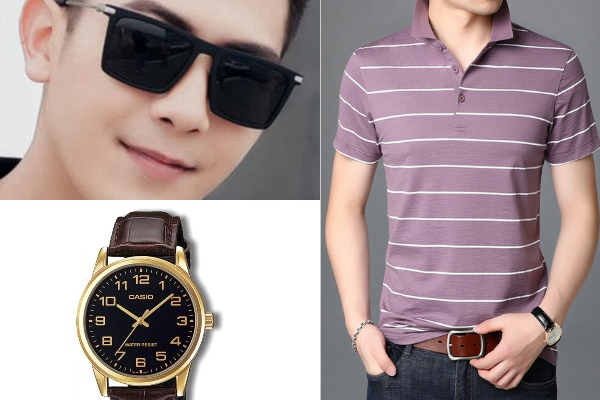 Chinese New Year is a great time for dads to sit back and relax! Enjoy yourselves and soak in the atmosphere with the family. Leave work behind this festive season and dress more casually while looking put together. A good polo shirt like the 4 Colour Striped Polo Shirt (available on LILAXINKO Store SG) will never go wrong! As for your bottoms, go with a pair of chino pants or bermudas — both are comfy options for you to chill in. Despite the relaxed vibe you're going for, you can still look suave and smart with a Casio Leather Dress Watch MTP-V001 (available on Greenwich Galaxy) and a pair of Men's Square Sunglasses (available on samjune.sg). 
8. For the minimalistic dresser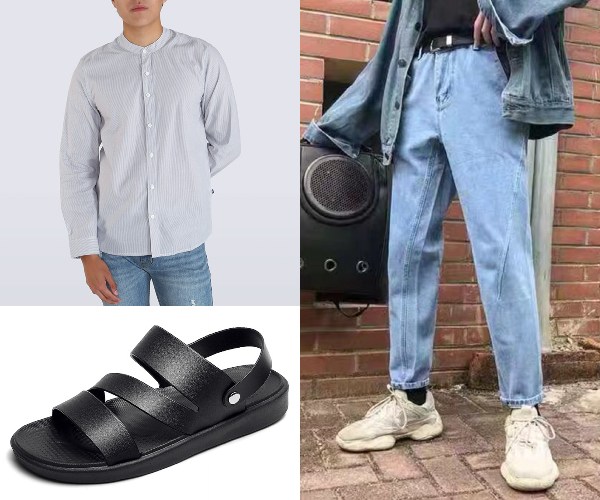 Your Chinese New Year clothes need not be in a bright scarlet hue. You can still look appropriate for this auspicious occasion in neutral shades (except black as that's deemed inauspicious). The DENIZEN Men's Mandarin Collar Long Sleeve Shirt (available on Denizen Singapore Official Store) comes in a neutral shade and has an oriental-inspired collar that adds a flair of elegance to its otherwise simple design. Leave the shirt tucked out over the Korean Style Slim Fit Denim Jeans (available on GRANICK) and slip into these Men Leather Sandals (available on jintouhou.sg) for an easy-going look. 
9. For the bold dude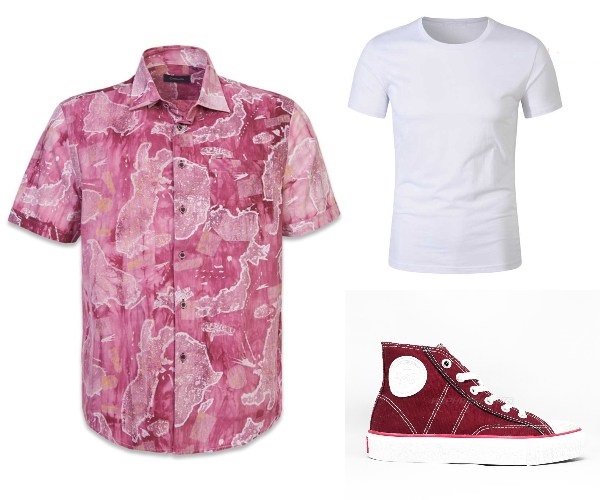 Every fashionista knows how important layering is when it comes to creating a stylish 2021 CNY outfit. This is especially so when you're working with loud, abstract prints like the CROCODILE Printed Cotton Short Sleeve Shirt (available on Crocodile Official Store). Instead of wearing this bold piece on its own, we suggest adding a white T-shirt (available on tuledream.sg) underneath and leaving the printed shirt unbuttoned. The T-shirt will help balance out the eye-catching design. As for bottoms, go for something basic and minimal such as a trusty pair of dark coloured jeans. When it comes to footwear, go loud or go home with these Red Classic High Warrior Shoes (available on haphapsport.sg) to add some swag into your steps!
10. For the Oppa wannabe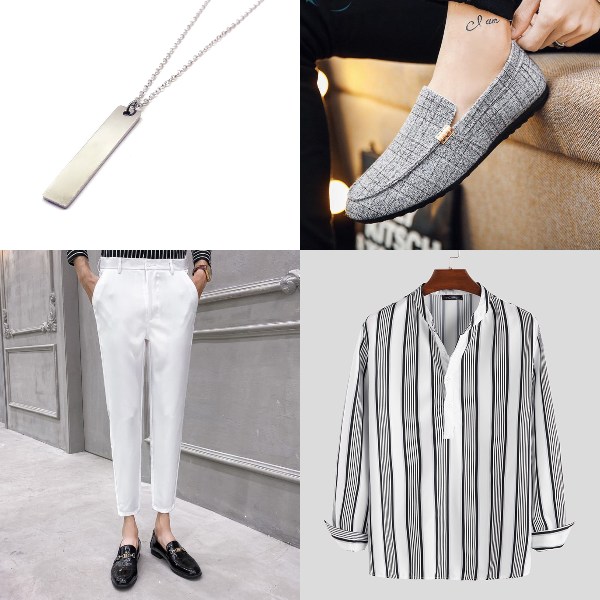 From Korean bag brands to Korean hairstyles, K-fashion has taken the world by storm. Dress up like your favourite K-Pop idols this Chinese New Year with Korean style apparels! We absolutely love the dashing open V-neck collar on the Men's Casual Oversized Striped V Neck Long Sleeve Top (available on Mr.only). The oversized cutting will make your shoulders appear broader and the vertical stripes can make you appear  taller. Don't forget to draw attention to the masculine neckline with a simple Men's Silver Rectangle Pendant Necklace (available on FancyQube).
The Korean Oppa style usually embodies a clean and gentlemanly look. Hence, go for a pair of white bottoms such as the Men's Slim Fit Ankle Pants (available on INShop-Menswear Trend Fashion) and pick trendy boat shoes like the Checkered Men's Boat Shoes (available on kimidress.sg). You're bound to charm the socks off your date and relatives this Lunar New Year!
Stylish Chinese New Year clothes for the festive celebration
With so many attractive 2021 CNY outfits to choose from, you're bound to find one that suits your style! Looking for other ways to amp up your look for the occasion? Ladies can accessorise with one of these Korean bangs to go with your outfit while men can consider getting a Korean perm! Meanwhile, if you're a member of the married club, be sure to read up on our 2021 CNY ang bao guide to prepare the right amount for your friends and family. We also have a 2.2 CNY Sale so you can snag the rest of your Chinese New Year essentials at great prices!

This article was updated on 15-01-2021. Additional research done by Abigail Chang.
---
New to Shopee? Get $7 off (min. spend $15) with code*:10OFFCNYOUTFITS
*TNC Applies. Valid for new users from 18 to 25 Jan 2021 only.