One (extra) reason why mummies love their daughters is probably because they can play dress-up together! It's always heartwarming to see mothers dress in matching mother-daughter dresses with their little ones. Not only does it make for good photo opportunities but it can also be really fun to plan outfits together!
For starters, dresses are always a good idea because you don't need to worry about matching the top and the bottom. Not sure where to start? Here are 11 tips to easily rock mother-daughter dresses without looking too cheesy or over-the-top.
1. Check out mummy bloggers for inspiration
https://www.instagram.com/p/BibPIOqBndM/?utm_source=ig_web_copy_link
Several local bloggers and influencers have recently become mummies and they don't shy away from posting cute 'mummy & me' outfit pictures for the perfect 'gram!
Lifestyle blogger and entrepreneur, Audrey Tan put together a matchy outfit with her daughter by throwing denim on top of a casual white dress. To achieve a similar look, pair this boyfriend-style denim jacket (available on felicelife) with a white casual dress (available on leejo.sg). Your little girl can rock a similar denim jacket (available on littleinnocence) and a white lace flower party dress (available on lalalalaa6).
Here, we see another power mommy, Cindy and her daughter keeping it casual and rugged with matching streetwear.
https://www.instagram.com/p/BxjVuH9nRQ-/?utm_source=ig_web_copy_link
Wear a FILA colour block logo shirt (available on FILA Official Shop) with relaxed black joggers (available on chelsie) for the ultimate "cool mummy" look. Your little one can also achieve the same matchy style with a FILA-inspired top (available on Brand Discount Store) and some black joggers for kids (available on Mom Baby).
2. Mommy wear, daughter do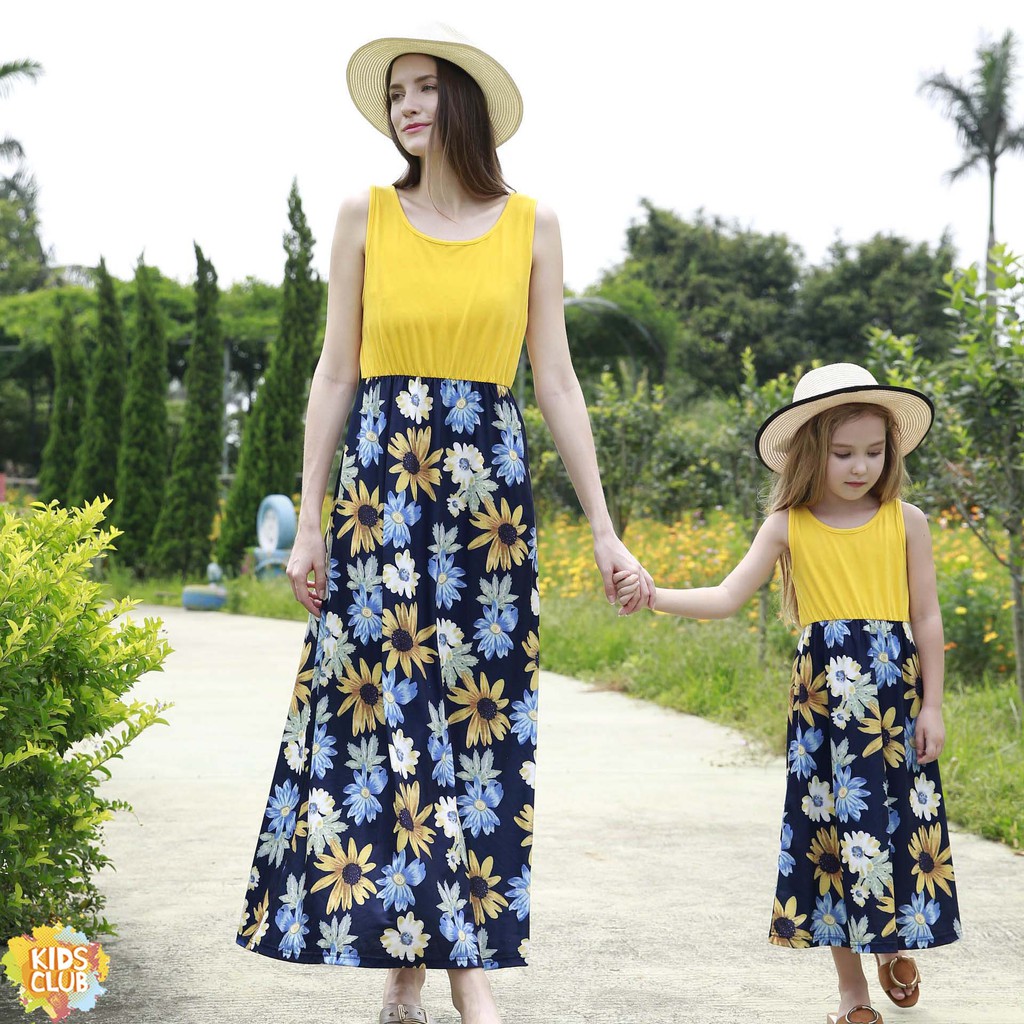 Wearing the exact same dress is probably the easiest way to jump on the mother-daughter dresses bandwagon. This is perfect if your daughter is always stealing your dresses and imitating your looks! We guarantee she'll adore a smaller version of your favourite dress!
Go for yellow sunflower dresses to embrace the 24/7 summer mood in Singapore! Available in sizes for both mummy and daughter, the sleeveless yellow sunflower print dress (available on KOI Clothing Store) is perfect for the cheeky and bold mummy-daughter duo!
3. Same same but different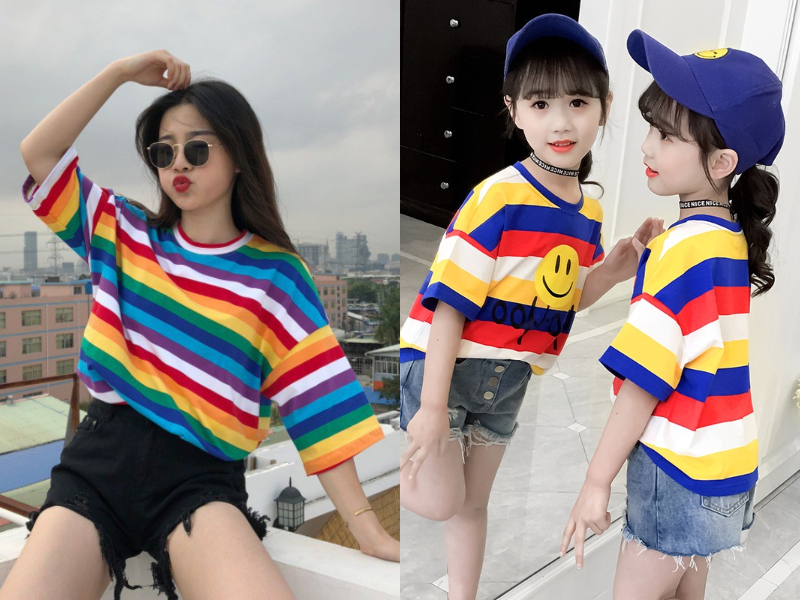 Want a matching outfit but don't want the two outfits to look exactly the same? Choose dresses in the same prints or colour but with a different cut! This way, you and your daughter can showcase your unique style and personality, while still letting the world know she's your baby girl.
For instance, you can wear the same colour scheme with different bottoms. Try a Rainbow colour-block shirt (available on Super Happy Buy Fashion) for mummy and a striped smiley t-shirt (available on h5zz.sip.sg) for daughter!
4. Dress up as her favourite character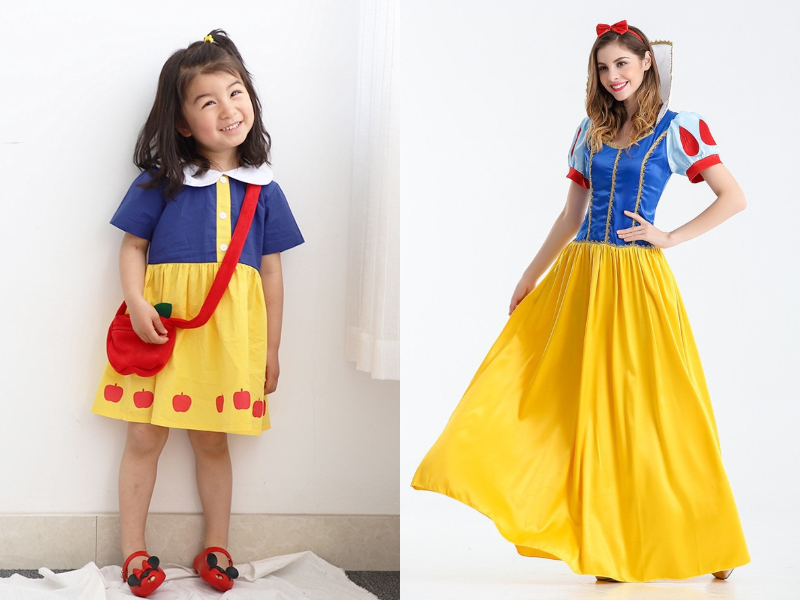 Disney always has a way of enchanting both the young and the old. When you make a trip to Disneyland with your daughter, be sure to dress up for the perfect photo together!
To achieve a matching Disney-inspired look, simply dress as your little girl's favourite Disney character! Is she a fan of Snow White? Let your little one live up her princess dreams in this Snow White party dress (available on YY Kids' Clothing Set) while you slip into a Snow White adult Halloween costume (available on Amazing).
5. Flower power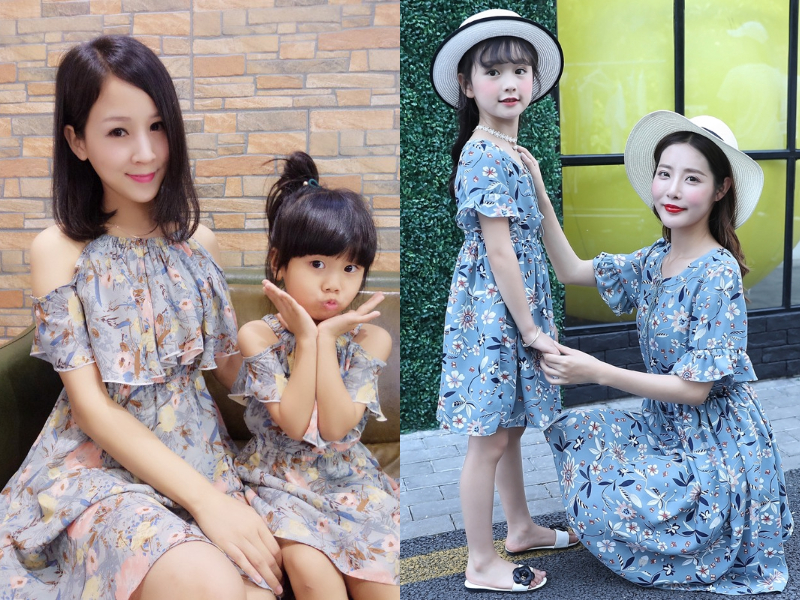 Bring out the young lady in your daughter when you dress her in florals! Wearing floral prints can sometimes be tricky as not all patterns and prints are suitable for everyone. Large block prints work better for women with smaller frames. Therefore, choosing dresses with smaller prints is usually the safer option and it's easier to accessorise too!
Style a dainty look with an open-shoulder floral chiffon dress (available on Jijichen) for both you and your daughter! Alternatively, go for a more conservative look with these short-sleeved chiffon dresses (available on chinatown.sg). Don't these pretty mother-daughter dresses just make you go "awww…"?
6. Stripe up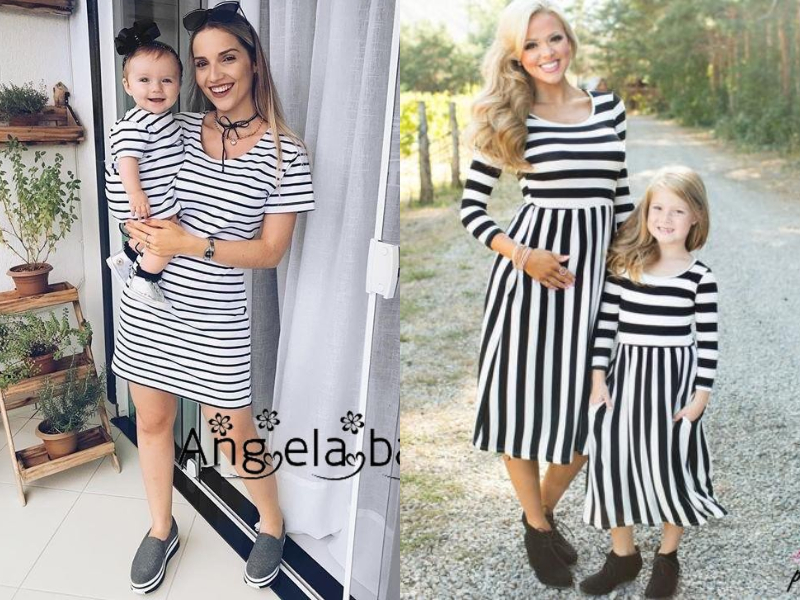 As one of the most common prints around, stripes are simple, classic and suitable for almost everyone. The best thing about stripes is that they can be used to achieve a slimmer look. Contrary to popular belief, horizontal stripes do not make you look bigger but actually help to conceal your wider areas so you appear slimmer.
When choosing stripes, the more important point to note is how thick they are. Thin, narrow stripes have a slimming effect while thick stripes give an illusion of width. Know your body shape and choose the style that makes you look the best!
Go for a horizontal-striped casual dress (available on hiangelababy) or switch it up with a mix-striped long sleeve dress (available on perfectlife)!
7. Tartan, not Tarzan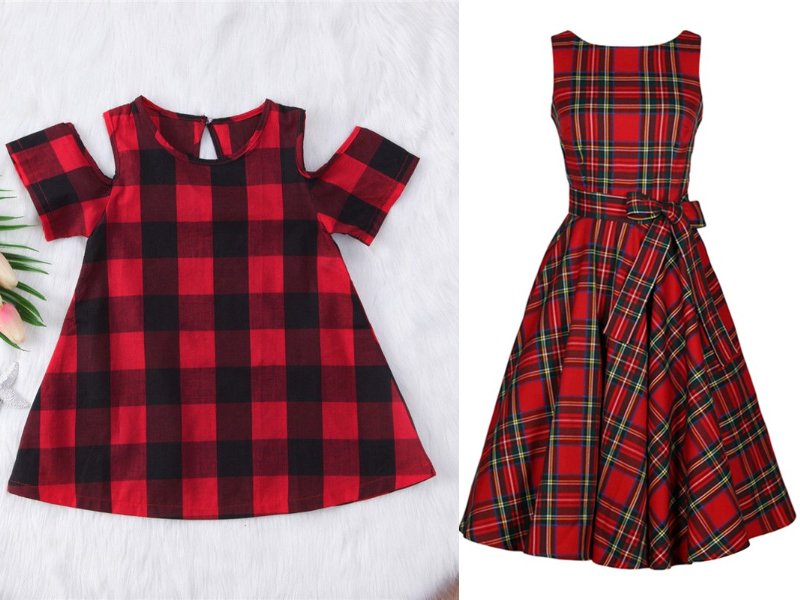 Perfect for Christmas time, this festive look never fails to leave onlookers feeling warm and fuzzy. Twin with your little girl with a mother-daughter red tartan print dress! Let your little one flaunt her girly side with a short-sleeved red tartan party dress (available on Baby Baby Shop) and a retro-style sleeveless red tartan pin dress (available on vios.sg) for yourself to achieve the ultimate matching dress-style!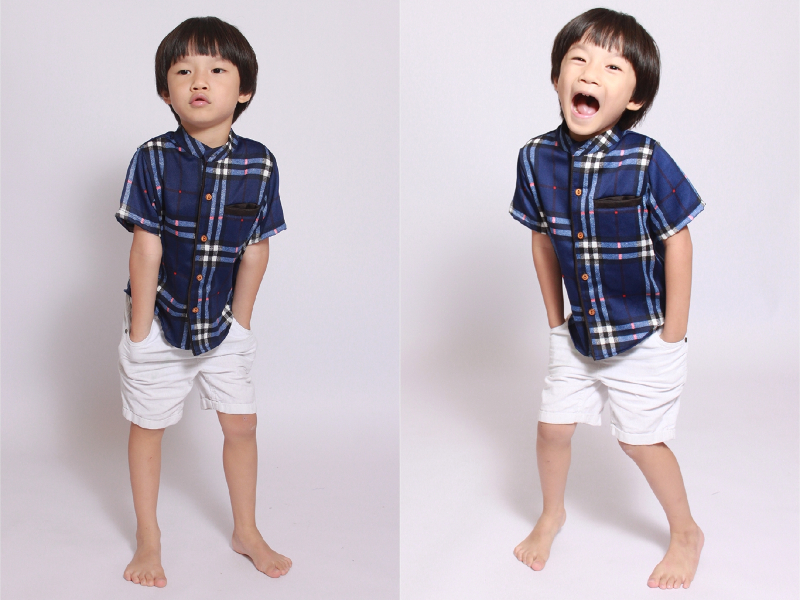 As a bonus, tartan print shirts are available for your little prince as well! The Scotty blue tartan print shirt (available on Charmed On 9th Avenue) is the perfect complement to the red hue — achieving a cute, matching family wear on any days off!
8. Give the cold shoulder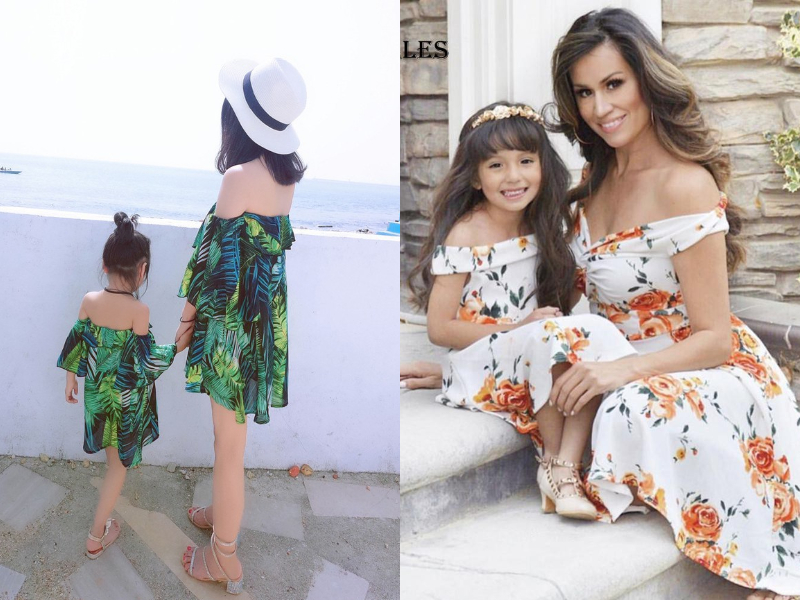 We're not telling you to give your daughter the cold shoulder, but you two can certainly wear a matching off-shoulder dress! In Singapore where it's summer all year round, the off-shoulder trend is definitely not going anywhere. Opt for vibrant colours with a fern-green off shoulder summer dress (available on chinatown.sg) or a floral off-shoulder white party dress (available on wales.sg) with your little girl.
Baring the shoulders allow you to elongate your neck to create an attractive silhouette. Who said mummies and their daughters can't look sexy?
9. Denim forever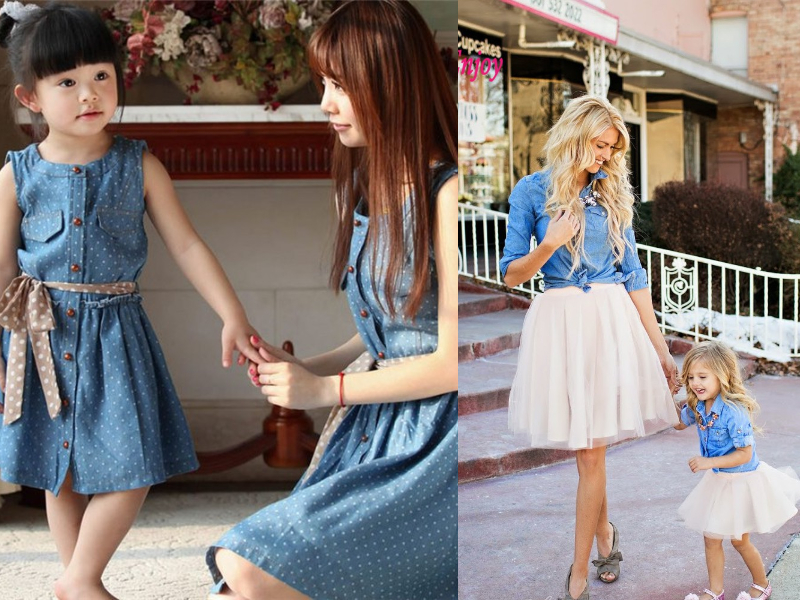 Arguably the trend that never goes out of style — denim dresses are definitely worth every buck. The mother-daughter denim dress is a look that can be recreated in the future too when your daughter is all grown up! Not only is it easy to accessorise, but they're also ideal for any time of the year. Available in different washes, no two denim dresses will look the same.
Try a polka-dotted sleeveless faux-denim dress (available on Milk Und Mayhem) for warmer days. Or wear a  long-sleeved denim shirt (available on Enbaba) matched with different bottoms for a laid-back and casual look!
10. For the not-so-girly girls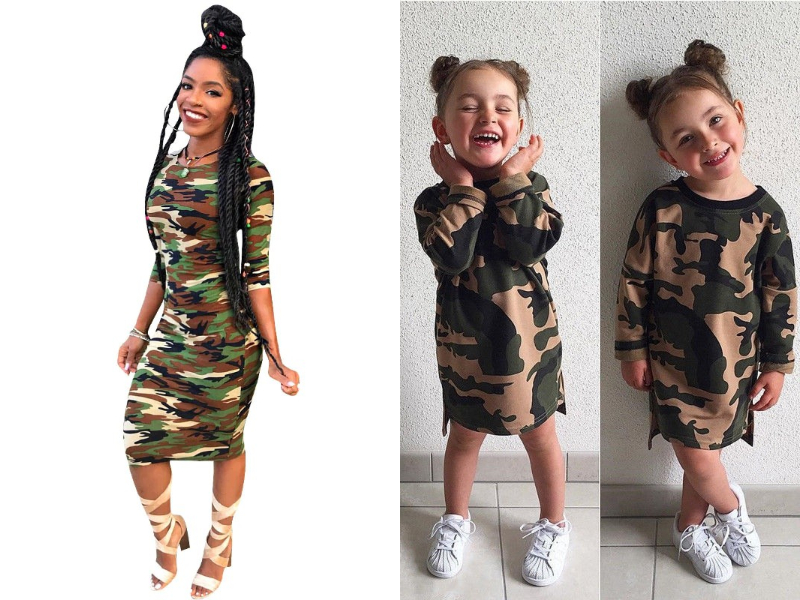 Who said mother-daughter dresses had to be all pink and sweet? If full-on girly is not your thing, go for some camo printed dresses! Slip into a slim-fit bodycon camo dress (available on halos) and let your little one rock a mini camo dress (available on Goodlooks)! Complete the look by accessorising with some sunglasses (available on daydreaming), Chelsea boots (available on Netease Yanxuan Official Store) and a long chain necklace (available Pop Shop).
11. It's all in the details – accessorise!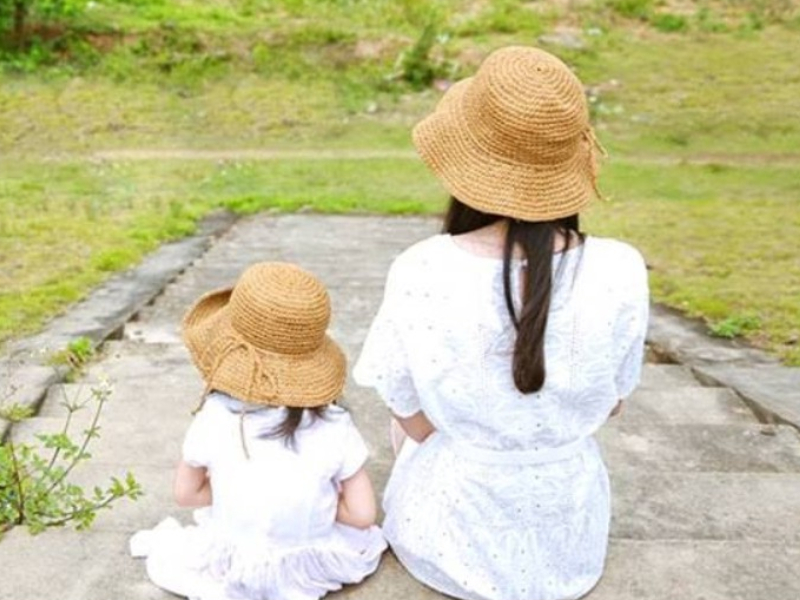 Usually, it's the details that bring a dress from 0 to 10. Wearing the same accessories, like a woven floppy straw hat (available on Magic G Taiwan) will definitely turn heads and warrant a second look!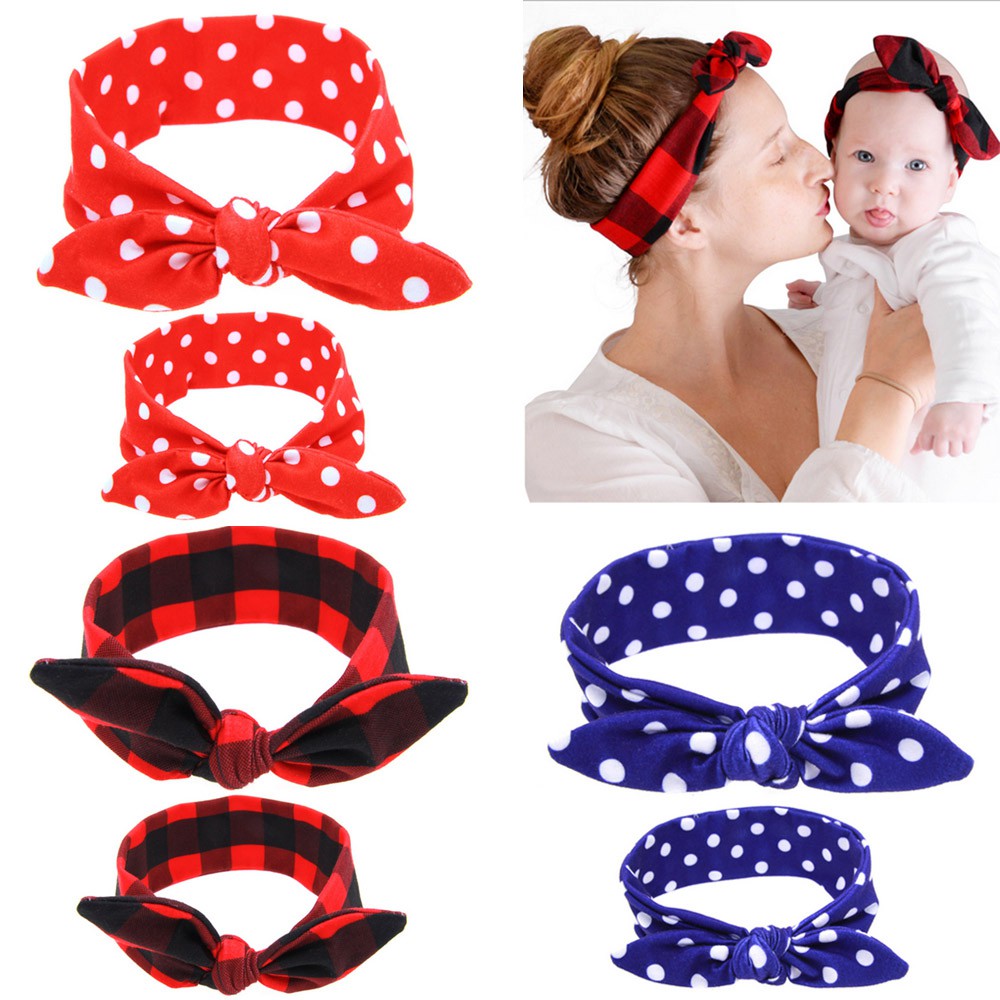 Or decorate her crown of glory with cute matching headbands (available on Baik) and complement the mother-daughter dress style!
We hope, these stylish mother-daughter dress ideas have inspired you to play dress up with your daughter! Need a guide on the ABCs of parenting? Discover the best baby carriers in Singapore and what every new parent needs to know about baby bottle sterilisers!
---
New to Shopee? Get $7 off (min. spend $15) with code*: MOTHERDAUGHTER
* TNC Applies. Valid for new users from 2 to 9 July only.